April 30, 2010 GMT
Ruins, Rain and Reunions
April 2010 Update Peru and Ecuador
Thomas and Astrid on the Triumph side-car joined us in our ride north to Huacachina. The road added some interest in the early stages with some 'twisties' but straightened out just before we reached Ica. Huacachina was only a few kilometres further on and is a very small oasis village attracting both Peruvians and international tourists. Surrounded by huge golden sand dunes thousands of people arrive here to play in the dunes and swim in the small lake which is surrounded by hotels and smaller forms of accommodation. The sun was warm as we chased a suitable bed arriving at an unmarked hostel advised by another hostel owner. The building fronted the small lake and we were able to park the bike inside. Thomas declared he was happy to lock up the sidecar and park on the street. It was with some relief we had found this place as it was Semana Santa (Easter weekend) and the volume of holiday makers was quite apparent with some places displaying the 'no vacancy' sign. V8 buggies rumbled through the narrow streets and bounced along the approach road behind the village leading up into the dunes. Roaring through the dunes in these rough hand-made vehicles was one of the main attractions of the area.

Thomas and Astrid on their Triumph sidecar

The road to Ica

It was Good Friday and information from our hostel host revealed there would be a parade in the nearby city of Ica celebrating Easter. We opted to see the spectacle and after a walk around the small village plus booking a dune buggy ride for the following day, caught a taxi into Ica. Crowds had already begun to gather and several groups of young people were decorating the closed roads with colored sawdust and flower petals. After the design was chalked onto the road surface enthusiastic students filled in the outlines with the desired colored ingredients. The artists were keen to not have their artwork disturbed and sometimes forcefully moved people away from their handiwork. We adopted a position close to one still being completed after watching several of the busy artists. The crowds steadily increased and there never appeared to be enough people guarding the murals so we decided to assist a group still completing their work by keeping the ever pressing Peruvians from trampling their efforts. They relayed their appreciation although at times we felt quite intimidated with the serious looks we were getting from the crowd. Dozens of hawkers sold effigies and candles celebrating the event. Darkness arrived, and soon after the parade started as a huge statue of 'Cristo' emerged from the Cathedral carried by several robust gentlemen with very stern, almost angry looks. They pushed their way through the tens of thousands of people trampling the artwork to mulch. This was the ultimate goal. The body press was extreme and quite aggressive at times but we never felt too threatened. We watched the procession edge its way down the road as the crowd pushed and shoved to get closer to the spectacle. At this point we felt it was time to depart, immediately chasing down an empty cab and raced back to the tranquility of our hostel in Huacachina.

Mum and baby at Ica. Nice hair

Huacachina. Photo by Astrid

Lake and dunes at sunset

Cool lake, hot dunes

Buggies dwarfed by dunes

Hot sand

Semana Santa road mural preparations, Ica

Semana Santa road mural preparations, Ica

Semana Santa road murals, Ica

Semana Santa road murals, Ica

Candles were popular

Thomas joining with the artists to protect the mural

'Cristo' arrives

The mural is trampled to mulch
The next day we enjoyed an excellent buffet breakfast at the largest and flashiest hotel in town before jumping aboard our noisy, polluting fun machine. The barely muffled V8 roared and then settled into a rough idle as passengers boarded the cage of pipes and sheet metal. Astrid declined to join us on our venture, choosing to climb some of the closer dunes and also to take some pictures of our antics as we had our few moments of silliness. The first mounds were taken rather sedately but then the rear wheels spewed fountains of sand as the speed increased …. The fun began. A backpacker donned snow boots preparing to tackle the dunes on a sand board. Attempts by the sand surfer seemed to be a little slow at first with the sand providing far more friction than the snow she had obviously trained on. There were many buggies hurtling through the hills but somehow we never came close to the other crazy drivers.

All aboard the buggy

Away we go. Photo by Astrid

Going up

And coming down

It really was fun

Still smiling and there was more to come

Nice sand-boarding style
Our grins were difficult to suppress as we returned to our packed bikes. It was time to leave and the coastal highway called us northwards to Cerra Azul some 200 kms away. A short ride after our late start and we had little trouble finding a small Hospedaje with attached parking that was large enough to take the side car. The day culminated in an excellent fish meal at a small restaurant by the water's edge.

Liberation Monument to Gen San Martin

Where the sand meets the ocean at Paracas

Three wheeled cargo mover
The next day we were on the road early to enjoy an easy ride on dual lanes to Lima. Today we parted company with the three wheeled Triumph duo. Thomas and Astrid began their journey of South America in Lima so they had no desire to return. We parted company at a Repsol garage receiving thorough instructions from Astrid on how to exit the freeway and make our way to 'Hostel Home Peru'. Even with these instructions we still missed the turn off but a quick U-turn we were back on track. We spent five days and six nights in Lima doing touristy things including museums and ruins. Our old colonial house now converted to a hostel was very comfortable. The priority in Lima however was the issue of tyres. Availability north of Lima was unknown and we generally do more kilometres than the straight line of the Pan Americana. Our efforts to obtain information on availability were not successful so we contacted the Horizons Unlimited community in Lima for help.

Caio to Thomas and Astrid

Ivan collected us the following day recommending we buy in the capital as it was doubtful suitable tyres would be stocked by retailers further north. He then drove us to three or four motorcycle tyre shops eventually obtaining a front and rear from two different outlets. It was even difficult to locate them in Lima and our good fortune was to have the assistance of Ivan. Nothing beats local knowledge. We opted not to change them in Lima but to bus freight them north to Piura close to the Ecuadorian border. Continuing our tour of Lima Carol eventually located markets near to the Hostel that provided a substantial range of Peruvian jewelry she was keen to buy. After inspecting several choices 'again' a decision was made…. 'at last'. We enjoyed social outings with Ivan and his wife and also Jorge and his wife both being part of the global H U community.

Carol's final choice

Ivan, our tyre finder and his wife

Despite hearing many horror stories about safety issues in Lima we felt quite safe however most of our movements were done only during daylight hours. We walked a lot of the streets, used the bus system and taxis and had little difficulty navigating. What was surprising was the number of adobe pyramid ruins in this bustling city. Museum Larco de Lima in Pueblo Libre had an exceptional display of gold, silver, copper and pottery. Just the sheer volume and quality on display was extraordinary for a private museum.

Incan head crushers, Museum Larco de Lima.

Incan gold from Chan Chan, Museum Larco de Lima

Templo & Museum de Sitio Huallamarca, Lima

Huallamarca adobe pyramid, Lima

Huaca Pucllana adobe pyramid, Lima
Departing Lima on a Saturday was not a good idea compared to our ease of entry on Sunday. It took us and hour to clear the city eventually escaping along a perfect ribbon of black tarmac through the ever encroaching sand dunes. Around 2.30 pm we detoured off the highway along a lesser used paved road and then a rough dirt road to take a look at the Caral ruins. These ruins precede the Incas and from all accounts were quite a developed society. Large stone pyramids exceeded the grandness of the nearby Incan adobe constructions. The promised English guided tour was not available but I was still required to pay the entry fee which really did not upset me however some of our party (Peruvians) thought it was poor form for me to pay and not get the benefit of the guide, so after a brief conversation, a full refund was granted. Very nice of them. The tour was quite extensive although we did not cover all of the excavated sites. One tourist spoke a little English and passed on some of what the guide was saying which was very helpful.

Sand meets the highway

Caral ruins

Caral ruins
Arriving at Baranca we located a new Hostel (Los Delfines) which was still partly under construction. Views from the top of what was probably a new restaurant were excellent with consistent surf thundering onto the shore in front of a brilliant red sunset; however there was not a surf board to be seen. The town buzzed with Moto-taxis so we easily hailed one, then bounced our way into the town centre to enjoy a fresh fish dinner.

Rolling surf, Baranca

Sunset, Baranca

The quality of the highway north was still quite good although numerous trucks caused a slower pace. Sandy areas separating the highway from the ocean drifted onto the tar surface and we noticed hundreds of long white chicken sheds that produced Peru's most popular source of animal protein. Truck and trailers carting sugar cane were frequently overtaken as we aimed for another ruin close to the highway. The ruins of Sechin were not large but in the heat of the day in bike clothes the walk caused plenty of perspiration. After a couple of hours of tramping through the rubble and dust we adjourned to the shade of a tree near the entrance and enjoyed a cool drink and biscuits before rejoining the highway to Huanchaco. Despite the break we covered over 400 kms that day.

Paramonga Ruins

Sugar cane truck near Huanchaco

Sechin ruins

Sechin ruins

Sechin Ruins
Casa Suiza was recommended in our guide book as a comfortable hostel. There were numerous places to choose from in this very touristy coastal town but although being very compact our choice was not a bad one. The bike was parked on the street during the day then parked in the restaurant overnight. The Casa had a small restaurant that offered excellent breakfasts and great pizzas in the evening although we also ventured to other eateries to sample excellent seafood.

Huanchaco is near to the famous mud ruins of Chan Chan. From early in our entry to Peru we had heard glowing reports of these ruins. They were quite large and a continuous reconstruction site as hundreds of people strove to restore this massive city that once dominated the shoreline. Our guide book mentioned problems in this area with theft so we opted for a bus to the rough dirt entrance road then caught a Taxi to the actual entrance. If these ruins are ever fully restored they will be huge as the highway actually cuts the old city in two and from what we can see one half is still to be even looked at in regards to restoration. Most of the work is concentrated on the coastal side and this section is open to the public. Many museums in Peru held artifacts and treasure from Chan Chan and we wondered if it all should be returned to this area to perhaps create a large museum. Starting our viewing at the middle of the day was perhaps not such a good idea but we joined the workers and a few tourists in the noon day sun and marveled at its size and the huge undertaking to restore the buildings.

Chan Chan ruins

Chan Chan ruins

Chan Chan ruins

Chan Chan ruins

Chan Chan ruins
After a bus ride back to Huanchaco we chased the cool breeze of the ocean shores and supplemented our walk with a late lunch. The surf was rough but many boards were tackling the waves as well as the odd reed boat sporting an adventurous traveller and oarsman. These vessels handled and steered like a plough in sand and we deemed it very hard work to crash through the shore breaks compared to a surf board. The initial push to smoother waters was done by the oarsman before the paying customer endeavoured to steer the awkward vessel to shore. Even this looked like hard work.

Reed boats

Nice beach and surf

Reed boat surfing

Fresh fish and salad
More ruins to see the following day with Huaca del Sol and Huaca del Luna in the Moche Valley. Sol was not open to the public but Luna was very well organized with an English speaking guide to explain the pyramid's history. Over hundreds of years several new layers or extensions were built over and around the previous temple so the floor area and height continually expanded. When the Spanish arrived they tunneled into the pyramid to plunder the gold and silver. The remaining tunnel is now used as an access route. Not far away a museum was nearing completion that would display some of the treasures that were recovered in more recent excavations. Unsightly constructions covered many of the colored reliefs and paintings to protect them from the elements. Some buried deep in the pyramid were in excellent condition due the lack of exposure to the intense sun and wind.

Incan temple art Huaca del Luna

Incan temple art Huaca del Luna

View to graves from Huaca del Luna with Huaca del Sol in the distance

Art Huaca del Luna

Roof construction to protect the ruins

Huaca del Luna

Huaca del Sol, up close you can see the mud bricks

Huaca el Dragon

Huaca el Dragon

Huaca el Dragon
After two days of tramping dusty ruins we packed our bags and headed for Lambayeque just over 200 kms away arriving early in the afternoon. Just as well, as it took some time to a find suitable room with parking. Hostel Libertad looked quite up market but the price was on par with what we had been paying in most establishments. Parking was located at a private residence next door which necessitated the receptionist to ring or call on the owner to allow us to collect the bike. We visited two museums, Bruning National Archeological Museum & Sipan Museum. After sighting the priceless collection of artifacts we rode out to Sipan to look at where all the wealth in the 2nd museum had come from. The sight was no-where near as spectacular as Chan Chan with the elements taking their toll on the mud adobe construction. There was a small museum near the entrance which had been invaded by a couple of busloads of school children. They caused few problems as we ambled around then climbed through the dusty ruins. Access was not good and there were plenty of digs still doing discovery work at this complex.

Pottery at Bruning National Arch. Museum

Gold neck jewelry

"Tumi" at Bruning National Arch. Museum

Sipan Museum. No photos allowed but great museum.

Reconstructed Tomb of the Lord of Sipan

Neck adornment before restoration

After restoration
An early start after breakfast had us riding to the Tucume Ruins approximately 35 kms from Lambayeque. The remains of 26 mud pyramids are located there. It was very hot and dusty but Carol was not deterred and climbed to the top of one to obtain a better view. The heat combined with the dust stirred up by annoying winds made our visit uncomfortable and the archeologists still working the site also sought refuge in cooler shaded areas. The small museum was very informative and combined displays of pottery and gold artifacts along with several models revealing life in the times of the pyramids. We had hoped to have lunch in the small village close-by but the restaurants had closed for siesta by the time we had completed our exploration.

Model of Tucume Ruins

Art at Tucume Ruins

Tucume Ruins

Departing Lambayeque the following day we reached Piura early in the afternoon. This was to be our final city in Peru. Here we located a very quiet Hoteleria (Los Algarrobos) close to the markets and main highway. The city was crazy with Moto taxis many vying for our custom with constant horn blowing. There appeared to be way too many taxis for the current number of customers. Here we planned to change our tyres bussed north from Lima several days earlier plus complete a service on the bike before our border crossing into Ecuador. From Piura we also took a day ride to what we believe to be the most westerly point on the South American mainland. The countryside was very green around Sullana but became dustier and drier closer to the coast. Talara and Negritos were busy little villages but the treat for the day was the huge fresh fish lunch enjoyed at a small seaside restaurant in Negritos close to our destination, Punta Parinas, the most westerly point on the S A mainland. It was a 360 kms round trip for the day but there was still time to retrieve the tyres from the bus depot before retiring to the coolness of our room.

The most western point of South American mainland.

Two popular drinks in Peru.
The Ecuador border crossing was uneventful other than time consuming due to a very slow typist. Our first stop in a noticeably greener country was Macara which was a quiet village with rough streets and several money changers working on the plaza. We called one over and changed our remaining Peruvian Soles to USA dollars, the chosen currency of Ecuador. We needed assistance to find our way out of town but once on the road reveled in the lush green hills and cooler air. We reached Catacocha around 5.30 pm, a little later than expected due to the hilly road conditions and eventually found a small Hotel on the plaza that offered secure parking in an electrical store about a block away.

Catacocha, Ecuador

Driving in Ecuador appeared far more orderly as we confidently left the following day for the small village of Vilcabamba. Only a little over a 100 kms was needed and we really hoped this distance could have been done the day before due to the glowing reports we had heard about the German run Hosteria Izhcayluma. We had a large room with ensuite, one of four in a building about 20 metres from the main reception and restaurant. The restaurant had clear views of the valley below and was the perfect retreat with an excellent menu of food and drinks. The main village was about two kilometres away and the slow pace of area was welcomed.

Restaurant at Hosteria Izhcayluma

View from the restaurant

Great road, great scenery

Enough of this relaxing stuff…there were roads to ride. Departing we looked at the low clouds and realized there is a price for all this greenery. Light showers through the hills were enough for us to don the wet suits. We reached Cuenca mid-afternoon with the sun shining, riding into the old colonial section where we eventually located Hostel Casa De Barranco. The huge foyer and reception area accommodated the bike and an added bonus was breakfast was included. We had contacted the H U community in Cuenca and a phone call the following day we moved to Hostel la Villa del Rio. Javier gave helpful information on what to see in Cuenca and our first visit was to the Banco Central Pumapungo – Museum & site of Tomebamba. An excellent museum attached to the bank. There were numerous displays including a number of shrunken human heads from the jungles of Ecuador. The building was actually built on top of part of the ruins however it appears at a later date some excavation and restoration work was done to preserve the site.

At Vilcabamba Carol collected a card for the Kookaburra Café in Cuenca which was established by an Australian couple who had recently moved to this side of the world. An excellent café with good food and pleasant hosts. Returning to the parked bike out front we were greeted by two Australians, the young guy displaying his envy of having a motorcycle in Ecuador to ride the fantastic mountain roads. Their transport being the local busses, he sorely missed his bike. They were off to have Spanish lessons so could not talk for long. A little re-awakening call on how fortunate we are and the adventure we share.
Unbeknown to us a world famous icon came from Cuenca, the Panama hat. A short Taxi ride took us to the factory and museum that introduced this phenomenon to the world. There are many copies of this item but the lengthy manufacturing processes here ensure these hats retain the best quality. History has it that this company was petitioned to provide hats to the workers building the Panama Canal so although they originated in Ecuador the name stuck as Panama hats. The variety and colours available was huge and photos of many world famous politicians and celebrities adorned the walls.

Panama hats, Cuenca

This one fits
The centre of town buzzed with locals and tourists. Numerous old Cathedrals and churches were concentrated near the town plaza and a busy restaurant on the plaza enticed us for a cheap 'meal of the day'. The sidewalk had a dozen or more shoe shiners and here we saw our first female shoe shiner in South America. For a dollar my bike boots were made to look like new…for at least a day.

Flower markets in the plaza, Cuenca.

Colonial buildings, Cuenca.

Cathedral, Cuenca.

Shoe shine, Cuenca.

Colonial buildings, Cuenca.
Riding on the following day we opted to don the wet weather clothes as the mountains ahead looked dark and wet. We reached Canar on the highway then rode 16 kms into the Ingapirca Inca Ruins. To say the least they were poorly signposted and required many Stop, Ask & Go's. The ruins were very well maintained with manicured grass and neat pathways. We believe this was a stopover point between Cusco Peru and Quito Ecuador, both being major Incan cities. The precision in the rock finish and fitting was reminiscent of the work found around Cusco. Very impressive and well presented.

Perfect stone work, Ingapirca Inca Ruins
Rejoining the highway by a different route we encountered very heavy traffic. At times lines of vehicles were slowed to a crawl by road works and an odd array of slow moving vehicles. The worst however was the low cloud and drizzling rain. We slowed to a crawl hugging the edge of the road and leaning on our feeble horn button. Trucks would rocket past us at twice our speed (20 kph) disappearing quickly into the cloud soup. Hearing horns in the fog we would respond with ours often not knowing what direction the nearby vehicle was travelling. Road works turned into bog holes as the parade of vehicles struggled for traction. In the distance we could see blue sky and rays of sunshine but it felt like a lifetime to reach it. Eventually the road drifted down onto green rolling pastures before entering the busy town of Riobamba. An hours respite from the cloud and rain allowed us to dry off before booking into the first convenient Hotel. Hotel Canada was a fortunate find as the owner spoke English. Bed and sleep found us early after a BBQ'd chicken dinner at a nearby restaurant.

Road works, Cuenca to Riobamba

Low cloud and rain, Cuenca to Riobamba
Our hopes for an early start the next day were dashed as another guest had parked in the driveway and wandered off to have breakfast. We followed suit thinking that the driver would have returned and departed by the time we had eaten. It was not to be however and we waited almost an hour before we could free the bike. Today we hoped to reach Banos, a small but popular tourist destination. The main attraction being hot springs which were very abundant due to a very active volcano nearby. We also planned to meet up with Thomas and Astrid on the Triumph sidecar. They were already enjoying the benefits of this town when we arrived and also had located a pleasant hostel (Hostel Chimenea) close to the town centre.

It was "S" day the following day where we all planned to enjoy!!! a steam bath. Neither Carol nor I have done this type of thing before. I believe it is a type of body abuse!!! Each of us was 'boxed' with heads protruding and extreme heat and steam was forced into the small chamber. A temperature gauge fortunately allows a modicum of control and at intervals determined by the 'steam controller', we were then subjected to a good dousing with cold water returning shortly afterwards to the imprisonment of the steam box to complete the ritual again. The finale was a blast from a high pressure hose giving us the perfect cleansing. This little exercise took around an hour and created a hunger of huge proportions. The Hostel provided an excellent breakfast before we tramped the narrow streets, doing the normal touristy things. Things of note here were the bungee jumping off the bridge (which we did not partake in!!) and BBQ'd guinea pig. Neither Carol nor Astrid could partake in this traditional food, something to do with pets I think but really it was just another harvested protein source for the Peruvians.

Heat torture, Banos

We escaped!!

Toffee stretching, Banos

Fruit and vegetable markets, Banos

BBQ'd guinea pig

Only the men ate!

Fresh cane juice with lemon

Bungee jumping from bridge

A long way down
Enter your email address to receive updates to Ken and Carol Duval's trip story!
Recent Entries
Archives:
Archives:
Monthly
Archives:
Category
NEW! HU 2015 Motorcycle Adventure Travel Calendar is now available! Get your copy now for some terrific travel inspiration!
HUGE, 11.5 x 16.5 inches, beautifully printed in Germany on top quality stock! Photos are the winning images from over 600 entries in the 9th Annual HU Photo Contest!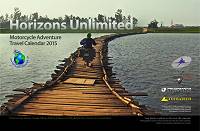 "The calendar is magnificent!"
"I just wanted to say how much I'm loving the new, larger calendar!"
We share the profit with the winning photographers. YOU could be in the HU Calendar too - enter here!
Next HU Events
NEW!

USA Virginia: Apr 9-12, 2015
Canada West: Aug 20-23, 2015
USA California: Sep 24-27, 2015
Aus Queensland: Sep 24-27, 2015
USA North Carolina: Oct 8-11, 2015
Aus Perth: Oct 9-11, 2015
Take 40% off Road Heroes Part 1 until October 31 only!
Road Heroes features tales of adventure, joy and sheer terror by veteran travellers Peter and Kay Forwood (193 countries two-up on a Harley); Dr. Greg Frazier (5 times RTW); Tiffany Coates (RTW solo female); and Rene Cormier (University of Gravel Roads).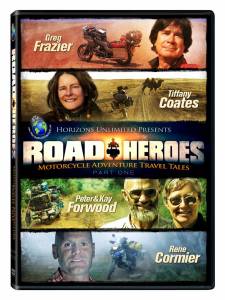 "Inspiring and hilarious!"
"I loved watching this DVD!"
"Lots of amazing stories and even more amazing photographs, it's great fun and very inspirational."
"Wonderful entertainment!"
Check it out at the HU Store! Remember to use Coupon Code 'HEROES' on your order when you checkout.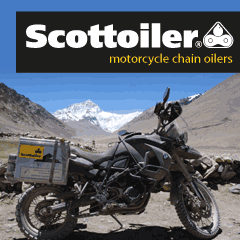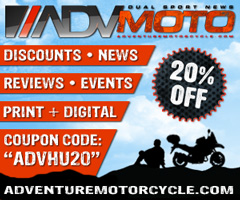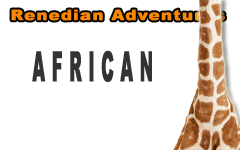 What others say about HU...
"I just wanted to say thanks for doing this and sharing so much with the rest of us." Dave, USA
"Your website is a mecca of valuable information and the DVD series is informative, entertaining, and inspiring! The new look of the website is very impressive, updated and catchy. Thank you so very much!" Jennifer, Canada
"...Great site. Keep up the good work." Murray and Carmen, Australia
"We just finished a 7 month 22,000+ mile scouting trip from Alaska to the bottom of Chile and I can't tell you how many times we referred to your site for help. From how to adjust your valves, to where to stay in the back country of Peru. Horizons Unlimited was a key player in our success. Motorcycle enthusiasts from around the world are in debt to your services." Alaska Riders

10th Annual HU Travellers Photo Contest is on now! This is an opportunity for YOU to show us your best photos and win prizes!
NEW! HU 2014 Adventure Travel T-shirts! are now available in several colors! Be the first kid on your block to have them! New lower prices on synths!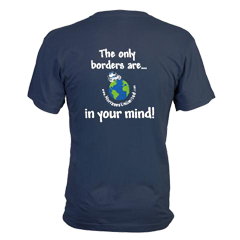 Check out the new Gildan Performance cotton-feel t-shirt - 100% poly, feels like soft cotton!

What turns you on to motorcycle travel?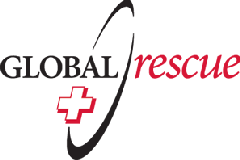 Global Rescue is the premier provider of medical, security and evacuation services worldwide and is the only company that will come to you, wherever you are, and evacuate you to your home hospital of choice. Additionally, Global Rescue places no restrictions on country of citizenship - all nationalities are eligible to sign-up!
New to Horizons Unlimited?
New to motorcycle travelling? New to the HU site? Confused? Too many options? It's really very simple - just 4 easy steps!
Horizons Unlimited was founded in 1997 by Grant and Susan Johnson following their journey around the world on a BMW R80 G/S motorcycle.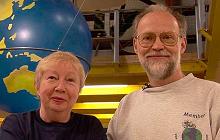 Read more about Grant & Susan's story
Membership - help keep us going!
Horizons Unlimited is not a big multi-national company, just two people who love motorcycle travel and have grown what started as a hobby in 1997 into a full time job (usually 8-10 hours per day and 7 days a week) and a labour of love. To keep it going and a roof over our heads, we run events (22 this year!); we sell inspirational and informative DVDs; we have a few selected advertisers; and we make a small amount from memberships.
You don't have to be a Member to come to an HU meeting, access the website, the HUBB or to receive the e-zine. What you get for your membership contribution is our sincere gratitude, good karma and knowing that you're helping to keep the motorcycle travel dream alive. Contributing Members and Gold Members do get additional features on the HUBB. Here's a list of all the Member benefits on the HUBB.
Books & DVDs

All the best travel books and videos listed and often reviewed on HU's famous Books page. Check it out and get great travel books from all over the world.

MC Air Shipping, (uncrated) USA / Canada / Europe and other areas. Be sure to say "Horizons Unlimited" to get your $25 discount on Shipping!
Insurance - see: For foreigners traveling in US and Canada and for Americans and Canadians traveling in other countries, then mail it to MC Express and get your HU $15 discount!
Story and photos copyright © All Rights Reserved.
Contact the author:
Editors note: We accept no responsibility for any of the above information in any way whatsoever. You are reminded to do your own research. Any commentary is strictly a personal opinion of the person supplying the information and is not to be construed as an endorsement of any kind.
Hosted by: Horizons Unlimited, the motorcycle travellers' website!
You can have your story here too - click for details!