November 30, 2009 GMT
Good Days & Bad Days
November 2009 Update Peru - Bolivia - Chile – Argentina
Leaving Puno the weather cooled as the road took us to the border. We noticed a distinct lack of movement on the Bolivian side which contrasted significantly to the very efficient Peruvian side. It was lunch time and nothing would happen for another 45 minutes. Indigenous venders selling all manner of goods from local foods to handicrafts approached us. A French couple (Arno & Julie) riding a tandem bicycle complete with trailer joined the migration south but their exit of Peru was not as smooth as ours. Having been robbed of their passports, the replacements did not have a Peruvian entry stamp plus their small immigration docket was also missing. No sympathy was shown for their predicament by the Peruvian officials but some how after a few dollar bills were passed over the stamp appeared and their exit of Peru was complete. Just how things are done here.

Welcome to Bolivia
Finally processed, we headed to Copacabana (there are a few of these in the Americas) reaching this busy lakeside tourist destination early in the afternoon. Elida Hostel was tucked away a bit from the centre but suited our needs with a large secure courtyard and a 5 minute walk to the Plaza was not a big ask even at this altitude. Plenty of chicken restaurants lined the streets but we had a taste for fish. A pleasant meal however the restaurateur did not like the condition of our Bolivianos (money) which was a bit tatty to say the least but was still being accepted at other business establishments. Eventually management stepped in and gave our notes the OK.

Arno and Julie

Copacabana Beach
Walking the busy streets the following day we succumbed to the advertising and bought a boat ride to the Isle de Sol. Leaving at 1.30pm, arriving at the Isle 3.15pm gave us 45 minutes to sight see before the departure boat. Isle de Sol is the birthplace of the Incan nation. Not much was seen in this small amount of time and we really should have stayed overnight. Lake Titicaca was very windy in the afternoon and the return journey was quite rough in some areas with the small vessel bobbing around in the heavy swell. This, combined with a very cool wind off the snow covered peaks made us appreciate the shelter of the small bay in front of Copacabana.

Boats to the Isle de Sol

Map of the Island

Fashion, old & new. Isle de Sol
We viewed suspiciously the small ferry ride across a narrow neck of Lake Titicaca. This route was a well used passage to Bolivia and proved to be a real challenge. Two or three ferries were moored to the loading ramp on our arrival at San Pedro de Tiquina but our preferred vessel loaded with a local bus left before we had a chance to ride on and take advantage of its level deck. Directed to the second boat we baulked at the deck which was a mess of loose, long wooden planks with large gaps exposing the gaping hull. Loaded with another vehicle we crossed the short expanse of water and wondered how we would disembark with no reverse gear. I think they do this on purpose just for entertainment. Needless to say our exit was far from smooth with our ungainly maneuvers stopping the other vehicle from disembarking for some minutes. The terrain was dry and dusty as we moved closer to the Bolivian capital La Paz. This sprawling city appeared to be built in a valley but the houses climbed the surrounding mountains and overflowed onto the plains above merging into the city of El Alto. Here, the highway dissolved in a major congestion of mini buses carrying people in all directions as we desperately sought some sanity in the swerving, diesel belching vehicles. It was to no avail and we missed the turn off down into the city centre. A Police Officer gave us the correct route with a waive of his hand plus an animated gesture to swerve around the milling crowds and horn tooting 'people movers' ahead.

Ferries crossing the Straits of Tiquina

Easy "on" but not so easy "off"
Posada el Carretero was buried in a myriad of one way streets but the owners had hosted motorcyclists before and a large plank was produced to negotiate the steps into the small courtyard. Our efforts caused the traffic to stop in the very busy, narrow one way street.

View of La Paz
The day culminated with dinner in a small restaurant with Leo and Mick from Compass Motorcycle Expeditions, an Australian company doing guided tours in South America. We knew Leo from our travels in Argentina but this was our first contact with Mick. Great conversations during the evening but both were a little consumed with support vehicle problems. It had broken down and a tour was soon to commence in Santiago, Chile.

Alfonso from HU Community in La Paz
Alfonso, an Horizons Unlimited community member met us the following day and escorted us to a tyre shop. We were anticipating some serious off road riding in Bolivia so we decided to change the front tyre to a more aggressive tread pattern. An oil change was completed by Alfonso's 'lubricantes' man as we enjoyed some traditional food, Saltenas (chicken or meat empanadas usually with plenty of chili) for lunch. For a little over a $1.00 we watched a very rough tyre changer put our new tyre on the front wheel. Watching this procedure I became quite uneasy with the rough work. This day would haunt us in the very near future. Our host then took us to a view point over looking La Paz and we noted how clear the skies were in the highest capital city in the world despite the huge traffic volume.

Posada el Carretero

"Zebra Crossing" El Alto

The road to Oruro

One of the many metal sculptures, Oruro
Enroute to the Salar de Uyuni our target town/city today was Potosi and once again, after an easy climb out of the city we encountered the crazy congestion created by the hundreds or perhaps thousands of mini buses in El Alto. It was slow going despite the efforts of the Police to keep the flow. A unique sight was the 'zebras' manning the pedestrian crossings to assist school children. Open road at last with the surface surprisingly good considering the volume of truck traffic. The scenery through the southern altiplano was dry with very few trees. Farming was the main source of income with most houses constructed of mud brick topped with grass roof or the odd dwelling sporting an iron one. Lunch at Oruro indicated we were making good time however after Challapata the road climbed into the mountains again and the bike appeared to struggle with the altitude more than usual. It was 6.00pm when we reached a very cool Potosi however Hostal San Jose provided a warm smart room with secure parking close to town. We discussed doing a trip to the famous mines of Potosi but decided against it after speaking to a few people about the difficulties involved. Claustophobic with bad to toxic air. We spent the next day sight seeing plus checking the carburetors to make sure nothing was amiss to cause the poor running at altitude. No significant problems were discovered so we assumed it was fuel quality.

Mud brick houses

The road to Potosi

Warm colours at Hostal San Jose Potosi
Departing Potosi we enjoyed thirty kms of new pavement south west towards Uyuni but this stopped abruptly and the corrugations, sand and stones pounded the bike and our bodies all the way to this famous little town. The numerous detours were ugly with soft, powdered sand being churned up by countless construction trucks and tourist vehicles. Occasionally a water truck would try to reduce the dust but the dry conditions and ever present wind soon removed all traces of moisture. There were a couple of short paved sections which gave a little relief but the road climbed up and down several hills or mountains before we caught a glimpse of the distant Uyuni. It took us six hours to cover just over 200 kms. Hotel Avenida had been recommended by several bikers and we soaked off the dust with a warm shower before Crawford (met in Peru) arrived with his Canadian riding companion Markus. Both were riding Kawasaki 650's however Crawford's was feeling the strain with a blown shock absorber. They had done the more difficult route from Oruro directly south to Uyuni missing Potosi. Despite the problems we ventured to Minuteman Pizza for dinner, another establishment highly recommended by many bikers and justifiably so. Chris the owner produced a jar of Vegemite for the Australian contingent at breakfast one morning. Now "that" was really appreciated.

The sandy track to Uyuni

Unusual local housing

Detours, road to Uyuni

Short lived pavement, road to Uyuni

Road to Uyuni
Crawford has located someone who could possibly fix his shock and is kindly taken to the mechanic by a local Policeman. A strange coincidence was the chance meeting of Arno and Julie, the French bicycle riders we had met at the Peruvian/Bolivian border. Some days we think we are doing it tough but when we see these guys on their light transport doing these rough roads we know our lives are much easier.

Markus enjoying a Minuteman pizza

Crawford and shock getting police help

Bike parking at Hotel Avenida
We planned our night on the Salar de Uyuni after Crawford advised the shock appeared to be fixed. However Crawford had no camping gear and resigned himself to just doing a ride out onto the salt lake with us then returning to Uyuni. Stocked with food and water our party of three bikes and four people head to the little village of Colchani. For the volume of traffic that use this short road it is in an appalling state with many vehicles leaving the broken paved sections to travel the numerous sandy tracks alongside.

Uyuni to Colchani

Finally on the Salar

Ken, Markus and Crawford, Salt Hotel Uyuni

Swimming anyone?

Even the furniture was made of salt

Crawford enjoying the ride

An endless horizon
Salt piles from mining skirt the edges of the lake as we searched for the track that will take us to Fish Island. The surface is very hard with small, softer ridges in a mosaic pattern creating a crunchy whisper as the bikes rushed across the salt crust. Reaching the Salt Hotel we realized the velocity of the wind and hoped that we could find a sheltered camp site for the night. Riding this white expanse is so strange. There are no roads and we weave left and right off the many tracks and watch 4x4's doing the same thing but they were mere specks in the distance. The rocky, cactus surface of Fish Island (Isla Incahuasi) came into view and we considered camping nearby but rounding the island it appeared we had stumbled onto a Toyota 4x4 convention. A lot of commercial tours travel onto the Salar every day but within an hour or so most had left for various corners of the lake. We managed a few photos and a bite to eat before saying goodbye to Crawford who indicated the shock was not sounding too healthy with a consistent knocking upsetting the ride. We headed into the wild white yonder with Markus towards another island on the horizon hoping to find some vacant white spot to pitch our tents.

Toyota 4x4 convention!

View from hill on Fish Island

Three bikes and plenty of salt

Salar de Uyuni

Highest largest salt lake in the world
Camping on the Salar is really special although cooking dinner was a bit of an issue with the wind buffeting our campsite despite us finding another similar island to hide behind and pitch our tents. It was impossible to hammer the tent pegs into the concrete like surface. Even the small cracks under the salt ridges could not be penetrated so we anchored the tent ropes with crumbling lumps of soil from the nearby island. The sky was milky white with stars…it was so clear. Markus got a little worried when we could see vehicle headlights in the distance. Hope the driver does not travel too close to our camp. Tents on the biggest salt lake in the world may be not what someone expects to see in the middle of the night. We survived the night with the tent fly flapping loudly for several hours then suddenly quiet. Morning was a beautiful sight and we pondered the day and where we would do our 'Silly Salar Shots".

Our camp

Fantastic scenery

Mosaic patterns in the salt

Our campsite

Sunset
Our 'props' were produced and the fun began. "FUN" this was really hard work and as the sun reached its peak the heat and glare off the lake was difficult to handle. The screens of the digital cameras were almost invisible and Markus took to lying on his stomach with his bike jacket over his head. Talk about cooking ones brain!! Shortly after midday we called it quits and headed back to Uyuni reveling in the cool air as we raced across the white expanse. Reaching Uyuni, a bit of the 'stop, ask, go' and we located a car wash, paid a small amount of "Bolivianos" and had the salt residue cleaned off the bikes.

We survived the night

Silly Salar shots

She was on the tip of my tongue

"Silly Shots" were difficult

Salar road

Mototaxi crossing the Salar

Salt mining
Crawford had done some modifications to his shock absorber while we were on the Salar de Uyuni, but was still not pleased; however contact with the manufacturer in the USA brought some satisfaction with the offer of a new replacement. Now all he had to arrange was where the part could be sent to be collected. He decided on Mendoza, Argentina and hoped that the repair would get him the thousands of kilometers ahead. We bid Markus and Crawford farewell as they were heading to Chile via a very rough route which was probably beyond our heavily laden steed.

Back in Uyuni

Markus heading off

Uyuni
Before the long and dusty trail back to Potosi though, we bounced our way to the outskirts of town to look at the famous train graveyard of Uyuni. An amazing sight of retired steam engines and carriages of an era gone by although the sad display of plastic bags in their thousands clinging to the low foliage took some of the magic away.

The train graveyard

Traditionally dressed woman, Uyuni
The 200km plus return to Potosi was a long and dusty affair with the detours being more chewed up than our ride a few days earlier. Stop/go signs caused traffic delays but we were able to keep clear of most of the vehicles. Graders and water trucks attributed to the chaos creating undriveable conditions and causing many vehicles to stop. Thirty kms from town the new pavement started. So black and so smooth and also no line markings. A local driver was also enjoying the road and decided on a race line on the wrong side of the road and almost took us down. It was so close, we must remain ever alert in these countries as road rules are not respected.

Here we go again!!!

Combating traffic road to Potosi

Aarrrrgh, graders creating havoc for bikers

An ugly detour

Dusty village along the way

Stunning scenery

Sandy track
Just an overnight stay in Potosi before chasing Ruta 5 to Sucre. A nice short ride on pavement made for an easy day although our first choice of hostel was full so it was a little bit of an adventure through the one way streets to find another with secure parking

Residencial Sumaj in Potosi

A hearty breakfast before our ride
Another rest day plus a little sight seeing and internet. The evening was spent map reading and planning our next few days riding.

The streets of Sucre

Sucre

Traditional clothing

Manicured gardens in Sucre plaza
Leaving Sucre we headed into 'Che' Guevara country and our map although a very expensive one lacked a little detail of the road we were taking. Friends Hamish and Emma had done this road to Pucara some months earlier and their attempt at getting information along the road was quite difficult. Our first issue was the availability of petrol so we stopped at Tarabuco where we believed the pavement finished, located a gasoline shop and filled from plastic containers. To our surprise we rode out of town on a new concrete road for some 20 kms. When the concrete stopped we rode the dirt road alongside half the newly constructed concrete surface. Zudanez was reached quickly due to the road conditions and we expected to reach our destination village of Pucara in plenty of time. In Tomina we searched for signs of a cross over road that bypassed Padilla to Villa Serano. To our surprise we were greeted by a reasonably new cobble stoned road which despite the light rain and clouds made for an easy ride. After a few kilometers it finished and the surface deteriorated to a slippery stony track that climbed and descended through the undulating hills. Eight kms from Villa Serano the cobble stoned road began again and continued until the concrete streets of Villa Serano.

Filling up in Tarabuco

This was the last sign we saw all day

New concrete road

Half way there

Rain made the track slippery

From Tomina we took a cobbled stone road

The road took us up into the clouds

The rain came
Here we stopped for lunch and looked at our options. To ride on was an unknown quantity. Road condition, distance and weather. Hamish and Emma stayed here for the night and rode on the next day as they could not find out the correct distance or conditions. We asked and were given a time of 4 hours… distance unknown. We looked at our map and the distance looked small (no mileage listed) so we left heading into the hills. The rain had turned the road into a mess of slippery clay and recent grader attention had turned the track into a quagmire. We passed the grader, one truck and a 4x4 belonging to the same road construction company. These were the last vehicles we were to see for the rest of the day.

The track turned into a quagmire

Climbing high into the mountains

Great scenery but few people

Substantial bridge where Pucara should have been

The road varied in condition

Back in the mountains again
Twice in the slippery conditions the rear wheel tried to pass the front. A sign indicating some towns in another direction but none were on our map so we opted to stick to the road most traveled reaching a large bridge over an unnamed river (on our map). Here it indicated was our destination town of Pucara but there was nothing to be seen other than a road construction camp and the bridge. A local farmer, the first human sighting for some hours, advised us after a language struggle that Pucara was some 40 kms away and at least one and half hours ride. He meant that one and a half hours too, as we climbed and descended several hills and mountains. After around an hour a lady walking along the roadside advised we were only 15 minutes away. It was 5.20pm and the light was fading fast. Pucara was very quiet as we rode into town. The town plaza and road around it were almost completely destroyed by a reconstruction effort. A quick lap of the construction and we headed to the only accommodation 'Residencial Montes' we could see in the fast fading light. Parking the bike on the rough surface I dropped the bike…looking for terra firma with the right foot and finding air!!! The rear right foot peg was bent and the lower pannier brace broke. We will need a welder tomorrow.

Our hotel in Pucara

Plaza and road construction, Pucara

Our breakfast cafe

Road into Pucara

Local welders in Pucara repair pannier frame
Javier the 'Residencial' owner escorted us to a construction site on the road into town and the workers promptly set about fixing the broken support plus straighten the bent foot peg. They refused payment of any kind but the day was very hot and our offer of 10 Bolivianos for a cold drink was eventually accepted. With the repairs done we headed to 'La Higuera' approximately 15 kms away. We had passed the turn off the previous day when entering Pucara. A very hot day and Javier advised to us be aware, a storm could develop later in the afternoon.

Pucara

Bullock drawn plough

The road to La Higuera

Ruta del Che
The monuments and accolades to 'Che' around the world are quite extraordinary and this little village (La Higuera) is the spot where the Bolivian army executed a wounded 'Che' in the local school before his body was airlifted to Valle Grande. Valle Grande, a village made famous by the photo of Che's body displayed in a hospital laundry tub. Today some people see this man as terrorist and others see him as a freedom fighter. His recognition worldwide for whatever reason, however, is undisputed.

Monument to Che

Dwarfed by Che

The old school building is now a museum

Inside the museum

The many faces of Che

La Higuera
We enjoyed a reasonable dirt surface departing Pucara the next day but it was not to last as we climbed into the magnificent green mountains. The track became quite technical with slow maneuvering between large rocks and deep ruts. Signage was almost non existent but there was at least some traffic to ask the route should we become lost. Reaching Valle Grande around lunch time, the Hospital Municipal Senor de Malta was easily located. The laundry building and 'tub' behind the hospital was covered in graffiti and remains as a memorial to 'Che' but our efforts to see the burial spot at the airport became a little too protracted. We immediately departed for Santa Cruz knowing there was some distance to travel on roads unknown other than it was mountainous, paved but plenty of road works.

The road out of Pucara

On top of the mountains on the way to Valle Grande

Varied road conditions

Hospital Valle Grande

Che portrait, Valle Grande

The laundry house

The tub where Che's body was laid out for the world press to see

Valle Grande Plaza with Macaw phone

Mausoleum access was too protracted
Closer to Santa Cruz the traffic became more intense and our decision to stop at the smaller town of La Guardia was rewarded with a huge room at Residencial Diana. The bike was ushered into a cramped passage way. Obstructing a passage way like this would not pass normal fire regulations in most countries around the world. After the past few days riding in the dusty mountain trails of Bolivia we took the opportunity to wash all our clothes, including the bike jackets and pants. We spent three warm nights in this provincial town as our clothes dried and enjoying the local markets and restaurants.

Greener terrain closer to Santa Cruz, East Bolivia

Cascades

The market area in La Guardia
Friday was not a good day to enter Santa Cruz. The traffic was chaotic as we tried to find our path out of town on Ruta 4 North to Montero. We stopped and asked several people to confirm our way and eventually we joined the numerous minibuses north. Montero also caused some confusion when we followed a detour sign which led to no where in particular. The directions stopped and we ended up in the centre of town asking for the road to Cochabamba. Eventually on the right road we caught up to several cars we had seen on the first leg to Montero.

Traffic and roadworks = slow pace to Cochabamba
We rode over 500 kms this day through low lands with lush green forest into mountains where poor visibility through clouds slowed the traffic and stop/go signs at road works created traffic jams. Detours around several landsides under repair and small stretches of cobbled stoned surfaces all added to the variety of conditions. Getting closer to Cochabamba the down hill run was very tedious with hundreds of trucks in low gear trundling slowly into town. The pace of some of these vehicles was not much faster than walking. It was dark by the time we reached town and our meager Spanish was almost useless in finding our intended accommodation. Hostel Jardin was eventually located around 7.45pm just before a huge storm dumped its load.

Road to Cochabamba took us back into the clouds
The road out of Cochabamba returned to the dry stony climb into the mountains we had encountered several days earlier, a huge change from the lush green forest of the past few days. After the hard riding in altitude the past two weeks I planned to do a quick oil change at Patacamaya. Despite only covering around 3,000 kms since the last service the oil was very black. Altitude causes the engine to run rich and a lot more carbon appears to filter into the oil. The 'lubricantes' (oil shops) lined the highway so we stopped, bought suitable oil and proceeded to do the service. A storm quickly enveloped the little town and Carol and I were ushered into the shop while the mechanic braved the rain. All part of the service. Reaching La Paz for the second time we were prepared for the traffic chaos and made our way to our intended accommodation. We chose a little more up-market place this time, Residencial Sucre closer to the city centre. Our return to La Paz was to meet up with Alfonso again who hoped to have his motorcycle back on the road to take us for a guided tour of the Death Road. Unfortunately it was not repaired so our adventure along this celebrated route will have to wait another day.

Indiginous markets near La Paz

The road to La Paz
Our ride in Bolivia was about to finish as we packed and left La Paz, heading for Chile and the coastal town of Arica. In between however was another mountain pass and border crossing.

People mover chaos.

La Paz

Residencial Sucre

La Paz traffic
A sunny day with long, straight paved roads was all we could see as we escaped the traffic melee in El Alto and found open space. Closing in on the mountains separating Bolivia and Chile a snow capped volcano dominated the horizon and heavy dark clouds appeared to be pulled towards its summit. Our road heading west drew us ever closer to the ominous storm brewing. Thirty kms from the border we stopped and donned our wet weather gear, then, not far from the Bolivian border the ice cold drops started falling. These eventually turned to sleet, then snow at the Chilean border which fortunately melted before reaching the ground. It felt like an eternity before we escaped the twisting mountain road descending into a distant ball of weak sunlight. We located a hotel near the centre of Arica around 7.30 pm and they insisted we park the bike in the foyer which looked way too plush for the likes of our dirty steed.

The road west to Chile

Volcano near the Bolivia/Chile border

Weather gets darker

Pacific coast the sun shines
Markus, our traveling and camping companion from Uyuni, Bolivia was currently doing a little R & R in Calama. His ride from Uyuni to Calama with Crawford was quite tough. He crashed causing some bike damage and a few bruises. Fortunately in Calama he found a hotel whose owners looked after him and were able to assist in the repair of his bike. We headed to Calama to catch up with Markus, taking in a quick detour to Iquique. The road was an amazing ride, a black ribbon of asphalt climbing into the sand dunes under a perfect blue sky and a big sun. Traffic was minimal and very well behaved. Iquique has a duty free shopping zone and I was hoping to find a new camera to replace our little waterproof Olympus. Unfortunately we were out of luck as the latest cameras had not arrived there so it was back out to Ruta 5 to join the afternoon wind storms and make our way to Calama. We clocked over 750 kms today with the last section heading east on Ruta 24 being the most difficult. The wind pushed us around at will and the noise in our helmets all but drowned out our conversations over the intercom.

Iquique

Copper mine Calama
Calama has the largest open cut copper mine in the world but a tour was not possible with everything being booked out for several days. It was great to catch up with Markus again who had almost turned into a local he had been in town so long. We planned to leave Calama and travel together for a few days so we challenged ourselves with a 100 km ride to San Pedro de Atacama after a relaxing day or two.

Road to San Pedro de Atacama

Taking in the view outside of San Pedro

An oasis in the middle of the desert
Ruta 23 into San Pedro de Atacama was a pleasant ride arriving in town early enough to do a walk around after booking into Residencial Vilacoyo. Despite the touristy atmosphere we could have stayed a day or two longer here and we vowed to return if the opportunity arose. I cannot recall any high rise buildings here with most of the streets dirt and the buildings made of adobe. Most movement in town was done on foot or bicycle and our accommodation had a kitchen where we could cook although we did enjoy a nice lunch in a very rustic restaurant. Our slow walk in the afternoon heat also located the Chilean border exit and we inquired if it was possible to get stamped out immediately and have a bit of a head start in the morning. No such luck.

The streets of San Pedro

The local church

San Pedro

Restaurant, note roof- not much rain here

Walking to Chilean border post

Residencial Vilacoyo

Markus relaxing in courtyard
The ride from Bolivia into Chile was just a short loop and tomorrow we headed back to Argentina via Paso de Jama. It was a slow morning despite the enormity of the day. We did not reach the Chilean customs until 10.00 am as we had a little difficulty finding the only petrol station in town but eventually we cleared the Chilean border controls and began the climb into the Andes. The Argentinean border control was on the other side of the pass so we had at least another 140 to 150 kms of "no mans land." An amazing ascent as it was mostly a slow straight climb void of bends. Some curves appeared at the top and both bikes struggled in the altitude. The weather was cool and blue as we rode the amazing expanse surrounded by numerous volcanoes and stone formations with not a tree to be seen. Reaching the Argentinean Border we met two German riders doing a lightening ride of about three weeks in Argentina and Chile. The necessary paperwork was processed quickly by a very pleasant group of border officials. At this point we would like to say hello to Grant and Julie two fellow Australians who were caught at this border a couple of years ago with insufficient fuel due to a misadventure. There is a new YPF petrol station here now. Gradually the road descended twisting through the hills and slowly, trees and vegetation began to line the valleys and edges of the highway.

Scenery on Paso de Jama

Desolate Paso de Jama

Following Markus Paso de Jama

Back in Argentina again
The pavement flattened out completely and we could see Salinas Grandes in the distance. Visibility was good and I mentioned to Carol that I could see a bicycle rider or maybe two in the distance….no it was a tandem!! What chances…!! It was the French couple Arno and Julie pushing their way across the flat open plain. It was great to see them again but they were amused that we had only left San Pedro de Atacama in Chile that morning, completed a border crossing and would make it to Tilcara before dark. They had been traveling this route for four days and would take at least another two days before reaching Tilcara. Conversation ran for almost an hour before we started riding again leaving the bike riders with the sad news that there was another 4000 + metre pass still to go before reaching their destination town of Purmamarca about 30 kms from Tilcara.

Tandem bikers Arno and Julie

One more pass towards Purmamarca
Reaching Tilcara we headed straight to the Tourist Information and eventually located La Posada Hostel, an old Spanish house on acreage very close to the town plaza. A very pleasant and relaxed atmosphere. We ventured into town for dinner and enjoyed a little local music as a finale for the evening.

La Posada Hostel in Tilcara
We bid Markus farewell the next day and headed South/South East with no particular distance or overnight stop in mind. The bike was running much better now after leaving the altitude. The road ahead was one we had done previously but recent rains had made everything a lot greener. We stopped for lunch at aYPF garage with an attached restaurant on the outskirts of Metan. Departing, we topped up with fuel and checked the tyres. A little under 40 kms later we approached a roundabout on the outskirts of Rosario de la Frontera. Carol mentioned to proceed straight ahead meaning the second exit then a little head shake of the bike as we decreased speed. A quick question from Carol with a quick reply 'flat tyre'. A second later we hit the road hard on the right side and began sliding.The abrasive sound of plastic and metal grinding down the road is not my favorite thing.

Damaged fairing

Crashbar and storage container damage

Right pannier damaged again
The bike continued on after I let go of the bars. Looking back I saw Carol about 10 metres away lying in the middle of the road almost motionless. Running back, she beckoned me to remove her glove so she could release her helmet. The helmet had no marks or scratches. Fortunately there was no traffic around that I could see and I was hoping to move her off the road but a man appeared saying 'no, no, no!!!'. A few minutes later, cars had stopped and people were buzzing around us. Julio the first helper and witness began phoning the ambulance and police. My right shoulder protested when I tried to pick the bike up to stop the flow of gasoline from the near full tank. Julio joined me and with the help of another passer by we lifted the bike and moved it off the road. The ambulance arrived and shortly after the Police. Carol was neck braced and taken to the local hospital which was only a few kilometres. I was consoled by Julio who spoke a small amount of English that I should not worry, he would take care of everything. To assist with the language problem Julio telephoned his nephew, Emiliano who arrived and confirmed with me that everything would be taken care of but first an immediate hospital checkup should be priority.

Julio, Carolina and their children
X-rays and medical checks at the local hospital revealed no broken bones just bruising and that both of us could go home… where ever that was!!! Julio to the rescue again. His mother who was wheel chair bound lived less than 100 metres from the hospital and his sister Rossana and four teenage children lived less than 50 metres from her. A little bit of confusion due to the language and probably some shock we were welcomed into Berta's home.

Rossana, Emiliano, Alexia and Anabella
Julio took me to the Police station to make a statement plus collect the bike. It was a warm afternoon as I watched Julio change the front inner tube. My query about finding a puncture was negative… the tube was spotless… but the valve stem had torn out of the tube. The valve stem nut appeared to have been over tightened and I recalled the tyre change in La Paz, visioning him with his back to me over tightening the valve stem. We had done over 5000 kms on this tyre but the tube was of very good quality and probably took some time for the rim to slowly cut its way through. Another example of this was seen in Buenos Aires on our return with another travelers bike where the tube had been partially cut by an over tightened valve stem after a few thousand kms.
Berta was very welcoming and opened her heart and home to us. Her children and grand children were always willing to help in anyway and we saw a lot of Rossana's two eldest daughters. They both had a reasonable command of English and were only too happy to play interpreter for their grandmother. A couple of sleepless nights and Carol said my right arm/shoulder was hanging much lower than the left. Another visit to the hospital for sure.
On Monday Berta's housekeeper Maria walked with us to the hospital and we were introduced to Dr Luis Asrin an English speaking Doctor. More x-rays were taken which revealed my right shoulder was dislocated in addition to a fractured rib. Suffice to say the relocating was not fun.

Dr Luis Asrin

Loading the bike
We spent several days resting and recuperating in Rosario de la Frontera. The pannier on the right was looking very battered after the collision with the car in Peru and now the crash. Julio came to the rescue with a large soldering iron and proceeded to weld the crack and realign the lid.



Berta
Carolina, Julio's wife spoke excellent English and without her help organizing the transport of the bike back to Buenos Aires would have been a monumental task. She was able to find a company to do the transporting at a reasonable cost and Carol and I after about six days of resting were feeling almost well enough to bus it back to Buenos Aires. It was a hard decision to leave as I think our new found family would have looked after us until we were 100 percent fit again but we had some things to do back in Buenos Aires to ready ourselves to follow the Dakar Rally again in 2010. Also Dr Luis Asrin advised us to get checked out more thoroughly on our return to B A to ensure there were no further complications with our injuries.

Enter your email address to receive updates to Ken and Carol Duval's trip story!
Recent Entries
Archives:
Archives:
Monthly
Archives:
Category
NEW! HU 2015 Motorcycle Adventure Travel Calendar is now available! Get your copy now for some terrific travel inspiration!
HUGE, 11.5 x 16.5 inches, beautifully printed in Germany on top quality stock! Photos are the winning images from over 600 entries in the 9th Annual HU Photo Contest!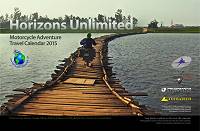 "The calendar is magnificent!"
"I just wanted to say how much I'm loving the new, larger calendar!"
We share the profit with the winning photographers. YOU could be in the HU Calendar too - enter here!
Next HU Events
NEW!

USA Virginia: Apr 9-12, 2015
Canada West: Aug 20-23, 2015
USA California: Sep 24-27, 2015
Aus Queensland: Sep 24-27, 2015
USA North Carolina: Oct 8-11, 2015
Aus Perth: Oct 9-11, 2015
Take 40% off Road Heroes Part 1 until October 31 only!
Road Heroes features tales of adventure, joy and sheer terror by veteran travellers Peter and Kay Forwood (193 countries two-up on a Harley); Dr. Greg Frazier (5 times RTW); Tiffany Coates (RTW solo female); and Rene Cormier (University of Gravel Roads).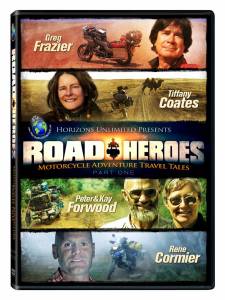 "Inspiring and hilarious!"
"I loved watching this DVD!"
"Lots of amazing stories and even more amazing photographs, it's great fun and very inspirational."
"Wonderful entertainment!"
Check it out at the HU Store! Remember to use Coupon Code 'HEROES' on your order when you checkout.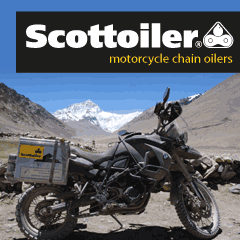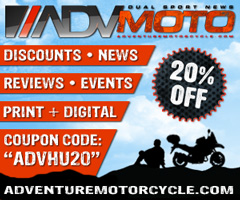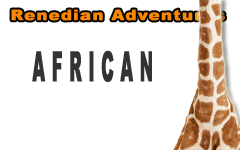 What others say about HU...
"I just wanted to say thanks for doing this and sharing so much with the rest of us." Dave, USA
"Your website is a mecca of valuable information and the DVD series is informative, entertaining, and inspiring! The new look of the website is very impressive, updated and catchy. Thank you so very much!" Jennifer, Canada
"...Great site. Keep up the good work." Murray and Carmen, Australia
"We just finished a 7 month 22,000+ mile scouting trip from Alaska to the bottom of Chile and I can't tell you how many times we referred to your site for help. From how to adjust your valves, to where to stay in the back country of Peru. Horizons Unlimited was a key player in our success. Motorcycle enthusiasts from around the world are in debt to your services." Alaska Riders

10th Annual HU Travellers Photo Contest is on now! This is an opportunity for YOU to show us your best photos and win prizes!
NEW! HU 2014 Adventure Travel T-shirts! are now available in several colors! Be the first kid on your block to have them! New lower prices on synths!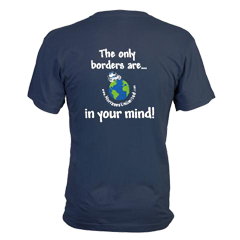 Check out the new Gildan Performance cotton-feel t-shirt - 100% poly, feels like soft cotton!

What turns you on to motorcycle travel?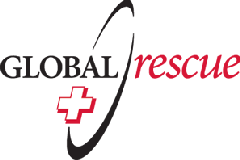 Global Rescue is the premier provider of medical, security and evacuation services worldwide and is the only company that will come to you, wherever you are, and evacuate you to your home hospital of choice. Additionally, Global Rescue places no restrictions on country of citizenship - all nationalities are eligible to sign-up!
New to Horizons Unlimited?
New to motorcycle travelling? New to the HU site? Confused? Too many options? It's really very simple - just 4 easy steps!
Horizons Unlimited was founded in 1997 by Grant and Susan Johnson following their journey around the world on a BMW R80 G/S motorcycle.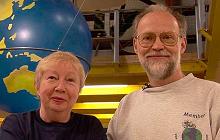 Read more about Grant & Susan's story
Membership - help keep us going!
Horizons Unlimited is not a big multi-national company, just two people who love motorcycle travel and have grown what started as a hobby in 1997 into a full time job (usually 8-10 hours per day and 7 days a week) and a labour of love. To keep it going and a roof over our heads, we run events (22 this year!); we sell inspirational and informative DVDs; we have a few selected advertisers; and we make a small amount from memberships.
You don't have to be a Member to come to an HU meeting, access the website, the HUBB or to receive the e-zine. What you get for your membership contribution is our sincere gratitude, good karma and knowing that you're helping to keep the motorcycle travel dream alive. Contributing Members and Gold Members do get additional features on the HUBB. Here's a list of all the Member benefits on the HUBB.
Books & DVDs

All the best travel books and videos listed and often reviewed on HU's famous Books page. Check it out and get great travel books from all over the world.

MC Air Shipping, (uncrated) USA / Canada / Europe and other areas. Be sure to say "Horizons Unlimited" to get your $25 discount on Shipping!
Insurance - see: For foreigners traveling in US and Canada and for Americans and Canadians traveling in other countries, then mail it to MC Express and get your HU $15 discount!
Story and photos copyright © All Rights Reserved.
Contact the author:
Editors note: We accept no responsibility for any of the above information in any way whatsoever. You are reminded to do your own research. Any commentary is strictly a personal opinion of the person supplying the information and is not to be construed as an endorsement of any kind.
Hosted by: Horizons Unlimited, the motorcycle travellers' website!
You can have your story here too - click for details!