May 31, 2009 GMT
Beautiful Brazil
May 2009 Update Brazil
Some clouds in the sky after a bit of a late sleep. We walked the city of Santo Angelo in the morning but found everything closed. It was a public holiday!!! Gilson met up with his daughters who had returned from school in Santa Maria for the long weekend. Poliana the eldest, was studying English and she returned with Gilson to give a hand with all the translations necessary when no computer was at hand. Fagundes and Luciane arrived around 6.00 pm and later in the evening we all rode to a local fair that was the hot spot of the night's activities. We walked the grounds for some time interrupted only by a quick meal before observing a live music concert. This was all in Portuguese however we were kept well informed with translations of most conversations and even the words of the songs by Poliana. The evening was completed with a couple of chocolate coated strawberry kebabs!!

Gilson and his daughter Poliana
The next day we rode around Santo Angelo doing some sight seeing. There were many Jesuit Missions established in this area of South America and in front of the main Cathedral a row of archways listed each mission and the year of construction. They commenced with San Ignacio Guazu in 1609 to San Angel Custodio in 1706 and many ruins are scattered throughout Argentina, Paraguay and Brazil. Sao Miguel das Missoes is the best preserved in Brazil so we rode out late in the afternoon to get some photos in the sunlight and then to enjoy the night show. The remains of the buildings were impressive but not as extensive as some of the ruins we had seen in Paraguay. A very professional light show illuminated the ruins with a narrator giving the history of the construction and subsequent destruction by their relevant colonial masters was excellent. Fagundes gave brief translations in English as the loud speakers boomed away under the 'Southern Cross' accompanied by a light display concentrating mainly on the old church.

Archways for Jesuit Missions

San Angel Custodio Cathedral in Santo Angelo

Gilson, Luciane and Fagundes

Sao Miguel das Missoes near Santo Angelo

Night show at the Mission
A long ride today back to Sapucaia (Porto Alegre) but before leaving town we headed to the markets at the Plaza (town square) so Fagundes and Luciane could buy a couple of souvenirs. As we were walking back to the bikes a man called out to us. We had met him at Neto's bike club in Santa Maria a few days earlier and his daughter who was studying English was keen to have a few words with us. We spent some time meeting his family and relating stories of our travels. We reached the highway eventually and joined the holiday traffic back to Sapucaia. It was fun to ride with Fagundes and Luciane who understand the local traffic and its idiosyncrasies better than travelers such as us.

New friends practising English

Bikers from Santa Maria meet with Gilson, Fagundes and Luciane in Santo Angelo
We spent several more fun days with Fagundes and Luciane waiting for our parcel from Australia to arrive but to no avail. The Aduanes (Customs) are very slow in Brazil or should we say South America. It is probably a universal problem really and a hangover from 9/11. This country has hundreds of motorcycle clubs and we have met many already in our short stay. Each club has a sticker and we have begun to collect them so in order to be part of the crowd we arranged with Luciane's mum to design and print us some stickers to give to the many bikers we meet on the road. Appropriately we used a picture taken when we met Fagundes and Luciane in the Salinas Grandes Argentina.

Sweet pizzas with ice-cream and chocolate mmmm!!

Our new sticker
Leaving Sapucaia was difficult. Life was comfortable with our Brazilian friends but this country is huge and we have a lot of roads to ride. Florianopolis was over 500 kms away and the traffic today was some of the heaviest we had encountered. This combined with difficult road conditions (road works and detours) had us arriving in the dark. We just caught the closing Tourist Office who directed us to a nearby hotel which was a little above our normal budget price but tiredness ruled and it was close by. A huge buffet breakfast of fresh fruit, juice, yoghurt, baguettes, ham, cheeses and great coffee greeted us. The ride down to Lagoa da Conceicao was an easy route but the traffic was very slow. It was Saturday and everyone has come to the coast. Carol alias the GPS successfully guided the bike to a small restaurant owned by Carlos and Terese who are friends of Andre from Pelotas. They specialized in food from the state of Minas Gerais which included a delicious cheese bread/bun. Meeting up with Andre again was great as he had recently traveled to Florianopolis to look for work due to the lack of opportunities in Pelotas. Once again he proved invaluable as he played interpreter and tourist guide.

Northern beach at Florianopolis

Lagoa da Conceicao, Florianopolis

Pamonha di Sal Recheada (pure/mashed corn with pork cooked in corn husks) at Carlos and Terese's Uai Di Minas Restaurant, Rio Tavares Florianopolis
While in this city we decided to extend our visa. A chore we must attend to every thirty days due to the structure of our visa. The simplest place to do this is an international airport where the Federal Police and Customs are located close together. After much confusion due to the language problem we were offered a 90 day extension. We accepted immediately despite previous advices that we could only get 30 day extensions at any one time. Some days it all comes together.

Andre introduces a new seafood restaurant on Logoa da Conceicao

Great setting amongst the palm trees

Monkeys were a frequent visitor around Carlos' house

Everyone leaves a message at Bar do Arante, Pantano do Sul and we happen to sit under one left by a follow Aussie

We only ordered fish and chips but were served a feast that could have fed six people

The beautiful beach at Pantano do Sul, Florianopolis
We spent five days in this popular area enjoying the life style on the lake, close to the ocean, eating fresh fish and great food at Carlos and Terese's restaurant.

Saying good bye to Carlos and Terese
The road beckons however and we head north west to Curitiba. Dodging the numerous showers we headed into the mountains and much cooler weather. It is the middle of May and Florinopolis is about level with Brisbane when it comes to climate although it gets more rain in winter. The mountains however are like Toowoomba so it was time to bulk up a bit with the clothing. Navigating the streets slowly we found a very comfortable hostel close to an area where there were numerous bike shops. Super planning as we needed two tyres before we headed west into the Pantanal. Tyres promised by a nearby bike shop that day were not there when we arrived early the next morning. We sat patiently as the staff contacted local distributors to obtain the required sizes. Some two hours later the tyres arrive and the willing staff fitted them despite my protests that I wished to do the work. At the Hostel we obtained a small map with a tourist loop around the city by bus so after lunch (2.00pm) we decided to do the same loop on the bike. Our pace is generally a little slower than buses as we tend to take a few more photos at the more interesting locations although we travel a little quicker on the road. Some great sights including a huge population of capybaras at Parque Tingui.

The glass house in the Jardim Botanico, Curitiba

Capybara lunching on grass at Parque Tingui

The Historic Sector in Curitiba
Food…. In Brazil is unbelievably good and generally cheap. A huge variety of fruit and vegetables and many different types of meat are available both cold and hot. Fish especially has been of very good quality. Most travelers gain weight in this country and we are no exception. The coffee here is superb, as it should be, but good black tea is difficult to find and so far we have only found one local brand available in most of the supermarkets. The local variety is quite weak and tasteless so we are always on the lookout for a quality imported one. Accommodation generally includes breakfast which normally has fresh fruit juice, 2 – 3 types of fresh fruit, bread, jam, cheese, cold meats, cake and coffee.
Distance to our night stop is an unknown quantity today mainly because we do not know the quality of the roads and the traffic volume. We rode in excess of 570 kms on the BR277 and arrived in the small town of Toledo after heading north at Cascavel. Although arriving at 4.30 pm it took some time to find accommodation with secure parking for the bike. We found a small family Hotel (with a secure area) eventually, opposite the Bus Station.
The cooling weather slowed us in the morning but the road was all paved and the traffic was not too heavy as we covered another 500 plus kms day arriving in Maracaju. This town had limited accommodation so once again, a small family hotel came to the rescue with the bike parked close to the back door of the owner's residence. These family hotels are quite basic despite the reasonable external appearance with some of the construction and electrical wiring leaving us a little concerned. The hot water in the showers is usually supplied by an electrical 'heat as you use system' which is quite efficient but the installation is generally a little rough. Each shower head should have a warning, "do not touch while in use" as a mild electrical shock will be emitted!!! We have been previously warned of this problem and have only been 'bitten' once or twice!!! Despite these little hiccups the accommodation is, although a little antiquated, quite clean.

Scarey wiring mixed with water!
Brazil is bigger than Australia and also has several times zones. Today we gained an hour as we covered the last 200 plus kms to Bonito in the south of the Pantanal. Our guide book mentioned that Jardim should also be considered as a stepping off point for the Pantanal so we did a slow ride through town but decided to continue on to Bonito as the glowing reports we had received from other travelers carried more weight than the guide book which had let us down numerous times in the past. We arrived in the warmth of the afternoon and the town seemed almost asleep. Locating the tourist office, we tried to find an XT600 Clube member but his Internet café was closed but another local riding a Honda took us to the preferred Hostel combined with a small campground. We opted for the camping on the lush grass. Broad-leaf couch just like the patch we had growing in our backyard in Aus. Our new motorcycle friend spoke perfect English. Turns out he was a Rotary exchange student to Parkes, Australia in 1983. It was while he was in Australia some crazy Aussie introduced him to snakes and the value they have in the eco system. He became hooked and now has a small reptile display in Bonito introducing snakes to people and dispelling the myths that proliferate about them.

Fish are a big attraction in Bonito

Do we look like Adam and Eve?? Projeto Jiboia in Bonito
A tappet check the next day revealed another barrel stud had popped out… Yes another one….!!!! These recent failures had already been repaired about nine years ago and in excess of 100,000 kms. We were still unable to locate the XT600 Clube member so the resident hostel helper and fixer of everything escorted me to his local bike shop where I set about fixing number five in South America. The resident mechanics and owner offered me assistance and access to any tools I may require but my only wish was the use of their parts washer. We were also experiencing another problem on the electrical side with the 30 amp fuse from the charging system to the battery getting burnt on the metal spades and melting the plastic… but never blowing. We carry plenty of fuses but that did not fix the problem. Also the Bosch starter motor was having a little trouble turning the bike over so my conclusion was that the battery was going flat due to the fuse/charging problem. How wrong could I be!!!!???? Electrics even on the R80 are difficult for me.
The barrel stud repair was completed the following day and all is good with the world of R80's again!!! The electrical issue can wait!!! Meanwhile Carol after much research decided we should enjoy a river swim with some big fish (!) on a local farm. We hitched a ride with a Brazilian couple staying at the hostel from Santos SP as the road out has few sign posts. Our driver asked a number of locals 'which way' before we bounced out of town on the rough road some twenty odd kilometers. A very tranquil setting, this homestead was a functioning cattle property with a couple of sidelines including the swim in the river, horse back riding and hiking. Much mirth as we struggled into our wetsuits in the humidity followed by a short drive in the 4x4 to the river. A practice dip in the river and we were on our way down stream. Instructions were brief… DO NOT TOUCH ANYTHING BUT THE WATER!!!! Easier said than done!!! The water was cool and clear with plenty of fish but I kept doing shoulder checks to make sure there wasn't a resident anaconda. Our swim of nearly 2 kms, was all to short and before long we were back at the homestead enjoying a superb buffet lunch which is the normal Brazilian fare. Our friends/drivers had also opted to do the horse ride in the afternoon so Carol and I lazed beside the 'flow-through auto-flush' swimming pool in the provided hammocks and chairs until they returned…

Do I look fat in this?? Getting ready to float down stream with the fish

Carol trying to out swim the fish

One of the varieties of fish we saw

Fighting Toucans

Toucan phone booth in Bonito
We moved camp after a few days to Rio Formosa Camping (approx. 7 kms from Bonito) beside Balneario Municipal, a small park with access to the river which contained huge schools of fish, a number of small restaurants and a well grassed area for families to enjoy BBQ's. Sundays it is packed and an entrepreneurial restaurant owner approached us as we entered explaining the facility. We accepted his advice and indicated we may be back for a drink or lunch after a quick look around. Carol's desire to sit with the fish while I fed them was fulfilled. This is certainly worth a laugh and I cannot believe how many fish were here. Food is the enticement and there is no shortage of willing souls who wish to see the spectacle. These fish are so ravenous, a young girl was nursing her small sister near the waters edge when the sibling dropped her dummy into the water. There was a huge explosion of fish and water and the dummy disappeared. One of those fish will certainly have a belly ache or it could even be fatal. Returning to the restaurant we enjoyed a small meal but the entertainment continued as three very quiet/tame macaws arrived. No fear of humans as they wandered though the tables landing on some when the owner placed handfuls of sunflower seeds to keep the birds happy and the tourists entertained.

Fish by the thousands at Balneario Municipal Rio Formoso near Bonito

Cheeky Macaws

Both varieties of Macaws

Is that a fish on my lap?? Feeding the fish was fun

Ken's turn

Anyone for a nibble on a big toe??
When we pitched our tent in the campground ours was the only tent. About 100 metres away another tent was seen later in the afternoon so we could anticipate a quiet camp tonight. The site was a work in progress and many of the facilities had not yet been completed. Carol raised the alarm around 9.30 pm when she was bitten by a large ant close to the tent and on inspection we saw literally thousands of ants on the move in various directions with quite a large trail leading under out tent. Hastily, we moved the tent to the covered concrete slab recently constructed hoping none would follow our rapid retreat. We checked the ants once again. They were dark brown in colour and about 1cm long and now believe they may have been termites. They only appeared at night and some twigs I placed in their path were promptly dismantled and carted back to the nest. Sugar, bread and fruit did not interest them. The early morning revealed not a single ant.

Escaping the ants at Rio Formosa camp site
Destination today is Miranda, along a dirt road to Bodoquena then pavement to Miranda. Just a small hop of around 150 kms arriving in the early afternoon at the Tourist Office to obtain a list of good cheap accommodation. Armed with a few names our departure was stopped dead when the bike would not start. Now this had happened a couple of times in the past with the opinion that it was either the battery or starter motor not working properly. It eventually came good when things got a little cooler so our delay at the Tourist Office combined with the bus terminal provided plenty of entertainment for bus travelers and locals. Eventually, after Carol had carried most of the luggage to a Hotel (on the list) about 60 metres away, the bike started. We were planning to push it up hill to the Hotel. The next morning I overhauled the carburetors as the fuel consumption was increasing sharply. The idle needle on the right side was particularly bad but it has been about 80,000 kms since they were last done. Despite assurances from our Tourist Information lady my forecast that rain was on its way came to fruition. That night the heavens opened up into a huge storm. My forecast 'tool' is ants… When there are 'ants on the move' rain is imminent. In and around our room they were certainly moving.!!

Wooden bridge on the road to Miranda

Red soil for as far as the eye can see

Ken's been playing in the dirt again
Our plan to ride the Estrada Parque road west of Miranda now depended on how extensive the rain was in the Pantanal and as we ventured west our fears were confirmed of a huge thunderstorm belt had washed through the area. The road to Corumba was still damp from the downpours and some light sprinkles were still happening. We looked at the turnoff to the Estrada and the road looked OK but a vehicle exiting looked very muddy. Austrian friends riding solo on KLR650's who had been there some weeks earlier, advised the road would be almost impassable if it rained so our choice to view the Pantanal today was restricted to the pavement highway to Corumba. This was still an excellent ride with the road being constructed some metres above the swamplands. The soil removed to build the raised highway left large hollows/ditches which filled with water and now supported huge numbers of birdlife, Jacare/Caiman, capybara, monkeys and the odd deer. Road kill was quite prevalent on this road and some animals were quite different to our previous sightings. Trying to start the bike just after we had stopped to take some bird pictures had us stuck once again. I really needed to get this sorted… There were plenty of water puddles about so we set about dousing the engine in water. About 30 minutes later all came back to life and we headed to Corumba. We considered staying here but decided the weather was a bit against us and it was a chance to make up a little time. Stopping at a BR Petrobras road house for lunch the bikes non-starting occurred again. Another 45 minutes before we were mobile again. The 'sound' was like a flat battery without the final 'death rattle' but we had full lights so I was leaning towards starter motor failure.

Road kill (not by us)

Pink Spoon Billed Ibis along the road to Corumba

The Rio Paraguai

Some wildlife seen on the ride to Corumba

The gateway to Corumba

Roadside Jacare/Caiman

More Jacare/Caiman
While riding along I discussed with Carol the last time the starter motor had been serviced. Embarrassingly we recalled it was Belguim 1998 and probably 150 to 160,000 kms ago. No warranty claim here!!! We arrived in Anastacio in the dark due to our problems but found a reasonable hotel with a very helpful owner, however just as we rode in the charging light showed its colour….RED…. Parking the bike and unloading quickly, I returned to unpack the electrical tester to sort out the problem but alas it disappeared as quickly as it had appeared. I hate electrics. If you take a problem like this to a specialist they claim it can only be traced when it appears. I can do that!!! It's those intermittent ones that are the difficult ones!!!

Sun at last on our way to Anastacio

Cattle properties are called Fazendas in Brazil
The ride to Campo Grande was uneventful with the bike starting in the city even when it was hot!!! We found a hotel close to the city centre but contact with friends of Luciane and Fagundes had us make a change the following day to a 16th floor apartment in the heart of the city. It is always good to have local knowledge and help was always close at hand with Rodrigo and Luciane. Our social life also increased and we met Carol, a lady from the USA who has lived here for many years. Thank you for the great meals and hospitality Carol.

Luciane, Rodrigo and Carol in Campo Grande
The following day Rodrigo's research brings results and I remove the starter motor and take it to an expert. A Bosch starter motor to a Japanese auto electrician. A quick look and he advises we will have to leave it for a day. A day…only a day…!!! Wow that's fine by me. We are about to leave and the boss returns and offers another choice… "you look like you are in a hurry, we will do it now". I protest saying tomorrow is fine but Rodrigo gives the nod and work begins. The main shaft has been wobbling around due to a destroyed brass bush/bearing at the end of the starter. Some internal damage but we are assured all will be OK. It takes a little while but when fixed the motor is spinning like a new one. Make mental note… 'Remove starter and grease bush every 50,000 kms' …. The result of this repair is that the other electrical gremlins have also disappeared. The melting fuses, glowing battery light and all the other silly problems. Electrics…I am learning…slowly !!
The views from the 16th floor apartment are fantastic. We watch many small storms and rain squalls travel around the city. The weather is very volatile for a few days but our hosts do a great job looking after us. From this height we also saw many birds, the dominant being the vultures gracefully soaring on the updrafts from the high rise buildings. However quite often macaws could be seen and also heard as they flew from tree to tree. Toucans also flew through the tree thronged streets with the locals hardly blinking an eye.



16th floor scenery Campo Grande
Both Rodrigo and Luciane speak great English which makes our life very easy. This does not help our Portuguese though. The house language becomes English… and we meet many of their friends with both acting as translators. For a day excursion Luciane took us to a small nature reserve in the city where there is also an animal hospital. Centro De Recuperacao De Animals Silvestres rehabilitates injured animals and also returns animals to the wild confiscated from poachers. The facility housed many Brazilian animals including a tapir, capybaras, hairy boar, macaws, pumas, monkeys, toucans and many other types of birds and cats One of the monkeys obviously had been someone's illegal pet and performed a treat for the spectators. Sunday we took a short walk to the covered markets in the city and got introduced to the different foods of the area. It's all about looking, smelling and tasting. For lunch we visited a friend's house where traditional food was served for lunch. Feijoada made from calabresa (type of sausage), black beans, chili, and served with rice and salad.

The green forest walk to the animal rehabilitation centre

One of the big cats

Great hair style

The chilies are great in Brazil
That evening we ventured to another apartment (same building) where Anna and Marcelo live and enjoyed a quiet night with a few snacks and a drink. Anna teaches English and has also been to Australia. A pleasant evening and we were really enjoying the comfortable lifestyle in Campo Grande.

Enter your email address to receive updates to Ken and Carol Duval's trip story!
Recent Entries
Archives:
Archives:
Monthly
Archives:
Category
NEW! HU 2015 Motorcycle Adventure Travel Calendar is now available! Get your copy now for some terrific travel inspiration!
HUGE, 11.5 x 16.5 inches, beautifully printed in Germany on top quality stock! Photos are the winning images from over 600 entries in the 9th Annual HU Photo Contest!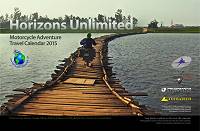 "The calendar is magnificent!"
"I just wanted to say how much I'm loving the new, larger calendar!"
We share the profit with the winning photographers. YOU could be in the HU Calendar too - enter here!
Next HU Events
NEW!

USA Virginia: Apr 9-12, 2015
Take 40% off Road Heroes Part 1 until October 31 only!
Road Heroes features tales of adventure, joy and sheer terror by veteran travellers Peter and Kay Forwood (193 countries two-up on a Harley); Dr. Greg Frazier (5 times RTW); Tiffany Coates (RTW solo female); and Rene Cormier (University of Gravel Roads).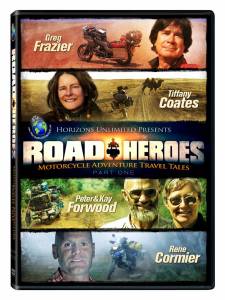 "Inspiring and hilarious!"
"I loved watching this DVD!"
"Lots of amazing stories and even more amazing photographs, it's great fun and very inspirational."
"Wonderful entertainment!"
Check it out at the HU Store! Remember to use Coupon Code 'HEROES' on your order when you checkout.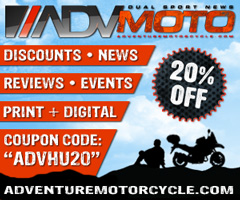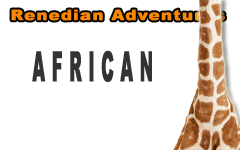 What others say about HU...
"I just wanted to say thanks for doing this and sharing so much with the rest of us." Dave, USA
"Your website is a mecca of valuable information and the DVD series is informative, entertaining, and inspiring! The new look of the website is very impressive, updated and catchy. Thank you so very much!" Jennifer, Canada
"...Great site. Keep up the good work." Murray and Carmen, Australia
"We just finished a 7 month 22,000+ mile scouting trip from Alaska to the bottom of Chile and I can't tell you how many times we referred to your site for help. From how to adjust your valves, to where to stay in the back country of Peru. Horizons Unlimited was a key player in our success. Motorcycle enthusiasts from around the world are in debt to your services." Alaska Riders

10th Annual HU Travellers Photo Contest is on now! This is an opportunity for YOU to show us your best photos and win prizes!
NEW! HU 2014 Adventure Travel T-shirts! are now available in several colors! Be the first kid on your block to have them! New lower prices on synths!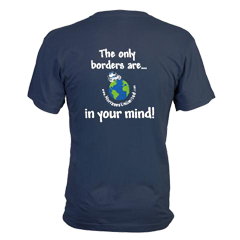 Check out the new Gildan Performance cotton-feel t-shirt - 100% poly, feels like soft cotton!

What turns you on to motorcycle travel?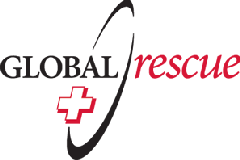 Global Rescue is the premier provider of medical, security and evacuation services worldwide and is the only company that will come to you, wherever you are, and evacuate you to your home hospital of choice. Additionally, Global Rescue places no restrictions on country of citizenship - all nationalities are eligible to sign-up!
New to Horizons Unlimited?
New to motorcycle travelling? New to the HU site? Confused? Too many options? It's really very simple - just 4 easy steps!
Horizons Unlimited was founded in 1997 by Grant and Susan Johnson following their journey around the world on a BMW R80 G/S motorcycle.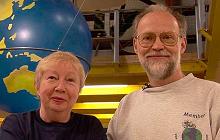 Read more about Grant & Susan's story
Membership - help keep us going!
Horizons Unlimited is not a big multi-national company, just two people who love motorcycle travel and have grown what started as a hobby in 1997 into a full time job (usually 8-10 hours per day and 7 days a week) and a labour of love. To keep it going and a roof over our heads, we run events (22 this year!); we sell inspirational and informative DVDs; we have a few selected advertisers; and we make a small amount from memberships.
You don't have to be a Member to come to an HU meeting, access the website, the HUBB or to receive the e-zine. What you get for your membership contribution is our sincere gratitude, good karma and knowing that you're helping to keep the motorcycle travel dream alive. Contributing Members and Gold Members do get additional features on the HUBB. Here's a list of all the Member benefits on the HUBB.
Books & DVDs

All the best travel books and videos listed and often reviewed on HU's famous Books page. Check it out and get great travel books from all over the world.

MC Air Shipping, (uncrated) USA / Canada / Europe and other areas. Be sure to say "Horizons Unlimited" to get your $25 discount on Shipping!
Insurance - see: For foreigners traveling in US and Canada and for Americans and Canadians traveling in other countries, then mail it to MC Express and get your HU $15 discount!
Story and photos copyright © All Rights Reserved.
Contact the author:
Editors note: We accept no responsibility for any of the above information in any way whatsoever. You are reminded to do your own research. Any commentary is strictly a personal opinion of the person supplying the information and is not to be construed as an endorsement of any kind.
Hosted by: Horizons Unlimited, the motorcycle travellers' website!
You can have your story here too - click for details!