July 22, 2001 GMT
Onion Boat to Indonesia
Scavenging information from several sources we are able to arrange a vegetable boat to take our motorcycle from Melaka to Dumai. Departure day saw us loading the bike onto an onion boat and it lashed to the wheelhouse. Bags of onions were then stacked around the bike to ensure it did not abandon ship while crossing the Straits of Melaka. Our passenger ferry arrived a couple of hours before the much slower cargo boat and the ever- present con men fleeced us of a few hard earned dollars for overpriced taxi rides. Beware those who follow!! Use the rickshaws. Collecting the bike at 8pm was too late for customs to process, but the following day everything was completed before midday including the police permits. No fees were required and the experience was pleasant to say the least.

The bike nestled among the bags of onions on its way to Indonesia.
We made Tanjungbalai by nightfall but it was not a pleasant ride. Not knowing the correct distance, road and traffic conditions and fuel availability caused us to arrive in darkness. Because of all these factors we agree to limit our days to 300/400 kms not the 400kms + done in one afternoon. Reporting to the police for our first permit update was entertaining for the uniformed men as well as the local population. We attracted hundreds of on lookers and were escorted to the 'cheap hotel' by the law who were very helpful. Many photos and handshaking was the order of the day.
Ken and the friendly customs officials in Dumai, Indonesia.
Heading to Lake Toba we experienced the severe conditions of Indonesian roads with drivers weaving erratically to avoid the potholed surface. Stopping for a coke at Pematangsiantar, BSA sidecars used as 3 wheeled taxis congregate around the BMW. Photos and handshaking again as we ogle at the makeshift repairs done to keep these old relics running. Leaving town was a stop-start and ask affair as the road signage was non existent. At Tuk Tuk on the island in the middle of Lake Toba we stayed at the Samosir Cottages spoiling ourselves with a IR20,000 room with functional plumbing and lights. The food although expensive by Indonesian standards was excellent. After becoming 'legal' residents we tackle a few of the minor roads crossing the island. We got caught out as the tracks had turned to mud after recent rain causing us to loose our way. We arrived back at the hotel after dark. Combined with the Batik architecture and natural scenery this is a beautiful area of Sumatra and a 'must see' for every traveler.
Leaving Lake Toba we cross the small bridge linking Samosir Island to the outer rim of the volcano and climb a narrow road out of the crater, great stuff! By nightfall we reached Pangsidem Puan disappointed at the small distance covered due to the road conditions and villages which are strung out along the road. We are always dodging chickens, dogs and young children that continually appear from nowhere and are left gob-smacked as our immense vehicle rolls by. At the Hotel Merdeka our hosts allow us to park the bike in the hotel foyer. Even with the bike cover we failed to stop some kid peeling off our koala sticker. We were disappointed to have it stolen in our last country after all we have been through.
On the road to Bukittinggi we stopped for fuel and air, creating a huge traffic jam by our mere presence. Not many white people on big bikes come this way, feels like Africa all over again. Plenty of twisty roads along this route and although our progress is slow the grins took awhile to leave our faces after we arrived. Another milestone today as we crossed the Equator into the Southern Hemisphere. The last time was some fourteen months earlier in Kenya, which resulted in a flat front tyre, no problems this time. Bukittinggi appears to have plenty of tourists and caters adequately for most western desires. We stayed at the very comfortable Orchid Hotel that had plenty of hot water, a luxury needed at this high altitude. Many souvenir shops line the streets and calls of 'hey mister' and 'hey boss' can be heard as we walk by. Paid a visit to Fort de Kock (relatives Mike?) and a small rundown zoo and museum. Sad to see animals locked up in such small cages and some without food or water.
Enough R and R. we engage a road to Lake Maninjau with 44 numbered hair pin corners. Stop for photos and the great view of another craterlake. Padang is a busy city. Plenty of u-turns to find the police station here. Confusion reigns when there are so many one way streets. We found a cheap internet-café and we began our enquiries on transport through Dili in East Timor to Australia.
South from Padang the road twists and turns up and down the coastal hills and mountains. The road sees little traffic and the surface was far better than most we had been on so far in Sumatra. Palm oil plantations in the hills and rice paddies on the flat coastal plains with rainforest to break up the rural scenery. We reached Ipoh and booked into a small hotel that was overpriced for what it offered. Nasi goreng for dinner was all we would attempt and after a short walk around town adjourned to our hotel just before a tropical storm let loose. The heat and humidity did not abate after the storm and we experienced an uncomfortable night with no fan and plenty of mosquitoes.
Our coastal route saw the best of the hilly rainforest but not so much of the famous surf that occurs along these shores. Petrol appears readily available along this route. If not from petrol stations, plenty of roadside stalls are selling it in one to five liter plastic drums. A police stop at Bengkulu, advise us of a troublesome area around Lahat (only at night) so we maintain our southerly direction along the coast reaching Bintuhan by dusk. An overfriendly policeman invites himself to dinner with us and we pay. The next day he also expected us to pay his hotel bill. Once bitten... This was our first uncomfortable encounter with corruption in Indonesia.
Hit the road early because of this problem and stop after a couple of hours for a little food and cup of tea. Five minutes and the traffic was stopping, they would just stand and stare. Carol was inconvenienced a little, as an urgent toilet stop was needed here. I endeavor to distract the audience as she disappeared behind a tree. It was quite difficult. Traveling the roads here there are many young people asking for donations to build or repair their mosques. As with most of the locals we do not give but are amazed at the number of barriers erected along the highways to beg for their beliefs.
The last leg along the west Sumatra coast had us executing a number of u-turns trying to find the road to Bandar Lampung. Our map failed us after being so reliable this far. The turn towards Bandar Lampung at Ngaras was not correct so after asking many people including the police we attack a section of dirt, mud, stones, washouts and extreme hill climbs hoping we were heading in the right direction. After 20 to 25 kms the pavement commenced winding down to the coastal plains of rice paddies. Good adrenalin stuff on our loaded G/S. Entering Badung Lampung we experienced a tropical downpour of monumental proportions. Saturated in seconds we pushed our way through the traffic as the streets flooded with dirty, rubbish polluted water. Cars, bikes and trucks stalled in number as the deluge continued for almost an hour. Once again the signage out of town was wanting and we requested directions numerous times to escape the chaotic conditions.
Kalianda on the coast was our aim for the night but our navigational problems combined with the storm had us traveling into the evening. A nasty confrontation with a bus saw the BMW bottom out severely as we abandoned the road to avoid a head on crash. The buses in Indonesia appear to be the vehicle most likely to run you over. Trucks, cars and motorbikes all clear the deck when approached by these maniac drivers. Must be the tight time schedules they have to keep! (ha ha)
Registering at the police station was once again a painless experience with the officers showing great interest in our exploits. Our hosts at the Hotel Beringin were also very pleasant allowing us to park the bike inside the internal courtyard. Although an acquired taste, I have become accustomed to the local coffee. Black, strong, oily and with a great lump of sediment in the bottom of the mug. Carol stayed with the tea, which she considered was only just palatable.
After a day of rest and sight seeing we tackled the highway to the ferry port of Bakauheni. The ferry to Java runs approximately every half an hour and we were ushered straight onto the ferry. Merak, Java was busy with plenty of traffic congestion. In Serang we take a wrong turn and get lost, asking directions was amazing. Every person had us going in a different direction, some did not know. The traffic was horrendous, mini buses belching incredible volumes of pollution. On the open road they want to 'race' us, we passively let them pass but maintain our steady speed overtaking them again as the poor overworked motors splutter under a load of passengers and steep hills. Bogar was even worse and we take over an hour to negotiate a path through the city. Combined with an overcast sky, pollution and the late hour we found a hotel at Cisarua. Very difficult to get the room price down which is extraordinary as we were their only customers. Tourism is very slow at the moment due to the political instability. We did not see or experience any of the problems reported in the media.
The slow moving, heavy traffic riding had the G/S burning quite a bit of engine oil. We are concerned but believe that sometimes the quality of oil purchased in South East Asia, although a name brand, is not of the standard indicated on the pack. Cheap copies of almost everything can be purchased so easily here.
Passing through Bandung was horrendous. Apparently there is a bypass road but it was not indicated on our map. Two hours of hell saw us exit this polluted, chaotic city. After numerous meals concocted in substandard cleanliness we passed a large 'M' (golden arches) and contemplated a bland burger and fries for lunch. We rue our decision not to stop. The meal we purchased to satisfy our hunger pains was to bring us undone. We take a bypass road twisting through the hills around Gabut. Another small road we bypass Tasik Malaya and reach Ciamis by 4.30pm. By Indonesian standards this was a very clean quiet town. With our police registration again being a very pleasant experience. We then checked into a Hotel La Risa across the road with warm hospitality greeting us again.
The night was not a good one for me and I am quite ill with flue like symptoms and diarrhoea . The next days riding was a foggy affair (for me head wise), Carol was feeling ok and her navigation skills brought us around Kebumen and Purworejo. Heading north to Salaman we saw the smoking volcano of Mt. Sumbing. Mt. Merbabu and Mt. Merapi to the east were clouded out. Reaching Borobudur, because of my detiorating health, we decide to rest up for a day or two. A fever set in and the diarrhoea continued. Twenty-four hours of this was too much and I caught a lift to the local doctor. Drugs and the consultation costs Aus$1.50 . He was concerned about my low blood pressure, not enough fluids. What a laugh, I drink and it passes through quicker than a flushing toilet, not common in this part of the world. The drugs do their stuff and Carol enjoys a walk through the Buddhist Temple as I recoup. Sorry I missed this great wonder, as her photos were impressive.
A short ride to Solo (80kms) was all I could manage the next day. But we enjoy the twisting asphalt as our route negotiates a path between the volcanoes of Mt. Merbabu and Mt. Merapi. The latter is very active but people still farm and live on its slopes. Today we vow to eat nothing but western food for at least a week, KFC, McDonalds, pizzas and fries, never thought it would come to this. Our stay in Solo was extended, it was Carol's turn, fever and diarrhoea. This was not a good bug. Don't know were we caught it, but Carol was at the doctors with an incredible fever. I was very concerned and continually pressured her to drink more. Our hosts at Cendina Homestay were excellent and continually checked to see how we were and if we needed anything. Our diet was all western now and we knew this was a good decision as, while walking back from an internet-café, we noticed a street vendor cleaning his wooden satay sticks ready to be used again the next day. Street vending satay was definitely off our menu.
After a couple of days of drugs and rest Carol felt ok to travel and we depart this pleasant city aiming for Cemoro Lawang. We stop frequently on this leg drinking and eating determined not to get too run down from our bout of illness. Our travels over the last four years have not seen us sick very often despite being in some appalling conditions, so when we get ill it is quite a shock to our systems. Fortunately our recovery is generally quick and we are back on the road within a few days.
Fifteen kms before Probolinggo we head south climbing steadily into the mountains to Sokapura. The cooler weather and a shower of rain had us feeling uncomfortable but the rain cleared as we climbed higher on a magical ride through terraced farming and quaint villages. Traffic was minimal as we paid our National Park fees (IR2,500 per person) at Ngadisari and travel the last 3 kms to the small village of Cemoro Lawang on the lip of the Tengger Crater. We take a luxury room at the Café Lava Hostel with hot water and fresh clean linen. Our stomachs, still tender from our recent illness, enjoyed a quality meal at the attached restaurant.
An early morning start (4am) by jeep had us descending the crater wall and driving across the lava plain to climb Mt. Pananjakan. We view sunrise and Mt. Semeru's erratic puffs of smoke. The track could quite easily be negotiated by bike and now, knowing the way, would tackle this ride to view this spectacular scenery. Package tours are not my style. The road to and from was negotiated far too quickly with no opportunity for photos. The journey is, quite often more interesting than the destination.
Carol's horse ride towards the rim of Mt Bromo was not to her liking. She prefers the stability of a motorcycle but the view into the crater was worth the final climb. The smell of sulphur, the smoke, steam and walking the edge of an unfenced active volcano was something not to be missed.
After a hardy breakfast (scrambled eggs on toast) we saddle our bike for the trip down the mountain to Probolinggo. Our aim today was to make it to Ketapang and catch the ferry to Bali. The first section of our journey saw very little traffic but this was not to last. The main highway No. 25 was busy with vehicles of all descriptions traveling towards the port that accesses the tourist capital of Indonesia. We were comfortable at around 80 to 90 kph (50 to 55 mph) but were continually overtaken by many late model cars and a few of the small motorbikes. A Honda, carrying two young lads passed us a couple of times. They had been with us for some time but around
60kms from the port their last overtaking manouvre saw them collide at around 110 kph with another local rider who turned across their bow just to get to the other side of the road. The resulting collision saw their bodies and bikes on the road. Plenty of help at hand as we roll by a rocking helmet that had come off in the crash. They only have plastic catches on some of the helmets here. Another safety factor is that few bikes have rear view mirrors, they usually get removed at purchase. With the victims getting to their feet we left the scene. The half-hour crossing took over two hours to complete and the loss of one hour due to a time zone change saw us bunk down in an over priced home stay/hotel in Gilimanuk.
The ride to Dempasar/Kuta Beach was beautiful, terraced rice paddies with a couple of glimpses of the rolling surf and beaches. A shower of rain cooled the air in the hills but arriving at Kuta brought us back to reality, tropics, humidity and the busy tourist atmosphere. Phew!! So many Australians and what a strange accent. It has been so long since we have heard our native tongue in such numbers. A couple of local lads on a motorbike escort us (no charge) to a hotel in Poppie Lane 11, Hotel Beneyasa Beach Inn. Plenty of restaurants, souvenir shops and internet-café's, so civilized and touristy. We felt out of place.
Our efforts to arrange shipping from Flores to Dili (East Timor) was not successful and our visit to the Australian Consulate saw information which dampened our enthusiasm to tackle this route. We mulled over this information for a few days while looking at shipping/flying possibilities direct from Bali to Darwin. After much thought we decided this was it. Lombok, Sumbawa, Flores and Timor would have to wait another day. Timor was too risky for us to contemplate. We arranged to fly the bike with Qantas through Khrisna Bali International Cargo and fortunately we are able to arrange our tickets to arrive on the same day.
While playing the tourist, souvenir hunting, we met a French BMW R80 G/S rider who had lived in Bali for over six years. Bruno, who has a teak furniture business, was able to direct us to a local garage with a high pressure cleaner to decontaminate our bike, a must when bringing a vehicle into Australia.

Posted by Carol Duval at July 22, 2001 03:20 AM GMT

Enter your email address to receive updates to Ken and Carol Duval's trip story!
Recent Entries
Archives:
Archives:
Monthly
Archives:
Category
NEW! HU 2015 Motorcycle Adventure Travel Calendar is now available! Get your copy now for some terrific travel inspiration!
HUGE, 11.5 x 16.5 inches, beautifully printed in Germany on top quality stock! Photos are the winning images from over 600 entries in the 9th Annual HU Photo Contest!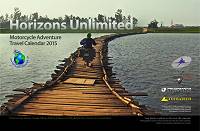 "The calendar is magnificent!"
"I just wanted to say how much I'm loving the new, larger calendar!"
We share the profit with the winning photographers. YOU could be in the HU Calendar too - enter here!
Next HU Events
NEW!

USA Virginia: Apr 9-12, 2015
Take 40% off Road Heroes Part 1 until October 31 only!
Road Heroes features tales of adventure, joy and sheer terror by veteran travellers Peter and Kay Forwood (193 countries two-up on a Harley); Dr. Greg Frazier (5 times RTW); Tiffany Coates (RTW solo female); and Rene Cormier (University of Gravel Roads).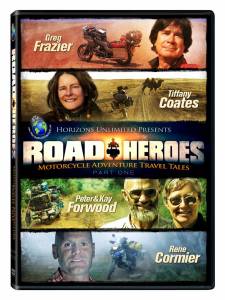 "Inspiring and hilarious!"
"I loved watching this DVD!"
"Lots of amazing stories and even more amazing photographs, it's great fun and very inspirational."
"Wonderful entertainment!"
Check it out at the HU Store! Remember to use Coupon Code 'HEROES' on your order when you checkout.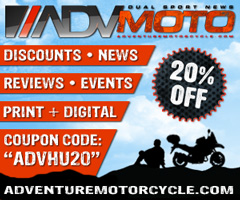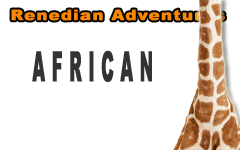 What others say about HU...
"I just wanted to say thanks for doing this and sharing so much with the rest of us." Dave, USA
"Your website is a mecca of valuable information and the DVD series is informative, entertaining, and inspiring! The new look of the website is very impressive, updated and catchy. Thank you so very much!" Jennifer, Canada
"...Great site. Keep up the good work." Murray and Carmen, Australia
"We just finished a 7 month 22,000+ mile scouting trip from Alaska to the bottom of Chile and I can't tell you how many times we referred to your site for help. From how to adjust your valves, to where to stay in the back country of Peru. Horizons Unlimited was a key player in our success. Motorcycle enthusiasts from around the world are in debt to your services." Alaska Riders

10th Annual HU Travellers Photo Contest is on now! This is an opportunity for YOU to show us your best photos and win prizes!
NEW! HU 2014 Adventure Travel T-shirts! are now available in several colors! Be the first kid on your block to have them! New lower prices on synths!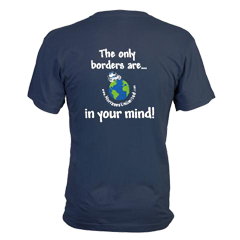 Check out the new Gildan Performance cotton-feel t-shirt - 100% poly, feels like soft cotton!

What turns you on to motorcycle travel?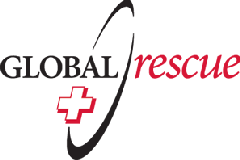 Global Rescue is the premier provider of medical, security and evacuation services worldwide and is the only company that will come to you, wherever you are, and evacuate you to your home hospital of choice. Additionally, Global Rescue places no restrictions on country of citizenship - all nationalities are eligible to sign-up!
New to Horizons Unlimited?
New to motorcycle travelling? New to the HU site? Confused? Too many options? It's really very simple - just 4 easy steps!
Horizons Unlimited was founded in 1997 by Grant and Susan Johnson following their journey around the world on a BMW R80 G/S motorcycle.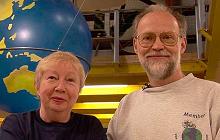 Read more about Grant & Susan's story
Membership - help keep us going!
Horizons Unlimited is not a big multi-national company, just two people who love motorcycle travel and have grown what started as a hobby in 1997 into a full time job (usually 8-10 hours per day and 7 days a week) and a labour of love. To keep it going and a roof over our heads, we run events (22 this year!); we sell inspirational and informative DVDs; we have a few selected advertisers; and we make a small amount from memberships.
You don't have to be a Member to come to an HU meeting, access the website, the HUBB or to receive the e-zine. What you get for your membership contribution is our sincere gratitude, good karma and knowing that you're helping to keep the motorcycle travel dream alive. Contributing Members and Gold Members do get additional features on the HUBB. Here's a list of all the Member benefits on the HUBB.
Books & DVDs

All the best travel books and videos listed and often reviewed on HU's famous Books page. Check it out and get great travel books from all over the world.

MC Air Shipping, (uncrated) USA / Canada / Europe and other areas. Be sure to say "Horizons Unlimited" to get your $25 discount on Shipping!
Insurance - see: For foreigners traveling in US and Canada and for Americans and Canadians traveling in other countries, then mail it to MC Express and get your HU $15 discount!
Story and photos copyright © All Rights Reserved.
Contact the author:
Editors note: We accept no responsibility for any of the above information in any way whatsoever. You are reminded to do your own research. Any commentary is strictly a personal opinion of the person supplying the information and is not to be construed as an endorsement of any kind.
Hosted by: Horizons Unlimited, the motorcycle travellers' website!
You can have your story here too - click for details!