Honduras and Guatemala
April 21, 2010 GMT
Guatemala 9-25 January 2010
We were feeling pretty spooked when we went into Guatemala. Everybody we'd met so far regaled us with tales of violence. Checking it out on the internet only added to our concern. The US government website lists in detail over a hundred serious armed robbery and assaults on US citizens alone over the last year, the last being a couple of weeks back – all in the areas we planned to visit.
A law was passed in 2009 forbidding pillion passengers on bikes and stating that all riders must wear a vest with their bike registration number on the back and also have the number plastered on the back of their helmets. This is because of the number of assassinations carried out by motorcycle riders in Guatemala city.
However we'd been told about a big motorcycle meeting and blessing of the bikes at Esquipulas just over the border and we thought… well they'll be ok and we might get some useful info from them. The town is famous for one thing – a black statue of Christ in the main church, which is a mega pilgrimage site from all over Guatemala and beyond. A huge, vibrant street market sells everything from socks to holy images and cheap souvenirs and huge queues of indigenous faithful come to pray at the statue.
In the evening everybody takes to the streets on small bikes, scooters, quads, tuk-tuks, cars and pickups – round and round they go – whole families on one bike and astonishingly lots of girls in high heels and make up, who career past on scooters showing off to all the boys following on their bikes.
In the morning we woke up to find hundreds of big bikes in the church plaza, so we loaded up and joined them and were immediately surrounded by bikers chatting and taking our photos. My attention was caught by the sight of four burly, shaven-headed, heavily tattooed bikers, heads bowed as they and their bikes were blessed by a diminutive priest. However, something told me not to get my own camera out at this point….
Much cheered by our encounters, we set off to enjoy Guatemala and had a brilliant couple of weeks – not nearly long enough. Our first stop was Rio Dulce where we stayed in the wonderful Backpackers Hostel built over the river – you wouldn't want to drop your contact lens here as you can see through the floorboards.
We woke in the night to a strange feeling of everything swaying and discovered later there had been an earthquake in El Salvador close to where we'd been the week before. All the profits from the hostel and its restaurant go to support an orphanage with 250 street kids and several of the older kids gain work experience in the hostel.

We were heading north to Tikal, one of the key Mayan sites in Central America. Lots of assaults have happened on the road to Tikal so we took advice from the tourist office who assured us that police patrols have been stepped up so the road is safe. It still feels isolated in parts so we zoomed through and yes there were more police cars around. We felt somewhat ambivalent however as Guatemalan (and let's face it all police in Central America) have a very bad reputation for shaking down tourists for bribes. Plus we didn't have the mandatory vests and helmets with our number plates on and could have been fined.
Tikal is extraordinary. Just one of hundreds of Mayan sites, both excavated and unexcavated, and sitting in a huge area of protected jungle, it is a haven for wildlife. We actually saw more here than anywhere else on our trip. Stepped pyramids soar above the jungle treetops – great views once you've huffed up to the top of them, and howler monkeys do their howling all around you.
Birdlife included ocelated turkeys (very pretty), large and very busy woodpeckers and swooping flocks of toucans. Plus brightly coloured butterflies and coatamundi skittering around in the undergrowth. Best of all for us, there were very few people around and at times we had the place to ourselves. So many theories about why the Mayan civilization fell apart – too many uncomfortable parallels for us today – over exploitation of natural resources, over population, greed for power and domination etc.
From Tikal we headed south, again taking advice on the safest roads. After an unexpected and unusual ferry crossing and a ride through countless dirt-poor Mayan villages, we ended up in Copan, on the edge of prime quetzal-spotting territory. This resplendent bird was sacred to the Mayans, and appears on both the modern currency and on the Guatemalan flag. We decided we just had to try and spot one, so we booked ourselves on an eco-tour.
We got on a local bus with Manuel, our Mayan guide, then changed onto a minibus which left when it was full to bursting and started grinding its way up into the hills. 90 minutes later, we got off and started trekking up a steep, narrow track. A couple more hours and we arrived at a wooden shack in a clearing in the cloud forest.
The house had dirt floors, chickens scratching around and a compost loo hut about 30 metres away, which meant crossed legs all night or hypothermia and a broken neck if you ventured out by torchlight.
For the next two days we lived with Manuel and his wife and 9-month old baby, which took one horrified look at us and screamed its head off, nervous dogs that were supposed to guard the chickens but instead stole the eggs, and Manuel's aged mother, who was probably the same age as us but looked about a hundred.
We ate tortillas and frijoles (beans), frijoles and tortillas and tortillas and frijoles for two days by the light of the wood fire in the corner as electricity has not reached here. Maize and beans is virtually all they can grow at this altitude and we helped to pod the frijoles (a daily task) and attempted to learn how to pat the sludgy, ground maize into tortillas.
In between times we went for long, steep walks up into the cloud forest with Manuel hunting for the elusive quetzal – which remained just that. Turns out the air is thick with them – in April - when the food they like is abundant. To add insult to injury my brother went straight to the Natural History Museum in London so he's seen one and we haven't.
But the cloud forest was amazing – watching the clouds roll down over the trees in the late afternoon over a clear blue sky was amazing, through the temperature then plummeted and we had to scramble into our thermals and huddle by the fire. It was a fascinating but sobering insight into the lives of so many Mayan families – this family at least had land of its own, but Manuel still has to leave his family on a regular basis to earn enough to keep them. Our journey back was enlivened by traveling in a minivan designed for 15 seaters with 32 of us including 3 on the roof with all the luggage. Glad there weren't any cliffs.
The next few days were a complete contrast with a stunning ride through the two mountain ranges of Alta and BajaVerapas where the vegetation changed from very arid to lush green and included 70 km of dirt road and no signs. Fortunately Pat is like a homing pigeon, even when she's not going home, and always finds the way, despite rubbish maps that lie and no GPS to speak of.
Suddenly we were back in prime tourist territory in the beautiful Spanish colonial town of Antigua. The history of most of these towns seems to be built, destroyed by earthquake, rebuilt, destroyed by earthquake and so on – so you get to see a lot of ruins. The way up to the view over the town is considered too dangerous to walk up so the tourist police run their own free tours up there. We were the only takers that day so they took us by bike – breaking the no helmet, no pillion and no number plated jackets for starters. They were delightful and gave us a lift right back to our hostel so they could see our bikes!
We again took advice on routes to Lago de Atitlan; the best roads are unfortunately the most isolated and a motorcyclist on a rented bike had been shot and injured in one assault recently. We also took boats across the Lake for that reason, rather than riding round which was a shame as it is incredibly beautiful. The lake is dominated by three volcanoes and the drop down to it is amazing – 800 metres in 8 kms.
We stayed in the lively little town of Panajachel and hooked up with some delightful bikers and landrover travelers – thanks very much to Vincent & Maryline for the Road Book of Mexico they donated us!
We loved the south-west of Guatemala – the riding is fantastic with range after range of widely varying mountains, from thickly forested to bare uplands. The weather keeps changing too; one minute you're overheating and half an hour later the wind is biting into you. You never get bored as you never know what the road surface will throw at you, or when the tarmac will suddenly disappear and you're diving through potholed gravel. One incredible ride took us straight up from the tongue-twisting Hueheutenango to the altiplano at 3300 metres and an amazing view right across the plain to the next range of mountains.
We had to make ourselves leave Guatemala. We'd been really worried about safety, but as usual our fears were unfounded, though we did our research and avoided the most dangerous roads. People were friendly throughout and we had no problems with the police – in fact they were very friendly as well. So what do you believe? We certainly want to go back there as there was so much we didn't have time for.
Posted by Sheonagh Ravensdale at
10:51 AM
GMT
Honduras and El Salvador - 4 to 9 January 2010
We exited Nicaragua, imported the bikes into Honduras, raced across the south of Honduras in about four hours and exported the bikes from there into El Salvador. We were very sorry to do this as the country looks very interesting, but the UK Foreign Office had decreed that along with Iraq and Afghanistan, Honduras should be avoided for all but essential travel.
Because of this, we knew our travel insurance would be invalid as soon as we entered the country. If we had an accident, we'd be on our own as there is no consular representation in Honduras. We found it strange that other travellers either knew nothing about this, or just weren't bothered, and were learning to dive here as Honduras is apparently the cheapest place in the world. Maybe we are just chicken.
The road was superb. Apparently all the main roads are excellent – they were built by the Americans who were arming and training the Contras in their fight against the Sandinistas in Nicaragua. There's very little traffic as Honduras is desperately poor. Cows and donkey graze by the roadside and there were few people around.
In June 2009, the military in Honduras became fed up with the left-wing President Zelaya and bundled him onto a plane in his pajamas to Costa Rica and installed their own man. Zelaya flew back in a private jet, but was arrested at the airport and deported again. So he snuck back in the boot of a car and holed up in the Brazilian embassy for several months.
The constitutional crisis threatened to de-stabilize the region and was only resolved several weeks after we passed through, when Zelaya admitted defeat and went into exile in the Dominican Republic. Zelaya is a great mate of Hugo Chavez in Venezuela, so is missed by few in the Western world and his honesty is in question over a missing $1.5 million, though this could be a smear – who knows?
What we saw of Honduras was completely peaceful, and we were waved through the only military checkpoint we passed, unlike lots of other bike and car travellers we've heard about.
Honduras is one of the CA-4 countries. This is like a mini EU and is designed to strengthen economic and political ties and prevent war between the four poorest Central American countries (El Salvador, Guatemala, Honduras and Nicaragua).
Interestingly the same endless wrangles go on here as in the EU and Costa Rica to the south dabbles on the sidelines rather like GB in Europe – picking and choosing which bits to join in, rather more successfully overall than we do. Mexico to the north is not interested – far too big and far too allied to the USA.
The CA-4 agreement is supposed to mean free movement between the four countries once you get in to the first one, but of course this doesn't apply to foreigners. We still had the tedious import/export formalities and fees with the bikes, but no nice new entry and exit stamps on our passports! Honduras is also the most expensive country to take your bike into - $42.50 for our 4 hour transit.
Salvador is a tiny country, with a population of just 6 million, a very bad gang problem and the highest murder rate in Central America. A devastating civil war that only ended in 1992, continuing political instability, a terrible earthquake in 2001, a hurricane last year that knocked out many roads and bridges have all contributed to El Salvador not being the top of anyone's list to visit. Lots of people don't bother.
But it's a very friendly place and we thoroughly enjoyed it.
Once over the border we got off the Pan American Highway as soon as we could and skirted round the San Miguel volcano looming over the town of the same name. We headed south to the Pacific coast down a wonderfully rural little road that didn't appear to bear any resemblance to our map.
We stayed at a great hostel called El Roble at Playa San Diego owned by Darren from Essex (!) and his delightful Salvadorean wife and had a great sunset walk along a beautiful beach watching local fisherman and surfing kids.
El Roble was still recovering from last autumn's cyclone when the water (they weren't sure if it was sea or river water) came through the property to waist height. They must have been working hard as the only sign of the catastrophe was that the pool was still out of commission.
Riding north and west we arrived at the unpronounceable Juayua, where we bumped into a lad from Upwey (the village we live in at home). Pat knows his mum! He and his girlfriend had just been relieved of all they carried (fortunately only $2) on a deserted path by a man with a machete and were a bit shaken. We decided not to do that walk…. and instead rode to the even more unpronounceable Ahuachapan and got Pat's rack soldered.
It had been cracked by the strong man who had lifted Pat and both bikes by their racks, back in Costa Rica. The work still only came to $8 after Pat sent it back for a second go, so for good measure we got the hairline crack on my rack soldered too and the total came to $14.00. Pat then did an oil change on both bikes on the pristine garage floor of the hostel and didn't spill a drop!
The weather was warm and sunny all the time we were in Salvador and we had a superb ride to the Cerro Verde National Park in the north west. From the top, you can almost see the top of the adjoining Izalco Volcano with its wispy fumaroles floating lazily upwards on the breeze. The ride down is right round the stunning crater lake Coatapeque.
Our final night in El Salvador was in Santa Anna in a beautifully appointed B&B ($20 for our en-suite room) with a charming host who started the evening quite sober but to the evident disapproval of his housekeeper was quite drunk by the end of it all and appeared very blearily next day. His brother is a fanatical biker and was round to meet us in a flash on his shiny GS1200. He told us about a big biker meeting over the border in Guatemala two days hence, and escorted us out of town and onto the right road next day. We could have found it ourselves but it was still kind of him! His mates were all going but his son was in hospital with dengue fever so he couldn't go. We reminded ourselves to keep taking the malaria tablets. Fortunately we've not yet met mosquitoes that can bite through our boots!

Posted by Sheonagh Ravensdale at
09:42 AM
GMT
Enter your email address to receive updates to Sheonagh Ravensdale and Pat Thomson's trip story!
Recent Entries
Archives:
Archives:
Monthly
Archives:
Category
NEW! HU 2015 Motorcycle Adventure Travel Calendar is now available! Get your copy now for some terrific travel inspiration!
HUGE, 11.5 x 16.5 inches, beautifully printed in Germany on top quality stock! Photos are the winning images from over 600 entries in the 9th Annual HU Photo Contest!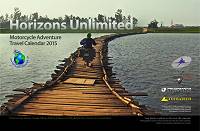 "The calendar is magnificent!"
"I just wanted to say how much I'm loving the new, larger calendar!"
We share the profit with the winning photographers. YOU could be in the HU Calendar too - enter here!
Next HU Events
NEW!

USA Virginia: Apr 9-12, 2015
Take 40% off Road Heroes Part 1 until October 31 only!
Road Heroes features tales of adventure, joy and sheer terror by veteran travellers Peter and Kay Forwood (193 countries two-up on a Harley); Dr. Greg Frazier (5 times RTW); Tiffany Coates (RTW solo female); and Rene Cormier (University of Gravel Roads).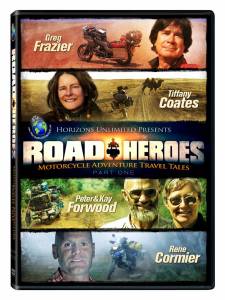 "Inspiring and hilarious!"
"I loved watching this DVD!"
"Lots of amazing stories and even more amazing photographs, it's great fun and very inspirational."
"Wonderful entertainment!"
Check it out at the HU Store! Remember to use Coupon Code 'HEROES' on your order when you checkout.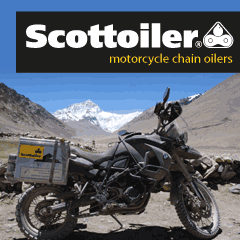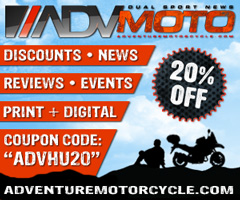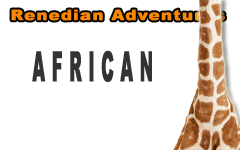 What others say about HU...
"I just wanted to say thanks for doing this and sharing so much with the rest of us." Dave, USA
"Your website is a mecca of valuable information and the DVD series is informative, entertaining, and inspiring! The new look of the website is very impressive, updated and catchy. Thank you so very much!" Jennifer, Canada
"...Great site. Keep up the good work." Murray and Carmen, Australia
"We just finished a 7 month 22,000+ mile scouting trip from Alaska to the bottom of Chile and I can't tell you how many times we referred to your site for help. From how to adjust your valves, to where to stay in the back country of Peru. Horizons Unlimited was a key player in our success. Motorcycle enthusiasts from around the world are in debt to your services." Alaska Riders

10th Annual HU Travellers Photo Contest is on now! This is an opportunity for YOU to show us your best photos and win prizes!
NEW! HU 2014 Adventure Travel T-shirts! are now available in several colors! Be the first kid on your block to have them! New lower prices on synths!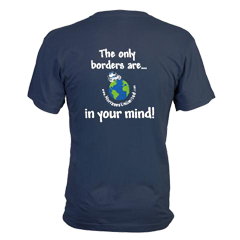 Check out the new Gildan Performance cotton-feel t-shirt - 100% poly, feels like soft cotton!

What turns you on to motorcycle travel?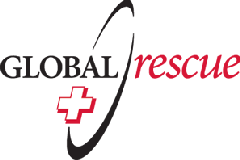 Global Rescue is the premier provider of medical, security and evacuation services worldwide and is the only company that will come to you, wherever you are, and evacuate you to your home hospital of choice. Additionally, Global Rescue places no restrictions on country of citizenship - all nationalities are eligible to sign-up!
New to Horizons Unlimited?
New to motorcycle travelling? New to the HU site? Confused? Too many options? It's really very simple - just 4 easy steps!
Horizons Unlimited was founded in 1997 by Grant and Susan Johnson following their journey around the world on a BMW R80 G/S motorcycle.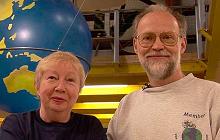 Read more about Grant & Susan's story
Membership - help keep us going!
Horizons Unlimited is not a big multi-national company, just two people who love motorcycle travel and have grown what started as a hobby in 1997 into a full time job (usually 8-10 hours per day and 7 days a week) and a labour of love. To keep it going and a roof over our heads, we run events (22 this year!); we sell inspirational and informative DVDs; we have a few selected advertisers; and we make a small amount from memberships.
You don't have to be a Member to come to an HU meeting, access the website, the HUBB or to receive the e-zine. What you get for your membership contribution is our sincere gratitude, good karma and knowing that you're helping to keep the motorcycle travel dream alive. Contributing Members and Gold Members do get additional features on the HUBB. Here's a list of all the Member benefits on the HUBB.
Books & DVDs

All the best travel books and videos listed and often reviewed on HU's famous Books page. Check it out and get great travel books from all over the world.

MC Air Shipping, (uncrated) USA / Canada / Europe and other areas. Be sure to say "Horizons Unlimited" to get your $25 discount on Shipping!
Insurance - see: For foreigners traveling in US and Canada and for Americans and Canadians traveling in other countries, then mail it to MC Express and get your HU $15 discount!
Story and photos copyright © All Rights Reserved.
Contact the author:
Editors note: We accept no responsibility for any of the above information in any way whatsoever. You are reminded to do your own research. Any commentary is strictly a personal opinion of the person supplying the information and is not to be construed as an endorsement of any kind.
Hosted by: Horizons Unlimited, the motorcycle travellers' website!
You can have your story here too - click for details!