February 03, 2011 GMT
Lao PDR 21 December 2010 to 15 January 2011
Baguettes and Bombs. You could sum up Laos (or rather the People's Democratic Republic of Lao) with these two words, perhaps inadequately, but it's a start. We can thank the French for the baguettes and the first utterly delicious bread we have had for months.
The French were here from 1893 until Lao gained independence in 1954. They weren't very interested in Lao, but they were entrenched in Vietnam, and Lao was a useful buffer against the ever encroaching Thais. They were also keen to keep the British at bay; the Brits were in Burma and eyeing territories eastwards. There are a fair amount of decaying French buildings and a surprising amount of modern French-inspired architecture in the towns where they had a presence. Games of boules are played with fervour in many villages and small towns.
The bombs were courtesy of the Americans who dropped more than two million tons of ordnance on Lao between 1963 and 1974 during the Vietnam War. Lao is the most bombed country in the world per head of population, despite war never actually being declared – this was the so-called "Secret War".
Its eastern border area with Vietnam was part of the infamous Ho Chi Minh trail – the supply route for Communist munitions between North and South Vietnam. The Thai and Lao Royal Air Forces also enthusiastically joined in the bombing, while the Lao government also tacitly allowed the North Vietnamese to use the trail.... Politics are very complicated in this region.
Whole towns in eastern Lao were obliterated and as up to 30% of the bombs did not explode, they remain nearly 40 years on, a menace to the impoverished subsistence farmers who make up 80% of the population. A quarter of all villages in Lao are affected. Much fertile land remains contaminated so cannot be used for farming, and people continue to be killed or injured trying to collect scrap metal to earn a little money. Children pick up small bomblets thinking they are balls to play with….. Have a look at Mines Advisory Group: www.maginternational.org for the work being done by one British charity.
Actually it's a miracle, or rather thanks again to the French, that Laos exists as an independent country at all, as it was repeatedly invaded and occupied through the centuries by all its neighbours. Cambodia, Thailand, Myanmar and Vietnam (they all had different names at the time) and it has a host of ethnically different groups. Anyway enough background and over to Pat for the story!
The approach to the Lao border from Thailand looked like a road to a long disused aerodrome. I kept wondering if we had taken a wrong turning (the map was not much help here), then suddenly we came across the border post. We asked about Matthew and Anita crossing earlier that day and got what seemed a very guarded 'no problems' response. (We later heard the Thai customs had tried to scam them.)
On the Lao side the road improved marginally, but there was so little traffic we had to ask which side of the road we were supposed to be on (the right!). It was about an hour to the Mekong river where the road disappeared into a very sandy riverbank for the last 300 or so metres to the ferry. In the wet season that bit probably doesn't exist. I think we bought the whole ferry for the crossing (ie we were overcharged and also done on the exchange rate as we only had Thai baht) but it was near to dusk and you don't have a lot of choice or bargaining advantage at that point. Anyway the cost was about £6 in real money.
By dark we made it to Pak Beng, a very small scruffy village and a remarkably lovely guesthouse overlooking the river. As we unpacked the bikes we were accosted with great excitement by Spanish Esteban and his Italian friends. He had recognised us from the HU DVD 'Ladies on the Loose'!
Next morning we miraculously found an honest exchange rate at the petrol station, and she didn't even try to charge us a foreigner price for the petrol as we still didn't have Laos kip. The road north to Oudomxai (signposted with at least 3 different spellings compared to the map) was a string of small villages with puppies, piglets, chickens and toddlers all spilling onto the road so progress was necessarily slow even if the road was good.
Here we bumped into Matthew and Anita and met Ernie, a delightful German, who speaks excellent 'Bertie Wooster' English. He rides a KTM and is a great source of valuable info. We also found out that all Lao ATM's that work with foreign cards extract a rake-off, even if they don't tell you!
We turned onto the main road south and the condition deteriorated instantly... until we turned onto a very minor road to Nong Khiew which was near perfect! NK is at present a lovely spot on a tributary of the Mekong, but I fear will soon be lost to rapid, random tourist development. (What planning?)
The minor road from Nong Khiew runs parallel to the Vietnam border (through lots of villages with piglets, puppies etc) and it seems the entire population is engaged in broom making. This entails collecting vast quantities of a pampas like grass, laying it on the road to dry, sitting on the road just round blind corners and watching it dry. Then thrashing bunches of it on the road and finally burying small motorcycles in enormous bundles of it before riding off to market without looking. They wouldn't be able to see past the bundles anyway.
We dropped steeply down towards the Plain of Jars, the last 30km in the dark (very carefully) and it was cold. That night's stop was not a highlight. It was the scruffiest and grubbiest place we have stayed in since our 84p night in Bolivia. Next day we legged it to Phonsavanh, where Sho made a beeline for one of the nicest hotels and insisted we stay there. Well it was Christmas Day and she had negotiated a hefty discount! Then as the whole region was having a daytime power cut, we had to go and find a garage that could dispense petrol with a hand pump, before riding out to examine some of these strange jars.

There are thousands of jars on dozens of sites but only a few have been cleared of bombs, hindering Lao's application for World Heritage status.
They are large (1-3 metres tall) granite things littered around the plain and thought to be either the remains of a giants' wild drinking party or more boringly funeral urns, which doesn't explain their random placing.
The other thing littered around this plain is a huge amount of unexploded ordnance (UXO) left over from the US bombing, together with ruins due to the stuff that did explode. Restaurants and guesthouses in town have bomb casings as flower pots, cluster bomblet casings as ashtrays etc. In November 2010 the British charity Mines Advisory Group (MAG) cleared 558 UXOs in this area alone.
It was also Hmong New Year (the indigenous minority in this area) which involves the girls dressing up in wonderful costumes and playing a gentle game of catch with the local boys in an old courtship ritual.
From here, having managed to fill the bikes up while the power was briefly back on, we headed back towards the Mekong to Luang Prabang, a World Heritage city, where we rapidly became Watted and templed out (No more What Wat jokes).
We then backtracked a little, heading downstream to Vang Vieng. The road crosses a mountain range reaching 1400m with spectacular views.
Vang Vieng is a so-called backpacker 'paradise' with bars and pounding loud music. We had been advised to stay on the other side of the river, where it was pleasanter, but this involved crossing 'the rickety bridge' (or an equally suspect-looking toll bridge). It's a seasonal bamboo bridge about 1m wide which flexes and creaks even when you walk across, let alone ride a fully-laden bike across. We were assured it was OK and we did know that Matthew had taken their loaded Transalp across the week before, though Anita refused to stay on the pillion for the crossing.
The local activity is to hire a lorry inner tube and take a tuk-tuk ride 7km up alongside the river, then float back down with optional visits to bars on the way down. All the bars seem to think playing distorted loud music is essential in getting the punters to their bars and to encourage them to try the homemade jump platforms and water slides. The consul at the Australian embassy in the capital Vientiane says he spends a lot of time arranging repatriation of injured bodies from Vang Vieng.
We had a lovely float all by ourselves down the river, and as we got out back at the rickety bridge, I saw that several of the main supports had actually broken just beneath the river surface! At the same time, we saw a fleet of local water taxis on their way up to collect tubers from the bars so they could make it back to the shop with their tubes, before the deposit forfeit time!
From Vang Vieng, it was south to the capital Vientiane for New Year. There were several celebrations, two by local competing beer companies and a cultural one that the Prime Minister went to. We went to the Tiger Beer party.
Here we also sorted our Cambodian visas, as we were hoping to go south out of Lao and apparently it would not be possible to get a visa at the border as motorcyclists. They also have a nasty habit of overcharging for visas on the border. I am now running very short of pages in my passport.
The Buddha Park near Vientiane is a very strange place. It contains over 200 Buddhist and Hindu cement statues that look old but are not. They were put there by an eccentric Lao priest-shaman in 1958. He then fled to Thailand after a coup and built another sculpture park there.
We came here with Ernie our German friend on the KTM and we also tried his bike out… It is a KTM 640, re-sleeved to 400cc and kitted out for the German army who auction the bikes off after about 6000 km. He shipped it to Lao and somehow got it registered locally… contacts, contacts…..
It is modelled on the Arc de Triomphe in Paris and is a war monument celebrating the dead who fought for independence against the French (!?) and in other wars. The cement for most of the Victory monument was diverted from an American aid package for building the airport….. Apart from some elegant or decrepit French villas, that's it for Vientiane architecture.
We were not sure about the roads south or if we could cross the border into Cambodia by motorcycle so we were very grateful for advice from Jim at www.remoteasia.com who runs tours and rents bikes. We were also glad to meet Thierry from www.bike-rental-laos.com who also runs tours and rents bikes.
Vientiane to Paksan was only notable by my collecting a nail in my back tyre as we got into town. Luckily it was only about 1km push to a pleasant guest house so we went and had a beer and fixed it next morning. No more puncture pictures……
Then it was off east on the road to Vietnam, to find the Khong Lor Cave, where you can take a 7km boat trip totally underground from one side of the mountain to the other. By the time you get to the other side, you could start believing in the underworld. We had to get out of the boat a few times going up river to negotiate the rapids and the shallow bits as we are in the height of the dry season.
By boat I mean a sort of 3-plank dugout canoe, which takes a max of 3 passengers, plus the boatman, his bowman (additional steering and a second flickering head torch) and an erratic engine on a 2-way hinged platform across the stern with a long propshaft sticking straight out of the end, which provides both forward impulse and steering...when it runs. We teamed up with a French guy called Jeremy we had seen riding a dirt bike, near the cave.
Next morning we saw Jeremy set off on his next leg. An hour later, we caught up with him, where he had unfortunately knocked over an old deaf and blind man who had run across the road in front of him. We waited with him for a while, offering moral support, and suggesting he called his Embassy, while the appropriate authorities were phoned and outlines drawn on the road. This seems to be a standard feature as several times on the switchback roads we had seen outlines of lorries (overlapping!) on a couple of the tighter corners and also unmistakable outlines of small motorcycles and people.
We met up with Jeremy again few days later and he seemed to think it was all sorted with a payment of 200,000 kip (under £20) to the family who had started with a demand for a million kip. The negotiations were done by his bike rental company by phone. We all hoped this would pay the old man's hospital expenses….
Savannakhet was the next stopover. The scenery east of here changed dramatically to limestone karst pillars with several caves, including one full of Buddha statues, before opening up into a valley with a vast hydro-power scheme construction.
We did have one small problem in town whilst following a water waggon down a very newly made-up bit of road. The bike (we were on one bike at the time) picked up so much clay aggregate that it jammed the front wheel solid. I couldn't move, couldn't get the side-stand down, so couldn't get off and the earth mover contraption was heading down the hill towards me. I was trying to get Sho to appreciate the urgency of the situation, she was trying to get a good photograph, and I had a handful of schoolboys trying to 'help' by ramming the mud further into my rear suspension with bits of stick..... Slight and perfectly reasonable sense of humour failure....
Still we managed to get the bikes cleaned up a bit in preparation for the dustiest bit of road we could find taking a 'short' cut to Tadlo. Every truck that passed by in either direction temporarily completely obliterated visibility.
Tadlo is a river location with a very beautiful waterfall, a very posh resort and a collection of very scruffy rentable straw huts on the riverbank. Guess which option we chose?
Back on the tarmac we rolled into Pakxe and made the mistake of stopping at a red light, apparently an inch or so over an imaginary line depending on the opinion of five policemen sitting in their box. The notes passed backwards and forwards seemed to indicate that they thought we should give them 100,000 kip x 2. We shook our heads and I suggested to Sho that perhaps we should call a contact in Vientiane, and she told them firmly Lao is a very nice country thank you, and suddenly we were told to go, which we did immediately before another change of mind.
This didn't encourage us to stay there so we legged it out of town and south to catch the ferry to Champasak. This we were told should be 10,000 kip for one bike but they would always try and double the price for foreigners. Apart from us, there were 4 other foreigners on bikes on the ferry and a very loud and aggressive (highly unusual in Lao) fare collector who was determined and unfortunately managed to extract 20k from each of us by refusing to give any change etc. We were prepared on the return journey and handed over 10k each and refused any further demands (here my extra height and the fact that if I don't take my helmet off I can get mistaken for a bloke may have been used to our advantage?).
At Champasak there is a World Heritage ruin, Wat Phu, a temple built up the side of a mountain by the Khmers of Cambodia who ruled pretty much all of Laos and most of Thailand in the 11th century AD.
Further down the Mekong and another disputed 10k kip ferry ride to the island of Don Khong where we stayed in a colonial building run by a courtly old gentleman who spoke excellent French. The room was enormous, but the whole building shook when anybody took a couple of steps. We took a day out on the river to visit the islands of Don Deth and Don Khone, to view the waterfalls (right on the Cambodian border and quite impressive) and not see the endangered Irrawaddy dolphins. Apparently last year they think 10 were living in the deep water pool on the border.
Next day we set off early, again doing battle with the ferry operator. The approach ramp on both sides involves a lot of soft sand as it is the dry season and the river is low. We arrived at the border, all relatively simple as long as you pay the 'unreceipted' fees of a dollar here or two dollars there to each official for his stamp.
In an unmarked wooden shack, an un-uniformed and un-badged Laos customs officer takes our bike import papers, doesn't give us a receipt and sends us off to the border with Cambodia which is five km down the road.
Enter your email address to receive updates to Sheonagh Ravensdale and Pat Thomson's trip story!
Recent Entries
Archives:
Archives:
Monthly
Archives:
Category
NEW! HU 2015 Motorcycle Adventure Travel Calendar is now available! Get your copy now for some terrific travel inspiration!
HUGE, 11.5 x 16.5 inches, beautifully printed in Germany on top quality stock! Photos are the winning images from over 600 entries in the 9th Annual HU Photo Contest!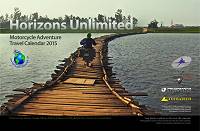 "The calendar is magnificent!"
"I just wanted to say how much I'm loving the new, larger calendar!"
We share the profit with the winning photographers. YOU could be in the HU Calendar too - enter here!
Next HU Events
NEW!

USA Virginia: Apr 9-12, 2015
Canada West: Aug 20-23, 2015
USA California: Sep 24-27, 2015
Aus Queensland: Sep 24-27, 2015
USA North Carolina: Oct 8-11, 2015
Aus Perth: Oct 9-11, 2015
Take 40% off Road Heroes Part 1 until October 31 only!
Road Heroes features tales of adventure, joy and sheer terror by veteran travellers Peter and Kay Forwood (193 countries two-up on a Harley); Dr. Greg Frazier (5 times RTW); Tiffany Coates (RTW solo female); and Rene Cormier (University of Gravel Roads).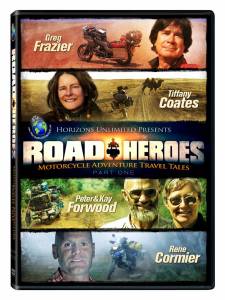 "Inspiring and hilarious!"
"I loved watching this DVD!"
"Lots of amazing stories and even more amazing photographs, it's great fun and very inspirational."
"Wonderful entertainment!"
Check it out at the HU Store! Remember to use Coupon Code 'HEROES' on your order when you checkout.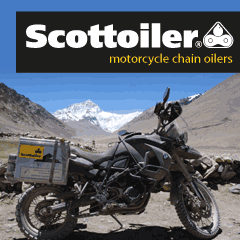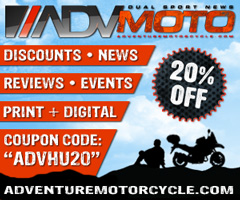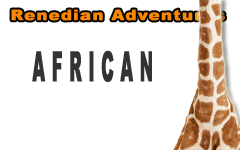 What others say about HU...
"I just wanted to say thanks for doing this and sharing so much with the rest of us." Dave, USA
"Your website is a mecca of valuable information and the DVD series is informative, entertaining, and inspiring! The new look of the website is very impressive, updated and catchy. Thank you so very much!" Jennifer, Canada
"...Great site. Keep up the good work." Murray and Carmen, Australia
"We just finished a 7 month 22,000+ mile scouting trip from Alaska to the bottom of Chile and I can't tell you how many times we referred to your site for help. From how to adjust your valves, to where to stay in the back country of Peru. Horizons Unlimited was a key player in our success. Motorcycle enthusiasts from around the world are in debt to your services." Alaska Riders

10th Annual HU Travellers Photo Contest is on now! This is an opportunity for YOU to show us your best photos and win prizes!
NEW! HU 2014 Adventure Travel T-shirts! are now available in several colors! Be the first kid on your block to have them! New lower prices on synths!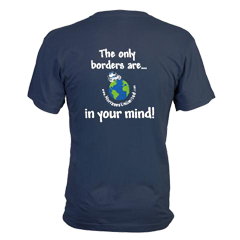 Check out the new Gildan Performance cotton-feel t-shirt - 100% poly, feels like soft cotton!

What turns you on to motorcycle travel?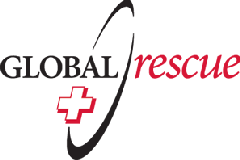 Global Rescue is the premier provider of medical, security and evacuation services worldwide and is the only company that will come to you, wherever you are, and evacuate you to your home hospital of choice. Additionally, Global Rescue places no restrictions on country of citizenship - all nationalities are eligible to sign-up!
New to Horizons Unlimited?
New to motorcycle travelling? New to the HU site? Confused? Too many options? It's really very simple - just 4 easy steps!
Horizons Unlimited was founded in 1997 by Grant and Susan Johnson following their journey around the world on a BMW R80 G/S motorcycle.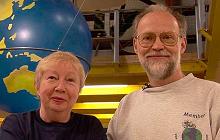 Read more about Grant & Susan's story
Membership - help keep us going!
Horizons Unlimited is not a big multi-national company, just two people who love motorcycle travel and have grown what started as a hobby in 1997 into a full time job (usually 8-10 hours per day and 7 days a week) and a labour of love. To keep it going and a roof over our heads, we run events (22 this year!); we sell inspirational and informative DVDs; we have a few selected advertisers; and we make a small amount from memberships.
You don't have to be a Member to come to an HU meeting, access the website, the HUBB or to receive the e-zine. What you get for your membership contribution is our sincere gratitude, good karma and knowing that you're helping to keep the motorcycle travel dream alive. Contributing Members and Gold Members do get additional features on the HUBB. Here's a list of all the Member benefits on the HUBB.
Books & DVDs

All the best travel books and videos listed and often reviewed on HU's famous Books page. Check it out and get great travel books from all over the world.

MC Air Shipping, (uncrated) USA / Canada / Europe and other areas. Be sure to say "Horizons Unlimited" to get your $25 discount on Shipping!
Insurance - see: For foreigners traveling in US and Canada and for Americans and Canadians traveling in other countries, then mail it to MC Express and get your HU $15 discount!
Story and photos copyright © All Rights Reserved.
Contact the author:
Editors note: We accept no responsibility for any of the above information in any way whatsoever. You are reminded to do your own research. Any commentary is strictly a personal opinion of the person supplying the information and is not to be construed as an endorsement of any kind.
Hosted by: Horizons Unlimited, the motorcycle travellers' website!
You can have your story here too - click for details!