September 23, 2010 GMT
Korea 2 July-4 August 2010
You are never alone in South Korea – the Koreans have to be one of the friendliest, most hospitable people on earth. Not many travellers spend time in this truncated half of a country with its lunatic nuclear-armed brother to the north. Most motorcyclists use Korea as a mere jumping off point for Russia, and in so doing miss out on a perfectly delightful small country, with its seemingly impenetrable language and unique hangul, which has been described as the best phonetic script ever invented.
The country lay in ruins after the forgotten (by the rest of the world) war with the north between 1950 and 1953, having been annexed and occupied by Japan from 1910-1945. It was divided up by the Americans at the end of World War II with the Russians getting the north. The Russians pulled out and the Chinese have filled the vacuum in all but name ever since. It seems a forlorn hope that this particular "Berlin wall" will ever fall. Nonetheless, South Korea pulled itself up by its bootstraps and has become a major world economic power in ship-building, heavy industry and high tech.

Korea has a civilisation at least as old as Japan's, maybe even older, and crams a host of world heritage temples, ancient royal burial mounds and fiercely protected national parks into a space the size of Portugal, with a population of 49 million. Korean cities are characterized by huge appartment blocks, which all have numbers writ large on them, as otherwise nobody, let alone the postman, would be able to find anybody. With this amount of people in a small space, high rise living is inevitable.

However as soon as you get away from the cities, Korea becomes very peaceful and rural, with mountains always in sight.

As for riding, the roads are wider and the traffic faster and less congested than Japan. It immediately felt more like riding in Europe again. We're still not sure if lane-splitting is legal, but most of the motorcyclists do it, so we did too. Riding in the mountains is a breeze, great curves with roads wide enough for you to overtake slow traffic. Most times we filled up with petrol, we were given free packets of tissues or wetwipes and frozen bottles of water – a real boon as it was very hot – and a unique custom in our experience.
Gone were the very serious, humble notices about apologising for the inconvenience of road-works we kept seeing in Japan. I'm assured the message on the next photo is the same but the Korean road-works signs seem much more exuberant:
Now back to my first sentence. Our lovely Korean rice farmer in Japan, Paco, posted news of our imminent arrival onto his 2500 member internet bike club website in Korea. Next thing we know is we've been invited to their club meeting on a campsite half way up the country. Moreover, we are to be met on arrival in Busan.
We were personally escorted by officials off the ferry, through immigration, and into customs, where we came to a dead end. They didn't speak English, we don't speak Korean, and they look at our carnets (bike passports) and shake their heads. Korea does not recognise the carnet – eek. We start to feel uneasy, whereupon our knights in shining armour in the persons of Jong Wook and Gwideuk erupt into the room.
They efficiently take over, interpret for us, get our papers processed and we're sorted in 20 minutes, fees paid, road tax and insurance bought, and we are issued with temporary Korean importation papers. After some persuasion by us, they also stamp our carnets. Who knows if it's necessary!
Our departure from the port was slightly delayed by this event. Unfortunately it's seawater underneath.... And just now we discover that she has ridden all the way from Seoul at the other end of the country to meet us and Jong Wook has ridden in from Tong Yeoung and they spent four hours in traffic yesterday from Masan to Busan customs, overnighted in a hotel and got up very early to meet us..... We were stunned and very grateful.
The problem was sorted quickly – the spare key was dispatched by bus from Seoul and the bike was picked up later by truck and taken to Masan where we all spent the night at Hochan (another member of the bike club) and Anna's house.
During the course of the evening, Gwideuk asked if we knew Paul Gowan at the RAC. She and Jong Wook were about to set off for Russia, Mongolia and India and needed carnets which they couldn't get from Korea, so they were trying to get them from the RAC in UK! A quick skype phone call by us to a slightly astonished Paul and a three-way conversation sorted all their questions out. We were glad to be able to do something for them in return! I think this is the first carnet for Koreans the RAC has done.
Next day was the bike meeting we were due to present at – half way up the country on a wet campsite in a national park – we were glad to be led there as we only had a tourist map. We got a great welcome from the group on arrival and duly gave a presentation on our trip to date, under canvas in the pouring rain. They produced a snazzy little computer projector and the screen was made of several pieces of A3 paper, sellotaped together.
We had expended all our recent energies getting into Korea and had made no actual plans of where to go next. I do have to admit this is quite normal for us! But our hosts seemed rather perplexed by this and at midday the next day, we found ourselves in a convoy of bikes and cars headed for Seoul, complete with outriders on large bikes with flashing red and blue lights who very efficiently intimidated the rest of the traffic into giving way to us! We lost the cars after a while when we started weaving in between the lanes as the returning Seoul-bound traffic built up. We also bolted through a number of red lights, which was a little nerve-wracking as other traffic was doing the same and it was getting dark.
The group was incredibly tolerant and refused to leave us, despite our entreaties, the first instance of the strong Korean community spirit we were to come across. They didn't even seem irritated, which amazed us. We were very late arriving into Seoul that night, where we found ourselves billeted on Ki-sook Lee and his wife Sunsook on the 18th floor of a massive appartment block with amazing views.
Our hosts spoke barely more English than we did Korean, so we had a hilarious time trying to communicate using Yahoo's Babelfish translator – which I can confidently declare is ok on odd words and utterly unintelligible for whole sentences like "what would you like to do tomorrow?" So they internet phoned their daughters in Australia to interpret for us.
We thus had no idea what was going on when Lee's "sworn brother" turned up the next morning to deal with Pat's bike. He whipped the offending lever off, took mine off as a model, disappeared for several hours, and returned with a brand new bit with the right number of splines welded onto Pat's old lever. Perfect job. We were so grateful, then embarassed as he refused to take any payment at all.


Before we left Seoul, we met up with Jong Wook and Gwideuk and Judy Kim, another member of the bike club. There is a small Harley-riding group of ladies that Judy heads up and she and Gwideuk are planning to set up WIMA Korea, with the help of WIMA Japan.
When we left Seoul, we headed to the east coast – we'd planned to camp in famous Seoraksan National Park but spent three hours en route failing to find an ATM that worked with our cards (ie an ATM bearing the Global logo that didn't only speak Chinese!). We ended up in Sokcho, which is the jumping off port for travellers heading for Russia. Here in the delightful House Hostel, we met Sherri, the first lone overlanding female motorcyclist we've met on this trip, and had a great evening dining and chatting. Catch her blog on www.sherrijobecauseIcanworldtour.blogspot.com.
Seoraksan, just inland from Sokcho, is the most famous of South Korea's national parks and is reputed to be the most beautiful, wirh lovely temples and a steep walk up to Ulsan Bawi (Ulsan is a town further south and Bawi = rock).
We explained to Sherri the importance of getting a photo of your bike when you drop it, and before you pick it up, over dinner. Next morning, I climbed onto my fully-loaded bike and tipped straight over into the flower bed, thereby giving Sherri a first-hand lesson I'm sure she won't forget – we'll be checking your blog for evidence Sherri.....
From Sokcho we headed south to the campsite in Odaesan National Park and no sooner had we got the tent up than we were invited for snacks and then next morning for a fresh fish-curry breakfast by a friendly Korean couple. We could only reciprocate by proferring a part bottle of soju – a 20% proof bevvy that can be made from rice, potato, wheat or barley. In turn they gave us a bulky packet of dried seaweed!
Odaesan boasts two superb temples.
We rode down the east coast of Korea which is heavily fortified for much of its length.
We were curious and eventually found our way up there. It's a hotel. This theme was to be repeated many times.
Our goal was the World Heritage City of Gyeongju, the 1000-year capital of the ancient Shilla Kingdom.
Gyeongju is packed with temples, ancient burial mounds, a museum with priceless gold crowns, jewellry, and funerary objects found in the mounds. It also has the loveliest place we have stayed in on this trip – Sa Rang Chae, a 150 year-old traditional guest house set round a flower-filled courtyard.
From Gyeongju we struck westwards and camped in the lovely Jirisan National Park in a difficult to find campsite on several levels. The ranger arrived and told us sternly that motorbikes were not allowed and we had to park them about half a mile away. He then took one look at our despairing faces and told us to hide the bikes behind a van and finally didn't charge us at all! This communication all done with the help of a kind passerby. Few people in Korea speak much if any English. The National Park campsites usually have quite good facilities and cost a mere £6.00 for a tent and two bikes.
As soon as the tent was up, the family on the level below us brought a freshly cooked "Korean pizza" - a piping hot omelette with spring onions, so we reciprocated with a nice packet of dried seaweed. Pat is reminded of the system of mathoms as described in the Hobbit, except the presents in question are useful. Their small daughter was fascinated by Pat's grey hair and just stood and stared. More disconcerting was her continued prodding of Pat's behind next day whilst Pat was putting on a new front tyre – presumably to check she was real.
We were bound for the high-tech city of Gwangju and the Institute of Science and Technology. Woo Jin, another member of the bike club, is Dean of Life Sciences here, with a speciality in genetics research, and he had invited us to do our trip presentation to his students. Motorcyclists have a bad reputation in Korea. They are seen as rebellious which is frowned upon and motorcycles are very dangerous aren't they? (This question came even before the "how old are you" question.) Woo Jin rides a large Honda and hoped that our presentation might convince his students that he is not completely bonkers - fat chance we thought!
With impeccable timing our computer went on the blink and refused to switch on at all – so good thing that Pat had the presentation on a stick. And good thing the students seemed to enjoy it, as Woo Jin had invited us to join in the end of term break to Jeju Island. The students were delightful. They are post graduates, mainly in their twenties, mostly Korean but some foreigners as well. They struck us as extremely bright, and at the same time very young and innocent compared with students in the west. Woo Jin sees his job as educating them to question things and to think for themselves as well as doing his formal teaching. They told us that their other professors are stern parent figures to whom respect must be shown without question. Woo-Jin is more like an older brother. They respect him but can also joke around with him. They quite obviously adore him, though they did tell us they were shocked when he bought his bike. We talked to them about the freedom and independence of motorcycling and got the impression this was a foreign concept.
Korean ferries don't have the large salons common in European ferries, but a series of differently-sized empty cabins, with a shoe well down the middle, so family parties and groups can have their own private space.
Jeju is a very popular holiday destination, especially for honeymooners and is particularly renowned for its seafood. Delicacies include very fresh abalone, and a fresh one wriggled on my plate. Despite being told this was only a reflex, I couldn't bear to eat it. I did cautiously eat another one that Pat had pre-checked for activity – it has a strange crunchy texture – but left it at that. A unique group of women divers called Haenyeo on Jeju collect the abalone and other shellfish, free-diving to 20 metres for 2-3 minutes. This is a centuries-old tradition, but girls now all head to the mainland for easier work, so the current divers are probably the last generation. Jeju also has some of the world's longest and largest lava tunnels (a blissfully cool interlude!) and Mt Halla-san, Korea's second-highest mountain. The highest is in North Korea.
The students did everything as a group and seemed a bit alarmed when we skipped lunch (our systems cannot cope with three meals of meat a day) in favour of exploring Marado island on our own. It takes precisely half an hour to walk on a cement path around this island, but they insisted on giving us a mobile phone "safety, safety". To no avail we explained we were world travellers on motorcycles! And then they rang us...to check we were ok.

After parting from Woo Jin and the students, we returned to Jirisan National Park for some more camping. It was now the height of the season and we finally found a spot with some difficulty. This time it was the honeymoon couple opposite who came over with a delicious plate of barbecued meat and rice as soon as we set up. The young man told me proudly "She my wife. She very naughty. I love her!" During our conversation, the four-year old from the next tent (we are all hugga-mugga in this campsite) is kicking our benefactors' tent pegs and trying to knock their pot off the stove. He is chased off and we are solemnly told "Korean baby very dangerous".
After Jirisan, we headed south to Namhae Island and camped between the beach and a tidal river at Sangju Beach. For once we chose our spot wisely, alone behind some trees for shade rather than on the beachfront itself with the hordes of other tents. Overnight a storm sprang up which battered us for hours and the river rose alarmingly. Next morning the beachfront was a disaster scene with wrecked tents and awnings everywhere. Soon we were the only tent left – and it was still pouring with rain. We had had a couple of weeks of glorious hot weather so were not too downcast. We decided to sit it out for another night....and then another night.....
Finally it stopped raining during the third day and a new set of happy campers arrived. The place was suddenly packed, again all on the beachfront. That evening a tent set up right immediatelty next to us and the occupant introduced himself and his 8-yr old daughter. He produced wine and snacks, we produced soju and we all went and sat on the seawall.
Next morning we woke up early to find our funny neighbour's tent gone without a trace, which was all most mysterious!
Heading further east, we passed Tom Yeong and went down to the southernmost tip of Geoje Island and ended up at our last night's camp site, free, on a very crowded big pebbly beach on the south coast. Surprisingly the water was much too cold to swim though it looked beautifully clear.
Our goal was Masan to visit Chang-Shin College – founded by missionaries in 1908. My grandfather arrived in 1910 and became its third principal in 1915 and my mother and her two brothers were born in Masan. Korea has held a fascination for me since childhood, and I had wanted to ride it by bike for many years. Mission accomplished! My nephew Oliver together with his girlfriend Angelina flew in to join us from Shanghai for the weekend, as he was also keen to follow up the family history. I presented Chang-Shin's President Kang with the family history book my 92-year old Uncle Norman has just written, which covers their life in Korea. My grandparents were there for 30 years until 1939 and my grandfather built the new school in 1924. The college now has around 3,000 students and a replica of this original building served as the admin centre until recently. The President and his son are passionate about preserving and expanding their knowledge about Chang-Shin's early history and that of the personalities associated with that history.
We were given a very warm welcome by the President and his son Jung-Mook the Vice-President and spent a fascinating day at the College, before being taken to the newly-established graveyard of the early missionaries. Having seen the effect on indigenous cultures of the missionaries in South and Central America where the locals were often forced to convert and abandon perfectly viable cultures and beliefs of their own, I am pretty ambivalent... I was told however that in Korea, Christianity took off strongly as the missionaries preached equality in a rigid caste-based society, provided education and skills-training where there was none, and supported local resistance to the 35-year Japanese occupation which tried very hard to assimilate Korea by suppressing Korean language and customs.
Relations between Korea and Japan remain ambivalent. Japan has never apologised for the occupation nor the enslaving of hundreds of thousands of Korean workers to work in the military factories of Japan before and during the war, or compensated the hundreds of thousands of girls and women forced to become sex-slaves of the military at the same time. But for today's generations in both countries, the past is history - Koreans go to Japan to study and work, and they inter-marry. Korean pop music, soaps and films are madly fashionable in Japan. Our Japanese friends adore the spicy Korean food and come in droves to Seoul for the shopping opportunities. And attitudes are changing – we met a young Japanese guy in Nagasaki who is studying what he called "negative Japanese history".
For me, I just adore both Korea and Japan and we have wonderful friends in both countries. I feel strongly connected to both – and would love one day to go back and spend longer, immerse myself in both cultures, learn both languages (Japanese properly and Korean from scratch), but I digress....
From Masan it was a hop and a skip back to Busan to get the bikes crated and shipped to Port Klang in Malaysia – all organised most efficiently by Wendy Choi in Seoul, recommended by all on HU who've used her. Our only hiccup was that this was the first time we had a wooden crate built for the bikes. Before now, we've always crammed them into a second-hand metal crate and this crate turned out to be double our usual size, though we did send a lot more luggage with it this time. The result was we ended up paying over US$800 instead of the US$400+ on the estimate which came as a shock. Lesson learned the hard way – next time we will INSIST on the bikes being taken down to the smallest size possible. We knew the size/weight ratio determines the cost, but stupidly failed to realise the implications as we watched the crate being built. Duh! Well it was about 9 million degrees in the shade that day..... All the costs doubled except Wendy's handling fee which was a very reasonable US$50. She also battled with the crating company on our behalf and got about US$120 knocked off their fee.
Then an air-conditioned smooth ride by train to Seoul, a final night's dinner with the delightful Wendy – thank you Wendy! And out the next day for a whistle-stop vist back to the UK for Pat's niece's wedding.
Enter your email address to receive updates to Sheonagh Ravensdale and Pat Thomson's trip story!
Recent Entries
Archives:
Archives:
Monthly
Archives:
Category
NEW! HU 2015 Motorcycle Adventure Travel Calendar is now available! Get your copy now for some terrific travel inspiration!
HUGE, 11.5 x 16.5 inches, beautifully printed in Germany on top quality stock! Photos are the winning images from over 600 entries in the 9th Annual HU Photo Contest!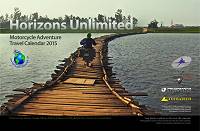 "The calendar is magnificent!"
"I just wanted to say how much I'm loving the new, larger calendar!"
We share the profit with the winning photographers. YOU could be in the HU Calendar too - enter here!
Next HU Events
NEW!

USA Virginia: Apr 9-12, 2015
Take 40% off Road Heroes Part 1 until October 31 only!
Road Heroes features tales of adventure, joy and sheer terror by veteran travellers Peter and Kay Forwood (193 countries two-up on a Harley); Dr. Greg Frazier (5 times RTW); Tiffany Coates (RTW solo female); and Rene Cormier (University of Gravel Roads).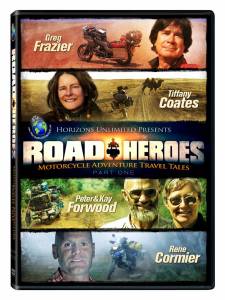 "Inspiring and hilarious!"
"I loved watching this DVD!"
"Lots of amazing stories and even more amazing photographs, it's great fun and very inspirational."
"Wonderful entertainment!"
Check it out at the HU Store! Remember to use Coupon Code 'HEROES' on your order when you checkout.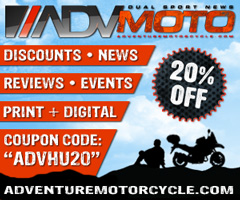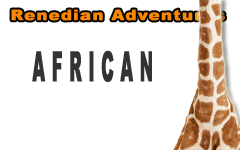 What others say about HU...
"I just wanted to say thanks for doing this and sharing so much with the rest of us." Dave, USA
"Your website is a mecca of valuable information and the DVD series is informative, entertaining, and inspiring! The new look of the website is very impressive, updated and catchy. Thank you so very much!" Jennifer, Canada
"...Great site. Keep up the good work." Murray and Carmen, Australia
"We just finished a 7 month 22,000+ mile scouting trip from Alaska to the bottom of Chile and I can't tell you how many times we referred to your site for help. From how to adjust your valves, to where to stay in the back country of Peru. Horizons Unlimited was a key player in our success. Motorcycle enthusiasts from around the world are in debt to your services." Alaska Riders

10th Annual HU Travellers Photo Contest is on now! This is an opportunity for YOU to show us your best photos and win prizes!
NEW! HU 2014 Adventure Travel T-shirts! are now available in several colors! Be the first kid on your block to have them! New lower prices on synths!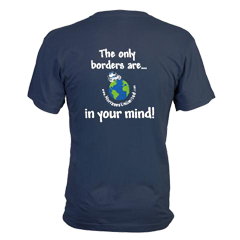 Check out the new Gildan Performance cotton-feel t-shirt - 100% poly, feels like soft cotton!

What turns you on to motorcycle travel?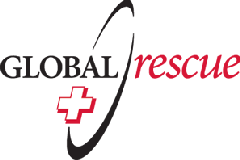 Global Rescue is the premier provider of medical, security and evacuation services worldwide and is the only company that will come to you, wherever you are, and evacuate you to your home hospital of choice. Additionally, Global Rescue places no restrictions on country of citizenship - all nationalities are eligible to sign-up!
New to Horizons Unlimited?
New to motorcycle travelling? New to the HU site? Confused? Too many options? It's really very simple - just 4 easy steps!
Horizons Unlimited was founded in 1997 by Grant and Susan Johnson following their journey around the world on a BMW R80 G/S motorcycle.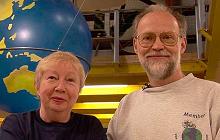 Read more about Grant & Susan's story
Membership - help keep us going!
Horizons Unlimited is not a big multi-national company, just two people who love motorcycle travel and have grown what started as a hobby in 1997 into a full time job (usually 8-10 hours per day and 7 days a week) and a labour of love. To keep it going and a roof over our heads, we run events (22 this year!); we sell inspirational and informative DVDs; we have a few selected advertisers; and we make a small amount from memberships.
You don't have to be a Member to come to an HU meeting, access the website, the HUBB or to receive the e-zine. What you get for your membership contribution is our sincere gratitude, good karma and knowing that you're helping to keep the motorcycle travel dream alive. Contributing Members and Gold Members do get additional features on the HUBB. Here's a list of all the Member benefits on the HUBB.
Books & DVDs

All the best travel books and videos listed and often reviewed on HU's famous Books page. Check it out and get great travel books from all over the world.

MC Air Shipping, (uncrated) USA / Canada / Europe and other areas. Be sure to say "Horizons Unlimited" to get your $25 discount on Shipping!
Insurance - see: For foreigners traveling in US and Canada and for Americans and Canadians traveling in other countries, then mail it to MC Express and get your HU $15 discount!
Story and photos copyright © All Rights Reserved.
Contact the author:
Editors note: We accept no responsibility for any of the above information in any way whatsoever. You are reminded to do your own research. Any commentary is strictly a personal opinion of the person supplying the information and is not to be construed as an endorsement of any kind.
Hosted by: Horizons Unlimited, the motorcycle travellers' website!
You can have your story here too - click for details!