June 05, 2011 GMT
Cambodia 16 January to 6 February 2011
$2 came the surly demand at the Laos border post before they would stamp our passports. $2 was the jovial demand at the quarantine post (a tent) just inside Cambodia where our temperatures were taken. And $2 to get our passports stamped into Cambodia. We'd been warned this was routine at the only crossing between the two countries and paid up along with all the backpackers and locals who'd piled off a bus. Fortunately we persuaded the officials to take the $12 total in redundant Laos kip before heading for customs.
No worries here. We filled in the only forms they had, designed for air passengers, putting our bike reg. numbers in the place for the flight number and the friendly customs officer didn't ask for a cent. He didn't give us a receipt or photocopy either, so we got him to stamp our carnets so at least we would have some proof of entering Cambodia legally. All these procedures were done in scruffy huts and the tent.
On either side of the border, both countries are building huge, impressive new buildings to optimistically process vast numbers of travellers. Apart from us, there were a bus and a few ramshackle cars that day. Perhaps these "fees" are going towards the building work, but somehow I doubt it. These are the first border bribes we have ever had to pay. Peter Hendriks (aka Beddhist) told us off for coughing up without arguing – he's right, we should have.
Down an astonishingly good, straight road, with wasteland on either side for a good 50km. Hardly any habitation and hardly any traffic of any description. Just the occasional big black 4x4 tearing past at top speed. Curious. We started coughing. Stubble burning (or is it land clearance?) is widely practised and smoke drifts everywhere.
The Cambodian People's Party is the ruling party, headed by Prime Minister Hun Sen, who has been in power under various guises for over 25 years. He was one of Pol Pot's senior henchmen during the notorious four-year Khmer Rouge rule from 1975, during which somewhere between one to two million Cambodians were murdered or starved to death. He continues to murder and torture his opponents, but his regime is propped up by billions of dollars in international aid, barely any of which reaches the impoverished population. What we did see, however, was more black Lexus 4x4's screaming along the roads, scattering all (including us) before them, than we have ever seen anywhere in the world. We read in the Phnom Penh Post that Hun Sen said the Tunisian revolution could never happen in Cambodia as he would kill all opposition.


We arrived in Kratie on the Mekong River to discover a wedding about to take place in the street between our hostel and the market. They'd swept away some of the rubbish, the awning was up, the musicians practising and guests starting to arrive. The music then became extremely loud, but quite melodious and went off as promised at midnight.
The wild parts of Cambodia with the best off-road riding are to the North East and over in the South West, but we needed to get to Phnom Penh to find out about renewing Pat's passport, so we headed south towards Kampong Cham avoiding the big new highway and taking the old minor road. This section is about 125 km, approximately 25% of which is paved. The rest is a small dirt road that runs past innumerable villages along the Mekong River. The traffic was mainly ox-carts, mopeds and bicycles and a few ponies lugging unfeasibly heavy loads. Lots of new wats were being built in the grounds of old ones destroyed by the Khmer Rouge and we wondered who was paying for them as the villages looked very poor. It was so dusty we stopped and bought paper face masks from a roadside stall.
We were surprised to pass through several Muslim villages and at least three mosques along this stretch – the population is mainly Buddhist and only about 1% are Muslims, mainly concentrated in this area.
We suddenly came upon a huge new Japanese-funded bridge spanning the Mekong, found our way onto it with some difficulty and rode over to the other side of the river in Kampong Cham, Cambodia's fourth largest city. The contrast between the two sides of the river could not have been more marked.
Sunrise Guest House is right on the riverfront and had only opened up four days previously. The energetic young French couple who own the business had leased the building, via contacts, from the prime minister who had left it derelict for 10 years. They deserve to be successful and with large river view rooms at $7 with private shower and good home-cooked French food, we weren't surprised they were already nearly full.
Apart from its posh new bridge, Kampong Cham is also famous for its bamboo bridge, which is entirely rebuilt every year after the monsoon. It's a toll bridge to an island in the Mekong, and cost us $2.50 for 2 return tickets. There are several small villages either side of a sandy road on the island, and having carefully negotiated this ourselves, we helped an elderly man pick his moped up after he overbalanced due to the unwieldy 50kg bag of rice on the back.
We took a stroll onto the big bridge at sunset and watched the fishing boats – we counted 96 of them, but the pickings seemed slim. They must be seriously overfishing here.
From Kampong Cham it was a rather dull main road down to Phnom Penh, only enlivened by dodgem sessions with black Lexus land cruisers… At least 50 km of the road on either side is shaded by mature trees, to the evident relief of the locals who rest and take a smoko under them.
There is a lot of land grabbing going on in Cambodia The government sells off land to overseas investors who turf out the occupants whose land titles and other documents were destroyed by the Khmer Rouge.
We spent several days in the capital city getting our Thai visas and checking out the British Embassy for Pat's passport renewal. British passports are now renewed in Hong Kong for most of Asia and it takes up to a month which was bad news, so we decided we would head back into Thailand before making a decision. The Thai, Laos, Cambodia and 2nd Thai visa took up 4 pages not counting the stamps and Pat was down to 3 clear pages… This did not bode well for India, Pakistan etc.
While this was going on, we whiled away the time visiting the magnificent Royal Palace, spared by the Khmer Rouge as their puppet Sihanouk was living in it, and the superb National Museum. Statues from all the major archaeological sites are gathered here and there are excellent descriptions in English about the history of the ancient Khmer Empire and the temples. Amongst the treasures in the Royal Palace are a host of Buddhas including a lifesize 90kg gold Buddha with nearly 10,000 diamonds. It seems impossible that this is only half the collection - nearly half the treasures were looted during the chaos of the Khmer Rouge collapse.
We walked most places in Phnom Penh – we were told the police rapaciously target motorcycles, especially foreign ones. We were thus assailed by constant cries of "Tuk Tuk Madame" from the hordes of drivers desperate for a fare. It felt at times we were being pursued by a flock of chickens – tuk tuk tuk tuk tuk tuk…. We held competitions – how many tuk tuk offers before reaching the Market for example? Would it be 15 or 23? Sometimes I won, sometimes Pat did. The record stood at 35 offers in 15 minutes. We had to establish strict rules for this competition – ie not looking at the drivers or walking near the edge of the pavement.
We had read a lot about the atrocities committed by the Khmer Rouge, and though the Tuol Sleng Museum where 17,000 people were tortured before being taken to the Killing Fields had been on my list to visit, I decided against it at the last minute. Pat was never keen. We listened to a burly, tattoed Ozzie bloke in our hostel saying he had felt sick and then we discovered that the government had turned the Killing Fields site over to a commercial company to administer…for profit?
So we ate at the excellent Friends Restaurant, run by ex-street children, and strolled along the wide, beautifully renovated waterfront, watching families with toddlers learning to walk, boys playing football and young couples canoodling and marvelled at the ability of the human spirit to bounce back after such horrors.
I was keen to see Preah Vihear Temple, a World Heritage Site up near the Cambodia/Thai border, so we went to see Bernard who runs The Bike Shop to ask his advice as there have been several recent border clashes there (and there was an FCO advisory against going anywhere near there). He was running a tour up there that week, so we decided to give it a whirl.
It was a relief to get out of the city and after a while the road got interesting again.
The journey was only marred by arriving at an accident scene where a moped was mangled beyond recognition and a young man lay probably dead in the road, blood everywhere. People stood around helplessly. Of the offending vehicle, not a sign. We rode on soberly.
Overnighting in Kampong Thom, we seemed to be the only foreigners in town. The youngsters in the tourist office assured us the road to Preah Vihear was excellent and paved all the way and that it was quite safe to visit the temple.
Next to the crumbling riverfront, by the abandoned French Governor's Mansion, are three huge mahogany trees housing a massive colony of bats. We sat and watched as they took off into the darkening sky and kids on bicycles and boys on mopeds stopped to chat. Cambodians are very friendly and astonishing numbers of them speak petty good English.
The temple stands dramatically at the top of a steep escarpment surrounded by flat plains, and the ownership of several square km around it is disputed by the Thai and Cambodian governments. The area has changed hands several times over the centuries and currently the Cambodians have got it. There is no access now from Thailand.

We stayed at Sra Em 27 km away, and bumped into Bernard's Ozzie bike tour group who were having a brilliant time hooning off-road with their guides German Reini and Australian Nick. They were all very friendly so we joined them for dinner and breakfast. Reini and Nick gave us some very helpful info on different routes and dissuaded us from attempting to cross the Cardaman Mountains on our own.

We rode up the precipitously steep, narrow cement road to the temple, through slippery road works, past several groups of Cambodian soldiers and into the "car park" at the top. We were the only civilians and made our presence known by my riding into but not out of a very large pothole and promptly falling off and smashing my left mirror. It was not a car park as you know it, but rather a lumpy area of trees where the undergrowth had been cleared leaving sand and hard-packed mud. And holes. Pat had wisely stopped on a small flat bit while she thought about where to park.
The soldiers and police rushed over to pick me and the bike up, and graciously accepted cigarettes (Reini had suggested we took some along) and some bananas and $1 to look after the bikes, while we explored the site with the young man who had attached himself to us as our guide. Small groups of young soldiers hung about all over the site, obviously very bored, so we chatted to some of them and doled out more ciggies (we didn't feel very comfortable about this) and bananas. It was all very peaceful.
Nagas are found in both Hindu and Buddhist traditions and take on different meanings in the different countries where they are held sacred. In Cambodia they are believed to represent a reptilian race who had a large empire and were the founders of the Cambodian people. In Laos and Thailand they are water serpents or gods believed to inhabit the Mekong River. In all cases they have powers over the rains, so are responsible for prosperity.
There were three Canadian tourists that day and us. There is no tourist infrastructure and the site is currently free of entry charges. Along with the Champasak temple in Laos, this was a good introduction to the visual feast that awaited us at Cambodia's premier archaeological site Angkor Wat. There is now a newly-opened excellent fast road from Preah Vihear, it has to be said more for strategic reasons than cultural ones, and we made the 200km journey in good time.
We discovered a home from home at the Yellow House in Siem Reap, a rapidly expanding tourist town on the edge of the Angkor Wat complex, in the north west of Cambodia The hostel is owned by a lovely family who could not do enough for their guests – we stayed a total of 8 nights here, partly because there was so much to see, but partly because it is such a great place to hang out. And it was just $6 a night including private shower with hot water, and free wifi. It's peacefully located about 15 minutes' walk from the frenetic tourist centre full of loud music and bars and restaurants and they have a tuk tuk which gives you a free ride downtown and collects you at the time you specify. How you and your tuk tuk find each other in the melee at the end of the evening is a mystery, but somehow it works.
We met up with Reini and Nick and the Ozzie bike tour guys the next day and were very grateful to be led to the workshop run as an education project by an NGO, where we could do some maintenance. One of the local lads shot off and bought me a pair of wing mirrors for $2.50 to replace the one I'd broken. It's still working well! Inadequate mirrors are a seriously bookable motorcycle offence in Cambodia as are daytime lights. Curiously, adequate lights (night-time use) and helmets seem to be optional. We then met up with Reini and Nick for dinner, having declined to join a couple of the guys who'd been drinking since 10 am. They were into riding (and drinking) rather than temples. We have no idea if their tour kept to its schedule the next day!
Do skip this next bit if you're not interested!
Siem Reap translates as "Siam (or Thailand) vanquished" whereas the Thais call the city Siam Rat which means Siam's Territory and indeed it was part of Thailand for over 100 years until 1907, when the French gave Angkor Wat back to the Cambodians. No love lost here.

The history of the whole region (Cambodia, Vietnam, Laos and Thailand) has been inextricably inter-linked over the last thousand years. All these nations plus Myanmar constantly invaded each other or were invaded, depending on whose empire was strongest, and France, Britain and more recently the US, complicated matters mightily with their colonial activities. The four Asian countries belong to ASEAN, a sort of EU, along with Malaysia, Singapore, Indonesia, Brunei and the Philippines, which is improving relationships for the most part.
The ancient Khmer Empire lasted for 800 years and stretched physically far into Thailand, Laos and Vietnam, with Angkor Wat as its capital. At its height, it had a population of a million when London had just 50,000. Only temples could be built of stone; everything else was in wood and was eaten long ago by the jungle. It is only when you start walking or cycling between the temples that you begin to get an idea of the size of this complex. The greatest concentration is here, but there are over a hundred Khmer temples altogether, with dozens scattering into Thailand, Laos and Vietnam.
We bought three-day passes for $40 each, usable over seven days, and took a day off between each of the three days. We have 230 edited photos of our three days here – so you will just have to come and stay if you want to see them. What you see here is pared to a fraction...
The first day we hired Mab from the hostel and his tuk tuk for $14 for the day and he took us round the Grand Circuit. We covered 11 temples and drove about 30km that day. We were astonished when Mab told us at the first temple "walk through to the far side and I'll see you in about one and a half hours".
The next day we relaxed then completed our tax returns (not so restful). The following day we took the motorbikes and rode to the outlying temples including the small and beautifully restored Banteay Srei which is the only temple not built by a king, and took a lovely forest walk up to Kbal Speen – a river with a thousand lingas (phallic symbols) carved in it. We also hit Samre Temple on the way back – also known as the Sunset Temple. However so did about a thousand other people so we didn't stay long.
On the ride back to town that day we noticed a line of tanks heading for the frontier and a punch-up with the Thais. Several soldiers and some villagers were killed in this spat.
After another day's R&R, we braced ourselves for the big ones: Angkor Wat and Angkor Thom. Angkor Wat gives its name to the whole complex, but is in fact just one (the main) temple which is surrounded by a massive 190 metre wide moat. Angkor Thom is a whole city in its own right. We rented bicycles and turned Pat's ancient GPS on. The resulting map shows 33kms of squiggling and wiggling, cycling and walking – one of those days we'll remember till the end of our lives.
We finally tore ourselves away from Siem Reap and these amazing temples and headed round Tonle Sap Lake to Battenbang. It was en route to a quiet border crossing with Thailand and besides we'd heard about the unique bamboo railway… The rail system in Cambodia collapsed due to war and lack of funds, the roads were terrible and completely impassable in the rainy season. Enterprising villagers consequently devised their own bogies to carry goods to market and kids to school all up and down this line, which used to run westwards to Bangkok and eastwards to Phnom Penn. Now it's pretty much a tourist thing just around Battenbang and its days are sadly numbered, as reconstruction is underway. But it sounded such fun, we had to do it.
And with that we were done with Cambodia – off to the Thai border the next day. The road was rubbish and we were covered in dust when we arrived. I was sorry I'd cleaned the boots and Pat was sorry she'd oiled the chains!
Cambodia was fascinating, the ancient history and culture are amazing, the recent history horrible beyond belief, the corruption appalling and the people just terrific. In Laos we were told thieves and robbers abounded in Cambodia – that was far from our experience. We were met with kindness everywhere and we never struggled to find somebody to help whenever we needed it. The resilience and optimism of the Cambodian people is inspiring.
And one day, when I'm feeling brave, I'll take an off-road tour with Reini and Nick from www.motorcycletourscambodia.com! Cambodia still has wild places and little explored mountain regions, but we just didn't get there on this trip.

Posted by Sheonagh Ravensdale at June 05, 2011 03:04 PM GMT

Enter your email address to receive updates to Sheonagh Ravensdale and Pat Thomson's trip story!
Recent Entries
Archives:
Archives:
Monthly
Archives:
Category
NEW! HU 2015 Motorcycle Adventure Travel Calendar is now available! Get your copy now for some terrific travel inspiration!
HUGE, 11.5 x 16.5 inches, beautifully printed in Germany on top quality stock! Photos are the winning images from over 600 entries in the 9th Annual HU Photo Contest!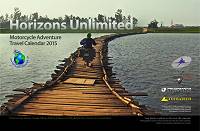 "The calendar is magnificent!"
"I just wanted to say how much I'm loving the new, larger calendar!"
We share the profit with the winning photographers. YOU could be in the HU Calendar too - enter here!
Next HU Events
NEW!

USA Virginia: Apr 9-12, 2015
Take 40% off Road Heroes Part 1 until October 31 only!
Road Heroes features tales of adventure, joy and sheer terror by veteran travellers Peter and Kay Forwood (193 countries two-up on a Harley); Dr. Greg Frazier (5 times RTW); Tiffany Coates (RTW solo female); and Rene Cormier (University of Gravel Roads).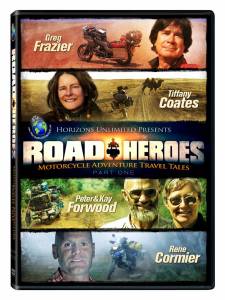 "Inspiring and hilarious!"
"I loved watching this DVD!"
"Lots of amazing stories and even more amazing photographs, it's great fun and very inspirational."
"Wonderful entertainment!"
Check it out at the HU Store! Remember to use Coupon Code 'HEROES' on your order when you checkout.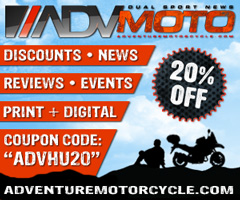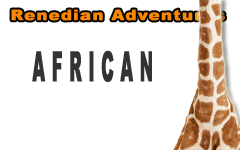 What others say about HU...
"I just wanted to say thanks for doing this and sharing so much with the rest of us." Dave, USA
"Your website is a mecca of valuable information and the DVD series is informative, entertaining, and inspiring! The new look of the website is very impressive, updated and catchy. Thank you so very much!" Jennifer, Canada
"...Great site. Keep up the good work." Murray and Carmen, Australia
"We just finished a 7 month 22,000+ mile scouting trip from Alaska to the bottom of Chile and I can't tell you how many times we referred to your site for help. From how to adjust your valves, to where to stay in the back country of Peru. Horizons Unlimited was a key player in our success. Motorcycle enthusiasts from around the world are in debt to your services." Alaska Riders

10th Annual HU Travellers Photo Contest is on now! This is an opportunity for YOU to show us your best photos and win prizes!
NEW! HU 2014 Adventure Travel T-shirts! are now available in several colors! Be the first kid on your block to have them! New lower prices on synths!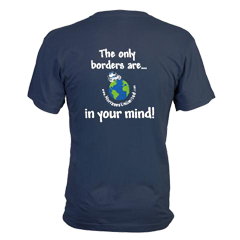 Check out the new Gildan Performance cotton-feel t-shirt - 100% poly, feels like soft cotton!

What turns you on to motorcycle travel?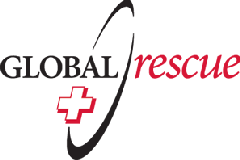 Global Rescue is the premier provider of medical, security and evacuation services worldwide and is the only company that will come to you, wherever you are, and evacuate you to your home hospital of choice. Additionally, Global Rescue places no restrictions on country of citizenship - all nationalities are eligible to sign-up!
New to Horizons Unlimited?
New to motorcycle travelling? New to the HU site? Confused? Too many options? It's really very simple - just 4 easy steps!
Horizons Unlimited was founded in 1997 by Grant and Susan Johnson following their journey around the world on a BMW R80 G/S motorcycle.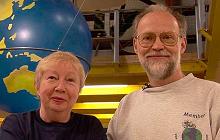 Read more about Grant & Susan's story
Membership - help keep us going!
Horizons Unlimited is not a big multi-national company, just two people who love motorcycle travel and have grown what started as a hobby in 1997 into a full time job (usually 8-10 hours per day and 7 days a week) and a labour of love. To keep it going and a roof over our heads, we run events (22 this year!); we sell inspirational and informative DVDs; we have a few selected advertisers; and we make a small amount from memberships.
You don't have to be a Member to come to an HU meeting, access the website, the HUBB or to receive the e-zine. What you get for your membership contribution is our sincere gratitude, good karma and knowing that you're helping to keep the motorcycle travel dream alive. Contributing Members and Gold Members do get additional features on the HUBB. Here's a list of all the Member benefits on the HUBB.
Books & DVDs

All the best travel books and videos listed and often reviewed on HU's famous Books page. Check it out and get great travel books from all over the world.

MC Air Shipping, (uncrated) USA / Canada / Europe and other areas. Be sure to say "Horizons Unlimited" to get your $25 discount on Shipping!
Insurance - see: For foreigners traveling in US and Canada and for Americans and Canadians traveling in other countries, then mail it to MC Express and get your HU $15 discount!
Story and photos copyright © All Rights Reserved.
Contact the author:
Editors note: We accept no responsibility for any of the above information in any way whatsoever. You are reminded to do your own research. Any commentary is strictly a personal opinion of the person supplying the information and is not to be construed as an endorsement of any kind.
Hosted by: Horizons Unlimited, the motorcycle travellers' website!
You can have your story here too - click for details!