Archives
June 30, 2012 GMT - 15. Africa Twin Meeting Lissburg 07-10.06.12
April 16, 2012 GMT - ITALY 15.04.12 - 23.04.12
April 05, 2012 GMT - GREECE 05.04.12 - 14.04.12
March 26, 2012 GMT - ISRAEL 24.03.12 - 02.04.12
the first and only sign "Israel" in Jordan is located right at the border......
February 17, 2012 GMT - JORDAN 17.02.12 - 24.03.12
January 25, 2012 GMT - EGYPT 18.01.12 - 16.02.12
fixing the 3rd number plate on our journey. after 2 years of riding with filipino plate and 2 years with german plate we're forced to switch to egyptian one....
December 29, 2011 GMT - SUDAN 24.12.11 - 18.01.12
entering Sudan on Christmas Day!...
December 05, 2011 GMT - ETHIOPIA 05.12.11 - 24.12.11
November 21, 2011 GMT - OUR WORST NIGHTMARES
This chapter we'll dedicate to the experiences we do want to forget as they truly were not pleasant. At the same time it should act as a warning to fellow travellers. Ofcourse everyone is making his own experiences so dont...
October 28, 2011 GMT - KENYA 25.10.11 - 05.12.11
jane bargaining for an ostrich egg This time there is no excuses for not paying the road tax. Kenyan border officials know very well what they're doing. They confront us with printed law. It's 20$ for the bike for 1...
October 08, 2011 GMT - TANZANIA 02.10.11 - 25.10.11
jane with mama tukuyu...
September 23, 2011 GMT - MALAWI 23.09.11 - 02.10.11
everyone wants a photo...
September 06, 2011 GMT - ZAMBIA 05.09.11 - 23.09.11
We're crossing into Zambia on the famous Zambezi Bridge. There are several counters to pass. The procedures are somehow confusing but one thing is clear: on every counter I'd be asked for $$$. Visa fees, carbon tax, insurance, road toll…...
August 27, 2011 GMT - ZIMBABWE 26.08.11 - 05.09.11
us at the victoria falls...
August 02, 2011 GMT - MOZAMBIQUE 02.08.11 - 26.08.11
Right, we made it across the border to Mozambique. Pretty easy procedures, nobody is asking for bribes or an insurance... Luckily for us the police doesn't stop us on the way to Maputo and is asking us for the insurance either. While camping at the Fatimas we're trying to shop for as many visas as possible.
June 16, 2011 GMT - SOUTH AFRICA 11.06.11 - 02.08.11
half of the tour "around africa" is done, we made it to cape point after 25000km through the black continent The first question we're confronted with while at the South African border is "What do you have?" Having no clue...
May 10, 2011 GMT - NAMIBIA 07.05.11 - 11.06.11
The luxury of a developed world strikes us as soon as we're hitting the border! There are roads in perfect condition, ATM's, shopping malls, internet and many effordable places to stay overnight. From one day to another everything isn't a...
May 05, 2011 GMT - ANGOLA 28.04.11 - 07.05.11
you'd almost need a boat At the Angolan side of the Matadi border post there are some more books to fill our data in. While the sweat is slowly soaking my clothes I'm asking myself why can't they just copy...
April 22, 2011 GMT - DRC (former ZAIRE) 21.04.11 - 28.04.11
no space for the passenger...
April 14, 2011 GMT - CONGO 11.04.11 - 21.04.11
the fun begins right after the border We're parking the bike right in front of the wooden barrier, which is apparently the border of Congo. No signs, no banners, no sign. Nobody is around. We have to have a look...
March 28, 2011 GMT - GABON 25.03.11 - 11.04.11
one more time at the equator Across the bridge, on the Gabon side, everything seems more modern at first. Well, there is a Laptop in that wooden shack but no electricity within 500km's. No Customs at the border either, we...
March 02, 2011 GMT - CAMEROUN 28.02.11 - 25.03.11
at the cameroun border From the first moment on in Cameroon it is apparent to us that the Cameroonians like to drink… well; this is after our data have been recorded into 4 different books by 4 different immigration officers....
February 22, 2011 GMT - NIGERIA 19.02.11 - 28.02.11
Our heads are full of horror stories about Nigeria as we're riding towards the border, corrupt policemen, nail boards, dash, uncountable check posts, violence outbreaks etc. From the first day on in Nigeria all this stories prove not to...
February 12, 2011 GMT - NIGER 10.02.11 - 19.02.11
Arriving at a border in the dark is never a pleasure but arriving at the Niger border after sunset seems like a nightmare. Well, we had no choice but to cross the border. The security situation in this part of...
January 20, 2011 GMT - MALI 18.01.11 - 10.02.11
We arrive early at the very quiet border in Gogui, get the passports stamped and proceed for the Customs to Nioro. It only takes few minutes to stamp our carnet and we're free to go. No one is asking for...
January 10, 2011 GMT - MAURETANIA 06.01.11 - 18.01.11
Taking the direct route through the Nomansland gives us the advantage of being the First at the Mauretanian side for Passport control and Customs. Half an hour later we're ready to go! welcome to mauretania...
December 03, 2010 GMT - MOROCCO 02.12.10 - 06.01.11
We've choosen the fast ferry from Tarifa to Tangier City against all odds. Apparently the Customs in the Tangier City port would try to extort some money on the arrival and we were told that the procedure would take anything...
November 09, 2010 GMT - SPAIN 08.11.10 - 02.12.10
It's sunny but cold and windy as we're hitting spanish border South of Argeles. The road is twisted and strong winds almost blow us of the bike. Still, it's fun! With every Kilometre its getting warmer though... Not really interested...
November 05, 2010 GMT - FRANCE 03.11.10 - 08.11.10
According to the French, every decent person should speak their language... well, our french contains of: citroen, renault, baguette and sante... Sorry, completely forgot about PEUGEOT......
October 31, 2010 GMT - ITALY 27.10.10 - 03.11.10
Only a few days through Italy on the way South. We managed to have a good look around Cinque Terre before the rain has got us again... Pouring rain for 4 days forced us to rent a container at...
October 30, 2010 GMT - AUSTRIA BRENNER
View of Innsbruck, 27th of october 2010...
September 16, 2010 GMT - CROATIA 15.09.10 - 02.10.10
It should have been Serbia in the first place... well, after receiving an email from serbian ministry of foreign affairs stating that Jane doesn't need a visa for serbia, we were refused at the border. Apparently this people don't...
August 22, 2010 GMT - POLAND 20.08.10 - 07.09.10
Despite all warnings we decided to visit Poland. I've been told by various people (who possibly never been to Poland) that I'd be robbed, my wife would be raped and, for sure, I'd have to leave Poland by public transport......
August 22, 2010 GMT - SLOVAKIA 16.08.10 - 20.08.10
bojnice castle...
August 15, 2010 GMT - VIENNA 12.08.10 - 16.08.10
August 15, 2010 GMT - HUNGARY 10.08.10 - 12.08.10 and 09.09.10 - 15.09.10
August 08, 2010 GMT - SLOVENIA 05.08.10 - 10.08.10
July 10, 2010 GMT - GROSSGLOCKNER HOCHALPENSTRASSE JUNE 2010
June 08, 2010 GMT - AFRICA TWIN MEETING 2010 at BURG LISSBERG
May 17, 2010 GMT - VENICE MAY 2010
Ever since we approached Venice by ferry last year in November we knew that we have to come back and take a closer look. November was just too cold and we were far too weary of travelling as we would...
December 21, 2009 GMT - WHITE X-MAS 2009
dear all, we wish you merry X-mas and happy new year 2010. for the first time in many years (for darius) and for the first time ever (for jane) we'll celebrate WHITE X-MAS in bloody cold europe. we had -...
November 22, 2009 GMT - GERMANY 20.11.09 - 05.08.10 and 02.10.10 -
20 months passed, 40000km later we're finally reaching germany!!!! now we'll have time for the necessary repairs and many liters of GLUEHWEIN, hehehe. the remains of our AT No time wasting, I start to strip the bike. Very soon there...
November 01, 2009 GMT - Europe 15.10.09 - 02.12.10
Greece welcomes us with 2 degrees Celsius at night and only 6 degrees during the day. Within few kilometres my fingers are frozen and turning blue. Luckily we're able to buy some ugly but warm camo gloves. This gloves and...
October 01, 2009 GMT - TURKEY 02.10.09 - 15.10.09
welcome to turkey Leaving Georgia is as easy as coming in. On the Turkish side the situation is rather different. Darius, as the driver, has to ride through the check post; Jane has to join the queue for passengers. With...
September 23, 2009 GMT - 23.09.09 BREAKING NEWS
YUUUUHHHUUHUUHHU!!!!!!!!!!!!!!! today jane got her visa for EU !!!!! we'll be staying 1 more week in georgia, then 2 weeks in turkey and enter EU on the 15th of october!!! we're celebrating right now!! cheers darius and jane...
September 06, 2009 GMT - GEORGIA 06.09.09 - 02.10.09
No problems at the Georgian border. I don't need any visa and Jane is getting it for 20 Euro without any troubles. We're heading straight for the capitol Tbilisi. Here we must endure much more bureaucracy and apply for the...
August 31, 2009 GMT - ARMENIA 30.08.09 - 06.09.09
We're welcomed to Armenia by big bellied Russian soldiers in camo outfits. Later we'll find out that, even independent, Armenia's borders are heavily guarded by Russian Army. No one wants to know if we're having any liquor on us this...
August 15, 2009 GMT - IRAN 13.08.09 - 30.08.09
The start of our Iran experience isn't really as good as we'd expect it. After finishing our paperwork at the Pakistani side and saying good bye to our 10th country on this trip, we have to wait at the iron...
June 20, 2009 GMT - Pakistan 17.06.09 - 13.08.09
welcome to pakistan We have to face a final Indian obstacle before leaving – the incompetent Indian Customs. It takes several hours for the lady officer in charge to study our carnet de passage. She is trying to read and...
April 14, 2009 GMT - India 13.04.09 - 17.06.09
at the TAJ MAHAL Having a very early start we arrive at the border in Banbassa by 6AM. 50 meters behind Nepali Immigration office the tarmac ends giving way to rough gravel which reminds me of a riverbed… Mostly locals...
February 23, 2009 GMT - nepal 25.02.09 - 13.04.09
Unable to cross Burma or China with our bike we are forced to take a plane from Bangkok to Kathmandu. Instead of flying with Thai Airways, we're challenging our luck and hitch a ride with the cheap Royal Nepal Airlines....
December 20, 2008 GMT - thailand 13.12.08 - 25.02.09
jane at work, hehehe... Fortunately we could score some work over Christmas and New Year but, all in all, there was only work for about 2 weeks. Now, several weeks later and still jobless, we decided to leave Thailand by...
December 20, 2008 GMT - cambodia 10.12.08 - 13.12.08
This time we're not riding for fun to Phnom Penh (well, also enjoying this one) but for a cause: a new visa for Thailand, which we're applying for at the Thai Embassy. Besides the visa reason, we also checking the...
November 05, 2008 GMT - Follow our trip
progress and planned route...
October 11, 2008 GMT - thailand 12.10.08 - 10.12.08
Entering Thailand without any problems, then riding up to Koh Chang, where we find ourselves working within 2 days. It's great, found a nice place to stay, good place to work and made some friends on the island. Our bike...
September 23, 2008 GMT - Cambodia 26.09.08 - 12.10.08
To be able to cross the border to Cambodia we have to wake up the customs officer first, who is sleeping deeply in his hammock attached to wooden shack called "Customs". Against all my prejudices the guy obviously has an...
August 25, 2008 GMT - Laos 01.09.08 - 26.09.08
We land on the Lao side after half hour of terrific barge ride. Here the unloading procedure is the same as on the Thai side. That means for me to ride few meters through the Mekong and for Jane to...
July 21, 2008 GMT - thailand 22.06.08 - 01.09.08
All is done quickly at the Malaysian site of the border, Immigration and Customs, all in all maybe 15 Minutes. Quite a different story it is on the Thai side. We're entering Thailand on a 2 months tourist visa but...
June 22, 2008 GMT - malaysia 27.05.08 - 22.06.08
Loosing 1 hour through the time difference between Indonesia and Malaysia plus loosing another half our due to belated arrival of our express boat gives us a tight schedule for picking up the motorbike. The bike was brought to Kuala...
May 27, 2008 GMT - indonesia 14.04.08 - 27.05.08
The last 6 weeks in Sabah, Brunei and Sarawak passed so quickly that we almost forgot about the validity of our visa for Indonesia… Now, we have to leave the lovely Kuching and head for the border. Thanks to our...
April 14, 2008 GMT - philippines, sabah, brunei, sarawak 16.02.08 - 14.04.08
well, well, well... after 5 years philippines and 1 year preparations we eventually are starting our RTW trip on february 16th 2008. It is February 16th, 2008, 5AM and we're already up and hustling around the small house we've been...
Return to
Enter your email address to receive updates to Darius and Jane Skrzypiec's trip story!
NEW! HU 2015 Motorcycle Adventure Travel Calendar is now available! Get your copy now for some terrific travel inspiration!
HUGE, 11.5 x 16.5 inches, beautifully printed in Germany on top quality stock! Photos are the winning images from over 600 entries in the 9th Annual HU Photo Contest!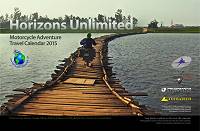 "The calendar is magnificent!"
"I just wanted to say how much I'm loving the new, larger calendar!"
We share the profit with the winning photographers. YOU could be in the HU Calendar too - enter here!
Next HU Events
NEW!

USA Virginia: Apr 9-12, 2015
Canada West: Aug 20-23, 2015
USA California: Sep 24-27, 2015
Aus Queensland: Sep 24-27, 2015
USA North Carolina: Oct 8-11, 2015
Aus Perth: Oct 9-11, 2015
Take 40% off Road Heroes Part 1 until October 31 only!
Road Heroes features tales of adventure, joy and sheer terror by veteran travellers Peter and Kay Forwood (193 countries two-up on a Harley); Dr. Greg Frazier (5 times RTW); Tiffany Coates (RTW solo female); and Rene Cormier (University of Gravel Roads).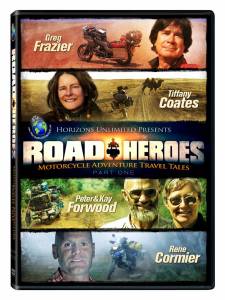 "Inspiring and hilarious!"
"I loved watching this DVD!"
"Lots of amazing stories and even more amazing photographs, it's great fun and very inspirational."
"Wonderful entertainment!"
Check it out at the HU Store! Remember to use Coupon Code 'HEROES' on your order when you checkout.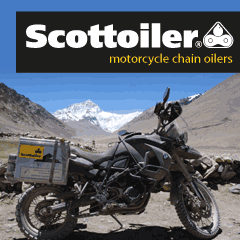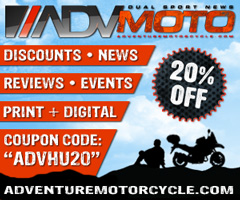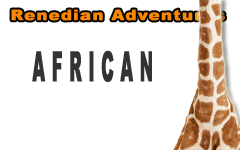 What others say about HU...
"I just wanted to say thanks for doing this and sharing so much with the rest of us." Dave, USA
"Your website is a mecca of valuable information and the DVD series is informative, entertaining, and inspiring! The new look of the website is very impressive, updated and catchy. Thank you so very much!" Jennifer, Canada
"...Great site. Keep up the good work." Murray and Carmen, Australia
"We just finished a 7 month 22,000+ mile scouting trip from Alaska to the bottom of Chile and I can't tell you how many times we referred to your site for help. From how to adjust your valves, to where to stay in the back country of Peru. Horizons Unlimited was a key player in our success. Motorcycle enthusiasts from around the world are in debt to your services." Alaska Riders

10th Annual HU Travellers Photo Contest is on now! This is an opportunity for YOU to show us your best photos and win prizes!
NEW! HU 2014 Adventure Travel T-shirts! are now available in several colors! Be the first kid on your block to have them! New lower prices on synths!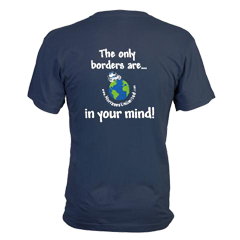 Check out the new Gildan Performance cotton-feel t-shirt - 100% poly, feels like soft cotton!

What turns you on to motorcycle travel?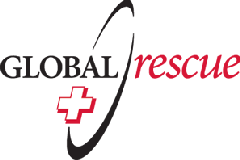 Global Rescue is the premier provider of medical, security and evacuation services worldwide and is the only company that will come to you, wherever you are, and evacuate you to your home hospital of choice. Additionally, Global Rescue places no restrictions on country of citizenship - all nationalities are eligible to sign-up!
New to Horizons Unlimited?
New to motorcycle travelling? New to the HU site? Confused? Too many options? It's really very simple - just 4 easy steps!
Horizons Unlimited was founded in 1997 by Grant and Susan Johnson following their journey around the world on a BMW R80 G/S motorcycle.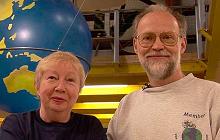 Read more about Grant & Susan's story
Membership - help keep us going!
Horizons Unlimited is not a big multi-national company, just two people who love motorcycle travel and have grown what started as a hobby in 1997 into a full time job (usually 8-10 hours per day and 7 days a week) and a labour of love. To keep it going and a roof over our heads, we run events (22 this year!); we sell inspirational and informative DVDs; we have a few selected advertisers; and we make a small amount from memberships.
You don't have to be a Member to come to an HU meeting, access the website, the HUBB or to receive the e-zine. What you get for your membership contribution is our sincere gratitude, good karma and knowing that you're helping to keep the motorcycle travel dream alive. Contributing Members and Gold Members do get additional features on the HUBB. Here's a list of all the Member benefits on the HUBB.
Books & DVDs

All the best travel books and videos listed and often reviewed on HU's famous Books page. Check it out and get great travel books from all over the world.

MC Air Shipping, (uncrated) USA / Canada / Europe and other areas. Be sure to say "Horizons Unlimited" to get your $25 discount on Shipping!
Insurance - see: For foreigners traveling in US and Canada and for Americans and Canadians traveling in other countries, then mail it to MC Express and get your HU $15 discount!
Story and photos copyright © All Rights Reserved.
Contact the author:
Editors note: We accept no responsibility for any of the above information in any way whatsoever. You are reminded to do your own research. Any commentary is strictly a personal opinion of the person supplying the information and is not to be construed as an endorsement of any kind.
Hosted by: Horizons Unlimited, the motorcycle travellers' website!
You can have your story here too - click for details!