March 01, 2006 GMT
March 11, 2006 GMT
27th Feb 2006 - Arica - Patacamaya
418 kms
These entries are written day by day, and I rarely go back and edit a day's entry, other than to add something I'd forgotten the reason I say this is the marked contrasts you can get between one days entry for a country and the next entry. It's a fairer reflection I guess.

We left having had one too many Pisco's last I think, not ideal for altitude....oops. Northern, northern, northern Chile redeemed itself with the main pass out from Arica to La Paz as the scenery was very impressive. Colours similar to the Agua Negra Pass, but without the range or intensity. The road has been greatly upgraded recently barring some of the initial section. There were fine candelabra cacti, very odd with clusters of a dozen or so shoots at the top of a thick trunk, and only growing in an altitude range of 2,300 to 2,800m. The altitude was soon gained as we headed towards Putre were we stopped briefly to grab something to eat and drink.
Yet again we were to come across some great people when we stopped. There appeared to be no restaurants (there are though) so we went into a little place saying hotdogs and sandwiches outside. The lady was all smiles and could see we were a bit cooled from the fact it's cold up here at 3,500m - the sun shines but the height immediately takes the heat away. We asked if there was any hot food and she said hotdogs so we said yes, then she said along the lines of you'd be better with a hot sandwich. So she promptly made us a ham and cheese roll each in the microwave, and it did the job with a couple of steaming coffees (Nescafe of course though).
She was a diamond, she made another and cut it in half and brought it over for us. She was very chatty even if our language skills were a bit lacking. She introduced her brother in law who was a math's teacher and spoke some English. Before we left they insisted on pinning a small knitted Bolivian style badge on our jackets for luck. The total cost for the sandwiches and coffees was only £2 too. We do meet some lovely people, and it was all hugs and kisses and pictures before we left.
Leaving Putre we climbed ever higher and entered the Lauca National Park, deemed one of Chiles most picturesque and we wouldn't argue.
There were vicuna everywhere, a few of the large rabbit like gerbil things with huge whiskers that sit on rocks in a daze (bit like Dylan from the Magic Roundabout) and birds aplenty. The reason was as we had got higher we were immediately back into vegetation! Only scrub, and dwarf Lupins and the like, but a welcome return to greenery, must be out of the rain shadow then.
There were sight before Putre too of old pre-Inca forts and all the terracing and walled fields, many still in use. Amazing how productive small pieces of land here can be.
We were really gaining a significant altitude now, and the bike was wheezing and we were too if we did too much. It's no wonder some people find altitude debilitating as the effects even when very minor are odd, I noticed today that my eyes felt like they were bulging slightly for a while. Odd. There were verdant green areas of vegetation that were like huge areas of moss and no wonder there were vicuña everywhere.
The scenery was good too with high snow capped volcanoes and lakes alive with wild birds, ducks, divers, and giant coots. Also some bloody annoying hairy mosquito things. The odd flamingo too, in fluorescent pink, brightest we've seen I think.
We had odd snow falls as we approached Chilean customs and it was cold, we had put our jacket liners back in due to the drop in temperature. We completed the Chilean side fairly easily and continued through the no mans land to the Bolivian side. Taking care to avoid the minefields - yes really!
The Bolivian side was certainly less official looking, but not at all intimidating. First was the bike import, which was easy enough, the guy got me to do the paperwork. Then off to passports and filling in the paperwork sheet you do for each person. Then to the tax man - that's all I could figure out it was, sure not insurance, but who knows, only 60p anyway, so I guess a temp road tax charge. I couldn't pay as we had no Bolivian cash. That was sorted by visiting one of the ladies outside. No Bureau de change, just local bowler hatted ladies squat down with blankets wrapped around and bags of cash. They exchanged Chilean for Bolivian, then exchanged that too Bolivians going to Chile. All quite unconventional, but obviously in order as outside the customs and they pointed me their way. Returning to pay the 10 Bolivianos we were free to go. Everyone had been great and no dodgy dealings; all taken care of in 40 minutes.
Money changing
So we were now in Bolivia, an oft favorite venue of motorcycle travellers. The first thing that struck us was it was quite flat, as all high altitude. The border guard said the post was 4800m but I think he may have been a bit optimistic there. It was also pretty lush, green everywhere. The geology was spectacular and we straight away feel for the landscape - it was stunning.
From seeing the odd Llama to seeing dozens upon dozens at a time is quite a surprise, they really are a Bolivian thing (unless Peru matches it of course). They are wonderful beasts, and come in every colour (OK brown, black, grey, and white) and pattern imaginable. We saw Dalmatians, Friesians, and all one colours, but the favorites are those that look like they have spectacles on, quite comical.
Llamas
We had to cover 200kms before nightfall to stand any chance of accommodation and it was late in the day so we had to move on. The most the bike would pull was 90kph generally and very occasionally 100. It's so bloody high, and with half a tank of 90 octane Bolivian juice progress was not startling
There were people everywhere like you find in India etc. you think there is no one at all, and then a figure appears. There are loads of amazing abodes; mud farmsteads and houses scattered throughout the landscape and everywhere those typical bowler-hatted, multi-skirted women going about their chores.
First road in Bolivia, not warned of terrible condition
They have one hell of a hard life, but simple, and from the outside it looks like everything it isn't - so we won't swap!
The whole light and landscape and peoples combined to create a dazzling impression. It's like no other place we have every been. People appear to be living out here in the sticks in very much the same way they would have in Inca times. The land is so well used, and the field boundaries must be ancient. A welcome change was the absence of rubbish, which through all the other countries has littered the road edge almost everywhere, even in national parks, here there was none (La Paz will make up for that in bucket loads I'm sure) and there were often wafts of herbs and crops growing
There were odd ancient buildings too that were old burial sights, would have loved to explore a bit but we had to get that 200kms in, absolutely nothing else here. It was that nice I even thought of camping, but we had no supplies and it's bitterly cold of an evening here. Maybe another time.
We could see a sizable habitation ahead just as the sun was loosing its strength and the temperature was plummeting. To be honest, we aren't absolutely sure were we are, but think its Patenamaya. It was too small a place to have much choice, but we weren't willing to push on as in the dark it would be deadly here for sure.
There was one hotel that wasn't, but next to it was a hostel type thing with rooms in a building out back. So we have a room, for £3.50, basic, but lots of blankets to make up for lack of heating and to my surprise the shower actually is warm. We ate in the hotel and have a dubious but very large tea but will have to be far more careful here of hygiene standards and definitely be on bottled water. Well, and beer of course, that's clean. The beer here that we had tonight was black and sweet stout like, very similar to Sweetheart Stout for anyone that's tried it. Only 3% but tasty. The labels on the bottles are incredible, definitely the best to date, must take a couple of pics.
The only hope for internet was closed which was a shame as we were hoping to make contact with some friends who are in La Paz at moment and it's too big a city to just bump into each other.
So, it appears our first impressions of Bolivia are good, we'll overlook the obvious hard lives people are having in some areas and the fact there are more kids asking for things here than previous, but we expected that, we'll see how we get on. The scenery has been a surprise definitely, I hope there is more like we had today, or we'll have to return this way and have a closer look.

Tuesday 28th February 2006
Patacamaya - La Paz
104 kms
I know I've said this on more than one occasion, but, what a difference a day makes!
It was a blazing sunny day again, and in the courtyard where we stayed it was roasting, but out on the road it was a bit too cool without a jacket liner in, that damned altitude again!
We had a brief chat with our neighbour from last night, he was Chilean, and a prospector so over here looking for Silver, Gold or Copper deposits worth exploiting. There must be plenty about waiting to be exploited as there was an abundance in the past, but whether it would ever be economically viable on the scale necessary who knows.
A simple breakfast was had in the hotel before leaving, but at least it was dirt cheap.
The road to La Paz was a little less interesting than yesterdays stage, but you got occasional views of the distant Andean peaks poking out of the clouds with their heavily snow laden slopes, they must be big as we were still on a plateau of about 4000m+.
The altitude is a bugger for the bike, it really struggles, nothing that can be done without changing jetting and maybe timing, which frankly I'd rather not mess about with, but it is another thing to consider when riding. Last minute over-taking is not an option! You approach and try and maintain speed and gracefully pass and pull back in. At one point this morning a Toyota Celica came up behind us and I thought I wonder how fast he'll go past. Well, he disappeared out of my rear view mirror and also gracefully passed before pulling away ahead at a very marginal increase in speed. The occasion 4x4 motors past, but generally we are all in the same boat so not too hazardous.
The scenery was no way as good, there wasn't that really rural feel, but you always lose that the nearer you get to large habitations - even in UK. The noticeable change was there were more people, more vehicles, and the rubbish was starting to appear at the roadsides, lots of it the nearer we got to the city.
At first we were surprised as we approached La Paz. We had visions of it being set in a huge amphitheatre. What we saw was a range of snow clad mountains and a flat road with a large spread town either side. Well, of course we weren't looking at La Paz, that's why! We were looking at El Alto, apparently the fastest growing town in South America, and really the suburbs of La Paz.
We realised from a roadside stop our error as there was a large crater to the right of the view.
As we approached through El Alto it was apparent there was a festival going on. We had seen the hotel putting out bunting and had assumed it was for the festival in Oruro, it's a huge multi day fiesta based around the devil and the mines and starts this w/e. In fact - as we are so disconnected - we hadn't realised its Shrove Tuesday, we didn't know that fiesta was now. Anyway, the vehicles we saw with balloons and streamers were not heading for there, they were celebrating now! In La Paz it's a one day fiesta and we guess a holiday as there were lots of people around and a lot of shops were closed in the villages.
The traffic was not too heavy, but mainly buses and minibuses that you had to watch as they swung over without warning when a potential passenger was spotted. The other surprise was the optional use of traffic lights! Do as the locals do is how we play it, and they weren't stopping for the reds unless other traffic was coming. Stopping at the wrong time could lead to a rear end shunt. So I tried to be behind something at any lights and followed with caution their actions. There were many police about, but that made no difference at all. You have to relax into the local styles and patterns of driving, but we didn't get much lead in for this, deep end for sure.
There is a toll road into La Paz, but free for the bike. I think we were lucky with our arrival day being a holiday (we think it is, maybe every day is like this). There was certainly less traffic on the road than we expected. There is a viewpoint just after the toll booth and the view is quite amazing. La Paz really does sit in a crater for three sides and the building cling to dramatic slopes on the sides and spread out through the basin in tightly packed formation. 1.2 million people live here at 3700m altitude, it's quite a mind blowing view it has to be said.
La Paz, big, but compact
We descended along the two lane highway with ease and no significant traffic, being near mid-day I can't believe this is a normal day. We took a while to get any sense of location for the accommodation we were looking for but basically the difference in price between the first we tried and the one we took was $40, and £4...blimey!
First impressions of the city from the bike were that it was so quiet, that it seemed all the people were indigenous, there were a lot of traditional costumes on display and it wasn't quite what we expected.
After once again overcoming the one way blocks and finding a hotel we were able to unload the bike - took the bags etc off for first time in a while as although the bike was off the road, it wasn't in a courtyard or anything as secure as previously. The owner was very nice though and we were quite surprised to discover the room had a bathroom and hot water, and we got towels and toilet paper and a bar of decent soap for our £4 a night. It's an old colonial building, not exactly spic and span, but good enough, and not too far from centre, but far enough!
Wandering through the city from our base we got a clearer picture of the place. Dirty it certainly is, quite a bit of rubbish, and the smell of stale urine everywhere, takes your breath away as if the altitude wasn't enough! We took a fair while to try to get acclimatised to the layout and the Bolivian way of things, but basically couldn't figure a thing out. We tried in vain to find a decent restaurant, but couldn't find one. Lots of very dubious looking establishments, but not one that you would want to risk. They are here, we just can't find them. We ended up in a fast food spot that was OK, but not ideal. Many of the places we passed just turned your stomach the smell coming out of them, and we're not fussy.
We discovered why the streets stink of urine when we noticed blokes just stopping in the street and peeing, even in busy streets. Hopefully this is because it is a fiesta and a lot of folk are having a few drinks, quite a lot a bit worse for wear, but not aggressive.
There are lots of street urchins, but to date not been too problematic. Took the wind out of out sails this morning when a few kids would give Bev the finger at the roadside as we passed. The ladies in multi skirts and bowler hats often look a little 'unwashed' and we get the impression they might actually sleep on the streets with their wares.
Apart of the fiesta, one thing people do is wet each other, with buckets, water pistols, or water bombs. They seemed to be generally respectful towards tourists and aimed for like minded souls but got one or two splashes. There were lots of noisy firecrackers too, and the odd band or so, but generally we missed what limited action there was.
So, overall, our impression of La Paz is not so favorable, but we've not been here long, and neither might we be. We don't generally go for large cities, and this is why. We'll have a day looking at a couple of things of interest and see how we go on.

Wednesday 1st March 2006
La Paz
0 kms
Another day of trying to orientate ourselves this city takes some sussing. We managed to at least find one recommended eating spot, 100% Natural, which does great cheap breakfasts. For a quid we got a natural juice, Muesli and yoghurt and fruit and honey, Whole meal toast with butter and jam, scrabbled eggs, and coffee. Pretty good, and they seem to be pretty hygienic using bottled water and the like. Best breakfast for a long time. We still managed not to find the museum of Coca though which was apparently near by, save that for later.
It obviously was a holiday yesterday as today there is more traffic and there are a few people going around in suits and kids in school uniform. The men still relieve themselves in the street though, so can't be blamed on drink. The funny thing is, there are actually public toilets here.
We meet a couple of lads, Martin and Alan, at the Viedma meeting way back in December and knew they were in La Paz and finally managed to make contact.
They are riding around the world on GS1150s and came up through the east of Bolivia a few weeks ago, slap bang in the rainy season. They had some truly atrocious conditions, the roads thereabouts not actually really being able to be classified as roads. In the conditions they were washed out and boggy to extreme. They had harder riding than they ever encountered in Africa, to give you some idea. Had a look at their pictures on the web and it looked real bad. They are here as Alan's bike needs a clutch repair - currently trying to find the parts that have been shipped from England! They have found a great repair shop here though, the details somewhere on Horizons Unlimited if anyone needs them.
It was obvious it was brewing up for a storm here - at least that might take some of the stale urine smells away we hope - so we back tracked to the hotel, just in nick of time. Apparently it's quite normal for afternoon storms, we must have been lucky yesterday. Clearly the wet season hasn't quite finished with here yet. We might not stay so lucky.
La Paz is famed for being hot sunshine, cool in the shade, and cold at night. Certainly everyone local is well wrapped up most of the time. We have been wandering around in shirt, trousers and sandals and quite comfortable, but the locals obviously don't think that's enough. This shower perhaps paints the other side, we'll have our cags and the little brolley with us now I think! The rain was actually mainly pretty large hale, and accompanied by lighting and thunder.
I keep forgetting to mention what the altitude is like here. If we come up the two flights of steps to the landing our room is on we are short of breath and you need a few moments to recompose. In the morning, we had a very quite nights sleep last night which was a pleasant surprise, you get up as normal then realise there is the altitude, it's quite a surprise. Neither of us has suffered headaches or the like, but our skin in drier and you need the water.
There are more people here that approach you for money, but not so far a huge amount. Even in Chile kids would come into restaurants from table to table with outstretched hands which show the marked difference in wealth there. Here there are clearly people with more, and people with less, but the difference is not as marked I think. It's still a surprise that virtually everyone here is indigenous. The only pale faces, are the pale faces, of which there are many here, but generally always congregated in the same backpacker area.
No idea how long the rain will last but I guess it will be time to see a museum or similar, unfortunately the close 12.30 to 15.00 but at least they're open until 7.
We're meeting Martin and Alan in an English style pub tonight so that might be an experience.
If I were honest, well we, as it's how we both feel, we are really not sure we are going to enjoy some of this leg of our journey as the contrast between heavy tourism and crime and poverty is an unhealthy mix. The guidebook warns of all sorts of hazards and dangers, and many of them are in places we want to visit. In the past we have heeded warnings but tried not to let them spoil our fun, but maybe it's a general malaise we are suffering just now.
Although we will live La Paz and as often stated we prefer the sticks, many of the 'big' things to see are in dubious areas and it does take the edge off it. I guess we will judge it as and when, there would be no point in not going to these places. The sad fact is we both, at this precise moment, wish we weren't here, and don't really fancy going to the places we intended. With hindsight, we should have come this way round first, better weather, and the culture shock would be wearing off, rather than on.
Well we found an interesting museum to while away the time, the Coca Museum. It is based on the background and use of both Coca leaf, and the slightly different derivative, Cocaine. The museum is was jointly set up by government department's rehabilitation centres and other interested parties. It generally sets out I would say to show that Coca leaves are something not to be confused with the more additive and stronger relation and in fact makes a strong case for Coca leaves and their uses. This is understandable as the leaves have an ancient history and the stronger product is in fact quite new. There were lots of interesting facts, a few of which I can remember. Coca Cola originally did have cocaine in it, but I thought the modern day product bore no Coca relation - wrong, Coca Cola still incorporates Coca leaves as part of the flavour. Sigmund Freud was the first person to take cocaine as a drug. Bolivia is not a member of the Cocaine Club - the League of Nations who is allowed to produce cocaine for medical and other uses. It was all rather fascinating, and a small but very well considered display. We had a booklet with English translations for the whole display which helps enormously. On completion we were given a coca leaf cookie to try. Quite herby and not unpleasant, but not enough to ward off the effects of altitude I doubt. I would actually like to try some of the Coca leaf in tea or chewing form, but the opportunity has never really arisen, and besides which we don't really suffer too many side effects of altitude.
We managed to meet Martin and Alan in the 'English Pub' later, true, it was just about all English in there, quite small, and beer in pints (including Guinness and Boddingtons)
As we arrived first we ordered a local 'Bock' unaware that it was 7% - not ideal for altitude. We only found this out when the guys arrived. We had a good evening chatting away about our various travels and challenges and heard about their adventures here as they have had to stay a while as Alan is having work done on his bike. They had taken part in the downhill mountain bike ride that is now world famous as it takes the route of the 'Road of Death' - once considered the most dangerous road in the world. Now it's a major attraction as you are taken by bus to the top at about 4800m and then you descend to 1100m - it's all down hill except for 16kms. The road is so feared as there is one particular section that has drop offs of 900 odd metres - no barrier, slippery unsurfaced road and very narrow. The other thing is, due to the narrowness and severity, you descend on the left (not right as here normally) the reason being you must give way to uphill traffic, which is buses and the like that don't have room to maneuver. It was one route we wanted to ride on the bike, but have decided to err on the side of safety and not bother. Call us wusses if you want, but that's the way it's staying. Martin had also scaled a 6000m peak which sounded very tempting to me indeed, but really it's not the season for it, and our insurance doesn't cover it. Both options are relatively cheap, no, they are cheap, and that's the real benefit on La Paz, access to these kinds of deals.
We soon discovered whether La Paz was safe at night or not as when we went to meet them it was fully dark, but the streets were busy and there was no feeling of danger whatsoever. When we left, near midnight (after a pub curry which was pretty good actually) the streets were pretty empty, just a few folk around, and a few worse for wear folk too. There was no feeling of concern and in fact it felt safer than many a UK street at that time of night.
Couple of things we have noticed further during our stay, there are far fewer dogs here than anywhere else we've been (no jokes about them being eaten please). The litter and piles of rubbish do seem to often disappear between nightfall and morning. And the traditional ladies who sit on the streets selling wears that look like they bed down there for the night, don't - don't know were they go, but they're not there at night. On that subject, there are supermarkets here - if you can find them - but otherwise everything is sold on the street generally by these ladies, and I mean everything. There are a few stalls selling DVDs - you can choose one as they have TV's plugging into the numerous sockets hanging off the streetlights. We also discovered the style of skirt, or the jaunty angle of the bowler hats tell you whether the women are married or not.

Thursday 2nd March 2006
La Paz
0 kms
I don't know how we can explain our general malaise here, there are so many tour options etc and the like, but we don't really do tours, we make our own which is perhaps the issue. As I've said many times we don't like big cities either, which would explain a lot, and we have perhaps suffered quite a bit of culture shock here. As we are here longer it's more usual what we see, but we still aren't happy here and so I think we must leave. We can see how we feel it we go to say the Yungas which is only 70 or so kms away, and see if we find something else for us to appreciate, or whether we really want to just see the famous tourist sights closer to us here like Lake Titicaca and Machu Picchu and then bugger off back to NW Argentina as quick as we reasonably can.
Your average Bolivia crowd
I think it's often the case that when you're travelling your perspectives change. Depending on a lot of factors you can really change emotionally regarding were you are travelling. That's perhaps why our feelings are so up and down here, probably a similar thing as to when we were travelling through N Chile - there we were bored, here it's something else.....it's a strange old game. Travelling on your own must be a lot more difficult, at least there are two of us.
Today we could have blamed it on our slightly thick heads! I was a bit misty, and Bev was more foggy. Drinking at altitude (as we know....but do we learn?) is not a great idea.
Our traditional breakfast helped things and a wander around the stalls helped clear the mist. The stuff on sale is generally what you expect, no end of very good value Alpaca goods and weavings and the like, but they're not really to our taste, although Bev is looking for a nice sweater with a pixie hood, maybe they're Peruvian. The other things on offer are from the sublime to the ridiculous. There is fruit and nuts and various types of potatoes (been very disappointed with not finding loads of tatties on the menu, chips yes, but other spuds no) fossils and figurines and Llama foetuses.
Yes, you read that right! They dry the Llama foetus and I think they're for good luck. There are also dried frogs, Armadillos and birds and other things - quite what for we don't know. Sure no one back home would appreciate one as a gift!
The brown things middle top are llama fetuses - sacrifice for luck/P>

We started our preliminary emailing to arrange return shipping for the bike today too, which is marked step in the trip, and not one you really want to think about, but must be done, and in time.
We had a wander up to Calle Jaen this aftie which has some great old Colonial buildings with wonderful courtyards and houses 4 museums you can enter on a joint ticket, all of 60p. They varied in interest, but the highlights of the collections were the various Fiesta costumes which are down right bizarre, and the Inca gold work.
Police Harleys?...look closer, Chinese 250s!
This afternoons storm was much shorted lived than yesterdays - but much longer than the none existent one we had on arrival so we dodged most of the weather.
Presidential palace guards
We were in the area of the Congress Building and Presidential Palace and it was looking like there was to be some action up there as there were a lot of police, including riot police and SWAT teams. The riot police had a nice touch, their shields had protective blue film still on...helps stop them getting scratched during action! There were some with tear gas and pump action shotguns, sub-machine guns, and some dressed like Ninja turtles with the body armour.
Riot police with protective blue film on shields - wouldn´t want to scratch em would you?
You are a bit hesitant in taking photo's at such times, but it has to be done. I haven't carried my digi SLR around the streets - though in reality I'm sure it wouldn't be an issue and it's my loss, so all the pics are courtesy of Bevs compact which is more discreet.
Ninja biker riot police
Whatever the presumed possibility of trouble was 'nothing happened' as far as we could see. It might have been interesting to have witnessed some sudden Latino outpouring of emotions, but I think we'd prefer not to be tear gassed today thank you!

Posted by Simon McCarthy at
02:19 PM
GMT
March 15, 2006 GMT
March 17, 2006 GMT
March 19, 2006 GMT
March 25, 2006 GMT
Enter your email address to receive updates to Marc and Bev Davies's trip story!
Recent Entries
Archives:
Archives:
Monthly
Archives:
Category
NEW! HU 2015 Motorcycle Adventure Travel Calendar is now available! Get your copy now for some terrific travel inspiration!
HUGE, 11.5 x 16.5 inches, beautifully printed in Germany on top quality stock! Photos are the winning images from over 600 entries in the 9th Annual HU Photo Contest!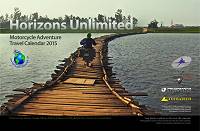 "The calendar is magnificent!"
"I just wanted to say how much I'm loving the new, larger calendar!"
We share the profit with the winning photographers. YOU could be in the HU Calendar too - enter here!
Next HU Events
NEW!

USA Virginia: Apr 9-12, 2015
Canada West: Aug 20-23, 2015
USA California: Sep 24-27, 2015
Aus Queensland: Sep 24-27, 2015
USA North Carolina: Oct 8-11, 2015
Aus Perth: Oct 9-11, 2015
Take 40% off Road Heroes Part 1 until October 31 only!
Road Heroes features tales of adventure, joy and sheer terror by veteran travellers Peter and Kay Forwood (193 countries two-up on a Harley); Dr. Greg Frazier (5 times RTW); Tiffany Coates (RTW solo female); and Rene Cormier (University of Gravel Roads).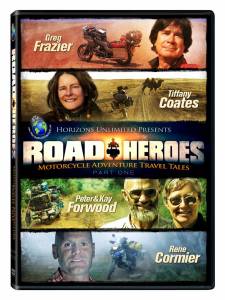 "Inspiring and hilarious!"
"I loved watching this DVD!"
"Lots of amazing stories and even more amazing photographs, it's great fun and very inspirational."
"Wonderful entertainment!"
Check it out at the HU Store! Remember to use Coupon Code 'HEROES' on your order when you checkout.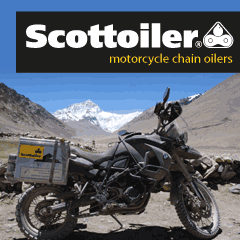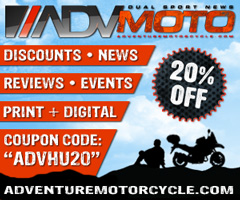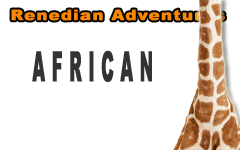 What others say about HU...
"I just wanted to say thanks for doing this and sharing so much with the rest of us." Dave, USA
"Your website is a mecca of valuable information and the DVD series is informative, entertaining, and inspiring! The new look of the website is very impressive, updated and catchy. Thank you so very much!" Jennifer, Canada
"...Great site. Keep up the good work." Murray and Carmen, Australia
"We just finished a 7 month 22,000+ mile scouting trip from Alaska to the bottom of Chile and I can't tell you how many times we referred to your site for help. From how to adjust your valves, to where to stay in the back country of Peru. Horizons Unlimited was a key player in our success. Motorcycle enthusiasts from around the world are in debt to your services." Alaska Riders

10th Annual HU Travellers Photo Contest is on now! This is an opportunity for YOU to show us your best photos and win prizes!
NEW! HU 2014 Adventure Travel T-shirts! are now available in several colors! Be the first kid on your block to have them! New lower prices on synths!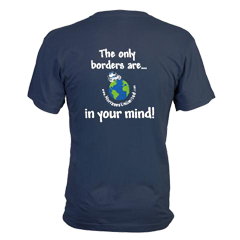 Check out the new Gildan Performance cotton-feel t-shirt - 100% poly, feels like soft cotton!

What turns you on to motorcycle travel?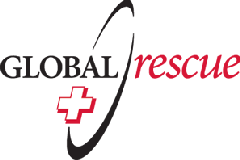 Global Rescue is the premier provider of medical, security and evacuation services worldwide and is the only company that will come to you, wherever you are, and evacuate you to your home hospital of choice. Additionally, Global Rescue places no restrictions on country of citizenship - all nationalities are eligible to sign-up!
New to Horizons Unlimited?
New to motorcycle travelling? New to the HU site? Confused? Too many options? It's really very simple - just 4 easy steps!
Horizons Unlimited was founded in 1997 by Grant and Susan Johnson following their journey around the world on a BMW R80 G/S motorcycle.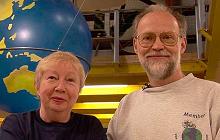 Read more about Grant & Susan's story
Membership - help keep us going!
Horizons Unlimited is not a big multi-national company, just two people who love motorcycle travel and have grown what started as a hobby in 1997 into a full time job (usually 8-10 hours per day and 7 days a week) and a labour of love. To keep it going and a roof over our heads, we run events (22 this year!); we sell inspirational and informative DVDs; we have a few selected advertisers; and we make a small amount from memberships.
You don't have to be a Member to come to an HU meeting, access the website, the HUBB or to receive the e-zine. What you get for your membership contribution is our sincere gratitude, good karma and knowing that you're helping to keep the motorcycle travel dream alive. Contributing Members and Gold Members do get additional features on the HUBB. Here's a list of all the Member benefits on the HUBB.
Books & DVDs

All the best travel books and videos listed and often reviewed on HU's famous Books page. Check it out and get great travel books from all over the world.

MC Air Shipping, (uncrated) USA / Canada / Europe and other areas. Be sure to say "Horizons Unlimited" to get your $25 discount on Shipping!
Insurance - see: For foreigners traveling in US and Canada and for Americans and Canadians traveling in other countries, then mail it to MC Express and get your HU $15 discount!
Story and photos copyright © All Rights Reserved.
Contact the author:
Editors note: We accept no responsibility for any of the above information in any way whatsoever. You are reminded to do your own research. Any commentary is strictly a personal opinion of the person supplying the information and is not to be construed as an endorsement of any kind.
Hosted by: Horizons Unlimited, the motorcycle travellers' website!
You can have your story here too - click for details!