March 15, 2006 GMT
7th Mar 2006 - La Paz - Cocacabana (Lake Titicaca)
195 kms
Had the place to ourselves on waking as Oscar and Elizabeth were out but they came back to join us for the ride towards Titicaca. We set out together on some of Oscar's direct routes straight up the sides of the bowl that encompass La Paz. These involved some fair old inclines and the bike was certainly struggling for breath with most of it being first and second gear. Certainly steeper than Sutton Bank and more like long stretches of Rosedale Chimney, fair old struggle two up fully loaded, lots of blipping of throttle required.
Back on the plateau and into the vast sprawl of El Alto it was good to have the local knowledge for a few shortcuts avoiding the bottlenecks. We recognized much of the journey from our ill fated attempts the other day when we got the right road, but wrong side of La Paz.
As we left El Alto we were treated to the full run of the high Andes on our right with some fantastic looking pointy peaks and other mammoth summits. All very tempting, and quite achievable from La Paz with the near 4000m head start.
We had to eventually pull in to take some photos and while we were there the unmistakable sight of a GS1150 loomed past, instantly recognisable as Martin and Claudia. We knew they were heading to Copacabana, but didn't know when. A chance meeting so we all greeting each other and introduced Oscar and Elizabeth.
Decided to all head for lunch together, and Martin and Claudia would ride with us to Copacabana and we'd stop together. Oscar and Elizabeth were unable to get away and join us there so were only going as far as the ferry.
There are two ways to get to Copacabana as it is on a peninsular that has its base in Peru. You can go through Peru, or get a ferry from the other side which is Bolivia. Obviously we wanted to arrive from the Bolivian side as we didn't want to do all the paperwork twice (once in, once out).
The scenery changed as we got nearer the lake and we climbed a little again into scenery not unlike that of Scotland (there's a lot of it about !)
Adobe houses before the Lake
The first views of the lake were a surprise as it wasn't really what we expected, whatever that was. It was deep blue and the surrounding landscape was fairly flat at first.
Then there were some nice rolling hills and all the signs that there was much more abundant water here, more small fields and more people.
Abundant farming by shore of Lake Titicaca
We pulled into a restaurant that Oscar knew and set about a very good meal of trout in various guises, all of which excellent and good portions. First place where the meals were priced in dollars. Gave everyone a chance to talk and get to know each other, or catch up again.
We left the lunch spot and it was only a little way to (San Pedra de) Tiquina for the crossing. The first sight of the 'ferries' was a little interesting. Basically barges with small outboard motors. Not narrow boat barges, but big flat rectangular low lying barges more akin to the sorts used on European rivers. There were coaches being ferried across at dubious looking angles and it all looked a bit hairy.
Oscar and Elizabeth had to say their goodbyes at this point and we and they were sorry to be parting. We hadn't been together too long but we had enjoyed good company in that short period.
We had to wait for some more traffic before we could cross, but then another competitor stole our business and said we could go now so we went round the corner to another loading point (to the disappointment of the guy waiting to take us - but that's commerce for you.)
As mentioned the barges are rather rustic, basically two wheel tracks of planks above cross braces and little else. Martin and I had to ride up ramps onto the barge and stop on the wheel tracks. Our bike wouldn't go onto its centre stand on the uneven planks so I sat astride it for the crossing. Never an enjoyable procedure. The barges are pushed away with poles, like punting, before the outboard could be started and we turned and set off with me of course backwards. They are roll on, roll on, i.e., you don't ride off the other end. That meant reversing off, or somehow turning. Fortunately the crossing was calm and at the other end some spare planks were utilized to allow me to precariously turn the bike around, and precariously it was too.
Safely back on dry land, having paid the princely sum of 10 Bolivian for the bike and 1 each for us, so under a quid; we only had to ride 38kms to our destination.
As we were crossing we could see out to the open lake which is vast, far more like the sea, now as we climbed up into the hills we were treated to more of that excellent view. The land has been heavily tilled in the past to create myriad small fields on the hillsides, or narrow terraces were the sides were to steep. Many of these fields were still in use with barley, potatoes and other crops growing.
The scenery was quite stunning and it wasn't long before we were upon Copacabana. It's only a small place, and sits at about 3800m on the shore of the lake. There are many hostels and hotels to choose from, and as we're out of season now we could afford to be picky and bargain. As Claudia is local we sent her to check. The first place we tried we decide to stay as just over £10 a room. Lovely lake views, private bathrooms with hot water and breakfast, no point saving a couple of quid and going down-market. Quite palatial, and only the four of us in it as far as we could see. It's the same place that the owner of our hotel in La Paz had recommended. To be honest, it still surprises us that we can find places like this to stay, and afford it, in the UK they would be well beyond our price range, and it's nice to have a bit of the highlife.
It had been damn warm riding across the last 38kms and it was quite surprising as it has a reputation for being cool here, and cold on a night.
We sorted ourselves out and went for a beer and ice cream unfortunately time was against us, well, slow service was more the problem, so the ice creams came out just as the sun set and it got damn chilly. We had chufly's instead of beer, that being the name for a Sungani mixer.
Back to rooms for warmer clothes before out for dinner. The sun set about 7pm and boy did it sink quickly ! Warmer clothes on, it was into the very sedate streets to find food. It probably gets busy in holiday season, but now is very quite. Found a very reasonable place to eat and on the way back admired yet another wonderful stellar display as the sky is so clear up here.

Wednesday 8th March 2006
Cocacabana (Lake Titicaca)
0 kms
Copacabana is a small place with little to do, but an ideal opportunity to take it easy once again. We have to pinch ourselves sometimes when we think we are actually in these places. Titicaca is not anything like we expected I think, but no loss anyway. There are many mystical associations with the lake and the birth of mankind, and many people still hold the lake in high esteem. So though it could be like a beach resort, it's not really that sort of thing. You can ride on the lake, but that's about it really. There are islands of the sun and moon, but they are quite a way away and take a long time to get too. We didn't fancy an all day trip as start too early in morning. The guidebooks all say half day trips are not worth doing, but we decided to take one anyway (they were right!)
The boats here are so slow as to take 4 hours for a round journey leaving only one hour on the island, in that time you have to shimmy up the 'Inca' steps and try to find something interesting before you have to return to the boat.
All four of us took the trip, but really it was, as the books said, a waste of time. Relaxing waste of time though! Not sure all this mystical historical stuff is us anyway. Certainly appeals to many though as the town has a large resident population of what can only be called hippies. Means there are some cool hangouts though and we had a great 'sundowner' in one of them. Actually a Brazilian spirit mixed with lots of limes and sugar and ice, and fair powerful!
After an excellent meal at another spot, the local fish Pejerrey in an excellent sauce we returned to our bar of choice for some more of the same. It went all very like the Fast Show's "Jazz Club...nice" as a jamming session was going on and with the interior seating consisting of scatter cushions on the floor it soon lead to us having just one drink too many for the altitude but having an excellent evening. Great to share some time with Martin and Claudia and catch up.
Returning to out Italianate mansion hotel we discovered the gates were locked and there was no-one around. It was only just gone 12 which wasn't unreasonable, but the night porter had buggered off along with everyone else. I think we were the only people in the whole place, but even so, at a 3 star hotel you expect someone to be on duty at 12 o'clock. Nought for it, Martin leapt over the wall and let us in. Then how to get our keys? Luckily the office doors wedged open and we were able to extract them. Note the best advert for security, and during the whole procedure no one appeared to ask what we were up to. Oh well, an interesting end to the day!

Thursday 9th March 2006
Cocacabana - Puno, Peru (Lake Titicaca)
194 kms
A very lazy start to the day as only a short distance - but another country and therefore two border formalities to contend with.
Said our goodbyes to Martin and Claudia, it's not impossible we'll see Martin & Alan yet if his clutch does get fixed. Alan's been grounded in La Paz for two weeks waiting for Fed Ex to deliver the parts he was promised in two days.
It had looked a bit black before we left, but it came to nothing and we were fine. It's quite cool though, probably a combination of the large expanse of water, and the altitude. After the small matter of just two flights of steps I can honestly say I know how I'll feel aged 70 or 80 !
It was a very brief ride to the border, all of 8 kms. I was expecting quite a bit of grief here, but then I had at many borders before. There was no problem with oiks hassling us, or even 'friends' offering to help. I expect this at some point, but yet to encounter it. The Bolivian formalities were in effect little more than that. The Aduana explained he was keeping my temporary import, but of course I knew this, but nice of him to explain. The passports were stamped out and we were free to go within 15 minutes. I never mentioned previously, but as we entered Copacabana we had to register, and pay a vehicle entrance fee (legit as a proper receipt given, and Claudia had queried it - I guess due to nearness of Peru) and the guy there was hopeless beyond belief. At times between Argentina and Chile the personnel were quite useless, but this poor guy took the biscuit. He couldn't spell 'BMW' even with Claudia's help (she's Bolivian remember) and he never grasped the fact four people were on two bikes, put us all on ours! Still, he was completely harmless and quite the way I like my officials!
Today was our 'day of bikes'. More motorcycles than we've seen in months, and all at this border! First were a Canadian couple, Father and Daughter which made a nice change. Jan and his daughter were coming into Bolivia and mentioned the 'departure fee' he had been unable to avoid leaving Peru, that didn't sound too great for us. His daughter had only recently passed her test, and here they were both going down to Ushuaia on Kawasaki KLR650s, great!
We exchanged our Bolivian cash for Peruvian Sols in the usual manner with a traditional lady and her calculator and bundles of notes. Yet again we weren't ripped off either.
We spent some time chatting, to the point the guy on the barrier forgot we had done all the formalities to leave, but we were soon off.
We approached the Peruvian side with some trepidation as we've heard one or two tales, to say the least, of corruption, and there are many general warnings for the country as a whole from a security and safety perspective. You can't always be sure of these warnings, we often ignore them as off the beaten track they don't apply. The problem is, we are well and truly on the Gringo Trail now. We won't have time for the little places we normally frequent as it will be Puno, Cuzco, Nazca and return. The same route all the back-packers and tour groups will be taking.
We can't complain as we are about to do the same things tourists in Britain for a week would be doing, Stratford, London, Cambridge, York and home. Sadly we don't have the time to do this our way.
As we approached Peru's border we met three more bikers! All Peruvian, and to be honest though they gave us a great welcome and insisted on lots of hand shaking and photographs I had hardly any idea what they were saying to us, so much for 5 months of language practice eh!
Anyway, the first office was passports and that went reasonably well, he actually wanted to see Bev, second time in all the borders we have crossed, and remarkably his none existent English appeared at the same time she did !
Next was the temporary import, the more difficult part, and the one open to more abuse I'd say. As with entering Bolivia though I was greeted with a warm welcome and a smiling face. Being a cynic I am always wary of this, but as previously, the welcome was as genuine as it seemed.
The procedure was simple and it's getting second nature now. All the paperwork was formalised without problem and we were free to go!
Until! The next barrier that I thought we'd sail through at same time was blocked by another local policeman who asked me to come in for more paperwork. This seemed a bit odd to me and an obvious attempt for extortion. In fact I don't think I was far short of the mark as he filled our details in on a scrap of unofficial paper, though it did contain the other biker's details too.
Anyway, the guy fairly labored the detail filling and I just knew at some point money would come into it and so was ready and waiting with my 'I'm thick and foreign' routine. It does work quite well generally.
Finally after much matey chat, where I slowly became more think and unable to comprehend he moved to the 'I collect foreign money' routine. By this stage I was a near vegetable and so it wasn't long before he lost interest and wished us good vacation. Close call that one I think. The final challenge will be leaving Peru, that's were they have you by the short and curlies, watch this space!
So, that was it, we were in Peru. It's always nice leaving the border with the bike as folk are going through the customs from buses. You can see the Europeans look so surprised at the GB plate.
As ever, the few kms of distance lead to a huge change in housing and general demeanor. Peru looked somehow poorer, even though things cost more than Bolivia. If anything Peru looks less complete than anywhere else we've been, and I can assure you there have been plenty of poor looking buildings and the like on this trip so far. Still, it was nice to return to a place were people smiled and waved again as we passed. At one point a team of road workers flagged us down simply to ask where we were from and then shake our hands and wish us the best!
Talking of which, a large portion of the road was made up of poorly laid tarmac patches leading to far from the best riding conditions, bloody awful in fact - first once for an age.
We made an easy journey to Puno which was to be our stopover. It's quite a large place, and not particularly pleasant as you approach it. Points of interest were the number of smaller motorcycles around and the tricycle rickshaws, of which there were many.
On stopping to enquire of the book where was worth trying for accommodation we were approached, as we will be frequently now I guess, buy a 'helper'. Now don't mind sometimes having someone assist you getting a hotel, but sometimes 's a pain, we'd rather do it ourselves. Anyway this guy explained how the places we were interested in were expensive - surprise - and he knew somewhere better. Anyway, after a while we were free to do our own thing again.
Another point of interest some became clear. In Peru they not only have traffic lights, but also policemen and women directing the traffic from hidden boxes. I say hidden as we never saw the first one, but they certainly saw us!
We had turned illegally, having not spotted the hidden hand waiving policemen on the other side of the corner and his whistle blowing colleague collared us. I guessed what was wrong, but as the guy seemed to be hell bent on booking us I thought it was time for the stupid foreigner turn again. Using this with a slow repetitive apology seemed to work and he gave up and handed us to his senior, to whom I played the most terribly sorry I'm stupid' card which again luckily cleared us and we were free to go, even getting some directions thrown in free! Some people would say I could play the stupid card easily, but believe you me it's a tricky one !
We found the hotel of choice, but it was way too costly at $45 a night. Bloody sick of prices quoted in dollars already. How can it be a richer country if it doesn't even quote its own bloody currency?
Some negotiation later we were down to $25 which although better is more than we'd like to pay, don't mind roughing it a bit generally, but as the security has got more of an issue, we'll accept more cost. Safe parking is the biggest issue, along with general room security.
The bike would live in the back of the lobby so that was a deal done, only had to get the bloody thing in. A high kerb, a tall threshold, a polished floor and some magic carpets and we were in, just some sofas to move and a few plant pots to carefully avoid. The bike was in better comfort than we have been previously!
Tea gave us the opportunity for Coy (Guinea Pig), but Bev opted for the local trout and I had my first bit of Alpaca. No, not the wool, the meat, very nice too. Like Kangaroo and ostrich it has little cholesterol.
Posted by Simon McCarthy at March 15, 2006 05:42 PM GMT

Enter your email address to receive updates to Marc and Bev Davies's trip story!
Recent Entries
Archives:
Archives:
Monthly
Archives:
Category
Now that summer is here, get On the Road! Take 30% off the Achievable Dream - On the Road! 2-DVD set until August 31 only.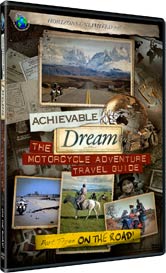 Our veteran travellers share their tips (and great stories) for staying healthy, happy and secure on your motorcycle adventure.
"A fantastic, informative and inspirational DVD."
"It's brilliant - thank you very much!"
Check it out at the HU Store! Remember to use Coupon Code 'ONTHEROAD' on your order when you checkout.
Next HU Events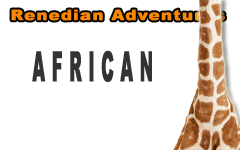 What others say about HU...
"I just wanted to say thanks for doing this and sharing so much with the rest of us." Dave, USA
"Your website is a mecca of valuable information and the DVD series is informative, entertaining, and inspiring! The new look of the website is very impressive, updated and catchy. Thank you so very much!" Jennifer, Canada
"...Great site. Keep up the good work." Murray and Carmen, Australia
"We just finished a 7 month 22,000+ mile scouting trip from Alaska to the bottom of Chile and I can't tell you how many times we referred to your site for help. From how to adjust your valves, to where to stay in the back country of Peru. Horizons Unlimited was a key player in our success. Motorcycle enthusiasts from around the world are in debt to your services." Alaska Riders

10th Annual HU Travellers Photo Contest is on now! This is an opportunity for YOU to show us your best photos and win prizes!
NEW! HU 2014 Adventure Travel T-shirts! are now available in several colors! Be the first kid on your block to have them! New lower prices on synths!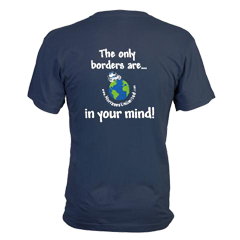 Check out the new Gildan Performance cotton-feel t-shirt - 100% poly, feels like soft cotton!

What turns you on to motorcycle travel?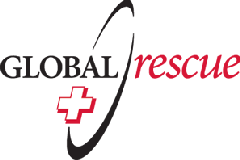 Global Rescue is the premier provider of medical, security and evacuation services worldwide and is the only company that will come to you, wherever you are, and evacuate you to your home hospital of choice. Additionally, Global Rescue places no restrictions on country of citizenship - all nationalities are eligible to sign-up!
New to Horizons Unlimited?
New to motorcycle travelling? New to the HU site? Confused? Too many options? It's really very simple - just 4 easy steps!
Horizons Unlimited was founded in 1997 by Grant and Susan Johnson following their journey around the world on a BMW R80 G/S motorcycle.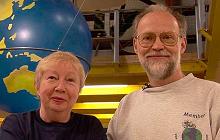 Read more about Grant & Susan's story
Membership - help keep us going!
Horizons Unlimited is not a big multi-national company, just two people who love motorcycle travel and have grown what started as a hobby in 1997 into a full time job (usually 8-10 hours per day and 7 days a week) and a labour of love. To keep it going and a roof over our heads, we run events (22 this year!); we sell inspirational and informative DVDs; we have a few selected advertisers; and we make a small amount from memberships.
You don't have to be a Member to come to an HU meeting, access the website, the HUBB or to receive the e-zine. What you get for your membership contribution is our sincere gratitude, good karma and knowing that you're helping to keep the motorcycle travel dream alive. Contributing Members and Gold Members do get additional features on the HUBB. Here's a list of all the Member benefits on the HUBB.
Books & DVDs

All the best travel books and videos listed and often reviewed on HU's famous Books page. Check it out and get great travel books from all over the world.

MC Air Shipping, (uncrated) USA / Canada / Europe and other areas. Be sure to say "Horizons Unlimited" to get your $25 discount on Shipping!
Insurance - see: For foreigners traveling in US and Canada and for Americans and Canadians traveling in other countries, then mail it to MC Express and get your HU $15 discount!
Story and photos copyright © All Rights Reserved.
Contact the author:
Editors note: We accept no responsibility for any of the above information in any way whatsoever. You are reminded to do your own research. Any commentary is strictly a personal opinion of the person supplying the information and is not to be construed as an endorsement of any kind.
Hosted by: Horizons Unlimited, the motorcycle travellers' website!
You can have your story here too - click for details!