February 26, 2006 GMT
16th Feb 2006 - Caldera - Antofagasta
526 kms
Hot desert and a return to the hotel of love!
Well another day of mileage crunching though it wasn't planned that way. The book talked of a little place only 60kms away that was to be our destination, but when we arrived at Chañaral it far from lived up to expectations. The book has slightly over egged the description on many of the destinations in more northern Chile, but I put down to the fact most of the small places are bougainvillea and therefore even a few crumbling historic looking building are mentioned, yet they're not worthy of attention.
Having stayed in one port that was a mix of fishing fleet and a mini Teeside we didn't need another after on 60kms so decided to push on. There is only so much attraction in looking at a bay with steel jetties for exporting nitrates and ores stretching out to see and shanty buildings huddled around a dust blown bay. Remove the buildings and industry and simply admire the crashing rollers from the Pacific and the craggy shoreline and sandy beaches (don't look too closely) and the place looked OK, but really it wasn't.
Not a problem except there is bugger all up here now OK Antofagasta is a large place (225,000) - and therefore bloody awful to our mind, one part lovely sea front, one part modern tower blocks and decrepit old buildings and one part rough as anything. Not somewhere we wanted to stay, but necessity said we would have to, anyway.
The Pan Am loomed onwards as did the traffic. Quite a bit of HGV traffic, they really struggle with the long stretching uphills and grind to a snails pace towards the top of the inclines. Strange as most are humongous great modern tractor units, much bigger than UK, and therefore I assume they are just well overloaded.
Still can't believe we haven't seen one foreign plate since being on the route, not one. I don't mean tourists, I mean Argentinian, or Bolivian or Peruvian vehicles, neither commercial, or private. I would actually guess we'd also see some European ones as all the ones we saw previously can't have just not come north, surely?
It's the wrong time to visit Bolivia due to the rainy season, but there must be folk like us who just had to come round this way at this time - no?
The rain must have been pretty tremendous in Bolivia as people mentioned the weather we had in Vicuna as being the result of Bolivia, and today we saw distant Andean faces that were plastered in new snow which can't be that normal for summer.
Flowering cacti
At one point some the vehicles coming towards us were spattered in red mud as if they'd been in a rally. Considering how long ago the last rain must have been this seemed odd. As we approached the only fuel stop for over 200kms before Antofagasta at Agua Verde we could see there was uncharacteristically muddy water standing at the side of the road, and further up in a slow flowing muddy sludge, which had recently crossed the road in a few places. A guy in the petrol station said this was a result of the rains in Bolivia. Incredible, as the only views we got of the Andes were of them nearly 100 miles away. He chatted to us as he used to have a BM like ours. I mentioned about tyres and he gave us his card and said call me when you're in Antofagasta and I'll help you find one. That was so kind, we have met so many generous people on this trip.
All day we'd been riding though unvegitated desert, no sign of life....well...there was one Guanaco (or vicuna, or llama, whatever type it was) on its own, but nothing else. Pure rocky desert.
Danger, Llama´s crossing - first ´truly´wild ones (OK the locals herd them, but they´re not for tourists, they're for life)
Although fairly featureless it did have some striking colours along the way which meant the journey wasn't boring. We had also been along the Pacific coast for a portion of the morning which was quite impressive.
Another draw back of having several hundred kilometres between places (and they might not have much in way of facilities) is food. Getting lunch today we pulled into a posada, small shanty looking places in isolated spots with truckers outside. Asked for two completos - set meals, and got a large bowl of soup each. It was mystery what is was a broth like thing. I was lost to figure out what the 'meat' constituent was and asked Bev. Until that point she was tucking in heartily. She said 'chicken'. I said not. She investigated and lost interest in eating it after that. It wasn't chicken, and certainly wasn't a mushroom, guess it was some form of offal or something, white with some grey on, and the odd tube. Sounded too much like something I didn't want to eat anyway, and neither did Bev after that. The main was OK with fish and rice and salad. No drinks were available excepting coffee or a large bottle of Fanta. At a cost of £2 each not bad, but the choice for eating is getting thin up here. It really is an isolated blank spread of country.
This area was, and still is, an area for mining naturally occurring minerals and the like and has swapped nationalities through the last few hundred years. We came across some British Ruins today by the roadside which would I guess have been a Anglo Chilean Nitrates plant. there were many here, providing great wealth, until the Europeans started manufacturing them rather than importing the raw product.
Trying to tell me something?
Before we got to Antofagasta we came across the surreal 'hand' in the desert. Much photographed and as strange in real life as in pictures. Four fingers and a separate thumb (left hand) protrude upwards in hollow cast concrete about 20+ feet high. No idea of the relevance, but it's a strange sight. Sadly had lots of new graffiti on, but that's par for the course here. Even in a small place like vicuna, nearly even flat wall and surface was 'tagged', completely out of control, especially when most were domestic house walls. As there was literally no shade or shelter along the route today, it also stake of pee ! Compulsory photo taken we continued.
Hand - the big mysterious hand everyone gets photographed at - how long before someone removes a thumb and two fingers I wonder?
We had hoped we could get a new rear tyre today, but even in Antofagasta it proved impossible. While trying to find accommodation for the night we stumbled on a small motorcycle shop and I enquired within. They had nothing, but one of the guys led us on his rather knackered Yamaha FZ through to a couple of other shops that also drew a blank. It was a sporting ride as we did a couple of illegal moves and he wasn't hanging around. He did do it all for nothing though which was very good. We also tried to get some DOT4 brake fluid, which before coming away I had never even thought would be a problem, but has been. In Argentina you can only get DOT3 (the older stuff isn't as good, and I understood you couldn't mix it) but I'm surprised it's proved difficult here as all the modern cars must use it. Anyway I'm sure we can source some another time. The Honda shop had some, wanted £3, and it turned out to be open anyway which is not good for brake fluid. As we had exhausted the bike shops we didn't ring Miguel as a pair of Brazilian bikers we met later suggested Calama might have a bike shop.
By the time we'd done all this it was just gone seven so we tried to find one of the accommodations listed in the guide. We found it, it had no parking, we were roasting, so we decided to just split and get anything outside town.
During the day the temperature varied considerably. By coast high 20s, but very cooling breeze, and inland it had risen to 40, while we were moving - very warm!
Leaving the city we of course found nothing in the way of accommodation, just suburbs, and the sun was starting to really fade. I saw one sign 'motel'. I sensed I knew what that meant, certainly not a motel in the UK sense. I mentioned it to Bev, and apparently she had just been thinking, a Love Hotel would do just now (and she didn't mean it 'that' way!) and so our destination for the night came to us.
These places are most peculiar. I can't figure out whether they take people in for the night as a course that aren't in for the 'passion' or whether they think even we are here for a night of passion. Anyway, the price is a tenner for 12 hours, which at near 9 o'clock is fine - we were desperate enough.
The strange thing is, these are cheaper and surprisingly better quality than the accommodation we have had to on occasion pay twice as much for in Chile..
These places are very secure - your vehicle is always next to room and behind doors, they are always clean, and they have much better sound insulation than almost anywhere we've had in Chile. So all in all, they're not bad as a last straw, certainly better than half the places we've stayed so far here. I'm not sure whether or not you could get one of these places as a solo traveller, whether they'd accept it or not, maybe as a couple it easy. I'm not sure they have any triples or quads either, as they might be going too far.
God only knows what the people make of it...but then we are far from caring. I'm sure it causes minor amusement at home too!

Friday 17th February 2006
Antofagasta -
550 (?) kms
Leaving our love lodge we discovered the cause for all the earlier sirens when we came across the first crash for a long time, and the car that had hit the van looked in a very poor way. Fatal I suspect. The TV crew were already there - an aspect of the local news is they always show if there (as often there are) nasty road accidents. Great viewing obviously.
One of the roads out of the city was still closed, due to road damage from the flood water from 100kms away, still hard to believe. There were sections of our road that had temporary speed limits or diversions due to the huge undulations the water had caused when it washed out the sub-base. Two days previous it had been closed for a time. And remember, as previously emphasised this was in the middle of the Atacama desert were there is nothing, generally, in the way of any vegetation, not even cacti. You can't believe rain and snow from a hundred miles away can get this far and still cause damage. The floods we had at Hawby were staggering, but very local, I wonder what the damage was like nearer the source here - I guess there is less to damage in the mountains. It made us think back to the closure of the high pass we crossed a few days ago - maybe they had reason to be cautious.
Digger - I know, I know, not professional term for a civil engineer to use, a pair of superceded bucket excavators outside a nitrate (or similar) mine - Cummins engines
Today we really had the heat, over 40 on the move, and little relief. There are so few hamlets it's not even as if you can stop every hour for an ice cream or drink. We get cold water where ever we can and fill the bladders in the back of our jackets and carry one. The water cools you briefly, is wonderful to drink, then loses it's cool, then gains the heat and is not quite as refreshing.
We had planned to head for Calama and try to get DOT4 brake fluid, try for a tyre, and get a hostel for the night as we wanted to visit the copper mine outside of the town. They do two tours a day, and it's the biggest open cast copper mine in the world....huge.
Well sadly we were let down on all accounts as we tried nearly all the accommodation options (without going ridiculous) and surprisingly all were full. It is the middle of the holiday season, but perhaps there was something else on. It was exhausting work riding around for a couple of hours in that heat in bike gear. I don't like letting the bike do it either.
By the end we were thoroughly disenfranchised (or insert a stronger word yourself) and very hot and bothered. To be frank we were both entirely offed with this section of Chile in total. Met some great people, but the scenery died out post the Lake District if you ignore days out into the mountain passes. It's really time for a change of scenery.
We had one chance, head the 100kms to San Pedro de Atacama. We set out and followed an extremely boring road until gradually the horizon dropped and the snowy peaks of the Andes started to poke skywards.
We pulled in for a break 35kms from San Ped and both had very bad feelings of our adventure beginning to end. The tears were welling up in Bev's eyes and I could find myself going the same way. It was not the altitude, or exhaustion, it was the fact we both felt we were getting into a situation were we would have to return to Argentina to get tyres, and we'd never then get north again to Bolivia and Peru. It was crushing. We knew we would be limited as it is the rainy season in Bolivia ruling out the small unsurfaced roads (nearly all) but we really wanted to get up there for the change.
Bev had planned for us to go through San Ped on our way to Argentina after Bolivia and Peru so I guess that's what heightened the effect for her. For me I was just sick to death of struggling around trying to find things I thought wouldn't be a problem here.
We both needed an upper here, and luckily we got it in San Pedro! As we approached the town (small 2,800) the light was fading but the sight of the rocks around glowing in the last of the light and the recently snow bedecked Andes and volcanoes lifted our souls.
As we pulled into San Ped we were greeted with a surprise. It was like entering a North African desert town, all adobe mud walls and low roofs. Completely different to any were else we have been, and straight away we liked it.
We got a really quite nice hostel right on the edge of town - it's good to be away from the party centre as this is Gringo's Ville. It was nice to find accommodation at a fair price that was actually good quality, we thought we'd seen the last of that way down on the Careterra Austral.
A walk into the town proved a few things. One, the street lights the owner said come on, didn't, but they were no sad loss as the night sky was truly fantastic. Amazingly the moon doesn't rise til about 10 or 11 and so the sky is remarkably visible. The other thing was that this really is a place were all travellers come, and hence it has a different character. The facilities are all here, and very good, but as only a small community, they are also very friendly and there is no feeling of threat at all, even stumbling around in the dark.
We found a restaurant that was honestly as nice as anything back home and had a set meal that was very good for a price you could pay in York, but it was nice to get good service, good food, and a beautiful room, not often you get all three.
We were much happier bunnies.

Saturday 18th February 2006
San Pedro de Atacama
25 kms
We checked out the post office in morning as we are awaiting some new AutoCom leads so we can once again enjoy proper conversations on the move, this we are greatly looking forward too. I didn't think they'd be here yet, and they weren't, but we've already decided to stay a few days and chill as this is definitely the place to do it.
Had a cup of (real!) coffee and wrote some cards while chatting to other Brits over here on tours and like.
Went wandering around town and bought some food for breakfasts and as the hostel has a kitchen for the use of and a nice patio and hammock etc.
On the off chance I decided to try the garage (well petrol station) for brake fluid. You could have knocked me down with a feather duster. Six bottles of DOT4, all in date and unopened. I resisted the urge to buy all, but got a couple for £2.50 each which wasn't too bad and some oil for the old girl too. Well, well, well, things were improving all the time.
We still had Miguel's card, and thinking back to his kind offer of assistance, and the fact he was returning to Santiago, we thought we could take him at his word and call him and see if he could help with the rear tyre. Obviously our Spanish is not up to calling bike shops to try and find one with a tyre in stock, and then arrange getting it here, but if Miguel could, we might just be out of our predicament.
We found a phone place - over here the Internet and shops full of phone booths are prevalent in all towns, even very small ones. Loads of folk have mobiles, but there is no end of trade for the phone booths. Ironically the lad just punched Miguel's number into a mobile and passed it to me when ringing.
Obviously Miguel speaks very good English, or this wouldn't have worked very well at all. After introductions and pleasantries we were in full on English. Of course he remembered us, and he would love to help. I could send the details to his works email address and he's pick it up Monday morning and make some calls. If he could get a tyre he would buy it and arrange sending and we could pay him. A very trusting man, as are most we have met, it's Good (as my mother always says) to find that most people are genuine and honest and so keen to help. It might come to nothing, but Miguel was quite confident he could find a tyre in Santiago and get it to us somehow. If he can, our plans for Bolivia and Peru will be back...fantastic, what a great guy, and just a chance meeting.
We wanted to see another local spectacle later in the day, so returned and got the bike out late afternoon to ride to the Valle de la Luna. It was only a few kms out of town off the pavement road and down few more of repio and we were there. There is an entrance fee (£1.50 each) and the tour buses go there for the spectacle of the sun setting on the rocks and dunes.
An interruption. The Atacama desert - the driest on earth - is not all sand! In fact, generally it is sand encrusted with gravel and stone and minerals on top, so you don't see dune after dune - In fact you generally see huge flat expanses with rock bits and only the odd dune. Just so you get the picture, it's not the Sahara as classically thought (though neither is all that of course).
Valley of the Moon just outside San Pedro de Atacama
We entered the park and discovered it is remarkably small, the road is only 7.2kms long. In this immense distance are packed a horde of sights. Well, OK, a dune to climb, some wind sculpted rocks, and the pathetic remains of a small salt mine.
That all sounds negative, but it isn't, the place is really nice, just small, and that's not so good with the pressures of tour groups etc, but we're all here for the same thing. We thought at the price we would come and have a look, but go somewhere else I had spotted for sunset, and return here and do the tourist bit another day. There were some nice sites, and it was quite amazing the double-takes we got as there are so may Brits here with tour groups like Dragoman. When they're camped on your campsite it is a bit of a pain as I have said, but we are all doing this big circuit however heroic we feel our efforts are. This group was at the observatory as we recognised one or two. They're nice enough folk in the most, and keen to chat as they think what we're doing is brilliant. Can't say I can say the same in return, but some of them are living this tour for 6 months too and seeing just what we are generally so I'll leave my bitching out and respect them for what they're doing....but I hope we don't meet again.....we will!
We left the 'park' and went out on the main road to the spot I'd thought of. Ours is a trip using roads of one form or another most times and therefore the road is a focal point. Hence I wanted a sun set on the approach road from yesterday that had looked so impressive in the late evening light. Needless to sat, as it was in front of the pass, the sun was well and truly gone and we were too late. One for another evening for sure, but we took some pics anyway and marvelled at the view. Those snow capped mountains are definitely shedding their whiteness, I'm sure snow of that amount at this time of year is rare.
Sun set over the Andean range looking towards San Ped
So, our whole mood has changed. We are at last looking like we can continue our limited tour, and although we will not be doing Bolivia and Peru justice we will get a flavour, and a fortnight in each should give us a lot of good memories. There are lots of folk that manage to pack in what we have done into half the time we have, but it all depends how much time you have. We are lucky, we have been able to dwell in places and truly get a flavour of the place, but that time has passed, and we must think ahead and plan the remainder of our time to be as effective as possible.
It is definitely absolutely impossible to do South America justice in anything less than a minimum of a year, and to include everywhere, really a year and a half. we have only seen the bottom thin bit, and we have not been bored through staying places too long, in fact generally the opposite. You definitely need a month of two in most of the countries to appreciate them fully. So if any of you fancy this trip, plan to be here much longer for the outset. We certainly would have done if we'd known, but this has been a fabulous opportunity for us and there is virtually 30% of our time ahead!

Sunday 19th February 2006
San Pedro de Atacama
155 kms
As you would know by now the weather was absolutely as always. It's hot but it gets much hotter 3 or 4pm, so the best plan would be up early, off early, back for siesta and bed early. Well that might be the best plan, but not ours - and as it doesn't tie in with most of Latin America it's just as well. You wouldn't get much sleep going to bed early as even last night there was some deranged men knocking on the doors to try and find out how to get hot water at 1am, same people, different country I guess, but folk here do stay up much, much later, and consequently (when on holiday) get up later. Often see no one around on a Sunday til 11am. Anyway, so we don't get up early, but we were on the road by 10.30 which is good enough when you aren't aiming for somewhere but just touring the area.
Today's plan was the Salt lake (third largest in the world) and then to the town down the road, Tocoao, to try and find a locally produced sweet fortified wine (we're not alcoholics honestly, just like to find the local brew!).
It's strange how much it heats up during the afternoon, the morning ride was comfortable enough not to require all zips open, the ride back required all open and sweating like pigs.
The best Salta is undoubtedly the one in Bolivia, but it's under water at moment which is spectacular, but not anything we'd take the bike through - a LOT worse than road salt in winter. also due to the rain, those small access roads are out of our league, we would slither off everywhere...and that isn't something we want to start doing after 4 months free.
So, this salar is no way as impressive - in fact, disappointingly, there is no vast white expanse, it is more cracked up mud and salt cake than anything, being honest, not actually that spectacular.
View of the Salar with mystery bird
The attraction though is the Flamingos. Not just Chilean ones as we've seen afore, but here also Flamenco de James (I guess that the dance got the name) and another I forget. In fact without going back to their boards I'm unable to describe each type.
View of the Salar
We parked up, and as ever though we had to pay an entry, we were able to leave our lids, jackets and tank bag with the helpful staff. Although all the vehicles were Chilean we soon discovered who many were driven by other nationalities. There is at least one UK reg bike here, not seen, and a French land rover, so there are others here.
A pair of those mystery birds
We usually ride in our bike gear if going more than a short distance, or if off road (overlook the Brazil bit!) and surprisingly it wasn't ridiculously hot in the bike trousers for walking around their paths to see the sites.
OK, it´s a bloody penguin alright?
As mentioned the flamingos are the star attraction, and though smaller in numbers than elsewhere we've been, they were closer. There were also other wading birds and a few nice looking lizards (half without tails, obviously close escapees).
There were some nice folk there as well as some of the usual tour group mentality (how long do you need to be in SA before you stop flushing toilet paper down the bog and blocking it I'd like to now ? They can't have all arrived that day - and they have warnings signs in the toilets too). So met some nice folk asking what we were doing there and asking for us to take there photos and the like.
Leaving with it still warm we returned to Tocotoa in search of the booze. There were a few local restaurants so we chose the one with the best balance of people versus loud music. We were, as often, the only Europeans in, and it was good honest cheap fare. Finally managed to get rabbit, Bev having Chicken, and they were both like you were eating with friends (that could cook of course). The meal was great and for the price excellent. If you make the effort to show your satisfaction in the local language people love it.
The quest for the wine was more difficult. We were pointed to a shop and once within discovered not rows of labelled wines, but a lady who popped round the back and came back with a recycled Pisco bottle full of the red wine. Was expecting white like Muscatel (sp), so red was a surprise. And the price, 5,000...bloody hell! There was no negotiation as this was their best four year old stuff. They opened a sampler, and indeed it was good so we decided to go mad and let them have the money. Maybe, or maybe not, it was a gringo price, but as it was nice we didn't care.
Returning along the road we saw one of those brown tourist signs that seemed to indicate rock paintings or something. As there was no road, just tire tracks across the dessert I was a little apprehensive, especially as getting to the hot part now, but we went. Generally it was OK, but there were one or two sandy patches (what in a desert) that had the bike squirreling around lock to lock. Couple of spots Bev had to dismount and a couple of spots I had to and walk with throttle wide to prevent bike submerging. What a great plan this was.
Finally reaching another sign we looked around for the paintings or whatever. No sign, no sign anyone had been this year either, no bloody wonder two miles off the road across desert! We eventually saw what we guess was the sight, some old walls for an enclosure and a couple of very small dwellings. Well, that must have been it. We returned without too much excitement, but considerable sweat.
It is amazing how our emotions have swung back around to total enjoyment again...thank God!

Posted by Simon McCarthy at February 26, 2006 12:24 PM GMT

Enter your email address to receive updates to Marc and Bev Davies's trip story!
Recent Entries
Archives:
Archives:
Monthly
Archives:
Category
NEW! HU 2015 Motorcycle Adventure Travel Calendar is now available! Get your copy now for some terrific travel inspiration!
HUGE, 11.5 x 16.5 inches, beautifully printed in Germany on top quality stock! Photos are the winning images from over 600 entries in the 9th Annual HU Photo Contest!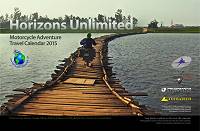 "The calendar is magnificent!"
"I just wanted to say how much I'm loving the new, larger calendar!"
We share the profit with the winning photographers. YOU could be in the HU Calendar too - enter here!
Next HU Events
NEW!

USA Virginia: Apr 9-12, 2015
Canada West: Aug 20-23, 2015
USA California: Sep 24-27, 2015
Aus Queensland: Sep 24-27, 2015
USA North Carolina: Oct 8-11, 2015
Aus Perth: Oct 9-11, 2015
Take 40% off Road Heroes Part 1 until October 31 only!
Road Heroes features tales of adventure, joy and sheer terror by veteran travellers Peter and Kay Forwood (193 countries two-up on a Harley); Dr. Greg Frazier (5 times RTW); Tiffany Coates (RTW solo female); and Rene Cormier (University of Gravel Roads).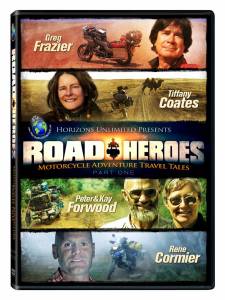 "Inspiring and hilarious!"
"I loved watching this DVD!"
"Lots of amazing stories and even more amazing photographs, it's great fun and very inspirational."
"Wonderful entertainment!"
Check it out at the HU Store! Remember to use Coupon Code 'HEROES' on your order when you checkout.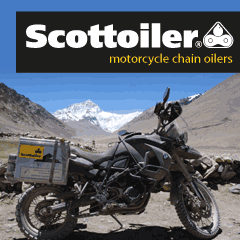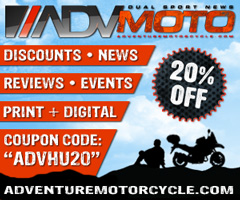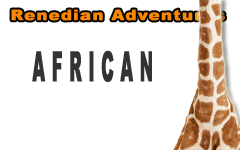 What others say about HU...
"I just wanted to say thanks for doing this and sharing so much with the rest of us." Dave, USA
"Your website is a mecca of valuable information and the DVD series is informative, entertaining, and inspiring! The new look of the website is very impressive, updated and catchy. Thank you so very much!" Jennifer, Canada
"...Great site. Keep up the good work." Murray and Carmen, Australia
"We just finished a 7 month 22,000+ mile scouting trip from Alaska to the bottom of Chile and I can't tell you how many times we referred to your site for help. From how to adjust your valves, to where to stay in the back country of Peru. Horizons Unlimited was a key player in our success. Motorcycle enthusiasts from around the world are in debt to your services." Alaska Riders

10th Annual HU Travellers Photo Contest is on now! This is an opportunity for YOU to show us your best photos and win prizes!
NEW! HU 2014 Adventure Travel T-shirts! are now available in several colors! Be the first kid on your block to have them! New lower prices on synths!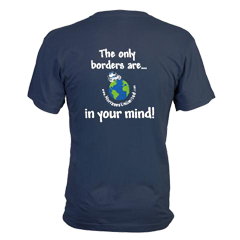 Check out the new Gildan Performance cotton-feel t-shirt - 100% poly, feels like soft cotton!

What turns you on to motorcycle travel?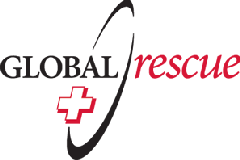 Global Rescue is the premier provider of medical, security and evacuation services worldwide and is the only company that will come to you, wherever you are, and evacuate you to your home hospital of choice. Additionally, Global Rescue places no restrictions on country of citizenship - all nationalities are eligible to sign-up!
New to Horizons Unlimited?
New to motorcycle travelling? New to the HU site? Confused? Too many options? It's really very simple - just 4 easy steps!
Horizons Unlimited was founded in 1997 by Grant and Susan Johnson following their journey around the world on a BMW R80 G/S motorcycle.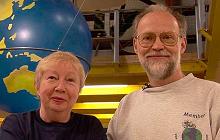 Read more about Grant & Susan's story
Membership - help keep us going!
Horizons Unlimited is not a big multi-national company, just two people who love motorcycle travel and have grown what started as a hobby in 1997 into a full time job (usually 8-10 hours per day and 7 days a week) and a labour of love. To keep it going and a roof over our heads, we run events (22 this year!); we sell inspirational and informative DVDs; we have a few selected advertisers; and we make a small amount from memberships.
You don't have to be a Member to come to an HU meeting, access the website, the HUBB or to receive the e-zine. What you get for your membership contribution is our sincere gratitude, good karma and knowing that you're helping to keep the motorcycle travel dream alive. Contributing Members and Gold Members do get additional features on the HUBB. Here's a list of all the Member benefits on the HUBB.
Books & DVDs

All the best travel books and videos listed and often reviewed on HU's famous Books page. Check it out and get great travel books from all over the world.

MC Air Shipping, (uncrated) USA / Canada / Europe and other areas. Be sure to say "Horizons Unlimited" to get your $25 discount on Shipping!
Insurance - see: For foreigners traveling in US and Canada and for Americans and Canadians traveling in other countries, then mail it to MC Express and get your HU $15 discount!
Story and photos copyright © All Rights Reserved.
Contact the author:
Editors note: We accept no responsibility for any of the above information in any way whatsoever. You are reminded to do your own research. Any commentary is strictly a personal opinion of the person supplying the information and is not to be construed as an endorsement of any kind.
Hosted by: Horizons Unlimited, the motorcycle travellers' website!
You can have your story here too - click for details!