February 07, 2006 GMT
31st January 2006 - Chaiten - Park Pumalin
60 kms
Went into town and bought ferry tickets for the 5 hr crossing as we didn't want to get stuck in the arse end of nowhere for two days. Tourist info very helpful.
We left town and hit the....you guessed it....awful repio again and after a short while detoured a couple of kms to Santa Barbara to look at the black sand beach. The beach was beautiful with an almost tropical feel with the vegetation being jungle like and stretching right to the sand. The sand so warm that the water from the exiting waves was evaporating in waves of steam. Definitely hat weather, as ever, for me to prevent serious head burn, not welcome with putting on and off helmets.
Blacksand
This was our first introduction to the 'whoppa' horseflies of this area. There have been horseflies like we get in UK for a while, and as per UK their bite is strong, but they are quite slow and easy to kill. The new type was altogether different. Huge in proportion, about an inch, and black with orange on and persistent as hell. Also keen fliers and not easy to let settle and swipe.
We continued on our way and met very very little traffic. The reason being the ferry from Park Pumalin is shown on the map as Caleta Gonzalez, suggesting a town or village. In fact, it's bugger all. An expensive cafe, info, and a campsite and very expensive cabins. The park is a huge area and bought by an American billionaire for conservation. It's a much heralded thing, but it looks very like the other huge areas of woodland either side stretching for miles in my book. Better done that not done though. So other than people going into the park, going for the ferry, there is not much else. The oncoming traffic only increases when the ferry has docked, at 8pm. So, very little traffic. And very little good road as you would by now expect us to say.
We met a pair of NZers on a BMW 650 and stopped for a while to chat, as you do on these occasions, before hitting one of the most dangerous and hideous 12kms of the route. Hideous indeed, even car drivers considered it ridiculous. Still, we made it, after an hour, and went to the cafe. It's set up on high principles (with which we agree) but that makes it very pricey as well as good. Pity the poor traveler who arrives here with no supplies and expects to find lodgings.
The campsite was 100m from the road...on foot ! So we had to porter the gear back and forth over a little wooden suspension bridge before we could even sort out the tent. Don't like leaving the bike alone, but little traffic, still don't see the point in not allowing parking nearer though.
We wandered off to ferry area and sat for a few hours watching the abundant wildlife in the bay. There were Sea lions aplenty, able to watch their antics through the binocs easily, Vultures, a huge Kingfisher, a small pod of dolphins and one or two other things. Very peaceful and tranquil I have to say. Even the Hebrides couldn't offer a more tranquil ferry port.
I have to say this is the first time during the trip when I have thought what are we doing, and questioned whether I was actually enjoying the adventure. At that point, the Careterra Austral was winning and knocking the enjoyment out of the trip. We had nearly broken its back though (and fortunately not it ours) so we could suspend such negativity soon.
We heard a couple of bikes turn up and wondered if it was anyone we knew. When we got to the campsite we discovered indeed it was as it was Thomas and Thomas the Germans we last saw at Torres del Paine.
The Thomases
We hadn't spent a lot of time together there as we were quite a large bunch, but they had been very nice and were here for only 3 months and had seen and done a lot so it was very fortuitous that we met up again. They too were happy to see us and brought news of our other traveler's adventures that was good. We spent late into the evening chatting and really getting to know each other, great company. They were also planning to get the ferry in a.m. but had no tickets

Wednesday 1st February 2006
Park Pumalin - Conta
50 kms
We were up early for ferry, at least allowing us to return the favor for our neighbors who were putting their tent up too bloody close at near 1am.
It was cool that early as the valleys are steep sided and the tent was drenched in condensation, a problem - maybe the only one - of this model.
We all rode down to the ferry and were pleased to see it not packed so we could all board, in fact it was half empty. The other way, packed, as the capital, Santiago, empties for the hols.
Ferry
We lashed the bikes down as heard of others who had been damaged, but the crossing was in truth like a millpond for virtually the whole way. The views from the fjords of the steep sided densely wooded hillsides with cloud and mist burning off were terrific, worth the money for that alone almost. Some nature sightings, but they decreased the further away we got. Absolutely idyllic.
Sparkle
Lots and lots of sun so we enjoyed a good long chat outside and the crew were very friendly too, many cups of coffee, and Bev provided sandwiches, and it was like being island hoping with Caledonian MacBrien ferries in the Hebrides. Lots of time to chat and gather travel hints from the 2Ts.
We left half hour late and arrived after around five hours. Were mobbed by touts....dinner lady touts! Selling their seafood restaurant for lunch. We went to have lunch together before parting. Salmon and chips with sliced tomato's for 2,500 - under £3 and wonderful. Most Salmon farmed here as in Scotland and Norway. Damned good though, delicious, as was the lemon meringue as afters.
Left town together and soon after said our good byes as we would go separate ways down the road. We got all of about 3kms down the road before I noticed a strange rubbing sound from the front wheel...what the...
We pulled in and I was a bit perplexed. The tyre bead had popped off the rim for about 12 inches and the inner tube was bulging out! Oh my gawd!
Bulge
We were of course very lucky as within a very short period the 2Ts arrived. With one bike, even with two people, you're limited to your rescue options.
Needless to say with so many hands the job of removing the tyre was small, and the old TKC that we were still carrying was put back on with the tube. So, the MX tyre had done very little miles and was buggered. Thank goodness we'd kept the TKC as well. Being older it was more pliable and went on easier, though still with difficulty on the tubeless rim, The biggest problem was it didn't seat properly, the bead was not seated fully in two places,. The Vaseline the 2Ts had was a good trick but the pressure we were getting in with a cycle pump wasn't enough. Thomas decided to return to the garage in town and get a compressor on it while the three of us played swat the horsefly. He returned with the job done and we were able to continue.
They said perhaps we should stick together and find somewhere to camp for the night. We heartily agreed as it would be good to spend another night together and be able to thank them for the days work properly with more Piscola and some food.
We were not in the best place to find camping but at one village a store owner suggested either by the river or on the seafront. The seafront was the best option but as we were putting the tents up a local carabineer pulled up on his bike and suggested we didn't. Not in an authoritarian way, but in a 'young people drink here and make trouble way' and the street lights are therefore bright and on all night. He said there was a place down the road we could go and so we did.
We couldn't find the campsite so asked some folk and they suggested a place opposite that had building work going on and two tents up. Thomas enquired and we went in.
There was little in way of facilities, a shower - cold - in middle of field, and a shed with a toilet in, and water from the river. It would suit purposes now though and so we set up a comfortable camp. It seemed the tents belonged to the owners and weren't campers. In fact if seemed the campsite wasn't, but was someone doing up their house!
We had a great night talking further and we all agreed it was actually fortune that allowed us to spend another night together. Think we had quite a merry time!

Thursday 2nd February 2006
Conta - Puerto Montt
55 kms
As yesterday the weather looked grey and cloudy at waking but after a few hours, same as yesterday it was glorious blue skies. Not quick enough at first though
Had to wait a few hours to dry the tents before packing. The one serious drawback of the Hilliberg Nallo is the condensation which builds up overnight under the flysheet. If you don't get enough sun early, or breeze, you are packing up one very wet tent, and when you unpack, as when we did last night the whole inner tent is soaking, to point of needing toweling out on groundsheet. If you arrive early enough in good weather it will dry quickly. I wouldn't fancy several consecutive days of rain packing and unpacking. We separated the inner and outer today and I guess that would be one way to avoid some of it. The 2006 model has more vents, and needs it.
So we had a slow and peaceful start to the day and had a leisurely breakfast and plenty of time to talk with the 2Ts. we are lucky we bumped into each other again as we have shared a couple of good days together at the right time
There was no charge for camping, maybe not a site in planning at all, maybe just someone's house, very nice folk all the same, we gave them one or two laughs the evening before so I think they were happy
The ferry was just down road, all of five kms, and this meant almost the conclusion of our ruta 7 journey. One had just gone when we all arrived to we had coffee and biscuits together before we said our goodbye. It really has been great sharing company, and just at the right time too.
Slightly rougher crossing, but not bad, no tying down, two cars and us only, Other way busier again as folk migrate.
The road was finally improving and we got towards Puerto Montt through sections of improvement fairly quickly. The scenery was changing quickly and remind me of Denmark, or maybe even more so, the north of Ireland. Farming country once again, not forestry, and many fishing ports.
Before entering town we diverted along a minor road for a sarnie and ended up watched a pod of 10 or so Dolphins fishing in a bay, magic!
The end of Careterra Austral was a whimper not a bang as being improved and finally tarmac....hurrah.
Big place, biggest for an age, found a spot overlooking bay for 12,000 a double.
Into town, slow internet, not too many of the hoped for delicacies we have been missing, but some great cakes, and meals at ridiculous prices, as in cheap. The cakes come courtesy of the German heritage I think, and they are welcome for sure.

Friday 3rd February 2006
Puerto Montt, fixing and seeing
nominal kms by car and bike
The lady in the accommodation said she would take us at 11 to try and get a welder to fix the damaged boxes. We did the usual laundry thing first and returned to demount a box to take with us. It was obviously very kind of her to run us around as the warren of shops and businesses tucked away in the business zone would have been impossible for us to navigate never mind discover the right ones (but of course we would have had to without her help).
The difficulty lay in the fact that it was aluminum welding not steel. In Britain we'd had difficulty finding someone to do some modification work so were not surprised it wasn't easy here either. We went from suggestion to suggestion and got as far as a place offering to plate and screw them but I'd rather hold out for somewhere else in another place and only do that as a last resort. Eventually we were given a marine place that listed all welding etc, Soldaduras especiales Novak, Berlin No 824 on an industrial estate overlooking town. (I put these references in for other travelers for future reference in case you're wondering). Over here welding is called 'solder' so it's another easy word to remember. There are many ones similar, often just adding an 'o' or an 'a' at end of word does the trick. I had to find some door magnets a while back (don't ask) and struggled for the word until the guy said 'ahhh magnetico'. Great when the language is like that, it's like the 'scorchio sketch' on the Fast Show !
So anyway the shop was the typical little business overrun with jobs of all variety from aluminum engine blocks to stainless steel boat parts and lots of busy folk welding all over the spot. A guy assessed the work, thought it could be done, asked if we wanted it that day, and estimated 28 quid for the pannier we had that had the bad split and several areas of fracture around mounting points. Not cheap, but not ridiculous, and we needed it doing, and to get it done that day would be excellent. Said the other pannier needed a little repio to and said we'd come back with that one within half and hour which we did.
To cut to the quick we returned at 18.30 and the job had been done. The welding not up to the artisan standard of the original boxes, but they had done a fairly thorough job and it looked like it would hold up (hopefully not famous last words) and that's all we need at this point. As we had two panniers in I expected the price to rise, but not as much as nearly twice so the 48 quid was a surprise, but this is not a cheap country, and they did do the job quick. In fact before we left they gave us a fiver back so not bad I guess, but would have been cheaper else where, shame damage doesn't happen at convenient times. We were duty bound to repay our hosts kindness to buy her some flowers that she was chuffed with, so all in the job cost about 45 quid.
Soldaduras especiales
As we were on a R & R break we had more laundry done, aired the sleeping bags, and found a small place to repair the broken zip on Bev's bum bag, so reacquainting her with an old friend, she's had the bag years and feels lost without it strapped around her waist. At least that was only three quid so value for money.
A brief bit on Puerto Montt and Chile. This place is way bigger than anywhere we've been for weeks and you can see the contrasts. We are staying nearer the poor end of town so we see all aspects of life, the other end has the Holiday Inn and MacDonald's so we're losing nothing being this end. The centre of town is very European in aspect with shopping malls and most of the things you'd associate. As there are many parts of Chile under German influence as first settled by them there are an abundance of German links and as mentioned some fine breads and cakes, and of course the beers.
There are quite a few people having a hard time here, and we've come across a few drunks out sparko on the verges or pavements and yesterday even a guy (not young) glue sniffing as he was walking along.
The food opportunities in Chile generally, and here particularly in the cheaper end of town, are great. Food is cheap and good and it's easy to find as most of the restaurants are packed with locals so a safe option. Chile is rightly famed for fish and seafood and it's widely available...well it would be with a narrow country bordered by the sea along one side wouldn't it. Hang on a minute isn't Britain an island surrounded by sea? How do we get it so wrong?
Until only a few years ago I was allergic to fish, but no longer, and boy what an improvement that is,. Bev loves her fish and so we can now both share that passion. We have had Salmon, Hake, Swordfish and now Conger Eel - the national dish apparently. The fish is excellent and usually served with chips! It's almost like being at home baring the lack of vinegar. Prices vary, but it's easy enough to get fish and chips for under £3 which is not achievable in the UK when you're talking Swordfish or more interesting fare. Anyway, there is much choice and we are slowly working our way through it, Bev's eyes keep following the large bowls of mixed food that families share that include lots of mussels and the like.
For an affluent country the internet varies considerably, in some places it's slow as anywhere we've been, and in a mall yesterday it was as fast as broadband at home, and both were the same price! There is an abundance of laptops in use everywhere which is quite surprising, as many as in UK. The people are very polite here, they will always speak on entrance and exit at breakfast and always say the equivalent of excuse me when they leave or ask for something. You can walk onto a pedestrian crossing and would only be run down 1 times out of 100 which is quite amazing; they also stop at red lights.
We have failed on the tyre front but either Orsorno or Tucuman should bring what we need. Think we'll hang on to the old tyre though too just in case!
Posted by Simon McCarthy at February 07, 2006 01:26 PM GMT

Enter your email address to receive updates to Marc and Bev Davies's trip story!
Recent Entries
Archives:
Archives:
Monthly
Archives:
Category
NEW! HU 2015 Motorcycle Adventure Travel Calendar is now available! Get your copy now for some terrific travel inspiration!
HUGE, 11.5 x 16.5 inches, beautifully printed in Germany on top quality stock! Photos are the winning images from over 600 entries in the 9th Annual HU Photo Contest!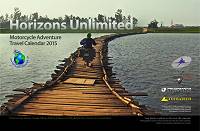 "The calendar is magnificent!"
"I just wanted to say how much I'm loving the new, larger calendar!"
We share the profit with the winning photographers. YOU could be in the HU Calendar too - enter here!
Next HU Events
Germany: May 14-17
Canada Ontario: Jun 18-21
Ireland: June 26-28
Colorado: July 17-19 TBC
Canada West: Aug 20-23
USA California: Sep 24-27
Aus Queensland: Sep 24-27
USA North Carolina: Oct 8-11
Aus Perth: Oct 9-11
Germany: Oct 22-25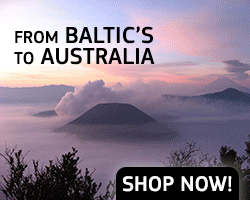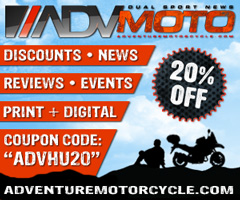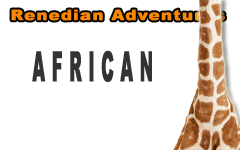 What others say about HU...
"I just wanted to say thanks for doing this and sharing so much with the rest of us." Dave, USA
"Your website is a mecca of valuable information and the DVD series is informative, entertaining, and inspiring! The new look of the website is very impressive, updated and catchy. Thank you so very much!" Jennifer, Canada
"...Great site. Keep up the good work." Murray and Carmen, Australia
"We just finished a 7 month 22,000+ mile scouting trip from Alaska to the bottom of Chile and I can't tell you how many times we referred to your site for help. From how to adjust your valves, to where to stay in the back country of Peru. Horizons Unlimited was a key player in our success. Motorcycle enthusiasts from around the world are in debt to your services." Alaska Riders

10th Annual HU Travellers Photo Contest is on now! This is an opportunity for YOU to show us your best photos and win prizes!
NEW! HU 2014 Adventure Travel T-shirts! are now available in several colors! Be the first kid on your block to have them! New lower prices on synths!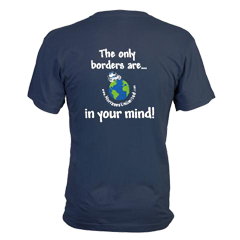 Check out the new Gildan Performance cotton-feel t-shirt - 100% poly, feels like soft cotton!

What turns you on to motorcycle travel?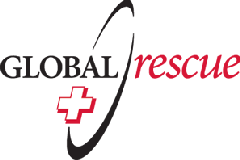 Global Rescue is the premier provider of medical, security and evacuation services worldwide and is the only company that will come to you, wherever you are, and evacuate you to your home hospital of choice. Additionally, Global Rescue places no restrictions on country of citizenship - all nationalities are eligible to sign-up!
New to Horizons Unlimited?
New to motorcycle travelling? New to the HU site? Confused? Too many options? It's really very simple - just 4 easy steps!
Horizons Unlimited was founded in 1997 by Grant and Susan Johnson following their journey around the world on a BMW R80 G/S motorcycle.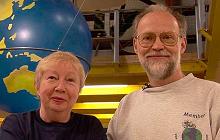 Read more about Grant & Susan's story
Membership - help keep us going!
Horizons Unlimited is not a big multi-national company, just two people who love motorcycle travel and have grown what started as a hobby in 1997 into a full time job (usually 8-10 hours per day and 7 days a week) and a labour of love. To keep it going and a roof over our heads, we run events (22 this year!); we sell inspirational and informative DVDs; we have a few selected advertisers; and we make a small amount from memberships.
You don't have to be a Member to come to an HU meeting, access the website, the HUBB or to receive the e-zine. What you get for your membership contribution is our sincere gratitude, good karma and knowing that you're helping to keep the motorcycle travel dream alive. Contributing Members and Gold Members do get additional features on the HUBB. Here's a list of all the Member benefits on the HUBB.
Books & DVDs

All the best travel books and videos listed and often reviewed on HU's famous Books page. Check it out and get great travel books from all over the world.

MC Air Shipping, (uncrated) USA / Canada / Europe and other areas. Be sure to say "Horizons Unlimited" to get your $25 discount on Shipping!
Insurance - see: For foreigners traveling in US and Canada and for Americans and Canadians traveling in other countries, then mail it to MC Express and get your HU $15 discount!
Story and photos copyright © All Rights Reserved.
Contact the author:
Editors note: We accept no responsibility for any of the above information in any way whatsoever. You are reminded to do your own research. Any commentary is strictly a personal opinion of the person supplying the information and is not to be construed as an endorsement of any kind.
Hosted by: Horizons Unlimited, the motorcycle travellers' website!
You can have your story here too - click for details!