January 04, 2006 GMT
24th Dec to 1st Jan 2006 - Rio Gallegos to the End of the Earth
Mileage - 0 kms
Having arrived in time to prevent getting caught out for Christmas, and being booked into Hotel Sehuen until Monday on basis Boxing Day doesn't exist here and hence no problem travelling onwards we had little to do.
Had hoped to have an 'office party' and some drinks on the afternoon to unwind a bit and try and get into Christmas spirit as it's still completely bizarre being here in summer but Christmas.
Post the usual poor breakfast (oh for a fry up!) we had some maintenance to do on bikes, well, not ours on this occassion as I'd done a once over on valve clearances and air filter etc at Trelew.
Andy and Maya had arrived last night after we had left to go to dinner so we met at breakfast, it was great to have everyone together for Christmas.
Andy had discovered he had a charging problem on his outfit (same bike as ours, but a side-car) so we were all outside to try and locate and sort the problem.
After much swapping of parts (Cynthia had a spare rotot and alternator) it was serious scratching of heads time. Cynthia rang a friend in England in end - who was part way through drinks on Christmas eve - for advice. Remarkbly the finger was staright on the pulse and he diagnosed an earth problem likely on Diode board (for those technically minded). He was spot on right.
Behind the Diode Board two black earth wires were clearly fractured leading to bike charging, but not properly. Reconnected the charging system was restored. Though not able to all assist, there was always a possibility to pass tools, bounce off ideas, of just make coffee. Andy's tarp came in handy as there was a breeze and a bit of rain.
I had mainly been updating my log until going out to assist.
That job done we were all off to the internet cafe for updates and Christmas Wishes - the only part of the day that made Christmas feel like it was actually happening.
The place was closing up, early I think, as people wanted to get away, so we left. the Parilla had jacked it's prices up...but did tell us...so we decided to give it a miss. There was a Pizzaria open and that was our only option basically. They weren't brilliant they weren't at all Christmasy, but that was our office party. we should have put more effort in but there you go.
I think we sussed the local Christmas business when Nik and I went for a brief walk - most folk seemed to be having family meals around the table, and there were quite a few fireworks going off. All very relaxed really as even the decorations were somewhat subdued.
Several drinks later it was off to bed....until...at 12.00 when the Thrid world war started. I was whittling a piece of soap....OK...explanation. Yes, I'd forgotten to get Bev a Christmas Present, unforgivable at home, but I blame being here for it. So, anyway, I had to sort something at least so it was desparate meassures. Swiss Army Knife and soap and a bit of carving created a heart shaped present that was the best I could manage. And then the fireworks started ! Like a continental (or even British nowadays) New Years. i guess celebrating the birth of Christ. I went outside...Bev slept through... and watched and listened for half an hour. like being in Bagdad or somewhere, but without the dodgey overtones, quite spectacular.
Sunday 25th December
Rio Gallegos
Mileage - 0 kms
Well Christmas, but not as we know it ! We exchanged gifts, Bev had got Nik and I little tiny cow-bells from Belgrano and obviously I had the high quality ladies soap to pass on.
We had had quite a lie-in and were all down for breakfast for 10.00 There was nothing special to eat, and no real feeling of any change in staff's outlook or anything. Wished them all the best for the day anyway.
Andy had another bit of maintenance to perform on the outfit so in the best interests of watching someone else doing jobs you might have to to yourselves. In this case it was the oil-seals at the end of the push rod tubes. One was split and leaking. luckily Andy had spares and it was a 'simple' case of removing ancilleries and the heads and sliding the barrels out to get access to the seals. Andy made light work of it and had the new seal in in no time although he wasn't confident that it would work as the collar retaining it was too far down the tube - compressing the seal too much, but fingers crossed.
Andy Santa working on sled Xmas Day
The rest of the day was spent doing very little until the Parilla was open. The price was back to usual, obviously Christmas Eve is the big day, and so we went in and ate far too much yet again before returning to the hotel for some drinks and bed.
Sadly Christmas has passed us by 'and nothing really hapened'. A very weird experience. Sure we could have got much more from the experience, but no-one elses fault but ours.

Monday 26th December
Rio Gallegos - Sierra Sombrero
Mileage - 170 kms
We left after breakfast, Andy and Maya had set off aheadas the outfit is slower on the road and we had no real plans to actually travel together anyway.
Nik was scouting for petrol station on way out but missed them and we had to turn around and head back in....which was fortunate as we bumped into Andy and Maya at side of road with a leaking seal.
They were happy to sort it themselves, but it seemed foolish not to hang around and help in any way we could. There was a Honda shop nearby and we asked if we could work there. they allowed Andy to pull bike into drive to work in piece.
This time the collar needed to be moved so the barrel needed to come off. Leaving the piston and rings in the barrel is the easier way to do it so the gudgeon pin came out and then Andy could move the collar. It was all together again in about 1/10th of the time it would have taken me to think about it. At least we were able to offer some assistance so it was worth waiting. We ate and then left together for 'the land of fire' Tierra del fuego.
The scenery was beautiful in the way the Hebredian Islands are, low rolling scenery with occassional corrugated sheet buildings, and the weather was on side. Little wind and blue slies, warm even with azure blue seas and distant heat haze creating mirages on the horizon.
The area is strangley split between Chile and Argentina and so you have four borders to get through to get to Ushuaia. The first border out of Arg was clear and easy (again Bev didn't need to come in to get the passports done) and the Chillian side was even easier.
The ferry across was a low landing craft type and as the weather was so settled we have a blissful easy crossing. From the helm, as was, we spotted a black and white dolphins (think was rather than porpoise as heard the dolpins hereabouts are beautiful), penguins, a sea lion, and a few other sea birds.
Ferry to Tierra del Fuego (Nik, Cynthia, Fritz, Maya & Andy)
After disembarking we had a brief stop for coffee and sandwiches and chatted to a couple of English cyclists - now that must be hard work!
We heard from them that there was a place at Cerro Sombraro were we could camp. We got there fairly easy and checked for rooms too. Cynthia took one but at £17 p/p we decided on camping. The guy was very helpful and explained were the showers and toilets were - basic but OK - and were we could light a fire which we duely did which added greatly to the anbience.
Campfire at Somberro
We enjoyed a few drinks round the fire with some fine weather and cool evening sunset (never really dark as well south so too early at 11pm.)
A reasonable night kip was had by all

Tuesday 27th December
Sierra Sombrero - Rio Grande
Mileage - 212 kms
After packing we were all on the road again.
Similar scenery, nothing too outstanding, and more repoi that seemed unpleasant to me, found it hard work with some loose stuff getting the front end too light for my liking. Maybe the new tyre, maybe me.
Dusty repio
We continued down to Rio Grande to try and find a campsite that had been recommended, at the canoe club. Was a slight challenge but we got there in the end. Very welcoming host, Carlos, and great facilities. We were able to sleep upstairs in the gym rather than camp, which all bar Nik chose (Cynthia taking a room at the hotel) and we set about making it home for a couple of days.
Canoe club and parking
Nice big steak and salad for tea, lovely. Played a nasty little joke on Nik as all our bikes are inside in the canoe store which is next to the eating area. After he went to bed a small amount of oil was placed on cardboard beneath his bike as if it was leaking. He'd been concerned about some misting between gearbox and engine case so that was left for him to find in morning. Not my idea but a gentle joke anyway.

Wednesday 28th December
Rio Gallegos
Mileage - 0 kms
Well the joke worked apperently - the hosts were in on it too and said Nik was concerned for a short while. He's heard of the trick though so no harm done.
The nights sleep was good for all....baring me of course. too lights and too many unfamiliar sounds for me to sleep right though. If only I could sleep easily, it's a bind, it really is. Still, nothing can be done for now, can get a hotel to catch up, but not til after New Year, if we don't camp in Ushuaia we'll miss the other travellers.
We met a Polish RTW traveller yesterday and there are loads of bikes coming the other way, presumably having spent Christmas there. Today we bumped into another Brit on his way from Alaska going end to end, Dereck. Also on Canoe Club site were very experienced retired couple in a trick Landie from Truro. Cynthia had met both previously on her route.
Nik set off for Ushuaia solo, as I guess did Cynthia as we never saw her this morning. Andy and Maya and us stayed on and spent a relaxing day in towm.
Good local museam with history of the tribes wiped out less than 100yrs ago by settlers, sad story, but happened in many places. Very interesting tribes. Museam was free and the people gave us lots of translations which was very helpful. Very friendly. Only bit that was given a berth by the hosts was the section on the Falklands. Many monuments hereabouts as obvioulsy bases for invasion. Sad to see pics of Brits captured, and the Union Jack taken. There is no problem and we've had no adverse comments, but it's an odd predicament really. Governments screw up, and we humble folk all know that.
Some good folk here too. cyclist and a couple travelling for year in a car - been to Falklands and had a great time.
Sheppards Pie for tea, nice to be able to cook properly with an oven. The weather has turned around today from surprisingly warm this afternoon to seafret and bloody freezing this evening. The news shows snow in England so it's not as bad as that anyway!!

Thursday 29th December
Rio Gallegos - Ushuaia
Mileage - 244 kms

The weather last night turned a bit grim what with a thick sea fret, a total reverse of the wind and a plumet in the temprature. All in all setting up nicely for 'The end of the world' ! Luckily it wasn't looking half as incliment by waking and in fact though we geared up with liners back in and thermals for first time for an age it was actually a little too warm on the bike for set off.
After breakfast the packing was made considerably easy after simply sleeping on the floor in the upstairs room and being able to cook and eat in the kitchen area. The Canoe Club has been an excellent base and for all of £2 each a night a bargain. The owner Carlos and his wife are charming too and it was hugs and kisses all round before the off and pics of us all with bikes on exit.
Andy and Maya set off at their own pace and we went to find a cash machine before leaving town. Ten minutes later we all re-met in the petrol station. A local asked if we needed any help and gave directions to get out onto Ruta 3 and advised of a local beauty spot we should try and see if we had time - great people allways.
Met Andy and Maya again on road and had a quick break, the scenery now including slightly higher hills and a return of trees ! First (in any number) for a long time, Patagonia is fair famed for the lack of any vegetation of any height and it's a welcome sight to see tree lined hills and valleys. as we werestopped another bike passed, a yellow plate but a large F writ on side, obviously french, a friendly wave and a thumbs up back from us to indicate no probs and he continues. We left separetly again travelling at our own speeds, Maya was on driving duty and it was odd to see Andy on the side taking in the views.
The weather looked like it would turn for the worse, and after leaving the tarmac and hitting the repio once again it was time for concentration and care. this was hard repio, little loose stuff, more like a finished road with the surfacing stripped off, quite easy to ride but the bumps and undulationms are hard on the suspension, and us of course.
A brief stop before entering 'the cloud zone' and Patrick pulled in behind us, he was the French biker on a Yam XT660 and a nice friendly guy. After sharing the cheese sandwiches we had prepped at brekkie and swapping tales of travels and bikes we continued together towards Ushuaia.
Shortly it rained, but only briefly and then surprisingly the repio gave way to fresh new surfaced road - whahey ! The rain had stopped as we climbed high above the lake with some significant vertical drops off to our right fortunately beyond safety fencing. Unfortunately the views were spiolt by the fact we were suddendly riding in dense fog...well actually the inside of the clouds to be honest. So the views were gone and caution was order of day lest we came apon a lumbering wagon, or a looney coming down the other way.
Quite staggeringly, as is the case on these occassions, we got to the high point of the pass and as we descended popped out of the cloud and into the 20 deg warmth and clear skies of the far side, remarkable.
The ride from here to Ushuaia was simply brilliant, mountains crested in snow and corries holding glaciers and pointy peaks to match the best, all adding to the feel of arriving somewhere rather special.
On the way to Ushuaia
The valleys were boggy and forested so there were contrasts of colour against the snow capped peaks that meant once again we were in photograph land. We pulled over and explained to Patrick that we may be stopping quite frequently at this rate and said we wouldn't be at all upset if he wanted to push on and get settled. Another stop and a brief toot and we were once again traveling alone. We knew we'd meet in town anyway so no worries.
It was very pleasing to come upon Ushuaia and discover it was in a magical seting and obviously a place of character and not just a dumpy tourist hole with no sense of being.
I've never been to Alaska, but this would be what I'd expect there, the Beagle Channel seperated distant jagged snowy peaks on off shore islands, the roof tops and buildings were multicoloured and the port was busy with large bright coloured cruise ships, Antartic supply vessels (?) and naval craft. Nice not to be disappointed once here, most impressive.
We had some difficulty finding the Rugby Club campsite (Rio Pipo) but eventually found it, it's on far side of town and only about 5kms from the end of Ruta 3.
The roads here have kilometre markers - pretty frustrating when you are on the long drags through say the Pampas, or down the coast, but they have a multitude of uses, for instance, they are used in addresses. The estacias are so isolated a kms ref if the best way to find them. The reason I mention this is Ruta 3 is one LONG road, the kms makers I think were up to 2300 odd ! Imagine following those as we have from Veidma, all the way to a point 5kms from the end !
So anyway we're here, and so are lots of other folk. There are 12 bikes, of which nearly all are Britss. Excluding Nik they are all new to us, and all have been on road a minimum of 2 years so definately seasoned travellers.
My memory is poor, but hope I have some of this right:-
Peter (GB) & Martina (D) on XT 600 & freewind.
Chris & Liz (GB) on Africa twin
Derek (GB) on KTM 640
Andy (GB) & Maya (NL) on R100GS outfit
Martin (D) & Silvia (D) Arifca twin &
Alec (GB) on MZ Baghira
Nik (GB) R1200GS
us (GB) R100GS
honorable mention for Mica & Sophia (P) and their kids who have been on road 4 years in their truck and have been with the folk here for a couple of weeks
It has struck me a couple of times in the last few weeks that we haven't allowed ourselves enough time for this trip. We are very fortunate that our employers allowed us sabaticals of 6 months, but in reality it's not enough time for a continent such as South America. we could easily spend 6 months just in argentina. 12 months would have been a more realistic timescale.
Anyway, all the folk are friendly and there is no showing off or talking down which is brilliant.

Friday 30th December
Ushuaia
Mileage - nominal kms

A relaxed day down in town looking around. Very very Touristy mainly older aged European visitors coming for the cruises, and a lot of travellers who like us are here for New Year.
Pleasant enough town. Bumped into Cynthia who's up at the Ski Club campsite, and also Patrick the French biker who's in the hostal but already tired of the Israelies. They have a very poor reputation everywhere it appears due to bad manners and arrogance in the main, surprisingly never met anyone with a kind word to say on there behalf, think it's due to the culture and the problematic background of the country and peoples.
Got some tourist info and did a bit of emailing but generally not a lot. The weather pattern has remained similar, dry generally, showers later in day, but hot in sun and cold without it.

Saturday 31st December
Ushuaia
Mileage - 0 kms

Well as it is the day for the big build up we were never likely to do too much.
I have been trying to get the intercom lead fixed in a proffessional manner. Although Autocom can send one out to us here is the only spot we knew we'd be at, and for a while. But unfortunately due to the Christmas holiday it couldn't happen here, and we never know were we'll be in a couple of weeks future to get sent ahead. Hence, trying to get my crap repair (due top lack of equipement to od profeessionla repair) done properly.
Fabio, the owners son, is a diamond and has been such a help o everyone when ever they need advice on were to get stuff, or stuff done. he has a colleague who does computer repairs and hopefully can either do the repair, or knows someone who can.
It was s case of catching people at the right time tofind out but they are brilliant people for helping.
Aposse of bikes and the outfit went into town to gt supplies for tonights party. The outfit being ideal for the large quantities required for 16 people. Everyone mucking in.
3 up on outfit for shopping
The room that works as a dining area here is large and they had tables set for the different groups. We had a big long table at head of room. During early evening we were made busy with food preparation as the plan was salad and kebabs of Squid, Beef or chicken..
It was quite a task to skewer 70 odd kababs with onion, pepper, courgette, tomatoes, and meat. Then there were pounds of potatoes for baking too.
Martine (Peter's German partner) and Sophia (Mica's wife) from the Portugese overland truck were responsible for the majority of the thought and prep with the rest of us adding bits when required.
Clearly the locals are not used to seeing ladies working the Asada and it caused quite a stir. The kitchen itself here is large and generally over populated with groups and individulas trying to prepare meals. Luckily everyone is couteous and it all works out. Plates and crokery are provided and glasses too, very good for £2 each a day.
People did prep or washing up, all was shared.
New Years Eve, food prep
Our meal actually consisted of - if I rrmemnber everything.
Cheese, olive and pineapple on sticks. Bread and Martina's secret tomato puree, spring onion and garlic butter. Salad, full monte, The kebabs, baked potatoes and several condiments. Crisps and sweet peanuts for afties too.
The place wasa filling up with various groups of travellers and locals here for a party, New Year is bigger than Christmas.
The sterling job done by the girls on the asada meant we all had plenty to eat and there was a little left over which was handy as three American's turned up late (won't mention the war) and got well provided for when at a low ebb with a long cold ride and late to site.
Just before twelve we were all ready with our local champagne, the locals popping their corks early to toast the New year in, us popping the corks for midnight.
I should mention that we'd already had two toasts at 8 and 9 for the folks in Denmark, Germany and France, and then UK and Portugal who shar the same time zone surprisingly.
Everyone was then toasting each other and kissing and offering best wishes to each other, and then to the locals. Shortly after the music was on and everyone (well not me) was up and dancing. bev enjoyed the fact the local men are good dancers and took the opportunity to have a partner compared to the hopeless one sat at the table talking travel etc.
By 03.30 we were half cut and ready for bed really. At least here it's easily posible to sleep in as long as you like, well even the kids don't really make any noise 'til mid-day which is welcome after a heavy night.

Sunday 1st January 2006
Ushuaia
Mileage - 0 kms

Yupp, a steady day really, just up afore mid-day and doing very little. There's a reason for that ! It's damn cold here just sitting about The trees give a lot of shade, so obviously the sun doesn't get to warm us up either.
Went to the end of Ruta 3 for the obligatory picture at sign at énd of world´, has to be done ! Great way to start 2006
The sign
Inverse tourism - locals want pics on our bikes
Posted by Simon McCarthy at January 04, 2006 09:17 PM GMT

Enter your email address to receive updates to Marc and Bev Davies's trip story!
Recent Entries
Archives:
Archives:
Monthly
Archives:
Category
Now that summer is here, get On the Road! Take 30% off the Achievable Dream - On the Road! 2-DVD set until August 31 only.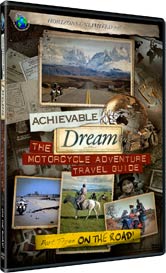 Our veteran travellers share their tips (and great stories) for staying healthy, happy and secure on your motorcycle adventure.
"A fantastic, informative and inspirational DVD."
"It's brilliant - thank you very much!"
Check it out at the HU Store! Remember to use Coupon Code 'ONTHEROAD' on your order when you checkout.
Next HU Events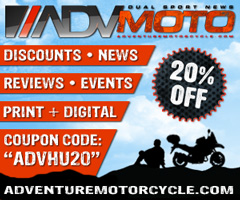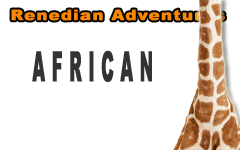 What others say about HU...
"I just wanted to say thanks for doing this and sharing so much with the rest of us." Dave, USA
"Your website is a mecca of valuable information and the DVD series is informative, entertaining, and inspiring! The new look of the website is very impressive, updated and catchy. Thank you so very much!" Jennifer, Canada
"...Great site. Keep up the good work." Murray and Carmen, Australia
"We just finished a 7 month 22,000+ mile scouting trip from Alaska to the bottom of Chile and I can't tell you how many times we referred to your site for help. From how to adjust your valves, to where to stay in the back country of Peru. Horizons Unlimited was a key player in our success. Motorcycle enthusiasts from around the world are in debt to your services." Alaska Riders

10th Annual HU Travellers Photo Contest is on now! This is an opportunity for YOU to show us your best photos and win prizes!
NEW! HU 2014 Adventure Travel T-shirts! are now available in several colors! Be the first kid on your block to have them! New lower prices on synths!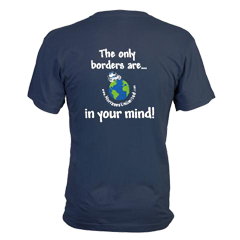 Check out the new Gildan Performance cotton-feel t-shirt - 100% poly, feels like soft cotton!

What turns you on to motorcycle travel?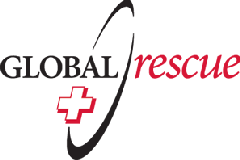 Global Rescue is the premier provider of medical, security and evacuation services worldwide and is the only company that will come to you, wherever you are, and evacuate you to your home hospital of choice. Additionally, Global Rescue places no restrictions on country of citizenship - all nationalities are eligible to sign-up!
New to Horizons Unlimited?
New to motorcycle travelling? New to the HU site? Confused? Too many options? It's really very simple - just 4 easy steps!
Horizons Unlimited was founded in 1997 by Grant and Susan Johnson following their journey around the world on a BMW R80 G/S motorcycle.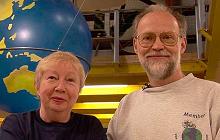 Read more about Grant & Susan's story
Membership - help keep us going!
Horizons Unlimited is not a big multi-national company, just two people who love motorcycle travel and have grown what started as a hobby in 1997 into a full time job (usually 8-10 hours per day and 7 days a week) and a labour of love. To keep it going and a roof over our heads, we run events (22 this year!); we sell inspirational and informative DVDs; we have a few selected advertisers; and we make a small amount from memberships.
You don't have to be a Member to come to an HU meeting, access the website, the HUBB or to receive the e-zine. What you get for your membership contribution is our sincere gratitude, good karma and knowing that you're helping to keep the motorcycle travel dream alive. Contributing Members and Gold Members do get additional features on the HUBB. Here's a list of all the Member benefits on the HUBB.
Books & DVDs

All the best travel books and videos listed and often reviewed on HU's famous Books page. Check it out and get great travel books from all over the world.

MC Air Shipping, (uncrated) USA / Canada / Europe and other areas. Be sure to say "Horizons Unlimited" to get your $25 discount on Shipping!
Insurance - see: For foreigners traveling in US and Canada and for Americans and Canadians traveling in other countries, then mail it to MC Express and get your HU $15 discount!
Story and photos copyright © All Rights Reserved.
Contact the author:
Editors note: We accept no responsibility for any of the above information in any way whatsoever. You are reminded to do your own research. Any commentary is strictly a personal opinion of the person supplying the information and is not to be construed as an endorsement of any kind.
Hosted by: Horizons Unlimited, the motorcycle travellers' website!
You can have your story here too - click for details!