November 22, 2005 GMT
Iguazú Argentina, through Brazil to Paraguay to Villarica
Thursday 10th November
Mileage - guess 250kms
Well back to the road today, and wets a bit before south towards Argentina again.
The idea was to do a little less riding and spend some time off the bikes, best laid plans of mice and men eh !
We started a bit late - seeing as it was obviously going to be a hot day. The skies cleared last night and it was forcast as hot. Have I mentioned all our hotels have had TV ? And they have tens of channels, and many UK progs - in fact even Changing Rooms with sub-titles, and no end of big name films. Not that I want to watch TV, even if it's Orange County Choppers. Handy for news andd weather, but the weather only comes around about once a flood.
So, by the time we set off it was hot. The Che Roga was a nice spot to stop a few days. Nik and Bev gor mosquito bites, I onl managed to half knock myself out, but otherwise it was really excellent. The owner was a top bloke. also had the fastest computer we've had access too and he was very accommodating. Did all our emails and pics from there for free. Recommended. As we didn't have enough cash, and they didn't take Visa he even got someone to drive Bev to an ATM before we left.
Leaving argentina was a dodle. Entering Brazil was too. We got our entry stamps and waited for the bloke to come regarding the bikes. when we explained we were on our way to Paraguay he said we didn't need any docs for the bikes and was most apologetic about delaying us, excellent !
Once in Brazil we wanted to go to the worlds largest dam and hydro electric plant -- Itaipu. we foolishly though we would be able to ride up and have a peek. But considering it is a 4km concrete dam with a total of 14kms holding back a phenominal amount of water they do have quite tight security. It was Siesta time an no tour (free) until 2pm so we had to give it a miss. A guy gave a quick tour via the model though which was really kind. 1 turbine of 18 provides all the power for Paraguay, the other 8 (Brazil and Paraguay share the dam) provide electricity to Brazil in exchange for construction costs, and with Brazils other 8 that provides 75% of their total energy. Now that is one big engineering feat. It couldn't happen now of course, mostly done under dictatorships in 70's even though only completed in 90's.
Anyway we had to leave it at that. Two observations though. When we arrived there was an 1150 in car park, a Belgian one. The guy blanked us, even when I spoke, and his wife wasn't much better....unbelievable. Had a Horizons Unlimited sticker on too. Hopefully he's going to the Veidmar meet and we can blank him in return. Absolutely couldn't belive their insular approach. Opposite side was two Vietnamese who were also travelling and were very friendly and we had a good chat. Had an ice-cream before leaving.
We now had to negoitiate the Paraguay border and that was a nighmare. Floods, and I mean floods of mopeds streaming across the bridge meant we missed out exit stamps from Brazil. But luckily no one at the Paraguay side cared. It was like riding into North Korea. Very very odd. The border guards were less than friendly, wanting to see in the panniers - but lost interest once we went to customs.
Only figured out what it was all about much later - it was the foot and mouth outbreak in Brasil - like when we had it France etc wanted to know if you had food in your luggage, so that's all they wanted.
So it was into the Paraguay customs where the bloke wasn't too interested at all, stamped the passports (getting busy in there now !) and said there was no need to get a temporary import for the bikes. This is all getting much easier than I ever expected before we came, so simple....just wait.
It was absolutely mad outside, and the town was crazy town. No badness, just very bust, lots of folk hoping to make some business and chaos traffic. It all works though...I just don't know how. We left shapish before the army militia looking guys returned and tried to get some air flow. It was a steady, and very humid 32 degs everywhere, but hotter in town. quite exhausting on a bike.
The scenery, in that way I just cannot comprehend chnaged over the border. Lots of strip developement with quite nice shack type houses set back from the road, and chaotic little villages like in India. The bugger was they don't have signs saying how far it is to anywhere except at junctions, and there are hardly any.
It was vry hot and again we weren't prepred so where flagging. We got to a peage and of course we had no local currency, too busy at border. They took it in Arg Peso's and the huge queue behind us was relieved.
We pulled into the next service station and I explained as best I could our predicament in hope someone might chnage the money. All got sussed and a local driver changed 50 arg Peso,and no one batted an eye so rate must have been fair.

It was certainly hot here, not a lot of shade around and it was self evident both Nik and I were feeling the heat. I could feel my concetration slipping, and Nik wasn't entirely there when we stopped to talk so we needed a break.
we got soon enough, a police check point. The guys were a bit more official and it wasn't possible to get a smile a chat and an off. I wasn't able to figure out the problem, they checked the docs and kept us there. One took Bev by the arm and took her to the side of the oad away fom us. It wasn't looking good. he said something about my front light and small, so I turned it on and he feigned being dazzled. Funny bloke (no fun).
He kept on about the panniers, but I really didn't really want to open them so feigned stupidity (easily done some would say) and then it clicked....ah...no comido, no food in panniers. He realised we weren't undercover Brazillians with stashed dodgey beef and we were released. One of the guys had an automaic rifle slung bandolier style across his chest and wearing his aviater shades he obviously loved himself. I asked if I could take a picture and little Hitler said not. obviously his collegues liked the idea though as a conversation broke out and he relented. Queue another shot of us with police...that's the way we like it ! these guys in addition to their pistols also carried a cosh and a 'bloody big knife'. Anyway, got away with it again so no worriss.
We were aiming for a place that sounded like it should be in Essex. (a V is a B in Spanish) Once we arive dwe looked up one hotel. Was a bit basic, but a single was 40,000 and a double 70,000. Those paying attesion will know that's a grand total of £11. Decided to check around though, and at that point tree lads on mountain bikes turned around and came to speak to us. Much shaking of hands and the usual questions of where from, were going, how big the bike, how much, etc. They mentioned a place further out of town so we went that way.
The Palace Hotel was out bed for the night. A palatial pile of granite and chrome and a hint of dodgey money about it. It was £21 for the three of us (one room, we're quite cosy now) and was so flash we decided to stay - pushing our budget out terribly (not). There were young ladies in bikini's in the pool an fat men in shades and suits getting out of Merc's. Very odd.
We unpacked and made home. decided as we'd gone upmarket we'd go downmarket for tea and wander into town. It was a long way though so no realistic chance of getting there. It was dark, it was still over 30 and we chanced on our arm on a walk down the road past some dodgey looking establishments, and you know what ? It was no problem, and two of our three heads had gone. Paraguay was lookinhg good.
We found some old Enpinadas, some polystyrene snacks, some super sugary cakes and some soft drinks. We were sorted, just beer to get. nighmare. Recycling fascism gone mad. Without an empty you couldn't get a bottle of beer. I guess something to do with bottle return. We treid a couiple of places but no joy. The only solution was cans, never as good, but beggars...
As we returned we came across an internet cafe and decided to call in. Had a bit of a search to find out the currency rate, about 11,000 Guarani to one pound. Thought it was about 10 so good result. The lad running tha cafe was a character and showed us some pics of why his arm was bandaged. He's got caught in a comprsser failure and lost two toes and a finger alonge with some holes right through...charming.
Home and a beer from bar, served in a ice bucket by very polite staff. Have to say it's nice staying in the sort of place that would turn it's nose up at us at home. Or is it a case of what the pistols said "cheap holidays in other peoples misery" I like to think not.

Friday 11th November
Villarica to San Ignacia
Mileage - 436kms
Today was one of complete bafflement and confudion, our first real one.
We left the hotel after a hearty breakfast and with the heat already blistering - only 32, but with no shade on the bikes it's much hotter. we rode south on a clerly marked surfaced route 8 to Ceezapá, and then wasted an hour or so trying to find the road out. We simple could not find it. How come ? it remains a mystery.Ever road out was a cart track, and probably much to the amusement of the locals we went past, past, and past again. It was an absolute nighmare. There just was no road, and we couldn't suss anything from locals. We had to face going back way we came. Wasted half day and ended up at hotel again at 12.30. The heat built up in afteernoon even more and we re-routed. Leaving - again - we were stopped by a policeman. Luckily it was just so he could tell us he was a biker too and had a Yamaha 650 and was going to Brazil for a few days from tomorrow. He wished us all the best shook our hands and we were on our way again, hlf a day behind !
Found some hills like old small volcanoes not far from the capital, Asumsion, and enjoyed some nice views if a little dull dead straight roads again. Couple of very bad patched roads, constructed of hand laid 3 foot patches it seemed, but otherwise good roads. We get through all the peage free (cept that initial one, often the way at big cities) vis narrow lanes we just fit through, designed for mopeds really, so that's good. The petrol stations rarely take Visa unfortunately here, meaning our cash dissappears on juice. 'bout 50p a litre, but still out largest expense.
Nik was onto reserve, and we had a serious weather pattern sweeping across out path and it was really touch and go if we'd get ahead of it or not. Not good temps for waterproofs, but not good to get soaked either. We got right on the edge of the incoming rain, few spots and dusty smells but we just, and I mean just got ahead.
Nik was down to 18 miles on his reserve so it was touch and go whether the weather would have the last lauigh as we attempted a road side syphon.
We got to a sservice station with Nik having all of 4 miles left - jammy bugger! Aheda was a mother of all weather fronts. time to sit back and wait. We put a fivers worth in each bike and parked up to wait.
The wind was picking up, it was obviously raining a few kms further down and thubder was rolling in., There were forks of lightening and the trees were rustling and the dust a blowing. definately time to stay put. The garage didn't mind us waiting and Nik took advantage of the fact that the service stations not only had huge ice stores, but also hot water gysers - presumably for the insessant Mate drinkers...ie everyone - and had a nice cup of Earl Grey. We waited a good one and a half hours in total, few people chatting about bikes, but no concern about our loitering on forecourt. The rain absolutely lashed down and floded all over, but we were dry and enjoying the coolness.
Eventually we left and apart from spray it was dry enough. 20kms done the road it was dry ! We certainly wouldn't have been if we'd set out though.
Just ouside town we found a cheap hotel, that was a bit shabby, but cheap. 40,000 us and 20,000 Nik, so less than £2 p/p.
The owner was a gut who had been a cabby in New York for tyhree years so spoke pretty good English and we decided we could eat there too.
It went a bit downhill after that. A group of attrcative young ladies moved in next door and the place achnged from a simple hotel into some kind of eastern block nightclub withladies of the night. Still not sure if we had ovr-active imaginations, but it certainly went well weird.
The order for food seemed confused - rememmber the guy spoke pretty good English...however he was an ex-cabbie I suppose. Suddenly from upstairs music started playing at a volume that I can honestly say was extreme...people in the next town would have been right to complain and the guy never batted an eye. We were literally have to shout. The 'ladies' seeemed to appear, pay something, and dissappear with some blokes. Now, me being a naive soul I imagined they were arranging a party, but Bev was convinced in the worlds oldest trade. We'll never kno I guess.
Eventually we got our Steaks with chips, salad and bread. It wasn't bad and not costly in the remotest. Hadconversation with a few people passing through, very nice folk, allways shaking hands on meeting. Wer qffed several beers and were ready for our beds. The music levels had dropped, but by the time we lft the place was hardly even alive...well us old folk have to get our beauty sleep. Amazingly we did.
With much amusement we read in the guide that in Paraguay "Tuberculosis, typhoid, dysentry (be very careful over salad and tap water) and hepatitus are eddemic. Hookworm is the most common desease, and there is much VD, goitre and leprosy."
We don't even know what some of those are...hookworm...hmmm was our choice of steak and salad wise... time will tell I guess. Travel guides are such amusing reads.....
Saturday 12th November
Villarica to Sa Ignacia - Trinidad
Mileage - 200kms
After the hellish strange evening we had not a bad nights kip and we were up early for a very poor breakfast, basically just coffee.
Went into town to change some money, Western Union place couldn't do it, but the staff were very helpful and were very interseted in the bikes, as were a fewother locals. Everyone would say hello and shake our hands, whole families were introduced. Such friendly people the Paragauyans.
We took some pics with them on the bikes and promised to email them. I asked one of the blokes if we could get any stickers anywhere and another one ran off and returned with a nice Yo heart Paraguay for our bike and a local football club one for Nik, all free. Then the bank also got us a sticker and we left. Great people. Instead of having three heads durin our stay in Pargauy we have been a focus for friendly interest and lots of genuign waves from all sorts. The horse back riders nearly always wave, must be that connection of being riders.
As we were riding a shorter distance today to get to Trinidad, we at least knew we'd finish riding shortly after it really heated up. It really is very warm here, especially if the sun is out - which it often is, 32/34 is the norm.
We didn't have too much exitment during the ride, no really bad roads, and we made it down to here for around 1.30, which really is how we should be planning to do things.
The place is famous fot the jesuit communities that thrived here fropm around the mid 1500s through to, I think, late 1700s. Thete were rare as missionaires in that they brought a shared community and equality, but they didn't explain all the details to the local indians, and once they were forced to leave the whole system collapsed and went back to fuedal wars and slavers from Brazil. The Mission was based on this area, sadly not seen it.
Our guidebook recommeded a German run (more on that in a mo') hotel by the entrance to one of the ruins and we found Hotel Leon very easily. Very, very odd speaking in German after Spanish. There is a huge population of Germans wo have settled here since turn of the century. In fact the German philosopher Nietcher (sp) who was mis-appropriated by the Nazi's, had a barmy sister (think she went out with Wagners son) who came out here to set up a German colony of arayan supremasists (sp).
Not sure if that is Honengau, but that is an entirely German settlement just 12kms from here. In fact just net two lads from there and had a chat, and if it is that place then it's all gone wrong for sure !
Anway, after arrival we were able to shower, get sorted and have a cold drink and wander up to the huge ruins just a few hundred metres away. They are on a spectactular scale, and mushave been very impressive, they are even as ruins. Some stunning relief work, and the walls are immense. must see the Mission and get some more details, I know from something that was on TV just before we left that some of the local indians were used in the film too. The currency here is named after the indian tribe which is good.
There are two big sites here and the other one was 12kms down a very interesting side road. The side roads are made of stone blocks laid like cobbles - bit rough, but strong, and must take an immense amount of time to build. We had to go a long way and this one was half done and half work in progress. Thank god it didn't rain is all I can say as although they term them 'all weather roads', I think in the wet they would become very demanding. anyway though it looked threatening it never actually started so we were safe.
Naturally we had thought the site was nearby so we rode off without lids or gloves, and only light trousers and shirts...you'd think we'd learn wouldn't you - no you're right ! No water either. Mind all along this track were ssetllements and houses and people everywhere.
The 'Jesus' site was also specacular, not as large as the first, but very impressive sclae and some more fine detailing. Very, very warm, especially with sun out. Even came across a large butterfliy that had just emerged from it's crysalis (?) and moments after we saw itit opened it's wings and was off.
Jesiut mission
Jesiut mission
A very interesting timber plank bridge too that made us think of Simon and Lisa, luckily this one was dry and a lot safer. Even better news that Simon and Lisa are back to the living and getting sorted. tough Buggers.
Once back we had a good long lounge catching up on diary, and taking it easy. 'bout 8 we went off for tea and continued the surreal experience. Every one n the place was German, speaking German, an the music was chessy umpah type stuff. Very, very weird. A chance to try and remember some German language, really screws your mind up with English, Spanish and German all vying for space in your mind, crazy. Schnitzel and potatoe salad with nice german white bread....it was just like being in Germany. The other thing was the size of the toads here, big enough to need two hands to hold....not that we did.

Posted by Simon McCarthy at November 22, 2005 10:27 AM GMT

Enter your email address to receive updates to Marc and Bev Davies's trip story!
Recent Entries
Archives:
Archives:
Monthly
Archives:
Category
NEW! HU 2015 Motorcycle Adventure Travel Calendar is now available! Get your copy now for some terrific travel inspiration!
HUGE, 11.5 x 16.5 inches, beautifully printed in Germany on top quality stock! Photos are the winning images from over 600 entries in the 9th Annual HU Photo Contest!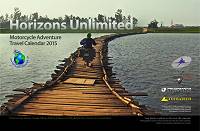 "The calendar is magnificent!"
"I just wanted to say how much I'm loving the new, larger calendar!"
We share the profit with the winning photographers. YOU could be in the HU Calendar too - enter here!
Next HU Events
NEW!

USA Virginia: Apr 9-12, 2015
Take 40% off Road Heroes Part 1 until October 31 only!
Road Heroes features tales of adventure, joy and sheer terror by veteran travellers Peter and Kay Forwood (193 countries two-up on a Harley); Dr. Greg Frazier (5 times RTW); Tiffany Coates (RTW solo female); and Rene Cormier (University of Gravel Roads).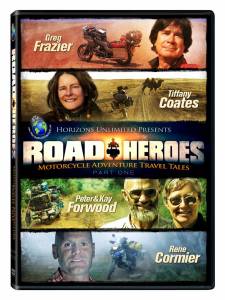 "Inspiring and hilarious!"
"I loved watching this DVD!"
"Lots of amazing stories and even more amazing photographs, it's great fun and very inspirational."
"Wonderful entertainment!"
Check it out at the HU Store! Remember to use Coupon Code 'HEROES' on your order when you checkout.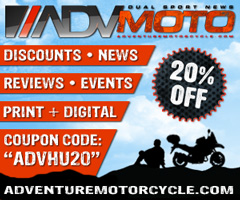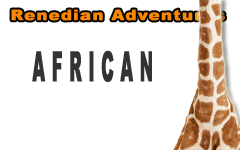 What others say about HU...
"I just wanted to say thanks for doing this and sharing so much with the rest of us." Dave, USA
"Your website is a mecca of valuable information and the DVD series is informative, entertaining, and inspiring! The new look of the website is very impressive, updated and catchy. Thank you so very much!" Jennifer, Canada
"...Great site. Keep up the good work." Murray and Carmen, Australia
"We just finished a 7 month 22,000+ mile scouting trip from Alaska to the bottom of Chile and I can't tell you how many times we referred to your site for help. From how to adjust your valves, to where to stay in the back country of Peru. Horizons Unlimited was a key player in our success. Motorcycle enthusiasts from around the world are in debt to your services." Alaska Riders

10th Annual HU Travellers Photo Contest is on now! This is an opportunity for YOU to show us your best photos and win prizes!
NEW! HU 2014 Adventure Travel T-shirts! are now available in several colors! Be the first kid on your block to have them! New lower prices on synths!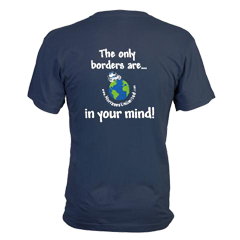 Check out the new Gildan Performance cotton-feel t-shirt - 100% poly, feels like soft cotton!

What turns you on to motorcycle travel?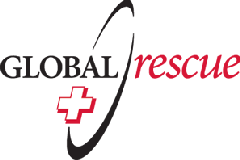 Global Rescue is the premier provider of medical, security and evacuation services worldwide and is the only company that will come to you, wherever you are, and evacuate you to your home hospital of choice. Additionally, Global Rescue places no restrictions on country of citizenship - all nationalities are eligible to sign-up!
New to Horizons Unlimited?
New to motorcycle travelling? New to the HU site? Confused? Too many options? It's really very simple - just 4 easy steps!
Horizons Unlimited was founded in 1997 by Grant and Susan Johnson following their journey around the world on a BMW R80 G/S motorcycle.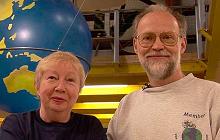 Read more about Grant & Susan's story
Membership - help keep us going!
Horizons Unlimited is not a big multi-national company, just two people who love motorcycle travel and have grown what started as a hobby in 1997 into a full time job (usually 8-10 hours per day and 7 days a week) and a labour of love. To keep it going and a roof over our heads, we run events (22 this year!); we sell inspirational and informative DVDs; we have a few selected advertisers; and we make a small amount from memberships.
You don't have to be a Member to come to an HU meeting, access the website, the HUBB or to receive the e-zine. What you get for your membership contribution is our sincere gratitude, good karma and knowing that you're helping to keep the motorcycle travel dream alive. Contributing Members and Gold Members do get additional features on the HUBB. Here's a list of all the Member benefits on the HUBB.
Books & DVDs

All the best travel books and videos listed and often reviewed on HU's famous Books page. Check it out and get great travel books from all over the world.

MC Air Shipping, (uncrated) USA / Canada / Europe and other areas. Be sure to say "Horizons Unlimited" to get your $25 discount on Shipping!
Insurance - see: For foreigners traveling in US and Canada and for Americans and Canadians traveling in other countries, then mail it to MC Express and get your HU $15 discount!
Story and photos copyright © All Rights Reserved.
Contact the author:
Editors note: We accept no responsibility for any of the above information in any way whatsoever. You are reminded to do your own research. Any commentary is strictly a personal opinion of the person supplying the information and is not to be construed as an endorsement of any kind.
Hosted by: Horizons Unlimited, the motorcycle travellers' website!
You can have your story here too - click for details!