October 05, 2011 GMT
Episode V: Huasco to the desert
Leaving Huasco, we left behind the first hotel we stayed in so far this trip...it is so lovely to sleep on a bed, and not have to do contortionist acts just to get dressed in the morning.
On sound advice from our friends in La Serena, we decided to take the coastal road from Huasco north (rather than the highway again). We were assured that we would see plenty of the desert flowers phenomenon there. In fact, people around the country take time off just to travel through to see this - given that it only happens in particularly rainy years. Although I enjoyed cycling on quiet (paved! Hooray!) roads, I must say though, the best bit was actually a few days back where we camped right outside of La Serena. All in all though, I counted 18 types of flowers - not quite the 800 species that the signs at the national parks told us about, but I was pleased with myself!
There were some helpful signs to tell us what else to look out for along the road...
Sadly we came across our first bit of rain on the trip...note the drip of water from my rear mirror...Luckily it was really only a drizzle (we┤re used to much more back home!) and did not last more than the morning.
We didn┤t stop much along the coast. Went through a ghost town (Puerto Viejo) to refuel. It was scarily quiet and empty. Everything was shut. The roads were deserted and the houses boarded up. Could not figure out what was going on at all. In the end a lady took pity on us (as the dogs were barking our arrival), came out and took us to a shop that she knew, banged on the door and we managed to get supplies that way. Bizarre.
The discrepancy of these houses to those we have seen in cities and rich areas emphasizes the wealth gap between people. We even spotted ingenious ways of building...must be kinda cool to step into the ground floor of the house, aka the truck!
On further cycling we met our first fellow cyclist this trip. A Chileano! He was just doing a short hop for three days...but I┤m sure he had almost as much stuff with him as we did for six months!! This shows the typical scenery from those days...fairly empty roads, and not much sunshine on the coast.
We arrived at Bahia Inglesa after three days of free-camping, to an actual organised campsite with hot showers!! Hooray! It really makes you appreciate being clean...
With all this cycling, we still had much of the north to cover, and time is running short for us. We had set an articifical limit for ourselves to turn southwards by the end of October. At this rate we are not going to make it. We had some serious soul-searching to do. Should we, or should we not...cheat???
We decided that it was the only way that we could cover some distance quickly. After being cold-shouldered by the bus companies - who said that we couldn┤t get bikes on the buses - we rode to the side of the motorway, stuck our thumbs out, and crossed our fingers! Truck after truck went by. The drivers honked, and shrugged their shoulders. They looked genuinely sorry that they could not help - especially the huge petrol tanks! One actually stopped, was going almost to our final destination 8 hours away...walked round and round his truck and scratched his head to see if he could tie the bikes on somehow. Alas it was not to be. After only half an hour of trying, we managed to get a ride. The guy spoke no English, and our Spanish is poor. He chucked his son behind the seat to make room for us! Both looked at us curiously but did not attempt much conversation. We did not think to get a proper picture before he left us in Cha˝aral - 80km away - a full day┤s ride for us.
Whilst I was dancing about at the side of the road, waiting with crossed fingers for another ride, Alejandro the truck driver was having a nice old chat with a mate and noticed us. They whistled us over and soon both Alex and Alejandro were circling the truck again to see how we could get the bikes on. This was a HUGE truck. He was carrying a pre-fabricated house up north. Each of these cost about 20000 pounds apparently...and the guys who commission these will build a town with them...who has the money to build these??
We managed to squeeze the bikes in front of the house and hopped on.
Alex sat in the front, with a beady eye in the wing mirror on the bikes, whilst I sat on Alejandro┤s bed behind the driver┤s seat!
As these drivers spend a few days on the road at a time, they have a bed, a toilet, and a gas stove! Alejandro was a chatty driver, and through many gesticulations we managed to have a conversation. We spent about 2 hours on the road before he pulled over to bed down for the night, at a truckers┤ stop on the side of the road. We toddled off with the bikes and found a spot to put up our tents - hoping against hope that the truckers will be able to see the reflective strips in the night and not run us over!!
In the morning we missed our alarm, and instead of the normal 2 hours to pack up and go, we had 45min before Alejandro was leaving again. Let me tell you, we have never moved so fast!!
We did it however, and I was rewarded with a cup of hot coffee in the truck as he boiled the kettle again just for me! Another three hours or so passed. Our Spanish was getting more and more impressive. We talked about our families, jobs, the global financial crisis and unemployment, politics between China and Taiwan (!)... Amazing how much we can understand with a phrasebook and a sympathetic ear (who kept turning around and looking at me and not the road - but showed his skill avoiding huge potholes in the roads with the truck!)
We were set down at La Negra, a worker┤s town. We tried to find a shop to buy bread and milk. Nada (nothing). There were just huge trucks and mining plants. All the workers are fed in their canteens, and needed for nothing. The only food shops sold junk food such as cookies and cakes, fizzy pop (they┤re very fond of those here, there┤s just about every colour under the sun!) I saw the biggest tyres in the world at the petrol station!
We pedalled to the coast - Antofagasta - the second largest city in Chile, to rest and refuel. The next day, headed back inland to start our journey to the Atacama Desert proper. The first bit was s-t-e-e-p. On that first day, we managed to ride about 80km and up 1200m in elevation. Quite an achievement with 40kg of bike and luggage, I think! We passed through the Tropic of Capricorn...
The desert view was quite something. The vastness made me feel very insignificant indeed. Kind of like the feeling that I get by the roaring sea.
Camping every night out on the desert was lovely. The stars were incredible. With our new-found knowledge from the Mamalluca observation tower tour in Vicu˝a, and Google Skymaps, we enjoyed pointing to stars and trying to figure it all out.
It wasn┤t easy to find shelter from the sun in the desert. Every now and again there would be a monument to someone who had unfortunately died on the road, or a shack for water pipelines, or even a large advertising sign. We┤d hide in the shade for a few minutes and have our lunch or a snack bar, before braving the sun again. This kind trucker let us hide behind his truck whilst he did some essential repairs.
He also made sure that we had enough water before heading off again. Everyone takes care of each other out here. I was very aware of our water consumption, and how quickly I felt thirsty again. Trying to ration water was just not possible and we pedalled hard to get to the next refuelling stops. We arrived at Calama on day 3 and made sure all our bottles and water bags were full. It took us about an hour to fill and filter all this!! Sadly, not long after this picture was taken, the Camelbak died an untimely death, having fallen from the bike and split open. That┤s 3 litres and counting!!!
Another sad event - our stove broke. On our final day on the road we had a cold supper :-(
The biggest problem now is to find a replacement or replacement parts...
Just before arriving in San Pedro there is a fantastic downhill for a few kilometres...it was a job to keep an eye on the road and enjoy the view as we sped our way down...
This place is also not flat like the other bits of desert we┤d travelled through...

Four days later we finally arrived at San Pedro de Atacama. We had cycled 80-90km every day...uphill! The drivers on the roads were generally friendly, and frequently honked to show support (some trucks have such a loud honk that it frequently scares me off the road!!) Some people took pity and spontaneously offered us lifts. One fantastic driver gave us an entire packet of our favourite cookies out of his window of his moving car!
Here┤s an interview of me whilst cycling...it was a bit impromptu and I had no time to think about a script...

San Pedro is the most touristy place we┤d been to yet. It┤s supposed to also be one of the most expensive places in Chile - after Santiago. Unfortunately we have to stay a few days to sort out the water carrying and stove issues. One thing we have found out - there is very little outside of Santiago - there are adventure shops here, being a touristy, adventure place, but shopkeepers shake their heads sadly and say "Santiago" when we ask about stoves and large water bags. Hmmmmm, only a 24hour bus ride away. We┤ve ordered some parts from the UK - only to be told afterwards that one merchant sent something which took a month to get to Chile. Still considering what the best option is. In the meantime, today we┤re having a chilled day. Finally. I┤ve even put on a skirt so no cycling for a few more hours anyway!!
==


This work is licensed under a Creative Commons Attribution-ShareAlike 3.0 Unported License.
October 23, 2011 GMT
Episode VI: San Pedro de Atacama part one
San Pedro, the most touristy place we┤ve been so far. We show up from the mountains, having cycled 300 km in four days and climbed over a 3400m pass, so we┤re not quite prepared for the surreal "quaintness" of the place. Even the bank has its logo engraved in a wooden sign. Bobos everywhere, hiking gear galore, touts for restaurants, extortionate prices, the lot.
We even have trouble ordering food - we order "chorillana for two" and are impressed by the amount of food we get...
...only to be defeated, realising that ONE chorillana is for two people and our waitress is probably on drugs for having interpreted our sign language as "yes, please, bring us food for 4 people".
We find a campsite for a decent price not too close to the centre of the village, the only glitch being the annoying hostess looking at us with dollar signs in her eyes (e.g. trying to squeeze 500 pesos for the privilege of using a power socket for a few hours)
We have problems to solve. Our petrol stove is broken, we have come to realise we really do need a windscreen for it (as it gets windy around here and then cooking is an ordeal), and I have recently killed the Camelbak by dropping it off a speeding bike. We order parts for the stove and a 10Lt water bag to replace the Camelbak. The clock starts ticking, the most critical delivery being only "5 working days" away. Having time to kill, being unable to cook and therefore to travel, we start exploring around the village of San Pedro de Atacama.
First trip was to the north, Devil┤s Canyon...

... a tunnel, archaelogical ruins we never quite found but good practice for our sand riding skills.
There has always been something about sand that freaked me out, particularly since I┤ve been riding heavy motorcycles, but on a bicycle things are simpler - just keep the handlebars as straight as possible and pedal like your life depended on it.
We explore, perhaps a little bit too much, trying to make the best of the place and our time.
We get tired, we push, we get lost, a bit grumpy, but we get there... wherever "there" happens to be.
There is a little pushing and pulling involved, but the canyons are good fun to explore.
A river crossing that we did not attempt on the bikes, following the traditional method instead:
Somewhere along our meanderings we checked the odometer...
2000km on the saddle, and still no saddle sores. We must be taking our time, or have fantastic saddles! (My vote goes in for the former)

We take a day off to read in the tent and catch up on sleep (we really don┤t sleep enough when we travel - less than 11 hours a day - you can┤t really call this "vacation").
Next day we explore the Valley of Death (catchy names around here...) where we again negotiate sandy tracks and do some serious pushing to get to a vantage point to enjoy a solitary, peaceful sunset over the canyon... when a van full of tourists show up. Trying to see the positive side of this I should say it feels good that we are here with our bikes and had made it on our own, and not paid to be chauffered there.
Next day we visit Laguna de Cejar, 35km south of San Pedro de Atacama, which is a complex of 2-3 small lakes which, judging by the screams of people swimming in them, are quite cold. The approach is nice and sandy and keeps us entertained.
We lie next to the lake (there are shady spots) and read our Kindles, befriending lizards
... enjoying the beauty
...and wait for the afternoon wind to properly pick up. When a proper sandstorm breaks out, we hop onto the bikes and merrily pedal the 35km back, with our eyes, nostrils and mouths full of sand.
Oh the fun. We are rewarded with bizarre cloud formations
and receive the 10Lt Ortlieb water bag we had ordered from Santiago three days ago, which pushes our water carrying capacity to over 20Lt.
(of course water is heavy, hence Ping is scratching her head wondering who the heck is going to carry all this)
Another day off (we have the perfect excuse to be lazy: "We┤re waiting for stuff to arrive by post") and then a trek (hiking, walking, call it what you like) in the Valley of the Moon. This one is slightly more adventurous than we expect - we get a bit lost in the maze of salt hills and sand dunes...
we listen to the slow creaking of the salt rocks...
... do some leap-of-faith climbing (some of us merrier than others)
find ourselves in caves that after crawling through pitch black passages prove to be dead ends
...so we have to climb back out...
...a little bit exhausted after 6 hours of all this
...but in the end, we make it out of there with a feeling of accomplishment.
Generally, excellent fun (in retrospect).
By this point we start running out of close range options so we bite the bullet and book a tourist tour to the El Tatio geysers. I hope you like this photo because I got up at 3:30am to take it.
Now, geysers are supposed to be volcanic phenomena: an underground water stream is met with volcanic super-hot elements which both put pressure on the soil and water and lead to extreme temperature differences, creating a supposedly spectacular natural phenomenon - natural steaming water fountains. This is not a scientific explanation, just my layman┤s interpretation of what┤s going on.
The reason I don┤t have a scientific explanation, is that our guide doesn┤t speak English - annoying, that, when we┤ve paid a good amount of money for a tour in English... So after yawning with excitement at the geysers, marvelling at the local flora at a microscopic level
... piling on top of each other in a small cold puddle they call a "thermal bath", being taken to a village-that-would-not-be-there-were-it-not-for-the-tourists-paying-$4-for-a-chewy-llama-kebab we are driven back to San Pedro, over another 200km of bone-jittering unpaved roads that limit our poor driver to only 90km/h.
At least the cacti are pretty.
Bizarre how some people balance stones.
It all feels a little bit better after getting a partial refund without too much hassle.
At this point we are quite fed up with San Pedro de Atacama and decide to move out and spend a few days out in the Salar de Atacama - the part of the desert that is designated as a "Salt Lake". We combine this with a visit to Laguna Chaxa, a lake some 60km south of San Pedro de Atacama that is rumoured to attract many flamingos.
So we pedal via Toconao south and then the wind picks up and then we enter the Salar de Atacama and then we pedal west and then the wind picks up some more and at some point Ping politely suggests we stop and camp if I still value my life. So we stop.
It is not the most hospitable of terrains; even getting the bikes and all the equipment to a spot that is actually campable (i.e. we can set up the tent without it being shredded to pieces) is a small struggle.
In any case we set up our tent and call it a night.
Next morning we get up late (after all the effort of the previous day...) and pretty much spend the entire day reading in the tent. We manage to venture about 2km away to the lake to ask the ranger what the best time to visit is - he says 8am and warns us it is very cold. We say "fine" and turn to leave, which somehow distresses him - he stops us to ask why are we not visiting now, and we say "we'll come tomorrow, too much sun now". Disbelieving us, he says goodbye.
The following morning we get there at 08:45. The ranger is so impressed to see us there with the bikes that he does not take our money and instead conspiratorily waves us in.
O Laguna Chaxa, with your fleeting pink flamingos
(which we would need serious zoom lens to capture)
...and your much less fleeting (but also cute) mice.

No shade though, so we walk around, fill our water bag and leave.
Camping out there on the Salar de Atacama is less hospitable than you might think. Forget the lunar landscape and the fact the ground is salt rock. Temperatures INSIDE the tent range from -1 Celcious at 8am in the morning to +43 Celcious around 4pm. Inside the tent, the sun is so strong that we have to have our hats on. And the unrelenting wind does us no good, as it brings so much sand with it that we have to have the tent fly shut, lest we lose all our equipment under a layer of sand...

As usual with these things, the beauty of the landscape and the calm of the early morning are a partial compensation, but we still decide to move out.

That┤s it for the Salar de Atacama.
==


This work is licensed under a Creative Commons Attribution-ShareAlike 3.0 Unported License.
Posted by Alexandros Papadopoulos at
09:28 PM
GMT
October 28, 2011 GMT
Episode VII: San Pedro de Atacama part deux
(Part deux of the San Pedro de Atacama installment - big one since we spent one full month there)
Leaving the freezing cold, scorching hot, extremely windy and dusty Salar de Atacama behind we locate a patch of trees that look like they would make a good campsite.
This patch is less than 15km away from the village of Toconao, so there is scant cellphone coverage. Here, Ping is demonstrating wireless signal optimisation techniques:
The patch of trees is indeed lovely, but we don┤t pay enough attention to the prevalence of thorns before too late. Even though the deep sand means that riding is impossible and we have to push the bikes to get to a camping spot in the shade, we still manage to get a puncture (our first) in Ping┤s front wheel.
Schwalbe Marathon Plus Tour tyres... also known as "puncture-free" - sporting in their product literature an image of the tyre running over a vicious looking thorn and devastating it. Well... they're good, but not that good. After patching the tube 3 times (as it kept losing air and I assume that we are not patching the hole properly) Ping suggests that we look for a second puncture. It hadn't even occurred to me.
So taken in by the product propaganda was I, that one puncture was improbable, surely two simultaneous punctures with no rider on the bike must be impossible!
Sure enough after two minutes I find the other hole, patch it, and all is well.
We spend a good 3 hours de-thorning
and de-pooping (damn goats!) our camping site

...then set up the tent, then dethorn some more. We have inflatable mattresses, and if a thorn went through the 4 layers of plastic we have under the tent, it would be very easy for it to pierce the tent floor and our mattresses too, rendering them useless. After a painful session of taking out thorns from under an already erect tent (which I suppose would have looked quite amusing to an external observer) we are ready to go to bed.
After waking up on the inflated mattress (and not on the floor) we know that we did a good job, which automatically qualifies the place for staying there for a few days. We cycle the 55km round trip to San Pedro whenever we need supplies or to use the Internet and get back before sundown.
Otherwise, we spend lazy days in our little patch of trees, reading, waiting for the stove valve to arrive, observing the llamas and wild asses roaming about...
generally following a very fast and anxious pace...
We spend a week out there. By the end of it, we are sufficiently bored to get down to downright dangerous activities. I cut Ping's hair
and she trims my beard in revenge
We get back to civilisation to see a truck carrying four trucks
... to have a shower, wash our clothes and remove all the thorns from our shoes.
After decamping and riding back to San Pedro, we┤re told the village is out of water because of a pipe problem. Our regular camping site is closed due to lack of water. Great!
So we check in to an expensive (by our standards - 25 quid per night) hostel because it has running water (o, wonderful water tanks).
After spending some quality time with Judit and Cesar, and since we have now given up waiting for the stove replacement parts and have ordered a brand new stove from the USA (this time to be delivered by courier), we decide to not idle by and set off to visit the so called "Altiplanic Lakes" - Laguna Miscanti and Laguna Mi˝iques.
These lakes are 110km away from San Pedro de Atacama, at an altitude of 4300m. San Pedro is at 2500m.
Things don't start out too well - Ping feels rather unwell right by the outset
but subsequently carries on to cross the desert on day one and then reach the beautiful altiplano by day 2
The last stretch of the road to the lakes is very difficult, not the least because it is steep, quite loose and sandy
...and we have already climbed 1800 vertical meters that day, reaching 4300m of elevation!
(this is our elevation profile for the second day - we decamp at 2550m and pedal 43km up to 4300m)
We reach the entrance to the lakes reserve (marked by a rangers' hut) at the border of the two lagunas by 6pm of day 2.
At this point we are informed by the ranger that we are not allowed to camp anywhere around there and we have to go down to the valley (300 vertical meters down, the last stretch has taken us a few hours to push through...) to camp. We plead, negotiate, used the silent approach, use the "I'm just eating my cookies and stonewalling you" approach... in the end we reach an agreement. We will get a lift with the rangers' pickup truck down to the valley, where we can camp for the night, and they will give us another lift up to the lakes at 8am next morning.
Attempting to load the bikes onto the pickup truck make us realise this isn't going to work because the bikes do not fit onto the truck... so we lock them inside the ranger's hut, unload all our gear, throw it onto the truck
and are dropped off outside the limits of the national reserve, where we camp in full accordance to the letter of the law.
Phew. What a pallava.
After they drop us off my heart sinks to my proverbial boots as I realise I am beyond the point of tiredness where back home I would say "shower? nah, tomorrow" and just crash in bed, but we still have to find a camping spot, put up the tent, inflate the mattresses, put everything in the tent, get our sleeping clothes/gear out, prepare and eat food, purify water, do our teeth...
Somehow we manage to do everything. But we are quite silent. Too tired for chit-chat.
I don't sleep well at all that night - even though we are down at 4000 meters it is still quite cold, we have to get up at 6:30am to be ready to be picked up before 8am next morning and I am so tired I keep waking up with achy legs.
Next morning we are ready at 7:30 am and get a lift back up to the lakes as agreed.
We visit the lakes properly (quite pretty I have to say but without the sense of achievement of having pedalled to 4300 vertical meters I wouldn't have been too fussed)
...have a second breakfast with this view...
...then commence the 40km downhill that would take us back into the desert.

Alas, we underestimate the difficulty of the downhill - all the sandy patches we could barely pedal through (or not) on our way up are now prime traps for our wheels, making the bikes skid and swerve like crazy, making our fingers ache with constant braking.
Ping has a small spill just before getting into Socaire (the first village on the way back). Luckily she is unhurt, so we just have a proper rest break for lunch in Socaire before carrying on down the mountain, to the usual 2500 meters of the Salar de Atacama.
Ping is quite unimpressed.
...but, with a decent meal it's all alright once more.
We carry on pedalling, admiring the desert flowers that manage to flourish through grit, salt and occassionally tarmac:
Pedalling along the side of the Salar de Atacama:
We don't manage to reach San Pedro that night so we camp in our usual spot in a line of trees 25km out of the village.
We had been told by DHL that our package (the new stove from Amazon!) would be delivered the next day, so we rush into the village and accept extortion from the hostel we used for the delivery address ("but se˝or, the price 3 days ago was 8000 pesos per person" - "yeah, well today it's 10000 pesos per person, prices just went up"). Of course we are subsequently told by DHL that the package will be delivered "tomorrow".
In the meantime, out of pure habit we drop by the Post Office to say hello and ask whether we have a package from England and as usual leave them sniggering while we drag our feet out... BUT WAIT! This time, oh the surprise, they actually do have something for us. It's the spare part we had ordered 3 weeks ago.
Quelling our enthusiasm is the fact that we need to remove the old valve to install the new one, and after touring a couple of metal shops and three car mechanics it's obvious that the thing is stuck. So the stove is as good as a brick, we have the part in hand but we can't use it...
Add to that the fact that we left our shoes out of the hostel room one night and the next morning one of my shoes was gone (presumably nicked by a dog), and you can imagine my high spirits.
Here, making do with sandals since I'm left with only one real shoe.
DHL is being difficult, they keep promising delivery dates and then missing them, they don┤t appear to know how to do their job, they ask us for more money, then they say no, and are generally being a nightmare to deal with. For some reason we will probably never know they decide to delay a lot, so we realise we'll need to hang around for another week, so we move out of expensive San Pedro and into the woods, this time in a place closer to the village.
This time I get the customary double puncture while pushing the bike through a thorn field.

Once more we have time to kill so other than reading we get busy building a wind breaker / heat reflector for our stove (assuming the new one will get there someday...) using cheap disposable baking trays.
For the result in action you will have to bear with us. We need a working stove, innit!
We hibernate as per usual, waiting for so called "professionals" to do their job and deliver the new stove.
We are lucky enough to meet Martin and Marilli, bicycle travellers extraordinaire, with whom we hang out for a day or two.
As if it is not enough to hang on tenterhooks whilst DHL change the dates of the stove delivery daily, one night we check our emails and find that our previous hostel owners have found my shoe! The one-shoed-cyclist, with a short-lived life of only 3 days, returns to the closet. Just in time for us to visit Valle de la Luna with Martin and Marilli.
Oh, and the dogs.


These dogs decided to follow us as we were leaving San Pedro de Atacama. We never looked at them, winked at them, fed them or anything. They just came along for the ride (run?).
They enjoyed the cave-like passages...
and followed us for over 50km throughout our exploratory meanderings.
We get back to the village anxious to see if there has been any update on the delivery of our stove, only to find a rather cryptic message from the company DHL has offloaded our package to:
Not having lost hope for the day, we hang out in the main square, keeping a beady eye on the post office and all van traffic through the village, periodically checking the hostel as well. The reason is nobody had managed to inform us WHERE the package would be delivered to. Minor details, eh?
I see it. It's a van, and it says BlueExpress on the side. I know they have our package. I spring up from the bench and scramble. I am outside the driver's door before he's out. He's slightly taken aback, but I don't let him think twice - I say something to the effect of "GIMME MY PACKAGE NOW!" (in really bad Spanish). Amazingly, he does.
And with that, we have a stove again.
We are mobile again.
We are travellers, and not fools hanging around for an entire month in a touristy place where most people look at them with dollar signs in their eyes. (It's late and we need to pack for Bolivia. Otherwise I'd ramble on about the treatment we got from some business owners around San Pedro de Atacama...)
The world is back in balance. (Well, my country back home is in serious international turmoil but let's focus on the trip for now)
In the words of the great Peter Allen from All That Jazz - "Everything Old is New Again"
End of story. We are out of San Pedro de Atacama ASAP - i.e. tomorrow morning.
Next stop: Salar de Uyuni, Bolivia.
--
Something we┤ve been wanting to do for a while is share our reading lists. So here goes:
Alex
- 2 B R 0 2 B - Kurt Vonnegut
- The Reluctant Fundamentalist - Mohsin Hamid
- The God of Small Things - Arundhati Roy
- Various short stories by H.P. Lovecraft
- The Art of Deception - Kevin Mitnick
- The daily UK newspaper the Independent, which we got a paid subscription for and it has since been wirelessly delivered to our Kindles. Two gripes with this: One, the Kindle edition has very few pictures (and sometimes the article refers to the picture that's not there). And two, they buried a letter I sent them (you will have to scroll down for "The myth of big, fat Greek wages") complaining for the patently false claim of one of their staff (Patrick Cockburn) who had the nerve to write that the Greek crisis is happening partially due to "wages ballooning" after the country joined the Euro. Honestly.
- The Greatest Show on Earth - Richard Dawkins
- Walking - Henry David Thoreau
- The Cloud Garden - Tom Hart Dyke & Paul Winder
- Metamorphosis - Franz Kafka
- The Goulag Archipelago - Aleksandr Solzhenitsyn
- Human Error - James Reason
- Lots and lots of Wikileaks-related material
- Why I write - George Orwell
- The Design of Everyday Things - Don Norman
- Approaching Zero - Paul Mungo & Bryan Glough
- Mr Tompkins in Wonderland, Mr Tompkins Explores the Atom - George Gamow
Ping:
- Battle Hymn of the Tiger Mother by Amy Chua
- The Importance of Being Earnest, Lady Windermere┤s Fan by Oscar Wilde
- Black Beauty by Anna Sewell
- Just Patty, When Patty Went to College, Jerry Junior, Daddy-Long-Legs, Dear Enemy, The Four-Pools Mystery by Jean Webster
- My Man Jeeves, Right Ho Jeeves by PG Wodehouse
- What Katy Did, What Katy Did at School by Susan Coolidge
- Anne of Green Gables, Anne of Avonlea, Anne of the Island, Anne's House of Dreams, Rainbow Valley, Rilla of Ingleside by LM Montgomery
- A Little Princess by Frances Hodgson Burnett
- Stupid White Men by Michael Moore
- Unauthorised Autobiography by Julian Assange
- The Reluctant Fundamentalist by Mohsin Hamid
- Pride and Prejudice by Jane Austen
- Tuesdays with Morrie by Mitch Albom
- Pygmalion by George Bernard Shaw
- Once on a Time by AA Milne
- Chile - Culture Smart! by Caterina Perrone
- A Fine Balance by Rohinton Mistry
==


This work is licensed under a Creative Commons Attribution-ShareAlike 3.0 Unported License.
Enter your email address to receive updates to Alex & Ping-Yi's trip story!
Recent Entries
Archives:
Archives:
Monthly
Archives:
Category
Next HU Events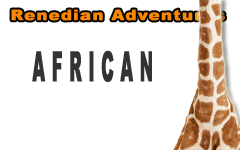 Now that summer is here, get On the Road! Take 30% off the Achievable Dream - On the Road! 2-DVD set until August 31 only.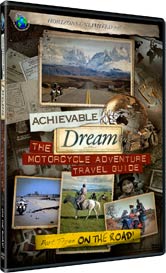 Our veteran travellers share their tips (and great stories) for staying healthy, happy and secure on your motorcycle adventure.
"A fantastic, informative and inspirational DVD."
"It's brilliant - thank you very much!"
Check it out at the HU Store! Remember to use Coupon Code 'ONTHEROAD' on your order when you checkout.
What others say about HU...
"I just wanted to say thanks for doing this and sharing so much with the rest of us." Dave, USA
"Your website is a mecca of valuable information and the DVD series is informative, entertaining, and inspiring! The new look of the website is very impressive, updated and catchy. Thank you so very much!" Jennifer, Canada
"...Great site. Keep up the good work." Murray and Carmen, Australia
"We just finished a 7 month 22,000+ mile scouting trip from Alaska to the bottom of Chile and I can't tell you how many times we referred to your site for help. From how to adjust your valves, to where to stay in the back country of Peru. Horizons Unlimited was a key player in our success. Motorcycle enthusiasts from around the world are in debt to your services." Alaska Riders

10th Annual HU Travellers Photo Contest is on now! This is an opportunity for YOU to show us your best photos and win prizes!
NEW! HU 2014 Adventure Travel T-shirts! are now available in several colors! Be the first kid on your block to have them! New lower prices on synths!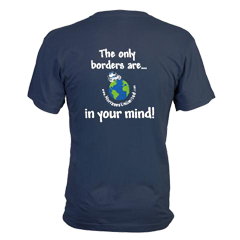 Check out the new Gildan Performance cotton-feel t-shirt - 100% poly, feels like soft cotton!

What turns you on to motorcycle travel?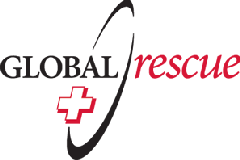 Global Rescue is the premier provider of medical, security and evacuation services worldwide and is the only company that will come to you, wherever you are, and evacuate you to your home hospital of choice. Additionally, Global Rescue places no restrictions on country of citizenship - all nationalities are eligible to sign-up!
New to Horizons Unlimited?
New to motorcycle travelling? New to the HU site? Confused? Too many options? It's really very simple - just 4 easy steps!
Horizons Unlimited was founded in 1997 by Grant and Susan Johnson following their journey around the world on a BMW R80 G/S motorcycle.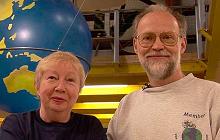 Read more about Grant & Susan's story
Membership - help keep us going!
Horizons Unlimited is not a big multi-national company, just two people who love motorcycle travel and have grown what started as a hobby in 1997 into a full time job (usually 8-10 hours per day and 7 days a week) and a labour of love. To keep it going and a roof over our heads, we run events (22 this year!); we sell inspirational and informative DVDs; we have a few selected advertisers; and we make a small amount from memberships.
You don't have to be a Member to come to an HU meeting, access the website, the HUBB or to receive the e-zine. What you get for your membership contribution is our sincere gratitude, good karma and knowing that you're helping to keep the motorcycle travel dream alive. Contributing Members and Gold Members do get additional features on the HUBB. Here's a list of all the Member benefits on the HUBB.
Books & DVDs

All the best travel books and videos listed and often reviewed on HU's famous Books page. Check it out and get great travel books from all over the world.

MC Air Shipping, (uncrated) USA / Canada / Europe and other areas. Be sure to say "Horizons Unlimited" to get your $25 discount on Shipping!
Insurance - see: For foreigners traveling in US and Canada and for Americans and Canadians traveling in other countries, then mail it to MC Express and get your HU $15 discount!
Story and photos copyright © All Rights Reserved.
Contact the author:
Editors note: We accept no responsibility for any of the above information in any way whatsoever. You are reminded to do your own research. Any commentary is strictly a personal opinion of the person supplying the information and is not to be construed as an endorsement of any kind.
Hosted by: Horizons Unlimited, the motorcycle travellers' website!
You can have your story here too - click for details!