November 24, 2011 GMT
Episode VIII: A brief jaunt into Bolivia - Part I
Can you believe it?! We actually manage to leave San Pedro de Atacama. I thought I would dry out to a crisp by the time we are able to leave. The Atacama desert is the driest desert in the world, and my skin, hair and general extreme thirst at all times is proving this to be true.
We gamely begin a new routine for this most difficult of routes - the Lagoon Route to the Salar de Uyuni in Bolivia - by getting up early and leaving town by 7am. Well, thatīs the plan. The bakers however ignore our shouts and bangs on the door until the shop front is opened by the (late!) shop assistant at 7.15am. Precious minutes wasted.
We buy 10 pieces of bread, and get out of the town with a huge sigh of relief. In my thoughts I am replaying all the pieces of advice we have been given by other cyclists in the past month - who have all cycled this same route, but from the other end. (Please excuse some paraphrasing)

"If you can do this route you can do anything (on a bicycle)." - Judit, Explore Pangea
"My butt is still traumatised from the sand and washboard road." - Judit, EP. ("Washboard" describes the horizontal ruts that the road disintegrates to, making it a bone-shattering ride for cyclists, especially those without any suspension. It looks like a washboard, hence the name.)
"But I would do it again...just not right now!!" - Judit, EP.
"Ohhh, don't worry. You will be 10kg lighter by the time you guys come back from Uyuni." - Yannick
"There are no vegetables or fruit to be found en route. You may as well forget it for two weeks." - Yannick
"I took carrots and apples....and had to eat the last apple at the border of Chile!" - Marilli

(does this count? A few raisins and cranberries, part of my dried fruit stash?)
"Ohhhh, youīll have to start getting used to powdered milk...thereīs no other way." - Judit, EP.
"You have to knock on the doors, to get attention, and also order the bread for the next day...itīs quite hard to get fresh supplies." - Judit, EP.
"You should be able to get to refill points [for water] every second day." - Martin
"You can always stop the tourist jeeps and ask for help/water." - Yannick, Martin, Cesar (EP).
"You can always stop wherever you are when you run out of energy and camp for the night." - Cesar, EP.
"The wind starts in the afternoon, it makes it a horrendous ride." - Everyone!
"Actually the wind starts at 10.30am..." - Marilli
"I would really advise you to start early [in the day]." - Yannick
"The problem with starting early is that itīs REALLY cold [at that altitude]" - Everyone
"We sleep with our water bags as pillows to prevent them from freezing." - Yannick
"We pour out water for the morning in the pan [the night before] , so even if it freezes itīs ok." - EP
"We take our insoles [of shoes] into the tent with us." When I wrinkled my nose, he added, "Itīs much more preferable to having freezing feet in the morning, I assure you!" - Martin
"We sleep with a bottle of water on the mattress between us to prevent THAT from freezing." - Marilli
"Martin just has a period every day where he swears profusely [on the route]. It passes, and everything is ok again." - Marilli
"We cycle with a cloth over our nose and mouth - it helps at high altitude because of the cold, and also increases the humidity of the air we breathe." - Cesar, EP. (Not to mention protection from the sun and wind and the dust from the jeeps)
"Cycling at high altitude means you get very short of breath very quickly, but your legs are not tired. Just keep pushing on." - Judit, EP
"If youīre going to camp on the Salar de Uyuni, youīll need to take a rock with you for the pegs." - Martin
"Be careful where you camp on the Salar - the jeeps just run all over the salar, and you could get run over in the middle of the night." - Martin
"You should definitely be able to get to the border on the first day (43km), and to the first lakes" - Marilli
Rest assured everyone, that at some point or another we made good use of every bit of the advice! This last piece of advice, ringing in my ears, make the failure of arriving at the border on the first day that much worse! Hereīs the story...

Day 1 - San Pedro to Km 31 (34km)
The first 43km out of San Pedro is uphill. Badly uphill. Tarmacīd road, but with a 2000m altitude gain. I still maintain that it was probably the worst bit of the entire two-week ride. We start in high spirits, and even make rude gestures towards San Pedro as we start to lose sight of it (we have really had enough of the place). At 11am, a huge water truck goes by - the driver is kind enough to stop and ask if we need any water. "I have plenty," he says, gesturing to the thousands of litres he has on his truck. We cheerfully decline.
The hill is relentless. Iīm sure it becomes steeper. By 4pm we are losing the will.
The water truck returns from the top, and the driver this time wonīt take no for an answer. He gives us a litre of juice, and offers sandwiches. Obviously we look like death warmed up - but it gives us renewed energy.
By 5pm we have fallen by the wayside. We have done 31 of the 43 uphill kilometres. Putting up the tent, we collapse into two untidy heaps inside. Too exhausted to talk, we need a brief shut-eye before even attempting dinner. I secretly worry that we have taken on too much and there is no way we can complete this route.

Day 2 - Km 31 to Laguna Verde (Green Lake) (32km)
We continue our new schedule of getting up at 5am to leave at 7am. There is already headwind at 7.30am. Alex is stopping every 500m. I stop every couple of hundred for a breather. We achieve our top speed - 2km/hr for the first four hours - yes, much slower than walking. A huge celebration is needed when we reach the border road at the top. I perform a little victory dance before going (thankfully) downhill towards the border.
The border guards look at us suspiciously...the passports are stamped out of Chile on the 4th November. We arrive on 6th November. One laughs when we say, cycling takes a long time, we have very heavy luggage. The other says..."It takes 12 hours to walk..."
Well. We took 15 hours. Eat that. Iīm sure itīs a different road. Some tourists tell us that we were going very fast (in that downhill bit!) and that they are very impressed. We smile enigmatically and decline to mention what hell we have been through already.
Arrival at the national park is a triumph. We see the first lake - Laguna Blanca (White Lake) - with real joy.
We have our first meal in Bolivia....and there is a little bit of salad to keep up the vitamin levels. I have already fallen over twice today. I finally get to use the king-sized medical kit that I have brought with me.
Next to Blanca is Laguna Verde, a beautiful jade green sparkling under the sun. I am amazed at the difference in colour between the two adjacent lakes.
We see flamingoes. We try not to disturb them too much as we camp at some ruins for the night. It is barely big enough for our tent.

Day 3 - Laguna Verde to Laguna Chalviri (34km)
Realising that there is an one hour time difference in Bolivia, we set our clocks accordingly. Not realising which way the time difference is, we get up at 4am by mistake and are ready to leave by 6am.
It is COLD. All my fingers become completely wooden and the pain makes me cry out sharply even whilst cycling off road. The scenery is incredible but the jeeps are annoying. The dust cloud they stir up completely engulf us even whilst we get beeped or whistled at. We get much more of this over the next few days, but I still donīt get used to having my photo taken by strangers whilst Iīm breathing heavily and struggling with the road. If I had the energy I would stick my tongue out for sure!
My head begins to hurt from all the jarring of the road. I wonder, is there a "Shaken Cyclist Syndrome?"
We surprisingly arrive at our destination by 1pm - I thought it would take much longer. As we rest inside the restaurant building, we can see tourists through the window, trying to lift up our bikes outside, to see how heavy they are. We canīt hear them, but we can see them shake their heads - in disgust??
For the record, the bikes are about 15kg, and then we carry probably 30-35kg...included in that are almost 20 litres of water. We have abandoned the huge plastic fizzy drink bottles we previously collected as we had no confidence that they would survive the off-road, and have come back to the faithful four we left London with: Squeezy, Moo, Funky and Black. Look out for them in photos of the bike!
The attraction here is the natural thermal pool, which is fantastically hot. It melts away the tension in our muscles and we watch the flamingoes from a distance.
We share the evening meal (Llama steak. Chewy.) with a French family Tresca who are travelling for a year with their fabulous Land Rover. I am deeply jealous of their "kitchen" - the entire drawer!
And equally impressed with these dedicated parents giving their children such an unforgettable experience. They carry schoolbooks with them and have a daily hour or so of "schooltime" before enjoying the rest of the day.
We pay a little money to sleep on the floor of the restaurant and to avoid the cold...
...only to find that our hostess possesses a very loud and incessant voice. Even our French friends are surprised in the morning by the amount of noise emitting from the restaurant that can be heard from inside their van even at 11.30pm. We are however not so happy. Especially when I blow my nose and they tramp loudly back through to shine a light onto our faces at some late hour. The complaining and banging of pots and pans re-start sometime after 4am. We get up at 5am to clear out of the way in time for the first tourists at 6am. These tourists unfortunately miss the best views of the day....sunset,

...and sunrise the next day.

Day 4 - Lake Chalviri to the Sol de Manaņa geysers (23km)
We wait around for two hours in the morning thinking that we will eventually be fed breakfast after the tourists leave. There is unfortunately a communication error and we have to almost beg for food. A hungry start to the day. La famille Tresca overtakes us easily, despite a three-hour head start, as we set off up the hill towards our next destination.
We meet Chris on the road, another Swiss, on a recumbent bike this time. Nearly at the end of his journey (coming the other way), he generously gives us two packets of yummy crackers (before you ask I donīt know why people keep giving us food...perhaps we are wasting away?), before leaning back on his bike and merrily goes downhill. We continue to climb up to the dizzying height of 4860m where we camp for the night.
It is only 3pm but it has already become quite cold and windy.
We dress accordingly - i.e. put on almost every item of clothing we are carrying - and celebrate our success with a hot chocolate. Afterwards we carry everything into the tent that we have been advised to...and more, to prevent problems with frozen food and malfunctioning stove in the morning.
We go for a walk and discover that the geysers here are quite active, hissing and bubbling in the mud.
The gale-force winds try to disperse the steam as soon as they come up from the ground, but even they are unsuccessful. The colours of the soil range from red to yellow to green to white, with all the minerals that this rich soil contains.
We are much more impressed by these geysers than the El Tatio geysers that we joined the tour to see back in Chile.

Day 5 - Sol de Manaņa to Laguna Colorada (Red Lake) (36km)
Tea AND porridge for breakfast. We are prepared for a chilly start to the day at 5am. Impressively tourists are already being ferried about at 5.30am and the stream of visitors do not stop. Despite studying the road descriptions and maps daily I forget that there are two hard kilometres to do first thing. I slog away and mutter furiously to myself. (There is a comprehensive description of the route by previous cycle tourers. It would appear that cycle touring is not quite as bonkers as I think it is, and that there are numerous people in the world who do it....especially coming all the way down from Alaska. Surely that IS bonkers??) The road bang the bikes so hard that our panniers constantly bounce out of place and we have to put them back in.
A beautiful 20-odd km of not-too-bad downhill later, we reach the horrible 16km of "mostly pushing" (says the description) around the astonishingly red Laguna Colorada, with its many, many flamingoes.
The lake is a jewel - beautifully deep red with streaks of white. The road is in stark contrast to the beauty around us.
I angrily push, pull, lift, readjust my poor bike through the chaos of sand, washboard and ruts. If only I can stay in a straight line for more than 5 metres, then I wouldnīt get thrown off-course by a rock to my left, another to the right, a nudge into the sand, and a stand-still as the bike gets stuck deep. Again. ARGH! I wish I could ride like athletes in a cyclodrome at an angle, I can then stay on the edge of the washboard and not fall in.
The wind has been blowing on and off all morning (mostly on...) and we are glad to reach finally a Refugio - accommodation by the laguna. As we unload the bikes we see 5 other cycle tourers coming in the opposite direction. They say a quick hello, have some lunch, and are gone to continue on their journey. Thatīs dedication for you. The wind by this point is so strong that I find it difficult to walk, let alone cycle in that horrible bit I am glad to have left behind. We fight the wind to walk up to the viewpoint. Spectacular!
We stock up on chocolates, cookies (as Iīm coming to realise, an essential foodgroup for any cycle tourer), eggs, (stale) bread and petrol for the stove at the shop and collapse into bed after pasta and sauce for dinner from the Refugio.

Day 6 - Laguna Colorada to the "rocky outcrops" (36km)
An easy morning with little to complain about.
We visit the Arbol de Piedra - Tree of Stone carved out by the sandy wind in these parts. I still think the "Queenīs head" that we have on a beach in Taiwan is more impressive!
We reach the "rocky outcrops" described by previous cyclists and follow some cycle tracks to them.
By now the wind is in earnest. We spend the best part of two hours trying out camping spots, eventually settling on the first one we tried. Our tent is just huge and does not fit very well in small spots. The supposed "windbreak" that these rocks are meant to provide is non-existent. We struggle heroically and manage to eat only half a kilo of sand in the process. The tent flaps alarmingly and I sit inside hoping that I wonīt take off with the fabric. By now the tent zips are also playing up and we spend at least half an hour a day trying to shut the tent. Itīs now at the stage that we only close the tent behind us just before going to sleep, and once in we are trapped, unable to get out until morning. I become hysterical, crying with laughter as I sit in the gale-force wind, avoiding the flapping edges of the tent (canīt shut it yet, not time to go to bed. Well, canīt shut it anyway!), contemplating our woes - our water filter drips all over the interior of the tent, Alexīs mattress self-deflate during the night, and Alex has just managed to spill water all over his trousers. Youīve gotta laugh...

Day 7 - "Rocky outcrops" to Laguna Hediona (44km)
We picked up another tip from the Trescas - use the emergency space blanket at night for the cold! Hooray! Dim that we are, we have saved it for "emergencies"...Alex finally wakes up in the morning (4.30am) and does not complain of the cold. The feet end of the sleeping bag however, has evidence of how cold it is. It has iced over. We leave it in the sun to defrost whilst we have breakfast.
The plan today is to pedal like crazy until the Ecolodge 45km away. From previous descriptions it is going to be a long and hard day. Within the first ten minutes we come upon a much better campsite than the one we had last night. Humph! The road deteriorates further...
If you were close by you would think that I was singing to myself as I emit little cries of "Ah!", "Oh!", "Eeeek!", "Woo!"...and a few others whilst bouncing from one unexpected rock to another. I quickly realise that I am fed up and knackered with trying to pedal the sandy uphill, falling off the bike within the minute.
I hop off the beast to start pushing. Much easier, but still hard work. Alex also discreetly pushes whilst Iīm not looking.
Three hours later I am grateful to get to some downhill! Another record broken - it took us 3 hours to do 7km.
We say hello to another Swiss biking couple heading the other way. We exchange information about the hellishness of the most recent roads and carry on. I see lots of cycle tracks and feel happy that we are going where others have been before. Going the other way means that their uphill is our downhill, and a huge section where we have been warned would involve a lot of pushing we just whizzed through. Hooray!
We reach the five consecutive lakes. The road has changed and now itīs rocks we have to contend with. We have lunch hiding behind a sign for shelter from the wind and sun. Tailwind for a change - Hooray again!
This is our standard lunch. Bread (stale) and boiled egg (from a few days ago, when we have any left). I am not impressed, but valiantly continue to shove the food into my mouth. For the calories only, you understand.
Finally we reach the Ecolodge los Flamingos and a young boy left in charge tries to sell us a room for 100 US dollars. I actually laugh in his face. Rude, but I canīt help it. We had heard that there are rooms for 20 US dollars? Oh maybe, but we need to wait for the owner to return. Or we are offered to camp in the extension that they are building for free. We say yes, and hereīs where we spend the night, amongst the bags of cement!
In our joy we neglect to pay close attention to the cooking. Our cutlery (spork) becomes more of a "sp-wave", as it melts in our cooking pot.

Day 8 - Laguna Hediona to abandoned ruins near Salar de Chiguana (60km)
We order breakfast just as comfortably as if we are staying in the Ecolodge itself and are off. This laguna has hundreds of flamingoes. We see the young flamingoes starting to turn from grey to a startling pink. A beautiful colour.
I enjoy the sight for a few moments and turn my attention back to the road. It is especially horrible today and I fly from the bike quite a few times...
We continue to climb in the worst conditions, and my mood becomes blacker and blacker. Completely selfishly I am getting utterly fed up with this. But also how can the government let its people (and scores of tourists) continue on these roads? Probably a hundred jeeps are on this road every single day. Is it not worth a little investment to improve the road? It is so unsafe for everyone and also drivers keep seeking out new tracks to see if they are more drivable, ruining the environment.
Make it a toll road to keep an income for maintenance if needs be, but...just do it!! I couldnīt even enjoy the downhill because it was just too dangerous.
Eventually we reach the smooth International Road (going from Bolivia to Chile) where we breathe a sigh of relief.
The winds pick up again and we wobble pass three massive trucks on the wrong side (but at least rideable side) of the road. All three are kind enough to slow to an almost stop to prevent the dust cloud from completely engulfing us. We get to the Salar de Chiguana and a fantastic "road". I almost dribble in my ecstasy at the smooth, flat ride...

Day 9 - Salar de Chiguana to San Pedro de Quemes (64km)
We fly through the rest of the Salar de Chiguana...
and finally arrive at San Pedro de Quemes. Not where most other cyclists go through, but we had exclusive information from Explore Pangea (and their GPS tracks!). We arrive at a hotel that they stayed at ...
- not that we would have known itīs a hotel. Nothing in San Pedro de Quemes is marked. No signs for hotel, shops, bakery, museum, internet cafe. Nada. People are very friendly though, and will tell you, "yes, shop, turn right from here itīs the green door with the red car outside. Just knock."
We knock and nothing happens. Meandering through an open side door reveals the family having an afternoon siesta. The lady of the house gets up and opens the shop for us. There is little to buy, but we make a valiant effort. By the end of the afternoon this is what we have amassed...
Note the lack of fruit and veg. Apparently that is only available in the town of Uyuni. Another couple of days of riding away.

Day 10 - rest day in San Pedro de Quemes
We chat to some other guests - who are drivers for the tourists. Their charges are up on the hill in the posh hotel, staying at 100 US dollars a night. We figure it is the neat roundness of the number that makes it so attractive. Our room cost us five whole British pounds for the night. Like true bargain hunters, we love it. So we stay another day, resting and reading. We eat all our meals at the hotel. Silly cheap, and quite tasty. A lot of llama meat! Itīs obvious that the owners have just cooked a little extra and given us food from their own meals.
Everything takes its (Latin American) time. We find the museum. Itīs not open. "Mas tarde (much later)", we are told. A bakery for bread - none at the moment, but yes, "Mas tarde". For some reason the electricity is not quite working at the internet cafe, youīve guessed it, "Mas tarde". Most of these "Mas tarde" promises are kept, and we spend a pleasant day wandering from place to place inbetween snoozing and reading. We must somehow stand out amongst the tourists - we are tracked down back at the hotel by a shop owner who has suddenly been taken ill and cannot therefore cook for our dinner that night, and also the baker once the fresh bread is ready. Alex gets mega-excited as he realises that this town does not yet exist in OpenStreetMap, the free downloadable map system that we have been using on our journeys. Out comes the GPS as we start to note down the roads and shops. He is next to me now uploading all the information that we gathered for San Pedro de Quemes for the next lucky people to make use of.
We are still a little way away from our final destination of the Salar de Uyuni. We go to bed early so that we can have a full day of cycling tomorrow.
More in the next installment!
==


This work is licensed under a Creative Commons Attribution-ShareAlike 3.0 Unported License.

Posted by Ping-Yi at November 24, 2011 05:42 PM GMT

Enter your email address to receive updates to Alex & Ping-Yi's trip story!
Recent Entries
Archives:
Archives:
Monthly
Archives:
Category
Now that summer is here, get On the Road! Take 30% off the Achievable Dream - On the Road! 2-DVD set until August 31 only.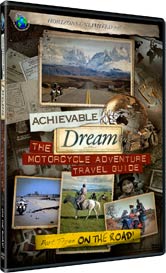 Our veteran travellers share their tips (and great stories) for staying healthy, happy and secure on your motorcycle adventure.
"A fantastic, informative and inspirational DVD."
"It's brilliant - thank you very much!"
Check it out at the HU Store! Remember to use Coupon Code 'ONTHEROAD' on your order when you checkout.
Next HU Events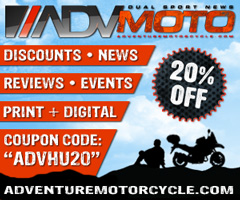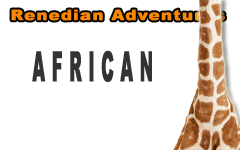 What others say about HU...
"I just wanted to say thanks for doing this and sharing so much with the rest of us." Dave, USA
"Your website is a mecca of valuable information and the DVD series is informative, entertaining, and inspiring! The new look of the website is very impressive, updated and catchy. Thank you so very much!" Jennifer, Canada
"...Great site. Keep up the good work." Murray and Carmen, Australia
"We just finished a 7 month 22,000+ mile scouting trip from Alaska to the bottom of Chile and I can't tell you how many times we referred to your site for help. From how to adjust your valves, to where to stay in the back country of Peru. Horizons Unlimited was a key player in our success. Motorcycle enthusiasts from around the world are in debt to your services." Alaska Riders

10th Annual HU Travellers Photo Contest is on now! This is an opportunity for YOU to show us your best photos and win prizes!
NEW! HU 2014 Adventure Travel T-shirts! are now available in several colors! Be the first kid on your block to have them! New lower prices on synths!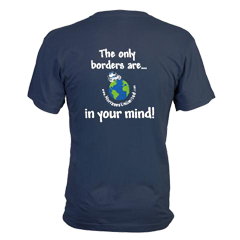 Check out the new Gildan Performance cotton-feel t-shirt - 100% poly, feels like soft cotton!

What turns you on to motorcycle travel?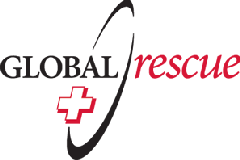 Global Rescue is the premier provider of medical, security and evacuation services worldwide and is the only company that will come to you, wherever you are, and evacuate you to your home hospital of choice. Additionally, Global Rescue places no restrictions on country of citizenship - all nationalities are eligible to sign-up!
New to Horizons Unlimited?
New to motorcycle travelling? New to the HU site? Confused? Too many options? It's really very simple - just 4 easy steps!
Horizons Unlimited was founded in 1997 by Grant and Susan Johnson following their journey around the world on a BMW R80 G/S motorcycle.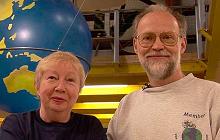 Read more about Grant & Susan's story
Membership - help keep us going!
Horizons Unlimited is not a big multi-national company, just two people who love motorcycle travel and have grown what started as a hobby in 1997 into a full time job (usually 8-10 hours per day and 7 days a week) and a labour of love. To keep it going and a roof over our heads, we run events (22 this year!); we sell inspirational and informative DVDs; we have a few selected advertisers; and we make a small amount from memberships.
You don't have to be a Member to come to an HU meeting, access the website, the HUBB or to receive the e-zine. What you get for your membership contribution is our sincere gratitude, good karma and knowing that you're helping to keep the motorcycle travel dream alive. Contributing Members and Gold Members do get additional features on the HUBB. Here's a list of all the Member benefits on the HUBB.
Books & DVDs

All the best travel books and videos listed and often reviewed on HU's famous Books page. Check it out and get great travel books from all over the world.

MC Air Shipping, (uncrated) USA / Canada / Europe and other areas. Be sure to say "Horizons Unlimited" to get your $25 discount on Shipping!
Insurance - see: For foreigners traveling in US and Canada and for Americans and Canadians traveling in other countries, then mail it to MC Express and get your HU $15 discount!
Story and photos copyright © All Rights Reserved.
Contact the author:
Editors note: We accept no responsibility for any of the above information in any way whatsoever. You are reminded to do your own research. Any commentary is strictly a personal opinion of the person supplying the information and is not to be construed as an endorsement of any kind.
Hosted by: Horizons Unlimited, the motorcycle travellers' website!
You can have your story here too - click for details!