January 19, 2006 GMT
December 21st-25th, 2005

Slow ride up to Auckland, still babying the ankle and knee. First day of riding up to Palmerston North, nothing special just some nice New Zealand riding. From there up to Tauranga, about 250 Kilometers, one of the main attractions (besides the beautiful landscape) in the central north island is all the hot springs or ďboiling mudĒ as they call it here. I didnít get to see any up close to much of a walk but I could see the steam and you can sure smell the sulfur. From Tauranga up into Auckland, no big plans for Christmas ( I know this shocks those that know me) some say Iím the original Grinch, I donít think so. Spent all day on the 24th cleaning the bike, not only did it need it bad (remember it rains every day here) but I have some major concerns about the Agriculture Department over in Australia, I have been told they can be a real PITA (Pain In The Ass) when it comes to trying to bring a vehicle, especially a motorcycle into their country. Didnít do as good as job as my buddy Jeff in cleaning it, but was pretty confident (not really) that it would pass their inspection. Not very easy cleaning the bike on a bum leg, iced it all night but still pretty sore. Got up on the 25th, oh yea Merry Christmas! It looked like it was going to rain later so first thing I rode it to the airport to ship it to Australia. The people at Air New Zealand Cargo were great; the charge was $1,265 New Zealand to ship the bike that including $190 in various taxes and charges, (dangerous goods tax, fuel tax, etc) I had to make sure there was little gas in (this was the first place they actually checked) but didnít have me disconnect the battery, I donít know if someone messed up or what but I wasnít complaining and sure in the hell didnít ask! Another thing they did was took the bike with-out being crated, they said they would just put it on a pallet thus saving me any fumigation charges for the crate and to pay someone to get rid of the crate. The only ďbend over and get readyĒ I had in shipping the bike was being it was Christmas day they had to call out a Dangerous Goods TransporterĒ for the tune of $250. I knew this was going to happen the timing of shipping the biked was a bad call on my behalf. The 24th was a Saturday, so bring it in after it was clean would have cost me the same, and they only worked Ĺ day on the 23rd so I was kind of stuck. I donít mind paying the extra money(cough bull shit) but all he did was asked me to spell my name, typed it in the computer, typed in 1 motorcycle, hit print and was done, oh yes lets not forget he gave me two dangerous good stickers to place on the bike. All in all it went very smooth, I did have to walk over to the airport and find a customs guy to stamp my carnet, but that was no problem. I highly recommend Air New Zealand cargo for any one shipping their bike.
It was hard to get into the Christmas spirit; I didnít see one house with outside decorations nor did I see and Christmas trees in windows, and very little decorations downtown. They also prefer Happy Christmas over Merry Christmas.
December 26th, 2005
Ok I just noticed my margins are all fubared, if any one knows what I did or how to correct it please e-mail, if not I will just tell Pattie that they are all new paragraphs for her.
What a surprise raining today, glad I dropped the bike off yesterday, my plan was to ride it here early in the morning, (still would have had to pay the extra dangerous goods dude) and fly in the afternoon, as it turned out the airlines needed the bike 24 hours before shipping so I got lucky again. I paid my $25 get out of New Zealand tax and jumped on the plane. Flight over to Australia went fine (I flew on my now favorite airlines Qantas). The first thing I do when I got here was call on the bike; well wouldnít you knowÖ it was here! WHOOOOOOHOOOOOO, so I was here the bike was here guess what the only thing missing was? The Customs and Agriculture guys. They have a holiday called Boxing Day on the 26th (still havenít figured out what that is) any way Customs and Agriculture had the 26th off and because Christmas was over the weekend they also had the 27th and 28th off. SOOOOOOO Iím here, the bikes here, still canít get it, bummer, one of the customs guys gave me a phone number to call to see if there would be a skeleton crew on the 27th. Getting into Australia was a breeze, I had applied for my VISA on line and took less then 3 minutes from the time I had my bags to the time I was outside. Now Iím in Sydney for the next few days with out my bike. Took a bus to my Hostel, the only one I could find a month ago on line, talk about a shit hole,(I had better places to stay In 3rd world counties) oh well stuck there for a week( had to book a week) so might as well make the best of it. I called customs and found out that they were going to have a small crew working on the 27th, looks like it wonít be so bad, but Iím still sweating the Agriculture people.
The weather is pretty hot right now in Sydney in the high 90ís today, but the important partÖ.no rain! My hostel is on Darlinghurst Street, in an area called Kings Cross, for the ďGĒ version letís just say itís pretty colorful with establishment with names such as PORKYS, PLAYBIRDS AND MOULIN ROUGE and the ďworking girlsĒ by the looks of them, most have been working for a long hard ruff time, sure makes some great people watching! Donít get me wrong, Kings Cross has some very nice places and is a huge ďplace to goĒ when in Sydney, known for some great pubs, itís just not somewhere you would want to take the family for a walk after dark, its safe but the kids would get an eye full.
December 27th, 2005

Took the bus to the airport, the so called Skeleton crew was there but the guy to stamp the carnet wasnít, wasted trip to the airport. Ankle and knee is getting better by the day, just a bad sprain for the ankle but for any one that has sprained their ankle, its better sometimes just to break it. I donít think I tore any thing in the knee either, still taking it easy and not walking too much. Back to Kings Cross and do some more people watching. I do have a balcony overlooking Darlinghurst St., so I see it all.
December 28th, 2005
Picked up the bike today, Customs came out inspected it and stamped my Carnet, and then it was time to face the Agriculture people. The cost of the inspection is $82 Australian (the exchange rate is about $.75USC for one Australian dollar). Next I was told I would have to find a way to take it Ĺ block to have it inspected that they could not inspect anything over 250 kilos at Qantas. (Air New Zealand shipped it to Qantas) When I asked how I was to get it there the lady said I couldnít drive it or push it, that I have to put it in a truck or on a trailer. This sucks! After paying the $82 and getting the inspection paperwork, I went back over to Qantas and talked to the Agriculture inspection guys on site, after a short talk one of them said he would inspect it here. I kept my fingers crossed as he inspected the bike, he looked under the wheel wells, under the frame and under all the bags, he was impressed how clean it was, and stamped my inspection sheet passed! I had to pay Qantas $33 Import Document Fee plus $123.75 International Terminal fee(this was because the bike was over 45 kilos) I didnít have to connect the battery and didnít let the door hit me in the ass on the way out, such a feeling of freedom when you ride your bike away from an airport. I went for a ride to the Sydney Olympic village, wish I wouldíve had a camera for this, was pretty cool, I have to remember to keep the small camera with me(how many times do you think Iíve said this?)
December 29th, 2005
Easy day today, took a ride out to the Blue Mountains, would have liked to hike some of the trails but just not up to it yet. They are called the Blue Mountains because of the oily mist given off by the eucalyptus trees), because of all the eucalyptus trees I kept my eyes peeled for koala bears, didnít see any! It was a nice ride I know Iím going to enjoy Australia. Ankle is about 80 %, knee is up to 50%, and Iím thinking about having acupuncture in the morning, there are a few places up and down Darlinghurst.
December 30th, 2005
Hot today, just took a ride to Bondi beach today, itís a cool beach with some pretty good size waves they recommended no swimming, I just walked in to cool off, walking in the sand didnít help the leg any. Rode over to the Sydney opera house and The Stones looking for the best place for tomorrow night. I was thinking of taking one of the tour boats out, didnít, and should have, damn. Oh almost forgot, chicken out from the Acupuncture, not afraid of the needles, just donít know enough about it! Back to the Den of inequity and people watching.
December 31st, 2005
Got an early start jumped on the train and headed for the Opera house. Got the spot I wanted, laid out my blanket and prepared myself for an interesting day. I know some of you are wondering what time I got there but Iím not going to tell you, (hell with it 10 am, and there were already a lot of people set up). The day went by pretty fast; we had a nice little group and took turns watching over each others stuff while we took turns walking around, eating etc. We had a local guy in his seventies ask us if he could join us, of course we said yes, oh god he never shut up, he had to be the most talkative person I had ever met (would even out talk you Frank) I did get some good tips from him but I think I will double check them before I follow up on them. They have two New Year countdowns here, one at 9 so all the kids can have a countdown for the New Year and not have to stay up until midnight, the countdown is followed by an impressive fireworks show, then 100ís of boats run up and down the bay all decked out in lights. This yearís theme was a red heart, so all the boats had red hearts in lights on them. How can you describe the fireworks show they put on at midnight, impressive, unbelievable, spectacular words just canít do it justice, you just have to see it to believe it. The fireworks show off the Sydney harbor bridge is the best I have ever seen, that alone was worth the day of waiting. I just hope some of the pictures I took turn out. After the show I made pretty good time out of that madhouse, on the train and home by 1.
January 1, 2006
Happy New Year, may this New Year find every one following your dreams. I was going to head south today but Sydney just had their second hottest day on record 45 C that about 118 degrees F (I think) too hot to do any thing so I updated this. Hope it didnít shock too many people to have an update so fast, again Happy New Year! I donít think I have talked about it yet but Iím sure every one knows they drive on the left in New Zealand and Australia. I was really surprised I didnít have that hard of a time changing over, I have to think about it coming out of gas stations, but really havenít screwed up that much, where I have a hard time is when Iím walking. Iíve almost stepped in front of several cars. Now Iím like a 5 year old, look right look left, look right, look left then walk, hey I sound like that guy so long ago at the railroad tracks! There was this one time in New Zealand, I was passing a car on the right when I looked over all I could see was this huge dog sitting in the left ďdriversĒ seat Iím sure I did a double take before I remembered where I was

January 2, 2006
Rained last night cooled things off nicely, still a little rain around but Iím use to that. Headed south taking all back roads, took a detour and checked out Yenngo National Park. Made it to Batemans Bay, called it a day
January 3, 2006
What a nice day for a ride, nothing but blue sunny sky, with a temperature around 80, the only thing that kept it from being a great day of riding was the wind, you guys already know how I feel about wind. Stayed on Princes Highway 1, itís a nice ride because it goes from the coastal riding to rain forest back to coastal riding. I saw my first kangaroo today, from what Iím told I will see those like we see deer back home. I was also told not to drive at night because of all the night animals. Called it a night in a town called Lakes Entrance, a nice small fishing village.
January 4th, 2006
Had the best day of riding in Australia today, my destination was the town of Cowes on Phillip Island. Took me 10 hours to go about 300 kilometers. I stopped in every small town sat down and talked to the locals. These Australians love to talk. One of the towns I stopped in was right out of a Norman Rockwell town, the whole town was out walking around with their kids, the parks and playgrounds were full of people, every one knew every one, the town reminded me of the town I grew up in. At night I went to watch the Penguin parade, every night 100ís of small penguins come out of water and waddle up the beach into the grass where they have their burrows. They are great to watch, you can see them gather at the waters edge until they think they have enough to make it to the grass then waddle like hell. This one group was going like hell when one in the middle tripped and fell, all the ones behind him tripped over it; they looked like the keystone cop tripping over each other. What we were told was that they go out for 3-4 days at a time getting fish then they come out and feed their young. So each night was a new batch of penguins.
January 5th, 2006
Made it to Melbourne today, tired to make an appointment to get some service done on the bike but they were full for the next 4 weeks, they called the Harley dealer in Dandenong and made an appointment on the 12th for me, other then that it was an easy day, the only other thing I did was book a space on the ferry to Tasmania on Friday.
January 6th-11th, 2006
The trip over to Tasmania took 9 hours, not a bad trip there was enough to do on the ferry to make the time go by fast. I can tell already I messed up when I made my appointment to have my Harley worked on next week Itís going to take more time then that to see the island, I will try my best! We got in at 630 PM that left plenty of time to get the trip started. I headed east and made it to George Town the first night. Tasmania is a lot like New Zealand going to be some great riding. I decided that I wasnít going to just rush past everything I was going to see as much as I could but what I did see I was going to see it all. I could always come back if I want to see more. I also decided that I was going to take as many back roads as I could even if they were gravel or unsealed as they call them over here. Using back roads and sticking to the coast as much as I could I make it as far as St. Helens the first day. Next day was pretty much the same, the people are great, and the scenery is unbelievable. The weather really wasnít being my best friend, the threat of rain and low clouds kept me from seeing the best that Wineglass bay had to offer but I was still in awe with its beauty, camped on the beach outside of Tribunna. Port Arthur has some interesting history, back in the early 1800ís it was a prison with pretty much the whole town was built by convict labor. They also had the worst mass murder here in 96, a loony toon killed 35, which was the major reason for Australiaís tough gun laws, I forgot to tell you Tasmania is considered a state of Australia. Spent the night in Hobart the largest city in Tasmania , Iím not really a big city person, did a little walking around, I can go about a mile or so before my knee starts to hurt, ankle only bothers me in the morning. Got up early to see Mt. Wellington but only made it half way up, the top was covered in clouds and I wouldnít have been able to see any thing. Rode to Southport as far south as I could go, then headed back north. Rode out to the Gordon Dam in the middle of the Southwest National Park then up and over to Zeeham. Last day in Tasmania I headed to Stanley as but it started to rain pretty hard so it just wasnít worth it, got into Devonport and waited for the 9PM ferry, slept the whole way back to the main land. I had an funny thing happen while I was riding north of Zeeham, it was kind of deserted area with trees along side the road, a bird flew down in front of me and stayed at eye level just barley keeping in front of me, it was almost like he was racing me, he stayed there for about a ľ mile and only turned off once I added a little throttle. I started to laugh inside I can just picture him going back to his friends high winging them saying something like ďdid you see thatĒ or ďtry to beat thatĒ just like those squirrels in that one insurance commercial.
January 12th, 2006
Got the bike to the Harley shop by 830AM Picked it up at 5, two new tires and 25000 miles service (just a little late I have 27000 miles on it). Spent the night in Melbourne, going to start heading west in the morning.
January 13th Ė 19th, 2006
I know its probably boring reading for you but I really enjoy this slow pace, taking 6-10 hours riding 200-300 kilometers each day. I get to see everything and sometimes I find a great location and sit there and just watch Mother Nature at her finest. I just finished up with riding the Great Ocean Road; it runs from Torquay to Warrnabool. Like so much of New Zealand and Tasmania, words can not describe this breathtaking ride. You go from spectacular coastal twist and turns to the ďOh WowísĒ of he lush green scenery. About the only thing that sucked about it were the flies, I have never seen flies so bad not even when I lived on the pig farm! You learn to do the ďAustralian WaveĒ. They fly right up into your face and under your glasses, drove me nuts, I didnít think any thing would be as bad as the nats in New Zealand but I was wrong. I smile every time I saw one die on my windshield, how bad is that? I did find a golf course in Anglesea that was loaded with kangaroos; I spent a few hours watching them and giving the golfers a hard time. There was one foursome that came by playing the course from trees to ruff back into the trees. (I can relate) As they walked by I made the comment ďI donít know how they play golf in Australia but in the States we like to play between the trees not in them. They gave me that Ausie ďfuck youĒ look (its not a bad thing, they give it a lot) and said ďis that so, why donít you show usĒ For those that golfed with me know what a joke that would be, I donít look at a golf course thinking how many strokes its going to take but how many balls Iím going to lose. I figured it was my big mouth that got me into it might as well go for it, as I was walking up to the tee (limping) I was already thinking of excuses, my knee, my ankle, not having my clubs etc . Well they were not needed! Iím sure I made the best golf shot of my life about 275 yards with a slight fade right in the middle of the fairway; I just dropped the club and walked away without saying a word. Limping off the tee but this time for real, that hurt like hell, think I will learn to keep my mouth shut? I donít either!
The next day I went looking for (and found) Koalas, they looked stoned. The reason for this is because Koalas are the only living creature that has brains that donít fit their head; their brain is the size of a walnut. From what I read the reason for this is because the gum leaves they eat take up so much energy to digest that they energy had to come from somewhere and since they live in the tops of trees and have very few predators the extra needed energy came from the brain and over time just shrunk. I spent one night in the town Port Fairy. Whatís cool about this town is it has a large (90,000) population of a bird called skipwaters. They only come to land 3 months a year to breed, they rest of the time they are out to sea following food, and they get as far north as Alaska. When they need to rest they land on the ocean and form a huge bird island. While on land they go out in the morning hunting food, they come in right after sunset to feed their young, it was a sight to see all these birds come in, you see one or two come in then the next thing itís like a scene from the movie ďThe BirdsĒ, whatís funny is they spend so much time out to sea they really donít have very good land legs, it made for some interesting landing.
Spending a few days in Adelaid, in a few days I will be heading west into the Nullarbor Plains, this is the first real ďtasteĒ of the outback and bleakness. I have to plan my water and fuel stops, well really not to much planning involved; you see gas or water you get gas and water, even if only 25 miles passed since the last time you got fuel. I can carry up to 2 Ĺ gallons of gas and I can carry water, one of the plans Iím thinking of is to hang around a fuel stop and when I see a truck heading west ask him if would carry 5 gallons of fuel for me, guess I will play it by ear. What I do have to plan is the night stops; I will not ride at night so I will have to pay close attention to how far the next stop is. As they say down here ďno worriesĒ

Enter your email address to receive updates to Craig Hutson's trip story!
Recent Entries
Archives:
Archives:
Monthly
Archives:
Category
NEW! HU 2015 Motorcycle Adventure Travel Calendar is now available! Get your copy now for some terrific travel inspiration!
HUGE, 11.5 x 16.5 inches, beautifully printed in Germany on top quality stock! Photos are the winning images from over 600 entries in the 9th Annual HU Photo Contest!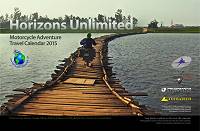 "The calendar is magnificent!"
"I just wanted to say how much I'm loving the new, larger calendar!"
We share the profit with the winning photographers. YOU could be in the HU Calendar too - enter here!
Next HU Events
NEW!

USA Virginia: Apr 9-12, 2015
Canada West: Aug 20-23, 2015
USA California: Sep 24-27, 2015
Aus Queensland: Sep 24-27, 2015
USA North Carolina: Oct 8-11, 2015
Aus Perth: Oct 9-11, 2015
Take 40% off Road Heroes Part 1 until October 31 only!
Road Heroes features tales of adventure, joy and sheer terror by veteran travellers Peter and Kay Forwood (193 countries two-up on a Harley); Dr. Greg Frazier (5 times RTW); Tiffany Coates (RTW solo female); and Rene Cormier (University of Gravel Roads).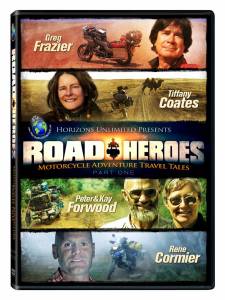 "Inspiring and hilarious!"
"I loved watching this DVD!"
"Lots of amazing stories and even more amazing photographs, it's great fun and very inspirational."
"Wonderful entertainment!"
Check it out at the HU Store! Remember to use Coupon Code 'HEROES' on your order when you checkout.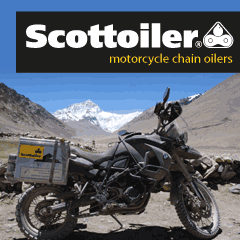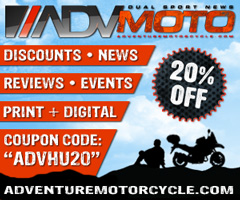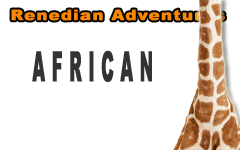 What others say about HU...
"I just wanted to say thanks for doing this and sharing so much with the rest of us." Dave, USA
"Your website is a mecca of valuable information and the DVD series is informative, entertaining, and inspiring! The new look of the website is very impressive, updated and catchy. Thank you so very much!" Jennifer, Canada
"...Great site. Keep up the good work." Murray and Carmen, Australia
"We just finished a 7 month 22,000+ mile scouting trip from Alaska to the bottom of Chile and I can't tell you how many times we referred to your site for help. From how to adjust your valves, to where to stay in the back country of Peru. Horizons Unlimited was a key player in our success. Motorcycle enthusiasts from around the world are in debt to your services." Alaska Riders

10th Annual HU Travellers Photo Contest is on now! This is an opportunity for YOU to show us your best photos and win prizes!
NEW! HU 2014 Adventure Travel T-shirts! are now available in several colors! Be the first kid on your block to have them! New lower prices on synths!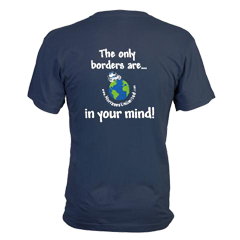 Check out the new Gildan Performance cotton-feel t-shirt - 100% poly, feels like soft cotton!

What turns you on to motorcycle travel?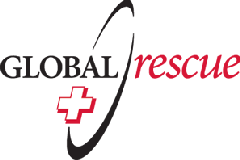 Global Rescue is the premier provider of medical, security and evacuation services worldwide and is the only company that will come to you, wherever you are, and evacuate you to your home hospital of choice. Additionally, Global Rescue places no restrictions on country of citizenship - all nationalities are eligible to sign-up!
New to Horizons Unlimited?
New to motorcycle travelling? New to the HU site? Confused? Too many options? It's really very simple - just 4 easy steps!
Horizons Unlimited was founded in 1997 by Grant and Susan Johnson following their journey around the world on a BMW R80 G/S motorcycle.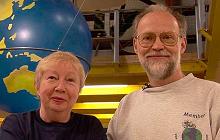 Read more about Grant & Susan's story
Membership - help keep us going!
Horizons Unlimited is not a big multi-national company, just two people who love motorcycle travel and have grown what started as a hobby in 1997 into a full time job (usually 8-10 hours per day and 7 days a week) and a labour of love. To keep it going and a roof over our heads, we run events (22 this year!); we sell inspirational and informative DVDs; we have a few selected advertisers; and we make a small amount from memberships.
You don't have to be a Member to come to an HU meeting, access the website, the HUBB or to receive the e-zine. What you get for your membership contribution is our sincere gratitude, good karma and knowing that you're helping to keep the motorcycle travel dream alive. Contributing Members and Gold Members do get additional features on the HUBB. Here's a list of all the Member benefits on the HUBB.
Books & DVDs

All the best travel books and videos listed and often reviewed on HU's famous Books page. Check it out and get great travel books from all over the world.

MC Air Shipping, (uncrated) USA / Canada / Europe and other areas. Be sure to say "Horizons Unlimited" to get your $25 discount on Shipping!
Insurance - see: For foreigners traveling in US and Canada and for Americans and Canadians traveling in other countries, then mail it to MC Express and get your HU $15 discount!
Story and photos copyright © All Rights Reserved.
Contact the author:
Editors note: We accept no responsibility for any of the above information in any way whatsoever. You are reminded to do your own research. Any commentary is strictly a personal opinion of the person supplying the information and is not to be construed as an endorsement of any kind.
Hosted by: Horizons Unlimited, the motorcycle travellers' website!
You can have your story here too - click for details!