November 08, 2005 GMT
Took the bike in first thing in the morning, it will be ready at 7PM on the 26th, talking to the guys at the dealership I find out there is a Southern Regional Hog Rally starting on the 27th and going until Sunday the 30th. Guess what Iím doing? Signed up for it the cost was 200 bucks I thought that was sort of high but it did include all meals and hotel rooms for 3 nights. Iím going to spend 2 days looking around Santiago, but it is going to be hard, I wonít have any wheels, so itís either walk or taxi. Just to let you know I walked about 10 miles, biker boots sure are not made for walking, I was sure I packed some gym shoes but I didnít, going to have to pick some up. Picked the bike up at 7, sure is nice to have some tread on the rear tire I feel much safer now. I met some of the guys going on the run and one of them remembered that Argentina just pasted an insurance law about 4 months ago so I am going to have to get some first thing in the morning too bad I was going to ride over the Andes with the group but the insurance place doesnít open up until 9 and they are leaving at 8 I hope to catch up with them at the border, they offered to wait but they also are meeting up with a bunch of guys on the way and I donít want to hold them up Iím sure I will find them.

October 27th, 2005
Got the insurance no problem only ran about 20 bucks. The ride over the Andes was breathtaking! I think I got some good pictures, Iím glad I didnít ride with the group I would have never been able to stop and take some pictures. Iím trying to think of a way to describe the road going over, the best thing I can come up with is think of 8 paperclips on top of each other, starting at the bottom one just follow the wire from one to another, curve 200 yards switchback 200 switchback etc. There were 24 switchbacks like that (thatís why the 8 paperclips there are 3 bends to each clip) they still have snow about ĺ the way up, however it really wasnít that cold. I didnít catch up with the guys at the border, as Gilbert OíSullivan once sang, ďalone again naturallyĒ I had an idea where they were going so off I went, all was going well until I came to a Y in the road as I was slowing down thinking right or left right or left I decided left as I was starting to go left I saw a glimpse of a Harley on the road to the right so I changed my mind went right and ran into the guys at a gas station about 15 minutes later. First stop was in, hotel is first class and the meal was a four course steak dinner. After that one of the guys from Argentina got up played the guitar and sang they also had a guy playing back ground music, kind of like a DJ however he didnít talk, I was surprised all the music he played was in English. They like to eat late in Argentina, dinner didnít start until 930, hell I was ready for bed. There were about 75 people at the dinner good time was had by all. Oh yes no problems at the border crossing, I didnít get asked for the insurance however another guy did about 20 miles inside of Argentina, his was expired and they made him drive bad to Chile for some new insurance, at this time I did not see any where around the border where someone could buy it if they didnít have it already.

October 28th, 2005
On the road at 10, weather started out pretty good, 75 but no rain, and then we started over another mountain range, and temperature went from 75 to 35, by the time we got to the top it was raining mixed with snow. What a great surprise these guys know how to ride in a group, a real nice ride with long sweeping curves, even the weather couldnít stop you from enjoying it. We stopped in a small town for lunch; they served flank steak on local bread, very tasty. The last half of the trip was interesting, I donít know if they stretched it just a little to far or if some of the guys didnít gas up at the last stop but about 18 miles out every one started running out of gas, I carry about 5 quarts with me so I was a hero for the first 3 guys that ran out, couldnít help out the other 6, as soon as someone would run out of gas we would stop and siphon gas from one bike to a pop bottle into the bike that ran out, it took a while but we all made it into town, its all part of the journey. I thought the first hotel was nice this one is first class I would give it a 4 star, but then again Iím used to comfort inn. We are going to be here for 2 nights, tonight dinner was here, and tomorrow night itís at the other hotel. I feel sorry for the town that the hotel is in, itís obvious that itís a tourist town relying on the lake itís built around but the lake is at least 25 feet down, Iím told they had a bad drought last year and over the winter, you could see boats tied to a pier but beached 30 or 40 feet from water. Sad very sad. Dinner was great, chicken tonight and they had a live Jazz band for entertainment, we are now over 100 people. Tomorrow a short ride, some bike games, lunch then back to the other hotel for dinner.
October 29th, 2005
Weather is still crappy, at least itís not snowing, and the town they picked for lunch and the bike games was very cool. Downtown was like we did a time warp and ended up in Germany, the buildings were of German style and the beer and food was traditional German. They had two games for the bike games, one was a fast ride down hill with your engine off and the other was a slow ride up hill. The highlight of the slow ride was this one guy, he wanted to win soooooooooo bad, he practiced for about Ĺ hour before the ride, made sure he was last one to go, had himself a pep talked, took a few deep breaths and took off, he so wanted to win he didnít want to put his feet down he went about 4 feet before he fell. I laughed my ass off; I got some good pictures of them helping him pick the bike up. Back to the other hotel for dinner, I wasnít to crazy about dinner, they say it was goat but Iím not sure, I think I heard a bow wow when I stabbed it with my fork, naw it really wasnít that bad, had great seasoning itís just that there was no meat on it, all bone, but then have you ever seen a goat they donít have much meat to begin with. Come to find out a group of guys are riding to Buenos Aires so Iím going to ride out with them. I took a ride around town today; itís strange to see baby ducks and to smell one of my favorite smells, lilacs, that has always been one of my favorite smells, brings up good memories growing up, I know kind of sappy but it does.

October 30th, 2005
Good news the rain stopped! Nice easy ride into Buenos Aires, they guys at the Harley store made some phone calls and got me a nice hotel close to the dealership. On the was to the Harley shop I saw a Hooters, went there for dinner what a disappointment, yes I am one of the guys that like the wings and shrimp. Well they donít carry shrimp, they said they canít get fresh, I asked doesnít Argentina have a huge coast line; she didnít get the joke, what a surprise. I ordered the wings, another huge disappointment, all they do is fry them and give you some kind of cheese sauce or some shit to dip them in, bummer. Iím going to be here a few days, going in the morning to apply for my Visa for Brazil, Iím told it takes 2 days and 110 bucks because that is what the US charges and makes Brazilians pay and wait, itís only fair. So I will have 2 days of sightseeing here.

October 31st, 2005

The first thing in the morning I took a cab down to the Brazilian Embassy to apply for my visa. They were very friendly hand helpful, you had to put down where you were staying while in Brazil, I told them I forgot and they just handed me a list of hotels and said pick on it really doesnít make a difference as long as you have some place written down. Paid my $110 and was told it would be ready Wednesday the 2nd after 4 PM, Iím hoping to get it before that. I walked around downtown for a while then took a cab back to the hotel, then I jumped on the bike and drove to the Embassy so I would know how to get there Wednesday, as it turned out I got screwed by the taxi going there and coming back, going there it was 25 pesos, coming back it was 30 pesos but when I drove there on my bike I took the main street the Harley shop is on and was there in no time, no expressway. Live and learn. Happy Halloween! The kids here dress up just like in the states, I never thought of Halloween as being world wide. After my disappointment with dinner last night I thought I would stay with a sure thing. Argentina is famous for its beef so I went out for steak; they have a right to be proud of their steak, very tender, very juicy, and very cheep. A large New York Strip and baked potato was under 15 bucks.

November 1st, 2005

Today was just a laid back day, went sightseeing around the city, found a large mall and got a few things I needed, such as a small tape recorder so when Iím on the road and I see something I want to right about it I can leave myself a note. With that in mind I will be making an addendum to my notes, these are all the things I forgot to write about in the weekís past. I met a bunch of guys from the Harley store for dinner, yes I had steak. One of the things I have noticed with this bunch of guys is that the world is a mirror, what I mean by that is I already told you that Harley riders are the same no matter where you are but what I noticed with this bunch of guys is that not only are the bikes he same the dress is the same and the talk is the same but so are the personalities. I ride with a core of guys and I saw the personalities of each one of them, there was the guy that loved too make others laugh, liked the attention he got, has a ton of facial expressions, sent his food back because it was just a tad pink on the inside, had upsweep pipes on his bike he was also the one that entertained us the first night (donít worry Jimmi Iím not going to mention any names). Then there was the guy that even though it was still raining every time we got gas he would wipe his bike down until it was completely dry just to ride it back out in the rain. They had a guy that would NEVER shut up, just talk to here himself talk, the only time he would stop talking was to watch some girl walk by then right back to talking, he also loved to rap his pipes every chance he got. Then they had the best damn mechanic in Argentina there. Iím sure if someone else was watching they would have picked someone with my personality, what ever that may be. I pick my Visa tomorrow again I hope to pick it up before 4PM.

November 2nd, 2005

Good news, remember I told you I fried my face a little while back? Well my nose stopped peeling today, donít know how many layers of skin I lost but that wonít happen again. Rode around town some more got another great steak and of course they made me wait until 4PM to pick up my visa, oh heading north. There has been a change in plans, my first plan was take the Buquebus a large ferryboat from Argentina to Montevideo Uruguay however I was told about this great waterfalls I should go see right at the Argentina, Brazil and Paraguay border, so Iím going to stay in Argentina all the way north and bypass Uruguay. Got in 4 good hours of riding and called it a night.

November 3rd, 2005
What a great ride today, all open country with some of the greatest smells, (I know there I go again with the smells) that is one of the things I like about riding, is the smell of the land and surroundings, you that you miss in a car. One of Argentinaís main exports has to be lumber. I passed at least 30 working sawmills (cut wood one of my favorite smells), they burned the scraps (campfires another favorite smell) and anyone that has ever camped the smell of spring in the woods, three great smells. I also got behind some trucks carrying sawdust, I donít know what kind of tree it was from but sure smelled good, in fact so good I stayed behind the truck for awhile just to enjoy the smell. Speaking of behind trucks, luck was with me again, I was behind this one truck when I saw a huge stone stuck between the tandems, that didnít look good so I stayed far to the right, there was a car behind me honking his horn following me about 4 feet off my fender, you guessed it the rock came out from the tandem right into the windshield of the car. Sucked to be him. The riding put me in a zone, I was just thinking about looking for a place to call it a night and the next thing you know it I was there. Found a hostel and got a good nights sleep, going to go see the falls in the morning.

November 4th, 2005

Spent the day at the Iguazu National Park and did he tourist thing. Walked around took some great pictures of the falls, took an excursion into the jungle then took a speed boat up the rapids to the falls and into the falls. Was a blast, well worth the detour. You would not believe all the butterflies 1000s of them, so many different species. The colors were amazing. Boy with the talk of all the smells and butterflies I have turned into a wussy! Great day, good nights sleep.
November 5th, 2005

Crossed over into Brazil, visa did the trick, less then 15 minutes and on the way to San Paulo Brazil. Just my luck, just when I was getting use to Spanish and just starting to understand it, I cross over to Brazil and they speak Portuguese here, now I have to start all over again. There were a lot of toll booths but well worth it, roads are great Yes motorcycles have to pay in Brazil, unlike Argentina where some toll booths you have to pay others you donít, you just drove up slow and if they told you to go around you went around, if not you paid. Saw the strangest traffic lights today, there were 5 green lights and 5 red lights with one yellow light on the bottom between the two, when the light turned green the top light would come on after a short time the next green light, you could tell how long the green light had been on and how much time you had left, same for the red light, I liked it. Brazil is beautiful to ride in, mountains, jungle, and lakes, long sweeping curves. What was odd about some of the curves was some of them had a count down to them, you would first see a sign warning you that the curve was ahead, then you would see a road sign with a big 5 on it, few hundred yards down the road another sign with a big 4 on it, when you reached the number 1 it was the start of the curve. Did run into one more road hazard to look out for, saw a 3 foot iguana crossing the road, havenít seen any monkeys yet, Iím told they are around. I passed 4 police checks on the way, didnít get pulled into any, saw one thing that was different at the checks, next to the building they had 20-30 smashed cars, all of them pretty bad donít know if that was there as a reminder or what but was pretty effective.

November 6, 2005

Made it into San Paulo by 1PM, the ride was pretty much the same as yesterday, just took my time and enjoyed myself. Drove around San Paulo, found the Harley dealer and the airport, going to visit both in the morning. I have to start working on my transportation to New Zealand my next stop after Brazil. Hard to believe Iím done with South America. Even with a map San Paulo is a hard town to get around. The map shows you the streets but it doesnít show you the one ways, and if you miss your turn you may find a place to do a u turn or you may not, just takes a little longer but so far Iím doing ok. Like all South America towns San Paulo has a ton of guys on those 125-150cc motorcycle, most of them are messengers they all carry backpacks or have boxes on the back, well the guys here take lane splitting to a whole new level, there are so many they ride in packs of 15-20, your sitting in traffic when out of no where come these bikes flying down between cars, either they know no fear or just plain dumb, I wonder how many get hit each day, I even saw them kicking the side of cars that wouldnít let them by, can you say open the car door? ďSorry buddy didnít see you coming.Ē

November 7, 2005

Went to the Harley dealer today, they didnít have the part I needed (that sucks), I ordered it, and they are going to send it to Rio de Janeiro for me. Spent a few hours on the internet looking for cargo flights, sent out some emails just waiting to hear back from them. I cant believe they have all their Christmas stuff up already, since they donít have a Thanksgiving here I wonder what day they use? Really doesnít matter the stuff is up!

ADDENDUM # 1
I hope this will be my one and only addendum, with the tape recorder I now have, it should be. Iíll try to put the items I forgot in order starting with Mťxico. I saw and more then once, over 20 people standing in the back of a pickup truck with another 10 along the sides where they had welded foot rails for them to stand on. Remember those speed bumps I was talking about? Well I didnít see one and hit it doing about 75 miles an hour, now Iím not saying Evil Kanivel has any thing to worry about but I know I would have cleared a big wheel before I came down! I stopped the bike to see if I broke any thing I didnít) cleaned out my pants and went back to see how I could have missed it, there was no sign to warn you and with the angle of the sun even knowing it was there I almost missed it again. In Columbia one of the things that made me shake my head was going up and down those mountains I saw guys with home made go-carts hook themselves up to the semi trucks with a rope and letting the semis pull them up the mountain, these go-carts reminded me of the ones Spanky, Alfalfa and Buckwheat made from that TV show ďOUR GANGĒ. They were made of left over wood with 2 inch steal wheels, for brakes they had a hunk of leather that they pushed down with their feet against the road. Just shook my headÖ.Remember how insane the run up the mountain was? One of the things I forgot to tell you was they tradition of starting several large bottles of some type of alcohol and passes it back to the next person each person taking a deep drink, they want to see how far back it gets, and just what they need is more alcohol to improve their riding and driving. I know I kind of picked on Peru but I can only talk about what I saw. One thing I forgot to talk about is when I did get near people how filthy it was, there was trash every where, I saw 100 and 100 piles of trash where a truck took a load right out side of town and just dumped it, they didnít even try to keep it in one pile. If you happened to live on the side of a mountain you just threw the trash out the back window, you could see years of trash just lying downhill, I felt sorry for the people who lived on the bottom. Another thing in Peru was they canít grasp the idea of riding with your headlights on during the day, on a Harley they are always on, so every car, truck or bus that passed me going the other way would flash the hell out of their headlights telling me mine where on. I just waved and kept going.
The first night in Chile I was out in the middle of BFE when I looked up and was amazed at how many and how bright the stars where. Because of the mountains they seemed to start at the horizons and never end. I keep trying to look at the stars while driving and almost ran off the road so I got to the top of this small hill and turned off the bike and just sat there in amazement and awe, I even saw 10 or so falling stars. It was one of the most peaceful moments in my life, not a sound, no light pollution, just me and the sky. After 20 minutes or so I saw a set of headlights that brought me back to reality so I continued on. I made it as far as Iquique Chile the first night, it was late and I was having a hard time finding a hotel, not that I didnít see any they just didnít have parking for the motorcycle, any way I figured I would just head out of town and I would run into something somewhere, just as I was leaving town I passed a sign for Cabanas for 20 bucks a night, I had to go 2 miles before I could find a place to do a u-turn on the way back to the first sign I saw another advertisement for Cabanas on my side of the road so I pulled in, checked out the to make sure they had parking for the bike and checked in. Like in most places while I was unloading the bike 6-7 guys came out to look at the bike, I didnít think any thing of it, of course they were trying to ask me questions in Spanish I tried to explain that I only spoke English, one of the guys made a sign with his hand he would be right back went to one of the Cabanas and came back with two other guys one who spoke broken English, his friend was carrying a poodle, are you getting the picture? There is nothing but guys checked in here and they were very friendly I donít know what they were checking out the bike or me. After I got everything unpacked, door locked and lights out I heard a light knock on my sliding glass door, I knew the bike was safe so there was no way was I going to answer it and after a short time whoever it was went away. Why couldnít I have seen this in Peru so I could have something nice to say about that county.
Posted by Craig Hutson at November 08, 2005 09:36 PM GMT

Enter your email address to receive updates to Craig Hutson's trip story!
Recent Entries
Archives:
Archives:
Monthly
Archives:
Category
NEW! HU 2015 Motorcycle Adventure Travel Calendar is now available! Get your copy now for some terrific travel inspiration!
HUGE, 11.5 x 16.5 inches, beautifully printed in Germany on top quality stock! Photos are the winning images from over 600 entries in the 9th Annual HU Photo Contest!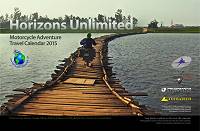 "The calendar is magnificent!"
"I just wanted to say how much I'm loving the new, larger calendar!"
We share the profit with the winning photographers. YOU could be in the HU Calendar too - enter here!
Next HU Events
NEW!

USA Virginia: Apr 9-12, 2015
Take 40% off Road Heroes Part 1 until October 31 only!
Road Heroes features tales of adventure, joy and sheer terror by veteran travellers Peter and Kay Forwood (193 countries two-up on a Harley); Dr. Greg Frazier (5 times RTW); Tiffany Coates (RTW solo female); and Rene Cormier (University of Gravel Roads).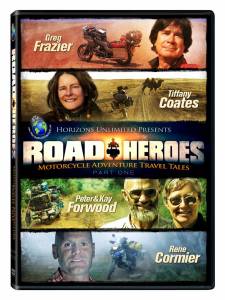 "Inspiring and hilarious!"
"I loved watching this DVD!"
"Lots of amazing stories and even more amazing photographs, it's great fun and very inspirational."
"Wonderful entertainment!"
Check it out at the HU Store! Remember to use Coupon Code 'HEROES' on your order when you checkout.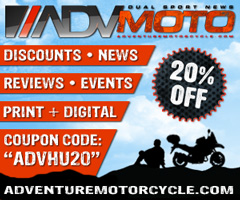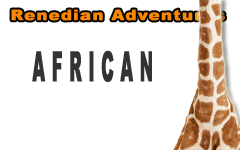 What others say about HU...
"I just wanted to say thanks for doing this and sharing so much with the rest of us." Dave, USA
"Your website is a mecca of valuable information and the DVD series is informative, entertaining, and inspiring! The new look of the website is very impressive, updated and catchy. Thank you so very much!" Jennifer, Canada
"...Great site. Keep up the good work." Murray and Carmen, Australia
"We just finished a 7 month 22,000+ mile scouting trip from Alaska to the bottom of Chile and I can't tell you how many times we referred to your site for help. From how to adjust your valves, to where to stay in the back country of Peru. Horizons Unlimited was a key player in our success. Motorcycle enthusiasts from around the world are in debt to your services." Alaska Riders

10th Annual HU Travellers Photo Contest is on now! This is an opportunity for YOU to show us your best photos and win prizes!
NEW! HU 2014 Adventure Travel T-shirts! are now available in several colors! Be the first kid on your block to have them! New lower prices on synths!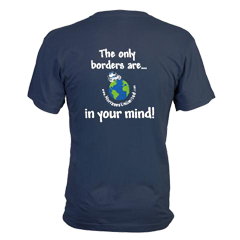 Check out the new Gildan Performance cotton-feel t-shirt - 100% poly, feels like soft cotton!

What turns you on to motorcycle travel?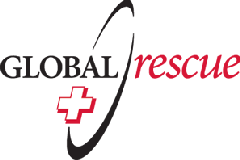 Global Rescue is the premier provider of medical, security and evacuation services worldwide and is the only company that will come to you, wherever you are, and evacuate you to your home hospital of choice. Additionally, Global Rescue places no restrictions on country of citizenship - all nationalities are eligible to sign-up!
New to Horizons Unlimited?
New to motorcycle travelling? New to the HU site? Confused? Too many options? It's really very simple - just 4 easy steps!
Horizons Unlimited was founded in 1997 by Grant and Susan Johnson following their journey around the world on a BMW R80 G/S motorcycle.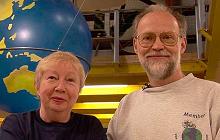 Read more about Grant & Susan's story
Membership - help keep us going!
Horizons Unlimited is not a big multi-national company, just two people who love motorcycle travel and have grown what started as a hobby in 1997 into a full time job (usually 8-10 hours per day and 7 days a week) and a labour of love. To keep it going and a roof over our heads, we run events (22 this year!); we sell inspirational and informative DVDs; we have a few selected advertisers; and we make a small amount from memberships.
You don't have to be a Member to come to an HU meeting, access the website, the HUBB or to receive the e-zine. What you get for your membership contribution is our sincere gratitude, good karma and knowing that you're helping to keep the motorcycle travel dream alive. Contributing Members and Gold Members do get additional features on the HUBB. Here's a list of all the Member benefits on the HUBB.
Books & DVDs

All the best travel books and videos listed and often reviewed on HU's famous Books page. Check it out and get great travel books from all over the world.

MC Air Shipping, (uncrated) USA / Canada / Europe and other areas. Be sure to say "Horizons Unlimited" to get your $25 discount on Shipping!
Insurance - see: For foreigners traveling in US and Canada and for Americans and Canadians traveling in other countries, then mail it to MC Express and get your HU $15 discount!
Story and photos copyright © All Rights Reserved.
Contact the author:
Editors note: We accept no responsibility for any of the above information in any way whatsoever. You are reminded to do your own research. Any commentary is strictly a personal opinion of the person supplying the information and is not to be construed as an endorsement of any kind.
Hosted by: Horizons Unlimited, the motorcycle travellers' website!
You can have your story here too - click for details!