Archives
June 29, 2009 GMT - Euroville
Sometimes, well OK, on rare occasion, an innocent event provides an unexpected Ah-Hah Moment. Our innocent event starts out as a need to repair the steering head bearing and ignition circuit on the Chicitita. An internet search reveals a BMW...
June 29, 2009 GMT - Ouro Preto, City of Black Gold
A side trip to Ouro Pręto, about 100 kilometres south east of Belo Horizonte, turns out to be one of our best diversions. Even the ride down is fun. For two hours, Katie and the Bumblebee thrive on the curvy...
June 06, 2009 GMT - The Foz
Leaving Pato Branco in scattered rain showers, we press on westward to one of the world's greatest natural wonders, Foz do Iguaįu. Located well away from well known large cities like Buenos Aires, Rio de Janeiro or Asunción, this corner...
May 30, 2009 GMT - Grande Brasil
After an hour of formalities at the Uruguay/Brazil border at Chui, we are on our way in another new country. We ride through lowlands heavily saturated with standing water full of standing cows. Our first night in Brasil is in...
May 30, 2009 GMT - La Costa
We leave Colonia in a steady drizzle. The forecast for the next three days is rain but we must move on. Autumn is creeping up from the south, inching northward day by day like the cold black shadows of sunset....
May 12, 2009 GMT - Old City of Colonia
After enjoying more than a month of sunshine, we ride from Fray Bentos to Colonia del Sacramento in rain. Along the way, the temperature drops from 28 to 15C. Our textile motorcycle clothes keep us dry, thanks to the GoreTex...
May 10, 2009 GMT - Fray Bentos
We're travelling to Uruguay. After a night's stay in the border town of Gualeguaychu, Argentina, we are perfectly poised to do a morning border crossing the international bridge over the Rio Uruguay into Fray Bentos, Uruguay. We want to visit...
April 30, 2009 GMT - Cordoba
Having planned our arrive into Cordoba after their famous four-day World Rally of Argentina has ended, we ride into the city of 1.3 million in the 27 C heat of early Monday afternoon. We are here to apply for a...
April 30, 2009 GMT - La Rioja Province
We explore La Rioja province by a loose connection of zig-zags and driving in semicircles. Fine by Joyce, not taken to artifical rules, but not typical behavior for the guy side of the equation. But really, I must admit, we...
April 18, 2009 GMT - North on the Puna
From San Antonio, Chile we ride north, skirting Santiago through pastoral wine country to the west and north then head east through Los Andes, Chile towards the Argentina border. Our route crosses the Andes mountains at Paso Cristo Redentor, which...
April 13, 2009 GMT - Chile Two Laners
Marlen and Maritza, bless their little hearts, tell us not to come back to the Aquaterra Hotel until after 9:30 PM. Itīs our last night in Puerto Natales. When we do come in, chilled from the cold night, we are...
March 28, 2009 GMT - Ushuaia, Fin del Mundo
We cross the Straits of Magellan in a long 20 minutes and bounce ashore onto dry land. Dry land, what an understatement - there is more moisture in popcorn. Dry, flat and arid in the north, Tierra del Fuego, more...
March 27, 2009 GMT - Patagonia
It is time to take a one-day bus tour of Parque Nacional Torres del Paine. Why? I`ve got a bad case of cabin fever, having been confined to quarters so long with this damn sciatica. As a kind of trial,...
March 07, 2009 GMT - Back on Two Wheels
Hey, this is great! Iīm back on two wheels! Too bad itīs a wheelchair and not Katie, but itīs a beginning. So itīs training wheels for the next few weeks. But at least now I can get around. For amusement...
March 05, 2009 GMT - Get The Ferryitis
Our first day on the road with Katie and the Bumblebee is like freedom incarnate. Finally, after 38 (!) days of waiting - either for the bikes to arrive or my sciatica to depart, weīre off. The bikes sing their...
February 16, 2009 GMT - Leaving Valpo
If in a journey an unavoidable/unexpected detour should present itself, itīs best to accept the detour as part of the trip and enjoy it as best one can. I know those words are true, I just didnīt think I would...
February 02, 2009 GMT - Valparaiso Revisited
December 05, 2008 GMT - Packing for a Dream
The North - South dream was created exactly 10 years ago today, on December 5th, 1998. Leaning over a map on Dave Clark's kitchen table, rum and cokes in hand, my friend and I were playing another round of the "what-if" game. But instead of dreaming up another epic hiking or canoe trip, this what-if day dream was different. What if one rode a motorcycle from the Arctic Ocean to the Antarctic Ocean? It was one of those moments that suddenly, perhaps Mr Bacardi was doing the talking, became a goal, a must-do.

August 19, 2006 GMT - Reunited
The climb out of Copper Canyon from Batopilas to Creel takes the morning, with a stop to refill the hydraulic reservoir for Katie's clutch. In the logging town of Creel I stop for lunch and again perform the oil refill...
August 11, 2006 GMT - Barranca Del Cobre
Riding into a dense fog that slowly lifts with the sunrise hour, Katie and I head out of Concordia and climb the Sierra Madre Occidentals towards Durango, 200 kms to the east. From there it will be another 600 kilometers...
August 07, 2006 GMT - Puerto Vallarta
Katie and I ride through Guadalajara's morning rush hour and out the west side of this 3 million strong city before 9 a.m. As the second largest city in México it's a happenin' place but I don't want to stop....
August 06, 2006 GMT - Robbed Twice
So which story do you want to hear first? The one about the two pickpockets, or the one about the corrupt Mexico City cop? Both clever in their own way, they share two things in common as it turns out:...
August 06, 2006 GMT - Oaxaca
"Sign here and you're finished. Welcome to Mexico." With those simple words, and a similarly simple process, I am through customs and into my final latin american country. The process is prophetic: travelling in Mexico is so easy I feel...
July 26, 2006 GMT - Riding to Lago de Atitlān
I get a great suggestion from a fellow biker, a typically friendly Guatemalan who very untypically rides a Honda 600. The road he suggests is seldomed travelled because unruly rivers keep taking out the bridges. He assures me the road...
July 21, 2006 GMT - Tikal
The Honduras-Guatemala border crossing goes well. Within an hour I am riding a zigzag course for the Mayan ruinas of Tikal. As I ride the Penėnsula de Yucatān north I reflect on the history read in preparation for this amazing...
July 21, 2006 GMT - Copān
This is too good to be true. As I ride up the Nicaragua-Honduras frontera at Los Manos is quiet. I am first at the Nicaragua windows to cancel my moto visa and stamp out my passport. A quick $5.00 changes...
July 16, 2006 GMT - Borders, bahias and bananas
Now begins the infamous Central American border crossings. For years a reputation has been passed down word of mouth among adventure travellers. "Be patient." "Negociate prices ahead of time." "Watch your stuff and watch your money." The fronteras can be...
July 11, 2006 GMT - City of Panama Hats
Clearing Panama customs I head outside and get directions to the other side of the airport where the cargo companies are located. The airport terminal taxis want US $12 for the few km trip. "Muy lejos", they insist. And it...
July 09, 2006 GMT - Leaving Colombia
It's evening in Cartagena. I sit at a restaurant table, outside, in a spacious cobblestone plaza within the walled cuidad antiqua (old city). Now imagine this: I'm with three friends from the Cuidad Perdida hike. Around us are buildings muy...
June 28, 2006 GMT - La Cuidad Perdida (The Lost City)
Walk to the Lost City? Are you mad? Hike for six days over hill and dale in the midst of jungle/rain forest, trees with hanging vines, poisonous snakes, waist deep rivers, guerrillas and cocaine factories, fierce rainstorms and hot sun...
June 21, 2006 GMT - Road to Bucaramanga
I am on my way north to Santa Marta, port of call for sixteenth century pirates of the Caribbean. Catedral de Sal comes after 40 minutes on the Pan Americana. I am barely out of Bogotá. In 1954 the miners...
June 21, 2006 GMT - Bogotá
Turns out that my entry into Bogotá's south end is through the most unflattering corner of this mountain city. The north end of town hosts modern highrises, shopping malls, broad streets and my destination, Extreme Machines, the KTM dealer. At...
June 14, 2006 GMT - Zona Cafetera
As I race the sun to get back to my hotel before dark I have one more little adventure for the day. I am in the Zona Cafetera, home to some of the best coffee grown in the world. After...
June 14, 2006 GMT - Colombian Green
I can't believe it! I've got water in the engine oil! Bloody hell, did that damn water pump seal start leaking again? As I stand here in the rain in northern Ecuador my disbelief spurs a quick memory flash back...
June 08, 2006 GMT - The Quilotoa Circuit
From the tourist town of Baņos it is time to head north to the Avenue of the Volcanoes. That and the Quilotoa Circuit are next on the list of stuff to see. The route takes me to Ambato, then north...
June 08, 2006 GMT - I go to the Baņos
Going to Ecuador doesn't mean a mandatory trip to the Baņos. Now I know what you're thinking: a trip to the baņos is necessary everyday, no matter where you are. But I am talking about a different kind of Baņos....
June 03, 2006 GMT - Street scenes
My life is divided between two main activities. Either Katie and I are on the road watching the landscape slide by or I'm in some interesting town checking out the sights. In this chapter, I will say little and let...
June 03, 2006 GMT - Visiting the Pre-Columbians
As our days in northern Peru wind down, Sho, Pat and I visit three significant pre-Columbian sites. Just north of Trujillo rests the remains of the largest adobe city in the world, Chan Chan. As the capital of the Chimu...
May 27, 2006 GMT - Canyon del Pato
After a day's ride in the Cordillera Blanca with Beatriz and Simon, I am looking forward to cena (supper) at Chilli Heaven in Huaraz. To patronize their restaurant seems the least I can do to repay for their guiding services....
May 27, 2006 GMT - Majestic Cordillera Blanca
"You were measured on radar back at the overpass. You were doing 50 km/hr in a 45 km/hr zone. The fine is 150 Soles. You can pay me here now. And your driver's licence is a photocopy. Where is the...
May 16, 2006 GMT - Saturday in the Arena
"Oh shit! It's too late now!" The ground cruelly disappears beneath the KTM and Í'm bloody airborne. The landing, some several feet below, arrives instantaneously with a wallop. I strike my face on the cockpit dash, whiplash back, then do...
May 11, 2006 GMT - Katie and the Camións
"This isnīt a road, itīs a damn one-lane llama track! And a f*@king bad one at that!" Words to that effect come up between Katie and me many times as we bounce, rattle and growl along in first gear for...
May 06, 2006 GMT - Magical Machu Picchu
The absolute magic of Machu Picchu. As SonGlenn would say, "It takes all my knowing!" just to fumble for the words to describe how this 15th century pueblo/citadel/university/astronomical observatory touches me. Resting in the col of an Andes montaņa, its...
April 29, 2006 GMT - Arica to Nazca
"HEY! GOD DAMN IT!" I yell as I see a guy with MY DAYPACK going out the door. I jump up from my chair and chase after him out of the restaurant. There are two of them, one going each...
April 15, 2006 GMT - Costa y Desierto
Katie is free! We liberate her and her 14 friends from the shipping container by the light of the Valparaiso moon. The first ride with Katie is from the Aduana yard high in the cerros above Valpo back to Viņa...
April 03, 2006 GMT - Waiting for Katie
Seems like itīs been years since I said goodbye. I left Katie in a cavernous warehouse in Houston in early February and flew to sunny Santiago. It also seems like years that Iīve been taking Spanish lessons, but itīs only...
March 18, 2006 GMT - The Streets of Valparaiso
As first port of call for 19th century sailing ships rounding the Horn, Valparaiso was the lo mejor puerto for all of South Americaīs Pacific coastline. Founded in 1536, the city did little until Chile achieved independance in the 1820īs,...
February 23, 2006 GMT - Santiago Summer
Itīs 8:30 on a Santiago morning and Iīm walking to school. The Chilean sun feels nice on my back. Its cheery yellow light casts long shadows down the sidewalk, showing me the way. Ahead, an old man, wearing rumpled old...
January 12, 2006 GMT - Katie M, get dressed!
"So, what do you pack?" I asked Bob one day over girlie-man lattes.
"I've worked up some lists. l'll email you. But don't take everything you own, keep it simple." Bob smiled like it was an inside joke. I didn't get it. Yet.
Next day a MicroSoft ding on the laptop announced the arrival of a 9 page Complete Packing List , a 3 page Cost Estimate ($22, 247CAD), a 3 page line-by-line Trip Itinerary (Abancay to Cuzco, 1 day, 491 km), with 70 GPS routes to follow in the next email.
Return to
Enter your email address to receive updates to Murray Castle's trip story!
NEW! HU 2015 Motorcycle Adventure Travel Calendar is now available! Get your copy now for some terrific travel inspiration!
HUGE, 11.5 x 16.5 inches, beautifully printed in Germany on top quality stock! Photos are the winning images from over 600 entries in the 9th Annual HU Photo Contest!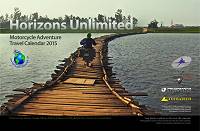 "The calendar is magnificent!"
"I just wanted to say how much I'm loving the new, larger calendar!"
We share the profit with the winning photographers. YOU could be in the HU Calendar too - enter here!
Next HU Events
NEW!

USA Virginia: Apr 9-12, 2015
Canada West: Aug 20-23, 2015
USA California: Sep 24-27, 2015
Aus Queensland: Sep 24-27, 2015
USA North Carolina: Oct 8-11, 2015
Aus Perth: Oct 9-11, 2015
Take 40% off Road Heroes Part 1 until October 31 only!
Road Heroes features tales of adventure, joy and sheer terror by veteran travellers Peter and Kay Forwood (193 countries two-up on a Harley); Dr. Greg Frazier (5 times RTW); Tiffany Coates (RTW solo female); and Rene Cormier (University of Gravel Roads).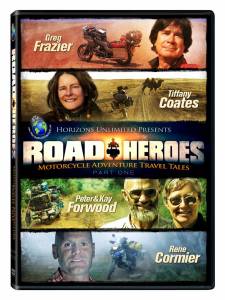 "Inspiring and hilarious!"
"I loved watching this DVD!"
"Lots of amazing stories and even more amazing photographs, it's great fun and very inspirational."
"Wonderful entertainment!"
Check it out at the HU Store! Remember to use Coupon Code 'HEROES' on your order when you checkout.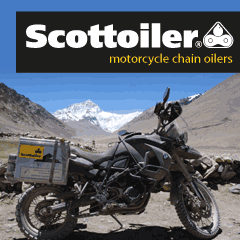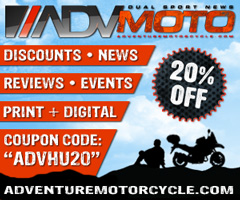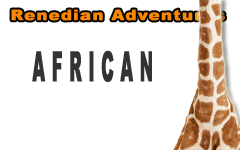 What others say about HU...
"I just wanted to say thanks for doing this and sharing so much with the rest of us." Dave, USA
"Your website is a mecca of valuable information and the DVD series is informative, entertaining, and inspiring! The new look of the website is very impressive, updated and catchy. Thank you so very much!" Jennifer, Canada
"...Great site. Keep up the good work." Murray and Carmen, Australia
"We just finished a 7 month 22,000+ mile scouting trip from Alaska to the bottom of Chile and I can't tell you how many times we referred to your site for help. From how to adjust your valves, to where to stay in the back country of Peru. Horizons Unlimited was a key player in our success. Motorcycle enthusiasts from around the world are in debt to your services." Alaska Riders

10th Annual HU Travellers Photo Contest is on now! This is an opportunity for YOU to show us your best photos and win prizes!
NEW! HU 2014 Adventure Travel T-shirts! are now available in several colors! Be the first kid on your block to have them! New lower prices on synths!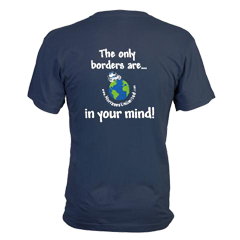 Check out the new Gildan Performance cotton-feel t-shirt - 100% poly, feels like soft cotton!

What turns you on to motorcycle travel?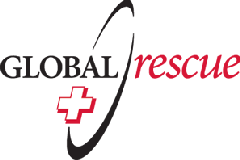 Global Rescue is the premier provider of medical, security and evacuation services worldwide and is the only company that will come to you, wherever you are, and evacuate you to your home hospital of choice. Additionally, Global Rescue places no restrictions on country of citizenship - all nationalities are eligible to sign-up!
New to Horizons Unlimited?
New to motorcycle travelling? New to the HU site? Confused? Too many options? It's really very simple - just 4 easy steps!
Horizons Unlimited was founded in 1997 by Grant and Susan Johnson following their journey around the world on a BMW R80 G/S motorcycle.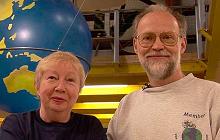 Read more about Grant & Susan's story
Membership - help keep us going!
Horizons Unlimited is not a big multi-national company, just two people who love motorcycle travel and have grown what started as a hobby in 1997 into a full time job (usually 8-10 hours per day and 7 days a week) and a labour of love. To keep it going and a roof over our heads, we run events (22 this year!); we sell inspirational and informative DVDs; we have a few selected advertisers; and we make a small amount from memberships.
You don't have to be a Member to come to an HU meeting, access the website, the HUBB or to receive the e-zine. What you get for your membership contribution is our sincere gratitude, good karma and knowing that you're helping to keep the motorcycle travel dream alive. Contributing Members and Gold Members do get additional features on the HUBB. Here's a list of all the Member benefits on the HUBB.
Books & DVDs

All the best travel books and videos listed and often reviewed on HU's famous Books page. Check it out and get great travel books from all over the world.

MC Air Shipping, (uncrated) USA / Canada / Europe and other areas. Be sure to say "Horizons Unlimited" to get your $25 discount on Shipping!
Insurance - see: For foreigners traveling in US and Canada and for Americans and Canadians traveling in other countries, then mail it to MC Express and get your HU $15 discount!
Story and photos copyright © All Rights Reserved.
Contact the author:
Editors note: We accept no responsibility for any of the above information in any way whatsoever. You are reminded to do your own research. Any commentary is strictly a personal opinion of the person supplying the information and is not to be construed as an endorsement of any kind.
Hosted by: Horizons Unlimited, the motorcycle travellers' website!
You can have your story here too - click for details!