June 06, 2009 GMT
The Foz
Leaving Pato Branco in scattered rain showers, we press on westward to one of the world's greatest natural wonders, Foz do Iguaçu. Located well away from well known large cities like Buenos Aires, Rio de Janeiro or Asunción, this corner of the world is literally that, with the borders of Argentina, Brazil and Paraguay meeting here.
Meeting here too is the Rio Iguaçu, after wandering westwards for 600km, with a three kilometre wide escarpment. The result are 275 individual falls, averaging from 60m to 87m in height, making the whole spectacle wider than Victoria, higher than Niagara and to our mind, grander than either.
The word Iguaçu means "large water" to the indigenous Tupi-Guarani. It is that all right. Although the falls are flowing 40% capacity when we visit, they are still very impressive. We are told The Foz pours three times more over the edge than Niagara Falls. In 1986 Unesco declared the region a World Heritage site.
Nearby, the Parque Das Aves (Bird Park) contains dozens of exotic bird species from hummingbirds to eagles to cassowarys. For many species we can walk inside their cages the size of tennis courts. Getting up close and personal with brilliant colored macaws, parrots, toucans and parakeets is a first for us and exciting.
Joyce visits arm in arm with a friendly macaw. Unfortunately, once again, communication is a problem, for the bird can only speak Portuguese and Macawanese, neither language Joyce is comfortable in. But, as with all foreign travel, eye contact and a smile can go a long way.
The Brazilian city of Foz do Iguaçu, which we use as our tour base, went through a period of frenzied growth during the 18 years that Itaipu Dam was under construction (1966 - 1984), when the population increased by more than five times. Today the city seems mostly geared to tourism and smuggling duty free goods across the Friendship bridge to Paraguay.
The Itaipu Dam is 7. 2 km long and 225 metres high, or about the height of a 74 story building. The iron and steel used would build 380 Eiffel Towers. The volume of excavation of earth and rock in Itaipu is 8.5 times greater than that of the Channel Tunnel and the volume of concrete is 15 times greater. As we stand and stare at this manmade wonder, we can easily believe the stats rattled off by our trilingual guide.
Although upon completion the Three Gorges Dam in China will be bigger, but Itaipu will still hold the record for the most power generation (14 GW, or twice that of Grand Coulee Dam), as it can produce 12 months of the year, something the Three Gorges cannot do because of rainfall limitations. The Itaipu Dam now supplies 90% of the energy consumed by Paraguay and 20% of that consumed by Brazil.

After visiting all that monster water stuff, it is time to move north and east. Get to warmer and sunnier weather. After three weeks touring Brasil it seems to Joyce and I the whole southern country, as far as the eye can see in every direction, is one continuous industry of big factories, cities of every size and endless green fields of corn and sugar cane.
Travelling off the Gringo Trail means, on one hand, lower prices for hotels, more personal attention, quieter towns and interesting places for the Chicitita to park (see photo above); but on the other, after you've seen one sugar cane field, you've seen 'em all. Make no mistake, Brasilian culture is pleasant to travel in. Food variety and quality is second to none, roads and signage are great, consumer products leave nothing wanting, and cleanliness is a way of life in the smaller cities. But we find travelling here getting to be hard work. Part of the reason is it is surprisingly disappointing not to be able to communicate. I learn that connecting with people, even on small-talk scale, enhances the journey far more than I realized before. Travel weariness may be setting in.
We put in some big distance days to get north. At Jaboticabal (try asking directions for that one), we wash the bikes at the end of the day. An adventure immediately follows. The Bumblebee, once started, won't shut off (again!) and stranger yet, Katie quits after several blocks. Sunset approaches. With no time to troubleshoot, we push Katie into a nearby Michelin tire warehouse after the friendly staff below generously agree to keep her overnite safe and sound. Joyce and I jump on the Bumblebee, and while trying (poorly) to follow directions to a hotel, get pulled over by the police for a traffic infraction. Not understanding what we did wrong, but explaining in Spanish and sign language our dilemna, the lady police officer takes pity and talks her partner into leading us to a hotel. By now it is dark. Mysteriously, the Bumblebee decides to return to normal and shuts off in the hotel's secured parking. We are all safe for the night.
The next morning we return to the Stefani Michelin plant. Amid typical Brasilian hospitality, coffee, smiles and genuine curiousity about our trip, I try to start Katie, hope against hope. Katie, never affected before by being washed, now acts like nothing has happened and starts obediently, first try. What is going on in our world of water and Brasil?? The Michelin crowd must wonder what was that all about. Nevertheless we are relieved, so pack up and hit the road again. Late afternoon, arriving at the little hilltown city of São Sebastião do Paraiso, we find a new hotel for 80 reais a nite that is quiet, clean, spacious and has a good bed and a generous shower. We park the bikes for three days and just chill.
June 29, 2009 GMT
Ouro Preto, City of Black Gold
A side trip to Ouro Prêto, about 100 kilometres south east of Belo Horizonte, turns out to be one of our best diversions. Even the ride down is fun. For two hours, Katie and the Bumblebee thrive on the curvy mountain roads of Serra do Espinhaço as we head southeast to the old colonial city.
Ouro Prêto, now a UNESCO World Heritage Site, was capital of the state of Minas Gerais from 1822 until 1897, when the needs of government outgrew this opulent berg wedged in a narrow valley. We approach the city by angling down a mountainside, arriving just above the city centre. We stop and look down. From here it looks like 90% of the streets are black diamond runs made from cobblestone. Tightly packed tile-roofed buildings, like an over-eager crowd, squeeze in too closely both sides of the streets. Motorcycles and cobblestones are not friends. Cobblestone, especially made from soapstone, and rain are not friends. We could have fun getting back out of here.
Lonely Planet Brazil describes it best: "Founded at the end of the 17th century, Ouro Preto (meaning Black Gold) was the focal point of the gold rush and Brazil's golden age in the 18th century under Portuguese rule. Of all the exquisite colonial towns scattered around Minas Gerais, Ouro Prêto is the jewel in the crown. Significant historically as a center of gold mining and government, and as the stage for Brazil's first independence movement, the city remains vital in modern times as a center for education and the arts, and as one of Brazil's three most visited tourist destinations."
"Built at the feet of the Serra do Espinhaço range, Ouro Prêto's colonial center is larger, and has steeper topography, than any other historical town in Minas. The narrow, crooked streets of the upper and lower towns tangle together and in places are too rough and precipitous for vehicles. Navigating the vertiginous cobblestoned slopes on foot can be exhausting, but the views of 23 churches spread out across the hilly panorama are spectacular. The city is a showcase of outstanding Mineiro art and architecture, including some of Aleijadinho's finest works." Well said Lonely Planet, we totally agree.
Joyce and I get settled at Posada Ouro Preto, a lovingly restored three story, perched precariously, like everything else, on alarmingly tilted real estate. By now it's evening but a full moon begins its climb over the eastern ridge. We decide on a walkabout. The air is warm, we take a light jacket but don't need it. As darkness falls around us, the night scene becomes magically romantic. Street lamps of wrought iron and glass panels arch over sidewalks, casting pale pools of antique yellow light on walls and streets made of stone. A lantern-like glow, framed by a home window, casts itself at our feet as we walk by. A restaurant doorway, its brown doors open wide like welcoming arms, invites us into an elegant dining room, where on white tablecloths white candles and crystal wine glass reflections twinkle back at us. Other than those weak illuminations, and a waxing moon, the 19th century streets lay in darkness.
We thread our way to the town square. There, in brightly lit windows, tourist vendors boldly advertise their wares. Jewelry storefronts, in 500 watt glitter and glamour, showcase precious diamonds, gold, silver, emeralds, sapphires, as well as a dazzling display of semi-precious like garnets, turquoise and imperial topaz. Joyce tries on various attractive rings, necklaces and earrings. She walks away empty handed, but "richer" for the experience.
Richer for the experience we are too when we dine. The restaurant we choose has been cleverly renovated, combining the best of old and new world. Keeping the charm of the century stone building with its heavy timber construction interior and warm wooden floors, the place is filled with eclectic art, antique mining tools, colourful paintings and fresh flowers. The service is exceptional; the filet mignon is perfect. The full moon shines its approval over the nearby church turrets of Saint Francis of Assis as we leave. What a lovely way to end our last night in small town Brasil.
Next day we tour the sights in the cool of the morning. First stop is the Igreja de São Francisco de Assis (The Church of Saint Francis of Assisi). This Rococo Catholic church, we are told, began erection in 1766. Designed by the great Brazilian architect and sculptor Antônio Francisco Lisboa, known as Aleijadinho to his fans, the carved decorations inside are also his handiwork. The circular bell towers were original architectural features for their time.
The church interior is cool to bare arms, but warm to the eye. Lining the perimeter are rich decorations of finely carved woodwork and statues covered in real gold foil, walls are filled with museum quality paintings. A biblical scene mural with much colour spreads across the entire wooden ceiling. It looks like a Portuguese Michelangelo spent most of his life here. OK, I'm suitably impressed.
Soapstone carvings, paintings, sketches, toys and art objects abound. If a saleable item is known or can be imagined by a Brasilian artist, it will be created and on sale here in Ouro Prêto.
In fact, I think this open air market is the largest collection of handmade art I have ever seen. We wander some but buy nothing. How will we carry it in our already overweight, overpacked motorcycles?
Leaving Ouro Prêto in late afternoon, we ride toward our rendezvous with Euroville tomorrow to begin the process of shipping ourselves and motorcycles home. We stop to get money at an ATM outside Belo Horizonte. Evandro and Fernanda Gomide pull up, get out of their SUV and walk over to talk with us. Evandro, having toured South America himself on a bike, is curious about our travels. Learning of our situation, they offer to help organize a hotel for our upcoming week in BH. But first, come for supper, have a beer, have a shower, stay over, please, we have lots of room at our house. Daughters Camila and Laura are fascinated with Joyce's BMW.
A group photo of Evandro, Fernanda, Camila and Laura is called for after supper and before we go out to see the night lights of Belo Horizonte and have an ice cream. What a lovely family. So typical of Brazilians. We much appreciate their hospitality and their help. Thanks to Fernanda's research skills, we spend the remainder of our time in BH in the great value-for-money Hotel Formule 1.
Euroville
Sometimes, well OK, on rare occasion, an innocent event provides an unexpected Ah-Hah Moment. Our innocent event starts out as a need to repair the steering head bearing and ignition circuit on the Chicitita. An internet search reveals a BMW dealer in Belo Horizonte. In two days we are there. Luckily, like looking for a needle in a haystack, in this case a haystack of three million people, we find Euroville BMW on first try. No sooner have we explained the mechanical problems to attentive staff than boom, the Chicitita is wheeled into the shop, up on the mechanic's lift and being fixed. We get an immediate good feeling about this BMW auto and bike dealership and the folks here.
The Ah-Hah! moment arrives with two new BMW motorcycles from the factory. Still in their crates, the new bikes pass by as we stand visiting in the shop. We think, hey, those are good crates....we want to ship our bikes to Texas soon - hey, wonder if we could crate and ship our bikes right here from Euroville?
To communicate important questions like, can you fix the bike; how long will it take; can we ship our bikes from here; can you recommend a logistics agent; etc, etc, we need a translator. Up steps Danielle Zubeu, Euroville receptionist and totally fluent in Portuguese and English. As a young girl she spent several years in the USA. Over the next week we utilize the translation skills of this intelligent and personable woman a number of times. Thank you Danielle, estamos muito obrigado a vocês.
Chicitita is ready the next morning. Good news but not as good as what Cassius Nunes, Gerente Comercial, tells us next. He confirms, much to our delight, that yes, Euroville can crate and ready our bikes as air cargo; and yes, he can introduce us to a local shipping agent. Cassius recommends we come back in a couple of days to start the process. In the meantime, why don't we check out nearby Ouro Preto? Only 2 hours drive away, the former capital of the state of Minas Gerais is famous for its baroque architecture and is a UNESCO World Heritage Site. We agree it's a must-see. For our excellent time there, see blog chapter, "Ouro Preto, City of Black Gold".
When we return, an email awaits with the shipping quote. We accept. Euroville mechanics Eduardo Lacerda and Rodrigo Marinho begin preparing Katie and the Bumblebee (aka Chicitita) for shipping. Bikes are washed within an inch of their lives. Windshields and mirrors are removed, handlebars rotated downward to minimize height. Since used motorcycles are classified as dangerous goods, batteries must be disconnected, fuel completely drained and all aerosol products removed from luggage. Out goes my cans of WD-40 and Pledge. Katie's shocks are compressed to minimum height then tiedown straps are solidly cinched down to secure bike to crate. When the lid is closed and the crate is double strapped, Katie is safer than money in a Scot's pocket.
Under the direction of Cassius, even our personal To Do Items are taken care of. Marcos Prado, partsman, (see photo above, steadying the tail of the Bumblebee) acts as our guide and guard as we run around Belo Horizonte collecting shipping documents, cash money, and getting verification that our identity documents and Brasil entry papers are valid/authentic, as well as assisting us complete other mysteriously redundant Government requirements.
Just a few days ago a brand new BMW 1200GS sat in this crate on its journey from Germany to Brazil. Now a 2004 KTM 950 sits ready to go from Brasil to the USA. The crate, light yet strong, measures 102 cm W x 113.5 cm H x 227 cm L. Euroville BMW charges us a very reasonable amount to prepare and crate the bikes. When the next lid goes on the Bumblebee's crate we are locked and loaded.
By brute force, we hand load the two crates onto a flat deck truck. As dead weight the crates are 340 kg and 300 kg respectively. As air cargo, each crated bike adds up to a dimension weight of "403.5 Kg". It's a number that, utilizing a formula combining both size and weight, represents the chargeable value. Ciro Fonseca, our freight forwarder agent from CFSA Servicos Aduaneiros Ltda, informs us the first quote was too low as it didn't account for the bikes being dangerous goods. The new quote is USD $4785 for both bikes to travel from Belo Horizonte via truck to Sao Paulo and thence by American Airlines to Dallas. Plus 930 Brasilian Reais for the services of his company to act as our agent. Wow, that's a hell of a chargeable value. But the thought of riding 3000 kilometres back to Buenos Aires to the next best departure point, especially with winter coming on in Argentina, is even less attractive. We clarify details with Ciro with the help of Danielle, then start collecting additional cash at every ATM in Belo Horizonte that will accept our bank cards.
Sérgio Machado, Service Manager for the BMW automobile side of things, fluent in English as well, helps communicate technical details accurately between Cassius and ourselves. Like everyone else we met at Euroville BMW, Sérgio is an intelligent, interesting, down-to-earth person with a genuine friendliness so typically Brasilian. It should be noted this team of customer service experts is headed by Marlus Pires, Gerente Geral (general manager) of Euroville BMW, who, we noticed more than once, leads by example and walks the talk.
Although every person we meet in Euroville BMW gives their time generously, our true champion is the man above, Cassius Nunes. A longtime bike enthusiast himself, Cassius has won top honors as the best in Brasil for motocross more than once. With piercing green eyes, a tireless energy and a charming personality that Joyce describes as "dangerous", Cassius helps us accomplish things we didn't even know we needed to do. Often he is on two cell phones at once and talking face to face with one of his staff at the same time, but never once did we see him lose the plot. No wonder he won those tough motocross races so often. His broken English is 10 times better than my Portuguese but there is no mistaking his command of the situation.
Nine days after our Ah-Hah Moment in Euroville BMW we are climbing out of Rio de Janeiro on American Airlines Flight 904 on an overnighter to Miami. Waiting in Dallas, our final stop, are our very good friends, the Martsolfs. Little did we all know we would be four weeks (!!) in their lovely home waiting for our bikes to arrive from Brazil. Lucky for us Rick and Paulette are as easy going as they are generous.
What made us exit Brazil a month early? Well, mostly it was a matter of travel weariness and more month than money. Brasil, lovely as both the country and its people are, is more expensive than we anticipated.
Looking back, our original plan was to ride from Ushuaia, at the southernmost tip of South America, up the graveled Ruta 40 and the Carretera Austral to Mendoza, then pavement to Salta in northern Argentina and maybe further north to the Salar de Uyuni in Bolivia. We would travel the full length of Brazil, taking a ferry up the Amazon to Manaus, and end our trip in Caracas, Venezuela. One end of South America to the other.
But we also knew once we started traveling adapting to unexpected obstacles was key to both our safety and sanity. As General Dwight D. Eisenhower said, "In preparing for battle I have always found that plans are useless, but planning is indispensable." And obstacles we did indeed encounter that made our plans all but useless. The resulting journey is the one you have read. But as Joyce reminds me, never once did we feel in danger and our journey was much easier than she had anticipated. I enjoyed it too. Although I found it significantly more expensive than my trip in 2006, South America continues to be a best kept secret for travelers.
Now we are back on the most fortunate continent in the world. And we have returned healthy and happy puppies. Here our blog ends. Even though we have another 3000 kms planned before arriving home in Calgary, the remainer of our wee adventure is just another vacation. Thank you for reading our story and sending us emails. For the last six months your words of support have comforted us as if you had been traveling with us in person. To our friends, both new and old, estamos muito obrigado a vocês (we are much obliged to you).
Enter your email address to receive updates to Murray Castle's trip story!
Recent Entries
Archives:
Archives:
Monthly
Archives:
Category
Next HU Events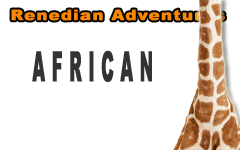 Now that summer is here, get On the Road! Take 30% off the Achievable Dream - On the Road! 2-DVD set until August 31 only.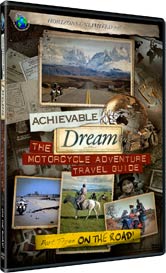 Our veteran travellers share their tips (and great stories) for staying healthy, happy and secure on your motorcycle adventure.
"A fantastic, informative and inspirational DVD."
"It's brilliant - thank you very much!"
Check it out at the HU Store! Remember to use Coupon Code 'ONTHEROAD' on your order when you checkout.
What others say about HU...
"I just wanted to say thanks for doing this and sharing so much with the rest of us." Dave, USA
"Your website is a mecca of valuable information and the DVD series is informative, entertaining, and inspiring! The new look of the website is very impressive, updated and catchy. Thank you so very much!" Jennifer, Canada
"...Great site. Keep up the good work." Murray and Carmen, Australia
"We just finished a 7 month 22,000+ mile scouting trip from Alaska to the bottom of Chile and I can't tell you how many times we referred to your site for help. From how to adjust your valves, to where to stay in the back country of Peru. Horizons Unlimited was a key player in our success. Motorcycle enthusiasts from around the world are in debt to your services." Alaska Riders

10th Annual HU Travellers Photo Contest is on now! This is an opportunity for YOU to show us your best photos and win prizes!
NEW! HU 2014 Adventure Travel T-shirts! are now available in several colors! Be the first kid on your block to have them! New lower prices on synths!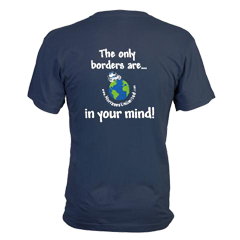 Check out the new Gildan Performance cotton-feel t-shirt - 100% poly, feels like soft cotton!

What turns you on to motorcycle travel?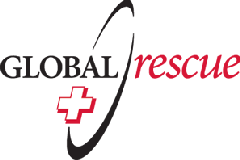 Global Rescue is the premier provider of medical, security and evacuation services worldwide and is the only company that will come to you, wherever you are, and evacuate you to your home hospital of choice. Additionally, Global Rescue places no restrictions on country of citizenship - all nationalities are eligible to sign-up!
New to Horizons Unlimited?
New to motorcycle travelling? New to the HU site? Confused? Too many options? It's really very simple - just 4 easy steps!
Horizons Unlimited was founded in 1997 by Grant and Susan Johnson following their journey around the world on a BMW R80 G/S motorcycle.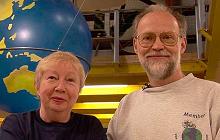 Read more about Grant & Susan's story
Membership - help keep us going!
Horizons Unlimited is not a big multi-national company, just two people who love motorcycle travel and have grown what started as a hobby in 1997 into a full time job (usually 8-10 hours per day and 7 days a week) and a labour of love. To keep it going and a roof over our heads, we run events (22 this year!); we sell inspirational and informative DVDs; we have a few selected advertisers; and we make a small amount from memberships.
You don't have to be a Member to come to an HU meeting, access the website, the HUBB or to receive the e-zine. What you get for your membership contribution is our sincere gratitude, good karma and knowing that you're helping to keep the motorcycle travel dream alive. Contributing Members and Gold Members do get additional features on the HUBB. Here's a list of all the Member benefits on the HUBB.
Books & DVDs

All the best travel books and videos listed and often reviewed on HU's famous Books page. Check it out and get great travel books from all over the world.

MC Air Shipping, (uncrated) USA / Canada / Europe and other areas. Be sure to say "Horizons Unlimited" to get your $25 discount on Shipping!
Insurance - see: For foreigners traveling in US and Canada and for Americans and Canadians traveling in other countries, then mail it to MC Express and get your HU $15 discount!
Story and photos copyright © All Rights Reserved.
Contact the author:
Editors note: We accept no responsibility for any of the above information in any way whatsoever. You are reminded to do your own research. Any commentary is strictly a personal opinion of the person supplying the information and is not to be construed as an endorsement of any kind.
Hosted by: Horizons Unlimited, the motorcycle travellers' website!
You can have your story here too - click for details!