January 04, 2003 GMT
Rain in the Banana Republic
It was a 15 minute ride to the tiny town of Copan Ruinas, on a brand new tarmac road, still no signs though! We parked by the main square and cast about for accommodation. An American by the name of Jessie came over for a chat and invited us to his place for a beer, when we had settled in. A nice start to our visit.
The hotels mentioned in the book were not that appealing and so when a tout offered to show us somewhere, we followed. It had parking and hot water, so we booked in. Decided to see the ruins in the morning, so had a relaxing afternoon, then walked up the hill to visit Jesse. He had colourful house, full of Grateful Dead posters and an even more colourful history, which we enjoyed hearing about. Jenny his Honduran wife, was away visiting her family, but due back the next day, so we were invited for supper and to spend the night so we could meet her too.
The ruins of Copan were not that smashing, after the likes of Palenque and Tikal, although the carvings were splendid, we both felt it was overpriced. I suppose the Hondurans have to make the most out of their biggest attraction. I found it more of a shame however, that for most of the people visiting the ruins, this is all they get to see of the country, as they only make a quick trip over from Guatemala.
When we got back to our bikes, we were surprised to see another parked beside them, and with German plates. We waited for the rider to return and so met Georg, who has been on the road on his Africa Twin since May.
Another German bike in Honduras
Chatted over coffee in the café until we were kicked out as the park was closing, swapped email addresses and agreed to meet up later on the north coast. We then rode up the hill to Jesses place, squeezed our bikes into his garage and spent a very enjoyable evening with him and Jenny.
After a quick trip to Gracias, it was time to visit the coast and hang out at the beach for awhile, something we hadn't done since Los Angeles! Along the way we saw lots of stalls selling fireworks, so decided to stop and buy some as New Years Eve was just a few days away. In Guatemala, the stalls had much more selection and for some obscure reason sold apples and grapes as well. Here the fireworks were of the showy type instead of the louder explosive type that we had tried out at Christmas. We bought a string of crackers and packed them carefully away in the panniers.
How much of this can we squeeze into the panniers?
Omoa, a small village by the beach was our next destination.. We stayed at Rollis place, as he had plenty of room for the bikes and a nice area to camp. Here we met Robb, also heading south on his R100GS. We spent 3 lovely days here, recharging our batteries, with little to do but walk on the beach or read a book.
Arno relaxing for a change
The only minus points were the ferocious mossies that attacked constantly, our only respite being in the tent behind mossie nets.
We let off the firecrackers around midnight on New Years Eve, out on the street with everyone else. Kids had been lighting fireworks and bangers the whole day and I was surprised that there were any left, but plenty had been held in reserve for midnight.
With the New Year came rain, we postponed our departure by a day as the rain wouldn't stop long enough for us to pack. We eventually left for Tela, drove in the rain for most of the way and booked into the first cheap hotel we found. It was at the bottom end of the pile, but had great parking. Arno came down with a severe case of food poisoning and spent a good amount of time in the toilet! We decided to leave ASAP, the crappy hotel room doing nothing to make him feel any better. After a visit to the chemist, I packed the bikes and by noon we were ready to ride to La Ceiba. Arno wasn't really fit to ride a bike, but he managed and we only had to stop once for him to be sick. We found the hotel in La Ceiba easily enough, checked in and Arno slept for 24 hours, while it rained and rained.
If it rains anymore we'll take the boat and leave the bikes!
We were supposed to leave the next day, but the rain didn't let up, so took the time to catch up on email. Georg turned up after having completed his diving course out on the islands, and so the next day, despite the rain, we left the coast and headed inland. Drove all day, almost right across the country, in the rain until after we had passed the capital, Tegucigalpa. We had decided to cross the border at Las Manos, supposedly a lot quieter than those to the south and our last night in Honduras was spent in the tiny town of El Paraiso, where at last the sun shone!!
We made the usual early start the next day and got to the border early, it was very quiet and we signed ourselves and the bikes out of the country, changed our last Lempiras into Cordobas, all within an hour. Over to the Nicaraguan side, where we were immediately surrounded by moneychangers and tramitadors. Both were out of luck, as usual we did the whole thing ourselves. This time we had it a bit easier, an American couple had arrived about 10 minutes before us with their pickup and had employed a helper, so we just followed them around. They were done a little quicker than us, had the forms filled out correctly the first time, etc, but it wasn't worth the U$5 they paid – in our opinion anyway.
This sign was tucked away behind all the trucks at the border, the road, was in fact much better than this one!!
For the record, we paid for immigration a whopping U$7, plus 10 cordobas each, making Nicaragua the most expensive country yet. For the bikes we paid 147 cordobas, which is about U$8. The bikes were inspected and we had to get all paperwork copied for the police, then after the time it takes Liverpool to beat Manchester United, we were off, Granada bound.
Posted by Sian Mackenzie at
04:37 AM
GMT
January 15, 2003 GMT
If its Tuesday it must be…………..
The road to Granada was easy and in good condition, the driving too was a lot less hazardous, so we took it easy and got to the hostel in the late afternoon. Parking was right at the back of the building, through the restaurant, bar, reception, laundry, toilets, rooms and into a leafy patio. For once we didn't lock the bikes together – they weren't going anywhere without someone noticing!!
Through the restaurant to where we could park the bikes
Leaving was much easier.
Spent a couple of days looking around the city, it was a little too busy with tourists and consequently very expensive – by Nicaraguan standards anyway. We tried the local speciality "vigarron" from one of the booths in the park, fried pork skin served with coleslaw and yukka, on an enviromentally friendly banana leaf. Not bad, like pork scratchings on steroids. Another real treat was ice cream, reasonably priced here and great in the heat.
Leaving Granada, we rode towards Masaya Volcano. At a big junction we stopped at the side of the road to look at the map and were told to stop by the police there. Because I had come to a brief halt actually on the road before pulling onto the side, he took my driving licence to examine. He then wanted to talk to Arno and Georg, who, by asking for directions to Managua and being very polite, managed to get my papers back without parting with any money, while I stood and looked repentant on the side of the highway. At the entrance to the National Park where the volcano was located, we got more info and found we would need at least the whole morning to make the most of the $6 entry fee. Decided to wait until Costa Rica to go and see volcanoes and instead rode back past the policeman (that will confuse him!) and towards the border with Costa Rica. We took a quick detour to the beach, the Pacific side this time away from the rain. Took a dirt road from San Juan del Sur, along the coast to Playa Majagual, where you can camp by the beach for $1.
A peaceful sunset on the Pacific Coast
The evening started well with a lovely sunset and improved when the generator failed, so no loud music!! One drawback here in Central America, you can't get away from the noise of TVs and radios. Even if you choose a nice quiet restaurant, the owners will turn on the TV or stereo especially for you!! So we spent a peaceful evening in front of a real fire, with only the sound of the waves and the insects to disturb us.
The following day, we were ready to face another border. We spent only 5 days in Nicaragua and I feel a little like those Japanese or American tourists who "do" Europe in 2 weeks. More time would have been great as the people are friendly and there is lots to see and do away from the tourist stop of Granada. If we are to see anything at all of Costa Rica however, and be in time to book our bikes onto the ferry to Peru, at the end of the month, we need to get a wiggle on.
The road took us along Lake Nicaragua and we got a good view of the volcanic island of Ometepe.
Lake Nicaragua and the island of Ometepe
It was a windy ride, the wind coming from off the lake and blowing us almost off the road in places. The border was huge, the biggest yet, no wooden shacks here! As we arrived, we were surrounded with a bigger than usual crowd of money changers, tramitadors and hawkers. Ignoring them as usual, we tried to work out where to go and what to do. We took advice from someone in uniform (not always a good idea) and had documents copied, which we never needed, and paid a 14 cordobas "special payment" to enter the customs area. We had been warned about this little scam, but still fell for it! Had to fork out U$2 to leave Nicaragua, at immigration, had to pay in dollars too as they didn't take anything else, but didn't pay anything for the bike, just had to get the paperwork stamped by the right person.
Over on the Costa Rican side, things were at first glance much the same, but cleaner. The differences soon became apparent and started with the buses lined up to take people towards San José. No second hand school buses from the USA here, luxury coaches were the norm. The immigration building was huge, complete with café and air conditioning.
Didn't have to pay a cent to enter the country, we also didn't pay to have our bikes fumigated (although I'm sure we should have). The only sting in the tail was the compulsory insurance, 4 months costing 5190 colones – about U$14. Had to wait awhile for the customs officer to come back from her lunch, so she could type all the details into a computer, then we were finished and ready for the Costa Rican roads. And yes, they are as bad as everyone says. Most countries so far, have at least attempted to make a good impression with their roads, at least for the first 5 or 10 km's. Not so here, in the so-called Switzerland of Central America.
The main route through the country, the Pan Americana in fact, was paved, well in a sort of patchwork fashion, that didn't quite cover the huge potholes that dotted the road like a bad rash. There were also numerous police check-points, at some of which we were stopped and our papers checked. It was a relief to turn off the main highway, away from the traffic, the checks and the terrible surface, onto the road towards Tilarán and Lake Arenal. The road was narrower, but in better condition and not so windy as the highway to San José. The views were also more spectacular, especially as we got close to the lake, and to the village of Nuevo Arenal, where we hoped to spend the night.

Posted by Sian Mackenzie at
01:50 PM
GMT
January 27, 2003 GMT
Must see that volcano

We had missed out of the volcanoes of El Salvador and Nicaragua and hoped to make up for it here in Costa Rica, home to some of the most accessible and the most active volcano in Central America.
Our first meal in Costa Rica was goulash with dumplings, and Arno spent the morning making apple strudel and croissants. We had spent the night with Tom and Ellen a German couple who run a bakery and provide accommodation in the village of Nuevo Arenal. For the ride around the lake to La Fortuna, we were joined by Steve, a Canadian who had seen our bikes parked outside the bakery. It was raining as we left and the lake was shrouded in mist and cloud, the volcano hidden completely – not a good sign.
The road once again took a lot of concentration, narrow, half paved with huge potholes, it wound along the lake towards the volcano that was hiding in the clouds. Arno and Steve rode ahead to try and reclaim a tyre, that Steve had that morning left at a bike shop, fed up with carrying it around. Georg and I took it a little easier, stopping to take photos of the lake and the Volcano Arenal, which was clear for a good 10 minutes, just as we rode past.
A brief glimpse of the active volcano from afar.
Met up with the others again, with the tyre and rode towards San José. No point staying to view a volcano when it is covered in cloud! The weather gradually improved as we rode over the mountains, the roads too! Driving into San José was easy too, a 4 lane highway almost to the centre of the city. Stayed at Gaudys Hostel, a new place where we could squeeze the bikes in behind the security gate.
This space is great for 2 bikes, 4 was a bit of a squash.
Arno and Georg spent the next day hunting down a good tyre deal, a place to change oil and looking for stickers for the bikes. We are collecting them for each country and are surprised sometimes how difficult they are to find. In Nicaragua the search was fruitless, so one country is already missing!! In the evening, they provided the entertainment for the neighbours by changing my chain and sprockets out on the pavement in front of the hostel.
Heading out of San José we got caught up in traffic heading out to a Fiesta in Palmares, once past that town it wasn't long before we reached the turnoff to Monteverde and Santa Elena. The road was tarmac for the first 20kms or so, then dirt, my new chain is going to love this!! Once again I battled, and one steep dusty corner defeated me. The views almost made up for it though, we could see all the way to the coast as the sun started to go down.
We had come up the mountain to see cloud forest and instead of trudging through the mud in the reserves, decided to do the Sky Walk. A series of suspension bridges link a trail through cloud forest, taking you up to canopy level.
One of the suspension bridges in the cloud forest
It was fun to do, and we saw a little wildlife as well.
We took a different road down from Santa Elena, not so demanding and by mid morning we were on the Tempisque ferry, heading for the Nicoya Peninsula and the beach. Playa Junqillal was at the end of another dirt road, and so more peaceful than the likes of Playa Tamarindo or Coco. We camped almost right on the beach, under the palm trees away from it all with only the wildlife to amuse us.
This large stick insect, together with a variety of crabs and a scorpion inspected our cooking kit.
Spent a couple of nights here until it was time to return to San José to collect the tyres that we had ordered. We had hoped to detour up into the mountains to see the volcano, but we could see from the highway, that the mountains were covered in black clouds and it even rained lightly as we rode into the city. Are we never going to see a volcano!
Back to the hostel where our bikes were safe and we could use the internet for free. The tyres hadn't arrived, manaña we were told, but Georg managed to find us stickers! We even managed to meet up with Merv and Ruth who were in town again together with visiting relatives
We picked up the tyres early the next morning and, having given up on the idea of seeing Arenal Volcano, rode up to Volcano Poás. Here our luck was in, the cloud wasn't yet covering the crater and we got a great view of the acid lake and plumes of sulphur steam.
At last we get to pose in front of an active volcano.
Eventually the clouds rolled in and the crater was lost once more in the mist. It was time for us to get going too, back for the last time through San José and towards Panama. We camped wild, after Cartago in the mountains just off the highway and the next day rode over a 3400m pass and then down into the steamy lowlands to the border with Panama.
We hadn't eaten chicken the whole time we had been in Costa Rica, but we didn't escape from it completely. An indecisive bird crossed the road in front of me, changed its mind when it saw my bike bearing down on it, flew upwards and hit my knee, feathers flew and it flapped in the road awhile, while Georg and Arno swerved around it, before it ran back from whence it came! A memorable end to our time in Costa Rica. A country that for us, didn't turn out as expensive as we had feared, by cooking ourselves most of the time and camping wild where possible, we spent less than U$16 a day each. A sum that included buying tyres, brake pads for the XT and insurance at the border.

Posted by Sian Mackenzie at
11:45 PM
GMT
Enter your email address to receive updates to Arno Backes and Sian Mackenzie's trip story!
Recent Entries
Archives:
Archives:
Monthly
Archives:
Category
NEW! HU 2015 Motorcycle Adventure Travel Calendar is now available! Get your copy now for some terrific travel inspiration!
HUGE, 11.5 x 16.5 inches, beautifully printed in Germany on top quality stock! Photos are the winning images from over 600 entries in the 9th Annual HU Photo Contest!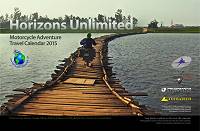 "The calendar is magnificent!"
"I just wanted to say how much I'm loving the new, larger calendar!"
We share the profit with the winning photographers. YOU could be in the HU Calendar too - enter here!
Next HU Events
NEW!

USA Virginia: Apr 9-12, 2015
Take 40% off Road Heroes Part 1 until October 31 only!
Road Heroes features tales of adventure, joy and sheer terror by veteran travellers Peter and Kay Forwood (193 countries two-up on a Harley); Dr. Greg Frazier (5 times RTW); Tiffany Coates (RTW solo female); and Rene Cormier (University of Gravel Roads).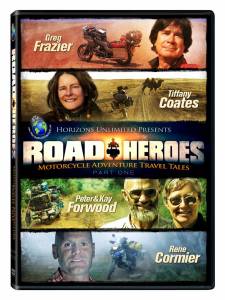 "Inspiring and hilarious!"
"I loved watching this DVD!"
"Lots of amazing stories and even more amazing photographs, it's great fun and very inspirational."
"Wonderful entertainment!"
Check it out at the HU Store! Remember to use Coupon Code 'HEROES' on your order when you checkout.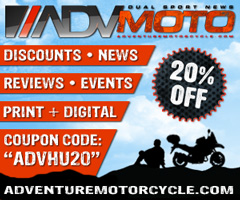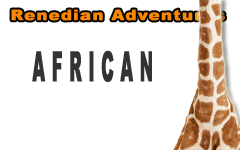 What others say about HU...
"I just wanted to say thanks for doing this and sharing so much with the rest of us." Dave, USA
"Your website is a mecca of valuable information and the DVD series is informative, entertaining, and inspiring! The new look of the website is very impressive, updated and catchy. Thank you so very much!" Jennifer, Canada
"...Great site. Keep up the good work." Murray and Carmen, Australia
"We just finished a 7 month 22,000+ mile scouting trip from Alaska to the bottom of Chile and I can't tell you how many times we referred to your site for help. From how to adjust your valves, to where to stay in the back country of Peru. Horizons Unlimited was a key player in our success. Motorcycle enthusiasts from around the world are in debt to your services." Alaska Riders

10th Annual HU Travellers Photo Contest is on now! This is an opportunity for YOU to show us your best photos and win prizes!
NEW! HU 2014 Adventure Travel T-shirts! are now available in several colors! Be the first kid on your block to have them! New lower prices on synths!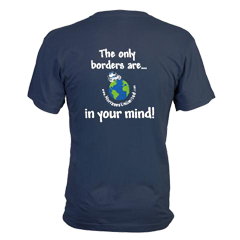 Check out the new Gildan Performance cotton-feel t-shirt - 100% poly, feels like soft cotton!

What turns you on to motorcycle travel?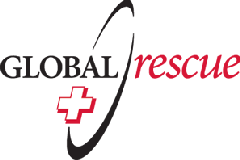 Global Rescue is the premier provider of medical, security and evacuation services worldwide and is the only company that will come to you, wherever you are, and evacuate you to your home hospital of choice. Additionally, Global Rescue places no restrictions on country of citizenship - all nationalities are eligible to sign-up!
New to Horizons Unlimited?
New to motorcycle travelling? New to the HU site? Confused? Too many options? It's really very simple - just 4 easy steps!
Horizons Unlimited was founded in 1997 by Grant and Susan Johnson following their journey around the world on a BMW R80 G/S motorcycle.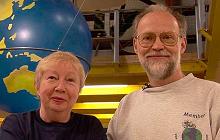 Read more about Grant & Susan's story
Membership - help keep us going!
Horizons Unlimited is not a big multi-national company, just two people who love motorcycle travel and have grown what started as a hobby in 1997 into a full time job (usually 8-10 hours per day and 7 days a week) and a labour of love. To keep it going and a roof over our heads, we run events (22 this year!); we sell inspirational and informative DVDs; we have a few selected advertisers; and we make a small amount from memberships.
You don't have to be a Member to come to an HU meeting, access the website, the HUBB or to receive the e-zine. What you get for your membership contribution is our sincere gratitude, good karma and knowing that you're helping to keep the motorcycle travel dream alive. Contributing Members and Gold Members do get additional features on the HUBB. Here's a list of all the Member benefits on the HUBB.
Books & DVDs

All the best travel books and videos listed and often reviewed on HU's famous Books page. Check it out and get great travel books from all over the world.

MC Air Shipping, (uncrated) USA / Canada / Europe and other areas. Be sure to say "Horizons Unlimited" to get your $25 discount on Shipping!
Insurance - see: For foreigners traveling in US and Canada and for Americans and Canadians traveling in other countries, then mail it to MC Express and get your HU $15 discount!
Story and photos copyright © All Rights Reserved.
Contact the author:
Editors note: We accept no responsibility for any of the above information in any way whatsoever. You are reminded to do your own research. Any commentary is strictly a personal opinion of the person supplying the information and is not to be construed as an endorsement of any kind.
Hosted by: Horizons Unlimited, the motorcycle travellers' website!
You can have your story here too - click for details!