January 18, 2010 GMT
DECEMBER 27, ESQUEL, ARGENTINA.
DECEMBER 27, ESQUEL, ARGENTINA.

In San Rafael, at John and Annette's place, we stayed for 6 weeks. You can stay at their finca (farm) if you give them a hand. Before we left we finished the galleria (the porch). We did the concreting underneath in the early hours of the morning to avoid getting heatstroke.
I love this place when it's spring, all the greens look so pretty.

We celebrated Guy Forks night at the finca. One of those great ideas of Annette. She made toffee apples and I made a guy from old cloths and hay. Annette had invited friends, also expatriates from Britain and the States (the last one's had no clue what Guy Forks night was all about!).

It took all morning to buy some fireworks for Guy's night. In the shop they couldn't tell us how much it would cost and we had to come back 3 times before we got them. After Andy had fired off the first one, the hay underneath the trees started to burn. Some buckets with water prevented the finca from being burned down. After singing a song and a last dance with Guy we threw him in the fire...


The weather is very strange in this area. John and Annette's plums and grapes got hit by the frost, so there will be not much to harvest next summer. Sometimes the winds were horrendous. We just heard that they had a tornado....it proves that it is an El Nino Year!
It was not easy to say 'Goodbye' to John and Annette after having spent one and a half months at their place. We wish them both more than Good Luck, they deserve it . Bloody hard workers they are.

We left San Rafael on the 10 of November, following ruta 40 South and enjoyed being on the road again very much. The scenery was fantastic, blue sky and red and brown rocky mountains in front of higher black mountains with snow on top.
We found an OK-campsite in Malarque, quite close to a luxury supermarket. Good choice.
Ruta 40 has some good bits with asphalt and also some really shit bits of rippio (wash board), but you forget all your sorrow because of all the fascinating surroundings.
The campsite in Chos Malal didn't look very good, but it was surprisingly quiet after some drunks had left. From that moment on almost everybody we met was giving us presents...a guy gave Andy a fluffy hat, so he looks like a cosak now. In the middle of nowhere Argentina's Buff distributer gave us 2 Buffs (head scarves) with the Argentinian flag on it, together with a handy thermometer.
Andy is wearing that on his coat, so I can see how hot he is.
More lucky moments, we got stopped by the police twice and they even didn't notice, after a professional check on us, that the numberplate was gone.

We headed for Las Lajas and stayed 2 nights in a wooden cabana without electricity, but with a wood stove and a great view. Our cabana was surrounded by my favorite trees, the Monkey Puzzle Trees.
It took us 2 hours to cross the border into Chile. They checked the top box, but not the sidecar box, which was full of chocolate raisins, Andy's favorites. You are not allowed to take any fruit, vegetables and meat into Chile, but Andy didn't care. You can't find chocolate raisins very easy in South America.
After crossing the border we saw 3 volcano's, covered in snow, in one view! We also drove through South America's longest tunnel, that was quiet scary, I don't like tunnel darkness. It was cold, so we headed for a place called 'Swiss Andino', a hostel near Lonquimay.

Chile is much greener than Argentina (because of the rain!) and looks different as well. Higher mountains, more snow. The houses look like the ones on the prairie in a Wild West movie. The people are a bit more reserved than in Argentina.
You shouldn't write stupid things about your self in a blog like this, but sometimes it has to be done...We spent 3 nights in the nicest room in 'Swiss Andino', because we thought it was not to expensive. But when we got the bill we found out that one dollar is 516 pesos and not half of that amount, as we thought!
So we had spent our weekly budget in a oner, great. So for the next 5 days we had to camp in the wild. We drove around a huge volcano and got stuck in the snow, we turned around into another direction, following a river and found a beautiful place to camp near Troyo, a small village. Than it rained for almost 2 days and we were reading books and talked about our future plans while we were trying to stay warm in our sleeping bags.

We followed the Lake Route South from Curacautin to Cunco, a great ride, but it was still cold and wet. So we spent another day in the tent. I finished 2 books, one from Ian Rankin and one about Eric Clapton's life.
We got smelly, time for a cabana. Also a good place to change a broken spoke and to warm up. We decided to go back into Argentina. We wanted a bit more sunshine and Chile is not cheap.
We ended up in Villa Penuana, just over the border in Argentina, on a camp site. It came with a cow that was chasing the dogs (or the other way around). They promised to warm up the water for a shower for us, but all we got were some drops.
There are loads of birds in Park Lanin, a park near the Lakes. We have been before in this area, but it was summer than and very dry. Now it looks green, green, green. I love it!

The road from Junin de Los Andes to Bariloche is so nice, yellow bushes and lupines everywhere. Lots of places to wild camp or to fish!
In Bariloche we contacted our friends Klaus and Andrea and their kids Manu and Nico. We had met each other 3 years ago and had shared a cabana together. Klaus had started a bike tours company and we were very curious about how they were doing. We were all very pleased to see each other again. One day we had a great ride out around the lake and all the family members ended up -one at the time- in the sidecar. Normally we don't do children (sorry kids), but Manu and Nico are super kids. They speak 4 languages, are funny and great company. And can make pancakes as well!

We stayed 3 nights in a wooden cabana at Klaus and Claudia's place near El Bolson. We worked on their land, trying to dig out huge thistles, like the ones in Scotland. They organized a big assado and that was very nice!

Time to start heading East to Viedma, to the HU meeting for travellers like us. It's a 3 days ride over the 'Pampa' , mostly rippio, to the other side of Argentina. We spend the nights in what we call ' Hotel Patagonia', which means, sleeping in a quarry next to the road somewhere on the Pampa.

So you get beautiful sunsets and silence. Except for the sound of a machine gun in the distance...it comes from a small animal that that warns his tribe for smelly bikers like us.
Lots of the Argentinian version of a South African ostrich around, wild horses also and other strange birds.
We also saw the Argentinian version of Ayers Rock, it has the shape of an enormous empanada.
Towards Viedma the Pampa is totally flat and it's very windy. The Patagonian winds are very, very strong and dusty.
We stopped in Viedma to rob a bank and to stock up with some healthy food and beer. Back at the bike we met 2 Canadians, Brian and Mary (later on we called her cave woman, but I can't tell you all the details about why). We drove together to the camp site in El Condor, were Kevin and Lorraine were already settled in. It ended up in having a big assado together.
From that day on other bike travellers arrived. There was another sidecar as well!!!!!!!!Tony from East Germany. He had had a bike accident and has to use a wheel chair. It doesn't stop this happy guy going where he wants to go, together with his lovely girlfriend Ina, who rides her own bike.

Old friends turned up, Sandra and Yavier from Dakar Motos and John (without Annette unfortunately). Finally we met Smelly Biker, Bob Morly, who wasn't smelly at all but nice company and also Ken and Carol Duval. They had had a bike accident and had visited 3 hospitals in Buenos Aires to find a doctor who would have no problems to let them go of to Viedma! And there they were! They came by bus and were very happy company.
Oscar and Nancy hosted the whole meeting in a great way. The assado they organized was perfect as also everything else.
This HU meeting was a very cozy one, we enjoyed it a lot!!!!!!!!!!!!!!!!!
Before we hit the road again, we parked our sidecar in Viedma in front of a radio station and before we had discovered what we had done I ended up in a real studio with micro phones and 3 interviewers, all asking questions at the same time....it was a good opportunity to thank Oscar and Nancy. I hope everybody has heard that.

We had to go back the same road we had been on before. Our friends Hazel and Tony would arrive by plane in Bariloche in 4 days time.
We drove back together with a Swiss couple, Chris and Sylvia, and spent together 2 nights in a cabana in Bariloche, which was nice.
In this cabana I turned the bath in a gigantic washing machine and managed to flood the whole place...
Now we are in Esquel, together with Tony and Hazel, who still can't believe that they are in Argentina! It's Christmas, we are in a nice place, with good friends, life ain't bad.
Back in Scotland they had floods and now loads of snow. It's minus 12. And in Holland nobody can travel because of the weather.....
Happy New Year to all our family members, our friends and all the travellers we have met on the road. We wish all of you all the best (and more) for 2010. It will be a good year for making your own wishes come true and to share all the good things together.
January 23, 2010 GMT
SHIT SHOVELLING IN 'HOTEL PATAGONIA' AND BONNIE MEETS TIGER!
SHIT SHOVELLING IN 'HOTEL PATAGONIA' AND BONNIE MEETS TIGER!
January 17, 2010, Esquel, Argentina.
Christmas was well celebrated with our friends Tony and Hazel in Esquel. We had a real Christmas dinner, even champagne for breakfast. This would be the last treat for a while. The plan is to go South, following the Caratera Austral in Chili and routa 40 in Argentina, all the way to Porito Moreno (an enormous glacier). It means we have to wild camp a lot and eat noodles..

The Caratera Austral showed me one day 12 waterfalls in one view! Yellow bushes and blue lupines in front of emerald lakes and rivers made it all look like a postcard picture. The road was often full of potholes and deep rippio, but my eyes were everywhere and popping out all the time. We saw a hanging glacier and a huge waterfall with a rainbow.

On the way to Coihaique Tony and Hazel took an exhausted push biker with them in the car. He had hurt his leg. When he had a look at the sidecar he called Andy 'a road worrier'.

We could not find a good place to stay in Coihaique, but some off road riders let us camp on their racing circuit. It came with a great view on the mountains and a little guard dog. The next morning the dog proved it's value, it chased an angry bull away, who had planned to run over our tents and to shit on our bike. So the little brave one got our last chorizo sausage.

One night we wild camped in the woods next to a green blue river. Tony, an expert in making fires, created a nice camp fire and cooked for each of us a super sized steak.
Hazel wanted to do her wash and asked me for a toothbrush. I should have given her Andy's.
New Years Eve showed us a magic full moon on the run down camp site in Cocrane. In front of another great camp fire we toasted each other, our families and friends and we all got a bit wobbly from the Chilean wine and other spirits. By the time we started to sing our national anthems it was time to go to bed.
On the first day of the new year we drove through a fantastic park to the border to get back into Argentina. That's where we all saw our first condors. Guanaco's and rea's ( birds that look like the South African ostrich) everywhere.
At lunchtime I sat down in the grass and then I found out that my bum was full of spikes, my behind looked like a hedgehog. Andy de-spiked me.

Also we were lucky to see an armadillo. We stopped the bike and it was still sitting in the middle of the road (trying to hide) so we could have a good look.
Travelling with us must be sometimes very hard for Tony and Hazel. We travel most of the time through very remote area's with bad, bumpy and dusty tracks. The Patagonian winds are very, very strong, so to build up the tent is a challenge.
Often it's difficult to find some civilization with a supermarket, a camp site or a bank. But we see beautiful scenery and visit extraordinary places. A highlight for Tony and Hazel was seeing the Porito Moreno Glacier, which showed them the blue beauty only for them, at the end of the day, when all the tourists were gone. They saw ice bergs floating by or popping out of the water!
They studied a lot of wild life and followed the mighty condor with their eyes.
One evening we couldn't find a decent place to camp. We were in the middle of nowhere, hundreds of miles away from everything, but we found a derelict building surrounded by some bushes. Andy and I call these places 'Hotel Patagonia'....It was full of dry cow shit, to Hazel's big surprise. After some comments she invented a shit shovel out of a rusty iron plate and cleared the area, so they could build up the tent!
Tony must have been a boy scout or a pyromaniac in his former life. The campfires he builds are pyramid shaped to start with and burn like hell. Always good to warm up Hazel's cold hands and feet. He is also specialized in houte cuisine camping cooking. Give him some noodles and a bag of cheese sauce and it will taste great!

We met old friends along the way, like Richard from Germany. We stayed together on a camp site in Cuzco. He had written the mileages he had done on his bum, made a picture of it and had send it home as a Christmas card. We also met Tony (with his sidecar) and Ina again, just before they had to ride through a very difficult part of ruta 40 with deep rippio, in very strong winds.
While we were on a camp site in El Calafate. near the glacier, we heard about other travellers with a sidecar... A TRIUMPH TIGER!!!!When we met we found out that it were Thomas with his Astrid from Germany. We had met Thomas 3 years ago when he travelled on the caratera Austral with a solo bike. It was super to meet them and from that moment on the boys were upside down under the sidecars to study and discus every part.

The 6 of us got on very well with each other, so we travelled together to Mount Fritzroy and beyond.
From Passo Roballos you can follow a small track along the border to Los Antiquos. It's only doable when it's not raining and it's one of the most beautiful tracks in Argentina. The mountains are gorgeous! Together we had to rebuild the track a few times, so Tony and Hazel's car could get through as well. All day long we were stunned by all the different types and colours of mountains.
It was very busy in Los Antiquos because of the cherry festival, so we drove another 50 something kilometers to a town, also called Porito Moreno, for a camping spot, fuel and food.
To cross the border back into Chili was not difficult. We all ended up on a camp site in Chile Chico and had a last meal together with Thomas and Astrid. They wanted to go South and we had to go North. Tony cooked steaks on the BBQ and I made chips on our stove.
No more the Tiger in front of us, or in my mirror, looking backwards......
We all enjoyed Thomas and Astrid's company very much, so it was hard to say 'Goodbye'.

Back on the Caratera Austral we met several other bikers, also Chris and Sylvia, who are travelling South.
Tony and Hazel wanted to travel a bit faster, their time is running, the hire car has to be back in Bariloche soon. So on a spot somewhere in the bushes on the road to Coihaique we had our last camp together and we all got quite drunk around the fire and talked till late in the night about all kinds of aspects of life (well, that's what I think we did...).
The plan is to meet up again in Bariloche.

On our own again.
One night we found a fogon (a shed) where we could stay for the night. A good spot for a shower, the wash and a big warm fire. The shed gave us some shelter against the howling wind outside.
The 14 of January, Andy's birthday. He had forgotten all about it ( a result of his age), till I started to sing the Happy Birthday Song in his ear!
We are still on the Caratera Austral, on our way to Futalafu, to cross the border into Argentina again.
Andy wants a big Argentinian steak.
I want a shower. Hopefully we will find this in Trevelin or Esquel.
This bit is written by Hazel, especially for friends and family...
Each day is a new adventure here in Patagonia. We came 4 weeks ago to meet our friends Andy and Maya and share their travels down through Argentina and Chile. We expected warm sunshine and fantastic scenery. Well the scenery has been breathtaking the weather not so good. The typical Patagonian wind is merciless and in the first part of the journey we had unseasonable rain. Never the less we are experiencing an amazing country, good and bad. South America is the most definitely a country of opposite extremes. The weather in the North sizzling hot and in the South freezing. The scenery on the Caratera Austral beautiful and in some stretches of campo (country side ) BORING! The people though are always the same lovely and helpful.
We camp wild most nights in 'Hotel Patagonia' (as Andy and Maya call it). This means anywhere we can find to pitch our tent free. Hopefully with a bit of shelter from the wind. When it gets too wet or cold for me I would give a 100 pounds for a cabana but most of the time that is not an option. One particular night I slept with five layers of cloth on and was still freezing! (But it's a challenge and something to tell my grandchildren).

Hotel Patagonia's 'rooms' are not only draughty and cold, but they can be smelly. When we stopped at a ruin in the middle of the camp one night Tony and I were sharing the 'cow pat' 'room' with Andy and Maya. Before we could pitch up our tents we had to shovel all the dried s....! to one side. So much for my friends back home thinking I was going on a glamorous South American holiday. If they could only see me!!

The best thing about these tiring days travelling sometimes 200 kilometers is that at the end of the day Maya sits down crossed legged in front of her 2 burner camp stove and cooks us a delicious meal from the most meager ingredients. The things we have seen here have been worth every mile. The vastness of this land, the size and variety of mountain ranges. The wildlife (in particular the condors) makes your soul soar.
Tony and I took a day tour to the Porito Moreno Glacier and it will live in our memories forever. The sight of the turquoise blue ice bergs in Lago Argentinia ...wauw...! Then as we neared the wall of this natural wonder, the variety of blues in the cracks and crevices was such a beautiful sight. We gasped in amazement as parts of the Glacier sheared off and plunged into the water sending small tidal waves to the boat. Cracking and booming sounds echoed from somewhere deep in the Glacier. It was just awesome. To toast this fantastic trip we had a whiskey with ice cubes, actually from the Glacier, standing on the deck thinking this is life in glorious technicolour with surround sound!

And we still have 2 more months here. Now we are travelling North and eventually on to Peru. We have Andy and Maya to thank for allowing us to share their special life on the road. For opening our eyes to this beautiful country and a trip we will never forget.
Hazel.
Enter your email address to receive updates to Andy Berwick and Maya Vermeer's trip story!
Recent Entries
Archives:
Archives:
Monthly
Archives:
Category
Next HU Events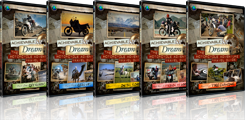 Cooped up indoors in crap weather? Binge watch over 20 hours of inspiring, informative and entertaining stories and tips from 150 travellers! Check it out at the HU Store! Remember to order them both and use Coupon Code 'BoxSet+' on your order when you checkout.
What others say about HU...
"I just wanted to say thanks for doing this and sharing so much with the rest of us." Dave, USA
"Your website is a mecca of valuable information and the DVD series is informative, entertaining, and inspiring! The new look of the website is very impressive, updated and catchy. Thank you so very much!" Jennifer, Canada
"...Great site. Keep up the good work." Murray and Carmen, Australia
"We just finished a 7 month 22,000+ mile scouting trip from Alaska to the bottom of Chile and I can't tell you how many times we referred to your site for help. From how to adjust your valves, to where to stay in the back country of Peru. Horizons Unlimited was a key player in our success. Motorcycle enthusiasts from around the world are in debt to your services." Alaska Riders

10th Annual HU Travellers Photo Contest is on now! This is an opportunity for YOU to show us your best photos and win prizes!
NEW! HU 2014 Adventure Travel T-shirts! are now available in several colors! Be the first kid on your block to have them! New lower prices on synths!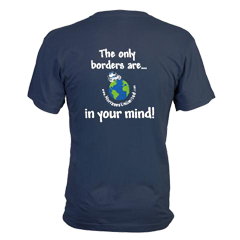 Check out the new Gildan Performance cotton-feel t-shirt - 100% poly, feels like soft cotton!

What turns you on to motorcycle travel?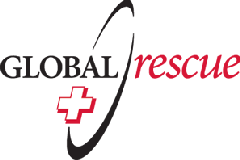 Global Rescue is the premier provider of medical, security and evacuation services worldwide and is the only company that will come to you, wherever you are, and evacuate you to your home hospital of choice. Additionally, Global Rescue places no restrictions on country of citizenship - all nationalities are eligible to sign-up!
New to Horizons Unlimited?
New to motorcycle travelling? New to the HU site? Confused? Too many options? It's really very simple - just 4 easy steps!
Horizons Unlimited was founded in 1997 by Grant and Susan Johnson following their journey around the world on a BMW R80 G/S motorcycle.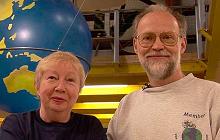 Read more about Grant & Susan's story
Membership - help keep us going!
Horizons Unlimited is not a big multi-national company, just two people who love motorcycle travel and have grown what started as a hobby in 1997 into a full time job (usually 8-10 hours per day and 7 days a week) and a labour of love. To keep it going and a roof over our heads, we run events (22 this year!); we sell inspirational and informative DVDs; we have a few selected advertisers; and we make a small amount from memberships.
You don't have to be a Member to come to an HU meeting, access the website, the HUBB or to receive the e-zine. What you get for your membership contribution is our sincere gratitude, good karma and knowing that you're helping to keep the motorcycle travel dream alive. Contributing Members and Gold Members do get additional features on the HUBB. Here's a list of all the Member benefits on the HUBB.
Books & DVDs

All the best travel books and videos listed and often reviewed on HU's famous Books page. Check it out and get great travel books from all over the world.

MC Air Shipping, (uncrated) USA / Canada / Europe and other areas. Be sure to say "Horizons Unlimited" to get your $25 discount on Shipping!
Insurance - see: For foreigners traveling in US and Canada and for Americans and Canadians traveling in other countries, then mail it to MC Express and get your HU $15 discount!
Story and photos copyright © All Rights Reserved.
Contact the author:
Editors note: We accept no responsibility for any of the above information in any way whatsoever. You are reminded to do your own research. Any commentary is strictly a personal opinion of the person supplying the information and is not to be construed as an endorsement of any kind.
Hosted by: Horizons Unlimited, the motorcycle travellers' website!
You can have your story here too - click for details!