June 06, 2009 GMT
A trapped nerve, bloody spokes and lovely Colombians..
A trapped nerve, bloody spokes and lovely Colombians..
Ecuador, Ibarra, the 6 of June 2009.
On an early Monday morning we went to the harbor in Cartagena to look for Guido's boat. We could see it, it was not far away, but Guido didn't respond to our nervous phone calls. Two hours later he did, he had been in a deep coma, due to a hectic boat crossing and probably to much beer. There had been a terrible storm, everybody on the boat had been sea sick and the waves horrendous. Our bike had attacked Guido's dingy, so it was damaged and our sidecar had a broken light, but there she was!

It was again a stressful and nerve breaking procedure to get bike and sidecar off the boat onto dry land, but we had no mayor problems. Randy, a biker who also stayed at the same hostel as us, gave us a hand and after a few hours working in the burning sun the sidecar was roadworthy again.
When we arrived at hostel Casa Mara they asked us to dismantle the sidecar from the bike, so it was easier to park next to the swimming pool, ha ha...there was loads of space!


The next day we went to the Aduana, called DIAN, to get the bike paperwork done. This office is very interesting, if you have to wait you will be entertained by everybody who is working there. I have never seen so many people flirting and working with each other at the same time.
Officially they have to inspect the bike, but is was almost lunchtime, so it didn't happen. Still I got almost a heart attack when they asked me for a bill of lading, a paper you need when you use a cargo ship, but the sidecar came on a small sailing boat, so we didn't need that!
To celebrate having our bike back we went that evening to the old part of town, together with Randy, who got got grabbed by his tools by a 'lady of the night'. After this incident I walked between Andy and Randy to protect them from more assaults. Like a bull terrier.
In one of the next days Andy's back got very stiff and painful, due to a trapped nerve. Not nice. A group of bikers stayed at hostel Casa Mara, so we met Grace and Adam again (we had met each other in Mexico). Randy took of with his mates and we were on our own again. Andy couldn't walk or sit down, but luckily we were in a great hostel with very nice people! After 4 weeks Andy managed to walk around for a short while. He did a lot of exercises and finally he was able to move around normally again. By then I knew every part of the old town and I could do the shopping in 'Exito', a big supermarket, with my eyes closed. There was lots of time to email and to explore the routes into Peru and Brazil and to read books. I repaired bags and clothes and we found bike insurance. We watched too much TV
and put on weight, because we consumed too many pizza's. I also learned how to kiss and fart at the same time and we had our romantic moments...
Maya: 'You are my sun and I am your flower'.
Andy: 'I am a shoe and you are my sock'.
Maya: 'You are like honey and I am your bee'.
And off course it turned the wrong way...
Andy: 'I am your toilet and you are my s...'.
We met more nice bike travellers and had a beer together from the moment Andy was able to do so.
The hunt for spokes started again and we found a shop where they would be able to rebuild the front rim, but they never called us back, so we wanted to leave it. On the day of leaving Cartagena we visited this shop, they still had the one and only spoke that we needed as an example.....and then we found out that they had found the spokes we were looking for months for! So we went back to the hostel, they were happy to see us again and we took the rim the next day to the shop. They did a good job and we were very pleased with that!
Finally we left the hostel and the lovely people who are working there and hit the road again. After a few hours riding we had to wait for hours, a bridge was closed! At the end of the day we found a noisy place to stay. Roaring trucks kept us awake.
After 3 days on the road we arrived in Medellin. We didn't get stopped by police and army to often. And if they did they were more curious about the bike than serious about checking paperwork. Two years ago we got stopped every day many times, but now not very often.
It's only since 7 years that you can travel like we do in Colombia, due to a very good president, called Uribe. He attacked corruption and terrorism and the economy is going up. We didn't hear any complains about Uribe, but next year there will be elections again and Uribe can't get reelected, because he already has done almost two terms. We hope that there will be another good president, Colombia deserves that.
We got lost in Medellin, as we do everywhere, but found Ruta 40, the famous BMW bike shop. We said 'hello' to Mauricio and the other people who are working there. Every time we got lost in Medellin there was a guy on a little bike showing us the way, like a guardian angel. We went to Suzuki Super Servicio, the bike workshop were Carlos Mesa is working now. Two years ago he was working at Moto Angel and he helped us out with several bike parts. Moto Angel still exists, but it has changed ownership. Carlos and Mario (the manager of Suzuki Super Servicio) offered us space in their workshop where we could work on the bike. That made us very, very happy! Carlos took us to hostel Medellin, they have a big garage and we came back the next days to work on the bike.

When I said to Mario that you can eat from the floor (a Dutch expression that means that the workshop floor is very clean), he asked: 'What do you want to eat?'
Our front wheel got new spokes in Cartagena, but we didn't had any reserve spokes. Mario and Carlos arranged that. They helped us out with many other things and didn't mind having us working in their palace. They like to have bike travellers around and we felt very welcome.
I bought a big cake that was covered with cream and fruit and everybody in the workshop got a huge piece and we made a big card, but you can't do enough to express the feelings of appreciating the friendliness and helpfulness.
I am a big fan of Carlos, he is not only a very good mechanic, he is also nice to talk to. The same counts for Mario and both are full of humor and lust for life.
The bike is ready now to cross into Peru and Brazil, we don't have to worry about those bloody spokes anymore. Thanks very much Carlos and Mario!!!!
Trying to get out of Medellin is not easy, the traffic is horrendous, but still somebody managed to give us a TRIUMPH t shirt out of a window whilst driving a car!!! We only got lost once and kept following the 25, that took us out of town. We past many small villages, got black faces from the smoke from the trucks, but enjoyed the views very much. It got cooler as well, we didn't sweat anymore and we even had some rain. That night we stayed in a so called 'love hotel' with a big garage and I cooked inside. It was a bit noisy at night of course.
The next day we drove over windy roads through high green mountains, it was stunning. People were waving their hands off, like everywhere in Colombia. We drove through sugarcane fields, along banana, pineapple and coffee plantations. The hills are so steep that people are living very close to the road . Just before dark we found a small room and the bike parking was in the restaurant.
The area before Pasto reminds me of Scotland. And then we saw a guy on a push bike, he was going uphill for hours. We stopped, had a chat and shared our bread. Then a bike came from the opposite direction.... Bernard and Cathy from Britain, on the road since August last year. She is blind, but has been all over the planet!Have a look at their web site, she is a good writer (www.worldtour.org.uk)
Yes, you meet amazing people while you are travelling.
We exchanged maps and stories and then everybody had to follow the road again.
That night we stayed in a dodgy love motel in Pasto. The border is not far from this place, so we crossed this the next day. It was a Saturday and there was no queue at all. I had to help the border officer with the paperwork and I am glad that my Spanish is a bit better now.
We only got a visa for Ecuador for 10 days, the computer didn't work. Luckily Ecuador is not that big.
We got an email from Jeff who we want to visit in the North of Peru, but some roads are blocked, so we have to be aware of that.
At he moment we are in the north of Ecuador, in Ibarra. It was a very beautiful ride to here. Ecuador is different, the people are more serious than in Colombia, but still very nice. We have many good memories of Colombia, due to many friendly and helpful people. There is something special about the Colombian people, they seem to be happier, they show the biggest smiles, are unbelievable friendly and helpful. We wish the people this country well, they deserve it.
We are in a nice place, we will be on the road again tomorrow, but first I have to cook....in a cupboard.

June 24, 2009 GMT
22.6.2009.SWINE FLU, JEFF'S BEAUTIFULL PLACE AND LONGING FOR STEAK AND SALAD.
22.6.2009.SWINE FLU, JEFF'S BEAUTIFULL PLACE AND LONGING FOR STEAK AND SALAD.
On the second of June we past the Equator and we got lost in Quito. It was a hard day riding on busy and smoky roads. Not much fun. But after this it got much better. We past volcano 'Cotopaxi', but couldn't see the top, it was cloudy, but still we enjoyed the scenery. One night we stayed again in a love hotel. This one had a round bed, 3 mirrors and a great garage for the bike.

We drove through the steep mountains and had sunshine, rain and thick fog as well. There were many road works and we often had to wait for a long time, before we could drive further and the road was very damaged, difficult to drive on. That night we couldn't find a place to stop for the night. We asked in a small restaurant in the middle of nowhere for 'habitation' (a room) and the lady got immediately a mattress out and offered us a small room! That was fantastic!
The next day we got interviewed twice. Somewhere South of Quenca, on a steep mountain in a desolate area where we stopped to talk to a cyclist, called Leo (from Belgium). He is making a film about his trip, so he is carrying a video camera.
In Loja, a modern looking town, a guy on a motorcycle came by and we had a chat. He asked if we wanted to do an interview, so we ended up in front of a studio trying to understand the questions. By that time we were surrounded by a group of people. The interview was unique, everybody was asking the questions and everybody was answering them as well. By now I need a lipstick.


In a small village two people stopped us. To our surprise the were dressed in perfectly white doctors coats. It took us a while to find out that they were checking people out for symptoms of SWINE FLU. Off course we didn't have any (except for making sounds like a really fat pig to make sure that they were talking about swine flu). They let us pass through. Interesting procedure.
After days riding on bumpy roads we arrived in Vilcabamba, in the South of Ecuador. This is a healthy area and the people get very old, because of the climate. The first night we camped near the hostel, they didn't have a room for us. We met a nice couple, Marion and Bernd, travelling in a great Toyota land cruiser and we had a good time together.
This hostel would be the last piece of civilization and luxury that we would come across for a while,
so we stayed for two more nights to enjoy all this, especially the suburb food and great bathroom.
The road to Zumba, in the direction of the border to Peru, is a dirt road and it's in a bad condition. I was all over the place in the sidecar and Andy was working hard trying to ride without braking any spokes by avoiding big holes in the road.

Zumba has some places to stay in the center, but neither of them have parking space for the bike. We found a room in a farm-hostel at the outskirts of the village. It was super basic. The beds were specially made for rough bikers like us, I had never slept in a bed as hard as this one before. The room had no glass in the windows, so we could hear the cockcrow misfiring all night. The toilet (it was green molded inside) had no toilet paper, except already used newspaper. The outdoor kitchen was invaded by ducks and chickens who dropped their droppings everywhere, but it could have been worse, at least there was no smelly pig rolling around in the mud.
We only had a ten days visa for Ecuador, so on the last day before the visa would expire we reached the border by driving over the worst dirt road in this country, but the views were great. People in the South of Ecuador don't look very happy and they don't wave a lot. They look very indigenous and are much shorter than me (I am 1.63 cm. tall), a giant compared to the people we saw here.
It took us two hours to get the border crossing procedure done. 10 minutes at the Ecuadorian side and the rest was spend to help to fill in the paperwork at the Peruvian side. I had already copies, but the border officer wanted them on ONE piece of paper. How bureaucratic it can be. But we got a 90 day visa for Peru, that's good, because it's a big country to travel through.
A German couple in an old Toyota had already informed us about the roadblocks. They told us that we could drive in the direction of Chachapoyas between 6 and 3 o clock during the day. After that they would close the road. Good news, it meant that we would be able to go to Jeff's place without a huge detour.
We struggled on a bad, bad road to get to Jaen, it took us all day and more to reach this town. Three years ago we were also in this place and we ended up in a hotel with an armed guard and they warned us about going out in the dark. It didn't feel very safe then, but this time it looked much better. No arms, no guards, but very friendly people. We found a great place to eat. Andy had a steak with chips and I consumed an enormous pile of salad. A double portion, because Andy doesn't do healthy food.
This town proves that the Peruvian economy is going upwards, people look more happier than 3 years ago and we had to wave our hands off. We got surrounded several times by big crowds of curious people, who wanted to touch the bike and asked loads of questions.
There were lots of well needed roadworks going on, but we didn't see any road workers. All the materials, trucks and diggers were there, but no manpower. Maybe it has something to do with the road blocks?
In Baqua Grande we saw the first signs of roadblocks, burned out trucks and tyres, loads of police and soldiers. We got stopped once by them, but they only wanted to have a look at the bike. No warnings, no talk about roadblocks. We had no trouble to drive in the direction of Chachapoyas. Afterwards we heard that not long ago 24 policeman and hundreds of Indigenous people had been killed and the reason for the roadblocks is a protest against the government who wants to sell big pieces of land to foreign companies, without consulting the people about the consequences like pollution.
To get to Jeff's place you go from Pedro Ruiz South on the road in the direction of Chachapoyas. You will ride through a beautiful valley over a smooth asphalt road (a great pleasure after all those bumpy tracks!) next to a river, along Scottish Highland look a like mountains (but with banana trees). Than 6 km up a windy dirt track that takes you to San Pablo De Valera.

We met Jeff 3 years ago in Cuzco, he is the owner of a bar called 'Norton rats' and has the one and only riding Norton Commando in Peru. We spent 3 weeks in Cuzco and a big part of that was in his bar drinking beer and talking about bikes and travel adventures. Later we met again and together we visited Chan Chan, the remains of an immense ancient adobe city near Trujillo. Jeff had bought a Triumph Speed Triple than and he was riding it home at that time. At the moment he is building a house and a hotel at the outskirts of this little village and it's near the 3rd highest waterfall in the world and other beautiful spots worth a visit ( like Kuelap, an ancient oval-shaped pre-Inca city, South of Chachapoyas and other archaeological sites).
House and hotel are in an absolute great spot! Clouds like huge battleships are floating by, we are in a place where people live above the clouds. Butterflies, rainbows, this place is a treasure high up in the mountains, surrounded by waterfalls..
The climate it nice, mostly sunshine during the day and cool at night. Jeff is proud and happy to show us around and he is very exited about the building work. Andy (who has built his own house himself) and Jeff are on the same level and, as I soon find out, they can talk about it all day.
It's great to see each other again, there is a lot to talk about and to do.

With Jeff's help and translation in Spanish and the guys of a local workshop a well wanted and needed stearing damper is mounted to the bike. It works suburb. Andy could check the bike and I cleaned and repaired all the camping gear.
Than we walked with the 3 of us to the waterfall. We spend all day walking, climbing, slipping and sliding. It was raining, but still we enjoyed the jungle trail, which is very pretty, tranquil and interesting ( so very different to the flat land in Holland were I grew up). The clouds disappeared and the waterfall showed us her pride, wow!

The people in San Pablo De Valera are super friendly and get also very old. They get up by the first light and go to bed when it's getting dark. It has electricity since 2 years, so there are TV's as well. The people here love soap opera's and wrestling shows.
Everything here goes in slow motion.
The village is very small, but it has a little restaurant and 3 tienda's (mini shops), where we can buy toilet paper, bread, water, just the basic stuff.
Every evening we walk from Jeff's house and our tent on a ancient Inca path towards the village, which is a pleasure. Along this path you meet horses loaded with firewood or bags with corn, dogs who bark and wiggle their tale at the same time, woman carrying sugarcane on their back and a chicken (ready to be slaughtered) under the arm, three ducks and and a few chicken families, a huge pink pig, a small black piggy

, more horses (parked up like cars outside the houses), giggling children ('Look at those strange Gringo's!) and cows who are going home.

We are very busy by greeting everybody on the track. When we arrive at the small restaurant, owned by senora Phillipa, it will be for sure we get rice, maybe with a small piece of chicken, ears of a pig or cooked stomach and there is fried banana or cooked yuka. Here the Peruvian people eat this 3 times a day, but we can handle that only once a day. Andy has difficulties to empty his plate, I eat mine and his. He is longing for pizza or a steak with chips. I am more longing for a good shower, a bucket is not very handy to use ( and we only used it once in 12 days).
Here the houses are from adobe, a mix of straw and clay, mixed together by human feet or by horses. When it's dried out it's very strong and heavy. Jeff made the adobe bricks by himself and he put bamboo sticks in the walls to make the house earthquake proof. At the moment workers are plastering the outside of the house and it looks already really good.
Andy is in his element by giving Jeff a hand and I am happy with writing and reading. But soon we will be on the road again, towards Tarapoto, Tingo Maria and Cuzco. It will be a difficult ride through the hot and maybe muddy jungle, into the cool mountains, crossing some high passes. When we arrive in Cuzco we will celebrate all this and drink to much beer at Jeff's bar. And Andy will get his steak and chips!
Enter your email address to receive updates to Andy Berwick and Maya Vermeer's trip story!
Recent Entries
Archives:
Archives:
Monthly
Archives:
Category
Now that summer is here, get On the Road! Take 30% off the Achievable Dream - On the Road! 2-DVD set until August 31 only.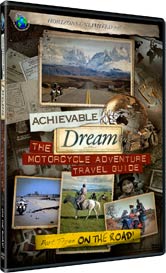 Our veteran travellers share their tips (and great stories) for staying healthy, happy and secure on your motorcycle adventure.
"A fantastic, informative and inspirational DVD."
"It's brilliant - thank you very much!"
Check it out at the HU Store! Remember to use Coupon Code 'ONTHEROAD' on your order when you checkout.
Next HU Events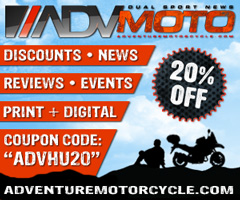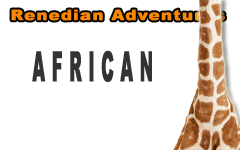 What others say about HU...
"I just wanted to say thanks for doing this and sharing so much with the rest of us." Dave, USA
"Your website is a mecca of valuable information and the DVD series is informative, entertaining, and inspiring! The new look of the website is very impressive, updated and catchy. Thank you so very much!" Jennifer, Canada
"...Great site. Keep up the good work." Murray and Carmen, Australia
"We just finished a 7 month 22,000+ mile scouting trip from Alaska to the bottom of Chile and I can't tell you how many times we referred to your site for help. From how to adjust your valves, to where to stay in the back country of Peru. Horizons Unlimited was a key player in our success. Motorcycle enthusiasts from around the world are in debt to your services." Alaska Riders

10th Annual HU Travellers Photo Contest is on now! This is an opportunity for YOU to show us your best photos and win prizes!
NEW! HU 2014 Adventure Travel T-shirts! are now available in several colors! Be the first kid on your block to have them! New lower prices on synths!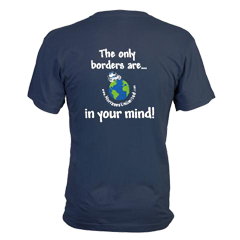 Check out the new Gildan Performance cotton-feel t-shirt - 100% poly, feels like soft cotton!

What turns you on to motorcycle travel?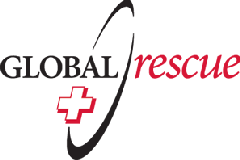 Global Rescue is the premier provider of medical, security and evacuation services worldwide and is the only company that will come to you, wherever you are, and evacuate you to your home hospital of choice. Additionally, Global Rescue places no restrictions on country of citizenship - all nationalities are eligible to sign-up!
New to Horizons Unlimited?
New to motorcycle travelling? New to the HU site? Confused? Too many options? It's really very simple - just 4 easy steps!
Horizons Unlimited was founded in 1997 by Grant and Susan Johnson following their journey around the world on a BMW R80 G/S motorcycle.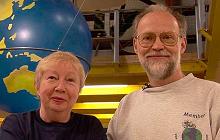 Read more about Grant & Susan's story
Membership - help keep us going!
Horizons Unlimited is not a big multi-national company, just two people who love motorcycle travel and have grown what started as a hobby in 1997 into a full time job (usually 8-10 hours per day and 7 days a week) and a labour of love. To keep it going and a roof over our heads, we run events (22 this year!); we sell inspirational and informative DVDs; we have a few selected advertisers; and we make a small amount from memberships.
You don't have to be a Member to come to an HU meeting, access the website, the HUBB or to receive the e-zine. What you get for your membership contribution is our sincere gratitude, good karma and knowing that you're helping to keep the motorcycle travel dream alive. Contributing Members and Gold Members do get additional features on the HUBB. Here's a list of all the Member benefits on the HUBB.
Books & DVDs

All the best travel books and videos listed and often reviewed on HU's famous Books page. Check it out and get great travel books from all over the world.

MC Air Shipping, (uncrated) USA / Canada / Europe and other areas. Be sure to say "Horizons Unlimited" to get your $25 discount on Shipping!
Insurance - see: For foreigners traveling in US and Canada and for Americans and Canadians traveling in other countries, then mail it to MC Express and get your HU $15 discount!
Story and photos copyright © All Rights Reserved.
Contact the author:
Editors note: We accept no responsibility for any of the above information in any way whatsoever. You are reminded to do your own research. Any commentary is strictly a personal opinion of the person supplying the information and is not to be construed as an endorsement of any kind.
Hosted by: Horizons Unlimited, the motorcycle travellers' website!
You can have your story here too - click for details!