April 24, 2009 GMT
22 April 2009, Written in Cartagena, Colombia.
22 April 2009, Written in Cartagena, Colombia.
CORRUPT POLICEMAN, AN ACTIVE VOLCANO AND A SAILING SIDECAR.
NICARAQUA.
In the middle of the night we got woken up by a bunch of drunken guests who stayed in the same hotel as us in Esteli (Nicaragua). Very early in the morning, they were still drunk and bloody noisy again and they left the car running with the radio on.....Andy was immediately in killer mood, so I went over to speak to the manager, but he didn't give a shit and the drunken guest's reply was to turn the volume of the radio up. Great. The amount of sleepless nights was growing.
On our way to Granada we got stopped by the police and they wanted to give us a 40 dollar fine for not using the indicator. Andy was again in killer mood and I had to calm him down a bit. We told the policeman that we didn't have to use indicators, because they wanted us to stop in front of them (which was straight ahead) and we asked why they didn't give everybody else who didn't use an indicator a fine. At least 7 cars that passed by didn't use them. And we told them also that we didn't have any money, so we had to go to the first bank in Granada...Then the bribe went down from 40 to 20 dollars, so we knew now for sure that it was all about corruption. I got so angry that I started to shout to them in English, Spanish and Dutch,that made them speech less, so at the end they said that we could go. Afterwards Andy called me a Rotweiler.


The plan was to stay in a hostel in Granada, but when we finally found everywhere was full. We spend hours to find something else with safe parking for the bike, but it was over the top expensive or fully booked. We also had a lot of hassle from drunk people, we decided to get out of Granada (so we missed all the cultural stuff and also the noise from partying backpackers) and found a very nice place to stay in Nandaime. On the way to this place we met two other travellers. One biker, Sjoerd Bakker, who is originally from Holland, but lives in Canada. This lively guy deserves the name 'Flying Dutch man', because he drove from his home all the way down in 2 weeks. He had done this only 30 times before. He is checking out a lot of accommodation in Central America, so he can put it in a book and sell it to other bike travellers by Internet for only 15 dollars, very cheap and it saves you a lot of hassle and money.
The other one we met was a funny French guy on a push bike. He used the Lonely Planet to wipe his bum and was on his way to Ushuaia, but first he had to get through the Darien Gap (the area where Panama and Colombia are connected to each other) by taking his bicycle on his back .....we tried to explain that you can;t cross the extremely dangerous Darien Gap by walking, but he was determined to do it, so I promised him pancakes when we would meet each other again in Ushuaia at Christmas time.
COSTA RICA.
We crossed the border from Nicaragua into Costa Rica at Penas Blancas It was unbelievable busy and we used a guide to get much quicker through the Nicaraguan side. I still don't know if she was an official border guide or not, she didn't ask any money, but we gave her 5 dollars, because she had explained the procedure so well and had done the job very good. Part 2, crossing into Costa Rica, we did that our selfs. It took two and a half hours to get into Costa Rica and this border crossing was so weird and chaotic, that I really can't recall how we did it.
This first thing we saw in Costa Rica was an enormous volcano, one of the many you find in this country. There were a lot of bird swarms on the road and one bird flew against Andy's fragile body. This one has a big headache now. The traffic was not bad, people were driving much slower than we had seen before and were obeying the traffic rules! We had a hamburger in a restaurant were a group of teenagers was giggling around the table. One of them was wearing a t shirt saying 'Save the beaches, that's where the girls are'.We found a quiet place to stay in La Cruz and stayed there a few days to chill out and get some sleep.
The wind was very strong in the West of Costa Rica and at the same time it was HOT. We went in the direction of the mountains and followed a 40 km stony track through flatter farm land that, in combination with the palm trees, reminded us of Brazil. It was very green and cleaner than any other Central American countries that we had visited before. Also the houses looked much nicer, there were even well kept gardens in front of them! The cattle looked healthy and we didn't see skinny dogs. People waved a lot to us, were so friendly. Somebody gave us a bag of real nice coffee from this country to welcome us, and many Costa Rican's showed a lot of humor. Like 'Were are you going?'.
Our answer, 'To Argentina!'.
Reply, 'Oh, that's just around the corner'.
And if you want a big mess on your plate....I saw a pizzeria called 'Pizzeria Tsunami'.
We drove around lake Arenal. The road to the lake is in some places very stony and steep and a few times I had to jump out of the sidecar on the back of the bike to spread the weight so we could easier get up the hill. Quit a painful job, because you bounce around hard, but what you get is nice views and and a boyfriend that appreciates me acting like a monkey.
We could camp for free next to the lake and there were many exotic birds ( one looked like the Central American version of a king fisher and there were different types of humming birds) and fire flies, who glowed romantic in the dark (the male fire fly glows to attract the females, that's why I always can see Andy, who has a very white skin, glowing in the dark he he! ).
The next morning Andy put some new spokes in the front wheel and together we changed the back tyre, so we could drive a bit easier on the next bit of dirt road, but we found out that this road was a bit much for our fragile spokes. We decided to go in the direction of volcano Arenal, near Fortuna.
First it was easy, all smooth asphalt, than we took the road to Pueblo Castillo, a little village at the foot of the volcano. This was quite a bouncy track. The prices for a room were so over the top, that we ended up camping for free on a football field. We could see from inside the tent the whole volcano, which was rumbling and boiling at night, so it had a red glow in the dark! We managed to drink to much wine in the restaurant of this tiny place and that was not a good idea. Next morning we had both a big headache (and the birds were whistling so loud!) and it was an exhausting job to take the tent down in the humid heat.
We didn't go far that day, we drove 12 kilometers over a rough road to the town of Fortuna (beautiful!) and stayed in 'Sissy's hostel' , a small, but a not to noisy place. We tried to find a shop were we could buy a tent (ours got eaten by dogs), but no chance, we have been all over the place, but found nothing, as usual.
Costa Rica has a higher living standard than the other Central American countries. Eighty percent of the population is middle class, in other Central American countries there is almost no middle class, people are very rich or very poor. Costa Rica is also missing a few things, like they have no army and you very rarely find a road sign which gives you a lot of surprises and strain on the relationship!
We drove over route 142 through the mountains, which was a pleasure. We enjoyed this road a lot, it had loads of tobacco and coffee plantations and 'vivero's' (flower nurseries). I saw the plants that we have at home in the living room here in size XXXL. This green part of the country has very good soil and we didn't see much poverty. Back on the Panamerican Highway, the traffic turned hectic and we couldn't find the sign for the right turn off, because the sign was laying upside down next to the road. Just before dark we found a dodgy hotel in La Virgen, also a dodgy place. Next morning we continued on the 126 South, an interesting road, but bits of the road were missing. After hours of driving in the direction of San Juan we couldn't continue, the road was closed. They were rebuilding the road that had dissapeared due to land slides. No signs, no warnings of course, so we had no other choice than to drive the same way back .Bugger..
In the afternoon we arrived San Juan, the capital city of Costa Rica and we were using a street map to find out were John, owner of a bike shop, who could hopefully tell us were we could find spokes and brake pads, was living. We had his address, so it couldn't go wrong.
Three times we had to ask around to find 'Gringo John', as the locals call him, before we knocked on his door. When he opened the door we saw a big tall man, who was in a happy and surprised mood. We explained how we had found him and discovered that he wasn't the right guy, yes his name was John (John Skiffington, a famous photographer!!), but the one we were looking for is living in the center of the town.(This shows how unique my navigating skills are). To celebrate this funny coincidence he offered us a glass of wine and showed us on the map how to get to the right John. We didn't understand the traffic system in the town very well. Calles, avenues, streets and roads have almost no street names and together with pit sized gutters and enormous potholes, combined with one way traffic and crazy drivers.....
It also started to rain very heavily, so the traffic lights stopped working and the teachers were on strike and had blocked the roads, but we found the right John. His shop, called AG, is in the red light district. He was very helpful and offered us to take us to another bike shop for parts. Just before dark we found a hotel with safe parking very close to John's bike shop. Hotel Venicia has everything that the Hilton doesn't have, but it was cheap and safe.

John took us to different places and we found some brake parts. We drove all day around town, hunting for more spokes and we met a guy, called Pedro. He has a nice BMW 650 with the twin boxer engine, very rare in Central America. This helpful biker took us into town, we only had to follow him and he gave directions for a camping shop! We didn't find a tent, but it was very nice to meet him and also his brother who has a bike shop as well.

We left San Juan and drove through the cloud forest and saw enormous ferns, trees covered with ivy, paradise flowers and plants with nice smelling purple and pink flowers. Then again banana and coffee plantations and beautiful gardens with millions of magnolias, all blooming. We loved to ride in this country, especially in the cooler mountains with many volcano's. The traffic is not to bad, people wave a lot and are happy to see us.
One day we had to wait for a long time on a small mountain road, an accident had happened and a truck blocked the road. It started to rain and this heavy shower flooded the road, it turned into a river and we got soaking wet (yes, we were wearing in rain clothes). The bike didn't work well, so I had to push it uphill, grrrrr. We were happy again when we found a great place to stay, we dried our stuff out and didn't do much for 2 days. Nothing special happened except that Andy dropped his toothpaste in the toilet, I cooked sausages and forgot to take their plastic skin off and Andy managed to kiss and fart at the same time.

Weeks ago we had met a very pleasant guy called Cristian, who told us about his uncle Marcial, who has a work shop in front of a palm tree in a place called San Isidro. He could be the one who could help us out with the spokes. His place was a bit difficult to find, but he found us while he was driving around on a mini bike. He had a look at the wheel and turned his work shop up site down to find spokes, but no luck. Then he took us in his car and drove to some other bike shops in this very busy town, again no luck. So it ended up in him buying an ice cream for us! That was really nice!

PANAMA.
A few days later we drove through endless fields of pine apple and crossed the border at Rio Sereno into Panama. The crossing is a bit hard to find (no signs), but it was a very easy place to cross. We saw indigenous people wearing colorful big dresses and the views from this mountain area all the way to David, a place in Panama, were nice. Off course we got lost in the city of David, trying to find the hostel. Luckily we are not married, otherwise we would have divorced in the bloody hot center of this town, where we, both exhausted, couldn't work out were to go (again, no signs, street names, nada). The owner of the hostel was very good in telling us was we were NOT allowed to do in this place, so we left the next day.
Panama is nice, quite upmarket with loads of supermarkets and banks, but not as great as Costa Rica, were we had so many nice experiences by meeting wonderful people.
By this time we were trying to work out how to get our sidecar and our selves shipped to Colombia. As I wrote before, it's playing with your life to cross the Darien Gap by road. Well, there is no road, you have to work out a route your self and this area is full of drug traffic, guerrilla's, army and bugs (like ants that want to eat you raw). So you have to fly or take a boat to get to South America. And by this time we were looking forwards to get there.
We drove over the Panama Canal (wow!) and stayed at hostel 'Wunderbar' in Puerto Lindo, in the North of Panama, for almost 10 days. We got on very well with Guido and Silvia, the owners of this hostel. They have been travelling a lot and sailed for 16 years on a boat. We had some very interesting and nice evenings together.
Guido offered to ship the sidecar for a very reasonable price, but we had to split bike and sidecar (a big job). We worked in the hostel as well, I cleaned and cooked and Andy was helping Guido fixing outboard engines . We also tried to work on the boat, but we both got seasick, we are useless as sailors. This made us decide to take the bus to Panama City and fly from there to Cartagena in Colombia. We stamped the bike out at the Aduana in Colon and bought tickets.
We also met the French push biker again, he had changed his mind, he didn't want to cross the Darien Gap by foot, he would take a boat from Colon for 50 dollars or so....a cheap and probably very dangerous way to get to Cartagena as well, but if you fancy adventure, go by a boat that probably smuggles cocaine.
Andy dismantled the sidecar from the bike (in two hours), we packed our luggage in bags and took everything to a small boat that was waiting in the harbor. Andy, my hero, had to sit on the bike in the boat while it was sailing to Guido's ship. Then it had to be lifted on to the back of his ship. My heart was in my mouth, this was absolutely horror. If it would go wrong the bike would end up in the sea and that would be the end of our trip. But the boys did a fantastic job and Guido is a very trust full person and has shipped many bikes this way before!
The sidecar ended up at the front of the boat. Six guys had to lift this heavy thing.... The bike was fixed onto the back. The next day it sailed away and we wouldn't see it again in five days time, which made us feel 'leg less'. Travelling without the sidecar is totally strange to us.
We are more than pleased with the help of Guido and Silvia. Have a look at their web site address (www.hostelwunderbar.com) if you are interested in shipping the bike and your self. They offer a five days trip via the San Blas Islands and that is a very pleasant and inexpensive way to get from Panama to Colombia.
Next time we will tell you if the boat did sink or not....
We are in Cartagena waiting for Guido and the sidecar to arrive.....
Will be continued.

March 09

Camping under the volcano in Costa Rica.


And it was still active...


Couldn't go any further, due to a land slide.


Marcial and Andy.

The flying Dutch man Sjoerd Bakker.


Sidecar fun with Sylvia and Manuela (hostel Wunderbar).


Prepairing shipping the sidecar.


Will it all sink, or not?......
Enter your email address to receive updates to Andy Berwick and Maya Vermeer's trip story!
Recent Entries
Archives:
Archives:
Monthly
Archives:
Category
NEW! HU 2015 Motorcycle Adventure Travel Calendar is now available! Get your copy now for some terrific travel inspiration!
HUGE, 11.5 x 16.5 inches, beautifully printed in Germany on top quality stock! Photos are the winning images from over 600 entries in the 9th Annual HU Photo Contest!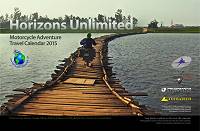 "The calendar is magnificent!"
"I just wanted to say how much I'm loving the new, larger calendar!"
We share the profit with the winning photographers. YOU could be in the HU Calendar too - enter here!
Next HU Events
NEW!

USA Virginia: Apr 9-12, 2015
Canada West: Aug 20-23, 2015
USA California: Sep 24-27, 2015
Aus Queensland: Sep 24-27, 2015
USA North Carolina: Oct 8-11, 2015
Aus Perth: Oct 9-11, 2015
Take 40% off Road Heroes Part 1 until October 31 only!
Road Heroes features tales of adventure, joy and sheer terror by veteran travellers Peter and Kay Forwood (193 countries two-up on a Harley); Dr. Greg Frazier (5 times RTW); Tiffany Coates (RTW solo female); and Rene Cormier (University of Gravel Roads).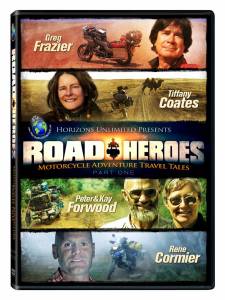 "Inspiring and hilarious!"
"I loved watching this DVD!"
"Lots of amazing stories and even more amazing photographs, it's great fun and very inspirational."
"Wonderful entertainment!"
Check it out at the HU Store! Remember to use Coupon Code 'HEROES' on your order when you checkout.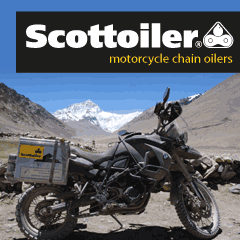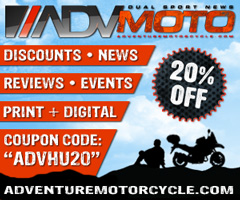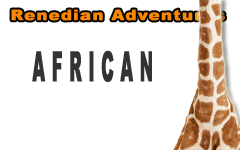 What others say about HU...
"I just wanted to say thanks for doing this and sharing so much with the rest of us." Dave, USA
"Your website is a mecca of valuable information and the DVD series is informative, entertaining, and inspiring! The new look of the website is very impressive, updated and catchy. Thank you so very much!" Jennifer, Canada
"...Great site. Keep up the good work." Murray and Carmen, Australia
"We just finished a 7 month 22,000+ mile scouting trip from Alaska to the bottom of Chile and I can't tell you how many times we referred to your site for help. From how to adjust your valves, to where to stay in the back country of Peru. Horizons Unlimited was a key player in our success. Motorcycle enthusiasts from around the world are in debt to your services." Alaska Riders

10th Annual HU Travellers Photo Contest is on now! This is an opportunity for YOU to show us your best photos and win prizes!
NEW! HU 2014 Adventure Travel T-shirts! are now available in several colors! Be the first kid on your block to have them! New lower prices on synths!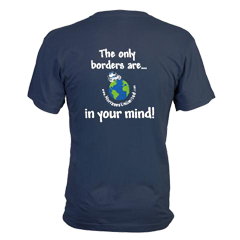 Check out the new Gildan Performance cotton-feel t-shirt - 100% poly, feels like soft cotton!

What turns you on to motorcycle travel?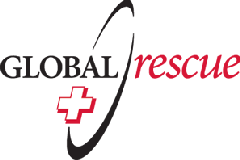 Global Rescue is the premier provider of medical, security and evacuation services worldwide and is the only company that will come to you, wherever you are, and evacuate you to your home hospital of choice. Additionally, Global Rescue places no restrictions on country of citizenship - all nationalities are eligible to sign-up!
New to Horizons Unlimited?
New to motorcycle travelling? New to the HU site? Confused? Too many options? It's really very simple - just 4 easy steps!
Horizons Unlimited was founded in 1997 by Grant and Susan Johnson following their journey around the world on a BMW R80 G/S motorcycle.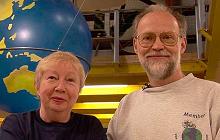 Read more about Grant & Susan's story
Membership - help keep us going!
Horizons Unlimited is not a big multi-national company, just two people who love motorcycle travel and have grown what started as a hobby in 1997 into a full time job (usually 8-10 hours per day and 7 days a week) and a labour of love. To keep it going and a roof over our heads, we run events (22 this year!); we sell inspirational and informative DVDs; we have a few selected advertisers; and we make a small amount from memberships.
You don't have to be a Member to come to an HU meeting, access the website, the HUBB or to receive the e-zine. What you get for your membership contribution is our sincere gratitude, good karma and knowing that you're helping to keep the motorcycle travel dream alive. Contributing Members and Gold Members do get additional features on the HUBB. Here's a list of all the Member benefits on the HUBB.
Books & DVDs

All the best travel books and videos listed and often reviewed on HU's famous Books page. Check it out and get great travel books from all over the world.

MC Air Shipping, (uncrated) USA / Canada / Europe and other areas. Be sure to say "Horizons Unlimited" to get your $25 discount on Shipping!
Insurance - see: For foreigners traveling in US and Canada and for Americans and Canadians traveling in other countries, then mail it to MC Express and get your HU $15 discount!
Story and photos copyright © All Rights Reserved.
Contact the author:
Editors note: We accept no responsibility for any of the above information in any way whatsoever. You are reminded to do your own research. Any commentary is strictly a personal opinion of the person supplying the information and is not to be construed as an endorsement of any kind.
Hosted by: Horizons Unlimited, the motorcycle travellers' website!
You can have your story here too - click for details!