July 22, 2009 GMT
Dust, Demons and Devils.
Dust, Demons and Devils.
Cuzco. July 21. 2009.
A green, windy and smooth road took us through the breathtaking mountains to Moyabamba. Colorful markets everywhere, they sell everything, but are also good meeting places for the local boys and girls. We drove into flatter countryside, so it also got hotter again. Moyabamba has a 5 star hotel, but nobody was staying there, so they offered us a big room for the price of a 2 star hotel...most important thing, it had a big, hot shower room! It's good you couldn't smell us. Palm trees, a swimming pool, a great view, good food...we stayed 2 more nights. The food was very nice and they had real mayonnaise, something you don't find often here, so I scoffed the bowl twice.
On the road again, we saw hundreds of tuk tuks (three wheel vehicles), everybody was on the way to the next town, there were fiesta's going on. A car stopped and we got a banana leaf filled with rice, chicken and olives, the traditional food to celebrate the fiesta.

The asphalt stopped and the tracks were full of stones. In front of the houses (well they looked more like sheds) people were drying coffee and coca leafs. The farmers here are very poor. The toilets are not more than 4 poles and a piece of see through plastic and a hole in the ground. Still some people have mobile phones. Pigs are crawling in the mud in front of the houses and kids play in their shit.
We are in the middle of the drug growing area, but we don't have any problems. Everybody is just so surprised to see a sidecar, something they have never seen before. The Lonely Planet says this is a no go area, but we think that is wrong, we don't feel unsafe here at all, but the roads are in a unbelievable bad condition, not able to transport back packers easily.
The days of riding are long, the jungle is beautiful, but not to hot. The people are friendly. We move slowly, the mud is deep in places. While riding, Andy, my cool hero, bites a head of a snake and spits it out without getting poisoned. Joke...just to wake you up. But we saw a snake and loads of butterflies, colorful ones. I point one out to Andy, it's big and fast and I am over the moon. Then Andy replys...It's a swallow!

My bra is in fourth gear, I bounce around and all the stuff in the sidecar is bouncing with me. I get tired. At night we stay in a room without windows, it's raining all night and the mosquito's are attacking us continuously. The cockcrow never stops impressing the ladies, so the next morning, after a sleepless night, we promise each other that we never will sleep in the same bed, in the same room again and for sure not in the same hotel.
As I said, it rained all night, but there is no water to flush the toilet or to wash our selves. I saw the woman who owned this place taking the lice out of her daughters hair, I didn't had the guts to shake hands when we said goodbye..
The police stopped us 4 times a day, checking bike paperwork. They discovered immediately that Andy's driving license is fake, a copy. I apologized by telling them I gave them the wrong one, because I am tired and then they excepted the International Driving License which looks to me like toilet paper. One time we got asked for bike insurance and, after a bit of 'explaining', they accepted the American insurance card, which is already out of date.

Andy impresses me by riding the bike over a very small and damaged wooden bridge. He does that again when we have to take a ferry, which is made of two big canoes and planks. The tracks are still stony and if I was a banana I would have ended up as a milk shake.
Suddenly there are pieces of asphalt which I would like to kiss, than we ride into Tingo Maria and there is a big protest going on. Carefully we try to avoid the crowd. We can't find easily a hotel with a garage, but after some exploring, avoiding the protesters, we find a nice hotel and can park the bike next door in a space for bottles.
The road is much better after Tingo Maria, not a very interesting place by the way. We stop at a fruit shop and they have a fruity thing that, if you peel it of, pops. Inside there is something like frog sporn, but it tastes delicious.

On the way to Cerro del Pasco, a dusty dirt track, we have to cross some very high passes. So it gets cold. In one day we change from jungle temperatures into the freezing cold. The scenery is fantastic, the colors pastel, but in the hotel in Cerro del Pasco (a dirty mining town) we get 5 blankets, hot tea and a hot water bottle. We try to warm up in a chicken and rice restaurant by sitting next to the part where they fry the chips, but back in the hotel our bits are still freezing off. It's warmer in a fridge.

The next day we ride on very small rough roads high up in the mountains and the cliffs are so deep that I have to hold myself to Andy's jacket. It won't save me, but at least I have that feeling.
The day after I am so grumpy, my body hurts from going up and down in the sidecar, I have a headache, my teeth are painful, hormones are running wild. Andy is really happy with me. Except for the hormones my problem is tiredness and the altitude as well.
I get a special speech from Andy and after that I behave normally again and look pretty, my job in the sidecar.

We drive over a difficult track all the way to Oxapampa, we want to visit Augusto. He has a Norton and Jeff has met him before. Oxapampa is a very tranquil village with wooden houses, thanks to the German influence. It's peaceful and quite, something very unusual in Peru. In a cafe we ask for Augusto....'Ah, you mean Lobo (Spanish for wolf), he eats everyday in the restaurant at the Plaza'.
We went to the Plaza, sat down and half an hour later a good looking man with a hat turned up, he immediately walked over to our bike...Lobo. We had a meal together and he invited us to his house to see his bikes. He ended up in our sidecar, me on the mud guard, all three of us giggling away.

His friend Pepe, also a real bike lover, came over. I ended up at the back of his little bike and together we went for a ride out and to his place to see his bikes. His English is very good, because he used to listen to Pink Floyd. Non of us could stop talking about bikes. In Peru you won't find many old big bikes. Andy and Augusto were talking in a mixture of English and Spanish and they understood each other very well. Bike language is international.
Augusto's daughter Nela cooked for us and we were invited to stay for the night. A real nice surprise! In the evening we had some beers together on the Plaza and Pepe came by to show his BSA Bantam running
What a lovely people!!!

We had the road to our selfs the next day. There was no traffic at all, because the road blocks (stones, burned out tyres and wire) hadn't been totally removed. We could see that the people had been very angry by the way they had build the road blocks, but they were never aggressive to us, we got loads of smiles and waves.
We are traveling through very remote areas with many poor Indigenous people. Kids have dirty, black muddy faces and cloths and are looking after animals instead of being at school. This makes us feel sad. Education gives a greater chance for a better future.
The adobe (clay) houses look like old shacks and even the pigs are looking more dirty than we have seen before.
In a small village we find a room and sleep well. The next morning there is a market going on in front of the door, we didn't even hear them building up the stalls in the early hours of the morning.

High up in the mountains we see our first Lama's, they are white, brown and grey and one has a pattern like a giraffe. They are amazed to see us, we stare in their big eyes, before they start to run away.
The landscape reminds us of Bolivia, it's baron, desolate and the colors are soft.
We couldn't find the right road (we had that several times in the past days). We have 2 maps, a GPS and still get lost, because they all show a different route. The little bike on the GPS is turning around like mad, maybe because we are driving around the mountains. It's dark by now. We find a perfect place to camp, in a quarry and the moon is so bright that we don't need our head torches. The silence is peaceful and deafening.
The next morning we can see the right road down in the valley and the GPS seems to be back to normal again. We turn off the engine of the bike to save some fuel, we don't know if there is much left in the tank.
We are on our way to Ayacucho and the surroundings are suburb, the tracks dusty, but we are in a very good mood, it's beautiful!
The police stops us twice, they are very friendly and also professional. Have they all been on a course or something? The police is so much better ( no trace of corruption) since the first time we had been in Peru.
Ayacucho is an old colonial place, so we get a mini pizza (we easily could eat 2 of those) for a over the top tourist price on the Plaza. The town is not big, but busy with loads of interesting shops, hidden plaza's and courtyards. The wooden balconies are impressing, you can still taste the Spanish influence.

Somewhere on a high pass I was dreaming in the sidecar about Tesco (a big supermarket, like Appie Hein in Holland). I was pushing the biggest trolley they do and was filling it up with blue cheese, crackers, healthy stuff and beans for Andy. Then a kid in a village throws a stone, Andy turned the sidecar immediately, ready to kill, but the boy was already gone. Later that day a guy spat at us from the roof of a truck, he was lucky to be on a truck that was driving away from us. Until now that were the only bad reactions we had, normally people are friendly and so are we.
In a small village we had to ask for the right direction, the policeman was drunk, a disgrace for his profession. We camped that night again in a quarry.
Another long day on very interesting tracks. The bike, the luggage and us were covered with a thick layer of dust, even my ears were dusty. The mountains were covered with a dessert like landscape and we drove slowly over the high passes. The air was thin and we were gasping for oxygen. On
one pass we saw a girl on a push bike. We stopped to ask if she needed some water and than she collapsed. Andy could catch the bike and I grabbed her around her waste. She was so thin and light, I easily could hold her. A vegetarian. When she woke up she explained that she had a problem with the altitude. We drove further to catch her boy friend and to wait for her to arrive. She made it, but she was totally exhausted.
Then road works stopped us. We had to wait for one and a half hour before they would open the road again. Lots of mini buses and trucks were waiting already for hours. People came out of the buses to have a look at us. Especially Andy's leather trousers were worth a look. A guy asked if it was made from elephant leather. Andy said 'No', but I do have a trunk like an elephant (he was waving his arm in front of his pants). All the man were laughing and the Indigenous woman turned their red faces and giggled softly.
Some woman were carrying their babies on the back. A baby would stare at me and wondering what that white women with hair like a red traffic light might be, before it would start to smile or cry.
It got dark. We let all the traffic pass, we didn't want to drive behind them in a blinding dust cloud.
For hours we drove in the night, found finally a quarry. While we we debating about the question if this was the right spot to camp a truck turned up and five minutes later a digger. On a Saturday night at 10 o'clock they were still working! So this was definitely not the right place to camp.
So we drove to Abancay, we saw the lights from the town from far away. It looked like a Christmas tree with all the lights burning, but this Christmas tree moved to the left, to the right, up, down, it came close by, it moved away......the tracks on these mountains are so windy, it took us another two hours to reach the town. I had visions about entering a busy town, getting lost, not able to find a garage for the bike, drunken people crossing the streets on this Saturday night, but in reality this place was very quite and we found easily a place to stay and a garage for the bike AND a pizza place opposite the hotel.
The next morning we couldn't get any fuel, the town had no electricity, so the pumps didn't work.
There was one gas station with a generator, so the bike got filled up with lots of low quality fuel. The pump attendant didn't had enough money to change, so we got no coins, but a pink toilet roll.
Always useful.
The road from Abancay to Cuzco is like riding pure pleasure. Smooth asphalt and breathtaking views. A dream road for a BMW 1150 GS......Almost no traffic, mountains with snow on top, perfect.
Because it was Sunday, there was not much traffic in Cuzco. We didn't get lost and found the campsite just above the town easily. It was great to see Gonna, Helmi and Nino again. The first two are the owners and Nino is the dog.
Bernd and Marion, we had met each other in Vilcabamba, were also on the campsite. And there were some more interesting and friendly over landers. We went to town, met Jeff again in the Norton pub, cleaned the bike (it's glowing in the dark now) and filled up the freezer in the kitchen with healthy food and meat (NO chicken and rice!!!!!!).
There were strikes and blockades in the area, but we were just chilling out, cleaning cloths and camping gear from the thick layer of sticky dust.
Andy went to town, trying to find material for building a snorkel. On our way to Brazil we might have to cross a deep river...He went in many shops and didn't find one single piece. That happens always in South America. Yesterday he had more luck, he managed to create a perfect snorkel and the bike could easily turn into a submarine with some more Andy made modifications.
I am very proud of him and very happy to travel and to discover all these beautiful and surprising places and people.

We went together with Helmi and Uwe in the car to a fiesta, a fiesta for the Virgen Carmen. It was a great ride over dusty off road tracks, we saw high mountains and deep valleys. It always amazes me that people grow their corn and wheats on such a steep mountains. They must have one short and one long leg.
It's the most colorful fiesta I have ever seen. 16 different groups symbolize by example the notary, the ancestors, the man that own the land, devils and demons, princesses and slaves.

There are also nuns, dressed up like pinquins and nurses carrying big syringes, made from paper.
The groups perform and dance all day and each group has their own musicians. Some man are dressed up with a dead baby lama, one of them came very close to me, holding the lama in front of my breasts. He wanted leche (milk). Everybody was laughing and I jumped very quick behind Andy's back.

At night we camped near a river, made a campfire and went back the next morning. The groups were very impressing, danced for hours. That was fantastic to watch. We missed the bit when they take the virgin out of the church, it was to crowded, but I saw an initiation for new dancers. It must have been very painful, they were hanging from chains and got beaten by a whip.

It still not boring, our travels are going well and it's still not time to stare at home at the geranium.
Soon we will be on our way to Brazil, back into the jungle, the mud and mosquito's. Together with Andy, the bike and leaf cutter ants we will celebrate there my birthday.
Andy's contribution, a technical update!
The bike did in 9 months 13.000 miles.
We had about 10 broken spokes in the front (bloody Gagiva wheel), 10 on the rear (that is a known failure on the Bonneville) and 1 on the sidecar.
Flat tyres; zero.
The bike is misfiring when it's very wet, but when the engine warms up, it disapeares.
No wear on the valves.
New tires; the front is still not worn out (amazing), the back one is changed 3 times.
Brake pats; Rear and sidecar pats have been changed once.
Oil and filter have been changed 3 times.
One gearbox sprocket was worn out.
Andy's opinion about the bike:
It's a very good bike, the engine is still running strong. It loses power at high altitude (but we didn't change anything). Overall the bike is performing very well, I am impressed, it's very reliable, so far.
Maya's opinion about the bike:
It's a strong, reliable, good looking bike. Sounds great as well. Being in the sidecar is a pleasure (unless we are on very stony tracks for days). But most of the time I feel like a queen.
Andy is acting in the sidecar like a scared rabbit.
Posted by Maya Vermeer at July 22, 2009 12:44 AM GMT

Enter your email address to receive updates to Andy Berwick and Maya Vermeer's trip story!
Recent Entries
Archives:
Archives:
Monthly
Archives:
Category
Now that summer is here, get On the Road! Take 30% off the Achievable Dream - On the Road! 2-DVD set until August 31 only.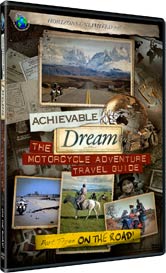 Our veteran travellers share their tips (and great stories) for staying healthy, happy and secure on your motorcycle adventure.
"A fantastic, informative and inspirational DVD."
"It's brilliant - thank you very much!"
Check it out at the HU Store! Remember to use Coupon Code 'ONTHEROAD' on your order when you checkout.
Next HU Events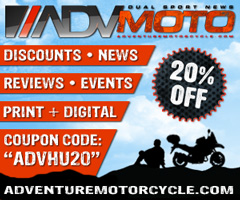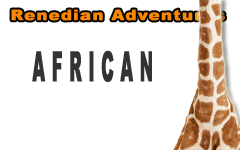 What others say about HU...
"I just wanted to say thanks for doing this and sharing so much with the rest of us." Dave, USA
"Your website is a mecca of valuable information and the DVD series is informative, entertaining, and inspiring! The new look of the website is very impressive, updated and catchy. Thank you so very much!" Jennifer, Canada
"...Great site. Keep up the good work." Murray and Carmen, Australia
"We just finished a 7 month 22,000+ mile scouting trip from Alaska to the bottom of Chile and I can't tell you how many times we referred to your site for help. From how to adjust your valves, to where to stay in the back country of Peru. Horizons Unlimited was a key player in our success. Motorcycle enthusiasts from around the world are in debt to your services." Alaska Riders

10th Annual HU Travellers Photo Contest is on now! This is an opportunity for YOU to show us your best photos and win prizes!
NEW! HU 2014 Adventure Travel T-shirts! are now available in several colors! Be the first kid on your block to have them! New lower prices on synths!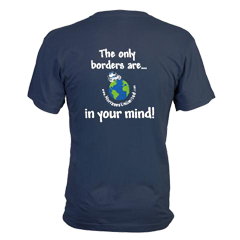 Check out the new Gildan Performance cotton-feel t-shirt - 100% poly, feels like soft cotton!

What turns you on to motorcycle travel?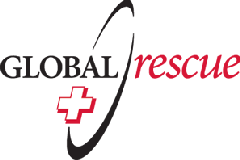 Global Rescue is the premier provider of medical, security and evacuation services worldwide and is the only company that will come to you, wherever you are, and evacuate you to your home hospital of choice. Additionally, Global Rescue places no restrictions on country of citizenship - all nationalities are eligible to sign-up!
New to Horizons Unlimited?
New to motorcycle travelling? New to the HU site? Confused? Too many options? It's really very simple - just 4 easy steps!
Horizons Unlimited was founded in 1997 by Grant and Susan Johnson following their journey around the world on a BMW R80 G/S motorcycle.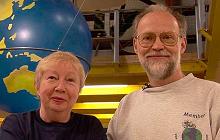 Read more about Grant & Susan's story
Membership - help keep us going!
Horizons Unlimited is not a big multi-national company, just two people who love motorcycle travel and have grown what started as a hobby in 1997 into a full time job (usually 8-10 hours per day and 7 days a week) and a labour of love. To keep it going and a roof over our heads, we run events (22 this year!); we sell inspirational and informative DVDs; we have a few selected advertisers; and we make a small amount from memberships.
You don't have to be a Member to come to an HU meeting, access the website, the HUBB or to receive the e-zine. What you get for your membership contribution is our sincere gratitude, good karma and knowing that you're helping to keep the motorcycle travel dream alive. Contributing Members and Gold Members do get additional features on the HUBB. Here's a list of all the Member benefits on the HUBB.
Books & DVDs

All the best travel books and videos listed and often reviewed on HU's famous Books page. Check it out and get great travel books from all over the world.

MC Air Shipping, (uncrated) USA / Canada / Europe and other areas. Be sure to say "Horizons Unlimited" to get your $25 discount on Shipping!
Insurance - see: For foreigners traveling in US and Canada and for Americans and Canadians traveling in other countries, then mail it to MC Express and get your HU $15 discount!
Story and photos copyright © All Rights Reserved.
Contact the author:
Editors note: We accept no responsibility for any of the above information in any way whatsoever. You are reminded to do your own research. Any commentary is strictly a personal opinion of the person supplying the information and is not to be construed as an endorsement of any kind.
Hosted by: Horizons Unlimited, the motorcycle travellers' website!
You can have your story here too - click for details!