May 01, 2002 GMT
3. Villazon to La Paz : It's a road Jim, but not as we know it…
Entering Bolivia was quite a rude awakening having left the European sofa that was Argentina. The roads were primed to test the bike to its limits, and local officials seemed to be a lot more 'flexible' – sometimes inventing rules to suit their wallets in the name of Santa Maria…

After waking up the Villazon customs officer from his 3pm slumber, I headed towards Tupiza on a road as bone jarring as Argentina's Ruta 40, every corner presenting something new, including vicious bottom-out dips which scared the life out of my rear shock.
In Tupiza I opted for a 1985 Toyota Landcruiser, a 4 day tour including the amazing Salar De Uyuni, a salt desert at an altitude of 3653 Metres. At first I thought the bike could have handled the terrain with ease, although I soon realized that without some local knowledge or a GPS, I would have been one very cold and hungry Kiwi.
My tourmates from Israel Vardit & Assaf, Holland Esther & Ben), Californian (Melissa) enjoyed some spectacular sites, blasting through film on Flamingos, arsenic filled lakes, geysers, Dali-like rockscapes, and a truly spectacular sunrise at the Salar Uyuni.
At the highest point of the tour we drove at 5,000 metres, and right on cue Assaf 'popped' , luckily he was sitting next to the door …
Assaf still happy after loosing his lunch
Arbol de Puedra ( Tree Rock) Click here for pop-up Jeremy.
Despite the warnings in the guidebooks, our guide failed to come up with the wine on the last evening, despite our protests. Even the promised vegetarian food materialized as eggs. If you ever do a tour with Tupiza tours ( aka Money-grabber tours ) , or with one of the Uyuni based operators, you really do need a contract in writing specifying the details.
Our driver Pablo sensed a mutiny on his hands, and offered some beer as a peacemaking gesture, telling us there was no wine to be had in the tiny settlement where we were. ( We bought some ourselves right afterwards ). He then offered an early start in order to catch the sunrise over the Salar , grudgingly we accepted 4am.
In short, it was well worth the effort.:
Sunrise on the Salar, click for larger image.
The team at sunrise on the Salar
The Salar is famous for bringing out naked Israelis in front of cameras, although Assaf was too chicken to give us a show, so we settled for some group action.
It's all in the lick, click for larger image.
In Uyuni I spotted two fellow riders on an F650 and KLR 650, although for the life of me I can't remember their names. The guy on the left is from Bayern Germany, and the other from Santiago.
Mr X and his mate
Thanks to some doubtful chicken in Tupiza, I had a rather immediate call of nature while looking at some bubbling mud pools – couldn't believe it. It turned out that 4 of us had Salmonella , Assaf with the type associated with Typhoid - and a bonus amoeba. Both he and Verdit landed in hospital, while I had the worst case of Montezumas revenge you could possibly imagine. I reckon I lost around 8 Kilo's.
As I left Sucre towards La Paz I spotted a Honda shop, and took the opportunity to mount a new Pirelli MT21 tyre on the back. ( Actually it was all they had ). The TKC 80 had done an admirable job, but I doubted it would handle the road to La Paz without imploding. Lucky man I was….
The road via Ravelo, Ocuri and northwards was at the outset like outback Australia, blistering heat and dusty gravel roads , lined with Eucalyptus trees. ( no Koala's though ). All I had to contend with was 'people trucks' playing chicken with me from the opposing direction, and choking on dust clouds trying to pass them.
The warmth somehow turned into rain and snow as I climbed, and the river crossings got more and more adventurous as they swelled with the downpour. I pressed onwards, spying a bright patch ahead ( biker's optimism ). In fact I kept pressing on, breaking the rules as it got darker, although realizing I wouldn't make it to Oruro that day.
Pitch black, desolate and muddy I crawled through a place near Cala Cala distracted by what appeared to be a small fire on the hillside. You can imagine my slightly increased heart rate when I realized the letters spelt E.T.A. – and there I was on my own late at night…., silly me. I thought ETA was only active in Spain, although my hotel guys in La Paz informed me there are sympathizers all over. This day prevented me from further estimates on how far I could travel, taking 10 hours to make 220 Km's I realized Bolivia needed a different approach.
Weary from the symptoms of the chicken I rolled into La Paz, and was greeted by a hailstorm which stung even through my leather pants. I stopped at the first Hotel which could park the bike, and fell into bed frozen and exhausted. I learned that my travel mates had Salmonella the day afterward, and I spent three days recovering while taking antibiotics.
A note for those of you heading toward Bolivia – although the petrol is by law a universal 80 Octane, the Honda guy in Sucre informed me it varied from 60-70. In retrospect some octane booster might have been useful.
Posted by Jeremy Andrews at
10:02 PM
GMT
May 23, 2002 GMT
4. La Paz to Lima, including Miss Peru
Having recovered enough from the Salmonella to be away from the loo for half a day or more , I finally set off for Lima. The police at the Bolivia/Peru border insisted on a donation for Santa Maria before letting me pass, and I grudgingly handed over some coin which was left in my wallet. Santa Maria my arse I thought...
Travelling at altitudes over 4,000 metres I was rewarded with some spectacular views leaving Bolivia, and I´m still in awe at how the farmers cultivate crops on the inclines at those heights...
Peru seemed to be more wealthy from the minute I crossed the border, but that´s quite relative in this neck of the woods. I hit Puno on the first day, and being the pussy that I am stayed two nights to avoid leaving in some quite miserable rain.
The day I did leave however, there had obviously been some kind of protest early that morning, as every intersection had broken glass greeting me. After I found some higher octane fuel I headed out, finding my way partially blocked by some boulders lined up across the highway. This pattern repeated itself with increasing frequency, sometimes heading around a blind corner had me standing on the brakes to prevent flying over the handlebars...
I rode into Puno, and the same broken glass scenario awaited me, except this time the protest was in full swing. Oblidging locals come rushing up and told me either to forget trying to go north, or try and skirt around the protesters. I picked my way carefully through the glass strewn intersections and did so, actually getting ahead of the mob. I asked a bunch of Police officers if I could make it to Cusco - and they just laughed at me... , I had no idea why.
Just before Julliaca I got my answer. There was a bus and a couple of trucks up a side road, and some guy waving at me to stop. This goaty bearded individual turned out to be another biker, Johannes Marbet from Switzerland on his Africa Twin. Although I was happy to see another rider, he and the bus of british tourists had been waiting there for 4 hours as the bridge was blockaded with rocks, glass and protesters. It turned out that this particular day was a protest about the governments privatisation process.
Jealous british tourists paying homage to the independant biker, click here for a larger image of the bearded swiss guy
Of course all of us Gringos attracted the local kids, and one of the brit tourists starting doing Polaroids for them, and they went bananas. Joahnnes and I joined in as they loved the bikes...
Johannes and his fans...
Me and mine...
After waiting around for an hour or so a little delivery truck appeared from around a side road, and the driver reckoned there was a way around the bridge. Johannes , myself and the brits decided to give it a go, although half way around the the detour seemed to be rather large...
One of the kids assured Johannes and I we could get through the barricade as his mates, so we followed him, or rather him hanging onto the back of my bike as we headed straight to the bridge. There were actually hundreds of people occupying the bridge, and the closer we got we realised there was no way we were going to break through. Surveying the scene, we though about skirting the bridge by riding through the river itself, as it didn´t seem to be too deep. Down we went, and Johannes lead the way past the bridge, through yet more people sitting either side. Suddenly Joahannes accelerated away, and I realised why as the majority of people sitting beside the bridge were mobilising to throw rocks and sticks at us..., I followed suit and blasted in pursuit. We were greeted by cheers and whistles from the traffic waiting to cross from the other side, although Johannes and I just kept going , hearts still pounding.
The ride after the bridge was quite memorable, there wasn´t a car or vehicle on the road (at least we knew why), and the scenery was quite spectacular. We could even stop right in the middle of the road for pictures....
Johannes taking the chance to stand beside a classy bike...
After staying 1 night in the most horrible Hospedaje that Cusco had to offer, we headed off on the Inca trail starting with Saqsaywaman, an Inca site where the Pope actually had a mass some years back. Kinda weird that a Pope used a site formerly used to worship the sun gods I thought.
Our guide Guido proved to be quite valuable, and he took pride in showing us the many plants around the place, from anniseed smelling leaves, wild mint, berries with dye, and a quite beautiful plant called a michimichi, or little cat.
The michimichi flower at Saqsaywaman
After some spectacular roads and views riding towards Ollytaytambo, Johannes and I had break on the side of the road, and he commented that my chain was way too loose. I explained that was how it should be, and how the slack reduced considerably when the bike was off the side stand and I was actually sitting on the bike. He knodded, and then observed that the chain on his africa twin was was so tight there was no give at all. Through the last few weeks riding he had been oiling the chain at regular intervals, but forgot to check his tension. It turned out he had stripped some teeth off the front drive shaft, and the front sprocket itself was almost about to fall off.
Johannes would you believe is a car mechanic, and man was he embarassed at this costly faux pas. His decision was to weld the sprocket on to the drive shaft, as a replacement shaft (and splitting the engine) was not a real possibility.
Johannes doing the emergency weld, click here to inspect his work
Welding done we continued to Ollytaytambo for the trip the next the day to Aguas Calientes and Matchupichu. Myself Johannes and this british girl we adopted for the day grunted up the hill instead of taking the bus, and sweated like pigs in the process, but it was well worth the effort.
The famous view as captured by Kate Cheeseman ( I left the battery behind for my Mavica ), click here for a larger view
Johannes and I then blasted on towards Lima as fast as our bikes could take us, and in his words, we enjoyed some mountain race tracks that many swiss riders would pay good money for. On the way to Lima we had an absolute shocker of a ride, 14 hours to arrive in Puquio, so cold we were almost falling off the bikes. We agreed it was stupid to ride at night and all that, but sometimes you just get a bee in your helmet about getting somewhere. We were absolutlely exhausted afterwards.
Thankfully we arrived in Lima in one piece, and I say thankfully as I could not help but remember the German rider Claus who was killed by a truck just south of Lima in November. The driving in Lima is nothing short of suicidal, a red light being nothing more than a suggestion to slow, but not necessarily to stop. Every driver honks thier horn like a blink of eyelid, it was just wicked.
In Lima we had the luck to stay with Dave Coutts and Kate Cheeseman, both of whom I knew from my time in Poland. Somehow these two ( despite Dave's gene make-up )have created an adorable daughter named Anna who just seemed to charm the pants off anyone she met.....
Anna trying to chat me up...
Somehow Anna had an effect on everyone she met, and that included Johannes. One morning Kate had just warmed up some breast milk for Anna, which was sitting innnocently in a jug by the microwave. Good old Johannes thought he was being treated to some warm milk for breakfast Swiss style, and was just finishing a glass when Kate nabbed him. We laughed till it hurt too much...
It sure was tasty.....
Philipp Jokisch had also enjoyed the hospitality of the Coutts-Cheeseman household, and after Johannes had a new front sprocket welded to his driveshaft and new chain put on, they both left towards Equador. I stayed on and enjoyed the sweets of Miraflores where Dave lives, tried in vain to learn some Spanish, and finally found out why Halle Berry won an oscar... ( I´m sure the judges were all men... )
A big big thankyou to Dave and Kate and thier maid for putting me up those two weeks !!!!!, and also to Carmen and Steve and the mining community for throwing an Australasian BBQ...
The night before I left one of Dave´s telecom buddies threw a BBQ over looking the ocean, which of course meant I would be leaving with the traditional hangover when I´ve stayed somewhere too long.
Rudolf , Dave and Kate living it up...
During the party we figured out the best ( apparently ) way to get to Yurimaguas to catch the banana boats up the Amazon, and of course we did this in true kiwi style, on the back of a cigarette wrapper !
The famous plan, click here for the reverse view
The last character I should mention is Chris Williams, who offered me his flat as a study venue while he was travelling and running away from marriage proposals....
Chris, (last of the true scoundrels of this world), Kate and Dave
Posted by Jeremy Andrews at
02:27 AM
GMT
May 31, 2002 GMT
5. Lima to Santa Rosa, Bad cops, Big water and lots of mud....
Onward to the Banana boats of the Amazon river, criminals wearing police uniforms and more bike destroying roads !!!
It was great to be back on the road again after the holiday at Dave & Kates place, but I was falling behind schedule a little ( actually a lot ), and I had to press on. Before doing that however, I have to plug a quick thankyou to Marty and Gosia Aitchison, who not only delivered an oil filter for the bike, but also some vegemite and crunchie bars for my taste buds - most appreciated !
Jetlagged yet generous - Marty, Gosia and myself in Lima
Once I hit the road north of Lima I began to regret pampering my bike and riding gear with soap suds. The "new" me was like a magnet for the "police" which pulled me up 4 times within 200 km´s. The first three stops were blatant gringo targetting, while he 4th was the otherwise normal nosy copper scenario.
The first control was just on the border of a city limit, where the speed limit is 45 km/h. I was travelling in line with other traffic at 60 km/h, same speed as everyone else, but was pulled over and told I was speeding, that it was 'Muy Grave' ( very bad ), and that I would have to pay 320 Soles (96 USD). Despite my protests they proceeded in writing up the ticket, and I was foaming at the mouth as those bastards didn´t even have a radar detector, and I knew I was being screwed. After more discussion, and what I believe to be bogus calls to someone on the radio that a foreigner was refusing to pay, he offered to be my friend and said it would only cost 150 soles, and he would rip the ticket up. Having given him his booty, he ripped the ticket up, and I felt like jamming it up his nostrils...
Moments later his colleague hurridly gathered up the pieces of the ripped up ticket, lest I use them against them. I wished I had a helmet cam of the incident and could lose thier jobs for them.
The second control, not 10 minutes down the road was equally dubious. Rounding a corner at 70 kp/h, I was pulled over and told that again I owed 320 Soles, as the speed limit for any corners marked with an arrow was 60 kp/h. Again, I was judged to be speeding with nothing other than the officers eyeball as the measurement device. I got that crook down to 50 Soles (15 USD)
The third control about a half hour later and I was ready to explode, maim and torture the next guy in uniform who wanted to play cops and robbers with me. I was driving exactly 45 km/h through a city limit, so slow in fact that a truck actually passed me within 400 metres of the now well recognised police landcruiser. Still I got targetted, told I was speeding and that I would have to pay a fine. Despite the yes sir no sir ettiquette recommended for the local constabulary, I looked him straight in the eye and told him "No - I wasn´t speeding", and did he not notice the 18 wheels of truck that overtook me because I was going so slowly ?
He could see I was bit fiesty, and avoided losing face by asking me to watch my speed and drive on. What a jip I thought.
After that the police reverted to good country cops, and the 4th control of the day turned out to be nothing more than a couple of interested officers who insisted on a photo...
Officer plod and the pennyless gringo
Listening ot the council of common sense I stopped in Casma as darkness approached, and picked out a hostal at random which turned to have a swimming pool no less ! More of surprise were the two scooters parked outside, somehow looking like they were geared up for a long trip...
The riders of these two MBK (Yamaha) 100cc scooters turned out to be Diego & Katia, Colombian and French respectively, doing all of South America by scooter ! Somehow my shitty day had been transformed as these two gave me all the information I could have wished for about travelling through French Guiana, Suriname and Guyana. See www.maillongas.com
Diego and Katia, click here to see thier scooters
The next days I travelled at pace from Motupe to Moyobamba towards Yurimaguas, keeping a respectful eye on speed limits, and enjoying some brand new stretches of road winding inland. In Motupe I would swear I was the only foreigner in town judging by the crowds who gathered in the main square, and would you believe the hostal parked my bike in the living room !
The old bike in the bedroom scenario...
Leaving Moyobamba I was heading for trouble I could not have imagined. From Tarapoto a friendly waiter said it would take 9 hours to get from there to Yurimaguas where I could catch the first of the banana boats. I thought I´d have to call it a day, but then he said a motorcycle could do it in 3. ( I learnt later that locals think big bikes can travel at the speed of light... )
I decided to give it a go.
At first it was quite bone jarring, and I truly realised the penalties of travelling with 280 kg´s of bike and baggage, plus my 90 kg´s wearing all my gear. Considering the scooter pair were managing with 30 kg´s each I knew I had to lose even more weight...
Then, it started raining, and therein started 150km´s of maximum 2nd gear riding, mostly at 20 km/h. Without exaggeration, it was a real battle of mud, ice-like red clay, and dubious river crossings. The first river I studied for a bit, and after walking it I decided to cross. The current was quite strong, but it was only just over the front wheel hub.
Not 150 metres down the road and there was another piece of road submerged beneath 60-70 cm of equally fast flowing water. It was more than I could handle, and my path backwards was now blocked by rising water. Damm I thought, it looked like I would be roughing it in the sodden vegetation in the middle of nowhere. Sizing up my options I saw a tiny shelter made of bamboo just off the road, but I was put off by the clothes hanging to dry, and the shotgun shells laying around. Somehow I didn´t want to be that person´s surprise guest.
The second piece of swollen current - a bit too deep for the F650...
After waiting 2 hours for the waters to receed I finally crossed using one of the locals to stand downstream just in case I launched, quite nerve wracking stuff really. It was just in time I thought, as a massive boulder tumbled down from the hills above and crashed not 10 metres behind my bike...
Riding in the darkness to Yurimaguas was slow going, and although the rain had now stopped, the road was now sodden. I got wedged in the mud three times, and had to dig myself out or walk beside the bike. There were numerous trucks along the way who were hopelessly jammed up to thier axles, going nowhere that night...
I made it to Yurimaguas around 10.30 pm, having left Moyobamba 10.30 am that same day. 12 hours for 200 km´s. Deservedly I headed straight for a beer before looking for a bed. My bike and me were caked in mud, but man did that beer go down like a treat...
Not dirty enough ? - click here for a larger view...
The boot, normally you can see some black leather and a steel toecap....
The following day I arranged a boat to Iquitos for the afternoon, and spent the day trying to rid myself and the bike of the mud. Everything was saturated, including the contents of my Touratech boxes...
The boat journey itself was truly not to be forgotten. The hammocks were crammed in like you wouldn´t believe, and to get to the 'toilets' you had to virtually crawl on all fours. The floor space was also at a premium, some choosing to sleep there, along with the chickens, dogs, bananas and even a parakeet. These boats are truly banana boats, stopping at small villages on the way and loading up with branches of green bananas for sale in Iquitos. At every stop vendors would try and sell food and drinks, which was ultimately better than the broth prepared on board.
I actually donated the food portion of my ticket to a lady and her kids next to me, and I think somehow we were both grateful....
A thankful but camera shy mother of two....., click here for a larger view
I made a policy on the boat of making friends with the people either side of me, so we would keep an eye on eachothers gear. I´d heard of two German Backpackers losing thier packs only a week beforehand...
While the views were at times absolutely magic, I just could not believe how locals treated the Huallaga River like a rubbish tip. Anything discarded was simply biffed through the window, and I mean anything.
Would you throw your rubbish here ?
In Iquitos I got a great nights sleep after having suffered the throbbing diesel for the last few nights, and also the good news that I had an invitation to attend the Launch of Ariane flight 152 from Kourou in French Guiana. With luck I would be able to make it there on time for the 5th of June.
Iquitos was civilised considering it´s location smack bang in the middle of the jungle ( no access by road ), but it had a wild west feeling all the same. The local girls seem to eye every foreign guy up ( a real turn of the tides ), and I even got propositioned by a security woman at the port entrance. I am on Candid camera ?
What is strange however, is that despite being a major port, and with such a large population, the facilities are abysmal. The boats slide up onto a mud bank, and the road leading to the city is bascically a muddy 4WD track going through some floating slums. You see everything here from huge sows being loaded on top of each other on the back of a motorbike scooter, screaming thier lungs out, to any sort of animal 'reproducing' in front of seeemingly oblivious shopkeepers.
The next boat from Iquitos to the frontier town of Santa Rosa was a slight step up from the first one, but it still wasn´t what you´d call luxury. Getting on the boat was a performance too, with fistfights breaking out among the porters trying to help me with my luggage. One enterprising little twirp though he could have my wallet too, but I let him know he could stick his hands in someone elses pocket....
On the second day a couple of Dutch guys jumped on board the 'Kiki' at Pevas, having spent the last week getting rained out in the jungle. They had stayed the night with an infamous artist called Senor Francisco Grippa. He´s basically a filthy rich ecentric artist who flogs his work around the world, and according to the Dutch guys, takes his pick from the local girls of the village as he pleases. They said he was drunk most of the time during the stay at his huge Pagoda style house, and even they were shocked when a woman turned up depositing her 15 year old daughter for the night....
Caeser, myself, Waut and Robert (The dutch guys... )
At Santa Rosa I did my immigration and customs thing with an overly cheerful official, and then we lowered my bike into a longboat and it was off to Brasil....
Posted by Jeremy Andrews at
04:00 PM
GMT
Enter your email address to receive updates to Jeremy Andrews's trip story!
Recent Entries
Archives:
Archives:
Monthly
Archives:
Category
NEW! HU 2015 Motorcycle Adventure Travel Calendar is now available! Get your copy now for some terrific travel inspiration!
HUGE, 11.5 x 16.5 inches, beautifully printed in Germany on top quality stock! Photos are the winning images from over 600 entries in the 9th Annual HU Photo Contest!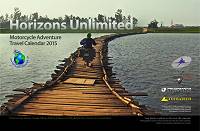 "The calendar is magnificent!"
"I just wanted to say how much I'm loving the new, larger calendar!"
We share the profit with the winning photographers. YOU could be in the HU Calendar too - enter here!
Next HU Events
NEW!

USA Virginia: Apr 9-12, 2015
Take 40% off Road Heroes Part 1 until October 31 only!
Road Heroes features tales of adventure, joy and sheer terror by veteran travellers Peter and Kay Forwood (193 countries two-up on a Harley); Dr. Greg Frazier (5 times RTW); Tiffany Coates (RTW solo female); and Rene Cormier (University of Gravel Roads).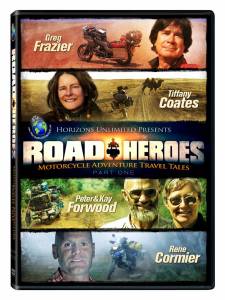 "Inspiring and hilarious!"
"I loved watching this DVD!"
"Lots of amazing stories and even more amazing photographs, it's great fun and very inspirational."
"Wonderful entertainment!"
Check it out at the HU Store! Remember to use Coupon Code 'HEROES' on your order when you checkout.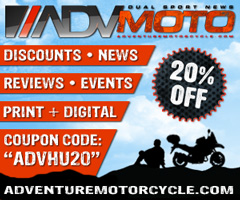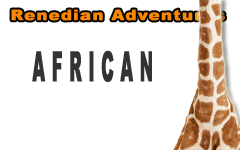 What others say about HU...
"I just wanted to say thanks for doing this and sharing so much with the rest of us." Dave, USA
"Your website is a mecca of valuable information and the DVD series is informative, entertaining, and inspiring! The new look of the website is very impressive, updated and catchy. Thank you so very much!" Jennifer, Canada
"...Great site. Keep up the good work." Murray and Carmen, Australia
"We just finished a 7 month 22,000+ mile scouting trip from Alaska to the bottom of Chile and I can't tell you how many times we referred to your site for help. From how to adjust your valves, to where to stay in the back country of Peru. Horizons Unlimited was a key player in our success. Motorcycle enthusiasts from around the world are in debt to your services." Alaska Riders

10th Annual HU Travellers Photo Contest is on now! This is an opportunity for YOU to show us your best photos and win prizes!
NEW! HU 2014 Adventure Travel T-shirts! are now available in several colors! Be the first kid on your block to have them! New lower prices on synths!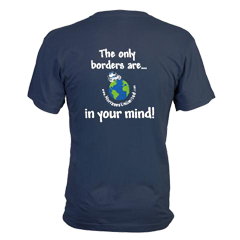 Check out the new Gildan Performance cotton-feel t-shirt - 100% poly, feels like soft cotton!

What turns you on to motorcycle travel?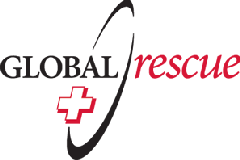 Global Rescue is the premier provider of medical, security and evacuation services worldwide and is the only company that will come to you, wherever you are, and evacuate you to your home hospital of choice. Additionally, Global Rescue places no restrictions on country of citizenship - all nationalities are eligible to sign-up!
New to Horizons Unlimited?
New to motorcycle travelling? New to the HU site? Confused? Too many options? It's really very simple - just 4 easy steps!
Horizons Unlimited was founded in 1997 by Grant and Susan Johnson following their journey around the world on a BMW R80 G/S motorcycle.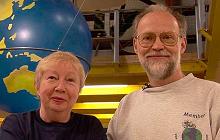 Read more about Grant & Susan's story
Membership - help keep us going!
Horizons Unlimited is not a big multi-national company, just two people who love motorcycle travel and have grown what started as a hobby in 1997 into a full time job (usually 8-10 hours per day and 7 days a week) and a labour of love. To keep it going and a roof over our heads, we run events (22 this year!); we sell inspirational and informative DVDs; we have a few selected advertisers; and we make a small amount from memberships.
You don't have to be a Member to come to an HU meeting, access the website, the HUBB or to receive the e-zine. What you get for your membership contribution is our sincere gratitude, good karma and knowing that you're helping to keep the motorcycle travel dream alive. Contributing Members and Gold Members do get additional features on the HUBB. Here's a list of all the Member benefits on the HUBB.
Books & DVDs

All the best travel books and videos listed and often reviewed on HU's famous Books page. Check it out and get great travel books from all over the world.

MC Air Shipping, (uncrated) USA / Canada / Europe and other areas. Be sure to say "Horizons Unlimited" to get your $25 discount on Shipping!
Insurance - see: For foreigners traveling in US and Canada and for Americans and Canadians traveling in other countries, then mail it to MC Express and get your HU $15 discount!
Story and photos copyright © All Rights Reserved.
Contact the author:
Editors note: We accept no responsibility for any of the above information in any way whatsoever. You are reminded to do your own research. Any commentary is strictly a personal opinion of the person supplying the information and is not to be construed as an endorsement of any kind.
Hosted by: Horizons Unlimited, the motorcycle travellers' website!
You can have your story here too - click for details!