India
April 08, 2009 GMT
crossed the Border
As we crossed the Border, there were hundreds of trucks lined up on the Border, good for us put no so good for them. The Border into Nepal was only open for Tourists, I hope they don't have to wait to long.

Trucks lining up at the border
First stop in India ia Gorakpore, the Road from the Border winds its way through the countryside and villages. We find our way into the City and stop to get directions to find a Hotel.
The moment we stop people come from everywhere and gather around us, asking questions about the Bike. How many dollars, how many CC, how much petrol she uses, where you from....and so on.

I walk away to check a Hotel, by the time I come back , Mark is surrounded by about 80- 100 people.
We stay in a overpriced Hotel just to get off the Road.
Early the next morning we head towards Lucknow. We hit the "Highway"and the challenge begins. The most demanding Road we ever encountered, the whole Road is one big Roadwork site. We complained about Nepal's Truck Drivers, they are good compared to the Indians.God must be very almighty and powerful they all have death wishes.


spot the truck

over heatet

And then there are railway crossings., the boom gate is down, instead of queuing up behind each other, they still overtaking, so by the time it stops we have 4 trucks,( 100 more behind us) 20 Bikes, 2 cars all next to each other at the gate and the same at the opposite gate.
We let you work out what happens when the Train has passed.

Railway X
200km and 7 hours later we finally arrive in Lucknow, sweating, dirty, hungry and thirsty ( Its hard work this traveling).With the help of a tuk tuk driver we find a Hotel and collapse on the Bed exhausted.Lucknow to Agra the next morning a nice 2 line Highway in each direction.But you can always tust the Indians to keep you entertained.Trucks driving towards you with high speed, Tractors pulling out in front of you, cows are having a rest in the middle of the Highway, kids jump on the Road followed by their mothers, just crazy..........
Concentrating on the traffic so hard we miss our turn to Agra. The Road is starting to get Evey bad and we realize we are going the wrong way. We stop in front of a old timber hut with a coke sign out front. The Owner invite us in to sit in the shade and gave us 2 Cokes out of a cool box, within minutes we have the whole neighbor hood starring at us.


Back on the right road to Agra we come into the city past the big red fort and seeing the Taj Mahal in distance. We came to a huge intersection and ask for directions and in a few minutes we pull up at the Tourist Rest House, secure parking and a garden, what joy.
The nezt day sightseeing on the Agenda, the red fort, the outside wall are over 2 km long, inside there are 3 palaces, amazing. One can daydream what it would have looked liked in the high days, with carpets on the marble floors, colorful silk everywhere, fountains...........


In the afternoon we hire 2 Rickshaw driver to show us the town.They were very entertaining in the end Mark drove the Rickshaw its harder then it looks.

Taj from the river side

Laundry by the river
The next day the Taj Mahal, just absolutely mind blowing, so big and sparkling white in the sun light. Thousand of people there mainly Indians, sitting on the cool marble in their Sundays best, all the woman in colorful Sary's.

On Sunday we off to Delhi, they tell us there is less traffic on Sunday ( then we wake up) but the Road was good and we were there in about 4 hours.
The Brother of our Indian Friend Allen in Sydney is picking us up before we get into town.
So much easier to follow someone into a big city of 14 Million People.
He drove us to a Hotel, then we had a very nice lunch at his place and met his Family. In the evening we went to the biggest Temple we have ever seen, just like in dream land all lit up, they had a huge arena with a massive fountain where a musical fountain show took place, thanks Kenwal and Dad.
Dad picked us up from the Hotel and showed us around Delhi, he lived here all his live. The old palace ruins, the Parliament House, the big city arch, the Old Delhi, were we had lunch and Gandhi's resting place. Thank you very much for a great day.
Posted by Maggie Allenspach at
07:37 AM
GMT
April 19, 2009 GMT
on our own exploring the city
The next day we were on our own exploring the city.
In the evening Kenwal came to the Hotel with a few of his friends who wanted to see the Bike.

Indian Test Driving Team
In the morning we left Delhi very early to drive to Nainital a beautiful Hill Station. Very long drive with very bad Roads, and it really started to heat up around 10.00 am. Due to a thunderstorm the previos night and no drainige sytem in the country towns there was a lot of water on the road, at one stage we had to make our way trough 30cm deep mud and water churned up by trucks and cars.

In Hardiwar we met Kenwal's cusin who invited us to his family home for dinner.
BEST FOOD EVER!!!!!!!!!!!!! Thank you very much.

The last 25 km to get up to Nainital were very good, curvy up the hill.
Looking around town a while to find a Guesthouse was a bit tricky, every one saying it is high season and the prices have gone up, so it wasn't easy to find a cheap, clean place, but we finally got one, with good parking as well.
The only problem was we had to get up to the Room on a chicken Latter very challenging.
The next challenge was to choose which Restaurant to eat, they had about 50 close together, all vegetarian, beautiful food, but no alcohol everywhere to be seen.
Nainital is a lovely little village with a nice lake and of course mountains all around. We hire a Boat with rower to glide across the lake, very relaxing.
The next day we thought we need to do some exercise, so up the mountain we went on a cable care ( Indian made, but was ok ). Another 4km hike up the Hill to the view point,it was worth the effort, beautiful view over to the Himalayas and down to the Lake. But then an 10 km walk down, back to the Village.
To say the least we were a bit week in the knee's the next day.

its much cooler in the mountains
We decided to move on to Kausani, ( the Switzerland of India ). Over hills and through valleys we go again, same thing very bad Roads, takes forever to get there, but we were not disappointed, absolutely beautiful view over the snow mountains and the weather was a beautiful, sunny 26c, very pleasant.
The Touts were fighting about us, soo many Hotels and soo little customers. We got a very good deal in a very nice Hotel and stayed for a few days just glazing at the mountains, reading our Books.
The Hotel had a very nice Garden Restaurant with very nice Indian Food, But the Beers were very expensive and had to be smuggled into the Room, because they didn't had a license, we only had 2.
Met 2 English people the next day, which were very entertaining, had some good conversation after a Bottle of of Indian Rum, which Leam produced.
Time to move again, over the mountains this time towards Rishikesh, we didn't make much progress and had to break the trip at Srinagar, a horrible, dirty town with crab everywhere. Early the next morning we continue , but we take a wrong turn, no signs in English everywhere , and end up on the worst Roads yet. Very scary, high up on the mountain on a small dirt Road with a drop over the side of about 2500m with no barrier.

Maggie met some local woman

Anyway with Mark's excellent riding we arrive soaking wet in Rishikesh.
Went straight up the Hill to look for a Hotel with views over the Ganges River.
We met 3 other Motorbike traveler. 2 Germans Mike and Susan, who traveled from Germany to India and now they are on the same way back as us.
Rowan from Prag on a V-Storm 1000 very well equipped on his way back to home.Had a great night taking to fellow travelers.

Mike Susan & Rowan

Mike and Susan Bikes
In the morning we went down the hill, crossed the River and did the sightseeing tour. Very exciting town, lots of holy men, yoga, meditating, ashrams, temples etc. Observed a religious ceremony in the evening on the River , lots of singing and chanting, very interesting.

Standing in the Ganges river
Its 8.30 in the morning, our son calls, he organizes a few parts for us to be send to India, the first question Mark asks , why are you not at work, Dom said it is Saturday Dad. Here we are we don't even now what day of the week it is any more and give him a hard time..

Posted by Maggie Allenspach at
08:31 AM
GMT
May 27, 2009 GMT
Himalayas
From Rishikesh we made our way up to Mussorie a hillstation above Derahdun.
Mussorie is a very popular holiday destination for people from Delhi escaping the summer heat.
From there our journey takes us in a north west direction to Shimla a hillstation established by the British.

In Moussourie

In Shimla
As we drive into Shimla I see 3 African Twins with german number plates, we pull over to have a chat. Thomas already knew who we are, because Rob from Melbourne has joined ther group and told them about us.

In Shimla

That night we also met up with Pascal and Arja and the 3 germans for dinner and a few beers. What a great night.
Unfortunately the next night we had some gear stolen of the Bike, like raincover for the tankbag, my raincoat and most enoying of all the charger for my camera and Ipod. No use to them, but a hassle to us.

Getting ready for Iran
We spend a few more days here waiting for a parcel that Dom send with the Fuelline and Airfilter. Thanks again Dom for the trouble of getting it, it fitted perfect.
One day we went on a daytrip with Pascal and Arja to Tattapani to check out the hotsprings.

To Hotsprings

To Hotsprings

Hotsprings

On the way there we saw a accident between a bus a a small car, not unusal in India.
We leave Shimla heading north into the Mountains to Manali. Its a slow trip through valleys and over mountain tops, mostly on gravel roads until we hit the main Road from Mandi to Manali which follows the river deep into the Valley.
As we drive into Manali, who is at the petrol station filling up. Pascal and Arja, just can't get ride of them.

In Manali

In Manali

In Manali

In Manali

In Manali
We stay a few nights in the Tiger Eye Lodge together, its raining, we drink whisky and play cards wrapped up in our sleeping bags. Brrr its cold.

Old Manali

Old Manali

Pascal helps me change my Tyres, we carried them long enough, it's hard work, but we got it done. The Village Kids are playing with the old ones.
We'r waiting a few days in Manali for the Road to Leh to open, but the news is not good, as there is still to much snow on the mountain passes.
We deceided to try our luck the other way around. Srinagar, Leh, Manali.
We make our way to Dhalmsala and Mc Cloud Ganj, home of the Dalai Lama we spend a few days there visiting the monestery, tibeten museums and temples.
From there we head toward Phantakot and north through the mountains to Udampur for the night.
We check in to some gruby Guesthouse in th middle of town. As I get the last bag of the Bike I notice a dead hosrse under some rubbish right next to the entrance.
Maggie didn't see it otherwise we had to find something else. It was gone in the morning, we nichnamed the place: The Dead Horse Inn.
Next day we cross our first pass at 3200m on the very top there is a 3km tunnel, just bevore the tunnel a police check, where we have to leave our details from our Passport. The Police Officer tells us that the Road to Srinagar is closed because of the elections, but he let us pass after 1 hour, since we heading up the Kashmir Valley to Phanagam first.

Kashmir

Kashmir

We have the Roads to ourselves no trucks, buses , jeeps, we love elections.
Driving into the Valley to Phanagam is like driving through the alps in Switzerland, snowcapped mountains, streams, waterfalls and little Villages here and there.
A few days later we pull into Srinagar and meet up with Pascal and Arja.
We visit the floating market at 6am, the old bazaar and a mosque. On Dal Lake are about 1200 houseboats, its a amazing sight.

House Boats

Floating Markets on Cal Lake Srinagar

Floating Market

Floating Markets
Pascal and I give the Bike's a service and check over for our trip to Leh.
On the first day we only travel 80 km to Sonamarg, where we told the Road to Zojila pass is closed because of 6 different Avalanches.

The Road up to the first Pass

Truck over the edge

We have lunch a few chai, talk to the other travelers, answer all the endless questions about the Bike.
At 3pm the Road is still not open we deceide to Camp for the night. We found a great spot next to a stream on a green medow with the mountains all around us. We are at 2700m, its a crystal clear cold night. We had a big fire and Pascal cooked Rice and Eggs, very nice.

Camping at Sonamarg
The next morning we were told the Road is open by 10am, as we rook up there is still a lenghty discussion with the police, but eventually they let us through. Here we go crossing our first Himalayan Pass at 3900m.

Pittstop

Traffic

The first 10km are a breeze, nice road, beautiful senery as we turn the next hairpin in the road it all turns to mud, small creeks across the road, melting snow, huge potholes, trucks making trenches. Its slow going, even there is 3m of snow beside us I work up a sweat driving up this path.
Due to the Road closer there is only a few trucks on the Road to negotiate. On top of the Pass is another police check and a flowing River to cross, bevore we decended to Gumri. We ride along to Dras, the second coldest town in the world with recorded minimum temperature of - 60C Brrrrrrr.
The scenery is forever changing, from snow caped mountains to barren rock formations of gigantic proportions, along rivers filled with green icecold water.
The road hangs on the side of the mountains with sher drops on one side and towering walls of rock on the other.
We arrive in Kargil mid afternoon and due to the election the whole place is shut down. Pascal manages to work out a deal with a hotel owner so we have a place to stay for the night.
The road out of Kargil is in desperate need of mayor repair so for the fist 15 km the going is slow. Today we have two passes to clear, first its Namika La at 3900m and then Foto La at 4175m. we end up in Alchi at the end of the day where we visit the oldest Budist Temple in Ladakh build around 1020 AD.

Ladakh

Ladakh
img alt="Ladakh3.JPG" src="http://www.horizonsunlimited.com/tstories/allenspach/images/Ladakh3.JPG" width="400" height="300" border="0" />
Ladakh

Ladakh

Ladakh
From Alchi its a short and fast trip into Leh due to a brand new road.
After aclimatising ourself to the alltidude in Leh 3200m for a couple of days we go for a day trip to Thikse Monastery, then down to Karu where we cross the Indus River to Hemis home of the biggest and best presented Monastery in Ladakh.
img alt="Hemis Temple1.JPG" src="http://www.horizonsunlimited.com/tstories/allenspach/images/Hemis Temple1.JPG" width="300" height="400" border="0" />
Temple

At the Temple

Hemis Temple

Temple

Then its of to Stok and back to Leh to get the permit for Kharadung La.
Its about a 2hr trip from Leh to the summit of Kharadung La the worlds highest motorable road at 5603m. The road is good untill the last few km, the bike claims the mountain without problems exept a slight loss of power just bevor the summit.
Arriving on top is a great feeling, we are on top of the world:)
Over a cup of chai we get the prayer flags ready whitch we carried all the way from OZ with hundrerds of well wishes and signatures as part of a fund raiser for the Australian Cancer Council.
Its a fantastic feeling hanging up the falgs in memory of a lot of people and having achived what we set out to do.
To all the people infolved THANK YOU !!!!!!!
Your well wishes and good luck messages are as close to haven as we could get them.

Top of the world
Due to the road into Manali still closed and very mixed reports on when it will be open we decide to go back to Srinagar and a few more days in Phatagon where we nearly get sprung for poaching ( fishing without a licence) opss.

Posted by Maggie Allenspach at
10:06 AM
GMT
Enter your email address to receive updates to Mark and Maggie Allenspach's trip story!
Recent Entries
Archives:
Archives:
Monthly
Archives:
Category
Next HU Events
NEW!

UK - Haggs Bank: Sept. 19-21

NEW!

South Africa: Nov 14-16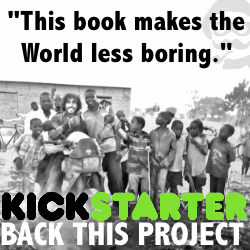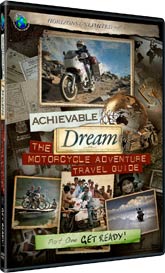 Northerners! The weather outside is frightful, so what better time to start planning your next adventure! To help you get started, for February we're taking 30% off the Get Ready! DVD in the HU Store! Remember to use Coupon Code 'GETREADY' on your order when you checkout.

10th Annual HU Travellers Photo Contest is on now! This is an opportunity for YOU to show us your best photos and win prizes!
NEW! HU 2014 Adventure Travel T-shirts! are now available in several colors! Be the first kid on your block to have them! New lower prices on synths!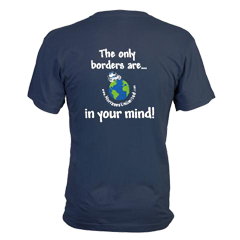 Check out the new Gildan Performance cotton-feel t-shirt - 100% poly, feels like soft cotton!

New to Horizons Unlimited?
New to motorcycle travelling? New to the HU site? Confused? Too many options? It's really very simple - just 4 easy steps!
Horizons Unlimited was founded in 1997 by Grant and Susan Johnson following their journey around the world on a BMW R80 G/S motorcycle.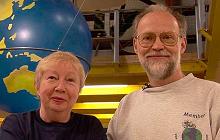 Read more about Grant & Susan's story
What turns you on to motorcycle travel?
Announcements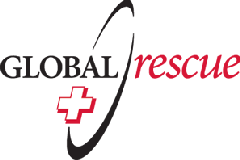 Global Rescue is the premier provider of medical, security and evacuation services worldwide and is the only company that will come to you, wherever you are, and evacuate you to your home hospital of choice. Additionally, Global Rescue places no restrictions on country of citizenship - all nationalities are eligible to sign-up!
Books & DVDs

All the best travel books and videos listed and often reviewed on HU's famous Books page. Check it out and get great travel books from all over the world.
Membership - Show you're proud to be a Horizons Unlimited Traveller!
Horizons Unlimited is not a big multi-national company, just two people who love motorcycle travel and have grown what started as a hobby in 1997 into a full time job (usually 8-10 hours per day and 7 days a week) and a labour of love. To keep it going and a roof over our heads, we run events such as this one (18 this year!); we sell inspirational and informative DVDs; we have a few selected advertisers; and we make a small amount from memberships.
You don't have to be a Member to come to an HU meeting, access the website, the HUBB or to receive the e-zine. What you get for your membership contribution is our sincere gratitude, good karma and knowing that you're helping to keep the motorcycle travel dream alive. Contributing Members and Gold Members do get additional features on the HUBB. Here's a list of all the Member benefits on the HUBB.

MC Air Shipping, (uncrated) USA / Canada / Europe and other areas. Be sure to say "Horizons Unlimited" to get your $25 discount on Shipping!
Insurance - see: For foreigners traveling in US and Canada and for Americans and Canadians traveling in other countries, then mail it to MC Express and get your HU $15 discount!
Story and photos copyright © All Rights Reserved.
Contact the author:
Editors note: We accept no responsibility for any of the above information in any way whatsoever. You are reminded to do your own research. Any commentary is strictly a personal opinion of the person supplying the information and is not to be construed as an endorsement of any kind.
Hosted by: Horizons Unlimited, the motorcycle travellers' website!
You can have your story here too - click for details!