Central America
October 26, 2011 GMT
Monday 18.9
We make our way to Teotihuacan on the east side of Mexico City, here stands the world 3rd largest Pyramid build by the Mayas. After a climb up the Pyramid of the Moon we make our way to a small village near Tlaxcala for the night.
Tuesday 19.9
As we get on the road this morning I can see a mountain in the distance with snow on top. I tell Maggie and she won't believe me, so we stop get the monocular out and check the map to see what mountain it is. It's a Volcano by the name of Popocatepott and stands 5465 meters tall. The road from here takes us over high plateaus through rain forest's and down to the coast of Veracruz where we stay for the night.
Wednesday 20.9
On our way down the coast we stop at Boca del Rio for a coffee, I pick up the paper and read the headlines. 35 bodies dumped in the middle of town. Shit we stayed less than 2 km away from where it took place. We did notice a lot of police around this morning but had no idea what's going on. We continue our way down the coast and end up in Catemaco for the day. A Mexican holiday destination on a small lake. Minutes after arriving the heavens open up and it poor's for the rest of the day.
Thursday 21.9
My navigation skills are letting me down today, first I miss a turn of and then due to a road closer we have to make a 3 hour detour, it's hot and sticky and not really a good day on the bike. After a long sweaty ride we call it a day in Valle Nacional, the hotel is good and the food next door great.
Friday 22.9
Just outside town the road starts to climb into the rainforest mountains, the air is starting to cool down as we climb up to 3000 meter's. It's slow going as there are many potholes and topes ( Speed bumps ) but it's a great ride non the less. 4 Hours later we arrive in Oaxaca. Our Hotel is a old mansion that's been converted, the room is large and airy and there is a great court yard to have breakfast or just sit and read a book. We meet up with Wade and Phil, André and Glenn all Bike riders on their way south. It's Wade's Birthday so we celebrate with a few beers and a bite to eat.
Saturday 23.9
We all meet for breakfast and go to check out town together. From the Farmers Market to the Chocolate Factory and up to the Cathedral we cover a lot of ground and see some interesting sites. Phils girlfriend arrived today from Germany and we all meet up in town to have a few cold ones. There is Mexican music playing and people are dancing in the street. This place has a good feel about it.
Sunday 24.9
Decided to stay another day in Oaxaca, love that place always something going on in the placa.
Monday 25.9
André joint us for the ride down to the coast. On the way out of town we at a bike mechanic where I get a Oil change done, ½ hour and we are rolling again. The road winds it's way through the mountains down to Salina Cruz. We now that Nick and Ivanka are on the beach somewhere. They sent us the coordinates and I converted them onto a map so hopefully we will find them. We turn of the highway through a small village down a dirt track and onto the beach. We could not believe it, everybody is here. Wade, Phil, Ricky, Kevin, Nick, Ivanka, André and us. Had a great night under the stars eating some delicious fish washed down with some cool Coronas.
Tuesday 26.9
We all are staying another day, just to nice to go. Playing cards, swinging in the Hammock and going for swims. Live is good. In the late afternoon we arrange to go fishing with one of the locals. First we need to get the boat in the water witch is a all in effort. André is the only one who catches a Albacore Tuna big enough for dinner for all of us.
Wednesday 27.9
Except for Nick and Ivanka we are all of this morning to go to San Cristobal. Wade leads the way and along the coast past hundreds of Wind generators that are turned off through small villages and finally up into the hills again. We come into thick fog and a village that is completely flooded and has been for most of the year ( so we are told) After a long ride we arrive in San Cristobal a little town with a historic centre.
Thursday 28.9
Wade, Phil, Ricky and Kevin are moving on today, whereas André and us are staying another day to check out the place.
Friday 29.9
It's raining this morning but not enough to stop us from moving on. Its only about 200 km's today but it takes us well over 4 hours. The road is very twisty and there are so many speed bumps it's not funny anymore. We stop at Mexicos tallest waterfalls, Misoi-Ha, with a drop of more than 30 meter's. We just get into town looking for a hotel when the rain starts, by the time we find one we are completely soaked. A well we did need a wash.
Saturday 30.9
Only 7 km's outside Palenque there are some of Mexico's best Maya ruins. So this morning we drive out and explore the old Maya town. It's very humid out here and the insects are eating us alive. There is also a museum and lots of street vendors selling anything Mayan. A few hours later we are back on the bike heading back to town when it started raining again, another soaking we will be running out of close soon as nothing dry's to well in this humidity.
Sunday 2.10
Not sure what happened to the first but now we got it right again. Late start this morning as it was still raining. It's only a short drive to Tenosique a small town near the Guatemala border where we want to cross tomorrow.
Monday 3.10 First try to get out of Mexico and into Guatemala
Pack the bike have a coffee and a 50 km drive to the border, easy! Wrong… we get to the border no problem but we need an exit form that you need to pay for at any bank in town, Not at the border, and the office that stamps out the bike is closed today. So no option but to go back to town and to the bank. Once our number is being called we step up to the counter to be told that we need to go to the Immigration office first to get a document with which we then come to the bank to pay for and then back to Immigration to get it stamped. Of course that Office is at the other end of town so it takes us all day to get it sorted, but now we have it all and should be good to try again tomorrow.
Tuesday 4.10
The rain woke us up this morning, great it's going to clear up and we have a nice day, wishful thinking. We packup and head for the border again but this time in the rain. Good thing about that is that all the checkpoints can't be asked to come out from under there shelter so they just wave you through. We get to the Mexican border control and the guy that sent us back yesterday has a big smile on his face, takes our papers and stamps us out in 2 seconds flat. I then go over to the bank to sign out the bike, no problem, the guy dose fill out a fancy form gives it to me, shakes my hand and says "Adios Amigo" That's it we are out of Mexico.
100 meters on and we stand at the Guatemala border. In to the shed, two minutes later we have a stamp in our passport and we are good to go. Just below is another bungalow where I have to go for the bike. Small problem, on the rego papers it say Mark in the passport it's Markus no good. After a while I convince the officer that it is like that in OZ and it's no problem anywhere in the world. Photo copies, 160.- pesos a few pieces of paper and we're good to go . It's still raining but the road is good, we make our way to Flores.
Wednesday 5.10
Went out to the Tikal ruins today, very hot and humid but also very impressive. On the way back we run into Glenn and a guy from Canada so we all stoped and had a chat. Glenn just came in from Belize today and is camping out by the ruins whereas we stay in a small village by the lake for the night.
Thursday 6.10
Leaving for Antigua de Guatemala this morning. Nice drive down the CA 13. Of course we get rained on for a short while and then its sunny and hot again. The traffic further south is getting quiet heavy so we stop for the night in a small hotel in Rio Honda
Friday 7.10
Make our way through Guatemala City and out the other end to Antigua. The roads in Antigua are very rough coble stone so it shakes the hell out of us and the bike. After settling in at the hotel we go for a walk around town. Passing the wine- bar we hear some familiar voices, we stop to look and see Wade, Phil, Ricke and Kevin sitting around a table having a few beers. No option but to join in.
Saturday 8.10
Walking around Antigua exploring the town. In the evening we meet up with the others again and watch the rugby at a local bar.
Sunday 9.10
Early start as we meet up with Wade and Phil, Ivan and Juan from Guatemala City who also ride GS. We all ride out to Lake Anatalia for the day. Go for a swim in the lake and eat pizza then ride back into town. Tonight we move in with the host family who we stay with for the next 6 days while we do our spanish course. Early night, tomorrow is a school day.
Monday 10.10 – Friday 14.10
Up at 6.45 breakfast at 7.00 then of to school by 8. We get greeted by our teachers and then straight into it, 4 hours 1 on 1 my head is spinning. Then home for lunch and study. The weather is miserable all week long, rain, rain and more rain. Half the country is flooded and there are some serious land slides blocking the roads.
Saturday 15.10
All during the week there has been a influx of bikers coming to Antigua. Tonight we all meet up, there are 12 riders in town. French, Canadians, Swiss, USA, Australians and Irish. We go to on of the Hostels who's owner is celebrating his 50 Birthday. You guessed another big night.
Sunday 16.10
We meant to leave today but the weather is so bad and Nick and Ivanka are stuck out by the lake due to landslides and floods that we decide to stay until Tuesday hoping for better weather.
Monday 17.10
Nick and Ivanka are on there way. With a police escort and a truck caring all there luggage and Ivanka up the hill they finally make it out after being stuck for 4 days.
Tuesday 18.10
We have been in Antigua for 10 days so it's time to finally get out of here. Kevin, Glenn, André, Nick, Ivanka, Maggie and I are packed and ready to go. We decide for the coast road to get to the border. Minutes after leaving town the rain sets in and only stops for a minute at the time. At first the road is not to bad and we make good process. But then it all goes down hill. Roads have been washed away, whole bridges have disappeared and we have to make our ways around on goat tracks to get back on the road.
And then Disaster strikes !!! Kevin is leading the ride when a dog jumps in front of him, he manages to avoid the dog and stay on the bike but André following him is not so lucky. Even though he does not hit the dog he loses the bike and crashes, the bike flips twice and André gets thrown off. When it all comes to rest André has a sore shoulder and the front end of the African Twin is a destroyed. After securing and clearing the accident scene a guy in a pick up overs to drive André and what's left of the bike back to Guatemala City. We been in touch with Juan and Ivan who advised us to go back to the city where there is a better chance to find a mechanic and parts for the bike or even buy a new bike if it can't be fixed. Kevin, Maggie and I decide to ride back with André to give him a hand and be some moral support. By the time we come into town it's getting late and we been riding in the rain all day. Juan meets us on the outskirt of town and guides us to a Hotel and a Bike shop where we drop the Twin off. A hot shower a quick bite to eat and we collapse into bed totally exhausted, what a day. At least André is not to bad it could have been much worse.
Wednesday 19.10
Since we are in the city Kevin and I decided to bring our bikes in for a service at BMW how is just around the corner. Then we are of to the bike mechanic where André's bike is. They already started pulling the front apart, the forks and wheel are totally destroyed and a lot of the fairing is broken and scratched, the verdict is that it can be fixed but it will cost a lot of money. André is considering buying another bike or having his African Twin fixed a decision that won't be easy.
Thursday 20.10
We wake up this morning and the sun is shining for the first time in two weeks. Kevin and us are heading for the border again as there is nothing else we can do for André and we really would like to move on. Ivan and Juan escort us to the border, best guys ever. Couple hours for the paperwork and we are into El Salvador. A short drive from the border we come to a little mountain village called Tacuba. Nick, Ivanka, and Glenn are waiting for us at the Mamas and Papas Hostel. They tell us about a tour to the waterfalls that sound very exiting so we decide to join in tomorrow.
Friday 21.10
We leave at 8 am for the tour. Back of the ute and of we go driving out of the village towards the mountains. Only 10 minutes into the journey we here a loud bang and the car stops. Part of the steering has broken and we cannot drive on. Molony our guide tells us not to worry makes a few calls a half a hour later another 4 wheel drive turns up, our tour continues. After a good hour driving trough the El Salvador Mountains we have to go on by foot as the road no longer exists due to mudslides and washouts, the walk takes us through Coffee Plantations and thick rainforests down to the bottom of a valley where the river rages after all the rain we had. We claim our way over fallen trees and across new landslides to we finally come to the first waterfall. We are all a bit worried to jump down our first fall but after William one of our guides shows us and tells us it's ok we all make it and are keen for the next one. Due to the high water we really have to clime our way along the river. The second jump is about 5-6 meters high. We all need a extra minute to gather or nerves. Then there are waterslides and more falls to we finally arrive on top of a 80 meter cliff with the water rushing over the it's side. We have a break and then climb down the face of the cliff to the base of the waterfall. And now comes the hard part we have to walk back up through the rainforest back to the car. A good 2 ½ hours later and totally exhausted we arrive back at car and make our way home to the hostel. Wow what a great day that was.
Saturday 22.10.
We leave for the coast this morning, the sun is shining and we all enjoy the ride around the Volcanos down to the coast. The road is great condition and snakes it's way along the coast to a surfing village called El Sunzal where we find a great place to stay. Swimming in the pool walking on the beach a few cold beers, Life is Good
Sunday 23.10
We all check our emails this morning to see what news there is . As I open mine I see a message being forwarded by André. Kevins sister is looking for him and can't find him. So I pass the computer to Kevin and within seconds his world collapses. The bad news is that his mother is very sick in hospital and not likely to make it to the morning. After calling his dad we all get the sad news that his mother has passed away a few hours ago. We are so sorry mate.
We spend the rest of the day organising a flight, finding a place to store the bike and support Kevin as good as we can. At the end it all works out and Kevin is flying out of El Salvador at 7.45 am
Monday 24.10
Now down to 3 bikes we leave the beach after breakfast to make our way closer to the border so we can cross into Honduras and Nicaragua in one day. We are staying the night in La Union.
Posted by Mark Allenspach at
10:49 PM
GMT
November 12, 2011 GMT
Nicaragua to Panama
Tuesday 25.10
Happy Birthday Maggie.
Early start to get to the border of Honduras. The moment we drive in we get hassled by mouls ( people trying to help you with all the formalities for money)The place looks very hectic so we do decide to get some help. Hand over all the paperwork and wait for 2.5-3 hours, pay a fee here and another one there and we are good to go.
The road is not to bad so our ride to the Nicaragua border takes only 2 hours. Getting out of Honduras is a breeze and on the Nicaragua side the lady from the insurance office points us in the right direction so we are done in no time at all. The road condition from the border onwards is great and we make it to Leon in just over one hour. Maggie has been feeling bad all day with a flew so as soon as we get to a Hostel she goes to lie down while the rest of us go to town for a bite to eat and a cool beer.
Wednesday 26.10
Maggie is still feeling bad so we stay another day to give her some rest. Nick and I go up into town for a haircut and a shave, for 6.- dollars we get the full treatment, cut,shave,eyebrows,ears and nose. How good is that. After our treat we go shopping at the local markets where you can buy everything from meat to fish to Iguanas. We settle for Prawns, Fish, fresh Tomato's and some Spaghetti for dinner, Kerman brings cake's from the French Patisserie. What a great night.
Thursday 27.10
Of to Managua the capital of Nicaragua this morning where we will meet with some friends of Ivanka. The town itself is nothing spectacular but Ivankas friends Neville and Leon take us to a local bar and later to a restaurant with some really nice local food.
Friday 28.10
Just a short drive to Granada this morning. On our way we stopped at the Volcano National Park where you can drive right up to the rim of the still smoking Masaya Volcano. In Granada we met up with everybody that's on the way south. It's great to meet up again and again.
Saturday 29.10
Neville from Managua came to pick us up this morning to go to Lago de Apoyo, a volcano creator lake. What a amazing experience.
Sunday 30.10
Down the coast to San Juan del Sur for a great seafood lunch. Staying the night, leving for the Costa Rica border in the morning.
Monday 31.10
Arrived at the border around 10am, getting out of Nicaragua is straight forward no problem whereas coming into Costa Rica is a pain in the ass. Get a stamp here, go by insurance half a km back, get photocopy and go to a window to find out you need another copy, go back to get it, come to the window again and get it all checked now on to the next window half a km the other way, wait and be patient all in all around a 2 ½ to 3 hour tour of the border. The scenery changes straight away coming in to Costa , the cars are nicer and the businesses are more American style. After a quick lunch at a Burger King we head west to the coast down towards San Juanillo where Karin and her family live. The skies open up and the road turns into a river. After a few wrong turns and asking for directions we finally make it to Karins just before dark.
Tuesday 1.11
Another day in san Juanillo, after a huge breakfast with homemade bread we go down the beach for a swim. In the afternoon the rain comes back and we all just hang around waiting for diner to happen.
Wednesday 2.11
Today we are on our way to Tamatindo where Tim and Adrian are staying. It's just a short drive and we get to enjoy the beach in the afternoon. Maggie makes some Spaghetti Bolognaise and Adrian bakes a Bacon and Egg Pie for dinner, yumm………….
Thursday 3.11
Of to San Jose today where Nick has his bike booked into BMW for a service and front fork seal repair.
Friday- Monday 7.11
Checking out town and looking for a suitcase so Maggie can repack and get ready for her flight to Switzerland on Monday. André and Glenn met up with us too. San Jose is not a place you have to come to as there is not much to see. On Monday morning I take Maggie to the airport and wish her fair well after nearly 3 years and 100'000 km she called it a day and is on her way home.
Monday 7.11
After the airport André and I make our way across the mountains to the Caribbean Coast and down to Cahuita where Nick and Ivanka are having some Hammock time.
Tuesday 8.11
Today we all go for a walk through the National Park one of the best Rainforest walks ever. On our 4 hour walk we see Monkeys, Lizards, Sloth's, Snakes and lots of Birds, just great. André opens a few fresh Coconuts for refreshments and then it's of to the beach for a swim.
Wednesday 9.11
Crossing into Panama this morning over a very old railway bridge. The crossing is straight forward and easy, as far as crossings go. We then make our way to Almirante to find out when the ferry runs to the Bocas del Toro Islands. As we missed todays ferry we go back to Changuinola to find a hotel for the night.
Thursday 10.11
6am start in a tropical rainstorm, great start to the day. On to the Ferry at 8am and a 1 ½ hour trip brings us to the Islands. We are staying at the Hansi Hostel in the middle of town a great little place and very comfy. The rain is on and off all day. The island has a very Caribbean feel to it with Reggae music playing everywhere.
Friday 11.11
The sun is out and the place is looking great so we get our things and hit for a secluded beach on the western end of the island. Tough live, and a Coconut curry for dinner.
Saturday 12.11
Rain, rain and more rain. Oh well just another lazy day on a Island

Posted by Mark Allenspach at
10:32 PM
GMT
Enter your email address to receive updates to Mark and Maggie Allenspach's trip story!
Recent Entries
Archives:
Archives:
Monthly
Archives:
Category
NEW! HU 2015 Motorcycle Adventure Travel Calendar is now available! Get your copy now for some terrific travel inspiration!
HUGE, 11.5 x 16.5 inches, beautifully printed in Germany on top quality stock! Photos are the winning images from over 600 entries in the 9th Annual HU Photo Contest!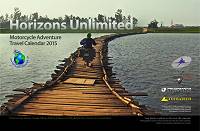 "The calendar is magnificent!"
"I just wanted to say how much I'm loving the new, larger calendar!"
We share the profit with the winning photographers. YOU could be in the HU Calendar too - enter here!
Next HU Events
NEW!

USA Virginia: Apr 9-12, 2015
Take 40% off Road Heroes Part 1 until October 31 only!
Road Heroes features tales of adventure, joy and sheer terror by veteran travellers Peter and Kay Forwood (193 countries two-up on a Harley); Dr. Greg Frazier (5 times RTW); Tiffany Coates (RTW solo female); and Rene Cormier (University of Gravel Roads).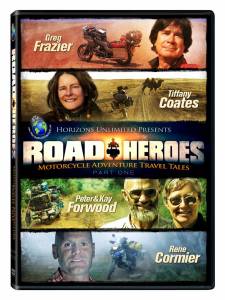 "Inspiring and hilarious!"
"I loved watching this DVD!"
"Lots of amazing stories and even more amazing photographs, it's great fun and very inspirational."
"Wonderful entertainment!"
Check it out at the HU Store! Remember to use Coupon Code 'HEROES' on your order when you checkout.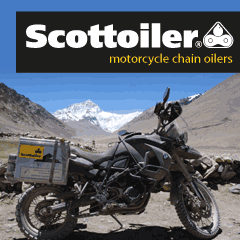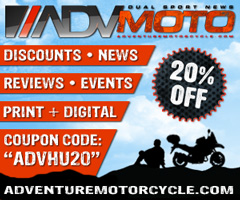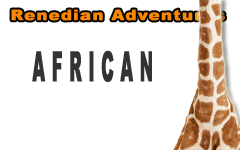 What others say about HU...
"I just wanted to say thanks for doing this and sharing so much with the rest of us." Dave, USA
"Your website is a mecca of valuable information and the DVD series is informative, entertaining, and inspiring! The new look of the website is very impressive, updated and catchy. Thank you so very much!" Jennifer, Canada
"...Great site. Keep up the good work." Murray and Carmen, Australia
"We just finished a 7 month 22,000+ mile scouting trip from Alaska to the bottom of Chile and I can't tell you how many times we referred to your site for help. From how to adjust your valves, to where to stay in the back country of Peru. Horizons Unlimited was a key player in our success. Motorcycle enthusiasts from around the world are in debt to your services." Alaska Riders

10th Annual HU Travellers Photo Contest is on now! This is an opportunity for YOU to show us your best photos and win prizes!
NEW! HU 2014 Adventure Travel T-shirts! are now available in several colors! Be the first kid on your block to have them! New lower prices on synths!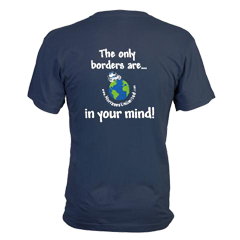 Check out the new Gildan Performance cotton-feel t-shirt - 100% poly, feels like soft cotton!

What turns you on to motorcycle travel?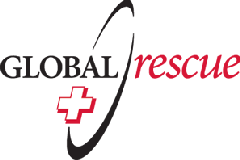 Global Rescue is the premier provider of medical, security and evacuation services worldwide and is the only company that will come to you, wherever you are, and evacuate you to your home hospital of choice. Additionally, Global Rescue places no restrictions on country of citizenship - all nationalities are eligible to sign-up!
New to Horizons Unlimited?
New to motorcycle travelling? New to the HU site? Confused? Too many options? It's really very simple - just 4 easy steps!
Horizons Unlimited was founded in 1997 by Grant and Susan Johnson following their journey around the world on a BMW R80 G/S motorcycle.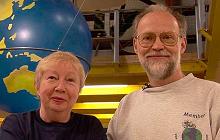 Read more about Grant & Susan's story
Membership - help keep us going!
Horizons Unlimited is not a big multi-national company, just two people who love motorcycle travel and have grown what started as a hobby in 1997 into a full time job (usually 8-10 hours per day and 7 days a week) and a labour of love. To keep it going and a roof over our heads, we run events (22 this year!); we sell inspirational and informative DVDs; we have a few selected advertisers; and we make a small amount from memberships.
You don't have to be a Member to come to an HU meeting, access the website, the HUBB or to receive the e-zine. What you get for your membership contribution is our sincere gratitude, good karma and knowing that you're helping to keep the motorcycle travel dream alive. Contributing Members and Gold Members do get additional features on the HUBB. Here's a list of all the Member benefits on the HUBB.
Books & DVDs

All the best travel books and videos listed and often reviewed on HU's famous Books page. Check it out and get great travel books from all over the world.

MC Air Shipping, (uncrated) USA / Canada / Europe and other areas. Be sure to say "Horizons Unlimited" to get your $25 discount on Shipping!
Insurance - see: For foreigners traveling in US and Canada and for Americans and Canadians traveling in other countries, then mail it to MC Express and get your HU $15 discount!
Story and photos copyright © All Rights Reserved.
Contact the author:
Editors note: We accept no responsibility for any of the above information in any way whatsoever. You are reminded to do your own research. Any commentary is strictly a personal opinion of the person supplying the information and is not to be construed as an endorsement of any kind.
Hosted by: Horizons Unlimited, the motorcycle travellers' website!
You can have your story here too - click for details!