August 18, 2011 GMT
USA and Canada 2011
Saturday 7.Mai 2011 Sorry its taken so long to get the blog going, busy travelling :)

Today its saying goodbye to the family and heading to the Airport for our flight to Miami, Florida.
The bike has already left a few days ago from Frankfurt to Orlando, Knopf Tours has organised the transport and all the paperwork so it was really easy and straight forward, just had to drop the bike off in Heidelberg and Stefan took care of the rest.
Our flight went via Berlin and then straight on to Miami, 10 Ĺ hours later we touch down in Florida the flight was very smooth and as long flights go very boring. After standing in a long and slow chew for customs its Welcome to the USA. We take the courtesy bus to the Regent Airport Hotel which turns out to be a old neglected dump, but we seen worse on our travels so not to worry its only for one night.
Sunday 8.5
Of to the Car rental Station ( Station not office, Itís a building the size of a football stadium with all the Rental companies in one place and thousands of carís to rent ) so after filling out the paperwork and selecting the model of car you like you head of to one of ten floors in the car park and select the colour that you like drive it up to the check out for a scan and of you go. We end up with a Lincoln Mercury that drives like a comfy leather lounge on wheels. 3 hours later we are in Orlando where it is a hot 37C, good thing the hotel has got a pool to cool off.
Monday 9.5
Pick up the bike today but when I call the cargo company to arrange a time they tell me that custom has not cleared the bike yet and they donít expect to see them until tomorrow morning. Ah well, time to check out our neighbourhood and study the maps to where we want to go.
Tuesday 10.5
All good, Custom has done there paperwork and I can go and pick up the bike. Itís only a short cab ride to the warehouse, fill out and sign a few more papers, get the bike of the cradle, install the mirrors and of we go.
Wednesday 11.5
Now that we got our wheels back we are driving around Oralndo to check out town a bit more, but we soon give up the traffic is horrendous and the heat is getting up there too, 38C today, so back the pool and packing our gear so we can leave first thing in the morning.
Thursday 12.5
Weíre of, well at least to the next traffic light and thatís at least 50 meters, its red, now green so we go another 50 meters and guess what its RED. This goes on for about 1 hour to we start to clear out of town towards the coast. From a long way out you can see Cape Canaveralís NASA Space Centre, so we go and have a close look , kick the tyres make sure everything is ok for the next launch. We make our way down along the coast to Vero Beach for our first camping night in the states.
Friday 13.5
We on our way to Miami, itís hot and the traffic is chaos, meant to stay of the freeway going along the coast but we just donít make any headway, stop and start every couple of meters , so on to the freeway and into Miami. Found a campground just south of town where its got lots of shade and a pool so we set ourselves up get a couple of cool ones and relax in the pool.
Saturday 14.5
Driving up Ocean Drive, Miami Beach. Itís all happening here and its hot 40C+ so of for a swim . Then back for lunch and a bit of people watching , listening to some cool Cuban sounds and letting the world go past. Not a bad place to be.
Sunday 15.5
Todays destination is Key West. Out of Miami on the No1 Highway past key Largo and over numerous bridges out into the Straits of Florida. The water has a turquoise colour and it all looks very Caribbean. We check out a Campground about 15 minutes out of Key West, the rate for camping is 50.-US a night for a tent next to the toilet block without a tree for shade. If you want a spot in the shaded are its another 15.- . We didnít end up camping that night, instead we found a great little motel on the east end of town with aircon and pool for just about the same money. Key West is of course a huge tourist trap with heaps of Restaurants, Bars and T-shirts shops. So of to Sloppy Joeís Bar to have a cold one where Ernest Hemingway used to clench his thirst. There is a band playing and life is good in Key West.
Monday 16.5
Another sunny day in the Keys. Went to the beach in the morning for a swim and then on a bus tour to see the town and learn about itís past. Got of at the Marina for Happy Hour and some fresh Seafood over sunset. Not a bad Monday.
Tuesday 17.5
Weíre of again up towards Miami, itís a great morning with the sea breeze keeping the temperature down to pleasant.
Wednesday 18.5
Left early in the morning to avoid the heat. Through the Everglades where the Alligators are swimming next to the road in small ponds. Napels on the Golf of Mexico is Lego Land to the max. We keep on going north to Sanibel Island hopping to escape the the masses in there perfect world but no such luck, just more of the same. And since there is only one camping place on the island we get stung with a 50.- tent site for the night. Ouch.. But at least there where some big turtles and a sign not to fed the gattors right next to the tent.
Thursday 19.5
Chewing up the miles on the Interstate 75, itís hot and boring but at least we are moving at a good pace. We make it as far as Lake City where we stay at the Jamison Inn for the same money as we campít the night before, go figure.
Friday 20.5
Today we are on the back roads through Georgia, some nice country side and some huge Southern Estates with the cotton fields and all. A few hours later we arrive in Savannah, a great historic town where movies like Forest Gump and Gone with the Wind where filmed.
Saturday 21.5
Going West towards the Appalachian Mountains. On our way we come pass Lake Thurmond which looks so good that we stop and set up camp on the shores, go for a swim and enjoy the day.
Sunday 22.5
Up into the Mountains. Ashville and on to the Blue Ridge Parkway, a road that makes itís away along the top of the mountains all the way up to Washington. What a great ride, no trucks, not to many RV and magic views. We stay the night in a state park campground where we meet Thomas from South Africa on a 1200GS. After a chat we leave to go the shops for some supplies, on the way back the skyís turn black and moments later we are in the midst of a huge thunder storm getting soaked to the bone. As we approach the campground there is a old house with a undercover carport to shelter from the rain. As it is starting to get dark and the rain is still coming down in buckets we set up or cocker and start preparing some pasta for dinner. Thomas also pulls out of the rain and we end up having dinner and a bottle of red in the carport.
Monday 23.5
Continue or way along the Parkway, stoped in Sparta for the night in a Motel as the skies looked very black again and we donít want to get soaked again.
Tuesday 24.5
Another day on the Parkway, just perfect.
Wednesday 25.5
Itís our 4 day on the Parkway and we are nearing its end . The last 80 or so km take us through the Skyline Drive National Park where we stay at the Big Meadows Campground. End up at the Lodge for a cold one. A guy is playing the guitar and the waitress sings in between serving the drinks. A very funny night.
Thursday 26.5
Out of the National Park and into Washington DC. Traffic is not to bad and we find the hotel we booked quite easy. Itís only a short metro ride into the city, the White House and all its attractions.
Friday 27.5
After Breakfast we hit the town and go on a City Bus Tour, must say itís a good way to see a place. From numerous Memorial Parks, Statues , and impressive Buildings down to the Botanic Gardens we covered a lot of ground and where very tired when we finally hit the bed at around midnight.
Saturday 28.5
New York. The drive from Washington to New York is fairly busy but itís a quite a buss coming into the big apple for the first time. As you cross several big bridges you can see the sky line of down town New York in the distance. Making your way through the traffic and trying to pick the right lane is a bit of a challenge but we mad it to the Brooklyn Hotel that we booked online without any problems, ok there may have been a illegal U turn ant a few cut in across some traffic lines but hay it all went well. Buy the way if you decide to drive to New York check out the hotels, there are not very many with free parking that are close to the city. We stayed at the Brooklyn Motor Lodge, good place, reasonable price and secure parking. Its run by a Indian Family so the bike is parked right in front of the Reception. You know what I mean if you ever been to India.
Sunday 29.5 to Tuesday 31.5.2011 Ney York City
A short metro ride and we stand in the middle of Time Square. What can I sayÖÖÖÖ. I wonít try and subscribe it you just have to go and see.
Wednesday 1.6.
We are leaving Brooklyn and drive out on Long Island to get on to a ferry that takes us to New London. The city continuous for a few hours before the traffic eases. From New London itís a short drive to Newport Rode Island . The waterfront Weekenders are between cute and enormous with some great toys lying in the harbour. Found this little Restaurant and had some great seafood for dinner.
Happy Birthday Dominic wish you all the best wish you here.
Thursday 2.6
Drove up to Brewster where we found a great little campground.
Friday 3.6
Today we went to Chatham a little town on the Cape Cod Peninsula with a lot of historic buildings and a good fell about the place. Walked out to the Lighthouse and had a great Sandwich for lunch. Plenty of Seals in and around the Harbour.
Saturday 3.6
Provincetown on the top of Cape Cod is a very busy happening little place that is overrun by touristís just like us. But itís fun, there are plenty of Restaurants and shops to all kind of tastes and it has a real buss about the place.
Sunday 4.6
We make our way out of Cape Code and hit the freeway , west towards Niagara Falls, we pass through nice country towns in the upper New York State with some amazing estates. We stop along the Tree Finger Lakes for lunch before continuing our way north west up to Lake Ontario where we hope to find a place to stay along the foreshore. To our disappointment the whole waterfront is privately owned by residents as well as weekenders, there is not a single spot where you can but up a tent. We end up finding a little Hotel near Albion where we stay for the night.
Monday 5.6
Today we drive in to Niagara Falls. I didnít know what to expect but surely not what we found. Itís a very ugly town with absolutely nothing to offer except a heap of run down Motels and overpriced huge Hotels catering to the droves of tourist coming to see the falls. We pick one of the motels, unload and go to town to see the falls. What a sight! I must say there is a great park around the area of the falls and easy access to it all, and the most amazing thing Ö ITíS FREE !! (once you paid for the parking) We end up buying a ticket to the Maid of the Mist a boat that takes you right up to the falls, its amazing to say the least. According to our guide they estimate about 2 million litres of water flowing over the falls every Second. We end up going to the Casino for dinner and then back to the falls to see the light show thats put on at night.
Tuesday 6.6
We make our way along Lake Erie towards Cleveland. Its very hot today and the riding is not very pleasant. The traffic along the lake is heavy and not moving to well. We call it a day once we reach Connaut a little town on the lake. By now it must be around the high 30C, so we just stay in the shade and let the day go past.
Wednesday 7.6.
Weíre on our way inland to the Amish Country. Kedron is our first stop. The moment we get of the bike outside the local Historic Museum we are greeted by some locals who want to know as much about us as we want to know about them. Had no idea that the Amish originate from Switzerland . 2 hours later we move on to Berlin where we stayed for the night. Had dinner at a Amish Restaurant, great home style cooking and the best fresh Strawberry Pie.
Thursday 8.6 ĖThursday 16.6
Through Indianapolis, St Louise, Kansas City up along the Missouri River to Omaha and then on through the never ending countryside of Nebraska and South Dakota. The fields of Corn or Wheat that stretch to the Horizon, Grasslands with not a single tree on it as far as the eye can see, and a back side thatís hurting badly. OuchÖ. After thousands of kilometres ( sorry ďMilesĒ we are in the States) we arrive in the Black Hills where the Buffalo roam. Cluster is a small town among the hills where we end up stying for a few days. The weather changes every few hours from clear skyís to poring rain.
Friday 17.6 Ė Sun 19.6
After a huge breakfast at Susans Restaurant we are off to drive the Wildlife loop through the National Park where we see some more Buffalos and wild Donkeys. We enjoy the great roads through the hills and Canyons along Rivers and Lakes. Mount Rushmore, Crazy Horse as well as Hill City are on our route.
Monday 20.6
The Rain has only just stopped to pack up the camp and get rolling towards Rapid City. Itís cold and miserable. After a couple of hours we call it a day, get a motel room and start drying out. Deadwood our next stop is an old western town full of Casinos and souvenir shops. Leads just up the road is a old mining place with a huge hole in the middle of town where they used to get silver out of the ground. The rain starts again as we drive out of Leads

Tuesday 21.6
Our first stop is Sturgis where every year there is the biggest Motorcycle get together in the world. We been told that up to 1 million bikes come for the weeklong festival in August. Deadwood our next stop is an old western town full of Casinos and souvenir shops. Leads just up the road is a old mining place with a huge hole in the middle of town where they used to get silver out of the ground. The rain starts again as we drive out of Leads we press on hoping it will pass without getting to wet, but as the rain increases we have to pull over and get some shelter. There just happens to be a little shop on the side of the road with a covered veranda where we can get out of the rain. Next thing the owner ,Mark, comes around the corner and asks if we would like to see some Wolfs? Of course we go along and he takes us around the back of his house where hes got 4 Alaskan Wolfs in a cage. They are beautiful animals and very shy . We end up staying there for a couple of hours until the rain has passed . We then ride on to Gillette for the night.
Wednesday 22Wake up to clear skyís this morning. Driving on the US 16 over the Big Horn Mountains with a pass going up to over 3000m and still covered in snow. As we come down the other side the land is starting to turn in to a desert like scenery with wide open spaces and deep canyons. We stop for the day in Riverton.
Thursday 23.6
Driving out of Riverton this morning, on our left is a mountain range with black clouds hanging over them and we can see the rain poring down. On our right is the open prairie the sun is shining and all looks good. At first the road takes us out into the sunshine and then all os a sudden we take a left and go straight for the mountains. The sky is getting so dark that I have to take my sunglasses of so I can see. We are getting closer and closer to the rain when the road takes a right and we are heading for sunshine again. This goes on all morning, itís very nerve raking, but we make it through the morning without getting wet. We stop of at the Grand Teton National Park for lunch and then continued north to Yellow Stone. Just as we entered the Park we come into a Hailstorm with hail the size of marbles ouch that hurtsÖ.. We stop at the Arms Lake Campground in West Yellowstone.
Friday 24.6
Driving the top loop of the park today, itís about 200 km to get around. Some magic scenery and plenty of wildlife. Buffalos, Deer, Black Bearís and even a couple of Grizzlies. There is a lot of traffic as the holiday season has started, so the going is slow and people stop in the middle of the road to take photos of whatever animal they can spot. It creates quite a chaos.
Saturday 25.6
More Yellow Stone today. Seen some hot springs and gazers, drove through the snow and had lunch in a sunny meadow next to a mountain stream. Today there are even more people on the road. Stopped off at the Bear and Wolf Sanctuary in town , very interesting and you can get close to the animals. Wow they are big.
Sunday 26.6
Driving north towards Helena, Montana. Itís very windy and I really have to hang on to the bike so we donít get blown of the road. As we pull over in Helena Maggie noticed oil leaking from the driveshaft. Not Good. We manage to get to a Motel nearby where we can assess the situation. My guess is the bearing has had enough. But itís Sunday so nothing we can do.
Monday 27.6
All the bike shops in town are closed on a Monday and there is no BMW Dealer here anyway so we go to U-Haul Rent a Truck to see if we can get a small Van. All booked out for today is the answer we getting. Know what ? we try some other car hire places but no luck. In the afternoon I go back to U Haul to book a Van for tomorrow, no problem you can have one now since some other guy changed his booking. So we got the Van but how do we get the bike in the back without a ramp? We drive around town and I spot a great ramp at the Yamaha dealer which after asking them they let us use to put the bike in the back.
Tuesday 28.6
Of we go trucking through the countryside to Missoula 120 km away. Once we arrive we go to BMW where they help me getting the bike out and into the shop. Since we are at the shop I also ask them to but a new set of Tyers on. We stay at a nearby Motel waiting for the bike to be fixed.
Wednesday 29.6
Drop the Van of at the hire place. Went for Breakfast and soon after got the call from the mechanic saying that the bike is ready for us to pick up. It was the bearing and they had all the parts in stock. Great we are good to roll again.
Thursday 30.6
We leave Missoula in the morning riding up towards Whitefish a little town near Glacier National Park, the place is bussing with holyday makers and we are finding it hard getting accommodation. We get a tip from a local sending us to the State Forest Camp ground where we get the last spot for the night. Itís a very nice place next to the lake and with views of the snow caped mountains. We are lying in our tent just about to go to sleep when we hear the horn blasting from a approaching Train. No Problem there must be a train line near by. The nice is getting louder and louder and we feel as if the train is coming straight for us. Not sure if we should run for it or pull the sleeping bag over our head and hope for the best. As we find out in the morning there is a train line just behind the bushes, you may as well be laying on the rails.
Friday 1.7
Lets get out of here before another train comes, not much sleep this night as we got run over a few more times. Driving up on the Going to the Sun Road as far as we can on the west side of the park. The road is still partially closed due to snow still laying up to 15ft deep. We ride around the southern end of the park to get to St.Mary where we find a great camp ground to set up our tent. The ride up the eastern side of ďGoing to the Sun RoadĒ is breathtaking. Along the dark blue lakes with glaciers and snow caped mountains all around us, but it is quit cold so we are rugged up like in the middle of winter.
Saturday 2.7
Today we ride up the Glacier Way where at the end of the road is a big old Hotel right on the lake. We walk around the lake and come up on a Moose with its young.
Monday 3.7
We crossed the border into Canada today. Easy crossing no worries about the bike, didnít want to see rego or insurance papers. It seems that coming into Canada the land opens up even more. The wind starts to pick up and we really have to hang on. We make it all the way to Calgary where we find a reasonable motel to stay the night.
Tueday.4.7
Driving out of town towards Banff, past the Olympic ski jump and stadiums. The Rocky Mountains loom in the distance. A perfect freeway takes us all the way up to Banff where we stop for lunch and a good look around. We stay the night in Canmore a very comfy Hotel with a guy from Melbourne at the front office.
Wednesday 5.7
Driving through the Jasper National Park , stopping at Lake Louise and all the most beautiful places along the way. Even though its holyday season the traffic is not to bad and we arrive in Jasper in the late afternoon. As we drive through town we notice two GS set up to the max. It turns out they are two aussie guys riding from Alaska to Ushuaia.
Thursday 6.7
Today we ride from Jasper to Prince George and stay in a Motel for the night. Dinner at ďEarlsĒ Restaurant food is not bad and the waitresses arenít either 
Friday 7.7
Today we made it as far as Smithers along the Highway 16. Itís a nice drive along some rivers and lakes. Staying at the council campground right next to the river. Dane on a old Goldwing pulls up next to us, he is from near Vancouver on his way to Dowson City.
Friday 7.7
From Smithers we continue along the Hwy. 16 to Kitwanga where we take the 37 north. We set up camp on Meziadin Lake and then drive out to Steward where we cross the border into Alaska for the first time. Hyder is at the end of the road and belongs to Alaska. There is really nothing there but a pub where you get Hyderaised with a shot of nearly pure alcohol. Things we do for a photo. After a good time and a laugh at the pub where we met 2 shipping pilots, we are standing at customs with the young officer asking us, where have you been and where are you going?
Satrurday 8.7
Shortly after we leaf this morning we have to put on our wet weather gear. At first its just a drizzle but then it get more and more intense. We stop at Bells for lunch and people traveling the opposite direction tell us to get ready for even more rain. We drive on and after another 2 hours call it a day, we find a room in a motel in Dease Lake.
Sunday 9.7
The sun is out this morning as we drive further north. Through Jade city ( about 3 houses all selling Jade in every form and shape) and on to Watson Lake. The Forest of the Signs is a very interesting place to stop. Last count is over 20í000 signs from all over the world. We also check out a movie about the Northern Lights, very interesting.

Posted by Mark Allenspach at August 18, 2011 05:42 AM GMT

Enter your email address to receive updates to Mark and Maggie Allenspach's trip story!
Recent Entries
Archives:
Archives:
Monthly
Archives:
Category
Now that summer is here, get On the Road! Take 30% off the Achievable Dream - On the Road! 2-DVD set until August 31 only.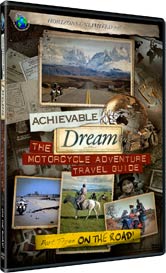 Our veteran travellers share their tips (and great stories) for staying healthy, happy and secure on your motorcycle adventure.
"A fantastic, informative and inspirational DVD."
"It's brilliant - thank you very much!"
Check it out at the HU Store! Remember to use Coupon Code 'ONTHEROAD' on your order when you checkout.
Next HU Events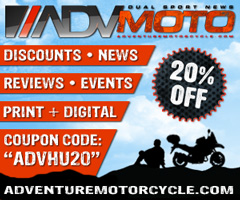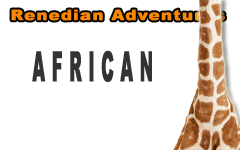 What others say about HU...
"I just wanted to say thanks for doing this and sharing so much with the rest of us." Dave, USA
"Your website is a mecca of valuable information and the DVD series is informative, entertaining, and inspiring! The new look of the website is very impressive, updated and catchy. Thank you so very much!" Jennifer, Canada
"...Great site. Keep up the good work." Murray and Carmen, Australia
"We just finished a 7 month 22,000+ mile scouting trip from Alaska to the bottom of Chile and I can't tell you how many times we referred to your site for help. From how to adjust your valves, to where to stay in the back country of Peru. Horizons Unlimited was a key player in our success. Motorcycle enthusiasts from around the world are in debt to your services." Alaska Riders

10th Annual HU Travellers Photo Contest is on now! This is an opportunity for YOU to show us your best photos and win prizes!
NEW! HU 2014 Adventure Travel T-shirts! are now available in several colors! Be the first kid on your block to have them! New lower prices on synths!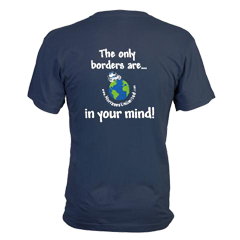 Check out the new Gildan Performance cotton-feel t-shirt - 100% poly, feels like soft cotton!

What turns you on to motorcycle travel?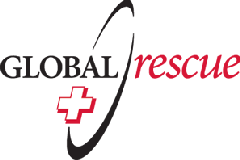 Global Rescue is the premier provider of medical, security and evacuation services worldwide and is the only company that will come to you, wherever you are, and evacuate you to your home hospital of choice. Additionally, Global Rescue places no restrictions on country of citizenship - all nationalities are eligible to sign-up!
New to Horizons Unlimited?
New to motorcycle travelling? New to the HU site? Confused? Too many options? It's really very simple - just 4 easy steps!
Horizons Unlimited was founded in 1997 by Grant and Susan Johnson following their journey around the world on a BMW R80 G/S motorcycle.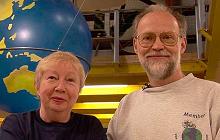 Read more about Grant & Susan's story
Membership - help keep us going!
Horizons Unlimited is not a big multi-national company, just two people who love motorcycle travel and have grown what started as a hobby in 1997 into a full time job (usually 8-10 hours per day and 7 days a week) and a labour of love. To keep it going and a roof over our heads, we run events (22 this year!); we sell inspirational and informative DVDs; we have a few selected advertisers; and we make a small amount from memberships.
You don't have to be a Member to come to an HU meeting, access the website, the HUBB or to receive the e-zine. What you get for your membership contribution is our sincere gratitude, good karma and knowing that you're helping to keep the motorcycle travel dream alive. Contributing Members and Gold Members do get additional features on the HUBB. Here's a list of all the Member benefits on the HUBB.
Books & DVDs

All the best travel books and videos listed and often reviewed on HU's famous Books page. Check it out and get great travel books from all over the world.

MC Air Shipping, (uncrated) USA / Canada / Europe and other areas. Be sure to say "Horizons Unlimited" to get your $25 discount on Shipping!
Insurance - see: For foreigners traveling in US and Canada and for Americans and Canadians traveling in other countries, then mail it to MC Express and get your HU $15 discount!
Story and photos copyright © All Rights Reserved.
Contact the author:
Editors note: We accept no responsibility for any of the above information in any way whatsoever. You are reminded to do your own research. Any commentary is strictly a personal opinion of the person supplying the information and is not to be construed as an endorsement of any kind.
Hosted by: Horizons Unlimited, the motorcycle travellers' website!
You can have your story here too - click for details!