January 03, 2010 GMT
Pakistan - Taftan to Lahore
Entering Pakistan was a strong experience. Immediately there was something different in the air... facilities were more basic, people (especially officials) were more friendly, everything had a to-be-figured-out feel about it. We went through customs and immigration with no problems whatsoever - quite the contrary, we enjoyed preferential treatment (i.e. were instructed to jump queues like crazy, something I'm not too comfortable with) and were given specific instructions about the route we were going to take in a most official way:
A word about the current situation in Pakistan. There is an omnipresent threat for everyone (foreigners included) from acts of violence (kidnapping, bombs etc), so the government is being very nice to travelers and instead of denying us entry, is instead giving us armed escorts that guide us and keep us safe through any potentially troubled areas. Which means, from Taftan (border with Iran) to Lahore (border with India), when you sneeze, a few machinegun-armed guys are there to wipe your nose.
First impression from Pakistan?
Wow. They don't have that in Iran! :-)
Now, when I talk about preferential treatment, I ain't kiddin' around... the official who was sorting out our Carnets offered us tea (lovely, delicious, sweet milky tea) and then said "would you like something to eat"? Now, regularly one says "oh no thank you" and plays all cool etc, but we had no idea when the next opportunity for food would be and it was already lunchtime (somewhere in the world), so we gladly accepted. What followed was difficult to believe. He instructed the cook of the customs office to prepare a full sit-down meal for us, with a meat dish, a nice daal, salad, excellent rice, some naan and drinks! Needless to say, we were impressed.
After wolving it all down we learned how to say "thank you!" in Urdu ("sukria") and left. I carried the security guard on the Strom for the first 50K when... I ran out of petrol. At 210K after my last refueling in Zahedan, this surely is the V's negative range record (less than 50% of normal range). I wonder what *was* in that plastic tank I filled from... anyway, at least the engine seemed to have survived it.
So I got some petrol from one of Lisa's spare tanks - the beauty of traveling with really organised people:
The timing was also impeccable - we were really, truly, in the middle of nowhere, surrounded by Balochistan's desert. I was promptly congratulated by my fellow travelers for having the prudence to run out of petrol just there and then. Anytime, people. Any-time.
So we quickly found another refilling station of sorts, and everybody got nervous and got some petrol, even if the quality had already proved questionable:
The security guard I was carrying on the V, with the rest of the group following:
The end of the day found us roughly 30K west of Dalbandin, admiring the sunset in the desert and haggling for an hour over the price of our (extremely overpriced) dinner:
Colors of the desert at night:
We camped through the night (as the "guesthouse" itself was filthy) and the next morning after all of us were done with breakfast and Simon had taken really nice pictures of our security guards (and their friends/relatives) who had visited us the previous night with a 4x4 mounted machine-gun that looked like it could take down a tank
...we hit the road again.
We took a lunch break at a seemingly popular "rest area" - err... how should I put this... no electric escalators, you know? Just some rugs on the floor and ONE dish - meat with some juice and bread. It was delicious.
Also, we had a chance to marvel at all the funky trucks/buses that had also stopped there for a break:
...including a bus that had the most unlikely passengers:
That night we reached Quetta - unfortunately too late for some of us who have night-vision issues and can't drive at night. The last 50K were a struggle, with the chaos of a dusty big city like Quetta adding to the tiredness of 8 hours on the road. But we made it to the quite unimpressive Bloom Star hotel, got overcharged (600Rs for camping?!) by the reception guy for whom everything was a "facility" (when people know fancy words they tend to over-use them) and had a nice pirate reunion at the hotel garden: (from left to right Simon, me, Nico) growling "AARG!"
No, this was not intended to be a pirate shot, but we were all cold and hence were wearing our buffs on our heads... which Lisa took proper advantage of.
The next day we took a very short ride with a rickshaw (which was dubbed "the prickshaw" by a certain dirty-minded English bloke who thus commented on the fact that we stuffed 4 people in a 2-seater: he had his wife on his knees, but I had Nico, and we both looked quite happy)
...to get to a quite posh hotel, the facilities of which we would use for the remainder of the day. Observe the fortress-like fortification of the main gate - there are 3 physical barriers before one gets in, not to mention the airport-type scanners, guards, searches etc:
After spending a lazy day at the hotel (mostly catching up on our online lives - I managed to upload photos to flickr for the first time in 5 weeks!), we spent another chilly night in our tents and the next morning left Quetta taking the road south to Sukkur (as we were not allowed to cross the mountains that would take us to Lahore faster, for safety reasons).
This is what the road looked like south-east of Quetta:
It soon got better, and since the police escort (in their own vehicle thankfully!) was slowing us down, we started leapfrogging and taking videos and pictures of the convoy, to fill an otherwise rather boring ride. Don't get me wrong, the landscape was dramatic in its beauty, but having a pace of 80-90K/h is just plain slow.
Another problem we had was that the police (being very rational from a logistics point of view) had teamed us up with another English bloke, this one on a truck, going round the world with an engine that runs on vegetable oil...
The problem is that vegetable oil engines appear not to be exactly turbo-charged, so the truck was going slow. Really slow. The fact that the guy was taking breakfast breaks and photo breaks and lunch breaks whenever he felt like it did not exactly help. At each escort changeover we would be asked to "wait for 10 minutes" for the truck, which would be hours behind us, every time adding a little bit more on the pile of frustration at just sitting around waiting for someone who didn't care that we were traveling in a convoy and was just doing his own thing.
Riding the dusty road southeast of Quetta:
...and then waiting some more:
Waiting some more - I'm making the most of our idle time by putting out my freshly washed socks to dry... (too bad they flew off the bike later in the day)
At another rest stop - at that point we've had it and Lisa put everyone's frustration to words by saying "dammit, WE're stopping now and we're having tea and CAKE!" (and indeed we did - the place happened to stock the nicest cake I've had in months!)
Further along the road, we had stopped for errr.. some reason when these pickup trucks drove by. The camels looked rather amused:
A reminded on the road about what happens when you aren't careful around here:
Nico looking rather relaxed on the Africa:
Going through a small town, the situation resembles a video game... you never know what's going to hit you and from where. This is an action shot (i.e. drive with one hand, handle camera with the other), so please excuse the glove in the frame:
Entering Punjab, we get picked up by a team of "Elite forces" - an anti-terrorism squad kitted out with jackets that stated "NO FEAR" on them. We're talking serious business here. They were vigilant enough to escort us even to the proverbial toiled. Here is Simon relieving himself in a secure manner:
Overloaded trucks/tractors all over the place. "Quite amusing, really" - except when you need to overtake and are secretly praying "let it not roll over just yet..."
"
Some footage of the group on the road to Sukkur:
...and some more footage of the bikes and escort pickup behind them:
After an uneventful night in Sukkur we rode out on a lovely early morning, headed towards Multan:
This escort was overly enthusiastic about paving the way for us - this day we were all too happy to have broken the link with the biotruck, so we were traveling at a reasonable pace. Sometimes the police were practically driving trucks off the road to open our way:
More funny loading, against a landscape that is plain nice. Pakistan is giving us only the best of impressions, making us all feel sorry we're being ushered through like this.
An exotic touch that I expected to find in India is seeping through Pakistan... quite lovely, a pleasure to ride through this beautiful land:
Simon making it clear why us foreigners will never blend in...
...and capturing everyone's attention when he displays the goods (photos):
Another manic police escort - this guy would wave his hands wildly, shout, threaten, anything to get the trucks off the right lane and free our way. Unfortunately we were going too fast for single-hand riding, thus no video footage:
A Pakistani KitKat. Good to know it's "fit for human consumption":
Reaching Multan, we were denied accommodation in the hotel the police took us to and waited for a good hour for a "local team" to show up and take us to another hotel. When we realised we were attracting a crowd of more than 100 people, we thought "well that's not good, is it?" and took the situation in our hands - luckily we had a GPS waypoint for another hotel, so we drove to the overpriced-but-oh-well Sindbad Hotel. We had dinner in the hotel, watched a movie, and went to bed.
It turns out that the food didn't agree with me - to be precise I think I got a mild case of food poisoning, as I spent the night vomiting and... the other thing. The morning found me exhausted and shaky, still unable to support my own weight without getting nauseous with the effort. I was quite touched by Simon & Lisa's decision to stay put and wait for me to get better, so that we could ride together to Lahore the next day. They got me medicine, plenty of water, Coke and periodically checked up on me. It's just great to have someone around when you're ill and powerless, this would have been tough had I been on my own.
But, as things happen, it all went well and by the next morning I was stable and strong enough to ride. We left Multan late-ish and covered the very reasonable distance to Lahore without any major dramas.
A bike called "Cash Deposit"?
At Cookers restaurant, Lahore. Having some plain rice and soup, first solid food after 48 hours. I'm still rather weak.

To be continued...
Posted by Alexandros Papadopoulos at
02:03 PM
GMT
January 04, 2010 GMT
Pakistan part deux - Islamabad and getting to the border
Leaving Lahore, the next day we pushed on to Islamabad. It would be our first day in Pakistan without a police escort. Independence, finally! Islamabad wasn't very far away - less than 350K - so we got cocky with the whole "nah, piece of cake for us" and left late. Divine providence meant that it took us an hour to find the right way out of the city and a lot of improvisation to actually get on the M2 motorway:
...from which we were promptly kicked out, because it turns out that "motorcycles are not allowed on the M2". Why? No answer, but the police car that flagged us down was adamant that we get our wheels off the nice tarmac and back onto the Grant Trunk road, the old way of reaching Islamabad from Lahore. The way that passes through many inhabited places, is narrow and full of potholes and truck traffic.
Everybody was too pissed off with this to act like an adult, so I muttered "screw this", opened the throttle and took the lead, forcing everyone to follow me. We hit the GT road and then turned north for Islamabad.
But I wasn't meant to have a quiet ride. No siree. Some idiot in a car became a bit too pushy when trying to overtake Lisa (almost pushing her off the road) which, to my horror, had an equally violent response from the other 3... they practically pushed the car off the road, forcing its surely terrified driver to stop cold. They then started a shoving/threatening match with the poor guy, which I only joined after I realised we had:
1) blocked an entire direction of the GT road
2) blocked an ambulance that was behind us and now stuck in the newly created traffic jam
3) picked up another fight (first was with the police on the M2) in a single day and
4) were not really being discreet and making good public relations on our first day of freedom in Pakistan...
Sure, the car driver was a dangerous idiot who treated us as pests on the road, but I was appalled at the immediate (and dangerous) violent response by everyone else. We're in his country, we don't know what is considered usual here, we have no right to behave like this just to make a point. And of course, risking your life and that of others just to "not let it pass" does not make sense to me. Some things, especially when traveling to distant lands, one must be prepared to let pass.
The GT road blocked by a bunch of foreigners on bikes. Great PR for the next travelers I'm sure... *sigh*
With this and that we got to Islamabad late. It was already dark. We got to the quite eerie and completely deserted "foreigners' camping" at the Rose Garden and set up camp:
Islamabad is a fortified city - paranoia about violent attacks has led the entire city to be littered with roadblocks, police checkpoints, "red zones"... every single properly in the posh areas is protected with high walls and barbed wire...
...but I was thankfully spared all that. I found refuge in the hospitality of my friend's Seema's family. I washed my clothes, slightly caught up on my online obligations (to you, dear reader!) and rested when I needed it most, suffering from an inexplicable nasty back pain.
This is my jacket pre-wash:
(no post-wash picture as the difference wasn't as sensational as I hoped)
Seema's family was kind enough to let me use some of their traditional clothes while all of my stuff was drying. I *love* the salwar (trousers) and kameez (long shirt) combo! It's just too comfortable:
During my days in Islamabad we visited the mountains next to the city (where to my surprise there are many exotic, by European standards, animals freely roaming about)
We took silly pictures on Rawal dam...
...and crashed a birthday party to check out how modern Pakistanis celebrate:
(surprisingly to some, in exactly the same way as most people do!)
I got my first flat on this trip... no, wait. The first flat of the Vstrom... no hang on... my first flat in a few years actually, as I never had a flat with my previous bike as well... talk about luck, this happening NOW and HERE, with all the help in the world at hand, right outside the house of the only person I knew since I left London that I would meet during the trip. Truly bizarre.
The cause:
...and the patch.
I'm not too happy about this, as it's nowhere near as reliable as an internal patch you'd get in other places, but this is what the tyre shop does to all punctures, including car tyres, so I will just hope for the best.
On another occasion we visited Rawalpindi for some wedding shopping:
The colors and fabrics created a fascinating jigsaw:
Finally, the big day arrived, and Raazi & Seema were officially married!
I was honoured to be invited to the wedding reception (which I thoroughly enjoyed - I mean, socialising with cool people while having great food, what more can I ask for?), part of which I spent hanging out with my new best friend Harry and his white baloon:
Alas, after the wedding was over and done with, I had no more excuses to linger around Islamabad... I heartily thanked Seema and her family for their excellent hospitality, far above and beyond what would have been just "polite", greeted Simon, Lisa and Nico who were still waiting for their Indian visas to be approved, and headed off back to Lahore and the Indian border.
On my way there, and being alone and free to explore on a whim (such a great feeling... man did I miss that!) I left the GT road to visit the impressive Rohtas Fort:
I got to Lahore in time, checked into the Regale Internet Inn (not very regal, Internet was a struggle due to power cuts, but the price was right and the staff friendly if slightly bizarre) and went out to explore nightly Lahore on foot:
The next day I took a rickshaw (tuk-tuk?) to the Lahore Fortress
...which was actually a rather scary ride:
Lahore Fort is quite nice but not that spectacular. Most parts of it are in shambles and in dire need of restoration.
An audience hall decorated with mirrors.
This picture is being posted not to admire my (admittedly exuberant) beauty, but to demonstrate the staircase that was built wide enough for the regal dignitaries to ride it up on their elephants! Quite a funny design principle if you ask me.
One of the world's largest mosques, just opposite the main entrance to the fortress:
...which unfortunately means that one must walk around with no shoes, which I find very annoying and quite un-hygienic. It's an open space, with bird droppings and whathaveyou and then everyone walks around barefoot... Not my cup of tea.
I then walked through the old city of Lahore with my new self-appointed guide, one of those people who just force themselves to be your "friends" expecting money at the end.
Radioactive current flowing next to the streets of the old city:
Now, the Lahore museum, *that* was something really worth visiting. Excellent specimens from all sorts of periods and civilisations:
The "Starving Buddha", an intriguing representation of the oft-plumper-than-life prophet:
Another excellent marble specimen. I mused over whether I should post this, for fear of appearing like Steve Martin's shallower-than-life character in Dirty Rotten Scoundrels who famously said (and I quote) "Now, the statue of a naked woman, I can appreciate that". But, truth be told, it's simply a beautiful piece:
I found this one very touching:
Another beautiful piece (the extent of my cultural education on these things is reflected by the detailed descriptions I'm giving here)
It was new year's eve that night (and a Thursday, which reputedly helps around here) so the musicians visited the roof of the Regale Internet Inn and gave a nice performance - unfortunately I did not capture any of the good parts because I got bored after a while and just went to my room to read.
The next morning I packed my bags, dusted my seat and rode to the border. And with that, I was out of Pakistan!
This was my complete itinerary for Pakistan:
Posted by Alexandros Papadopoulos at
02:03 PM
GMT
Enter your email address to receive updates to Alexandros Papadopoulos's trip story!
Recent Entries
Archives:
Archives:
Monthly
Archives:
Category
NEW! HU 2015 Motorcycle Adventure Travel Calendar is now available! Get your copy now for some terrific travel inspiration!
HUGE, 11.5 x 16.5 inches, beautifully printed in Germany on top quality stock! Photos are the winning images from over 600 entries in the 9th Annual HU Photo Contest!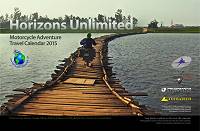 "The calendar is magnificent!"
"I just wanted to say how much I'm loving the new, larger calendar!"
We share the profit with the winning photographers. YOU could be in the HU Calendar too - enter here!
Next HU Events
NEW!

USA Virginia: Apr 9-12, 2015
Take 40% off Road Heroes Part 1 until October 31 only!
Road Heroes features tales of adventure, joy and sheer terror by veteran travellers Peter and Kay Forwood (193 countries two-up on a Harley); Dr. Greg Frazier (5 times RTW); Tiffany Coates (RTW solo female); and Rene Cormier (University of Gravel Roads).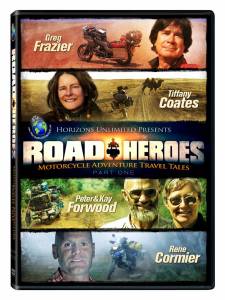 "Inspiring and hilarious!"
"I loved watching this DVD!"
"Lots of amazing stories and even more amazing photographs, it's great fun and very inspirational."
"Wonderful entertainment!"
Check it out at the HU Store! Remember to use Coupon Code 'HEROES' on your order when you checkout.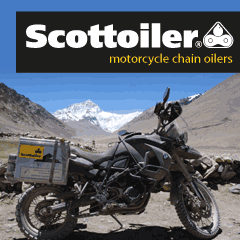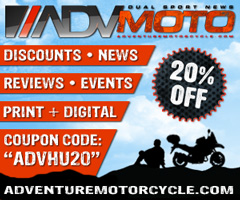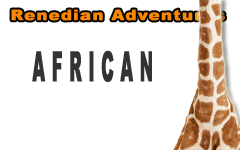 What others say about HU...
"I just wanted to say thanks for doing this and sharing so much with the rest of us." Dave, USA
"Your website is a mecca of valuable information and the DVD series is informative, entertaining, and inspiring! The new look of the website is very impressive, updated and catchy. Thank you so very much!" Jennifer, Canada
"...Great site. Keep up the good work." Murray and Carmen, Australia
"We just finished a 7 month 22,000+ mile scouting trip from Alaska to the bottom of Chile and I can't tell you how many times we referred to your site for help. From how to adjust your valves, to where to stay in the back country of Peru. Horizons Unlimited was a key player in our success. Motorcycle enthusiasts from around the world are in debt to your services." Alaska Riders

10th Annual HU Travellers Photo Contest is on now! This is an opportunity for YOU to show us your best photos and win prizes!
NEW! HU 2014 Adventure Travel T-shirts! are now available in several colors! Be the first kid on your block to have them! New lower prices on synths!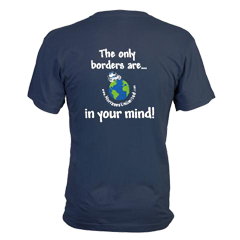 Check out the new Gildan Performance cotton-feel t-shirt - 100% poly, feels like soft cotton!

What turns you on to motorcycle travel?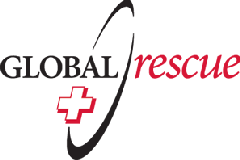 Global Rescue is the premier provider of medical, security and evacuation services worldwide and is the only company that will come to you, wherever you are, and evacuate you to your home hospital of choice. Additionally, Global Rescue places no restrictions on country of citizenship - all nationalities are eligible to sign-up!
New to Horizons Unlimited?
New to motorcycle travelling? New to the HU site? Confused? Too many options? It's really very simple - just 4 easy steps!
Horizons Unlimited was founded in 1997 by Grant and Susan Johnson following their journey around the world on a BMW R80 G/S motorcycle.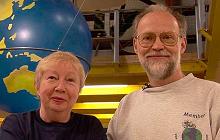 Read more about Grant & Susan's story
Membership - help keep us going!
Horizons Unlimited is not a big multi-national company, just two people who love motorcycle travel and have grown what started as a hobby in 1997 into a full time job (usually 8-10 hours per day and 7 days a week) and a labour of love. To keep it going and a roof over our heads, we run events (22 this year!); we sell inspirational and informative DVDs; we have a few selected advertisers; and we make a small amount from memberships.
You don't have to be a Member to come to an HU meeting, access the website, the HUBB or to receive the e-zine. What you get for your membership contribution is our sincere gratitude, good karma and knowing that you're helping to keep the motorcycle travel dream alive. Contributing Members and Gold Members do get additional features on the HUBB. Here's a list of all the Member benefits on the HUBB.
Books & DVDs

All the best travel books and videos listed and often reviewed on HU's famous Books page. Check it out and get great travel books from all over the world.

MC Air Shipping, (uncrated) USA / Canada / Europe and other areas. Be sure to say "Horizons Unlimited" to get your $25 discount on Shipping!
Insurance - see: For foreigners traveling in US and Canada and for Americans and Canadians traveling in other countries, then mail it to MC Express and get your HU $15 discount!
Story and photos copyright © All Rights Reserved.
Contact the author:
Editors note: We accept no responsibility for any of the above information in any way whatsoever. You are reminded to do your own research. Any commentary is strictly a personal opinion of the person supplying the information and is not to be construed as an endorsement of any kind.
Hosted by: Horizons Unlimited, the motorcycle travellers' website!
You can have your story here too - click for details!