Archives
April 22, 2008 GMT - SPECIAL - A trip around Uruguay
"A MAN TRAVELS THE WORLD OVER IN SEARCH OF WHAT HE NEEDS, AND RETURNS HOME TO FIND IT". George Moore After resting in Salto a few days and receiving a lot of attention from friends and acquaintances who congratulated me...
March 29, 2008 GMT - THE END - THE MAP
"... THEN THE WORLD'S MINE OYSTER". William Shakespeare, The Merry Wives of Windsor Dear friends and followers I have finished my journey. View Larger Map...
March 29, 2008 GMT - DAY 51 - Salto, Republica Oriental del Uruguay - The End of the Road (for now)
"THE ROAD TO A FRIEND'S HOUSE IS NEVER LONG". Danish Proverb WEDNESDAY 19th of March: I left the motel in the dark, at the first petrol station I loaded gasoline. I the arrived at Corrientes passing the Parana River, beautiful...
March 29, 2008 GMT - DAY 50 - Last Night of the Journey
"WE TRAVEL JUST TO TRAVEL". Ernesto Che Guevara A long day: I left at dawn and arrived at Resistencia at dusk, more than 850 kms later. From Salta I had to return to General Quemes, i missed the roundabout which...
March 29, 2008 GMT - DAY 49 - Au revoir Mon Amié - Farewell Shorty - Chau Compañero
"AND THAT'S THE WONDERFUL THING ABOUT FAMILY TRAVEL: IT PROVIDES YOU WITH EXPERIENCES THAT WILL REMAIN LOCKED FOREVER IN THE SCAR TISSUE OF YOUR MIND". Dave Barry We had breakfast and exchanged pleasantries, went to put petrol together and to...
March 29, 2008 GMT - DAY 48 - I thought we wouldn't get the chance to say goodbye.
"IF YOU COME TO A FORK IN THE ROAD, TAKE IT". Yogi Berra We left the hotel after asking directions, where we were told that due to earthquakes there were some road closures and that we would have to return...
March 29, 2008 GMT - DAY 47 - Into Chile
"A PASSPORT, AS I'M SURE YOU KNOW, IS A DOCUMENT THAT ONE SHOWS TO GOVERNMENT OFFICIALS WHENEVER ONE REACHES A BORDER BETWEEN COUNTRIES, SO THE OFFICIALS CAN LEARN WHO YOU ARE, WHERE YOU WERE BORN, AND HOW YOU LOOK WHEN...
March 29, 2008 GMT - DAY 46 - A Day of Dramas
"HE WHO DOES NOT TRAVEL DOES NOT KNOW THE VALUE OF MEN". Moorish proverb We had to wait a while for breakfast, after inhaling it, we left in the direction of Arequipa, which is inland so we left the coast....
March 29, 2008 GMT - DAY 45 - Making the k's - Nazca Lines
"DO NOT GO WHERE THE PATH MAY LEAD, GO INSTEAD WHERE THERE IS NO PATH AND LEAVE A TRAIL". Ralph Waldo Emerson We left before 7a.m, determined to get as many kms done as possible. We went south via the...
March 29, 2008 GMT - DAY 44 - More Police
"WHILE WE ARE POSTPONING, LIFE SPEEDS BY." Seneca (3BC - 65AD) Almost every truck had branches with thorns tied to the backdoor, so I had to ask its significance. Apparently, it is to stop people from climbing the truck to...
March 29, 2008 GMT - DAY 43 - Ready to go home
"NO ONE REALISES HOW BEAUTIFUL IT IS TO TRAVEL UNTIL HE COMES HOME AND RESTS HIS HEAD ON HIS OLD, FAMILIAR PILLOW". Lin Yutang At 8a.m we arrived at the ruins in Chan Chan some 10 minutes from the hotel....
March 29, 2008 GMT - DAY 42 - Desert & Sea
"I TRAVEL NOT TO GO ANYWHERE, BUT TO GO. I TRAVEL FOR TRAVEL'S SAKE. THE GREAT AFFAIR IS TO MOVE". Robert Louis Stevenson Miles on Angie 6,969, today we did 543 Kms. We left at 7 a.m from Sullana and...
March 29, 2008 GMT - DAY 41 - Crossing from Ecuador to Peru
"EMBRACE THE DETOURS". Kevin Charbonneau Got the bikes ready, had breakfast and went to the port for a stroll. We didn't much like what we saw so we left Machala to go to Huaquillas, almost all the way was disastrous,...
March 29, 2008 GMT - DAY 40 - not an easy road
"STOP WORRYING ABOUT THE POTHOLES IN THE ROAD AND CELEBRATE THE JOURNEY!" Fitzhugh Mllan Saturday 8th of March Yesterday afternoon i stopped at a tourist agency and was offered a 4 day package with everything except entry to the Galapagos...
March 08, 2008 GMT - DAY 39 - Tour of Alausi & Nariz del Diablo
"ALL THE PATHOS AND IRONY OF LEAVING ONE'S YOUTH BEHIND IS THUS IMPLICIT IN EVERY JOYOUS MOMENT OF TRAVEL: ONE KNOWS THAT THE FIRST JOY CAN NEVER BE RECOVERED, AND THE WISE TRAVELER LEARNS NOT TO REPEAT SUCCESSES BUT TRIES...
March 08, 2008 GMT - DAY 38 - A day of very little activity
"THERE IS NO HAPPINESS FOR THE PERSON WHO DOES NOT TRAVEL. FOR INDRA IS THE FRIEND OF THE TRAVELER, THEREFORE WANDER!" Brähmann I had a huge breakfast, Shorty is still unwell, he vomited through the night. He only had fruit...
March 08, 2008 GMT - DAY 37 - Riobamba - Wednesday 3rd of March
"TRAVELERS NEVER THINK THEY ARE THE FOREIGNERS". Mason Cooley Miles on Angie are 6,177 she was saved from doing the journey to Portobello (140Kms), Cartagena-Medellin (600 Kms), Medillin-Bogota (400 Kms) Coconuco-San Agustín roundtrip (200 Kms). We left whilst it was...
March 08, 2008 GMT - DAY 36 - Ecuador
"HALF THE FUN OF THE TRAVEL IS THE ESTHETIC OF LOSTNESS". Ray Bradbury We had breakfast and went to the shopping center to get cash from three different automatic tellers. Finally, one gave us what we wanted with a surcharge...
March 08, 2008 GMT - DAY 35 - The end of a beautiful country
"TO TRAVEL IS TO DISCOVER THAT EVERYONE IS WRONG ABOUT OTHER COUNTRIES". Aldous Huxley We left the hotel just as the weather was clearing, we passed through Pasto, a charming big city, arrived at Ipiales we passed it and immediately...
March 08, 2008 GMT - DAY 34 - Sunday 2nd of March - Aguas Calientes
"I AM SO CONVINCED OF THE ADVANTAGES OF LOOKING AT MANKIND INSTEAD OF READING ABOUT THEM, AND OF THE BITTER EFFECTS OF STAYING AT HOME WITH ALL THE NARROW PREJUDICES OF AN ISLANDER, THAT I THINK THERE SHOULD BE A...
March 08, 2008 GMT - DAY 33 - Archaeological Park at San Agustin
"I TRAVEL LIGHT; AS LIGHT, THAT IS, AS MAN CAN TRAVEL WHO WILL STILL CARRY HIS BODY AROUND BECAUSE OF SENTIMENTAL VALUE"." Christopher Fry As soon as light came through I was up with the sound of the birds. A...
March 08, 2008 GMT - DAY 32 - When the going gets tough, the oldies take a bus
"IT WAS KIND OF SOLEMN, DRIFTING DOWN THE BIG, STILL RIVER, LAYING ON OUR BACKS, LOOKING UP AT STARS, AND WE DIDN'T EVEN FEEL LIKE TALKING ALOUD". Mark Twain, Adventures of Huckleberry Finn When the going gets tough, the oldies...
March 08, 2008 GMT - DAY 31 - Such an amazing place
"PARADISE IS WHERE I AM". Voltaire I have just been made aware that this hotel and the last, which have a place to eat and petrol station are frequently used by truckies, the ladies from the old profession stand outside...
March 08, 2008 GMT - DAY 30 - Colombia - WED 27th of February
"THE SEA IS DANGEROUS AND ITS STORMS TERRIBLE, BUT THESE OBSTACLES HAVE NEVER BEEN SUFFICIENT REASON TO REMAIN ASHORE... UNLIKE THE MEDIOCRE, INTREPID SPIRITS SEEK VICTORY OVER THOSE THINGS THAT SEEM IMPOSSIBLE... IT IS WITH AN IRON WILL THAT THEY...
March 08, 2008 GMT - DAY 29 - Bogota and reunited with Ange
"OWN ONLY WHAT YOU CAN CARRY WITH YOU; KNOW LANGUAGE, KNOW COUNTRIES, KNOW PEOPLE. LET YOUR MEMORY BE YOUR TRAVEL BAG". Alexander Solzhenitsyn Last night we got bored waiting for the bus, we ate empanadas. When we got on the...
February 25, 2008 GMT - DAY 28 - Medellin
"THE EARTH BELONGS TO ANYONE WHO STOPS FOR A MOMENT, GAZES AND GOES ON HIS WAY". Colette We are now in Medellin or Metrallin as some call it (metralladora in spanish=machine gun), we arrived at night and the city lights...
February 25, 2008 GMT - DAY 27 - SOUTH AMERICA - SUN 24th FEB - Cartagena, Colombia
"THE USE OF TRAVELING IS TO REGULATE IMAGINATION BY REALITY, AND INSTEAD OF THINKING HOW THINGS MAY BE, TO SEE THEM AS THEY ARE". Samuel Johnson I had a coffee and we went for a short walk around, everything so...
February 24, 2008 GMT - DAY 26 - Chau to Central America - Hola, South
"OBSTACLES CANNOT CRUSH ME. EVERY OBSTACLE YIELDS TO STERN RESOLVE. HE WHO IS FIXED TO A STAR DOES NOT CHANGE HIS MIND". Leonardo da Vinci We set off this morning to customs arrived at the office and it was unbelievable...
February 24, 2008 GMT - DAY 25 - Friday 22nd of February
"TRAVELING IS LIKE GAMBLING: IT IS ALWAYS CONNECTED WITH WINNING AND LOSING, AND GENERALLY WHERE IT IS LEAST EXPECTED WE RECEIVE MORE OR LESS THAN WHAT WE HOPED FOR". Johann Wolfgang Von Panama City We headed towards the city (some...
February 22, 2008 GMT - DAY 24 - BRIDGE OF THE AMERICAS - Over Panama Canal - towards Panama City
"A GUEST NEVER FORGETS THE HOST WHO HAD TREATED HIM KINDLY". Homer View Larger MapWe departed at 7, I gave the Nikon to shorty who took the photos of me crossing the bridge. The canal is very nice, ships and...
February 22, 2008 GMT - DAY 23 - Panama
"AMERICANS HAVE ALWAYS BEEN EAGER FOR TRAVEL, THAT BEING HOW THEY GOT TO THE NEW WORLD IN THE FIRST PLACE, (EXCEPT WHEN THEY GOT THERE THEY WEREN'T AMERICANS)". Otto Friedrich Shorty and I departed this morning before 8. He rides...
February 21, 2008 GMT - DAY 22 - Meeting a companion - Tuesday 19th FEB
"ONE MAIN FACTOR IN THE UPWARD TREND OF ANIMAL LIFE HAS BEEN THE POWER OF WANDERING". Alfred North Whitehead It is midday and i am in this beautiful hotel "Hotel Andrea" with "Restaurant Andrea" for 15479 colones ($US31). Angelina is...
February 21, 2008 GMT - DAY 21 - Costa Rica
"TRAVEL MAKES A WISE MAN BETTER, AND A FOOL WORSE". Thomas Fuller (1608-1661) British Left early on a cloudy Monday 18th of February, towards San Jose. Once again a lot of traffic on the PanAmerican Highway, I ended up in...
February 20, 2008 GMT - DAY 20 - Nicaragua to Costa Rica - Immigration Pain
"OUR NATURE LIES IN MOVEMENT; COMPLETE CALM IS DEATH". Pascal Before joining the road again, i took a bit of a ride around the city, visited the old cathedral and the port on the lake. I wasn't too impressed so...
February 19, 2008 GMT - DAY 19 - Nicaragua
"DROP THE QUESTION WHAT TOMORROW MAY BRING, AND COUNT AS PROFIT EVERY DAY THAT FATE ALLOWS YOU". Horace Left the hotel around 7:30 the journey was mountainous and pretty. The day was overcast with occasional showers. I went through the...
February 16, 2008 GMT - DAY 18 - Honduras
"...TRAVEL IS MORE THAN THE SEEING OF SIGHTS; IT IS A CHANGE THAT GOES ON, DEEP AND PERMANENT, IN THE IDEAS OF LIVING". Miriam Beard I left Apopa, pre-dawn I took the PANAMERICANA east all the way to San Miguel...
February 16, 2008 GMT - DAY 17 - Valentines Day in El Slavador
"WE LIVE IN A WONDERFUL WORLD THAT IS FULL OF BEAUTY, CHARM AND ADVENTURE. THERE IS NO END TO THE ADVENTURES WE CAN HAVE IF ONLY WE SEEK THEM WITH OUR EYES OPEN" Jawaharlal Nehru After breakfast, i left the...
February 16, 2008 GMT - A little bit more
"TAKE ONLY MEMORIES, LEAVE ONLY FOOTPRINTS". Chief Seattle Some more photos in Antigua Angelina and I at the shop where the flags were put on her. Me at the Arc of Santa Catarina, in Antigua with volcano in background...
February 16, 2008 GMT - DAY 16 - sight seeing in Antigua
"TO AWAKEN ALONE IN A STRANGE TOWN IS ONE OF THE PLEASANTEST SENSATIONS IN THE WORLD". Freya Stark FACT: Antigua Guatemala was once known as Santiago de Caballeros de Guatemal, founded in 1543 by Spaniards. At its peak it lasted...
February 16, 2008 GMT - DAY 15 - TUESDAY 12TH
"THE REAL VOYAGE OF DISCOVERY CONSISTS NOT IN SEEING NEW LANDSCAPES, BUT IN HAVING NEW EYES". Marcel Prous Left early from the hotel, a beautiful day to start, went passed Rio Dulce, gorgeous town, then passed Morales and Progreso. Changed...
February 16, 2008 GMT - DAY 14 - TIKAL - Guatemala
"TRAVEL MAKES ONE MODEST, YOU SEE WHAT A TINY PLACE YOU OCCUPY IN THE WORLD". Gustave Flaubert FACT: Guatemala, is culturally the richest country in Central America. Half the population is Mayan and most continue to practice their beliefs and...
February 15, 2008 GMT - DAY 13 - 10th FEB
"YOU GOT TO BE CAREFUL IF YOU DON'T KNOW WHERE YOU'RE GOING, BECAUSE YOU MIGHT NOT GET THERE". Yogi Berra I left Belize at 7 am on the Western Highway, there are speed humps throughout the road i thought i...
February 15, 2008 GMT - ON THE ROAD AGAIN
"NOT I - NOT ANYONE ELSE, CAN TRAVEL THAT ROAD FOR YOU, YOU MUST TRAVEL IT FOR YOURSELF". Walt Whitma After some fun in Belize let's not loose site of our goal, here i come Guatemala!...
February 15, 2008 GMT - DAY 12 - no road today
"HOW BEAUTIFUL IT IS TO DO NOTHING, AND THEN REST AFTERWARDS". Spanish Proverb Angelina had a rest today, I took the local bus into town for 2.50 BD then, from the terminal got a taxi for 6 BD to the...
February 15, 2008 GMT - DAY 11 - BELIZE
"MY FAVOURITE THING IS TO GO WHERE I'VE NEVER BEEN". Diane Arbus I left Chetumal and crossed the bridge, i wasn't allowed to take pictures at the border. Immigration was a quick process, everything was free: visa and importing Angelina,...
February 13, 2008 GMT - DAY 10 - Goodbye Mexico
"ONE ALWAYS BEGINS TO FORGIVE A PLACE AS SOON AS IT'S LEFT BEHIND". Charles Dickens I've arrived in Chetumal at 2:30, left villahermosa at 7. A long day, along mexican route 186. Went passed Escarcega and got Burger King. There...
February 13, 2008 GMT - DAY 9 - FEBRUARY 6TH
"ONLY WHEN WE PAUSE TO WONDER DO WE GO BEYOND THE LIMITS OF OUR LITTLE LIVES". Rod McKuen I arrived at hotel RITZ in Villahermosa, the night is $390 pesos, with closed and secure parking next door. Its not great...
February 13, 2008 GMT - Day 8 - The 5th of February
"WE WANDER FOR DISTRACTION, BUT WE TRAVEL FOR FULFILLMENT". Hilaire Belloc Today i departed Chilpancingo to Cordoba on Mexican route 95, with tolls totaling $505 pesos, an outrage to tell the truth but i avoid humps and bumps which slow...
February 11, 2008 GMT - DAY 7 - Acapulco
"LIKE ALL GREAT TRAVELERS, I HAVE SEEN MORE THAN I REMEMBER, AND REMEMBER MORE THAN I HAVE SEEN". Benjamin Disraeli Left early in the morning still on Mexican route 200, lots of curves and still toll free, fortunately the road...
February 11, 2008 GMT - DAY 6 - Lots to see on the Road
"EDUCATION IS THAT WHICH REMAINS WHEN ONE HAS FORGOTTEN EVERYTHING LEARNED IN SCHOOL". Albert Einstein I left Tecoman the next morning (7:30) and headed towards playa Azul by taking a detour off route 200 and then to ciudad Lazaro Cardenas...
February 11, 2008 GMT - DAY 5 - Goodbye Daniel
"THOUGH WE TRAVEL THE WORLD OVER TO FIND THE BEAUTIFUL, WE MUST CARRY IT WITH US OR WE FIND IT NOT". Ralph Waldo Emerson We left Puerto Vallarta, in perfect weather, surrounded by mountains. The road had many curves and...
February 03, 2008 GMT - DAY 4 - Lots of Tolls
"TRAVEL TEACHES TOLERATION". Benjamin Disraeli We left Tequila and on our way to Tepic (mexican route 15) upon exit it was 21 pesos then it was 34, a little later 87 pesos and finally 103. A dangerous road, with mountain...
February 03, 2008 GMT - DAY 3 - Mexico
"YOU MUST BE THE CHANGE YOU WISH TO SEE IN THE WORLD". Mahatma Ghandi We left early from Concepcion del Oro en route for Zacatecas we followed this enjoyable route to Guadalajara which is gigantic, the road is curvy and...
February 03, 2008 GMT - Follow us OR join me (invalid now)
My partner has a beacon or tracking device that updates every ten minutes and you can follow the journey as it unfolds at find me you click on my account and log-in spot service username: moderndaydrifter password: klr650 from there...
February 03, 2008 GMT - What to expect at the border
"EVERY EXIT IS AN ENTRY SOMEWHERE ELSE." Tom Stoppard On the US side i had not one problem, i wasn't even stopped. At Immigration in Mexico we paid a $US 22.50 visa plus the $US 39 fee (valid for a...
February 03, 2008 GMT - DAY 2 - BAPTISM
"ALL THAT IS GOLD DOES NOT GLITTER, NOT ALL THOSE WHO WANDER ARE LOST". J. R. R. Tolkien On the second day, the 30th, my riding partner Daniel tells me that "He doesn't know how things are done in Australia...
February 03, 2008 GMT - DAY 1 - US to Mexico - THE JOURNEY BEGINS
"TWENTY YEARS FROM NOW YOU WILL BE MORE DISAPPOINTED BY THE THINGS THAT YOU DIDN'T DO THAN BY THE ONES YOU DID. SO THROW OFF THE BOWLINES. SAIL AWAY FROM THE SAFE HARBOR. CATCH THE TRADE WINDS IN YOUR SAILS....
February 03, 2008 GMT - the town finds out
"WITHOUT NEW EXPERIENCES, SOMETHING INSIDE OF US SLEEPS. THE SLEEPER MUST AWAKEN". Frank Herbert While waiting for the date to come when my journey was to start i spent some time with my family in my hometown of Salto, Uruguay....
February 03, 2008 GMT - Off i go
"IF YOU ACTUALLY LOOK LIKE YOUR PASSPORT PHOTO, YOU AREN'T WELL ENOUGH TO TRAVEL". Sir Vivian Fuchs The 28th of December i fly out to my home town in Uruguay to spend some time with family before starting my journey....
December 14, 2007 GMT - LINKS to more about Hugo
"THE WISE MAN TRAVELS TO DISCOVER HIMSELF". James Russell Lowell Hugo's Family Website I also have an account on facebook, Hugo Albini. Lastly, if you would like to email me do it at sauce1837@hotmail.com...
December 14, 2007 GMT - Proposed Journey
"THROW YOUR DREAMS INTO SPACE LIKE A KITE, AND YOU DO NOT KNOW WHAT IT WILL BRING BACK, A NEW LIFE, A NEW FRIEND, A NEW LOVE, A NEW COUNTRY". Anais Nin Departure Date: 25th of January Objective: To fulfill...
Return to
Enter your email address to receive updates to Hugo Albini's trip story!
NEW! HU 2015 Motorcycle Adventure Travel Calendar is now available! Get your copy now for some terrific travel inspiration!
HUGE, 11.5 x 16.5 inches, beautifully printed in Germany on top quality stock! Photos are the winning images from over 600 entries in the 9th Annual HU Photo Contest!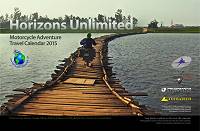 "The calendar is magnificent!"
"I just wanted to say how much I'm loving the new, larger calendar!"
We share the profit with the winning photographers. YOU could be in the HU Calendar too - enter here!
Next HU Events
NEW!

USA Virginia: Apr 9-12, 2015
Take 40% off Road Heroes Part 1 until October 31 only!
Road Heroes features tales of adventure, joy and sheer terror by veteran travellers Peter and Kay Forwood (193 countries two-up on a Harley); Dr. Greg Frazier (5 times RTW); Tiffany Coates (RTW solo female); and Rene Cormier (University of Gravel Roads).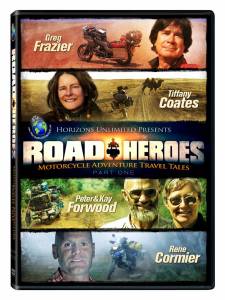 "Inspiring and hilarious!"
"I loved watching this DVD!"
"Lots of amazing stories and even more amazing photographs, it's great fun and very inspirational."
"Wonderful entertainment!"
Check it out at the HU Store! Remember to use Coupon Code 'HEROES' on your order when you checkout.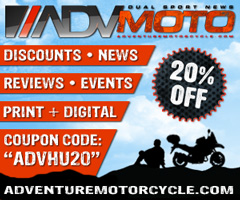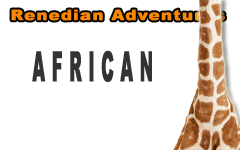 What others say about HU...
"I just wanted to say thanks for doing this and sharing so much with the rest of us." Dave, USA
"Your website is a mecca of valuable information and the DVD series is informative, entertaining, and inspiring! The new look of the website is very impressive, updated and catchy. Thank you so very much!" Jennifer, Canada
"...Great site. Keep up the good work." Murray and Carmen, Australia
"We just finished a 7 month 22,000+ mile scouting trip from Alaska to the bottom of Chile and I can't tell you how many times we referred to your site for help. From how to adjust your valves, to where to stay in the back country of Peru. Horizons Unlimited was a key player in our success. Motorcycle enthusiasts from around the world are in debt to your services." Alaska Riders

10th Annual HU Travellers Photo Contest is on now! This is an opportunity for YOU to show us your best photos and win prizes!
NEW! HU 2014 Adventure Travel T-shirts! are now available in several colors! Be the first kid on your block to have them! New lower prices on synths!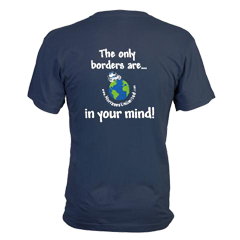 Check out the new Gildan Performance cotton-feel t-shirt - 100% poly, feels like soft cotton!

What turns you on to motorcycle travel?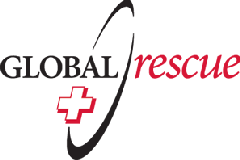 Global Rescue is the premier provider of medical, security and evacuation services worldwide and is the only company that will come to you, wherever you are, and evacuate you to your home hospital of choice. Additionally, Global Rescue places no restrictions on country of citizenship - all nationalities are eligible to sign-up!
New to Horizons Unlimited?
New to motorcycle travelling? New to the HU site? Confused? Too many options? It's really very simple - just 4 easy steps!
Horizons Unlimited was founded in 1997 by Grant and Susan Johnson following their journey around the world on a BMW R80 G/S motorcycle.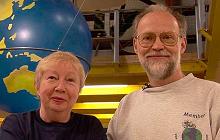 Read more about Grant & Susan's story
Membership - help keep us going!
Horizons Unlimited is not a big multi-national company, just two people who love motorcycle travel and have grown what started as a hobby in 1997 into a full time job (usually 8-10 hours per day and 7 days a week) and a labour of love. To keep it going and a roof over our heads, we run events (22 this year!); we sell inspirational and informative DVDs; we have a few selected advertisers; and we make a small amount from memberships.
You don't have to be a Member to come to an HU meeting, access the website, the HUBB or to receive the e-zine. What you get for your membership contribution is our sincere gratitude, good karma and knowing that you're helping to keep the motorcycle travel dream alive. Contributing Members and Gold Members do get additional features on the HUBB. Here's a list of all the Member benefits on the HUBB.
Books & DVDs

All the best travel books and videos listed and often reviewed on HU's famous Books page. Check it out and get great travel books from all over the world.

MC Air Shipping, (uncrated) USA / Canada / Europe and other areas. Be sure to say "Horizons Unlimited" to get your $25 discount on Shipping!
Insurance - see: For foreigners traveling in US and Canada and for Americans and Canadians traveling in other countries, then mail it to MC Express and get your HU $15 discount!
Story and photos copyright © All Rights Reserved.
Contact the author:
Editors note: We accept no responsibility for any of the above information in any way whatsoever. You are reminded to do your own research. Any commentary is strictly a personal opinion of the person supplying the information and is not to be construed as an endorsement of any kind.
Hosted by: Horizons Unlimited, the motorcycle travellers' website!
You can have your story here too - click for details!