Tire Changing!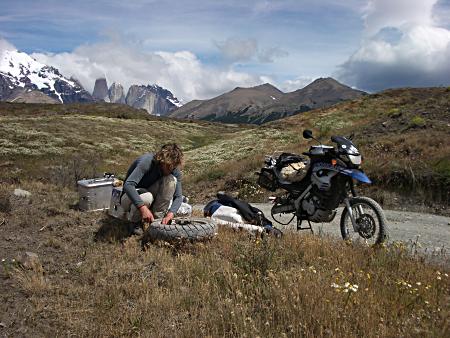 Description
This 1.5 hour DVD answers all your questions, for both tube and tubeless tires:
Getting Started
Getting it Off
Pulling the wheel off
Breaking the bead
Removing the tire
What's in the valley
Plugs and Patches
Which types and how to use
Getting it On
Mounting the tire
Seating the bead
Finishing Touches
Tire pressure
Tightening the front axle
Balancing the tire
Watch the 'Tire Changing!' DVD Trailer (2:01 mins)

Comments on 'Tire Changing!'
"I recently bought this DVD to help with fixing tires while on the go. The DVD is very well made and to the point. It comprehensively covers repairs and changes for tubed and tubeless tires. I certainly got many pointers regarding patch types and a couple of tricks too. I would certainly recommend this DVD for anyone who wants to learn more about fixing their tires. With a little bit of practice, you could save yourself an expensive trip on a tow truck!" xtrg, on Amazon.com
"Very informative and practical - I learnt a lot and realise how unprepared I was when I went on my trips!"
"Really valuable!"
"If it isn't in this DVD, you don't need to know it!