Get Ready!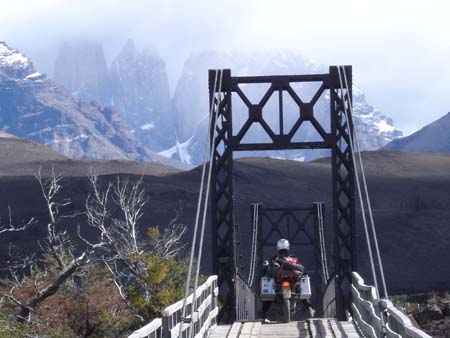 Description
Topics covered in 'Get Ready!' include:
Why go?
Planning the trip - where and when to go
Who to go with - travelling solo or with others
Money, money, money - how much will it cost, and dealing with money On the Road
Paperwork - passports and visas, carnet de passage, bike permits and insurance, licenses
Off-pavement riding - basic tips
Health - travel medical and evacuation insurance, malaria, vaccinations
Giving something back - voluntary work, environmental sensitivity
The world of HU Travellers Meetings and the global Community of Motorcycle Travellers - 769 Communities in 117 Countries as of March 2, 2014!

A few comments on 'Get Ready!'
"I watched it straight through, non-stop. Let's put it this way: this DVD does not need to be accompanied by popcorn, beer or candy bars! It's mouth watering and heart warming at the same time, a very good intro into adventure travelling. Now I'm going to show it to my wife also, see what she likes about the whole concept..." Markku, Finland
"Keep up the fabulous work! We loved the first 2 DVDs and have no worries about waiting for the next ones if more time is required, we do however await them anxiously as the content is great ~ kind of like waiting for Christmas! Thank you for putting these together! Hope you are getting as much enjoyment from making them as we are from watching and being inspired by them." Angela, Canada
"I thank you very much for the first DVD - it was very inspiring and convinced us that everyone can participate in the global bike adventure regardless of financial capacity, choice of bike and age." Mick, Australia
"I had such a good time watching it. I think that, apart from the huge amount of precious information you're giving, you managed to transmit that special feeling that travelers have and share." Pascal, Hong Kong
"These (DVDs) are especially valuable when you're having those 'this is too big for mere mortals, what the heck were we thinking?' moments, because they include plenty of interviews with regular folks, sans super-powers, who just chucked it all and hit the road." Michael, USA
"Enjoyed it immensely!" David, South Africa
"I wanted to congratulate you to the fantastic DVD you have produced. My wife Heike and I have enjoyed watching it and it helps us a lot to prepare our Africa trip next year." Matthias, Germany
"Watching the first DVD is helping me to see that a long-distance-time ride is well within my capabilities and budget. Once I have a plan, will be in touch - perhaps I can be in the video series!" Rob, USA
"Susan, Grant, and everyone else involved... I LOVE this DVD." Gillian, Australia
"We really enjoyed the first two. They really motivated me into taking a motorbike trip. I had never considered it before. Thanks for the idea and inspiration!" Sandy, USA
"One word: 'Excellent!'" Joe, Australia
"Good work, I really enjoyed them. Good quality footage and am certainly looking forward to the other two." Gert, Scotland
"Great viewing - I look forward to the next two." Bob, Australia
"I loved the first one! Thanks for your effort!" David, Germany
"Excellent DVD! Made me wanna get on my bike (when I get one) and ride off..." Elvin, Singapore
"I just wanted to say how much we enjoyed the first DVD in the Achievable Dream set. I gave it to my partner for his birthday and we have already watched it several times, dreaming about our own adventures on two wheels. You have done a fantastic job and we can't wait to receive the rest of the collection." Kath, Australia
"...at 60, I am not a novice traveller. But WOW your DVD has, just on one run through, told me so much I did not know. I want to tell you what a fabulous achievement it is. Thank you very much. I shall watch it many times over, learn a great deal and enjoy my travelling all the more for having the extra skills. Hurry up with the next one please." Andrew
"It's very good, the production quality is excellent and it makes one salivate even more for the open road. Well done." George
"Lots of very useful information and the people you have selected to interview are very knowledgeable and down to earth, makes you feel that 'I could do that'." Stephen, Australia
"I am very impressed and very, very pleased with it. It was everything I hoped for! The interviews with the riders are fantastic. You can't beat getting the answers to the questions you want from people who have 'been there and done it.' You just don't get such good quality information and guidance like this anywhere else!" Barry, UK
"…absolutely wonderful. You covered an amazing amount of material. The production and attention to detail were outstanding. As a 'wannabe motorcycle adventurer' - it really lit the fire inside me." Randy, Canada
"Volume 1 of 'The Achievable Dream' is outstanding! The first-hand accounts and stories are a great way to format the presentation, as it gives the student (me) a real straight-from-the-horse's-mouth idea of the information source, which builds confidence in the information. And the sheer volume of that information is phenomenal! I can't wait to receive the rest of the series. Great job!" Shawn, USA
"It was very well done and the quality of filming and information was excellent..." Scott, UK