Welcome to the 95th Edition of the motorcycle travellers' e-zine! Spring is well and truly here, in fact we've been enjoying record high temperatures in southwestern BC while our friends in the UK have been freezing! So what have we been doing since the last issue? I'll admit we did goof off a bit in December and January, but we've been hard at work since then...
We've already had our first two HU meetings this year, January in Thailand, where host Greg Frazier expanded the event to a whole weekend, and presenters included Ekke and Audrey Kok, Heike and Filippo, and many more! Thanks Greg and all the presenters and 100 attendees! See the HUBB post for comments and pics.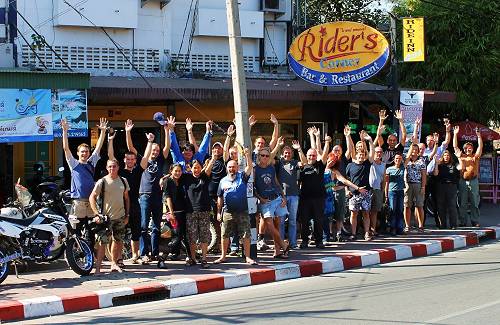 And just a few weeks ago we had our first ever meeting in Brazil, hosted by Rodolfo Datsch, and a very successful event it was, highlighted by ride-outs and a big BBQ. Big thanks to Rodolfo and all who came - we're already planning the 2014 event! See the HUBB post for comments and pics: "The meeting was great, the food what can I say delicious, met some very interesting people. Typically Brazilian hospitality. Roll on next year! Well done Rodolfo!" Mario

Grant continues his recovery from prostate surgery, with some setbacks. He woke up in early February thinking he was having a heart attack! After a full day in the ER getting various tests, it turned out that the unbelievable pain (he was on a morphine drip for much of the day!) was pericarditis - an inflammation of the muscle surrounding the heart! Details here. This condition, which we can't determine a cause for, seems to take a long time to completely resolve. He's still on prescription anti-inflammatory medications, and unfortunately the doctor has said he needs to avoid any exertion that causes his heart rate to get too high, as the inflammation could damage the heart. We were starting to get into serious walking but have eased back on that now. On the bright side, his PSA continues to be undetectable, and his testosterone levels are back to normal - yay!
Our main focus recently has been to get the 2013 meeting pages up and into the new design, a task which has taken much longer than we would have liked! We also have a record 16 meetings this year! But all meetings are now ready for registration!
We did get the new Shipping database launched, and it looks great! If you need to ship your bike from A to B, there are over 700 shipments in the database. You can search on city, country or a whole continent. Check it out!
We have also implemented Tapatalk for the HUBB to make it easy for folks to post comments and pics from mobile devices! And we still have some big projects pending for country wikis and communities and blogs. But the 2013 meeting season is coming up fast - see below! We'll get as much as we can done before we head over to HUBB UK, and we're actually at home from mid-June through mid-August, so should be able to make some progress...
Now that Grant is back in action, we would like to expand HU in a number of ways:
by running additional travellers meetings in various geographies;
by running other types of events with more of a rider training or competitive flavour (HUMM?);
by producing new DVDs, translating current DVDs into other languages and excerpting for other media, such as iTunes;
by adding products (various distribution possibilities) to the HU Store and to our stores on Amazon; and many more!
These all take time and the two of us only have a limited supply of it! So we would welcome suggestions from folks who would like to partner with us on projects. We can't commit to paying a salary, but we're happy to share profits on an equitable basis, or pay commission on revenues, whatever makes sense. Get in touch and help us grow!
Where are our intrepid travellers this month?
We've got great stories from Antarctica, Bolivia, Argentina, Malaysia, Thailand, Costa Rica, Mexico, Myanmar, Iran, Turkey, Kenya, Tanzania, Ireland, Morocco, South Africa, Paraguay, Peru, and even Alaska and Quebec!
...And those are just the ones we tracked down! What about you? Get out there on the road and make your own adventure, and don't forget to write! Seriously, there are so many travellers out there now that it's hard for me to keep up with them all. If you send me a couple of paragraphs and pics every month you'll have a much better chance of making it into the e-zine! We try to link to your blog/website if you have one. If you don't have a blog, we can help, and it won't cost you anything.
This newsletter is provided as a complimentary service for travellers everywhere, both on the road and (temporarily ;-) off. Your support is greatly appreciated.
your editors, Grant and Susan Johnson, (about us, contact us)