Plan where to be when!
If you know of any events of interest to travellers, send me a note.
December 25, 2002, and December 31, 2002 - Christmas and New Years Eve!
Where: Wherever you are! Travellers everywhere looking to meet up with others for some Christmas cheer can post on the HUBB - Horizons Unlimited Bulletin Board - in the Travellers Seeking Travellers Forum. In years past, the main meeting points have been Ushuaia, Goa, and Cape Town. Where will you be?
The Ratay's are planning on a major Christmas bash in Panama, so keep that one in mind! Lots of travellers already planning on coming.
TonyK, UK, plans on Morocco for Christmas,
Story Leavesley, USA, heading for Copper Canyon, Mexico, for Christmas. (also looking for a place to park a truck around El Paso area)
---
Telstra Extreme Rally Raid 2003, January 11th, Phnom Penh, Cambodia,
"... a charity event we lose money on every year. Last year we handed out over $15,000 USD of mosquito nets as well as de-worming tablets for children along the route, and handed out seeds and rice to remote villages accessible only by bike. This was all done with the backing of WHO (World Health Organization) in addition to UNICEF who supplied us with ionized salt and health literature" Details here.
Int'l Motorcycle & Scooter Show, Birmingham, England, November 14 - 24 2002
Huge show, well worth going if you're in the area. Details.
3rd BMW Biker Meeting, 4-6 July 2003, in Garmisch-Partenkirchen, Germany
Details eventually. :)
Oilheads R11xxGs manuals:
You can download a copy of the BMW R1150GS repair / workshop manual here. (50mb)
There is a general boxer (oilheads only) maintenance pdf file here.
Get your website listed in the LINKS Section
by listing Horizons Unlimited on YOUR web site, let me know you've done it by mailing me a link to the page, and you may get listed here in the next newsletter and on the Horizons Unlimited web site Links page. To make it easy for you, we even have our logo and link code here!
All sites will be considered for listing, but must be a MOTORCYCLE or TRAVEL site, useful or of interest in some way to travellers. We reserve the right to refuse to link back.
There are many 'Helpful People' listed on the Links page, a huge thanks to all of them. How about you? Or you can join a Community, or start your own!
Do you know of a good shop 'on the road,'
...in other words, somewhere there isn't a large number of shops? (Also of course any shop that specialises in travellers equipment and repairs is of interest.) But we're particularly looking for those rare items, good repair shops in South America, Africa and Asia etc. Please post your info in the Repair shops around the world Forum on the HUBB.
Great BMW airhead gearbox rebuild how-to here, by Jörg Hau.
Hepco and Becker are coming out with plastic panniers designed to be better than aluminum panniers, but similar in size and shape. Details here.
Speedo error on R1150GS;
"...the error in the stock speedo is about 10%. I installed the R1100R hub. Error now (as measured by GPS) is almost nil. Can do it yourself. Part cost is about $35." from Sam Draper, Germany"
"You can stick an R1100R speedo hub in. About $30, 20 minutes and 2% error." from Troy Nicks, USA.
"I just installed a speedo hub from the R1100R... it has a 2.875 ratio, compared to the 3.0 ratio stock on the Oilhead GS. The changeover is quick... Bottom line: it works just fine, and my speedometer is now *much* more accurate." from Andrew, USA
Great thread on visibility on the road here.
When you meet people on the road, and they haven't heard of this e-zine or the website, we'd appreciate it - and hope they would too! - if you get their names and email addresses and send it in to me, or use the recommend form available on most all pages of the website.
Thanks, Grant
2000 KLR 650 for sale in Bolivia
From a post on the HUBB, 30 October 2002: "Need to sell my bike fast, am broke and have to return to Canada... am in Santa Cruz and wanted about 3500$ for the bike but will take a lot less now since my time is short... it's in good condition and comes with panniers and tank bag, tools, helmet, etc. If anyone has advice, please let me know. Thanks. Paul" E-mail Paul:
George Migliorelli and Valeria Milani, Italy, around the world,
"...Are there any roll on/roll off ferries from either Malaysia, Singapore or Indonesia to Australia? Is there any cheap way to do it? I checked the HU web page but there is no mention of it. Have you heard anything about cheap ways to Aussieland? We need to go to Perth but any city would be OK. Thanks again for your help, George."
---
Plenty more questions and answers on the HU Bulletin Board! We've over 1,980 registered users on the Board, which I think is pretty amazing, and gives a huge resource of knowledge and experience to help you with anything you might need to know.
"'Secret pockets' believers,
While travelling in Central America a few years ago, I was waiting for a freighter at the docks in La Ceiba, Honduras...a pleasant wood pier with several freighters of various sizes and a number of folks fishing and visiting. A young fellow of about 10 years of age struck up a conversation with me and after a while asked me for some money. I declined and said that I did not have much. He nonchalantly pointed to my 'secret stash' located in my baggy trousers and indicated that I indeed did have extra cash and knew where to look for it.
Later, I met a fellow from Belgium who prided himself in his tall black boots... (a stupid choice, I thought, for the muggy tropics) and his ability to stash his important documents and monies inside the boots... when I came across him several weeks later by chance, he was embarrassed to admit he had been robbed and one of the first things demanded of him were his lovely boots... and, alas, all the stuff stashed inside.
If they want to rob you, they are going to get it... unless it is a grab and run heist.
My 2 cents worth, Ged Schwartz, Kamloops, BC"
Zambia accommodation
"...can highly recommend a place called "Jungle Junction' just outside Livingston, Zambia. We had Xmas and New Year there and it has to rate as one of the coolest places on earth. Goose and Lucy"
"Good news. The company which now runs the cargo ferry to Wadi Halfa and return have started towing the barge behind the passenger ferry. First one today (07/10/02). As such, the trip will take just over one day. Cost is approx 120EP for rider/passenger and 150EP for the bike. Seems the old 'charter the whole boat' has gone. Best to check with the booking guys. Can't remember who they are off hand, but most Lonely Planet type books and overland books will have it listed." Posted by Gareth Jones, NZ
From a post on the HUBB by Iris and Trui: "Big size" tyres in Yazd (Iran)
"We came across big size tyres in the small town of Yazd. Not suitable for all bikes, but for many, this is good news. Sizes are 3.00-21" front and 4.10-18" rear, as far as I remember, this corresponds to a 90/90-21" and a 120/90-18" They are new tyres of an Iranian brand, enduro profile (dual purpose I'd say), fresh rubber, looks and feels good quality. They are even cheap: Front costs 88.500 rials (12.3 Euro); rear costs 94.500 rials (13.2 Euro)." More details and address.

---
Request for info
Wouldn't YOU like to know all about the border you're approaching - what it should cost, paperwork required, 'tips' needed, and who to talk to, etc.?
When you cross ANY border, take some notes, and pass them on to us. Thanks!
Shipping
The Shipping page on the site is HUGE! It can be reached directly or from the Shipping link on the Trip Planning page.
If you have any information to contribute, there is a form at the bottom of the page which you can submit and we will put it on the page. Thanks!
Travel Advisories:
The Foreign Office in London's Travel Advice Unit advises against all travel to all sorts of places. Check out the listing before you start!
The US State Department has issued travel advisories, information and/or warnings.
Maarten Munnik, Netherlands, around the world, in Pakistan, Honda Africa Twin,
"Cliff and Jenny Batley, Andreas (a German biker) and me joined in Quetta, Pakistan to do the Karakoram together. (Sean Kelly and Adrian were there too, but they left a day earlier). The first day started fine... The weather was good, the sun was shining and it was only 111 Km to Sost... So what were all those people doing there? on the road?... Especially in the middle of the road? And why were there big rocks on the road? And why did all the cars and busses and trucks stop here?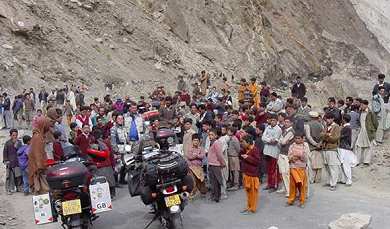 Well... soon it became clear that there was a 'strike' going on. A battle for electricity with the government and now they blocked the road... and we were not allowed to pass. For how long? Well it started with one hour, but then we learned that the government was not even here yet for negotiations... so it could take a while... Luckily we met Ali. Ali is a mountain-guide and he lives in one of the villages around here... and better yet... Ali knows there is another route... A jeep-trail going from town to town... and he is prepared to guide us through because he knows the value of tourists... and he is a nice guy.
In a little convoy of 3 jeeps and 4 bikes we head off into the mountains. The first bit is easy but dusty... We pass a little town and then go up... up... and up... If you have ever driven the Karakoram highway... and seen the little tracks on the other side of the river. High up the mountain... and wondered what they were... They were dusty sand-trails... and we were on them. 1.5 meter wide, no guardrail (of course) and a 200-meter drop down to the river... Well no problem... ehhhhh, but then the first hairpin comes along... so narrow the jeeps need to go back and forward a few times to get around it... and it goes up and up and up.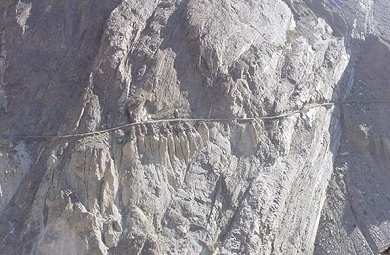 Now I don't have a problem with all this... OK, the AT is heavy but I got good tyres and have lots of enduro experience (even on the AT)... But Jenny... hmmmm... Jenny is small and her bike is big... She can just touch the ground with her toes ... if the ground is even... so she had lots of problems and had 4 (!) crashes... one time even almost going over the edge. So you can imagine she had a rough time, and Cliff, her husband, had many fears... At the end he drove all the sharp turns for her... and this took a while... but after 30 Km of bad off road, dust, dust and more dust, a ripped off pannier (Jenny's first fall), views you can not describe, contact with the tribes (Hunze), fresh pears (very delicious) and, at last, a swinging (literally) suspension bridge... we were through. It had taken us most of the afternoon, but we made it. We had driven the real Karakoram-trail... and lived to tell.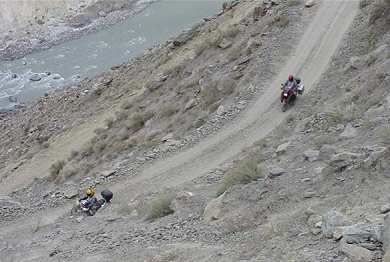 We also learned from it. Jenny learned to say: 'Stop, no more, it's too hard'. Cliff had a good workout, driving his bike around a hairpin, put it down, walk down, drive Jenny's bike up the hairpin, etc. I learned to pay more attention to the level of biking from other people before taking them on a trail like this. Andreas? Hmmmm, he just enjoyed it I guess.
But in the end we were a huge experience richer... Much more impressive than the Kunjarab we did the next day even though it was 4768 meters high and freezing cold. (and I drove 3 Km into China before I got caught and sent back by a very very upset customs-officer ;-)
By the way, in the photo where I am dancing in Turkey with a bank note on my forehead... I think I got married... but I am not sure ;-)"
Arne Bomblies, USA, to Ushuaia and back, in Mexico, KLR650
"We came from San Juan de Alima near Colima and drove through beautiful Michoacan state to Zihuatanejo. It was pretty much mountains with lush tropical growth on the left, and Pacific Ocean on the right. The road was in great condition, contrary to what we had heard from others and read in books, and was great fun with nice twisty sections, and seafood stands, banana plantations and palm trees along the whole stretch.
Despite the great ride, yesterday was a bit of a rough day. First, near Playa Azul we stopped to top off the tanks. This involved riding across a fueling platform, marble-smooth and white. Right before I rode over it some diligent Pemex employee had 'washed' the fueling platform- with water. This of course brought all the residual diesel, gas, and oil on an otherwise already smooth surface on top of the water. Well I went down in less than a split second, slid to a stop, got up and took a deep bow to the great amusement of the gas station attendants. It was like trying to ride a bike on an ice skating rink. Even walking on this surface was difficult, and there was no way for me to see that it was wet.
Then, about an hour down the road, a wasp somehow found its way into my riding jacket. It was trying to get out, panicked, and started stinging. It got me first in the armpit area, then I felt it crawling down my front side. Yeow! It stung me again further down on the side of the torso. It was time to pull over. But the Mexican roads have very steep shoulders and it's not just a matter of pulling to the side. And I couldn't simply stop in the middle of the road or Id get hit by the traffic barrelling around the corner. Nothing I could do but ride on hoping for a place to pull off. By this time he had crawled down into my pants, and I felt him on my inner thigh. Son of a...! He stung me on the inner thigh! Pretty tender there. And then I felt him crawling around the most sensitive spots imaginable between the legs. It was really time to stop. I stood up on the foot pegs so I wouldn't tempt him to sting by compressing him. Anything but a sting there! Thank God, there was a pull off coming up. Had to get off. Still standing. Oh crap, that's not a real pull off, it's loose gravel. But I noticed too late. And I was going way too fast for how loose this stuff was. The front wheel slid out and I was down again, sliding for about ten feet in gravel. Without the riding gear I would have had a pretty good road rash. But I got up and nothing was broken except my ego.
So my two low-speed spills of the trip both happened in the same day. And with the three punctures I've had so far, James and I are thoroughly convinced I'm getting rid of my rotten luck in the early part of the trip, and from here on it will be smooth sailing. The last couple of days the routine has included stopping for the day, taking off the helmet, then the riding pants under which there is a pair of shorts, tearing off the jacket under which there is generally nothing, taking off the boots and replacing them with flip-flops, slipping on the sunnies and it's off to the beach in search of a Corona. Not bad, eh? Vamos a la playa. Adios everybody! Arne"

Help support the Horizons Unlimited E-zine - visit our sponsors!
Please be sure you tell Bernd how you heard about his boxes!


Do you want to travel safe?
Thanks!

Chris and Erin Ratay, USA, around the world, in Brazil, two BMW F650s,
"We arrive in Salvador, Brazil's 3rd largest city, at about 2pm and its still pouring down with rain. We have an idea of where we want to go but the flooded streets and our obscured vision make riding very difficult. To make matters more complicated, Salvador is laid out in two sections, the Upper and Lower City, and finding the correct road to the Upper City is also a challenge. Luckily the hotel we are looking for, the Caramuru, is not far. Turns out to be a good place, economical and has safe, covered parking.
The rains continue in Salvador for the next one and a half days, and I mean really rains. The streets are flooded and it's difficult to get around. We spend our time walking around the historic district of the city with all its fine architecture and quaint cobblestoned streets, and in the local shopping centers looking for odds and ends. Finally in the afternoon of Sunday, the weather breaks and we take a nice long ride along the ocean road. Salvador has some very scenic beaches with big rocks and coral reefs nearby. It makes for tranquil, clear waters near the beach, which are good for bathing. Sunday afternoon and all the local men are on the beach as well are playing soccer (football to the rest of the world!)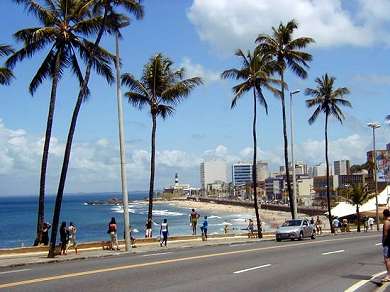 … We will work our way around the coast to Belem and take the boat up to Manaus, then up to Venezuela before the end of Nov. -- the idea is to get to Panama for Xmas to meet some good friends, also overlanders. We've decided to put an end to the trip next August -- otherwise we'll just roam around South America forever (or until we we're completely broke)! We have been here in SA too long, and have embraced the local (slow) pace :-) It is odd to be on a 'time-line', having abandoned the concept after racing through the first year like an extended 2-week holiday. It wasn't even a conscious thing to go this long, we just keep falling behind on our plans to get to the next border crossing. Considering this trip started out as a 15 month journey, and now looks to go to 51, I think we will be hard pressed to draw much sympathy in having to speed things up."
Anthony Griffin, UK, Tierra del Fuego to Alaska, and on to Australia..., in Ecuador, Yamaha Tenere
"I arrived in Ecuador on the 1st October after spending five weeks in Peru. The border crossing into Ecuador was refreshingly simple after the hassle I received on entering Peru from Bolivia. I was told there that I couldn't ride a motorbike in Peru with one arm (although all my documents, licence etc were in order) however if I donated fifty dollars toward the pending 'Policeman's Fiesta' I could travel unmolested! I produced my 'dummy' wallet and donated its contents toward the fiesta. Two dollars... It caused a lot of activity but they too eventually shared my amusement and let me in.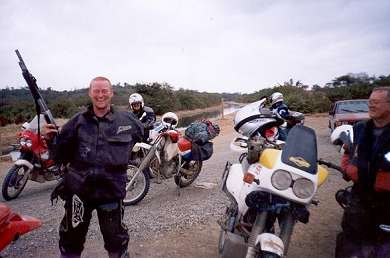 I had been invited to the 'Moto-Caravan of Ecuador' a month earlier by Ricardo Rocco so wound my way north to meet Ricardo and join the caravan. I met Ricardo and the rest of the participants (competitors!!!) of the Caravan in Baños, south of Quito. Among the crowd was Tiffany Coates (Ed. See Tiffany's story and pics). The Caravana was a 4 day, 800 mile off-road tour of Ecuador. The event was organised by Ricardo Rocco and especially considering it was it's debut year, was extremely well organised.
The 'Line-up' consisted of myself, Tiffany, three American riders (Bob, Ron & Clint) from Louisiana and twenty or so riders from Quito and Cuenca. The 'Cuenca Boys' were heavily into Enduro racing and generally rode well equipped bikes of 400 to 600cc. Ricardo headed each stage and everybody found their own pace. Everybody's speed was catered for, from very steady to full bore, with regular re-grouping stops. The tour saw us ride up over carb strangling 4500 metre mountain ranges, down in humid jungle forests and along scenic river clad valley's.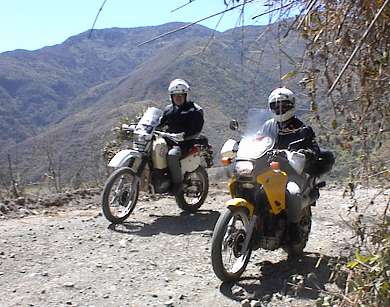 Each day consisted of approx 8 hours (including several stops) of riding through breath taking scenery of Ecuador. A support vehicle (for my luggage!) and stage maps were provided. Each day ended in a simple road section to a pre-booked 4 or 5 star hotel. My face dropped as we approached the first one as I realised from it's grandeur it was probably ten times my budget. However I was soon reassured as between the organisers (Ricardo), Bob, Ron & Clint all hotel, bar and restaurant bills were taken care of for Tiffany and myself. We both received ' red carpet' treatment and were both taken aback by everybody's generosity. Although I do feel Tiffany's tight leather trousers had something to do with it...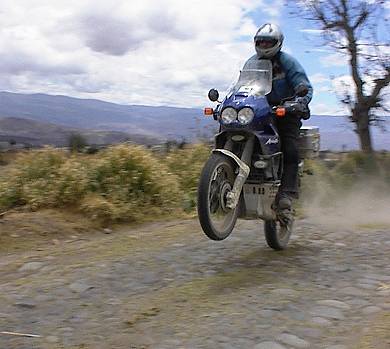 On the penultimate evening there was a raffle and prize ceremony. Tiffany, myself and the 'American Connection' each received a prize. I'm not sure what mine was for but I think translated it was 'Cutest Tush of the Trip'. Tiffany Coates protested but the recount was final. My prize was a free wheel to wheel service of the Tenere, parts and labour. It was given to me by Mario Gomez Motorcycles in Quito. A small but very well equipped dealership.
The 'Tour Entertainment' was supplied by the 'Cuenca Boys' with several hundred wheelies given at every opportunity. However it seemed that Bob Cornell (who celebrated his 59th birthday on the trip) lulled them into a false sense of security throughout the trip as on the final stage of the last day, filtered through them ALL in a particularly tricky 50 km sandy section at dusk, like a dose of salts. Bob didn't say a word, but the glint in his eye said it all.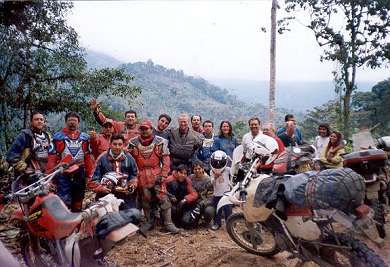 I returned to Quito where I met Tiffany. Ricardo took us both out for the day. After traveling up to the equator, we took a scenic off-road route back. We approached a small town to find it was under a 2 foot mud slide about 200 metres wide. Ricardo blatted through it first with ease (his Africa Twin looks like a 125 on him). I followed and was quite enjoying myself until I hit a submerged rock (or pig!) washed down from the hills. Six tenths of a second later I'm completely submerged in this thick, running sewer. Tiffany stopped and asked if I wanted help (in the most feeble manner known to man). I just shook my head and with the help of a couple of villagers righted the bike and pushed it 100 metres to shallower mud. We got the Tenere going and I made an embarrassed retreat. I couldn't seem to keep myself upright and dropped it a further three times! My hand controls were thick with slime and all moved in unison as I attempted to use them. It was just one of those days, but we all had a great time (the other two are still laughing now).
Hope to sort my air freight out soon and will hopefully be in Panama by early November. Cheers Anthony"

Help support the Horizons Unlimited E-zine - visit our sponsors!
Please be sure to tell them how you heard about Ayres Adventures!

Thanks!

Peter and Kay Forwood, Australia, around the world since 1996, in Argentina and Chile, on a Harley Davidson,
"We arrived early at the penguin colony, two hours before the tourist buses, to have to ourselves half a million nesting Magellanic penguins. This is the largest concentration of this species in the world. Brought here by abundant food and good nesting sites they breed from now till February before heading up the Brazilian coast for the winter. Unafraid, they allow us to approach while they go about mating and nest digging. The stony hills dotted with burrows and small tuxedo dressed animals guarding entrances.
…In cold sunshine and fog we splashed our way over the 120 km of potholey dirt road to the Argentinean border. Again an easy border crossing with no payments necessary. From there the next 180 km to Tolhuin was paved. A further 60 km of good made dirt past glacial lakes and through the mountain pass with fresh snow down to the roadside. The last 40 km into Ushuaia paved. Ushuaia, arriving on a sunny afternoon, situated right alongside the Beagle Channel, (the bottom of the island) and surrounded by snow capped peaks is a magnificent sight. The colourful houses, boats in the harbour and crisp air all add to its appeal. With both the Argentine and Chilean governments working to improve the road the less than 250 km of reasonable dirt (even after all this rain) and the natural interests along the way make this place a must visit.
… Still sunny and with no wind and only three days left before the end of the season we went skiing. The new ski field about 30 km from town overlooks the rocky peaks of the surrounding Andes. Kay chose not to ski but to just admire the scenery from the mid station. I joined the less than 300 other skiers on the spring snow with no lift queues, doing more runs than someone who hasn't skied in 10 years should and ending the day with aching muscles.
… A few weeks ago we had decided to catch the boat from Puerto Natales through the Chilean fjords to Puerto Montt, a three day trip, and booked it over the internet. Today we learnt that it didn't run last week and despite leaving for Puerto Natales yesterday had to return to Puerto Montt after five hours because of a breakdown and wouldn't run this week. It may run next week?
We decided to take a one day tour to Torres del Paine National Park, then remain in the park for a further two days to trek on our own. This is Chile's premium trekking national park and people from all over the world come here just to trek its paths. We walked for 3 hours, again beautiful sunshine after morning drizzle, towards the close view of the towers but overcome by lethargy, lying in a grassy area surrounded by budding beech trees and listening to the trickling waterfalls we never made it to the view, getting passed by hurrying trekkers we returned to our camp and sat in the hosteria over a beer and good company in the evening. The bus collected us at 3 pm to return to Puerto Natales where we learnt that next week's boat had also been cancelled and maybe into the future indefinitely so we will have to ride north."
"When we arrived at the BMW dealer in Tehran they attempted to find us cheap accommodation but were unable to so the owner of the dealership offered us the use of his apartment, free of charge. We gratefully accepted and moved in. However, his uncle Houshang was also living there, but we got on with him well after the initial awkwardness. Houshang is 67 and gets up each morning at 3 a.m. to go jogging into the mountains! He persuaded us to go with him one day mountain climbing but not at 3 a.m. We left at midday - the wrong time for the heat really. It was a hard climb but finally we made it to the first cable car stop - a climb of around 1000m up. We got the car back down!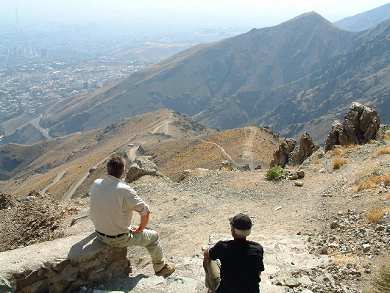 From Tehran we went to Esfahan and camped in the park with the locals as the hotels were either fully booked or had only their most expensive rooms available. We were told that this was perfectly safe and that we would find many Iranians doing exactly the same. We pitched our tent amongst them (them being around 100 or so others, although they slept on carpets without tents). Within 5 minutes we had tea served to us by a family who stayed with us for the evening sitting outside our tent. They had no English except 'we love you' but with the help of pen and paper we talked. They left the next day leaving us at the mercy of the other Iranians using 'Hotel Park'. After 3 nights we were glad to leave - the friendliness of the people was overpowering. We had no time to ourselves - as one group would leave after speaking to us another would run over. If they were shy or unable to speak any English people would sit on the bench near to us and just watch us like animals in the zoo.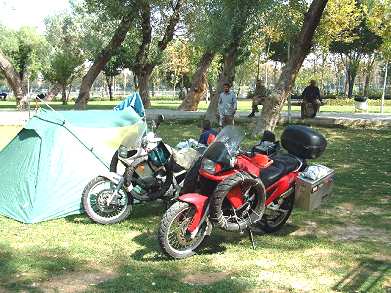 In Shiraz we met Andreas, a German who lives in New York, on his BMW R80GS motorbike. He is travelling to India, staying for a few months and then back to Germany. Andreas was waiting in Shiraz for the mechanic to come from Tehran to fix a sheared stud in his cylinder head. We spent most of our time in Shiraz making use of the workshop space and fiddling with the bikes and helping Andreas with his. We decided that the three of us would travel together until Pakistan as we had heard that the border area was a great drug smuggling area and safety in numbers would be better… In Bam we met Sean and Adrian on their R80GS's. We all booked into the dormitory at the Akbar Guest house.
Iran has been a very welcoming country - we have found the best hospitality here and had the cheapest accommodation (often free). We have really enjoyed Iran and been surprised by how unlike what we expected it has been. The women here are much more forward in talking to tourists and everyone is genuine when they say that they hope you have a pleasant time and if there is anything they can do to help just ask.
10th October - we have now reached Pakistan and it is a whole new world here - very busy here in Quetta. Food is fabulous and our first beer for 4 weeks! We don't intend to stay long in Pakistan unless we decide to ride up the Karakoram highway (weather depending - might have snow on the mountains there now). Jenny & Cliff & Andreas, Sean and Adrian"
Tiffany Coates, UK, Prudhoe Bay to Ushuaia, in Ecuador, R80G/S,
"The shipping from Panama, amazingly, went without a hitch and I even managed to clear Thelma through customs in one day, with help from Ralph and Maryanne (from Australia) who happened to be on their bike in Quito at the same time as me. Ricardo had a shock when he met me; apparently he was expecting me to be a bloke...
Ecuador has been fantastic, made even more so by the Caravana Bike Tour. This was a four-day bike extravaganza with motorcyclists from all over Ecuador, three from Louisiana in the States, myself and Anthony (Griffin), also from England on his Tenere who joined us in Baños.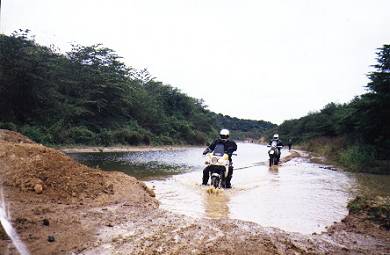 I opted for the off-road 1000 kms route - the best fun I have had in a long time. We went from high (4800 metres) in the mountains down to the jungle and then to the beaches on the coast. Some fairly extreme conditions - but then for anyone who has been intimate with Ecuadorian roads, if the locals are saying this is going to be an off-road trip it really is. At one point the track was so narrow that Thelma got jammed, so we got lifted over the rocks by the Cuenca Boys (10 dirt riders from Cuenca)- for some reason it seemed a logical decision for me to stay on Thelma during this critical moment, perhaps the fact that I was the only woman there had some influence.
I was the only one not riding a Japanese bike, which meant that Thelma was the biggest and heaviest bike doing the route, luckily she didn't let me down and we coped with everything they threw at us including my old nemesis from Africa - sand! A couple of spills as I tried to remind myself it's all in the mind. It was great fun to have the luxury of riding the dirt tracks with no luggage - my panniers travelled on the support vehicle. If anyone is in Ecuador with their bikes next year when Ricardo organises the next Caravana - definitely join in.
I am currently in Loja in southern Ecuador, hoping to cross the border into Peru tomorrow and head to Huarez."

Help support the Horizons Unlimited E-zine - visit our sponsors!
Please be sure to tell them how you heard about Towanda Women!
Thanks!

Simon McCarthy and Georgie Simmonds, UK to Asia, in Kazakhstan, BMW R100GS,
"Highlights of Kazakhstan:
- Almaty - a really pleasant, modern place
- Snow leopards in the zoo
- Chilling with other travellers
- Moving on again after weeks of being in the same area
Lowlights
- Incompetent visa agents
- Trashed bike engine
- Kazakh roads
From the last mail about Kyrgyzstan you'll remember that we left with a decidedly 'under the weather' bike. The starter motor was only functioning on 1 magnet when it should have 4, the carbs were still in need of a good clean out (so the engine was really badly balanced) and there were some nasty rattles coming from the engine...
So what is the most unprofessional way you can enter a country? Pushing a fully laden bike across no-man's land rates pretty high up on the list! The starter motor would occasionally whiz the engine over, but at the border it decided to make us look like a couple of clowns from the state circus. After Georgie had done the paperwork (her usual function at borders, for which I am very grateful), the bike started ok and we rattled and spluttered into Kazakhstan.
Just 2 kilometers after the border the scenery changed and we finally start to cross 'the steppe' - a huge plain that we had been avoiding for the past 3 months..."
Mika Kuhn and Damaris, Germany, around the world, in Colombia, Tenere,
"Entering Colombia we first went to immigration, no problem 90 days and a serious question - are you not afraid travelling in Colombia? The customs asked for permission for the bikes, but of course we had none. But no problem we would get this permission in Maicao. Yes, we got it, after a day of waiting. South American officials don't work on their birthdays.
Colombia is not very popular with tourists at the moment. The first other tourists we meet in a backpacker hotel in Santa Marta. But these travellers were not interested in Colombia, they are here for the cheap main export product - and I am not talking about the good coffee. Later in Cartagena we met more tourists, mainly from the hardcore travelling nations - Israel, Japan and Germany.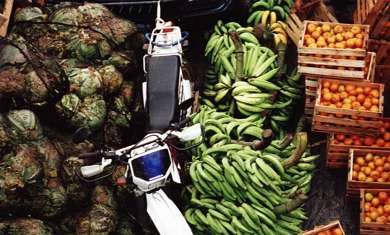 Damaris flew back to Switzerland and the farewell was hard. We have spend ten months travelling together, a fantastic unforgettable time. We crossed the desert in Australia together, managed the paperwork to register Yuhmak in Buenos Aires together, waited for spare parts in Temuco Chile together, rode the bikes on the salt lakes in Bolivia, travelled on the Amazonas River and finally from the Caribbean coast to Bogota here in Colombia. We very seldom had an argument and never a fight. She is the best travelling partner I ever had and a wonderful woman and girlfriend. Of course we made already plans to meet again, but now she has to work and study.
I sold Yuhmak (Damaris XR200) a few days ago for a good price. It didn't matter much to the buyer that Yuhmak had argentinean papers, and so we could get the money back we paid for Yuhmak in Buenos Aires seven months ago. Yamaha Incolmotos here in Bogota let me work on my Tenere in their workshop and so I could get the frame welded properly and do a big service. It is good to know that the people at Yamaha Motors are as helpful as they can to a long distance traveller, thank you again guys here at Incolmotos Yamaha.
I met Felipe three years ago in Aswan Egypt. Now Felipe and I met again here in Bogota, Felipe is still in university and I am still on my bike. The last week was like a holiday, I went with Felipe and his brother Andres to the South to Cali by car and bus. And we spend the week at their grandparents place, just eating, drinking, sleeping and a bit of walking thru the city. 'Colombia has a lot of problems, but the people are strong', Felipe said and I can only agree. I like Colombia and the people, it would be nice to go to the rainforests and the pacific coast - but that's maybe a bit dangerous for a tourist at the moment.
I want to spend maybe two months here in Bogota to learn more Spanish and have a rest from travelling. Travel a bit more in Colombia. Than I will go South - Ecuador, Peru ... and maybe be for New Years in Ushuaia - Tierra del Fuego, at the end of the world. Greetings to all of you and it would be nice to read your story. MIKA"

Help support the Horizons Unlimited E-zine - visit our sponsors!
Please be sure to tell them how you heard about PanchoVilla!
Thanks!

Doris Maron, Canada, RTW, in Thailand, on 750cc Honda Magna
I traveled from Malaysia into Thailand, stopping at several wonderful areas where I could have stayed a while. Instead I took only a week to go the distance from Penang, Malaysia to Bangkok, Thailand.
I stopped at Songkhla, Krabi, Phang Nga, Phuket (Patong, Karon & Kata Beaches), Surat Thani, and Prachuap Khiri Khan before reaching Bangkok. I enjoyed the ride through this part of Thailand and prepared myself for the horrors of riding in Bangkok. Martin, Jen and Gion had warned me about it, and they were certainly right. Riding in Bangkok is not fun. If you can manoeuvre through the traffic, you're doing great. If you survive the exhaust and pollution, you're lucky!
I decided to stop in Thailand for a few months and see if the situation in the middle east improves before continuing on to India. My plan is to fly to India and ride across Pakistan and Iran to Turkey. More on that later.
Thailand is a good place to take a break. Except for the hassle of having to leave the country every time your visa needs renewing, it's quite trouble free. The people are wonderful - helpful and very generous. Staying in one spot for a few months is a new experience for me since I started my journey. The first few weeks I felt like I should be on the road and had a hard time relaxing. I kept trying to justify my decision to stop. It took a while, but I finally realized that I didn't need an explanation or reason. I am still in Bangkok and feeling quite comfortable in my one room apartment.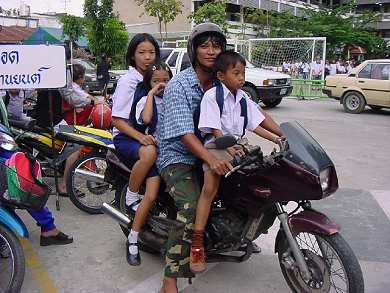 I took a ride to Cambodia for one of my visa renewals. I thought I'd visit Siem Reap since it's only about 150kms from the border. Well, for those of you who have ridden in Cambodia, you will know why I only made it to Sisophon. The roads are horrendous and it took me two hours to go 50kms. I decided that was far enough. I will probably go back before I leave Asia, but I think I'll take a tour instead of going by bike. There's a lot to see and my visit was only for a day.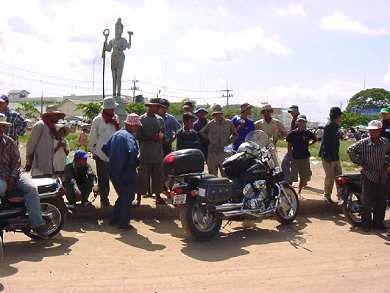 My plan is to leave Thailand sometime between January and March. I would like to fly to India or Nepal and I am hoping to find someone who is traveling in the same direction as I am. If anyone is interested in riding with me through India, Nepal, Pakistan, Iran, Turkey (or any part of this route), please contact me by email. I am flexible on the dates and would love to have a travel companion."
Ted Simon, UK/USA, "Jupiter's Travels," around the world, again, in New Zealand, R80GS Basic,
"...first I had to get across to the North Island from Nelson. There's a ferry that runs from Picton. I looked at my map and figured that Picton was about 75 kilometres from Nelson. I was wrong. Very wrong. It was twice that distance, and I only found that out when I got on the road.
New Zealand has a 100kph speed limit. Most people obey it, pretty much. I'm on a borrowed bike, so I do too. Besides, if a cop pulled me over, that would certainly blow the ferry. So it was an exciting ride, and I made it just four minutes before the ferry sailed. But I'm sorry, because the countryside, as usual, was much too lovely to be seen in a passing blur...
...to ride on up the highway to Hamilton. It meant crossing what Kiwis call the 'desert road' and I was rather sceptical about the idea of a desert in New Zealand.
In fact it's more like tundra than desert, but it's certainly bleak enough, and quite high up. The mountains are volcanic and intimidating, and it was pretty cold up there. Then coming through to Taupo there are famous trout streams, and a fabulous lake stretching out ahead. More gorgeous country. It never ends."

Help support the Horizons Unlimited E-zine - visit our sponsors!
Please be sure to tell them how you heard about New Zealand Bike Tours!

Thanks!

Grom, Russia, through China,
"... some times you have to ignore rules and do it on your own risk.
I travelled in China in July-August 2001. Started in Moscow (I am Russian and live there), than Irkutsk, Ulan-Baator, Beijing, Shanghai, Luoyang, Xian, Shenyang. 7000 km in Russia from Moscow to mongolian border, 1000 km crossing Mongolian Gobi and 9000 km inside China. I liked it very much.
Yes, crossing Chinese border by motorbike is illegal. So I used a Mongolian truck (actually it was Russian ZIL truck. Driver was so kind that I loaded my bike on Mongolian side of border using a rampant and we unloaded it on Chinese side of border using 20 local people. No money, just one ride together with driver.
Yes, my driver license, even international, is illegal in China. But not many policemen know about it because they had NEVER seen a foreigner.
On the border I wrote a kind of declaration with VIN and plates, to avoid custom charges when I will return. A customs officer said that he knows about two German bikers who crossed the border in train.
Yes, using highways in China is prohibited for a motorbiker. Nevertheless, I used it. Barriers in the toll-gates are short enough to let me in. :) Of course I was stopped by police many times and it took me a lot of time to communicate with them. Two times they were going to put me in jail for using highways and more likely for not stopping in toll-gates. However, I never paid any fines.
Yes, centers of Beijing and Shanghai are officially forbidden for motorcyclists. But I drove there, and was stopped only once. It was enough just to take off helmet and show my nice European face. :) In Beijing neighbourhoods you can see even Japanese motorbikes. There is even a small motorbike market near the airport with different types of bikes. No Harleys. Usual local roads are opened for bikes and bikers. No problemo. The people there always crowding around me all the times I stop.
Here is the link to my photos. They can say more than any story written. Wish you good luck and welcome to Russia.
"On the day we left Dar es Salaam, the 22nd October we encountered rain, the first since leaving Ireland. We decided to try and cross Tanzania in two days as there seemed nothing of great interest to hold us between Dar es Salaam and Malawi. Again the roads were excellent but en route we hit roadworks. This involved, as it does in this part of the world, a temporary dirt road running parallel to the section being repaired. In this case the section had been repaired but not yet opened and was only blocked by barrels which our bikes squeezed through. Consequently we drove on the new unopened road, which was a pity as coming through one section we saw another motorbike couple taking the dirt section but just missed them by the time we arrived.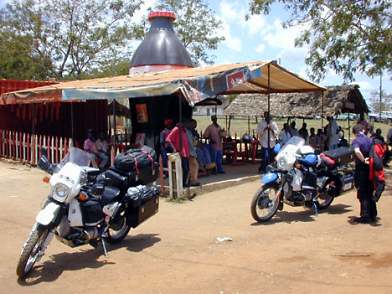 Outside of a lone rider we met crossing the Tunisian desert and another couple on a BMW GS, which we saw in Nairobi but failed to contact, these have been the only overlanders we have encountered. While we were stopped for lunch in Morogora the skies opened and we had our first and last rain to date...
Between Morogora and Iringa I saw a sign pointing to a Concern Camp and it seemed like a million miles from anywhere. The people who work in those places make great sacrifices. At our overnight hotel in Iringa, which seemed to be the only half decent one in town, we inevitably met other Europeans and one lad from Portugal who was living there for years and working in the tobacco industry. He told us all about Malawi which was of interest to us as that is our next destination."
"We flew our bikes from Katmandhu to Bangkok. At the customs shed we are told that our bikes had arrived but first there were three hours of paperwork to get through. We were helped through it all by a friendly if somewhat infuriating chap who only asked for a small tip and the end of the afternoon. We had amassed a small dossier of photocopies and documents by 12 am just in time to see the customs shed close for lunch. Finally our two crates were delivered to us and we set about rebuilding the bikes under the interested gaze of the custom shed workers. It was a fine moment indeed when starving and overheated we kicked them into life and roared out of the shed in the late afternoon. After 15 minutes of traffic mayhem we stopped for a drink at a garage to muster up the courage to face another hour of it. It was with thankful relief that we arrived back at our guest-house.
Bangkok is an immensely large and incredibly busy city. We spend a week in town enjoying BLT sandwiches, visiting the dentist and doing an oil change. One evening we visit Kho San Road and discover that there is a Classic Bike Party being held that evening in the street. Excitedly we go home to get our bikes and later in the evening our Triumphs are surrounded by over a hundred old bikes, Vespas and Velocettes, Hondas and Harleys, even a few old Triumphs. We met up with Paul and were enjoying the complementary beers when to our amazement at 11pm we are told there will be a ride-out and we roar off with hundreds of bikes for a night tour of Bangkok aided and assisted by the local police on their noisy 2-strokes. Its all a bit wild with everyone waving and gesticulating, and much unnecessary engine revving - an experience we wont forget.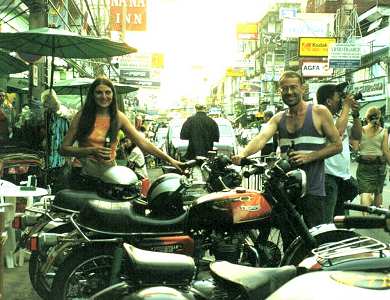 The next morning we get up at some ungodly hour in the hope of missing the rush-hour to head down to the Gulf of Thailand to visit a beach. The traffic out of Bangkok just went on and on but after a few hours it cleared and we found ourselves on a fast highway enjoying the exhilaration of opening up the throttles after months of slow riding on bad roads. New smells are all around (mainly of the fish and shrimp variety), acres of palm trees, canals, gaudy flowers and noodle-shops all make a pleasant change. We arrive at the ferry for Ko Samet to discover that there is no vehicle ferry. They finally agree to humph our bikes aboard but one look at the boat on offer convinces us of the folly of this and we decide to leave them on the mainland.
After our beach experience, we toured Laos for two weeks before heading back to Thailand for a tour of the north. When we arrive in Chiang Mai we are shattered, and to be frank, smelly. Our bikes have not been cleaned since Laos, our clothes are dirty and our luggage is falling apart. We stand dejectedly next to a guesthouse that we don't like the look of but are too tired to look further. Enter Barbara and Lee, an American couple who invite us home. Half an hour later we arrive at their sumptuous home on the outskirts of town. We end up spending three days there being fed and watered in luxurious style while we wash our bikes, do some maintenance, sew up our panniers, use their washing machine and watch Cartoon Network with their two young daughters. What a treat. Thank you Barbara and Lee."
George Migliorelli and Valeria Milani, Italy, around the world, in Thailand, Africa Twin and Transalp,
"...We left on the 4th of June from Tuscany, Italy and plan to be in Sydney for Christmas. This is part 1. Part 2 will bring us to Hong Kong and then, one way or another, into China. There is no time frame on part 2 as yet or for that matter part three, South America. Valeria is an Italian and I have dual nationality Italy/USA...
Valeria is sponsored by Honda / Michelin / Motul. Unfortunately I am paying for myself - no one is interested in male bikers anymore!
We have been through Syria, back to Turkey, Iran, Pakistan, India, Nepal and now Thailand. Before starting we laid out a tentative schedule for the trip which tried to consider weather patterns (hot, cold, rainy season etc.) and balance it against time constraints. We have been a complete failure. We have been in the hottest areas at the hottest time of year. The Syrian desert in August. Baluchistan desert (Pakistan) early September. One 7 hour day in Baluchistan found us in 49 degree centigrade weather. We were just in time for the rainy season in India, Nepal and now Indochina. Several days ago we left for a four day tour from Chang Mai on the Mae Hong Son Loup which some claim to be the most beautiful motorcycle drive in the world. We were 200 kilometers out when we were told that the road had collapsed 100 kilometers ahead and there was no passing. We decided to return to CM, went 5 kilometers and the road was blocked by a partial collapse due to a river overflowing. We were trapped. We were fortunate in that the water subsided and the police let us pass although still in knee high water. The flooding in Thailand this season has been the worst in the past 50 years.

Help support the Horizons Unlimited E-zine - visit our sponsors! Please be sure you tell them how you heard about Morton's BMW!

Thanks!

… 'Sounding the Retreat' at the Pak/Indo border in 100 degrees humidity. On both sides of the border troops march in synchro, shout at each other in synchro with circa 8000 people on each side in stadium type seating shouting obscenities at each other. Spending an evening with the Pashtuns in Baluchistan, sleeping in a gas station and playing with their AK-47's. Being escorted for a day and a half by automatic weapon armed police so that we would have a 'safe' time in Pakistan. Everyone has asked if we were frightened in Pakistan. The simple answer is no. Yes, there are too many weapons floating around and there are pockets one must avoid. However, the general sensation is that with a bit of caution there should be no trouble.
On the other hand Nepal, Shangri La in the Himalayas, gives one the feeling that anything can happen at any time and at any place. There are circa 5000 'Maoists' (this is 2002 isn't it?) fighting the government and they are heavily armed. Several hundred soldiers, Maoists and civilians were killed while we were in country. Everyone is nervous, the army patrols Katmandu with their fingers on the trigger. We decided to drive to Pokara, first we encountered an army patrol in full camouflage then 15k's later a bus was stopped in the center of the road. As we drove up several (6-7) young boys no more than 19 years of age appeared in Nike sneakers and North Face backpacks. They were all carrying automatic weapons. We then realized our encounter with the Maoists. They looked as though they still should be breast feeding. Fortunately their high command enforces a 'No Foreigners' rule so we were not made part of the battle plan. We encountered so many army roadblocks. One in particular, after dusk in Jiri frightened us, solely because the soldier involved was also frightened and he was armed.
… We had to ship the bikes from Katmandu to Bangkok since the Myanmar/Thai border was closed. One morning I left Katmandu by taxi to meet with a shipping agent. As I got out of the taxi I left my small pack in the taxi. I realized this gross act of negligence only after I was in the office and the taxi was long gone. The pack contained most of the remaining money for the trip along with every necessary document, passport etc. The trip was over. I started running, everyone in the office hopped on their respective scooters combing the city for the phantom taxi of which I had no identifying marks or numbers. It appeared to be a futile effort. We searched for an hour and a half and then returned to the office where the taxi driver was quietly waiting for my return. I wanted to kiss him. He told me he was married with three children. I gave him a not inconsequential tip but it could never be enough for his act of pure honesty. He did not even open the pack. You meet all types of people and the good ones make all the difference."
Harald and Udo Lamers, the Bike Brothers, Netherlands, in Russia, on Suzuki DR 600s,
"For days we follow the route along the Trans Siberian Railway. The trains are very long; one time we count 80 carriages pulled by three locomotives. In East Siberia, for many years the train was the only way to cross the swampy taiga. But the Trans Siberian Highway is under construction. Road workers are working hard to build a road from Chabarowsk to Tschita. In many places there is a good gravel road but other parts are still pretty tough. The part from Skoworodino to Tschernyschewsk, also known as the 'Zilov Gap', is the toughest part, depending in which stage the construction is.
Near Skoworodino there is only a sand/clay surface and the trucks make deep tracks and after rain it turns in oozing mud that sticks to our tyres. At walking speed we go forward and we can barely hold our bikes. Finally we make it through and then we get the next test. For levelling the road they use big rocks, spread over the surface. With our loaded bikes (240 kg.) we trail and bump over the rocks until all our muscles hurts. But our DR4s are still running all right.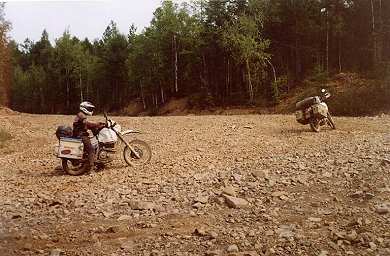 After 4 days and 750 kilometres we take some rest. We camp at a river and walk in with our clothes to wash off the dust. A local family in an Ural sidecar are our neighbours and they share their meal and vodka with us. And like every night in Siberia we are attacked by hundreds of mosquitoes. It seems that the insect repellent is not sufficient to protect ourselves. 'Maybe an extra bottle of vodka', say the neighbours...
The Altai republic in south Siberia borders with Mongolia, Kazakhstan and China. It has beautiful snow capped mountains. We pass little villages where we get the feeling that we are set back a century. Old, little wooden cottages with a back yard for their own vegetables. Men work on the land cutting grass with sickles. Women walk to a pump to get drinking water. The people are so friendly and the hospitality is fantastic. Every time we get some fruit, vegetables or vodka. Yes, we love the Russians.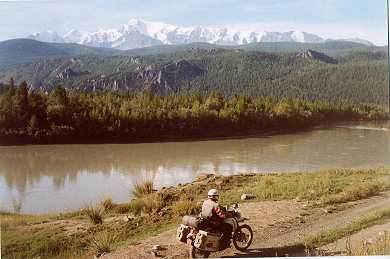 … We head for Moscow. Thick, irritating smog from bush fires make our eyes tear. At the Red Square we see other tourists for the first time in Russia. In the past Red Square was used as a market place. Later it got famous for the impressive parades from the Red Army. More impressive is the St. Basil cathedral. With nine towers, some have onion shape domes, and all the colors from a palette, it is a beautiful masterpiece.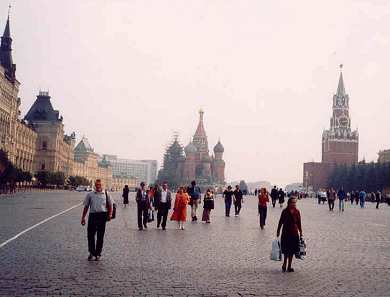 Around St. Petersburg we see more interesting buildings. Tsar Peter the Great (called because of his length of 2.24 metre and of his victory over the Swedes (1721)) founded this city. He was the first tsar of Russia who travelled to Europe and studied there. When he got back he started with the modernization of Russia, using Europe as an example. He designed the Grand Palace where in front is a cascade of fountains. Water comes out of dozens gold-looking statues. The statue in the middle is Peter pulling a lions mouth open, a symbol of his victory over the Swedes."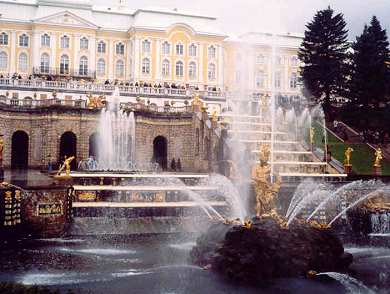 Bruno Blum, Switzerland, 2nd trip around the world, in the USA, Yamaha XT600,
"I'm fine and still enjoy being on the road. In the meantime I made it to Collingwood, on Lake Huron. I am stuck here with an engine problem, but hope to head the road again in a few days. Time to revival the past few weeks, a journey, which started in Vancouver, West Canada and brought me through the Rocky Mountains and the empty prairies into the eastern part of Canada.
In Waterton Lakes and Glacier National park once more I enjoy the terrific landscape of the Rockies. Here the ice-covered peaks meet up with the wide-open grassland of the prairie, making this place so unique, so spectacular. On my way further south, a winding road brings me through the cowboy land Montana, through rolling country, past wooded hills and a few picturesque farmhouses. Thick, white clouds sailing to the far horizon bring some life in this sleepy corner of the world. The mighty mountain range of the Grand Tetons rises more then 2000 meters above the surrounding, flat land in Grand Teton National park. And only a few kilometers further north, in the Yellowstone National Park, I encounter a completely different world. The heartland of this National park lies in a volcanism-zone, with the world's highest concentration of geysers. A heavy smell of sulfur lies in the air, smoke everywhere, bubbling mud pools, hot steam rises whistling out of cracks in the ground and again and again geysers, which blow big spouts into the sky. Yellowstone means also endless forests, sub alpine meadows, deep canyons and I encounter large herds of bisons. In 1902 only 23 of this wild buffalo were counted in this area, but today the park's buffalo herd numbers about 3,500 animals.
In Kaycee I am in the right place in the right time. A rodeo is going on. Country music, dust, the smell of barbecued meat, cowboys and of course cowgirls in big hats, chaps and shiny spurs on their boots. Bucking broncos, raging bulls and steers to be wrestled. What a great experience. Let's rodeo! My journey then brings me into the wide-open prairie. Swaying grasses blown by a gentle wind creates a fascinating motion in the prairie; the grasses seem to move in waves. East of Rapid City, in the middle of the prairie, I encounter the Badlands. A stunning panorama, a landscape barren and beautiful. Wind and rain created here an eerie moonscape of deep gorges and jagged ridges, painted in all the different rainbow colours.
Further east the horizon opens up more and more. Fields of corn and soya as far as the eye can see. A wide-open space surrounds me in every directions and the road stretches in a straight line to the horizon. I love this country, this immense open space, the quiet and sense of freedom, which lies in it. Time to lay back, sing a song and live through my daydreams. Soon I am will be heading back home to Switzerland, back to my old world and a standardized all day life. Take care and talk to you later. Bruno"