Plan where to be when!
If you know of any events of interest to travellers, send me a note
Nick Sanders, Fastest Man Around the World,
is organising a two week trip from London to Casablanca, to be filmed by Sky TV. Get famous, call Nick at +44 (0) 1295 758095
28th BMW MOA International Rally
Great Lakes International Rally 2000, Midland, Michigan
July 13-16, 2000
BMW Motorcycle Owners of America. Rally Chairperson: Sue Rihn-Manke +1-(262) 495-4163 / beemerhill@
berbee.com. Check out the rally website at www.bmwmoa.org for further details
BCCOM 2000
Kamloops, B.C., Canada
August 4-7, 2000
KXA Exhibition Grounds in Kamloops, B.C., Canada. BCCOM (British Columbia Coalition of Motorcyclists) 2000 will have demonstrations involving all aspects of motorcycling from the novice to the expert, displays, motorcycle skill events, games, entertainment, dealer demos and almost everything else you can think of concerning motorcycles. There will also be the 2000 BC Ride for Sight, a great charity mass ride.
August 2000,
...doing a (the first?)
motorcycle circumnavigation of Africa.
BC Canyons Rally Hot Springs 2000, British Columbia, Canada
August 13-19, 2000,
A five day dual - sport/road tour in beautiful British Columbia that starts in Kamloops and ends in Fairmont, BC. Riders will have a choice of hard-surface and gravel routes. Every night we camp at hot springs. Tour is limited to 20 bikes. Cost: CDN$525 or US$375 includes five nights camping, catered meals, excellent map books, and support vehicle to carry some of your gear. Contact Ged Schwartz at gsmswrsw@direct.ca or Tel. +1-(250) 372-0550. All routes tested by an overweight 1100 cc dual-sport bike...some technical stuff is optional. NOTE - only a very few places left!
German Motorcycle - Magazine MOTORRAD is having a BMW-rallye August 18-20, in Zellerreit, Germany
"(south of Wasserburg, which lies east of Munich). The reason is the 20th birthday of the BMW GS-Series. There will be some Travellers like Helge Pedersen, some BMW-Specialist like HPN or Touratech and of course many interesting guests, all of them riding a GS (or most of them...). Only camping, of course. If somebody is around - please come! But give me a note before.
Hope to see some of you!
Michael Schröder, Ressort Unterwegs"
BIG DOG 2,000

August 25-27, near Denver, Colorado, USA
A new entrant class has been added for those riders who want to log some big miles, the "GP Class." Ideally suited for the GS rider who prefers to cover some ground rather than rock-hop, the GP Class will incorporate a combination of gravel (high speed gravel roads) and pavement. The remaining classes (A & B) will again encounter a combination of mud, snow, sand, single track and goat trails crossing the upper reaches of the Rocky Mountains. All classes will exceed 11,000 feet above sea level, some 12,500 feet.
As in years past, the number of entrants in the BIG DOG RIDE will be limited. First receiving Invitations will be veteran BIG DOGS from prior years. Those unable to accept their Invitation will create openings for new entrants.
MOTORCYCLIST magazine will have an entrant this year.
The BIG DOG RIDE 2000, the "world's highest, toughest" BMW GS motorcycle event, is hosted by BMW Of Denver, the Rocky Mountain's oldest BMW motorcycle dealer. If you would like to be considered for an Invitation, reply to bigdogsbmw@aol.com
Dr. Gregory W. Frazier R80G/S (Very Tired)
Abgefahren
"Monday, 28 August will be the slide show Abgefahren, by Claudia Metz and Klaus Schubert - 16 years around the world, presented at an open air show in Bonn. This couple travelled on two XT500 and did some unbelievable things. (like lashed the two bikes together and SAILED the Atacama, rafted the Amazon with the bikes for power...Grant) You're welcome to come, since it's just before the Gieboldehausen weekend. Although it will be in German, it should be a great event."
4th International Motorrad Reise Treffen (Motorcycle Travelers Meeting) in Gieboldehausen, Germany
(GPS: N 51 37'11.9" E 10 13'10.1")
September 1-3, 2000
Ralph Wüstefeld and Wolfgang Simmert put on a great little rally in the middle of some terrific riding country somewhere in the middle of Germany. Slide shows, lots of food and drink, a band and long distance Travellers only! What more could you want? Oh yeah, forgot about those Danish rallies... they're truly wild.
Note: You MUST register in advance! Contact Ralph for details.
Airheads European Millennium Rendezvous
September 4-9, 2000
So far only the date. For those who aren't familiar with the term "airhead," except as an insult, it's a name given to old BMW's, air-cooled, where the new ones are oilheads, oil cooled. The 'airheads' are a busy group of old BMW lovers and riders...This includes all the old R80 and R100GS's. The plan for this one is: to design the "4th European" a bit more rally-style, means change campgrounds a few times and guide you through some beautiful regions eventually the Pyrenees, south of France and the Pietmont"
GET YOUR WEB SITE LISTED in the LINKS section by listing Horizons Unlimited on YOUR web site, let me know you've done it by mailing me a link to the page, and you'll get listed here in the next newsletter and on the Horizons Unlimited web site Links page.
All sites will be considered for listing, but must be a MOTORCYCLE or TRAVEL site, useful or of interest in some way to travellers.
Links will be rotated regularly as needed.
sam on tour - eine motorradweltreise Germany to Australia, starts August 2000, in English and German
Josef Pichler - German only - Seit 1984 führen mich Motorradreisen in alle Kontinente dieser Erde. In Südamerika, Afrika oder im Himalaya liegen die Ziele meiner Reisen
Long Distance Pieces and Parts
US centric listing of suppliers for all sorts of travel goodies.
"The heat index (see chart...) is the "feels like", or apparent, temperature. As relative humidity increases, the air seems warmer than it actually is because the body is less able to cool itself via evaporation of perspiration.
As the heat index rises, so do health risks..."
Read all about it, copy the chart and take it with you.
Only in Japan...
EGGPARKA - the shock protection jacket.
Want an airbag on your bike? Here's your chance!
Do you know of a good shop "on the road,"
in other words somewhere there isn't a number of shops? USA, Canada, Europe etc. don't count. That's too easy. And too many! We're looking for those rare items, good repair shops in South America, Africa and Asia etc. I will create a web page for them eventually.
Further to the information from Julia Powell on mechanics in SA, we now have the e-mail address for Peter Fischer in Temuco, Chile:
As a reminder, here's some of what Julia had to say: "We had a very good experience with a mechanic in Temuco (about a hard days ride South of Santiago). He is a German called Peter Fischer and has a workshop at 0545 AM Matta in Temuco (he is not in Yellow Pages). He is a BMW trained mechanic ...he knows what he is talking about. He solved our problem with the front suspension in a matter of a few minutes. He also services or repairs bikes with you there so you can learn a little too! ...He also runs local guided motorcycle tours (he use to work for Edelweiss) and is a good source of local information."
Submit your tips and questions here, anything goes! Got a great idea for travellers, found a new solution to a problem? Send it in! If you're having a problem, just ask, there's a lot of people with a ton of experience out there to help.
Further to the BMW GS Paralever driveshaft story:
Blue Moon, USA (1-770-447-6945) has the replacement u-joints for $75 plus $5 shipping. The package consists of the u-joint (with grease fitting), 4 collars with circlips and some shims. Take the bits to an automotive driveshaft repair shop and they can install the parts fine.
The F650 GS Review
"...you can read my recent riding impressions of the new 650 at my AMWebsite (with pics).
Chris Scott"
Varadero owners
"...take note, Rob and Mac the 2 intrepid Varadero riders who attempted to make the Corner meeting (Australia) both had a fair bit of trouble with their bikes when the conditions got sandy, Deros sure are big beasties !!! On the way home Mac's bike broke its suspension linkage, it's now in the Broken Hill Honda shop waiting for a warranty repair.
After hearing this we checked Rob's linkages and they appear to be a bit wonky and parts are rubbing on each other. Rob has also heard from the International Varadero mailing list that a couple of bikes in Europe have also snapped linkages so it might be an idea to have a look at yours. As to what causes it, perhaps the terribly soft standard shock bottoms out to much or maybe the linkages are just made poorly.
For more info contact Rob or Mac"
thanks to Greg Aldis, Sydney Australia for the warning.
There has also been a number of warnings about sidestands on KTM Adventures breaking for no good reason, as well as some question about the rear subframe. Any comments please discuss on the Bulletin Board
I've made contact with some of the people we were looking for last month, thanks! - but the following are still unaccounted for...
From Chris Walstow, Canada "Quote from Tommy's (Ryser, USA,) latest e-mail "Met Kazumi, a gal from Japan solo riding the continents on a Honda Trail 225. She said it was a bike she could pick up by herself when it fell." Anybody know anymore on Kazumi?
Lionel Marx, I have no e-mail for him...
Annette, Sweden, travelling solo, heading North from Nairobi ...(met by Dave Thompson in Nairobi)
A Brit heading for Timbuktu...?
a Danish guy, Pauly, travelling on a new R80G/S classic converted into a PD, last seen in Kenya.
Russel, a guy travelling on an old Yamaha XT600 Tenere, last seen in Kenya.
A Brit on an F650 in Kenya, heading north...
A Brazilian biker, Raphael Karen, travelling on a Yamaha Super Tenere, going from Sao Paulo to Alaska...
Chris van de Goorberg, Netherlands, XT600, last seen in Mali...
Nacho and Carina, from Argentina, last seen in Mali...
Johan ? traveller from Netherlands, last seen in Rio de Janeiro.
Lee Prescott and Ian Freeman on a F650 and R100GS last seen in Chile..
When you meet people out there, please get contact info and let me know so I can add them to my who's who and where list! Grant
From the Bulletin Board:
We are 4 bikers going to Greece. We are arriving at Athens by a ferry (from Israel) for 2 weeks. (approx. July 9 - Grant)
We are asking are there any suggestions on a 14 day Round Greece Trip? where to start? North or South? are there any "Musts".
We look for good riding and resting places, not just historic Greece... (we are leaving Greece via Athens).
We are travelers of 50$ a day per one. Use our tents if needed, and ride BMW-GS bikes.
thanks, Yoni
Reply here on the Bulletin Board
Matthew Newland and Richard Smith
"...at last we descend from the dizzy heights of the Andes to Nazca. The road down from Abancay must be the road with most U turns in the world.
As always I have questions:
1. Cuba - Do you know if it is possible to get a bike from Mexico to Cuba and then onto the US. Anyone done it?
2. Thailand - I hear that my Carnet no longer covers me for Thailand. How do I get in?
(A carnet is not needed for Thailand at last word - Grant)
Have given your email and web address to some other bikers on the road.
In Peru heading North, Starter motor cleaned again, Matthew
To subscribe or UNsubscribe to this newsletter.
A few technical notes on this edition:
There is still a problem with Hotmail, but they have made a number of changes, and there seems to be less of a problem now. Links in Hotmail are passed through a script so that they will open in a frame, sometimes causing a problem. Mail links still get messed up sometimes, coming up with a series of numbers or a cgi-bin directory path, or ?subject=something or other. Delete everything from the ? on to solve this. If you run into these problems, just go to the edition on the website, it will work fine. If you have trouble getting there, just type the following address into your browser, all one line, no spaces:
http://www.
HorizonsUnlimited.
com/newsletter
Please be assured that we will NOT under any circumstances, rent, lease, sell, or give out our mailing list, and/or your name and e-mail address, to anyone for whatever purpose. Your privacy is assured, and personally guaranteed.
Grant Johnson

Newsletter Back issues
All comments and suggestions are carefully read, and where possible will be acted on. Your help will make this a useful service for all travellers.
Feel free to use the Bulletin Board for questions. If you think there is something you'd like to see in the newsletter, please send me an e-mail.
I will try to respond, please be patient. ALL e-mail is normally replied to quickly, but who knows - we may be on the road!

ADVERTISING:
If you would like to advertise your product or service in this newsletter, please contact me at the above link. Ad rates are very reasonable. Details at this link.
---
Horizons Unlimited Motorcycle Travellers' e-zine - Copyright 1999-2000, Horizons Unlimited and Grant Johnson. All rights reserved.

REDISTRIBUTION is allowed, indeed encouraged, but other than the following requirements, only with permission. You may forward copies of the Horizons Unlimited Motorcycle Travellers' e-zine by forwarding it yourself by hand. You must forward the issue in its entirety, no fee may be involved, and you can forward no more than two issues to any one individual. Please suggest they Subscribe!

Legal gibberish disclaimer: (particularly for those in countries that have more lawyers in one town, just for instance, New York, not to name any names, than some whole countries, as another example, Japan. Again, not naming anybody specifically you understand) Recommendations are based on positive or negative experiences of somebody, somewhere. Your mileage (kilometrage if you insist) may vary. We are not responsible in any way any product or service mentioned, and do not warrant any such mentioned product or service, and are not responsible for any bad things that may befall you. You are responsible for yourself! Act accordingly. We check all links and information given as close as possible to publication, and all info is correct as best we can determine at that time.
The tribal wisdom of the Dakota Indians, passed on from generation to generation, says that when you discover that you are riding a dead horse, the best strategy is to dismount.
In modern government, however, a whole range of far more advanced strategies are often employed, such as
1. Buying a stronger whip.
2. Changing Riders.
3. Threatening the horse with termination.
4. Appointing a committee to study the horse.
5. Arranging to visit other countries to see how others ride dead horses.
6. Lowering the standards so that dead horses can be included.
7. Re-classifying the dead horse as "living impaired".
8. Hiring outside contractors to ride the dead horse.
9. Harnessing several dead horses together to increase the speed.
10. Providing additional funding and/or training to increase the dead horse's performance.
11. Doing a productivity study to see if lighter riders would improve the dead horse's performance.
12. Declaring that as the dead horse does not have to be fed, it is less costly, carries lower overhead, and therefore contributes substantially more to the bottom line of the economy than do some other horses.
13. Re-writing the expected performance requirements for all horses.
14. Promoting the dead horse to a supervisory position.
Hi, welcome to the 9th edition of the Travellers News and Happy Canada Day! It's Canada's birthday today so we're celebrating with a barbecue - in the rain in the UK. But traditions die hard...
It's been pretty hectic around here. After the trip to Canada I'm still getting caught up on e-mail, can't seem to get below 100 in my in-box for more than about 10 minutes! I'm working on the bike, rebuilding a Paralever swingarm, drive-unit and wheel to put on in place of the old Monolever, putting the finishing touches on a 1000cc top-end to go on soon, and still looking for a good front-end. On top of that Susan's computer managed to trash itself - a new motherboard stuck in it may have had something to do with that...so it's been getting a very slow and careful rebuild. And mine's next.
Had a very nice visit with Andreas and Anna Wustefeld from Germany, they were in England for a tour of the South-west and to interview us for a story on the website and the community - that's you guys! - growing up around it. That should be coming out soon in Tourenfahrer, the premier German language mc travellers magazine.
Bike Magazine here in the UK is also doing a story on the Internet and motorcycle sites, and they picked us for the best site for travellers information.
Of course we're both moaning and groaning about working - to make it worse Susan's working in Edinburgh four days a week, so that's not much fun either, and we're trying to decide when to head off on the next trip.
Chris Scott's Adventure Motorbiking website's bulletin board is now closed, and he's sending everybody here to the Horizons Unlimited Motorcycle Travellers' Bulletin Board, so there is even more activity on the board than usual! Lots of great information there, drop in and maybe you can learn something, or even better, contribute. I've just put up a new section on the Bulletin Board just for YOUR review on travel and camping equipment, generously moderated by Jonathan Segel. Thanks to Jonathan for taking that load off me.
And a big thanks to Chris, and a very big welcome to all his Adventure Motorbikers!
For those of you who haven't been to Chris's site, do take the time to check it out, there's plenty of good info there, a ton of bike reviews and travel reports.
Some nice comments:
I Think...
"...keep it growing! Don't leave anything out. It's always an enjoyable read. I am always pleased when it arrives, no matter what the size."
Bruce
"Just want you guys to know that This is the best site I have bookmarked!
Shaun Dubyts & Kristie Cote, Calgary, AB Canada"
"...Just expressing thanxs for some convincing words during my planning of what turned out to be a fabulous trip through Iran, Syria and Jordan by bike. Tremendous experience, I did quite some travelling using public transport in countries such as these, but this is miles more fun and encounterfull.
See ya, Vincent Schuller
PS: If you hear about people needing up to date info on the borders or routes send them through"
There's a great offer for those heading that way! Vincent was really in doubt about travelling through the region on a bike, but after a number of discussions he decided it was worth doing. I'm very happy to see he had a great time! Grant
"Your monthly news is wonderful and extremely enjoyable to read, very informative, both on personal travels, tips, and events. Yes, more pictures would be a great addition. I appreciate your efforts and abilities to do this and can't believe you expend the time to do it, you should be praised by all who read it. I thank you much.
Allen Naille, Flagstaff, Arizona, USA"
New "stuff" to check out:
A new Travellers Story is up, Russell Fisher, UK, is planning on being the first to ride the TransAmerica Trail, all the way across the USA on dirt roads and trails!
Travellers' Tales of a slightly "different" kind! Fact, or fiction? Who knows, and while there are a few discrepancies in one of the stories, they could well be true...decide for yourself...
And if you're a budding author and would like your motorcycle story on the website, please send it in. Sorry, no money, just fame!
Please feel free to submit news reports, web links etc. to me for inclusion here. I try to link to your website if you have one, and also the photos in this ezine are generally linked from your website. If you don't want me to do that please say so!
This is a free service to travellers everywhere, both on the road and off. Editions are planned to be out approximately the first of every month, but will be more often if there is sufficient interest and support.
More "stuff:"
We are now an Associate with Amazon, the biggest bookseller on the web. If you want to buy a book, you can go to our Books pages, where we have listed some of the best motorcycle travel books, as well as a number of BMW books, general motorcycle books, and travel guides. Very much in progress, with hundreds more to come, but there is a good list to start with now. There's links to Amazon USA, Amazon UK, and Amazon Deutschland, so no matter where you are - Aussies order from Amazon USA ;-) you can order books at great prices, and I'll make a dollar or two, which goes to supporting this e-zine. There are links to search Amazon sites for all their products, books, cds etc., and yes, we get a tiny piece of that too. We really appreciate it when you start your book search from our website! Thanks for the support.
your editor, Grant
Theo Geilen and Christel, Belgium, "riding an old BSA... (a 1950 B31 to be exact... 8-)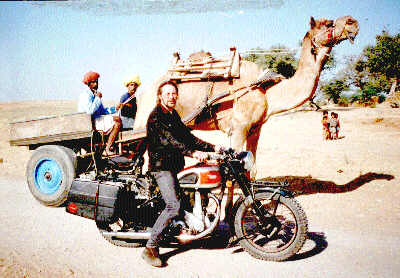 Tour September 1999 - July 2000.
USA & Mexico, a little exhaust-valve problem, but great help from everybody.
New Zealand & Millennium on a tiny Suzuki 250
Australia on the BSA; hot, great, specially the distances.
A quick but unforgettable visit to the friendly Old Motorcycle Club of Johor Barhu in Malaysia.
India; Christel felt in love with another one: He is a Royal Enfield 500 cc, made in Madras, and an exact clone of the UK ones of the '50-'60. From then, we both had a bike to travel.
Pakistan; they have build a new road in Baluchistan, special for the smugglers, but we could use it too.
Iran; Christel had to use a long black all covering chador riding the bike, but 25 liter petrol for 1US$ Turkey; playing in the snow on mountain passes
Syria; the most friendly people, some on old motorcycles (Matchless!!), hard to believe how they could keep it running.
Jordan; locals are not allowed to ride motorcycles and Christel got a dog under her wheels. Found huge stock of ex-army BSA etc., in very bad condition.
Israel; only 10 minutes.
Egypt; in the shade of the pyramids, where history exist longer than time.
So, for us is it time to go home.
We will send you later longer report from the trip.
Greetings, and so long, Theo, BSA B31 & Christel, Enfield Bullet 500."
all I can say is "well done!" Grant
"Joining forces with the Forwoods (Harley Davidson world riders extraordinare) we headed off into the Namibian Deserts. Enroute to Walvis Bay we had a look at a cheetah park cum game reserve. The Austrian owner was very informative as we watched four fat cats lazing in the early morning sun. They had just been fed and looked quite fat and taller than we had imagined.
The gravel roads in Namibia are generally well maintained and a reasonable speed can be realised as we chased the P.M. sun into Naukluft Park. Camping under a mound of boulders at Mirabib campsite we discussed the attributes of riding a H.D. in the sands of Africa. That day, as we watched Peter and Kay charge into the sandy depths of the flood plains we marveled at their skill and bravery. The truth came out though...The H.D. had EIGHT ply tyres supporting its massive bulk. These were run at deflated pressures providing a balloon type ride on the sand and when a rare fall occurred there was little difference between the bike being on the side stand and being horizontal due to the crash bars and panniers...Amazing...Just goes to show any motorcycle will do a world trip. You have just got to get on and ride. We battled on at our own pace determined not to have a fall.
The next day saw us at a river bed with the far bank bordered with a red sand dune. The road in was 'dog-paddle' stuff in the soft sand. Two-up with a load does strange things to a bikes handling in sand. Improvements in the road surface again saw us maintain a reasonable pace to the face of Dune 7 on the outskirts of Walvis Bay. A favorite spot for sand-boarders and daredevil H.D. riders. Peter (minus Kay) charged at the dune in first gear to see how high he could go. Some say 1/3 some say 1/5, nice effort though.
Spent a lot of energy and lost a lot of body fluids dragging it down from the finishing point. Got some great photos.
...The campground between Walvis and Swakopmund was excellent but the notice at the entrance NO MOTORCYCLES was ignored as was the case at numerous sights in Namibia. We had the blinding pleasure of sandstorms on the early departures we made from here. Polishing the alloy to a standard only seen on the BMW when it was built 19 years ago.
Heading North to Cape Cross the odours from the worlds' largest sea lion colony took our breath away. What a sight...phew.. the smell was overpowering. Heading East towards Uis Myn past Namibia's highest peak we encountered three storms, one with hail as we floundered through the sand, dust and gravel. Must put better tyres on next time. Still, we made it without a fall and our late arrival had Peter & Kay organize a hot coffee and some HardRoof accommodation for the night. On the road again to Twyfelfontein via Khorixas we viewed the petrified forest. Not too much sand today and we enjoyed an ice cold beer at the campsite. After bragging about not being sick on the whole African journey it all came apart here. Could not keep a thing down. Headed off anyway.
Plenty of desert elephant dung on the road to Palmwag and we strained our eyes looking for these endangered species..No luck even with the binoculars.
We stayed at Palmwag for two nights waiting for my stomach bug to depart. Feeling better we headed off, spotting some desert giraffe on the way to Sesfontein. Not far from Sesf. we met a British couple on an XR400 Honda.
The female pillion looked enviously at Kays armchair ride on the Harley and said some unflattering words about the Honda's...(we) chased the road through the hills towards Opuwo. This was GS country and despite the tender stomach we enjoyed the ride immensely. Not far out of Opuwo a dozen or more Himba women stopped us. These are the ladies who smother their bodies in animal fat mixed in red clay (or something red). The smell was...mmmmm different. I found it unpleasant. We took a few photos in exchange for food. They wanted money but we would not oblige.
...Peter and Kay leave early the next day, heading for the Angolan border hoping they may get a visas at the border. No luck though. We travelled the same route and caught up with them at Chris's. Chris is a U.S. teacher doing Peace Corp work in Africa. We met him in Windhoek and he offered us tent space on our travels when we got to the North of Namibia. He caught us though and we had to do a show and tell to his class. This was fun and we hope our impression on the students and teachers was good and they enjoyed it as much as we did. Next day we visited Mira, another Peace Corp worker who lived in a 'homestead ' with a local family. We learnt a lot. Thanks guys.
Etosha National Game Park was our goal today. Motorcycles are definitely not allowed in here and we had to make the ride to Tsumeb and arrange a hire car for a couple of days. We sighted plenty of animals but not too many of the big five. At the Halali water hole 4 black rhino paid us a 35mins visit. This was the highlight as we only sighted elephant, one lone male lion and a cheetah (balancing on a rock) all in the distance.
Waterberg Plateau Park (another NO MOTORCYCLES sign) was interesting but not much wildlife was spotted due to the dense undergrowth. Too much rain this year. Arriving back in Windhoek the old GS looked rather sick. A lot of oil leaking from the left cylinder revealed another failed heli-coil in the barrel stud. A visit to the local BMW dealer had us enjoying the hospitality of Mike and Helga de Kock. Suffice to say that the repair was done expertly and we enjoyed several cold beers with local club members. Many thanks Mike and Helga. We will keep in touch.
We said our good-byes to Peter & Kay at this point as their journey had them heading east and onto Jo'burg. Thanks for the fun and entertainment. Maybe we will see you on the road again. Ours had us heading to Cape Town via Luderitz and Fish River Canyon. The road into Luderitz was another world with distant sand dunes and finally black volcanic rock. The brightly painted buildings of this strong German town made the horizon look quite unreal. Almost like a strange painting. The visit to the old diamond mining town of Kolmanskop (a ghost town) saw us scrambling through buildings half filled with sand and taking photos the way only professionals do. Hope they come out.
We camped just outside Fish River Canyon the next night after riding some of the best dirt roads in Namibia. We could maintain almost highway speeds most of the time. The canyon was huge and would have liked to spend more time there but the word was out that the weather in Cape Town had deteriorated and we did not relish the idea of seeing S.A. in the rain.
Crossing the border into S.A. after a lunch stop at AiAis (Fish River Canyon) saw us make camp at Springbok. The paved roads in Sth Africa are excellent and we made it to Cape Town in glorious sunshine, sighting the mighty Tabletop Mountain some 70-80 kms. Who said the weather in Cape Town is lousy in winter?" Carol and Ken
It's been a while; Delhi seems so long ago...
From the smelly city we took the Grand Trunk Road to Agra and Varanasi. Only there wasn't anything grand about it; 1000km of Indian village life with not a scrap of open road on it. It was OK as far as Agra- the road was fixed up for the recent Bill Clinton visit.
In Agra the Taj was stunning as ever, still gleaming through the clouds of diesel smoke.
Allahabad was crap. Varanasi was best seen from a boat on the Ganges. If you didn't know better however, it would appear more like a human zoo or a freak show than India's holiest city. A perfect illustration of the outrageous behaviour that might be mistaken for religion; ascetics standing on their heads all day or hanging weights from their elongated schlongs and overstretched scrotums.
People bathing in the "pure" waters 5 metres from a bloated corpse on its final voyage down the Ganga. Men haggling over the price of an extra faggot to finish off their not-quite-cremated loved one. Tourists dodging cow-pats and scooters and being hassled by pushy trinket sellers....
Very educational as usual, but we were happy to head north after 5 eye-opening days there. India's heat was wearing us down.
In Gorakpur, an overnight stop en-route to Nepal, Nik and I and a couple of Kiwis were aurally abused by dozens of diesel generators (one for every shop, placed on the sidewalk) coping with a power shortage. Window shoppers and merchants didn't seem to notice the incredible racket or choking fumes.
They stared at us tourists yelling into each others ears and beating a hasty retreat to a quiet bar.
One of the craziest things about Indian cities is not the insane levels of air noise and water pollution, but that nobody notices and nobody cares. It was a terrible end to a great 3 months in India.
We arrived in Nepal (no hassles with the bike at the border) and breathed a sigh of relief. At Lumbini we checked out the ruins of ancient shrines marking the birthplace of Buddha.
In Chitwan National Park we swam in CLEAN rivers and avoided encounters with rhinoceros unicornus by scrambling up trees above the elephant grass. Deer and wild pig were also plentiful.
After a scenic ride on smooth mountain roads we arrived in Pokhara, a bustling tourist town under the gaze of the Annapurna mountains. Here you can have a Yak steak and browse through dozens of stores selling fake Patagonia "Glore-tex" jackets. At some stage Nik or I had the insane notion of walking 300km AROUND the Annapurna mountains "the circuit" which begins a whole new story.
It may be "tea house" trekking but it's one of the best things I've ever done. Hiking in perfect weather under awesome 8,000 metre peaks through fields of marijuana , staying in little Tibetan villages, playing frisbee at Tilicho Lake (5000 metres) and not getting TOO breathless, and crossing the Thorong La, at 5416 metres (17,600 feet sounds cooler) the highest I've been and will probably ever go without a plane. We were pretty well acclimatized by then and actually stayed up there for 3 hours gazing at the glaciers under a clear sky. It still seems like a dream.
Nik and I are in Kathmandu now sightseeing and getting a visa for Pakistan, where we're planning to trek in the Hunza valley. We ran over a dog today but our Yak has covered 8000 hassle free km since we arrived in Delhi - what a bike!
...June 19...There is much moisture here at Syauli Bazarre. The first couple of nights I didn't sleep so well, especially when the monsoonal rains hit the tin roof. Did I tell you I had a bitch of a time getting here? Wading through waist deep raging rivers - if it weren't for a bloody strong local cow herder I wouldn't have gotten across. The locals all thought it was a great spectacle (I'm sure they were hoping I'd go under). One old lady in expansive Nepali said I was walking like a drunk man. Work here is slow but nice. Old people with pain everywhere, kids with colds, babies with diarrhoea. A few mysteries but nothing too interesting yet. Ingo, the director wants me to stay and be the medical director here. I told him I'd give it some thought but he'd have to wait at least 2 years for me. Maybe in combo with a Traditional Chinese Medicine (Nik's business)/ western medical clinic in Pokhara for the tourists in the high season?...
I've been updating our website www.terrigal.net.au/~rancho/bigtrip.htm, go to the update section. Some new pics of the trek and the trip. The website of the project here is www.hrdsnrescue.org.np. Click on the map on the 'volunteers' page to see the route I walked to get here.
See you next time! Luke and Nik"
"...the worlds largest touring rally was held in the area of Lake George, just southwest of us and in the direction we were heading. The rally started as a pure Gold Wing rally, but has since grown to accept all motorcycles. In reality there are two brands that dominate the rally, the Gold Wings and the Harley-Davidson's. The latter are driven by a strange mix of people over here. Some would salute us with their left hand when passing us, as is customary between motorcycle riders in most of the world, while most of them would look straight forward and ignore anything that didn't resemble a Harley. It annoyed me for a while, then it started to humour me, and in the end I broke out laughing. What had struck me was that these arrogant riders,who wouldn't recognise us who rode on a different brand bike, were on their way to a Honda Gold Wing rally - Harley riders on a Japanese motorcycle rally. The irony amused us for a long time, and each time a Harley showed up in the horizon, I was early out with my hand to be sure he saw us.
With about 50 to 60,000 motorcycles expected to the rally, we were kind of skeptical to where in the world we would get a room for the night....After hours of search we ended up in Scroon Lake, about 80 kilometers from the centre of the rally. We got lucky, since even that far from the centre, the motels and camping grounds were all filled up with bikes...
...in Ticonderooga, a small town on the northern shores of Lake George, the number of bikes on the road indicated that we were close to something big, and as we drove along the lake, the numbers increased until we were riding among a zillion bikes into the little town of Lake George, the centre of the rally...We were surrounded with a cacophony of open exhaust Harleys, mixed with the silent buzz of the Gold Wings. Now and then a high rev. Japanese sportsbike passed by, making a nice change of scenery. Lots of people stopped to take Rocinante into closer view. The Tiger stuck out of the crowd with the aluminum panniers and a total of six bags, not to mention the Norwegian license plates flanked by two small flags mounted upside down - a mistake we felt kind of embarrassed about. We were told the rally was a sort of warm up for Laconia, a week long rally somewhere in New Hampshire, receiving up to 300 -350,000 bikes, most of them Harleys..."
...We stopped by the first "Visitor Centre" we saw after crossing the bridge from Buffalo to Niagara Falls. All we wanted was a map, but the guy inside was quite a salesman, and by the time we left we had bought a tour of the Falls for 55 dollars each. Bente protested heavily, trying to convince me it was a classical tourist trap tour which I wouldn't enjoy. She has worked as a tourist guide and I should have listened to her, but did not. I insisted that it would be a great way to see the sights, forgot about the terrible weather forecasts for the next day, and got my way. Bente shook her head and resigned...I started to realize what I had done when the tour guide and bus driver started to tell jokes and introduced everybody on the bus. We had to put our hand in the air, while everyone looked at us and smiled and cheered. Then each one got a tag to hang around their neck, so we could easy be spotted among the other herds of tourists. I tried to avoid Bente's eyes, and when I finally looked at her, she was struggling to keep the laughter quiet...
For four hours we were led through the different sights and "specially cheap souvenir shops" in rain that competed with the falls themselves in amount of water. We got more drenched as the day passed, and after an otherwise very fun boat ride into the mist of the falls, a rip in the disposable raincoat we got for the trip, caused my crotch to drip with water. I said at least a hundred times that I accepted all fault and would never, ever buy such a trip again. The crescendo came when we went up in one of the highest towers to overlook the falls, and nothing could be seen, since the clouds were below us. As a compensation the tour guide took us to a botanic garden. By then our laughter had hints of hysteria in it..."
...after a starter motor repair job...
"Amigos! Here is the penultimate journal of our seven month epic and tells us how at last we managed to get away from Sucre . . . . .!!
We woke early,...Whilst we remained ignorant of whether it would work, we still had hope we would be leaving that day. Standing over the bike, the green starter button appearing normal, Kev took a deep breath and pressed. Nothing. Absolutely nothing - it was worse than yesterday, at least then there was a click when we pressed the starter button, now there was nothing. Our DIY job had failed. It was another bitter blow.
We ...could get our starter motor from Chile (price $680 plus $60 postage and 8 working days wait) or the UK (price $175 plus $90 post and 4 working days). It did not take a genius to work out that getting the motor from England was quicker and cheaper. We placed the order and then all we could do was sit and wait. It was probably one of the worst times during the whole trip. All we wanted to do was get to Rio and fly home, but instead we felt like we were imprisoned here in Sucre, beautiful as it was.
And it didn't get any better. We waited our 4 working days but no starter motor arrived. A call to our UK stockist revealed that their despatch department had mistakenly sent our starter motor by standard post. That meant further days of hanging around.
(lesson - confirm everything twice! Grant)
Finally on the afternoon of Day 13 in Sucre (not unlucky for us!), the starter motor finally arrived... even better we were not screwed for any import tax. We had heard some horrendous stories about a British biker on a Triumph collecting parts in Lima which were being held to ransom for over $300. Before anyone changed their minds, we stashed the parcel under our arm and raced back to the hotel to start the fitting. We were now nervous that even with this, Franky might still remain silent...we stood next to Franky...try and start him up again.
I couldn't watch, but without warning Kev hit the starter button and a spark of life jumped out of Franky, turning into a roar as the sweet sound of the engine filled the air. YEAH!!! We leapt around, our escape from Sucre was now secured! In preparation for the ride ahead we have also ordered a new air filter (the old one looked like the Sahara Desert had taken residence) and platinum spark plugs to replace the blackened standard issue. Franky was sounding good and ready to go!
...the next day...Our aim was to complete the 260kms dirt road north to Epizana and then the 350kms paved to Santa Cruz. It was a long shot and depended on how bad the dirt was. The sun had barely started to rise when we left Sucre...
Within a few miles we reached at the first police check point that actually asked to see our documents. Check points always seem to make me nervous even when we have all the required paperwork. I gulped a little when he wanted our bike permit, as well as Kevs driving licence. Of course, Bolivian Customs had not seen fit to give us a permit, assuring us it was not necessary. We tried our well tested diversion strategy - smiling, talking lots, waving lots of bits of paper and (what they like best) asking for advice about the roads - this always gets officials puffing up their chests as they explain with a great sense of importance all about roads, which given the accuracy of what they say, they have probably never travelled on. Still it makes them feel good and they invariably forget what on earth they asked for. We had a little additional help of a large truck honking its horn to the police for assistance and we got by the check by completing the police register ourselves and cheerfully waving good-bye.
Within about 20 kms of leaving Sucre the paved road finally ran out at a large bridge and we hit the dirt. By this time, despite our long rest, dirt roads were really wearing Kev (and Franky) out. This one was really tough. Lots of deep sand and narrow stretches as we followed the river bed north. Once again we were constantly drowned in sand and dust. Whenever we were lucky enough to see a bus headed for us we pulled off the road as far as we could, and shielded ourselves from the sand storm.
Progress was slow and hard...it was getting hot and sticky...Kev who had to work hard with the bike and sweat soon started to drip from the bottom of his jacket. It took about 8 hours, a further fall off the bike and buckets of sand drenching for us to reach Epizana. With about 5 hours of light left, we still had to complete the next 350kms. We were optimistic, after all it was paved from now on.
Did I say paved? We just don't learn! It started off like that, albeit obviously an old paved road, with plenty of holes to dodge. Then...longer and longer stretches of dirt and then there was just dirt. Pulling over for a breather and some revolting cheese empanada bought the night before, we cursed everyone we had spoken to, all whom assured us it was "asfaltado."
Coupled with the fact that the pressure was on to reach home quickly, we were quite demoralised. As an extra kick in the balls, I looked down at Franky to notice that our pannier frame at the back had snapped. Kevs mood became pretty black....any vague hope of getting to Santa Cruz had slipped away ...It looked like an emergency rough camp was on the cards. As long as we had light we decided to press on.
...We looked ahead and could see huge tracks of white billowing clouds being blown across the low mountain tops and then fizzling away as the sun dried them out. It was not long before we were in the middle of this dense cloud. There was virtually no visibility and the cloud started to soak us with a constant heavy drizzle. The sand road turned to sludge, then deep cakey mud.
We struggled through, Franky slipping, and numerous times we were almost off the bike. The rain seeped through everything...I didn't know how Kev was carrying on and it was scary, with the right pannier shaking about...Every now and again a huge unlit lorry would loom at us from the murk so we would veer as near to the side of the ooze as we dared....we had little more than an hour or so of daylight left...Our body heat started to drain away. And then as quickly as we entered the fog, it just seemed to dissipate and present us with a sinking sun and mountains as far as we could see. The road clung to the side of them but thankfully heading downwards.
In the failing light, we stopped for a decision about what we would do for the night but not even knowing where we were on the map, it was hopeless.
...Kev decided to give it another half an hour. And then, as if to reward us for what the day had thrown at us, we rounded a twist in the road and there in a valley below us glowed dim yellow street lights...a small town...Comarapa...
...a major stopover point for this route. There were many trucks, quite a choice of alojamientos and even a petrol station (stocking shitty petrol only, but this would do for Franky - he may not like it much but it kept him going!) What a bargain...basic, but dinner bed breakfast and beer for two for $15! Besides we were so tired, that the narrow squeaky beds were luxury.
The next morning we found a welder who for less than a dollar, welded the pannier frame back together and we set off for...Santa Cruz. (at) Santa Cruz...the road effectively ended and the next part of the journey would be ...on the so-called "Death Train."
It was a much better day...the road dropped altitude for real. All of a sudden everything became so tropical, lush, green. Even the smell along the road changed to one like fresh cut grass with a moistness, freshness, scenting the air. Bolivia did not seem like Bolivia anymore. It seemed quite relaxed and laid back. The locals seemed to prefer shorts and T-shirts to the traditional pleated skirts and bowler hats...It made me think that the climate and geographical features determine the culture and tradition of a people more than any country boundary drawn on a map.
About 90kms short of Santa Cruz, the road turned to tarmac and we sped into Santa Cruz,...to a clean but musty hotel, recommended by Jeff and Linda, the Yankee bikers...we headed off to find the train station. It was a Saturday and we did not hold out much hope of making much progress with our enquiries...The train station was huge, newly built, deserted and covered in a thick gritty layer of dust where the wind echoed through the open ends of the building. It was about three times the size of any train station back home...which was strange when you consider that there was only about five trains a week leaving there. It didn't seem to make sense. Everything was closed. Notices about the train times were contradictory. Notices about the opening times for the booking office did not exist.
We sat in one of the few plastic seats to contemplate the next move when a small chap shuffled over to us, holding out his card for rail cargo and passenger services. We were a bit suspicious, as he seemed too helpful, but he told us that there was a train running Monday at 3pm and we should bring the bike there at 9 in the morning and he would sort us out. We did not have much choice. We had Sunday to sort ourselves out and received a great email from Jeff and Linda who having just done the train journey the week before, gave us the low down on what to expect in terms of being ripped off by people when we got to the station the following day. Unfortunately, it did not contain a handy bendy guide to appeasing Drugs Enforcement Officers ..."
Julia and Kev
Kev Storie - (AKA - The Flying Mango) South Africa, (residing in UK,) to South Africa, in Czechoslovakia,
"...The Tenere is going well and is being the perfect loaded lady with manners in the corners even fully loaded. She weighs in at a hefty 260 kgs which is more than acceptable considering the fuel weighs 26kgs of those. I have been staying off motorways and the tiny little roads in horrific condition have been allowing my eyes to behold some fantastic scenery and time standing still villages.
I will fill you in further soon with a few tales from my "Perch on Wheels" - 50 car pile ups in Czech seem to be the order of the day as the people here drive almost as badly as the Italians and Turks.
Chris Bright, UK, around the world, in Yukon Territory, Canada,
"16 June... I'm in the municipal library in Whitehorse. (Yukon Territory) there's been rain, snow, sun, bears, mooses (or is it 'mice'?) and above all mosquitos. Millions of them and I have difficulty spraying repellent in my ears or up my nose... anyway it is very cold tonight, so they have decided to leave me alone... will be heading north to Dawson City, Yukon for the 21st June/ longest day party (48 hours of daylight!!), before heading for Fairbanks, Alaska and then probably south to climes warmer...
26 June...After spending some pleasant days in Dawson City, Yukon checking out the Summer Solstice and other pleasantries, I'm now in Alaska. It's hot!!!! my heated vest has been put into retirement for the time being.
Will be heading to the Arctic Circle, before heading south to sample the delights of Denali and the Pacific Coast. The Wife is good and Norm is covered in dead mossies.
29 June...Yep folks, we're in the land of RVs (recreational vehicles), one brand of which is known as 'Winnybago'. Absolutely monstrously large with equally horrendously obese owners. Robin Williams aka Adrian Cronauer in 'Good Morning Vietnam' describe the Vietnamese as 'little people'. My mates cannot be describe as such. Here the wife, Norm and I feel positively invisible behind all the wobbly bottomed winnabagle drivers and their tanks. I just wish they wouldn't try to run me off the road! I would become more forceful and abusive, but people here have guns and understand English! Anyway, lots of rain, lots of mosquitos and tomorrow the wife will get a thorough servicing; brake fluid, fork oil and all. She can't wait.
Cheers me dears, von Bricht
see the website for more...
last words from Erin and Chris heading for Vietnam were: "wish us luck!" Well we obviously weren't trying hard enough - they didn't get through...
"We're back in BKK giving the bikes a little TLC -- those Cambodia "roads" put a beating on the bikes - Horns broke, brackets snapped, chain sprockets lost teeth (F650), and other bits went flying off.
We didn't get in at the Moc Bai (Cambodia/Vietnam) border. This after 3.5 hours of "working" the guards, including drinking a few beers with them. We even showed a photo copy of a friend's carnet/customs declaration -- He got in in March at Moc Bai on an R80GS (as well as 2 other times before). I heard that 2 other bikers got rejected here in early May, and Benka got rejected 1 week before us.
Having said this, Anke & Jan got in at the Laos/Vietnam border in April on 2 R1100GS's, and Philippe (phjanowski@yahoo.com) just got in 3 days ago on a Transalp at the same Laos/Vietnam border -- near Vinh.
We're trying to figure out our next move: Another attempt at Vietnam via Laos (We have both visas), or head south to OZ sooner to get out of this tropical heat. We'll let you know."
as of June 18...
"Ko Samui is an island off the south east coast of Thailand -- We're relaxing in a small bungalow on the beach in Mae Nam, surrounded be palm trees, stretching out on the hammock, and waking in the morning to the sounds of the surf...
We'll leave tomorrow morning for the south, spending our last night in Thailand around Hat Yai. On Tuesday we'll cross the border into Malaysia where we'll meet several BMW enthusiast we've been talking to on the internet. We'll stay in Malaysia for about a month, then onward to Singapore so we can ship the bikes to Darwin, Australia in late July."
Ricardo Rocco and Cesar Morabowen, Ecuador, "Around the World for Peace," in Brazil
"Rio de Janeiro 06/22/2000 Ricardo Rocco, the Peace Rider, traveling on the first stage of his Around the World for Peace Motorcycle World Tour arrived into the beautiful city of Rio de Janeiro in the south eastern coast of Brazil.
Continuing his work against drug abuse, he has visited related institutions in the cities of Curitiba and Sao Paulo and has personally witnessed the terrible social problem drug abuse is causing, specially among young people.
'There cannot be Peace in our world, in our society, in our families, while drugs keep causing this terrible damage to our youth,' he declared for the Jornal do Estado do Parana newspaper.
'While many people choose to turn their heads and minds away from the problem, there are some of us that are doing something about it, everyone in their own way; The way I do it is to talk to kids, where ever I meet them, and share my experience with drug abuse and how I found solutions, hoping that they can use my own experience not to start with the problem in the first place'.
(Ricardo)... will be continuing this richening human experience traveling around the world for the next three years.
...I left Foz do Iguacu, on the south west of Brazil, Tuesday June 6th., with direction to the east early in the morning....about 700 km. to Curitiba, the capital of the Brazilian state of Parana. This was the 60th. day of this First Stage of the World tour for Peace, completing approximately 15.000 km.
The highway signs were not that good though, very scarce and confusing, so I began what I've done a lot, using my built in GPS (like my friend Brighty says), the mouth. (the travel stories of Brighty in www.HorizonsUnlimited.com)
Being a privately managed road, BR 277 has plenty of toll plazas, unlike in other countries, they charge bikes about the equivalent of 80 cents.
...by the time I saw the sign "Curitiba - 45 km." it was dark already. The road merged with a bigger Highway and I happily got lost going in the wrong direction. By the time I realized it, I was a 100 km. off course and very tired, so I stopped to rest and call Mr. Raul Leguisamon, Vice Consul of Paraguay in Curitiba and uncle of my good friend Marcelo from Asuncion, who was waiting for me to show, to let him know that I was going to be a little late, since I was in the wrong town. Travelling at night, AGAIN, I made it to Curitiba by 10 p.m.
After a day of work, I headed north, to the metropolis of Sao Paulo, the largest city of Brazil and one the the largest of the world, with about 20 million people and also with the worst reputation for delinquency and crime. Nevertheless, I was a bit worried, but highway BR 116 was plenty of fun, since it traverses the Sierra do Mar, a low altitude coastal mountain range, but with plenty of twisties and turns. Later I found out, it is infamously called "the highway of dead" due to its high rate of fatal accidents.
Sao Paulo is huge, enormous and is the most , confusing, crazy, overpopulated, crowded, smelly, intriguing and xxxxxx city I ever known, but it has some kind of strange fascination, it sure is not a nice city, it is rather ugly and very filthy, but after knowing it a bit it loses some of its mystery.
I arrived into the town of Parati, a very old colonial port where most of the gold from the vast colonial mines, was taken to Europe by the Portuguese. It is a lovely little town with plenty of history everywhere to see, very picturesque and lively even in the low season, the port, the stoned streets, the old churches and houses, beautifully restored are unique and are worth a longer visit. I found the most expensive Internet place of the whole trip and managed to answer a few e-mails.
On Wednesday June 21th., I woke up to hear the horrible sound of rain outside! I ran out, and yes it was raining, I just couldn't believe it, it was so nice the day before! Oh well, paradise should be fun with rain too, right? Well, I spend the whole day escaping the rain, but every time it catched me, it sure was wet, but the beauty of it all continued north, with exotic names like Corumbé, Taquarí, Tarituba and Mambucaba. I kept saying to myself after every sharp turn, what a beauty, what a road, I had no hurry, since I was getting closer to Rio, so I enjoyed every sight, turning back many times to take pictures, video or just to enjoy the views. The only view I didn't like, was the one of the Nuclear power plant at Angra dos Reis, could be a technological marvel, but nuclear power just scares me.
I got to the outskirts of Rio by mid afternoon. It was not nice, the tremendous poverty of the "favelas" was astonishing, I began to ask myself where the "real" Rio really is. So after one of my many lucky guesses, I took the direct highway to the beach, the "yellow line," that traverses the inland city then crosses the huge rocky hills and ends in the ocean.
And there it was, the intense blue ocean, the Atlantic gold beaches, Barra do Tijuca, Ipanema, Leblon, Copacabana, Flamengo, Botafogo, one more beautiful than the other. Finally in Rio, no wonder they say this is one of the most beautiful cities of the world, situated on the magnificent bay of Guanabara. Trying to find economical lodging was a different matter, since everybody knows that waterfront prices are pretty high anywhere. So to downtown it was, suddenly I found myself in a pretty ugly neighborhood, you can instantly tell when you see plenty of young ladies standing in the corners wearing very lite clothes.
Sometimes I think that life has very interesting ways to flow, and it is a matter of flowing with it, just pointing in the right direction once in a while."
Matthew Newland and Richard Smith, UK, around the world, on 1996 BMW R80GS Basic, among the last built, in Peru, having a litany of troubles...
"starter motor quit...managed to get down from the heights in Potosi and decided to sod the warranty and pull the thing apart. I mean I had more than enough info on the damn thing. Managed to find some tools, not easy out here ! It turned out as you said Grant. The whole thing was stuck to hell with sand and dust, which is really no surprise given that's all I've been riding for the last 3 weeks. Crap design!!
A clean and a spray with WD40 and I replaced it. To my surprise the bike started better than it has for a long time. This starter motor had been revved to easily 5 times its working speed and the thing still seems to work. Maybe the French aren't so bad. Don't write the Valeo too early I would say. Probably fail now I've written that. At the same time we pulled the other one out of the other bike and cleaned that out. Dirtier than mine. Hopefully that will stop the same thing happening.
It really does make a difference knowing people are out there to help.
Thanks again, Matthew
P.S On replacement of the starter motor the bike tick-over speed was much much higher. Screaming!!! In the morning back to normal. Very strange. Probably something caught somewhere. It's never easy!
(a few days later...)
...seals between the drive shaft and the transmission...leaking...
(a few days later...)
...leaking oil from a part with a wire under the left cylinder...
(a few days later...)
...as always thanks. We seem to be running into one after another. Now a flat battery that does not want to hold charge when charged from the mains. 8 volts after 12 hours. What numbers are important on the battery if I need a new one to make sure that it will charge well from the bike? The battery is only 6 months old and I have always kept it topped up with battery water. What am I doing wrong here?
...battery problem seems to be an intermittent short. The problem is weird. Here are the symptoms:
1) With the ignition off the Battery is shorting. No short across ANY fuse !
2) Engine cuts at times whilst running.
3) Starter motor fails at times. Starter relay clicks, No Solenoid on starter motor heard.
(a few days later...)
...Another Oil leak...Below the cylinder heads are two metal pipes going into the engine. Oil seems to be leaking from them ? Is this a problem ? How many more oil leaks are there on this bike ?
(a few days later...)
...well it seems that everything on this R80 wants to leak. Now the back suspension, apparently made especially, by White Power is leaking oil...
Thanks as always for all your help,"
What's next? I'm afraid to open mail from Matthew now...good news is the starter is fixed, oil leaks dealt with, short and battery fixed, bad news is I haven't heard the final word on the rear shock... Grant
Mika Kuhn, Germany, around the world, in Kazakhstan,
...no word, wonder how he's doing?
Iris Schlaberg
"...this Friday (23 June) my fiancé and I will fly from Germany to Vancouver. On Vancouver Island (Qualicum Beach) our '79 R45 and '78 R65 are waiting for us. We have 5 weeks and we will go to Port Hardy, take the ferry to Bella Coola, and drive via Prince George to Edmonton / Alberta. If you see us - black helmets and leather clothes - give us a friendly wave and let us drink a glass of beer together. Tschaui, Iris Schlaberg, Calberlah/Germany
Srinidhi and friends, Bangalore, Karnataka, India,
"We are three Indians from Bangalore planning to do a world tour on motorcycles. We plan to travel across 86 countries over a distance of 100,000 + kms. We would like all those like minded individuals give us some information or help or both regarding this. All advises are welcome and will be highly appreciated." (from a post on the Bulletin Board, please reply on the board)
"...On July 13th I should arrive in Jacksonville Florida, pick up my bike and set off on what I sincerely hope will be the first off-road coast-to-coast crossing of the USA (well, 90% off-road anyway). Along the way I want to learn lots and laugh out loud. And that'll do for me, thanks very much. My needs are simple..."
from Etienne Posthumus, Amsterdam, Netherlands,
"A friend of mine from South Africa will be travelling in Europe in September this year. He is investigating the possibilities of a bike-swap arrangement for that period. Here is the message 'Looks like I'll be hiring a 650 for a week or two, but I was wondering, since you are still subscribed to the GS list, if you could post a 'Bike Swap' message on my behalf. Basically, anyone wanting a bike (1150GS and/or 800G/S) for a week or two in ZA to swap for the same (or a 650) in Europe (pref Germany) for the same period. They can mail me at donaldm@digitalmall.com.
BTW, Don is the guy who did the R80G/S blue manual on the net at the dogpage which is referenced quite often..."
"It's great to get your newsletters - just to remind us what it is all going to be about...we are going to be into some serious planning stages soon - can't wait. Keep the newsletters coming for inspiration!"
Peter Delft, Holland, around Australia,
I will be in Australia from 1 Aug. till 1 Nov. this year. Starting in Perth for 30.000 km's, first to Darwin then the east-coast to Sydney then the south road back to Perth. I am driving a modified Transalp.
David, Gmunden, Austria,
"I will fly with my girlfriend in November 2000 to Argentina and will drive the Pan-American to Mexico within 15 months. I would like to exchange info with motorcycle travellers who come down the other direction from USA to South America."
see the Bulletin Board for updates with David.
Michael Odland, South Africa, to Tanzania September / October,
...planning a trip from South Africa to Tanzania on an F650. He would love to hear from South Africans who want to join him on the trip - and/or the climb of Kilimanjaro.
Claudio and Marcelo, Angostura, Argentina,
...getting ready to start their motorcycle trip north to the USA.
Kevin and Julia Powell are back home in Cambridge...
Joerg Becker and Sandra Weisshuhn, travelling in South America, Photo here
"...now we are back in Germany for 3 month. (3 months too long!!)"
No news this month, it's quiet, no changes reported.
"Far better it is to dare mighty things, to win glorious triumphs, even though checkered by failure, than to take rank with those poor spirits who neither enjoy much nor suffer much, because they live in the gray twilight that knows not victory nor defeat."
Theodore Roosevelt (1858-1919)