UK, 2008: Eighth Annual HU Travellers Meeting
Ripley, Derbyshire, UK, July 3-6, 2008
Want to know what people thought of last years Meeting? Is it worth coming to the Meeting?
"I'm so looking forward to another UK meet. My only problem is that I simply can't get to every talk I want, such is the amount of terrific presentations on offer. Each year I've been astonished at how articulate, intelligent, informative and entertaining the speakers are. I'm willing to help with anything that doesn't keep me from a talk - and my timetable will be full to bursting!" More comments here.
Photos from the 2008 Meeting:
2008 Speakers and Tech Seminars were:
The Achievable Dream

Grant and Susan Johnson, Canada, R80G/S
Learn from Horizons Unlimited's founders and 11 year round-the-world veterans everything you need to know to ride to the next country or the next continent. Sound scary? Get the inspiration and information so YOU can hit the road! In two TWO-hour parts.

The sidecar alternative

Andy Berwick and Maya Vermeer, UK
We want to open your mind to sidecar travelling. We traveled for one and a half year through South America. Presentation in the field at the rig.

Africa, Middle East and Europe
Panel - volunteers please!

How to get someone of the opposite sex to go travelling with you - panel and discussion. Why is it so hard? What are you doing wrong - or right? All viewpoints discussed!

Brighton2Capetown

Dan Adams
From prepping the bike to flying it home, with a few African anecdotes in between...

Women only

a very popular session - I'm told it's a must for the ladies, so be sure to plan on being there!

Two women in South America
Sheonagh Ravensdale and Pat Thomson, UK, Honda Falcon NX400s
(Also known as two dusty old bags bag South America)
Alistair, Darling - I love you!

Steve Mercer
How to persuade the chancellor to give you a tax refund to help pay for your trip

TomTom Rider 2 - GPS for Overlanders and City Bikers alike.

Colm O'Flaherty, UK
A discussion on the TomTom Rider 2 GPS system, and its usefulness to both overlanders and city bikers alike. Includes a demo, and a chance to play with the unit. Questions & Answers session to finish up.

Garmin Satellite Navigation

Tim Cullis
Aimed at Streetpilot, 2610 and Zumo users

BMW Airheads Q&A,
Desert riding in Mauritania and Mali

Richard Kemplay UK, Beast-of-Burden
Beyond Morocco – deep desert travel in Mauritania and Mali. A practical guide for 2 and 4 wheels.

Following in The Footsteps of Others

Jeremy Bullard, UK, KTM Adventure 640 - RTW
Riding after Livingstone and Stanley through Tanzania and Burundi.

Dodging Potholes

Dave Barrett, UK/Germany
Motorcycling in Eastern Europe, with a visit to the orphanage in Calarasi, Moldova.
NOTE: Dave will have his new book there too - JUST released, you'll be among the first to see it!

Around the world in 800 days

Simon and Suzi Harby, UK
Bringing maps to life.

African Brew Ha Ha - The Quest for the Ultimate Cuppa

Alan Whelan, UK
A Triumph-ant tea tour through Britain and Africa (Lancashire to Cape Town) in search of the ultimate cup of tea.

The art of publishing

Robert Wicks
Author of 'Adventure Motorcycling', Robert Wicks shares some of his secrets about what it takes to get published, the importance of the right photography and the effort that goes into writing a successful book

Pan American Highway

Paul Pratt, UK, Triumph
Around the World by Triumph motor cycle, 1966-1979. Also, the world wide motor cycle scene 1960's-1970's.

Roadkill Cookout

Phil Chaffey and Danny Taylor
Watch and learn - how to make a firepit, skin a rabbit, pluck a pheasant, fillet a trout, cook it and eat it

"The wrong way round"?

Tiffany Coates
Two women, a total of two months bike riding experience between them and a desire to reach India via the cake capitals of the world. Tiffany comes clean about how she accidentally got started on her travels - some will have heard this before, this is for those who are thinking: "If she can do it...then so can I."

How to pick up your bike, with Tiffany Coates
Africa
Answers to the Name of 'Lucky'

Marion Costin-Ford
A personal view of how 7 ordinary everyday women rode 3,500 miles in 7 days in aid of Breast Cancer Care

Tokyo to London, The first trip unescorted bike trip across China in 1994

Walter Colebatch
Then Mongolia, Siberia, Kazakhstan et al to London

Heading East

Andreas Hülsmann and Claudia


Carnets

Paul Gowen
The "passport" for the bike. From the man you WILL be talking to, the RAC's Carnet expert. Come prepared! 10 minute consults will be available. Book on the day

One long hot summer - USA 2007
Travelling the Silk Route through the 'Stans

Simon McCarthy, Sorebums
Taking the interesting route east. (Book available)

South America
Travelling Couples

Gary and Catherine Cunnington
A serious and light-hearted look at the dynamics of a couple travelling together: highlighting the advantages of knowing your travelling companion very well. A verbal and photographic presentation giving an insight into making use of the combined consciousness of a couple, but also looking at some of the pitfalls that we have suffered when we have been less receptive. We encourage participation of all with experience of their own to share, and we hope to give some insight from what has worked for us that may be useful to otheUrs travelling with their lover.

Yoga for Motorcycclists, Part 1, the why's and how's

Tori Lang
Save your back, and ease the aches - before they happen. Talk and demonstration: come and find out what it's all about, how yoga can really help your riding in more ways than you might realise. Includes demonstration of some basic practice.


Yoga session with Tori Lang
Yoga for Motorcyclists, Part 2, Practical

Tori Lang
You've heard the talk, now give it a go. Come along and try it out for yourself - no previous experience necessary. Please avoid eating heavily for 2 hours before and bring a roll mat/blanket to lie on and a sense of adventure! (80 minutes)

Sussex to Singapore and other journeys
Campers Forum

Leslie Madge, Traveldri-Plus
A good nights sleep is worth having - here's some tips and tricks to getting comfortable and making your whole camping experience better and more enjoyable.

Dreams, Dirt and Duct-Tape

Hamish Oag and Emma Myatt
In search of the road less travelled; two-up adventures in Outback Australia and Latin America. A (frame) cracking experience.

UK to Australia
Packing
UTag

Jean Bettley
Help Presentation of UTag with Jim Bettley. UTAG Digital Dogtags are a new way of storing all your medical information, in case of an emergency (ICE).

How to Get Published

Peter Henshaw, UK
Top tips on how to get your adventure travel story into a bike magazine. Peter is a regular contributor to a number of magazines, so come and get the skinny on how he does it in a roundtable discussion.

Newfoundland to Argentina via Alaska

Leigh Mathias
Motorised vagrancy, keeping it rubber side down.

All aboard the Chris Scott tour to the Algerian Sahara.
The Last Hurrah

Rollo Turner
Beijing to Arnhem across deserts, mountains and rivers - on 50 year old British bikes (Panther and Norton) ridden by two old fools who know what's good for them!

Off road by Caponord

Tim Whittle
Overview of what's possible solo on a prepared Caponord - Africa and lots of trials, rallies in between trips.

What to take and how to carry it

Mark Manley
How to avoid taking too much and forgetting what you might need, and tips on how to get urgent parts with the minimum hassle and cost.

Overweight is under-prepared!

Dave Lomax
Ever wondered what travelling light really means? Not really sure what you NEED to take with you? A lighter bike is more reliable, safer and easier to ride. Come see how little you really need.

Building the bionic adventure biker!

Jasper Ditton
Learn how to use Rocky-style training, deprivation, role-play and beasting by friends to hone your readiness for adventurous biking. All put to the test in a ridiculous mini-biking adventure. It ain't over 'til it's over...

TBA,
Old Man On A Bike,
Morocco: Safe, Exciting and Inexpensive

Tim Cullis
All you need to know to plan your own trip to Morocco.

Morocco, If you haven't been yet, WHY NOT!

Dave Lomax
I have spent nearly 3 months there this year on multiple trips and have all the details (ferries and waypoints) you need for spectacular road trips, remote desert exploration, and fast Paris - Dakar piste exploration.

The Shorter Way Across, Spain

Dave Lomax
Spain east to west following the tracks and trails of the High Pyrenees

How not to fall at the first fence.
Under Asian Skies

Sam Manicom
It's a land full of Riotous Colours, Clashing Cultures, Fate and Karma Junkies, Adrenalin Buzz and some of the most stunning scenery in the world. Worth exploring?

Into Africa' - 'Another' Way Down

Sam Manicom
Take the words, novice biker, ridiculously overloaded bike, magically rough roads, stunning landscape, incredible cultures, and amazing people. Then what have you got? Full on Adventure

Cheap booze, warm weather, easy to get to… Iceland

Chris Bright, UK,
Images and videos by TheBrightStuff.com in the wilds of Iceland

Random video footage of dirtbike travel from trips to Iceland, the Pyrenees and Morocco (twice)

Chris Bright, UK,
Including a very special feature "Basil fought the Duck and the Duck won". The moving images tell the story. TheBrightStuff.com and friends striking various interesting poses.

Fix that flat! How to change a tire anytime, anywhere. (Friday only)

Sam Davidson returns for his popular:
'Basic Guide to changing and maintaining tyres.' How to prevent flats in the first place, and fix them when you get one. Sam's changed thousands, and will show you all the secrets to make it easy. The best tools and how to use them for tube and tubeless tires. Hand's on practical and tire changing contest for beginners to experts! Come prepared to show everyone how fast you can do it - classes for beginners and experts, and ladies!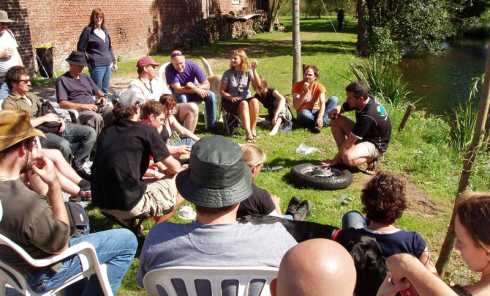 Changing a tyre tech sesssion with Sam
Prep your bike for the long trip! (Friday only)
Photo Composition for Travellers

Grant Johnson, Canada, RTW
The one everyone SHOULD take... We all want to take great photos of our trip - so why don't we? This easy seminar will transform your photos from boring to fabulous!

How about you? We're all here to learn, and there's LOTS to learn! We want to do more presentations and seminars - but we need volunteers to give them! Any topic you can contribute having to do with motorcycle travel, maintenance, planning etc, lasting 20 minutes or more, would be great. Please contact me here to volunteer.
Rideouts
Rideouts are limited to 6 or 12 people per ride, no exceptions.
A selection of legal green lanes and road rides in the Derbyshire area.
Friday 10.00 AM Off road ride led by Ken Hartley - max 6 bikes. Varying degrees of difficulty not suitable for complete novices, but suitable for ALL bikes.
Saturday 10.30 AM Road ride led by Andrew Jones - max 12 bikes. Suitable for all. All bikes.
Saturday 10.30 AM. Off road ride led by Nick Watson. Max 8 bikes. Suitable for all abilities and all bikes.
Sunday 10.30 AM Off road ride led by Ken Hartley (Ripley to Buxton - 4 hours) max 6 bikes. Details from Ken over the weekend.
Saturday 10.30 AM Road Rideout led by Ian Fancourt. Suitable for "confident riders" only. Max 12 Bikes.
All participants have to sign a liability waiver in advance. YOU are responsible for your own safety, rides are NOT guided, you will ride with volunteers who will point out the interesting routes to you.
All rides will be back on site at or before 5.00pm
The cost of going on any ride is included in the registration fee.
All rides are "register on the day." There will be signup sheets for each ride posted the evening before. First in best dressed.
Charity
We raised £600.00 for Motorcycle Outreach, which does much the same as Riders for Health, but in Indonesia, through the sale of raffle tickets and the generous donation of prizes from all the vendors on site and from afar. Many thanks to everyone! :)
Travel Equipment Vendors
Adventure-spec, waterproof riding gear, luggage, tools, bike protection parts, first aid kits, camping bits and pieces
Ernie - Overland Solutions, custom fitting and equipment
Traveldri-Plus, motorcycle clothing and travel goodies specialists
Metal Mule, overland luggage systems
Core Racing Imports, off-road equipment specialists
Ultimate Ear, custom earplugs, get your order in early if you're in a rush.
James Cargo Services, bike shipping around the world.
Adventure Spec. David Lomax and Chris Colling
Gravel Travel - African motorcycle safari tours: Botswana, Namibia, South Africa
Beast of Burden Expedition Company, Expedition to Mauritania and Mali
Dan Medica South, maker of pressure relieving gel seat pads for bikes (I use a gel pad myself - it's excellent!) can't be at the meeting, but have generously donated a gel pad and cover for the Charity Draw - so you could get a free one! Check out their gel pads.
Books - get your signed copy direct from the Author!
Paul Pratt, one of the original overlanders with signed copies of his best selling, 'World Understanding on two wheels'
Sam Manicom, with his new book 'Out of Asia' as well as 'Into Africa'
Austin Vince will have his DVD's for sale as well as his books 'Terra Circa' and 'Mondo Enduro'
Lois Pryce, 'Lois on the Loose', will have her new book on her African adventures
Simon and Georgie McCarthy 'Sorebums Rattling Around Asia'
Dennis Robinson, Scooters in the Sahara
Rollo Turner from Panther Publishing will be there with several great travel books.
Dave Barrett, UK/Germany, with "Dodging Potholes", Motorcycling in Eastern Europe, with a visit to the orphanage in Calarasi, Moldova.
Membership - Show you're proud to be a Horizons Unlimited Traveller!
Just to clarify the membership situation: Currently there is no requirement to be a member to access the website, the HUBB or to receive the monthly e-zine. For now, what you get for your membership contribution is our sincere gratitude, good karma and knowing that you're helping to keep the motorcycle travel dream alive.
We will also upgrade your status in the HUBB to Member. In addition to recognising your contribution through your status, this will allow you to upload a custom profile picture and custom avatar, store up to 50 private messages, upload more pictures (10 MB maximum storage) and create polls.
Another benefit we can provide is if you decide you want a t-shirt, mug, fleece jacket or other Horizons logo product from the Souk, you can purchase Member logo products at the basic price. Just let us know and we can arrange access to the Members Private Store.
Note that new Memberships with your Meeting Registration are applied as of the Meeting date, not earlier, unless you make a special request in the Comments box when you register.
T-Shirt Deal
Top quality heavy cotton t-shirts in black, or grey if pre-ordered. We will have a range of sizes available, but quantities will be very limited, so if you wait till the day, there might be none left in your size.
The new Synthetic t-shirts are in a beautifully made wicking material, and make great travel / riding t-shirts as well as all-round wear t-shirts. Available in black or grey at most meetings. MUST be pre-ordered.
Note that we will have a very few t-shirts extra at each meeting, but to be sure you must pre-order and pay in advance.
2011 Tshirt slogan "Wherever your mind wanders....Ride after it!"
Back: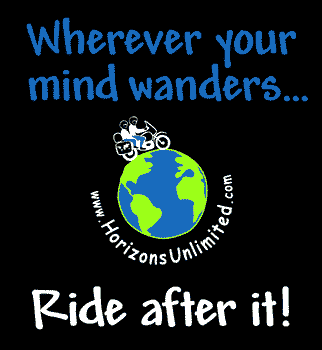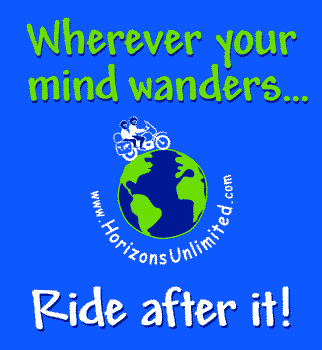 Front: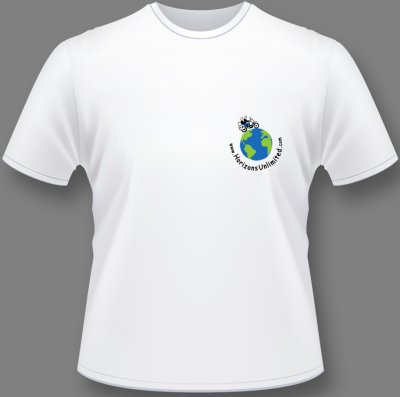 You can help!
If you have a few minutes, please download the poster (Adobe pdf format) and print off a few and hand them round your club or your local bike shop or anywhere seems like a good place.
(You may need to right click and choose "save target as...")
Poster in pdf format (886kb) full colour 2008 poster.
Thanks for the help!
The Meeting Location for 2008 is the same as 2004 - 7
Lumb Farm, Ripley, Derbyshire, UK
Lumb Farm may have once been a farm, but is now a pub with numerous rooms and grounds suitable for our purposes in a beautiful setting. Seating for 250 people with catering at all prices and tastes. Other than camping no accommodation is available at the venue. See the hotel links section if you're not camping. It has a large grassy campsite behind the pub and an area for a bonfire to welcome you.
There's showers too...(for those who care to indulge), also a full-on fitness room.
Lumb Farm
Derby Road
Marehay
Ripley
DE5 8JN

01773 744 299

More info on their new website.
Getting There - GPS, Maps
The Farm is situated on the B6179 just south of Ripley, opposite Marehay Vauxhall Garage, and half a mile north of Denby Pottery.
From Ripley Town Centre take Derby Road past the Leisure Centre and Fire Station straight over 2 roundabouts and turn left opposite Marehay Garage, up the winding road and Lumb Farm is at the top on the left. From A38 Coxbench exit straight through Kilburn, Denby past the Denby Pottery works and follow signs into Ripley and Marehay turn right opposite Marehay Garage, up the winding road and Lumb Farm is at the top on the left.
"Ripley is a town with its roots in industry, mainly due to the Butterley Company with its ironworks.
Today the town has a shopping centre, and a leisure centre, and despite rebuilding work, some of the original buildings remain to be seen today."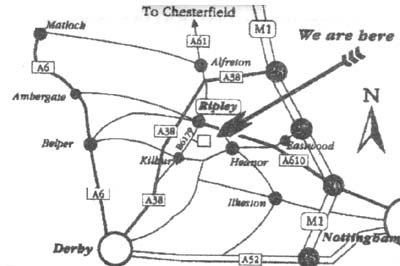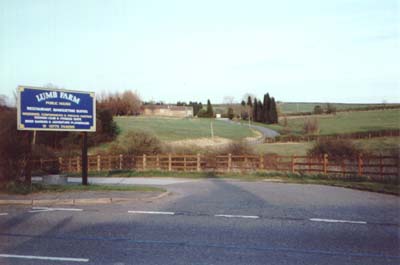 GPS Co-ordinates:
WGS84: 53° 1.9' N, 1° 24.3' W. The entrance gate is at N 53 Deg 1.8828 mins, W 01 Deg 24.3894 mins

OSGB: SK 400 485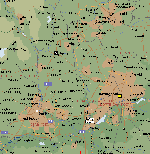 Click above map for a large version.
www.StreetMap.co.uk overall view, all the way to Liverpool
www.StreetMap.co.uk closer, showing Derby and Alfreton
www.StreetMap.co.uk very close, showing the B6179 Derby Road, and Marehay
www.StreetMap.co.uk closest possible, Ripley only.
If you have any links or details for the area please let us know
Other Accommodation Possibilities
The Moss Cottage Inn, Ripley, reasonable prices but books fast. £46.95 per room. 01773-742-555, DE5 3JT (1.7 miles approx)
The Hop Inn, Openwoodgate, Belper, 01773 823900. Inexpensive.
(3 simple miles from the venue)
The Lion Hotel, Bridge Street Belper DE56 1AX Tel 01773 824033 - Fax 01773 828393
"The Lion Hotel is situated in the centre of one of Derbyshire's most historic towns - Belper. The hotel provides an extremely high level of comfort and service." (4 Miles from the venue) Email
Talbot Hotel, Belper. Tel: 01773-822258 (5.3 miles)
Information about the area
Ripley Information Centre, Ripley Town Hall, Market Place, Ripley DE5 3BT
Tel: 01773 841488 Fax: 01773 841487
"Denby Pottery Visitor Centre, Derby Road, Denby DE5 8NX, on B6179, south of the town, has a museum, guided factory tours and a shop of the famous Denby Pottery Open: factory tours, Mon-Thu 10:30 & 13:00, Fri 10:30; Craft room 10:00-15:30 daily. Factory shop Mon-Sat 9:00-17:00."
Midland Railway Centre, Butterley Station, DE5 3QZ , a very big collection of steam & diesel locomotives, with coaches & goods wagons as well as miniature and model train layouts. Shop, etc, Tel: 01773 570140
Wingfield Manor, South Wingfield, A610 then A6 before right to Crich and South Wingfield, ruined 15th-century mansion and tower used in the film "Jayne Eyre" and TV series "Peak Practice", Mary Queen of Scots was once imprisoned here, Tel: 01773 832060 Open: Wed-Sun Apr-Nov"
Derbyshire UK has links to everything you want to know about the area itself.
Derbyshire Curiosities - Derbyshire curiosities looks at some of the natural and man made oddities to be found in Derbyshire and the Peak District. Check out the plague cottages at Eyam and other oddities.
Derbyshire Photo Gallery for some pictures of the area.
Derbyshire Customs will acquaint you with some of the odder local practices, including Well Dressing, evidently a BIG activity in the area during the summer. Unfortunately, our event will be too late for you to participate in Royal Shrovetide Football in Ashbourne on Shrove Tuesday, which sounds like great fun! "The goal posts are 3 miles apart. It has little to do with normal football, for the game has few rules. Murder and manslaughter are barred as is the transportation of the ball by vehicle. Play after midnight is also forbidden."
Local Hosts
Glynn Roberts is the lead organizer of this event. Thanks Glynn, you continue to do an amazing job!
If you have any questions:
with rideout registration, vendor, venue and speakers questions.
See you at a meeting this year!
Grant and Susan
---
Member login
Are you an Overland Adventure Traveller?
Does the smell of spices wafting through the air make you think of Zanzibar, a cacophony of honking horns is Cairo, or a swirl of brilliantly patterned clothing Guatemala? Then this is the site for you!
Hosted by Grant and Susan Johnson, RTW 1987-1998
NEW! HU 2015 Motorcycle Adventure Travel Calendar is now available! Get your copy now for some terrific travel inspiration!
HUGE, 11.5 x 16.5 inches, beautifully printed in Germany on top quality stock! Photos are the winning images from over 600 entries in the 9th Annual HU Photo Contest!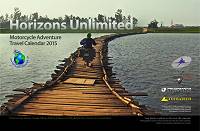 "The calendar is magnificent!"
"I just wanted to say how much I'm loving the new, larger calendar!"
We share the profit with the winning photographers. YOU could be in the HU Calendar too - enter here!
Next HU Events
NEW!

USA Virginia: Apr 9-12, 2015
Take 40% off Road Heroes Part 1 until October 31 only!
Road Heroes features tales of adventure, joy and sheer terror by veteran travellers Peter and Kay Forwood (193 countries two-up on a Harley); Dr. Greg Frazier (5 times RTW); Tiffany Coates (RTW solo female); and Rene Cormier (University of Gravel Roads).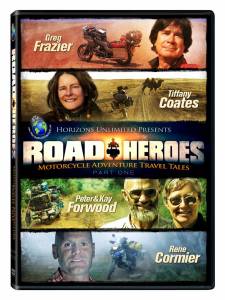 "Inspiring and hilarious!"
"I loved watching this DVD!"
"Lots of amazing stories and even more amazing photographs, it's great fun and very inspirational."
"Wonderful entertainment!"
Check it out at the HU Store! Remember to use Coupon Code 'HEROES' on your order when you checkout.

10th Annual HU Travellers Photo Contest is on now! This is an opportunity for YOU to show us your best photos and win prizes!
Books

All the best travel books and videos listed and often reviewed on HU's famous Books page. Check it out and get great travel books from all over the world.