Want to know what people thought of other HU Meetings? Is it worth coming to the Meeting?
"I'm so looking forward to another UK meet. My only problem is that I simply can't get to every talk I want, such is the amount of terrific presentations on offer. Each year I've been astonished at how articulate, intelligent, informative and entertaining the speakers are. I'm willing to help with anything that doesn't keep me from a talk - and my timetable will be full to bursting!" More comments here.
See what it was like at other Portugal Meetings:
2008 in Freixo de Espada à Cinta
2007 in Gois
2006 in Gois
2005 in Gois
2004 in Gois
2003 in Gois
The Plan
The plan is simple. Show up on Thursday or at the latest Friday afternoon, meet people and setup. Travel Presentations and Tech seminars are planned throughout the meeting, starting Thursday night.
2010 Speakers and Tech Seminars (so far, many more to come):
Presentations in English or Portugese as possible.
Spend less, enjoy more

Austin Vince

, Twice around the world, of Mondo Enduro and Terra Circa fame, will give the most entertaining presentation you're ever seen!
DIY adventure travel is the new burgeoning scene. Find out more from the master of no-budget thrills, Austin Vince

Alaska to Ushuaia and Europe to Cape Town

Lois Pryce

, 'Lois on the Loose', will have her new book on her African adventures
A woman alone on a 250 dirt bike!

Touring India
Pizza Boy goes to the Sahara
Women only

a very popular session - I'm told it's a must for the ladies, so be sure to plan on being there! A chance to talk to experienced travelling women without the men around!

Fix that flat! How to change a tire anytime, anywhere

Workshop
How to prevent flats in the first place, and fix them when you get one. The best tools and how to use them for tube and tubeless tires. Hand's on practical and tire changing contest for beginners to experts!

Experienced Travellers Panel - ask the experts anything you want!
and more to come as we get closer to the date.
How about you? We're all here to learn, and there's LOTS to learn! We want to do more presentations and seminars - but we need volunteers to give them! Any topic you can contribute having to do with motorcycle travel, maintenance, planning etc, lasting 20 minutes or more, would be great. Please contact me here to volunteer.
To give you an idea of what we plan to have for you, here's the seminars we had for the 2007 Portual Meeting:
The Achievable Dream

Grant and Susan Johnson, Canada
Learn from Horizons Unlimited's founders and 11 year round-the-world veterans everything you need to know to ride to the next country or the next continent. Sound scary? Get the inspiration and information so YOU can hit the road! In two parts: 10-12 and 1-3PM.

Fix that flat! How to change a tire anytime, anywhere

Grant Johnson, Canada
How to prevent flats in the first place, and fix them when you get one. Grant's changed thousands, and will show you all the secrets to make it easy. The best tools and how to use them for tube and tubeless tires. Hand's on practical and tire changing contest for beginners to experts!

Prep your bike for the long trip!

Grant Johnson, Canada
Is your bike ready for long distance travel? Grant will conduct a hands on assessment and discussion of bike set up and prep, looking at YOUR bike.

Photo Composition for Travellers

Grant Johnson, Canada
The one everyone SHOULD take, but no one does... We all want to take great photos of our trip - so why don't we? This easy clinic will transform your photos from boring to fabulous! There may also be an advanced class if enough interest - bring 10 photos on a USB key or SD card for discussion.

Riding Gear - what works and what doesn't

José Fonseca, Portugal,
Sponsored by SPIDI.

Portugal goes to the USA!

Henrique Araújo, Portugal,
The adventures and misfortunes of Portuguese bikers in the US

First-Aid for Motorcyclists

Anatilde Ramos, Portugal,
The more common injuries suffered by bikers, how to avoid them and how to act in the unlucky event of suffering one

Around the World!

Carlos Azevedo, Portugal,
Até ao fim do mundo (RTW in several legs)

Orienteering

Filipe Elias, Portugal,
Everything you need to know about orienteering (in Portuguese)

South American journey

João Pedro and Américo Cardoso, Portugal,
From Buenos Aires to Ushuaia
There will be slide shows and talks Friday and Saturday night, as well as all Saturday morning and afternoon, and Sunday too, (see the 2010 schedule (to come) so come early and make it a great weekend! We recommend planning on riding Friday and Sunday, and leaving time for Seminars all day Saturday.
Rideouts
Rideouts are limited to 6 or 10 people per ride, no exceptions.
All rides will be back on site at or before 5.00pm
All rides are "register on the day." There will be signup sheets for each ride posted the evening before. First in best dressed.
Food
Details to come...
Camping
Camping and accommodation is NOT INCLUDED in your registration fee.
Travel Vendors
We're looking for Travel Equipment vendors to come and display your products, and sell as well. Please contact Grant in London or Antonio in Portugal.
Touratech - expected
Spidi

Books - get your signed copy direct from the Author!
Austin Vince Mondo Enduro - Around the world on DR 350's, Terra Circa, and again, and the first through Russia's Zilov Gap. Books and DVD's!
Lois Pryce: "Ladies on the Loose" Alaska to Ushuaia solo, and "Red Tape and White Knuckles" Europe to Cape Town by the West coast of Africa, solo.
Are you an author coming to the meeting?
Leaving on a big trip?
Plan on leaving from the Meeting! We'll make it a great send-off! Or coming home around the time of the Meeting? What a great place to arrive at!
Schedule
All times - and everything - approximate!
An up-to-date schedule will be posted at the Meeting.
Friday
CHECK-IN and sign up! You MUST be registered to go on a ride or entry to any events, clinics etc.
Friday night
18:00h Official Opening of the meeting/Registration
19:00h Dinner at a local restaurant
21:00h Presentations start.
Saturday morning
10:00h Boat trip in the Douro International Park - not confirmed!
Rideouts - details here if you're riding on your own.
Saturday Lunch
noon-ish! :) Feed yourself... or join us for lunch in a local restaurant
Saturday afternoon,
Tech Seminars, details to come. If you want to volunteer to lead a seminar or breakout session, on any appropriate topic, please contact us. We have had lots of interest in seminars, ranging from 30 minutes to several hours, on subjects from GPS to packing lists to tire changing.
Saturday, dinner
18:30 sharp, barbecue! Barbecue dinner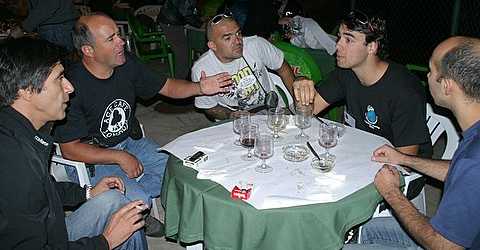 21:00 sharp:
Speakers presentations
21:00 (not sharp) - Door prizes - you have to be there to win!
Sunday
Breakfast in town
Head for home, hang around and chat, or head out for a last ride!
I hope everyone enjoys the meeting, and wish you a great journey home.
Antonio
Miscellaneous notes:
Organizers will be available most of Thursday, if anyone wishes to arrive early and just hang out or go for a ride in the area. Contact Antonio if you need information for early arrival.
Registration
Entry fee includes admission to the slide shows on Friday and Saturday, and other events during the day Friday and Saturday.
Sorry, PRE-Registration is now CLOSED, however you can just arrive on the day and register.
NOTE: Due to a problem with shipping the t-shirts, if you want a tshirt, they will be shipped out to attendees later, with free shipping.
Membership - Show you're proud to be a Horizons Unlimited Traveller!
Just to clarify the membership situation: Currently there is no requirement to be a member to access the website, the HUBB or to receive the monthly e-zine. For now, what you get for your membership contribution is our sincere gratitude, good karma and knowing that you're helping to keep the motorcycle travel dream alive.
We will also upgrade your status in the HUBB to Contributing or Gold Member. In addition to recognising your contribution through your status, this will allow you to upload a custom profile picture and custom avatar, store more private messages, upload more pictures, add events to the calendar and create polls.
If you wish to buy a t-shirt, mug, fleece jacket or other Horizons logo product from the Souk, you can purchase Member or Gold Member logo products at the basic price. Just let us know and we can arrange access to the Members Private Store.
Note that new Memberships with your Meeting Registration are applied as of the Meeting date or as soon as possible thereafter, not earlier, unless you make a special request in the Comments box when you register.
T-Shirt Deal
Cotton: Top quality heavy cotton t-shirts in black or grey.
Synthetic: (Dri-Fit) t-shirts are in a beautifully made wicking material, and make great travel / riding t-shirts as well as all-round wear t-shirts. Available in a variety of colours at most meetings, and always black or grey. The order section will list the colours available.
Note that we will have a very few t-shirts extra at each meeting, but very limited - we can't carry many! So please pre-order and pay in advance so you can be sure of getting what you want.
2012 Tshirt slogan "The open road is calling, and I have a world to ride!"
Back:
(large, full back)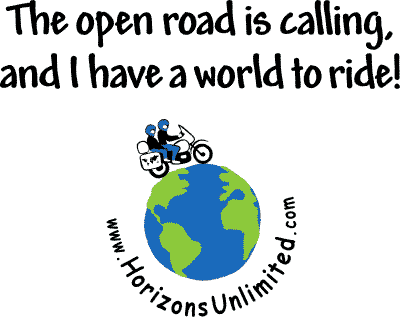 Front: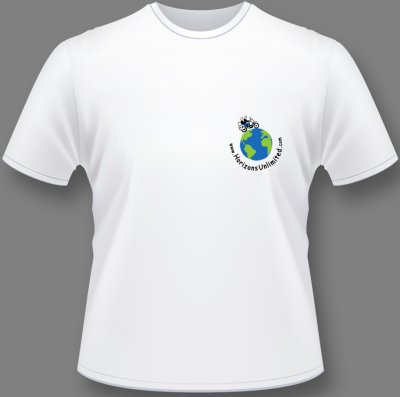 You can help!
If you have a few minutes, please download the poster (Adobe pdf format) and print off a few and hand them round your club or your local bike shop or anywhere seems like a good place.
(You may need to right click and choose "save target as...")
Poster in pdf format, English (886kb) full colour 2010 poster.
Poster in pdf format, Portuguese (886kb) full colour 2010 poster.
Thanks for the help!
The Meeting Location for 2010
Parque de Campismo de Gois, the web site is www.goiscamping.com
Getting There - GPS, Maps
The town of Góis is near Coimbra (ca. 40Kms) and about 200Kms north from Lisbon and 160Kms south from Oporto.
Here's the coordinates:
Camping - N 40º09.255' W 008º06.829'
Everything is within easy walking once there:
Presentations Room - N 40º09.254' W008º06.616'
Restaurant - N 40º09.266' W 008º07.089'
Hotel - N 40º09.343' W 008º06.678'
Click the map above for a high quality version.

Entry gate to "Parque de Campismo de Gois"

camping area

grounds

on the grounds
If you have any links or details for the area please let us know.
Other Accommodation Possibilities
If you want a bungalow for up to three people at the meeting, they can be ordered IN ADVANCE ONLY, for €40. Contact António Caldeira, +351 93 830 61 70 or +351 93 110 36 30
More Accommodation:
Note that nearby accomodation is scarce. There's a small hotel called Casa de Santo António ( ) where we've already booked 10 rooms, (be sure to tell them you're with Horizons Unlimited, and António Caldeira booked rooms, and you want one of them) and in Arganil (15Kms away) there is another hotel called Hotel de Arganil which has plenty of rooms.
If you have any more information for the area please let us know.
Information about the area
If you have any links or details for the area please let us know.
Local Hosts
António Caldeira is the organizer for this event. Thanks António! If you want to help make this an even better event, please contact António. He could use some assistance!
If you have any questions, he can be contacted here:
António Caldeira
Rua Marques de Oliveira, 22 - 1º
4250-280 PORTO
Telephone: +351 938 306 170 or +351 931 103 630
for further information.
Local sponsors:
See you at a meeting this year!
Grant and Susan