Colorado 2007: Third Annual HU Travellers Meeting
Silverton, Colorado, July 12-15, 2007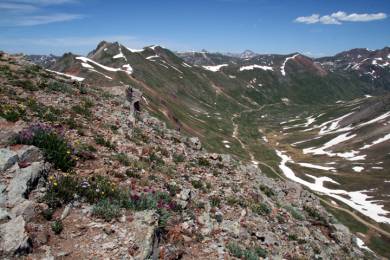 See what people thought of one of last years meetings here. Or get the DVD about the 2005 HU Colorado Travellers Meeting! Free trailer here.
The Plan
2007 Speakers and Tech Clinics:
The Ultimate Journey

Chris and Erin Ratay, USA, 4 years around the world.
A multi-media show that's guaranteed to make you want to leave - now!

The Achievable Dream

Grant Johnson, Canada
Learn from Horizons Unlimited's founder and 11 year round-the-world veteran everything you need to know to ride to the next country or the next continent. Sound scary? Get the inspiration and information so YOU can hit the road! FRIDAY 9-1 PM.

Dusty Days of Freedom
Your NEW bike doesn't fit you!

Tyler Dollard, USA Northern Colorado BMW / Ducati Motorcycles
Ergonomics! When you pickup your new bike, did they take the time to make it fit you? You'll learn the amazing difference a properly setup bike makes to your riding fun.

First-Aid for Motorcyclists

Leo Lloyd, USA, RN/Paramedic
What supplies and drugs to carry in your first-aid kit, where to get first-aid training, and a hands-on demonstration on how to deal with a classic problem: a downed bike and a broken leg.

Photo Composition for Travellers

Grant Johnson, Canada
The one everyone SHOULD take, but no one does... We all want to take great photos of our trip - so why don't we? This easy clinic will transform your photos from boring to fabulous! There may also be an advanced class if enough interest - bring 10 photos on a USB key or SD card for discussion.

Motorcycle Filters, Who Needs 'em?

Harry Hill, USA, Basin Motorcycle Works, Durango CO
Every bike, regardless of make or model, needs a breath of fresh air, a gulp of clean fuel, and a bath of slippery oil. Learn how to choose and properly maintain all of your bike's filters.

Cold Cranking Power to Spare

Mark Stetz, USA
Batteries are those semi-mystical lead weights that store and deliver electricity when we need it. Learn about the different types of batteries, how to service them, and how to get home when your electrons have all gone south.

Take it or leave it, Packing for the road ahead

Jeremiah St. Ours, USA
Everyone's list is different. This clinic will help you decide what really matters to you, so that you'll only carry what's needed and leave the rest behind.

Creating an outdoor office, Planning for the road ahead

Jeremiah St. Ours, USA
Getting organized and staying organized are two different things. Everyone needs an information system that's capable of enduring the rigours of the road.

Fix that flat! How to change a tire anytime, anywhere

Jim Stanley, USA
How to prevent flats in the first place, and fix them when you get one. The best tools and how to use them for tube and tubeless tires. Hand's on practical and tire changing contest for beginners to experts!

Ride Costa Rica

Eric Sargent, USA
How to crash in Costa Rica...Our Central American neighbor has two oceans, scenic vistas, tropical rainforests, exotic wildlife and great roads to ride! Eric lives part-time in New Mexico and part-time in Costa Rica and will give us a primer on saddling up and coming down.

Copper Canyon, Mexico

Arturo Macias, Mexico
Arturo's been riding in the famous Copper Canyon for some 30 years, and knows about everything there is to know. He'll tell you why you REALLY want to go, what's there to see and give you some tips on the area.

Off-pavement basics.

Grant Johnson
New to off-road riding, especially on a big trailie? Grant will talk about where the beginning dirt rider goes wrong and what to do about it. We will also conduct a basic training clinic - sign up on the day!

Riding and Filming the Trans-America Trail

Michael Murray
Riding 5,000-miles across the United States... without touching pavement.
NOTE: Northern Colorado BMW/Ducati was on hand as support and with lots of goodies for you!
Basin Motorcycle Works of Durango also had some of the basics; tubes, oil etc.
Rideouts
Rideouts - limited to 10 people per ride per group.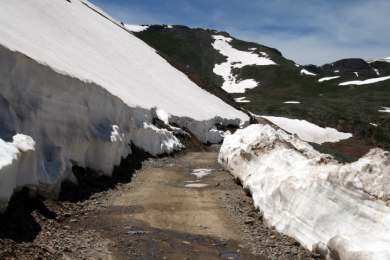 Off-road ride leaders:
Dave Gottenborg
Chris Ratay
Erin Ratay will lead a women only ride, pavement and graded dirt, over a couple of passes and beautiful scenery.
Mark Stetz will lead a road ride to some very interesting areas you probably wouldn't find otherwise.
Do-it-yourself Ride information and pass information.
The Alpine Loop Mountain Bike Ride is an awesome trip, long, intense, but incredibly scenic. The ridge between Engineer Pass (12,780 ft.) and Cinnamon Pass (12,620 ft.) is worth the entire trip.The route between the passes follows an exposed ridge above tree line with views in all directions for miles. The route passes old mining ruins and ghost towns like Capitol homestead. Mill Creek and Henson Creeks are lovely drainages. The route looks down into Silverton and Ouray and the 14'ers in the area, Redcloud, Sunshine, Handies, Uncompahgre, and the Wetterhorn, are all visible.
These two are about the same, but from very different perspectives.
Alpine Loop National Back Country Byway. The Alpine Loop follows back country roads through the Alpine Triangle recreation BLM area. Lake City, Silverton, or just south of Ouray can be used as starting points for the byway, and visitors can make a loop between these points.
The Alpine Loop Scenic and Historic Byway leaves the pavement and people behind, crossing the remote, rugged, spectacular heart of the San Juan Mountains. It's demanding: the two 12,000-foot passes (Cinnamon and Engineer) require high-clearance four-wheel-drive vehicles, but the rewards you will reap are unparalleled: pristine mountain views, hiking and biking trails, spectacular camping opportunities, and plenty of solitude. Part of the loop is accessible by 2WD vehicle and is well worth the drive.
More ride info to come. Send in any you have!
Food
The food was terrific! And a great deal, with fabulous desserts - I had two... :)
Schedule
All times - and everything - approximate!
An up-to-date schedule will be posted at the Meeting.
Thursday morning
CHECK-IN and sign up! You MUST be registered to go on a ride or for entry to any events, clinics etc.
9:00 Ride briefing. Be gassed up and ready to ride if you're going
Evening dinner 6:00, then introduction and a presentation or two.
Friday
CHECK-IN and sign up! You MUST be registered to go on a ride or entry to any events, clinics etc.
9:00 Ride briefing. Be gassed up and ready to ride if you're going.
9:00 Tech Clinics. Grant Johnson's "The Achievable Dream" 4 hour "How to ride around the world, or just to another continent" seminar (2x2 hr) is Friday morning! Also other clinics - see schedule on the day!
1:00 Lunch
Friday night
7:00 pm
Speakers presentations start, so be sure you've eaten early!
Saturday morning
7:00 - 8:00 - Breakfast
9:00 Ride briefing. Be gassed up and ready to ride if you're going.
Rideouts - off-road runs.
Saturday Lunch
1:00 Lunch
Saturday afternoon,
On road runs - we'll post a sheet of paper up for you to add your name to a destination, volunteers to lead appreciated!
2:00 Tech Clinics. We have a number of tech clinics of interest planned, so check the schedule Friday on-site for latest details.
Saturday evening,
7:00 pm sharp:
Speakers presentations
9:00 Door prizes - you have to be there to win!
Sunday
Breakfast in town
Head for home, hang around and chat, or head out for a last ride!
Miscellaneous notes:
Organizers will be there most of Thursday, hopefully Wednesday too, if anyone wishes to arrive early and just hang out or go for a ride in the area.

Membership - Show you're proud to be a Horizons Unlimited Traveller!
Just to clarify the membership situation: Currently there is no requirement to be a member to access the website, the HUBB or to receive the monthly e-zine. For now, what you get for your membership contribution is our sincere gratitude, good karma and knowing that you're helping to keep the motorcycle travel dream alive.
We will also upgrade your status in the HUBB to Member. In addition to recognising your contribution through your status, this will allow you to upload a custom profile picture and custom avatar, store up to 50 private messages, upload more pictures (10 MB maximum storage) and create polls.
Another benefit we can provide is if you decide you want a t-shirt, mug, fleece jacket or other Horizons logo product from the Souk, you can purchase Member logo products at the basic price. Just let us know and we can arrange access to the Members Private Store.
T-Shirt Deal
Top quality heavy cotton t-shirts in black, or grey if pre-ordered. We will have a range of sizes available, but quantities will be very limited, so if you wait till the day, there might be none left in your size.
The new Synthetic t-shirts are in a beautifully made wicking material, and make great travel / riding t-shirts as well as all-round wear t-shirts. Available in black or grey at most meetings. MUST be pre-ordered.
Note that we will have a few black cotton t-shirts extra at each meeting, but anything else must be pre-ordered and paid in advance.
You can help!
If you have a few minutes, please download the posters ( Adobe pdf format) and print off a few and hand them round your club or your local bike shop or anywhere seems like a good place.
Poster in pdf format (886kb) full colour 2007 poster. (You may need to right click and choose "save target as...")
Thanks for the help!
The Meeting Location for 2007
Silverton, south of Denver, Colorado.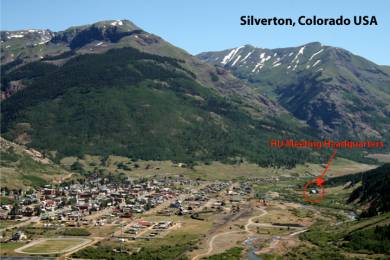 Silverton is on US Highway 550, high in Colorado's San Juan Mountains, almost 50 miles north of Durango, and 25 miles south of Ouray. Silverton is also accessible via the Alpine Loop - 4 x 4 "only" - from Ouray and Lake City, or over Ophir Pass from Telluride. Detailed directions below the maps.
On site is camping only, other accommodation a short walk away. It's only a 5 minute walk to Main Street.
Pavement only riders - There's tons to see from the pavement, including the world-famous and historic narrow-gauge train which runs through the mountains to Durango.
Off-pavement riding - The riding around Silverton through the San Juans ranges from beginner to advanced. It is high, wild, and rugged with great views everywhere. There are also a number of interesting towns nearby, reached via high, off-road passes.
Elevation: 9313 feet (2839 meters)
Climate
Summer: Nights 30-50F degrees Days 50-75 degrees
Winter: Nights - 30 -30 degrees Days 20-60 degrees
Mean temperature: January 17 degrees, July 56 degrees
That means it's COOL at night so bring the warm sleeping bag! It also means ideal riding temperatures! :)
Maps
Distances:
Durango - 50 miles
Montrose - 60 miles
Ouray - 23 miles
Telluride - 75 miles
Google area Map here, and Google Town map here (ignore the arrow - it's just the center of town. The building and campground are located right where it says: "Kendall Mtn Rec Area" at the south-east end of town.)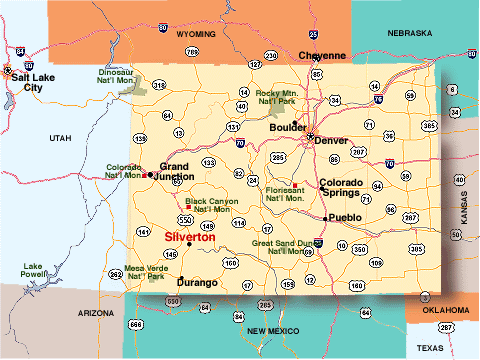 Directions in town:
Driving north on Silverton's Main Street, turn right at 14th street (there is no street sign, turn right at Silverton City Hall, an historic red stone building).
Follow on gravel road straight ahead approximately 1/4 mile, across the Animas River, and dead end at KENDALL MOUNTAIN BUILDING (wood with green metal roof).
The building has no official address, so you cannot use MapBlast or MapQuest to get there.

Information about the area
Internet Services: Public Library has a T1 connection to the Internet.
Any info you have on the area, rides etc, please let me know.
---
Basin Motorcycle Works,
29465 Hwy160 East, Durango, CO 970-759-9189. Ask for Harry if you want anything brought to the meeting - like tires! :)
---

Northern Colorado BMW/Ducati Motorcycles are very generously supporting the Meeting, and will be there with supplies and goodies for sale! Don't forget to say "thanks for coming" when you visit them at their shop or at the Meeting! You can also ask them to bring you tires or whatever you need.
Local Hosts
Jeremiah St. Ours was the lead organizer of this event, with the very able help of his wife Ginger. Thanks guys!
If you have any questions, contact here.
We also want to thank all the attendees who assisted so quickly when we needed it, and helped clean up after all of us. We were told after "I've never seen it so clean!"
See you there in 2008!
---
Member login
Are you an Overland Adventure Traveller?
Does the smell of spices wafting through the air make you think of Zanzibar, a cacophony of honking horns is Cairo, or a swirl of brilliantly patterned clothing Guatemala? Then this is the site for you!
Hosted by Grant and Susan Johnson, RTW 1987-1998
Next HU Events
Now that summer is here, get On the Road! Take 30% off the Achievable Dream - On the Road! 2-DVD set until August 31 only.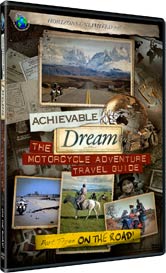 Our veteran travellers share their tips (and great stories) for st