| | |
| --- | --- |
| UK - Ghana 2012/13 | |
Ride Tales
An easy way to post your ride reports, whether it's a weekend ride or around the world. Please make the first words of the title WHERE the ride is. See the announcement in the forum for details on posting. Please do NOT just post a link to your site. For a link, see Get a Link.

ALL HU Travellers Meetings now open for registration. We hope to see YOU at one of them this year!

12 Nov 2012
Gold Member

HUBB regular

Join Date: Nov 2006

Location: uk

Posts: 59
UK - Ghana 2012/13
---
We're Mark and Gemma and we decided to come to Africa on our Harley Davidson Ex Military MT350's. We're hoping to get as far as Ghana then we'll turn around and come back!

Our trip started in Morocco in October and so far it's been interesting to say the least.


Rain, gale force winds (nearly blew us off the road in the Rif mountains), more rain and the Eid holiday (think Christmas Day in UK - nothing open for 3 days, bad planning on our part).


Fez was closed - apart from proper touristy trap places, next stop was much better, Moulay Idriss a little hill top town that was closed to non muslims until recently. We stayed in a family home in the middle of the medina, Felt like we were seeing real Moroccan life. Other guests included a libyan family. mum spoke a bit of english - 'Bengazi is a great place, Libya's now safe' good to know but I'm not entirely convinced!. She had her whole hands and feet hennaed in the lounge so I (Gemma) got my hands done too (for pennies). Mark offered his head but they just laughed at him! At the same time a wedding party was singing and dancing its way past the door. Fantastic.

Some of the scenery has been spectacular but the cold and wet weather has kind of obscured some of it for us.

It's quite pricey here compared to Asia, our room at Moulay Idriss was 200 dirham a night - about 20 euros a night but hoping to keep it cheaper when we can start camping. And of course they drive like eejits, especially in the towns, with cars, buses, trams, cycles, scooters, donkeys and people coming at you from all directions, normally the wrong one. Foods been a bit boring so far but thats mainly because our restaurant choices were limited because of Eid. They definitely like their french pastries and fresh mint tea ... and at the moment there's a brisk trade in boiled snails along the boulevard outside our hotel.

We're now in Rabat (capital)- to get our Mauritanian visa - just picked our passports up this afternoon complete with visa.. Met a man who is going to cycle all the way to Cape Town and back! Our little bikes have been parked on the pavement, chained together for the last 2 days while we negotiated embassies and insurance shops and tried not to spend too much money. But - Rabat mission successful so tomorrow we'll start to make our way south - and once we're over the Atlas mountains the weather should get better.!!! Inshallah.
And the Sahara begins. Very exciting.
---
Last edited by gemmasun; 12 Nov 2012 at

14:54

. Reason: change name of post


12 Nov 2012
Gold Member

HUBB regular

Join Date: Nov 2006

Location: uk

Posts: 59
Uk to Ghana Week 2 - Morocco 01/11 - 12/11
---
Week 2 of our trip has been eventful to say the least! A low speed accident, we got hopelessly lost in the suburbs of Marrakech, were extortionately fined by the corrupt Western Sahara traffic police and suffered a major bike breakdown. Non stop action.....
I'll start at the beginning.......we left Rabat (complete with Mauritanian visas) early in the morning with plans for crossing the High Atlas via a scenic piste (off road route) we'd read about, staying in a little village high in the mountains. Fate decided otherwise. Coming out of Rabat it started raining (again) and a van pulled out very slowly right in front of Mark, who, of course, had to brake hard to avoid hitting him. I (Gemma) also had to brake hard (our tyres are not great in the wet), hit a patch of diesel, skidded, and lost the front end of the bike. Leaving both me and my bike looking very undignified sprawled in the road. No real harm done, but my shoulder was pretty sore and I was shaken up. Riding on a rough mountain road with an injured shoulder was not the best idea.
So plan B. We headed to Marrakech for a bit of recuperation and arrived at the very edge of town about 16.30 ....... 4 hours later we FINALLY found the centre of town and got a hotel. How on earth we could ride around Marrakech for 4 hours and not find the central Medina? Well we don't know (errrrr... no road signs, GPS packed in, locals looked at us blank when we asked for directions.....) but that's what happened. Thank god there was a friendly Irishman at the hotel who pointed us in the right direction for a

!
Despite the bad arrival, Marrakech was pretty good. We did the obligatory getting lost (again) in the maze of a medina, ate dinner in the Djema el Fna, watched the snake charmers and gawped at all the other odd entertaining acts (I was particularly baffled by the man with a stall of what looked like human teeth) and generally enjoyed ourselves being tourists for a day or 2. Oh and the rain stopped....... hurrah, Mark got his legs out.
Leaving Marrakech we only got about 5kms down the road and my centre stand spring broke. Said item was on the list of spares we bought before we left France but was missed from our order! Typical. Mark bodged it using Eurocamp tent rubbers and it seems to be holding on just fine. Back on our way for the next stage of our journey through the High Atlas mountains on a tiny winding road that took us over the Tis-n-Tes 2100m high pass. Now.... this was the Morocco we'd dreamed about. Absolutely stunning scenery with little mountain villages that looked like part of the landscape and deep green valleys below us. We saw our first camels...... However we underestimated how long this tiny road would take us. So the last 30km to Tafroute were in the dark!!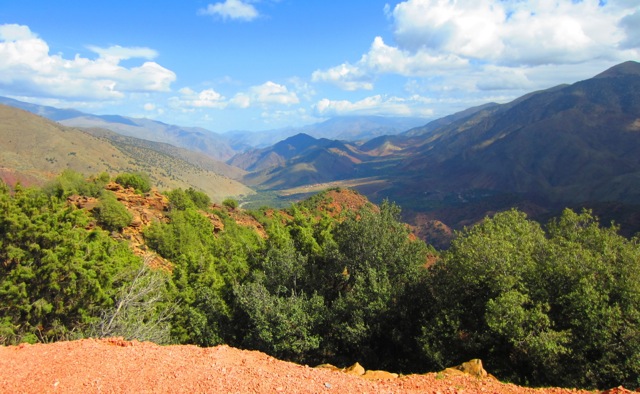 Sidi Ifri on the atlantic coast was our destination the next day..... good riding conditions for some more beautiful Moroccan mountain roads out of the Anti Atlas. The bikes are both running great. And this day we make good time and really enjoy the last 50km of coast road. Settled on the very cheap campsite right by the ocean and before we even got our tent up we were invited for drinks by a Dutch/Belgian couple who were in the camper van next door. Eric and Lieke were so generous, they adopted us for the evening, plied us with

and wine and even cooked us dinner! All this sitting on the terrace looking over the Atlantic Ocean. Fantastic.
From here we entered the Western Sahara.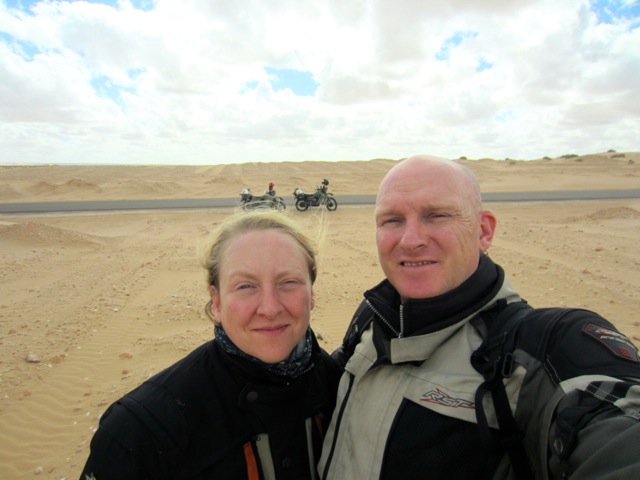 This region is not recognised as being Moroccan by the rest of the world and the UN are here in numbers to oversee the cease fire between the Polisario (the indigenous Saharan people) and the Moroccans. Because of this and various outbreaks of violence over the years there's lots of Moroccan security forces here and checkpoints at regular intervals on the main highway. Every time there's a checkpoint we have to give ALL our details (including our parents names, our occupations, our vehicle details etc etc). We have prepared these 'fiches' as they're called so we can simply hand them over and be on our way and so far the National Gendarmerie, who handle this security have been really friendly and courteous (and admired our bikes). On the other hand I have nothing good to say about the 2 traffic policemen that stopped us for an 'infringement' just as we were leaving a town called Tan Tan. Hmmmmmm!! Infringement my arse. They said we didn't stop at a stop sign. Which actually we didn't, but the road was totally empty and safe and we were joining the flow of traffic not crossing on coming traffic. Okay so we couldn't argue with them although I tried a bit of womanly pleading.... but no go.... they wanted to fine us 700 dirhams each. In our money thats 70 Euros a go. Eventually they allowed us to simply have one fine rather than 2 and duly filled out the official form with all the details. On further examination later on, as I thought, no mention of the amount of the fine. There's NO way the fine amount in Morocco for this is 700 Dirhams, maybe 70. It must have been like payday for them. We were not amused.
After a long 500km ride we turned off the main road and headed 4 and a half kilometres down a sandy rocky track to Camping Les Bedouin. What a spectacular spot, next to a calcified waterfall and salt flats, 30m below sea level. We took one of their bedouin style tents to save us time with ours in the morning, what a view..... The camp is run by a friendly French guy, Luc, whose lovely Moroccan wife, Martine made us a mean camel and date tagine for dinner, washed down with a couple of 'Flag'

s.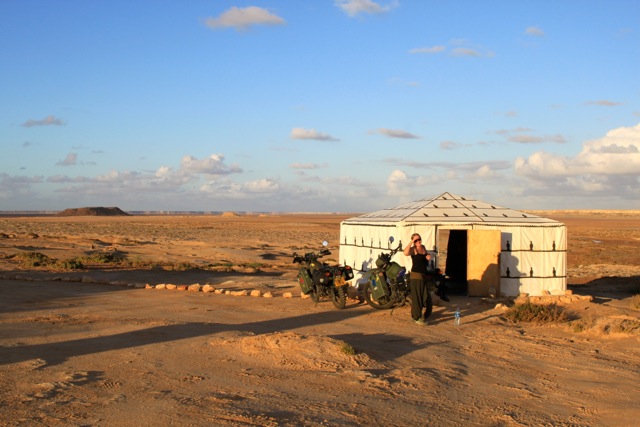 The next day disaster struck. My (Gemma's) bike lost power, cut out and wouldn't start up again. Pushed off the road we saw there had been a big oil leak and the tools came out. On investigation it appeared that the crankshaft pulley had fallen off. We put everything back together again and thought we had it fixed .. but no, 5 minutes later it cut out again and this time it wasn't going to start. This bike was going nowhere fast (or slow). We were about 100km away from the town and starting to get frustrated and a bit worried when a grand taxi pulled up, Mohammed the taxi driver offered to put the bike in his taxi and take it back town for us..... ???? So Mohammed, his passenger and Mark lifted my bike into the boot and off we went. Mark led and I sat in the back seat of the taxi, surrounded by luggage having a surreal conversation about what my name is, am I married, am I sure I'm married, how many children, why no children, what is your job, how much do mobile phones cost in your country, oh and by the way I was a Polisario fighter (remember them from the last paragraph)and I lived in Spain for years before becoming a taxi driver ...... all the way back to the regional capital, Laayoune. Oh and all this conversation was in french with a bit of spanish thrown in as Polisario man didn't speak french....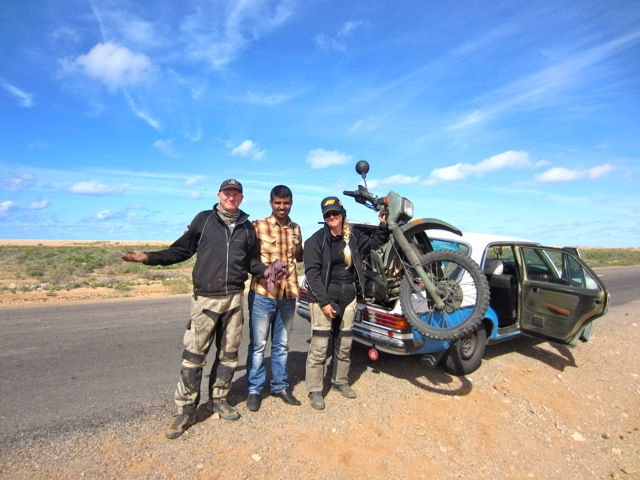 Our taxi friends took us to a mad mechanic, also no french spoken, we tried in vain to explain the problem but in the end just left him to it while we found a hotel. He turned up an hour later with the bike running, but sounding rough. We decided not to risk a long ride the next day but instead went to a nearby campsite so Mark could work on the bike. By the end of the day it seemed as though the problem was solved,by turning the pulley 180 degrees to a key groove that wasn't too mangled & a new oil seal. Took it for a test ride and it felt good. So we made our mind up to continue with our journey south the following day.
That was yesterday. And we're still in Laayoune! We set off yesterday morning in good spirits but nervous. And our apprehension was justified. Just 35 kms out of town my bike wasn't pulling right. I pulled over, it cut out - it was like Groundhog day. But this time Mark got it running just enough to limp back slowly to town. My bike aint going nowhere without a new crank shaft pulley and oil seal.
We've been on the phone to Nick at Force Motorcycles this morning who is out of stock but is pulling one off an engine for us and sending via DHL. Hopefully it'll arrive here Wednesday or Thursday. Mark can fit it Friday then fingers crossed Saturday we can be on our way to Mauritania. Our Mauritanian visa starts today and lasts for 2 weeks so the clock is ticking.....

Currently Active Users Viewing This Thread: 1

(0 Registered Users and/or Members and 1 guests)
Posting Rules

You may not post new threads

You may not post replies

You may not post attachments

You may not edit your posts

---

HTML code is Off

---
All times are GMT +1. The time now is
04:49
.