| | |
| --- | --- |
| FAQ for Ride Tales Forum | |
Ride Tales
An easy way to post your ride reports, whether it's a weekend ride or around the world. Please make the first words of the title WHERE the ride is. See the announcement in the forum for details on posting. Please do NOT just post a link to your site. For a link, see Get a Link.

8 Nov 2008
HU Founder

Veteran HUBBer

Join Date: Dec 1997

Location: Vancouver BC Canada

Posts: 4,347

FAQ for Ride Tales Forum
---
Ride Tales, Reports, Stories etc can all be posted here.
IF you have a LONG story, e.g. Around the World, you might prefer to use the
blogs
as they are more sophisticated, with signups for new entry system, unlimited photos and more.
Shorter stories on just about any ride of interest to Adventure Travellers is perfect here!
FAQ
:
How do I post a picture?
When you respond to a post OR create a new thread, you will get a dialogue box to enter your text.
There are two ways to insert a picture:
1. In the dialogue box, one of the icons, as well as the usual B for bold, I for italics etc, is one that looks like a mountain picture on a postcard - click it and "Please enter the URL of your image" pops up. Enter the url of where the image is – we like:
Picasa
,
YouTube
(Google),
Flickr
(Yahoo!),
photobucket
,
Picturetown
(Nikon), or your own website etc, click ok, and it will show in the post.
If the picture already exists on the web this is the easy way to do it - and saves us expensive bandwidth and server space.
OR
2. In the dialogue box, one of the icons on the top row is a paper-clip - the usual icon for attachments. Click it and a "Manage Attachments" dialogue pops up. (Make sure you don't have pop-up blockers on for HU - we only use pop-ups where needed and don't use them for ads - so please "whitelist" or "trust" HU to make sure these popups work). Fill in the dialogue box as needed, noting carefully the restrictions on file size and pixel dimensions. You can upload pictures both from your own computer or from the web.
Remember YOU have a limited amount of server space reserved for your use: If you are registered to post, you can upload a total of 200k of pictures, currently for Contributing Members the limit is 10 MB, and for Gold Members the limit is 25 MB.
For more on the levels for Members, Contributing Members and Gold Members etc, see here:
http://www.horizonsunlimited.com/hub...b_why_register
NOTE: We don't restrict storage for pictures on the Travellers Stories (blogs), so if you have hundreds or thousands of great pics, ask us about a blog!
How do I Post (Embed) video?
You can "embed" or "put in your post" YouTube video. When you create a new post, all you have to do is enter the YouTube code,
e.g. h1CwZgb_iAI
Then select that, and click the YouTube icon on the toolbar. That's it!
Have fun!


welcome!
Grant and Susan
Horizons Unlimited
__________________
Grant Johnson

Seek, and ye shall find.
------------------------
Inspiring, Informing and Connecting travellers since 1997!
www.HorizonsUnlimited.com


6 Feb 2009
Gold Member

Veteran HUBBer

Join Date: Jul 2008

Location: Yorkshire UK

Posts: 110
Hope this is OK, but I was PM'd by someone who didn't really understand how to link images from photobucket to the forums so I will elaborate on that.
Anyway, assuming that you have uploaded your images to photobucket your first step to getting the images onto the forum is to log on to photobucket, once logged on select albums and upload from the my albums menu.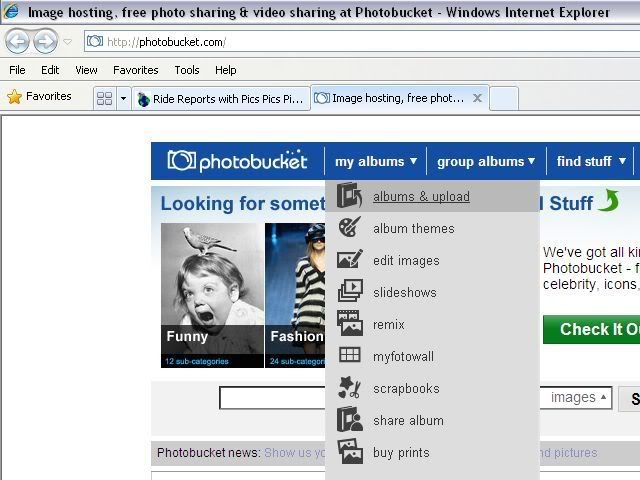 From the list of albums on the left, select the album that contains the images you want to link to, you should see the images in that album being displayed on the web page.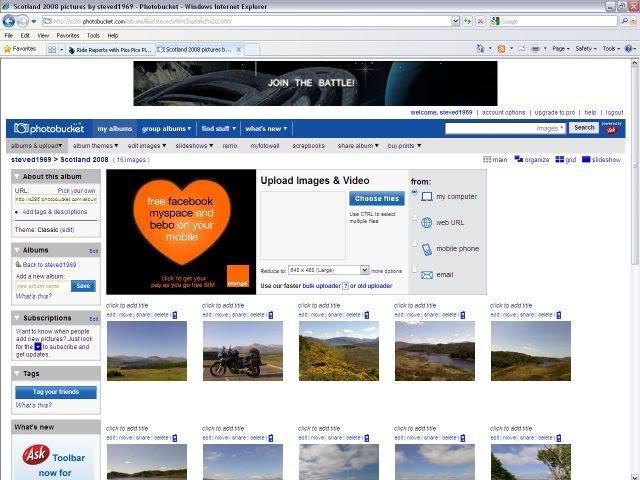 Lets assume that I want to display the second image (my transalp with Ben Nevis in the background) within the forums.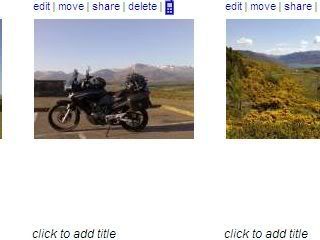 I simply move my mouse so that it is pointing to the image and you should see a menu drop down below it like this.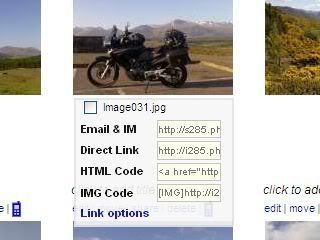 The section I need is the IMG code (highlighted in red),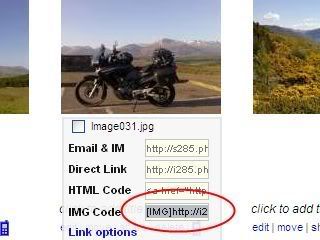 All I do is click on the highlighted text with the left mouse button, right click in it and select copy (depending on the browser you are using you may not need to do that). That copies the following text into my clipboard
PHP Code:
[
IMG
]
http
:
//i285.photobucket.com/albums/ll68/steved1969/How%20To/demo.jpg[/IMG]

In the forum all I need do is paste that text (right click and select paste) and by the power of modern technology everyone can then look at the image and ask, why did he not park further to the right so as not to get the wall in the shot?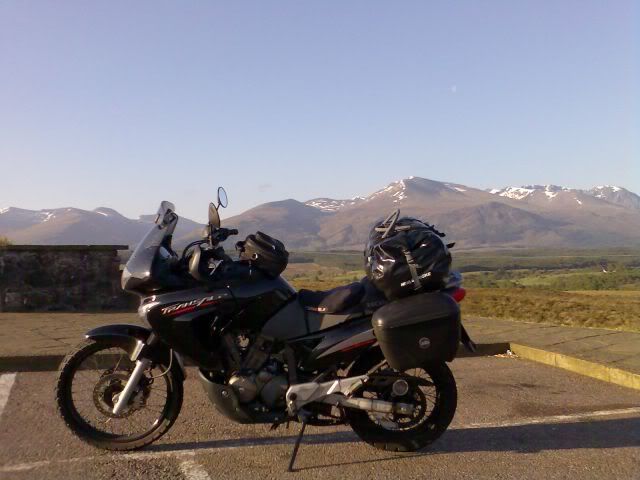 Currently Active Users Viewing This Thread: 1

(0 Registered Users and/or Members and 1 guests)
Posting Rules

You may not post new threads

You may not post replies

You may not post attachments

You may not edit your posts

---

HTML code is Off

---
All times are GMT +1. The time now is
05:45
.