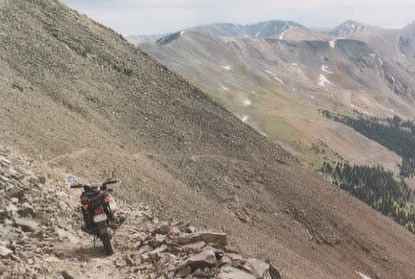 BIG DOG RIDE 2000 found House chasing motorcycle roadracer Jim Johnson, a BMW automobile service manager from Albuquerque, New Mexico over some of the highest gravel roads on the planet, at speed. Both Johnson and House, mounted on R1100GS models, knew they were dangerously close to testing their personal health insurance coverage as they slid the nearly 500 pound robo-monsters through high speed turns, but both had seen those glossy ads put out by BMW showing Paris-Cairo racers jumping similar models over sand dunes. No one had told them they "could not, never, no way, nope, can not do it" with their stock bikes. So there they were, egos pushed flat to their personal motorcycling envelopes, throttles to the stops, following another roadracer and off-road expert, Tim Sundgren on a BMW F650, which weighed nearly 100 pounds less. Sundgren, a veteran on numerous Colorado 500 "Ride of Champions", knows well the cost of a hospital visit, something he seemed to have forgotten in his effort to show House and Johnson the way home on the first day of the BIG DOG RIDE 2000.
Some entrants, like Bradford Duval and Scott Cocking, knew no boundaries as they muscled their HPN and R100 over the treacherous Pearl Pass. Cocking, whose only other motorcycle in life had been a Vespa, was able to keep Duval in his sights as they pulled well away from the rest of the field in their race over Pearl. Duval lost ground to Cocking several times as Duval's feet and hands made contact with rocks after flying through his instrument pod Plexiglas. Cocking and Duval did manage a 1st and 2nd place finish in the overall event, but not without numerous bruises and broken parts.
First time entrant Ted Hall from Belmont, Vermont said he had made numerous modifications to his 800cc BMW, but "not enough." He vowed to be back after more changes. Running at speeds in excess of 80 mph at altitudes above 12,000 feet were more than one can expect if tuning in the rolling farmland of Vermont, something cow master Hall came to learn in the land of elk and bear.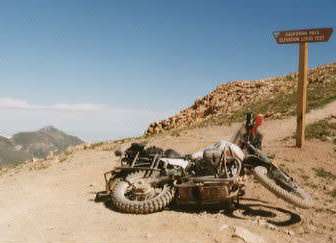 Veteran entrants like John Hudson and John Richardson of Evergreen, Colorado knew what to expect, and yet both seemed to have forgotten. Richardson crashed hard on Hagerman Pass at speed, ripping gaping holes in both valve covers. Hudson was seen stewing in his own sweat and body fluids inside his riding gear, while wallowing through the mud of Italian Pass above Crested Butte with his R100 PD. He was ready to throw in the towel and DNF after a series of get-offs moved him to the back of the pack in the A Class competition. His inner toughness over rode his bruised body and he manhandled his behemoth Beemer off the pass and into Gunnison Colorado, the finishing point for the first day. Richardson, known as "Little Dog" for his puppy-like excitement, rapidly used epoxy to seal the holes in his valve covers and went on to finish the two-day event with one of the uglier repair jobs done on the course. No man for detail or fine finish work on his motorcycle, Richardson declared it ready for his trip to Ushuaia, Argentina.
And then there are ironmen like Bob Cunningham from Livermore California who, after thrashing his R1100 GS over Taylor Pass, wondered why he was missing a rear turn signal and mud-scraper. The hole he had worn in his front fender from hitting the bottom nut on his suspension was also unexplained. Maybe an oversight in Bavarian planning as the lederhosen designers never imagined a 250-pound rider would attempt to ride a 500-pound bike over Taylor Pass?
The Bavarians also forgot to plan on a guy like 180-pound Richard Miller on an R1150GS from Pineland, Florida. Miller forgot to turn off the ABS as he started down a steep (30 degree) hill. Rain had made the trail a mudslide, and slide in the mud is what Miller did. Riding atop the beast like a rodeo cowboy on a 500-pound bull, Miller saw his life pass before his eyes (and that of the life of his pocketbook) as $15,000.00 worth of German pride gained speed as it approached the wall of rocks at the bottom. Miller, tough as he is, could not help but be crumpled when he hit bottom. He probably has a few words about the Bavarian ABS on/off design for the beer-swilling engineers in Munich if he can catch one.
John Tolliver, known to use other riders (especially females) for berm in an effort to stay with the leaders, skillfully showed how his self-installed 21 inch front wheel on his F650 greatly enhanced his handling in tight turns. Mark Reilly, a MD from Utah, showed how deft he has become at repairing R80's. His entry, a virgin 1981 R80G/S, had experienced a complete transmission failure (complete means broken housing), but time, skill and money brought back the concours level R80G/S to Hagerman, Taylor, Imogene and Engineer Passes with the front runners both days.
Wolfgang Glaeser, on an R100 GS, produced a fine run over Taylor Pass, attributed much to the fact that instead of using GPS readings he opted for age old maps from Indians which showed unknown short cuts around mud wallows and streams. Gordon Pairman, from Tucson, Arizona on an R100 GS, crashed out of the lead while performing a wheelie over Taylor Pass. He was not disappointed with his DNF in the wheelie competition, vowing to win the year 2001 competition. Dan Vitaletti, on a highly modified R80 GS, suffered from high altitude breathing problems when the interior walls of his muffler collapsed causing poor running. He repaired the problem with a borrowed hacksaw blade by cutting the entire muffler off by hand!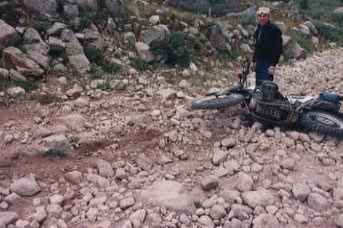 Jim Griffitts, an R80 GS entrant from Boise, Idaho, moved from the front of the pack to the back as he attempted to travel lighter this year, leaving his filled coolbox of swill at the finish line. This "carrot on a stick" theory worked fine until Griffits stopped to eat the carrot. Some observers opined that Griffitts, an economist, should next year use a dollar on a stick. Smiling, with a cool beer in hand at the finish of the event, Griffitts retorted, "Goes to show what those guys in the press know. I am out here to win, not make money."
Paul Taylor and Bill Daigle, both BIG DOG RIDE veterans, claimed 1st place in their respective classes for the wheelie competition. Taylor trashed his R1100's rear drive but was able to borrow a F650 from an unknowing donor and take the crown in the Single Class. Daigle used cunning and technical skill to sweep the Boxer Class.
Lessons learned went to Don Sanborn and Bill Schaaf. Sanborn, on an R1100 GS, buddied-up with Jeffrey Greening (R1100 GS) of California, while keeping a close eye on his GPS. Several weeks prior Sanborn had discovered a GPS is far from foolproof as he wandered around the Utah desert following erroneous readings. Greening, a veteran of numerous aimless wanderings in Mexico and Central America, proved that a nose in the wind is as good as a satellite signal for getting you home. Between Greening's nose and Sanborn's GPS, the two entrants were able to be the last riders to report in Saturday night, five hours later than any of the other riders. Schaaf, an experienced trials rider, knew Pearl Pass and said, "No way, I've been there, done that, but with a dirt bike." Age and wisdom, horsepower verses weight, speed and pain. Some BIG DOGS finish each year, often well ahead of the rabbits.
Scott Rapp (F650) and Jim Campbell (R80GS), both veteran BIG DOGS, took advantage of a southern route through Tin Cup to move ahead of the rest of the field. Saturday found Rapp pitted with Campbell while Campbell searched for a replacement for the dead electronic brain on his R80. Both were able to finish in time for the two-inch thick steak dinner banquet.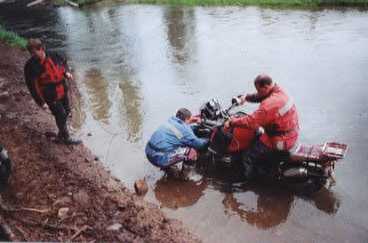 First time entrants Mark Jensen (F650) and John Huntress (R100) wisely opted to avoid the dangers on Pearl Pass. Day two saw both riders well ahead of the field as they raised plumes of dust across high-speed sections of the route to Lake City where they took the jeep trails towards Salvation and Telluride.
"Lesson not learned" award went to long time BIG DOG entrant Dori Capitani (R80 GS) who noted that a borrowed tube was flat in the morning of the second day. The tube, borrowed from a competitor, had been previously patched. Ignoring the possibility of sabotage, Capitani aired-up the flat and sped off with the leaders on Day 2, only to eventually have to stop and make a time consuming repair. It was an especially painful lesson for Capitani as the repair had to be made on top of Imogene Pass in a cold late afternoon rain.