ALASKA BY MOTORCYCLE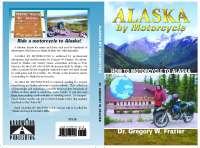 This is the second edition of the 200-page book devoted solely to motorcycle adventuring and exploring Alaska. The popular "Alaska Book" has been called the Bible for motorcyclists planning a ride to Alaska. A pictorial treatment includes how to prepare for the long ride, costs, road conditions, route options, what to take, how to save money, contacts and Alaska travel tales. It is ideally suited for the two-wheel adventure aficionado who wants to point their front wheel as far north and west on the North American continent as a motorcyclist can ride.
Frazier says of this book: "Each year hundreds of motorcyclists realize their dream of riding their motorcycle to Alaska, America's last frontier. There are actually several ways to get there. It took me some time to learn how best to prepare for the options, how to save money doing so and how to avoid making costly mistakes. After answering questions and giving lectures on motorcycling to Alaska, I was finally convinced to publish a book that drew on my personal experiences as well as those of other adventurers who had made similar expeditions. ALASKA BY MOTORCYCLE has found it's way around the world. I am always amazed when I see it in someone's personal library, especially in places like Africa or New Zealand."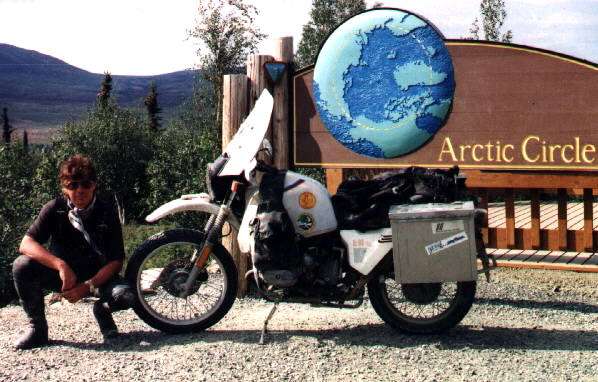 ($24.95 plus $5.00 S/H USA)
A 60-minute video, available in both PAL and NTSC format, this film follows riders on the CAN-AM 10,000 Motorcycle Ride to Alaska. Ideal for the motorcyclist contemplating a motorcycle ride to Alaska, this video gives the viewer a true taste of what to expect in a 10,000-mile ride. Included is footage of riding conditions, interviews with motorcyclists along the way, and necessary planning information if considering a two-wheel ride to the Arctic Circle or beyond.
Of MOTORCYCLING TO ALASKA, Frazier says:
"Stories of bears, poor road conditions and danger prevail when riders talk of making a trip to Alaska. For several years I was lucky enough to be part of the CAN-AM 10,000. While I did see some bears, they were usually going away from us, not liking human contact. As for road conditions, those varied, depending on which route we took, the weather and road construction. In the making of MOTORCYCLING TO ALASKA the producers tried to give the viewer a realistic taste of what to expect on the roads to and from Alaska, including encounters with motor homes, a greater danger to motorcyclists than bears or poor roads."
More books and videos:

Global Travel by Motorcycle - TWO WHEEL WANDERLUST, TRAVELING AROUND THE WORLD BY MOTORCYCLE, video

Alaska - ALASKA BY MOTORCYCLE, book, and MOTORCYCLING TO ALASKA, video

USA Best Motorcycling Roads - TEN BEST MOTORCYCLING ROADS IN USA, video

Europe - EUROPE BY MOTORCYCLE, "How to" book

Alps Best Motorcycling Roads - BEST MOTORCYCLING ROADS, video

South America and Central America - RIDING SOUTH, "How to" book

Mexico - MEXICO BY MOTORCYCLE, video

New Zealand - NEW ZEALAND BY MOTORCYCLE, book and video

Australia - MOTORCYCLING DOWN UNDER, video

Motorcycles and Freud - pop psychology book about Freudian analysis and motorcycles

Indian Motorcycles - World directory for Indian Motorcycle information

Antique Motorcycles - VINTAGE IRON, video documentary

Collector's Edition - book of collective ramblings