Travel Through Zambia on a Harley-Davidson
By Peter & Kay Forwood
Zambia on a Harley (6/7/06 - 14/7/06)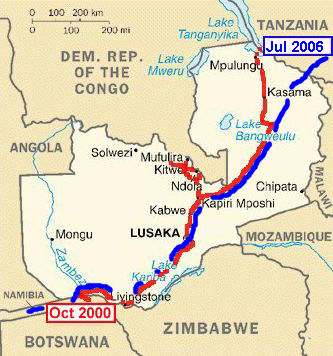 Distance 1838 km (459707 km to 461545 km)
This is part of the Twelfth section of our around the world trip.
Complete Trip Overview & Map
Coming from Tanzania or read our previous visit to Zambia

6/7/06 Zambia also easy, having opened at the same time allowing for the one hour time difference. They stamped the carnet and the whole procedure took less than an hour out of Tanzania and into Zambia. Away form the border we could see the effects of a high price and lack of petrol. There were virtually no private cars on the roads. Last year Zambia had the highest priced fuel in the world at $US 2.50 a litre when they closed their refinery for maintenance but hadn't arranged replacement supplies from elsewhere. Now with the exchange rate strengthening, having risen by 40% in the last couple of years, for an unknown reason, believed to be foreign investors, perhaps the high copper prices of which Zambia is an exporter, the price of petrol is again lapping the $US 2.00 a litre mark and is again in short supply, and next month the refinery will close for maintenance yet again. We managed to top up with fuel about 120 km into the country, smuggled fuel from Tanzania, and hopefully enough to get us to the next
major town. Six years ago we had stayed at Kapishya hot springs, about 350 km into the country and we headed there again for a couple of days relaxing.
7/7/06 The springs hadn't changed. In a natural surrounding the large shallow pool was inviting after the ride yesterday. The accident in Afghanistan, when a car hit the left rear of the motorcycle seems to have done more damage than I realised. I noticed the rear end of the bike is a little twisted and the rear guard is pressing close to the wheel. The back rack has a crack that will need welding. A little bit of maintenance, an invitation to join a South African couple for lunch, just starting their retirement trip and another dip in the hot springs pretty much filled the rest of the day.
8/7/06 The 33 km of dirt road out from the hot springs was no better than on the way in with a few sandy patches and bulldust powder. Zambia is a big country with a small population and not a large number of draw card sights to see. The tall grasses of the last wet season now dried and lining the
roadside give the feeling of riding down a walled laneway, with almost no other vehicles. The villages, neat and set back from the road only occasionally show their existence with a few vegetables for sale roadside. The complete lack of animals surprised us. Not part of the culture to run domestic animals the native grasses seem to be wasted other than for thatching on the huts. 400 km to a roadside camp.
9/7/06 The nights are cold and the days sunny and beautiful. An early cold ride to Lusaka, just 300 km and there late morning. The local motorcycle club, just four bikes, only 20 in the club, a mixture of expats and locals on big cc motorcycles, was out on their Sunday breakfast ride after which they visited us at our campground for a beer. It was in Lusaka that I had been scammed of 100 US on our last visit and having been told of another, similar scam, where money is changed, then a problem with the exchange rate causes the transaction to be unwound and counterfeit bills are substituted for the original US dollars, we changed money cautiously on the street. There was a token attempt at this scam but it was quickly turned to a joke when I indicated to have knowledge of their routine.
10/7/06 At the local post office this morning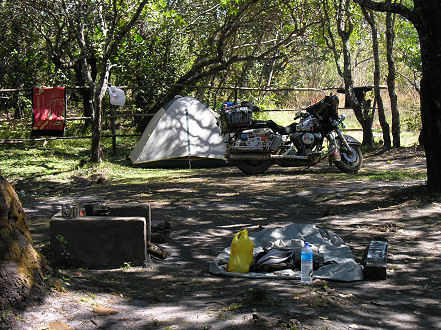 to collect our parcel of tyres and spares. EMS, the fast international postal service apparently doesn't have a contract between Australia and Zambia and it took two hours to find out our parcel had been handed on to DHL without our knowledge. As there seems to be a local dispute between the two companies, neither initially wanted to assist us find the package. Later DHL became friendly as were the Zambian customs who, on presentation of our carnet for the motorcycle, and explanation that we were in transit, recalculated the $US 300.00 customs duty to zero dollars, a great saving. It seems here that duty and VAT is not only payable on the goods imported but also on the cost of the freight to get them here. That would account for the extremely high prices of goods in the supermarkets, higher than in Australia. John, an African Kenyan and manager of the local Holiday Inn Hotel, also a member of the motorcycle club, invited us to dinner at his home tonight. He, a couple of friends, nice wine and excellent Kenyan food, it was a great evening. He also invited us to give up our camping spot for a complimentary night at the Holiday Inn, it didn't take too long to decide and accept his offer. The backpacker campground where we were staying is mostly filled with volunteers, the new way to see Africa. Paying the aid agencies about $US 50.00 a day each for the privilege to work, one group of about ten is building a toilet block for a school, the budget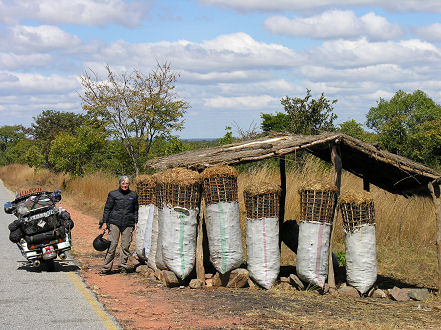 $US 50.000 and taking three months to complete. Not a terribly efficient means of spending donated money but a great way of letting two cultures mix and learn about each other, and leave behind something useful. The dollars are spent locally whereas many tourist based businesses often have little money trickle down to the poorer rural people. The volunteers are mostly university students or youths doing a gap year after graduating and before entering the workforce. Some are doing course related activities or research at the same time as volunteering.
11/7/06 Our front tyre was not completely worn out but it was more economical for us to get both tyres flown in and change the front one now, which was given to a local Harley owner for his motorcycle. The rear tyre will be carried for the next two thousand km's to be replaced just before Angola, which should get us nearer to Europe for the next change. We moved to the Holiday Inn where a magnificent room was provided along with lunch. John had arranged for the local newspaper to do an interview and another biker Kim arranged for TV media for tomorrow morning and also paid for our dinner. It is not often we get such treatment and thoroughly enjoyed the hotels facilities, comfortable bed, cable TV and hot shower.
12/7/06 Breakfast provided and the TV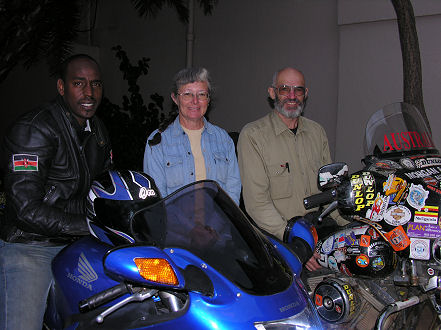 interview went well but it was a later than usual departure for us and a long days riding, 470 km following the front wheel to Livingston. The scenery was flat and not overly interesting. Petrol was in short supply and with large distances between towns a concern. The first town had run out, 100 km to the next where another petrol station was also dry. Luckily the third attempt was successful. We had bought some local oils and are now burning two litres per thousand kilometres. It seems a bit like the bikes last trip to Africa which ended with us using a litre of oil every 200 km before the engine top end was rebuilt in the USA.
13/7/06 Zambia has a lot of Kingdom Halls of Jehovah's Witness. Almost all the small towns we have passed through has one, exclusive of other religious buildings. Now in Livingston the whole area seems to be thronged with religious gatherings and conferences. We have rarely seen an American traveller here before, but now there are many. Young and conservatively dressed, skirts and long sleeve shirts, they politely move around the hotel conversing softly in contrast to the rowdy alcohol consuming party travellers. They tell us they are here on business, but don't openly want to discuss that business, at least not with us. We had an easy day in town and sitting by the campground pool.
14/7/06 It's just 200 km to the Namibian border where a new bridge has been built across the Zambezi River. The Zambian formalities were quick, carnet signed and passports stamped.
Move with us to Namibia