Travel Through Venezuela on a Harley-Davidson
By Peter & Kay Forwood
Venezuela on a Harley (13/1/03 - 30/1/03)
Distance 1780 km (322180 km to 323960 km)
This is part of the ninth section of our around the world trip.
Complete Trip Overview & Map
Coming from Colombia or read our previous visit to Venezuela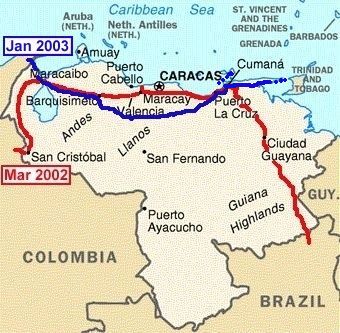 13/1/03 No problems with immigration into Venezuela but we were told that customs didn't open till 12 noon. Having delayed travelling yesterday, Sunday, we were in no mood to wait today, and with a line of trucks already waiting it may have been late afternoon before we were away from the border. On our last visit to Venezuela we were not asked for the motorcycle customs papers so we chose to take the risk and ride on, there being no barrier at this loose border. We were immediately pleased to be carrying the extra 20 litres of fuel as every petrol station on the way to Maracaibo was closed. Some had queues up to 1.5 km long but weren't pumping petrol. 20 litre drums and siphon hoses were on sale and we did see one petrol station pumping gas in Maracaibo city. The military were regulating pumping and cars had numbers painted on their windscreens to stop queue jumpers. We saw no black market sales. 460 km to Barquisimeto and only one more station pumping and a dozen or more with long queues and we were now well into our 20 litre drum. Asked a tow truck driver, if it was possible to buy petrol without queuing? He offered us 20 litres from his tank, and was happy with the 4 times normal price we paid. Petrol is normally 20 litres to the $US 1.00 and diesel 30 litres to the dollar here.
14/1/03 Off early again after a comfortable night in a love hotel just out of Barquisimeto. We had chosen the inland route 13, heading for Puerto la Cruz, 700 km, as our destination tonight, where we will start looking for boats. There have been few vehicles moving outside of towns, except for buses and trucks. By the time we reached El Sombrero, south of Caracas more stations were open and queues as short as 50 cars, still a couple of hours wait. We approached a tyre change place and managed to buy about 25 litres from someone's "stash". Both times we bought petrol roadside the price was at our discretion, there was no profiteering, no demanding of a high price for someone in need, a very generous response. Within 120 km the whole situation changed and most petrol stations were open and queues of only a couple of cars. This situation continued all the way to Puerto la Cruz. One could be cynical to think that the area of least supply of petrol is that of the greatest opposition to the government, Maracaibo.
15/1/03 Whilst we had no difficulty getting restaurant food along the road nor here in Puerto la Cruz, it is expensive, and there are no supplies of soft drink, or beer, milk is in limited supply and fast food chains are closed. The day was spent at Bahia Redonda Marina mixing and mingling with yachties, expats and western drop outs, as we tried to get a feel for boating the Caribbean, which most of those people have done.
16/1/03 Pretty much the same as yesterday putting together small pieces of the jigsaw puzzle that involves buying and taking a boat out of Venezuela and getting it through the islands. This is a necessary but tedious part of planning. Everyone here has their story to tell. Some oversimplify situations to show how easy it was for them while others dramatize their story as they were the survivors of problems. Some are genuinely concerned with our safety, assess where we have been on the motorcycle but realize our lack of boating experience. The general tenseness in the country doesn't help. People have time on their hands with shops, businesses and the government closed or only opening a few hours a day. Either nothing to sell or nobody buying and no business deals being done. The currency here has dropped 15% in the few days since our arrival. There are few smiles about, not that Venezuelans were the happiest Latin Americans on our last visit, but it is a definite different feel to the Argentineans acceptance during their crisis last year. Perhaps because the country is still in a state of uncertainty as to the outcome of the crisis.
17/1/03 Moved east to the boat repair and fishing port town of Cumana and found two possibilities of boats. One large, built by an eccentric American who died 3 yrs ago and one a launch, small at 10 metres, neither perfect but both possible options.
18/1/03 Its about now that an idea that seems so doable at the time of inception starts to fade as its details and difficulties materialize. There are more ideas than accomplishments in the world. Trying to solve all of the problems that leap into our minds, moving the motorcycle by boat through 13 island countries to the U.S.A. it seems insurmountable. But we have found in the past that most of the perceived problems don't eventuate or are solved as each arises without too much hassle. But it is at this stage that most plans become too difficult and pass to oblivion. Only "baby steps" achieved today. Second look at the two boats, minor information on paperwork but still confusing.
19/1/03 The small launch was ruled out after a test drive with too much work being required and it's size a concern. Still we had an interesting boat ride around the bay and some clarity in paperwork.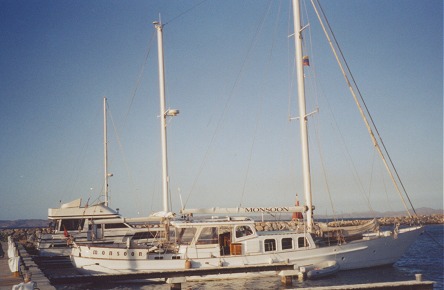 20/1/03 Corruption here is as rife as anywhere we have been. To get a boat transferred requires many documents, a boat check, a tax clearance and time. To speed it up, extra money. Unfortunately the deal on the larger boat fell through as its documentation from the deceased estate is not finalized and will take many months in the current Venezuelan political climate to be rectified. Back to the drawing board for a couple of hours before meeting a Dutchman on a 73 ft yacht. Seems he and his family have been hanging round Venezuela without work for the boat since the current strike started. To make ends meet he tried importing 10 tons of Coca Cola from Trinidad and Tobago to sell in the deprived markets of Cumana. However the customs officials removed the profit from the operation, and anything that might have been left is disappearing daily as the currency devalues, 20% in the last week. Seems there is a chance he might be interested in sharing a trip to Cuba with us. He was planning a run to the Dominican Republic anyway.
21/1/03 A tentative arangement with the skipper to use the 73 ft yacht, "Monsoon" was agreed today. We leave here in about a week, after the Coca Cola is sold. Trinidad and Tobago for a month where he does work on the vessel and we live ashore sightseeing. Two months to get to The Dominican Republic, island hopping. Three weeks ashore there for us while he looks around on the boat alone, then onto the Bahamas and Jamaica arriving in Cuba early June, the end of our arrangement. The price about the same as we calculate to buy and sell our own boat with running costs. The disadvantages, the loss of it being our own trip and privacy. But the advantages, a fixed price, reduced worry regarding safety and reselling a boat and of course increased comfort. The decision to be finalised by the 6 th February.
22/1/03 The motorcycle has been using more oil than usual and on checking we noticed a leak in the exhaust at a join near the rear cylinder. A crack in the exhaust pipe closer to the rear cylinder caused excessive engine wear and oil consumption due to overheating in Africa and we are concerned the same damage may have been done again. Fixed the leak but only time will tell if the engine is damaged permanently.
23/1/03 Up at 4.30 am to catch the 6.00 am ferry which finally left at 11.00 am for the trip to the Isla de Margarita, such is the way things are running in Venezuela at the moment eight weeks into the general strike. The smooth five hour crossing never left sight of land, peninsula and islands. We rode to the north of Isla de Margarita, to a lovely bay, hotel on the beach with waterfront balcony and within our budget, such is the way things are running in Venezuela at the moment.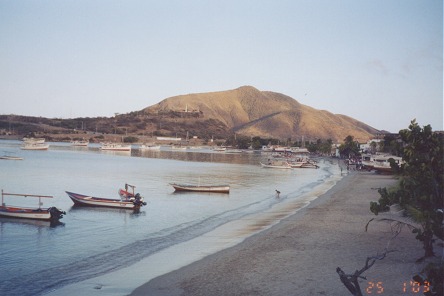 24/1/03 Juan Griego is a quiet fishing village of wooden boats in a quiet bay. The turmoil and shortages in the rest of Venezuela have hardly reached this region and it's duty free zone. We just relaxed near the beach.
25/1/03 The same as yesterday, just relaxing near the beach.
26/1/03 The ferry back to Cumana was more on time but slow as we hurried only to find the 73 ft yacht "Monsoon", our ride to Trinidad, had unexpectedly left two days earlier. The early departure without email contact left us confused and disheartened as we had expected this deal to go through. Our previous plan had been to ride to Guiria where boats occasionally take passengers to Trinidad, the motorcycle uncertain. We headed out, only to change our minds an hour into the trip returning to Cumana hoping the "Monsoon" had only left for the weekend, or to get more information on its location tomorrow being Monday.
27/1/03 No yacht or any information on it's whereabouts this morning. The Harley club magazine, H.O.G. (Harley Owners Group) has been planning a series of articles on our trip, off and on for the last couple of years. In it's Jan/Feb issue, just out, is the first of the four part series, six pages with photos. The articles are being written by an American journalist who has been doing internet and phone interviews as we have been travelling the past few months. Spent most of the day answering email questions for the third article due out in May/Jun.
28/1/03 270 km to Guiria, slowly leaving behind the dry arid coastline being replaced with the lush tropics. There is more trade between Trinidad and Venezuela since the strike started. The large multi-nationals aren't producing here now, and the president has removed all duties for imported products. However we missed a cargo boat yesterday and there won't be another one till Friday. The passenger ferry, every Wednesday, is too small for the motorcycle. There is also some uncertainty as to whether cargo boats are allowed to take passengers. Added to that is our motorcycle carnet expires in four days time, we need to be in Trinidad to extend it, and Trinidad requires an onward ticket for entry into the country, unobtainable for a boat departure outside the country, and the list of uncertainties and potential problems grows.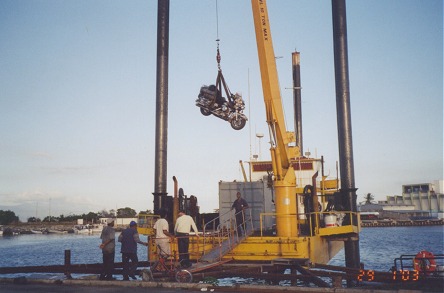 29/1/03 We spent most of the day at the Grupo Acosta agent's office. Seems they have a boat leaving but because of past experiences trying to get vehicles into Trinidad (all rejected) they didn't want their boat held up in port or being forced to bring the bike back. Finally, just as immigration was closing at 5 pm, and without a firm reply to the fax's and phone calls to Trinidad, they agreed to take the bike on the condition it may have to come back to Venezuela at our expense. A cost of $US 40.00 each for Kay, me and the motorcycle plus a departure tax of $US 23.00 per person. It seems the departure tax went to the agent's expenses as we were listed as crew, therefore no tax, and there were no agent's fees despite their extensive efforts. The boat was a three legged oil platform support vessel with its own crane. Now out of work in the oil field strike it is transhipping containers from Trinidad that had to be offloaded there due to the port strike in Venezuela. The boat just screws down its legs lifting the hull completely out of the water and works like a truck crane would on land. We loaded the motorcycle ready to depart at 2 am tomorrow.
30/1/03 Chugged away from port almost on time and were given bunks to catch up on sleep.
Move with us to Trinidad and Tobago