Travel Through The United States of America on a Harley-Davidson
By Peter & Kay Forwood
The United States of America on a Harley (4/6/03 - 13/9/03)
Distance 26145 km (331547 km to 357692 km)
This is part of the ninth section of our around the world trip.
Complete Trip Overview & Map
Coming from the U.S.A. part 2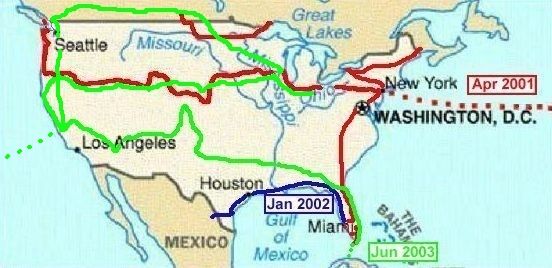 16/8/03 We had narrowly missed meeting up with Dave and Sharon Thompson on our global tour. They were in Africa either just ahead or behind us and even though we emailed we never managed a meeting. Now settled down back into American Mid-Western life on seven acres with a lovely home and 6 month pregnant with twins, we were invited to stay for a few days. 300 km ride through more maize and soybean pasture lands. We have been seeing almost nothing but these two crops roadside since leaving Cheyenne 1500 km west. Large semi circle irrigators giving way to natural rainfall the further east we travelled, the crops look the same, the fields cleaned of weeds, plants densely planted and bright green from fertilizer, a stark contrast from the thinly planted yellowing maize of the third world.
17/8/03 Dave and Sharon's BMW motorcycles sit unused in the coach house, not ridden since their return a couple of years ago. Their lives and priorities have moved on to other things and yet their memories fresh enough to invite travellers, us, to share in stories from that part of their past. The large house they purchased was unfinished and any spare time is now occupied in completing the projects, a hobby for the next few years, motorcycle travelling a memory.
18/8/03 It was difficult to leave such comforts and hospitality, walking to the river, dinner on the outside deck, a comfortable room. Headed east past Indianapolis, more maize and soy bean crops, relaxed in a cheap motel. By getting the motel coupon books at state border information centres we can plan a cheap, tonight $28.00 + tax, motel, rather than planning to camp. That is if there are any in the area near where we are travelling. Often they are off the main roads taking us to smaller towns we would not have visited.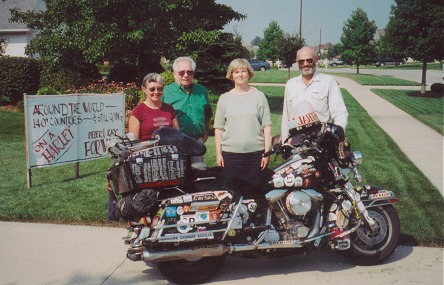 19/8/03 Carl and Kathy from Bowling Green, Ohio had invited us to stay again. We first met over the internet two years earlier and corresponded since. The warm 200 km ride through increasing traffic and more maize and soybean fields. Kathy rarely cooks, they eat out three meals a day, but turned on a great dinner. Our airline tickets, new camera and mail were also awaiting our arrival.
20/8/03 Carl had organized an interview with the local newspaper journalist and photographer and the morning was spent answering questions and posing for photos. We don't normally look for promotion or media inclusion but if a journalist is interested we are always happy to explain our travels. This seems to work as we don't get too burned out answering questions. Lunch at Carl and Kathy's regular restaurant, they are so regular they get invited to the staff parties. In the evening another magnificent dinner, even though (or because of it) Kathy rarely cooks, but when she does the meals are great, with friends and neighbours, all motorcycle riders, an interesting and interested group.
21/8/03 Needing time to work through the operation of the new camera and photo storage systems we returned to the cheap hotel near Indianapolis, a bit of "our time" to get ready for the 100th onslaught of people.
22/8/03 Not being too digitally minded it took almost all day to work through the functions of the camera, the manipulation of photos on the computer and the remote hard drive functions. Hopefully from now on we will be able to update the web page with photos as we travel, something not possible with film cameras, and also be able to shoot many more shots as they are "free". Carl emailed to say we made the front page of the local newspaper and the article was well written.
23/8/03 Another day in the hotel room. We have been asked to do a presentation at Revelstoke, Canada, on our trip, to the Horizons Unlimited second North American Rally. Our first presentation, and spent most of the day arranging slides on the computer and working out what to say. Kay has also decided she would like to make her diaries available, "a view from the back seat", so started typing them onto the computer. More extensive and detailed on the trip than my diaries it will take a while to type five years of travel.
24/8/03 The South Central Ride home began in Baton Rouge a few days ago.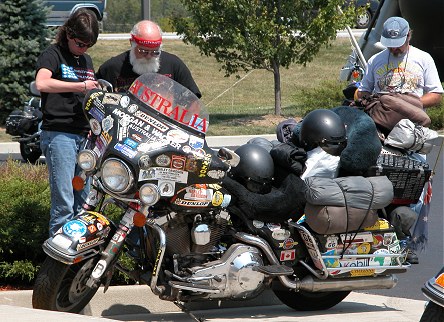 Headed to Memphis, Nashville and on to Indianapolis where we joined today at the South Side H-D shop. A "free" ride, people leave yesterday's venue and arrive at each days events along the way at their own time frame. The H-D shop saw a trickle of bikes ride in throughout the morning with the main event in a city park, put on by Indianapolis to welcome the riders. The usual band, food and drinks, the mainstay of mass entertainment. Three H-D shops had booths and fashion parade, interspersed music. There were long lines of people trying to buy 100th Anniversary memorabilia and a display of 50, through the ages, Harley motorcycles. Although a good crowd, not the numbers we had expected.
25/8/03 Minor repairs, internet and bike wash and we were back at the dealership by 12 noon. He had a marquis, band and food stalls operating as the riders started to arrive. The shop doing a roaring trade in mainly T-shirts, presents for back home and bragging rights to say they were here riding towards the 100th, a T-shirt from each dealer along the way. We strolled the area people watching, returning to the motorcycle occasionally where there was always a small group looking at the stickers and reading the places it has visited. The motorcycle being photographed often and many requests for our photo also and loads of questions. Everyone getting excited and basically having a good time.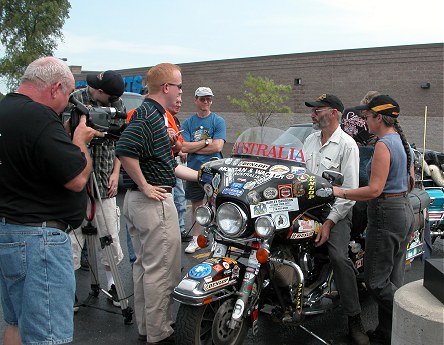 26/8/03 Up at 6 am, ride to and through Chicago, up to 16 lanes of traffic and two train tracks split the city, packed with people heading somewhere. Rockford H-D had been holding a rear tyre that Dunlop had sent there for us and generously offered to fit it for free. Earlier than most people coming in from Indianapolis the workshop was almost empty waiting in anticipation of an influx of people. A much bigger dealer party than the one yesterday, two bands, more food, different stalls, and bigger crowds with people needing to be bused across from the surrounding parking places. Again more celebrity status for the motorcycle and us, two TV interviews, and many people wanting photos, still a bit daunting. Chris, a Belgian who wants to travel with us after the 100th, Jimbo and Rick, two American friends, Juan from a rally we attended in Argentina and Ross Mortimore and Mark Edwards from our home town, Townsville, all met up to be together for the rally. We had decided to camp north of town yet received many offers of accommodation from locals, two offers of a hotel room, and other offers to stay with people in Milwaukee. Such was the generosity and enthusiasm from the crowd.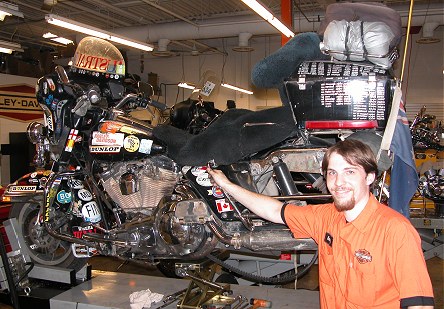 27/8/03 Early morning again, at least a quiet campground before arriving at Kegel's where motorcycles were already lining up 2 abreast behind the owner's V-Rod. The BBC had emailed us for a telephone interview for their on-line magazine news and we answered their telephone questions before the ride out. A smaller group than expected but still in the low thousands, we rode with them for about 20 km before taking a more direct route to the campground. H-D Ray, a factory machinist for H-D, has worked for the company for 32 years, has a 100 acre property 30 miles from Milwaukee and invited "fun people" to camp at his farm for the celebrations. We were invited here by a friend of a friend about a year ago and were also allowed welcome a few of our friends. About 100 people from all over the USA and from some different countries are camped, using the garage as a kitchen, a couple of Port-A-Loo's, and great hospitality. After a fish fry early dinner, a dozen or more bikes rode to the HOG XX (Harley Owners Group 20th Birthday Party) opening celebrations, where we watched the Cossacks, a stunt riding team from Seattle, riding second world war vintage H-D's, building human pyramids atop motorcycles.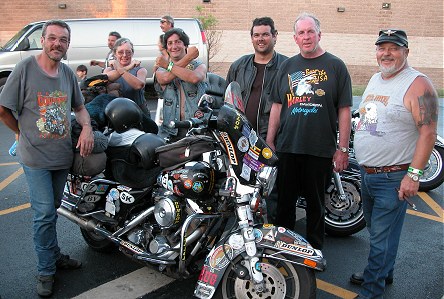 We collected memorabilia pins, used free internet and waited the official opening. Top HD executives had joined each ride home, motorcycles had been shipped from all over the world, starting at every point in the USA bikes had been heading home, today the majority, converged in Milwaukee. Overpasses were closed as people waved the motorcycles home. The executives now here welcomed the tens of thousands gathered before giving over the stage to Jeff Beck, the guitarist and the legendary BB King. Now 77 years old BB and his band entertained in the manner he is famous for, if not a bit slower and from a seated position on stage. Exhausted at the end of the first day we also felt about 77 years old.
28/8/03 The ride in show closed at 9 am, another early start to get breakfast and ride to the HOG grounds. We had arranged to meet the editor of HOG Tales, Christine Adamavich, and the Journalist who wrote the series of articles, Mike Zimmerman, for a last photo shoot, of us finally arriving at the 100th.
An exchange of signed memorabilia both ways and we were off to wander the grounds. Dave Barr had a copy of his book "Riding The Edge" as a present for us and we bought a few copies to send to friends we have stayed with. Bill and Sharon were also there having just finished their two and a half year, 63 countries, 160,000 km ride around the world on two H-D Sportsters, now ready for a well deserved rest. The crowds were fewer than yesterday, the main H-D venues now open, easier to visit the vendor stalls and watch people lining up to by yet another branded T-shirt for Uncle Joe, Cousin May or friend Bill, with 100th Anniversary. The afternoon main stage had a comedian, bike show presentations and more bands before we left early to party quietly back at the campground as thunderstorms and rain moved through. A quiet group of 30 sat over beer and sweet corn relaying the events. Characters like Wolf, a Cherokee Indian, Italian Mexican, wears a bear claw necklace, or Baltimore who seems to ride everywhere in North America, camping wild in his camoflaged tent trailer joined in.
29/8/03 Finally a sleep in and restful morning.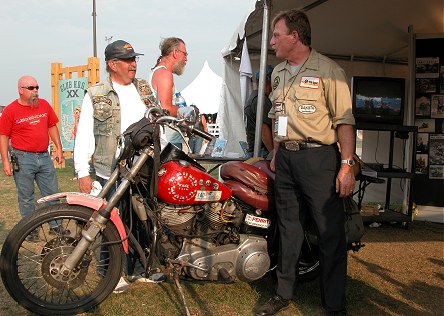 Posted home some items we have accumulated, washing as always, all before the H-D Ray and Deb party. About 400 people turned up for great food and entertainment. Steamed corn dipped in hot butter, locally grown, fresh picked, roast pork, pickles and cookies. A local band and a beer wagon. Ice cold kegs flowed all night. Two bonfires and great company. We went to bed while the party still raged.
30/8/03 The HOG Parade of Flags had to muster at 4 am. So at 3 we woke just as the last revellers were heading off to bed. Harley had limited the number of participants in the parade to 10,000. The Muscular Dystrophy Association Heroes, those who raised large amounts of money, in front, HD executives and VIP's next, HOG Chapter representatives, including us, one member bike from each club from all over the world and lastly the lucky random winners of a place. Quite a line up. Having to be here first we watched the others roll into the parking lot for the next four hours. The HOG chapters, parade of flags was by far the most impressive, flags and poles supplied, bikes dressed up with home town memorabilia from all over the world including our riding partners,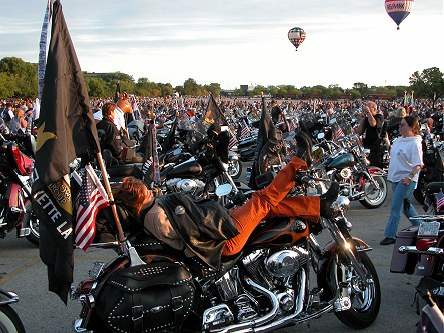 Ray, Vivian and Pracilla the inflatable kangaroo, from the Adelaide Chapter in Australia. Two abreast we rode the 11 km through streets packed with cheering crowds, screaming, snapping photos and wanting hand slaps as we passed. Being the most noticeable Australians, the Kangaroo on one motorcycle and Australia emblazoned on our windscreen we received extra cheers of welcome from the crowd. Pumped, we entered the main H-D area to displays of famous and antique bikes, stunt and drill experts such as the incredible Craig on a Buell motorcycle and the Indianapolis Police on Harley-Davidsons. Ford put on a monster truck display while at another area BMX stunt team did amazing aerial displays. The Ball of Steel, 4 metres diameter, had three motorcycles inside defying gravity and precision riding upside down and horizontally as they narrowly passed each other. This was all interspersed by great bands and of course the feeding frenzy. We were unable to hang around for the evening band, exhausted, choosing to ride home in daylight.
31/8/03 Billed as the party of all birthday parties today was to be the culminating event. We joined a group of a dozen or more of Ray and Deb's friends camped with us and rode to the venue.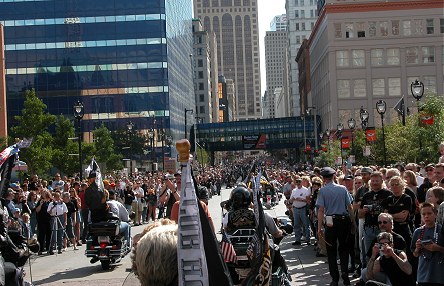 With nothing but thousands of motorcycles parked surrounding the area and thousands more arriving they were expecting 150,000 people to the event. Despite advertised protestations of no cameras, limited tickets, no food and beverages and tight security none of the above was actively enforced with Baltimore managing to smuggle in his 9 year old dog without a problem, tucked away under a jacket. The event was incredibly slow to start, 2pm - 6pm all that was happening in the "pre show" was a few well wishes from dignitaries, previously video taped now displayed plus a lot of corporate hype preaching to the converted, and plenty of time for the crowd to purchase high priced food and beer. The Doobie Brothers opened the main event followed by Tim McGrath interspersed with Kid Rock, (the only one to really play the crowd and get it moving). The unannounced premier spot arriving at 9 pm was Elton John and was an immediate disappointment. Expectations were high, the crowd looking for a dynamic band, most bets on the Rolling Stones, and as I heard described "An old, bald, toupee wearing, has been British homosexual was not an appropriate choice for this venue".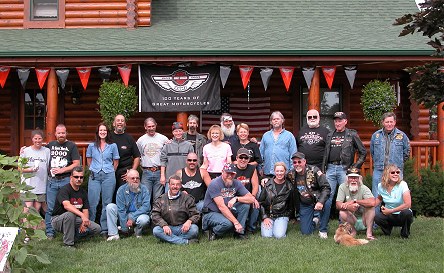 The crowds started leaving immediately and by the end of his performance less than half were still around to watch the fireworks. I can not believe that the H-D executive, if it is in touch with its riders could have staged such a self engrandiosement event finishing with such a choice of entertainer. Beers at $US 5.00, and 90 minute food lines with, I counted 112 people, lining up for a $US 7.00 bag of popcorn left many feeling they had been gutted by the company. Who was throwing a party for whom. The customers paying for the Corporate party? A disappointing end to an otherwise tremendous event. The bragging rights of saying you had been to the show not sufficient to overcome the gouging disappointment, this time.
1/9/03 No sleep in or rest for us, 6 am up and saying goodbye to our great hosts, H-D Ray and Debbie, we headed west, 850 km, with fortunately good weather and a tail wind. Chris (The Belgian) and us cruised across the interstates with hundreds of thousands of homeward bound motorcycles, outnumbering cars for much of the way.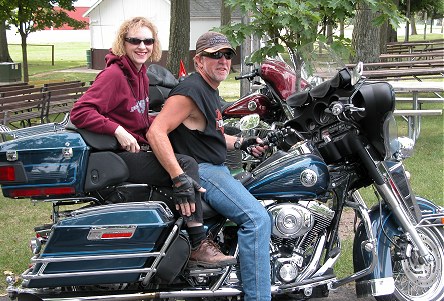 The rest area and gas stations discussions centred on exhaustion from four days of great partying and disappointment of the last day and its choice of entertainer. Camped in Minnesota to cross into North Dakota tomorrow heading for Canada.
2/9/03 Yesterday afternoon our battery finally died. It has been playing up for a couple of weeks, but it could have lasted another ten days to get us home. Kay and Chris had to push start once and we jump started the motorcycle from Chris's battery this morning before buying a new one from Fargo H-D. Just 450 km with a 60 km/hr head wind forcing us into a cheap motel early in the afternoon. The weather channel indicated better weather tomorrow. Our fuel consumption was up by 30% and ride enjoyment pushing into the weather front was down to zero.
3/9/03 The wind had dropped, the sun was just breaking the horizon, the air was clear as we headed to the Canadian border in a crisp 5 degrees. Canada, as on our last visit, 20 questions, they seem not to like H-D motorcycles too much, an interview, cross checking answers with a separate interview with Chris and we were considered acceptable to enter after 30 minutes. 850 km to Medicine Hat, exhausted, another cheap motel. The corn and soybeans now replaced with golden wheat fields recently headed of their crop.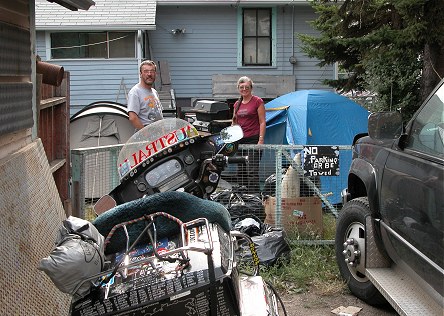 4/9/03 We were overtaken by yet another H-D motorcyclist, leaving Milwaukee heading home, 2000 km away. He waved, paused alongside, then dropped back to follow us for the next 120 km to a breakfast stop. Mark had recognized our motorcycle, asked for a photo, a signature of his HOG magazine, joined us for breakfast, paid the bill and headed off on his way home. Chris needed an oil change at the dealer in Calgary, he asked if there was a campground nearby and was offered tent space at the back of the house next door, where I did our oil change and we pitched the tents. Eric and Gill, friends from Australia, farmers, from our past sedentary lives, had emailed us they would be in Calgary tonight, with insufficient time for them to get a reply before they left on their trip we decided to take the risk and try and meet up. They were not at the hotel and after wandering the streets for over an hour bumped into them. Quite a shock to see someone from the past in a strange setting. Drinks and reminiscing into the evening.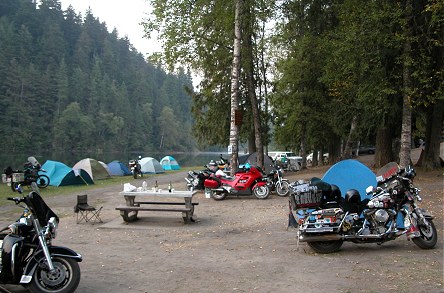 5/9/03 The second Horizons Unlimited North American Rally started today in Revelstoke, just five hours away past Banff. 60+ motorcyclists from North America, and some from overseas, congregated in this small town in the Rocky Mountains. The Horizons Unlimited organization has grown quite spectacularly over the last five years to now holding nine rallies world-wide, for all brands of motorcycle, for people travelling, intending to travel or who want to meet travelling motorcyclists. Linked with a common interest, exchange of ideas or travel information, this small group holds a wealth of knowledge. Most arrived early afternoon with slide shows and talks into the evening.
6/9/03 The group mostly camped alongside a lake at the council park and after a few drinks and conversation last night were late rising for breakfast. Many went on rides out of town while we washed and prepared for a talk we did on our trip later in the evening. Grant and Susan gave a talk on preparing for a long trip, Ekke and Audrey Kok, a talk on their recent 12 months around Europe and a short story read by Tom, capped off the evening. Next year's rally is planned for the same time and place and after past experience of their other rallies it will be twice as big next year.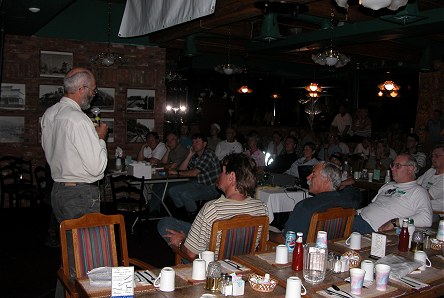 7/9/03 Rain dampened the morning's riders but by 10 am it had cleared. Goodbye's all round except the hosts and organizers and a few stragglers remained. Peter and Carol invited all hangers on to dinner and we were lucky enough to be offered their spare bedroom for the night. General consensus, a great rally, many people will return next year, some their third time.
8/9/03 Early rain as we headed out with Grant and Susan Johnson to their new house in Surrey, 30 km east of Vancouver and just north of the US border. A great location overlooking Mt Baker, easily accessible to roads in any direction and quite central. The hub of the HUBB, a large downstairs room with computers and monitors everywhere. Long time travel seemingly at an end, at least for a few years with home ownership and plants a steadying influence and the clincher of a sedentary lifestyle, talk of a pet, almost as detrimental to travel as children. "Horizons Unlimited" web page and rallies a great way to vicariously travel, meet people and enjoy the camaraderie of other travellers whilst holding the possibility of a career path. We were treated with great hospitality, offered tips and advice on tidying up our web page, hosted with Horizons Unlimited, checked emails flooded by viruses and junk mail almost grinding us to despair and again slept exhausted.
9/9/03 A sunny start, easy border crossing back into the USA, and heading, again to another dreaded deadline, down the I-5 towards San Francisco. The sunshine didn't last long and catching and missing light drizzle storms we covered 700 km to a cheap hotel.
10/9/03 800 more km's and we were into San Francisco, from where we fly home on the 13th. The motorcycle will also be going back to Australia, the first time in seven and a half years, shipped along with the 300 other motorcycles that came across from Australia for the 100th anniversary.
11/9/03 The bike has to be crated by the 12th so a quick check with the agents to ensure they are expecting us, a last minute oil change, its good to have new oil in the motorcycle if sitting for a long period, a wash to get all the bugs, grass seeds and dirt well at least the majority, off the bike, plenty of time for it to dry in the Californian sunshine, repacked things to stay with the bike, and things we will need in Australia for the next, at least a month, till the bike arrives.
12/9/03 Unfortunately the spare crate base was not readily available, packed somewhere at the back of the pile and would probably only be available once all the other motorcycles had been crated. Needing the motorcycle for transport on our return to Australia we drastically wanted it in the first rather than last shipment container. Redwood City H-D had a spare crate, a friend of Rabbit's with a truck, and within two hours we had a crate base and the motorcycle was strapped down, covered and we were assured it would be in the first shipment of containers, 4-6 weeks to Sydney.
13/9/03 The Air Canada flight, via Vancouver, the cheapest available, left at 2.30 pm, the end of this trip.
You can go to our next visit to the United States, move onto planning the tenth section or go to the first country of that section, Australia