Travel Through The United States of America on a Harley-Davidson
By Peter & Kay Forwood
The United States of America on a Harley (14/8/11 - 31/10/11)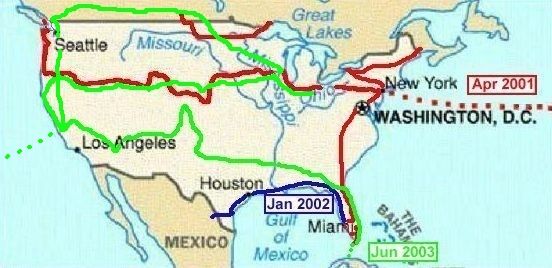 Distance 14731 km (597218 km to 611949 km)
This is part of the seventeenth section of our around the world trip.
Complete Trip Overview & Map
Coming from the United Kingdom or read about our previous visit to the USA

14/8/11 Record rainfall in any 24 hours in New Jersey caused landing delays, had us circling the airport for 30 minutes after the long flight. Newark airport is enormous, even compared to Gatwick. Immigration smooth, apart from the long line, as we had done pre-immigration visa waver ESTA on the internet, compulsory, $14.00 charge, and after a full two hand finger and thumbs electronic fingerprint scan,
plus a photograph, glasses off so likely an iris scan also, we were "free" to enter. No customs checks, almost everyone walking through without enquiry. The air train had us to station P4 and the Best Value Inn shuttle to our hotel at 11.00 pm, but 4.00 am bodyclock time.

15/8/11 Breakfast better than expected. No donuts, bagels instead, a pleasant surprise. With body clocks starting early we had just 5 hours sleep and took the early morning hotel shuttle back to station P4, sky train to Terminal C, shuttle bus for P6 (long stay parking) getting off at the customs building 151 along the way. Customs easy, we had applied for the EPA Vehicle Exemption for a temporary import online, and with that approval, a copy of the airway bill and our Australian registration documents it was a quick stamp, but unfortunately the motorcycle had to be inspected. Over to Building 340, a short walk, where we had been advised the motorcycle was stored. A $40.00 charge for landing and storage fees the only charge with four working days of storage included. They made a booking for the private customs firm to inspect the motorcycle, and we were told it would be possibly today or tomorrow. A follow up call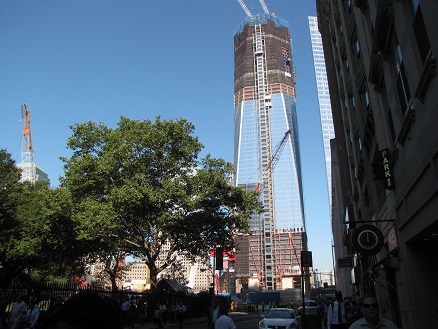 by us to the Customs Inspectors later in the day, helpful staff, a further call back at 6 pm, another at 8pm, and the motorcycle was cleared to be collected tomorrow. During the afternoon we wandered our hotel neighbourhood shopping area and played look for the Caucasian, didn't see another one but ourselves. African Americans, Latinos, Asians, South Asians, and a mix of all but no other Caucasians.

16/8/11 Shuttled back to the Worldwide Freight Services warehouse this morning. We were not allowed to uncrate the motorcycle in their warehouse so it was deposited in the carpark and we were told, unofficially, that the rubbish would disappear, somehow. It took about an hour to uncrate and reassemble the motorcycle, inflate the rear tyre before we were on our way in the USA. Homeland Security had done a thorough job inspecting the motorcycle yesterday, opening our locked panniers, and relocking them, after the inspection. Our belongings had been extensively rummaged through, nothing damaged or missing. We did reflect on our arrival into the same airport two days previously, with hundreds of people entering with enormous amounts of luggage, unscanned and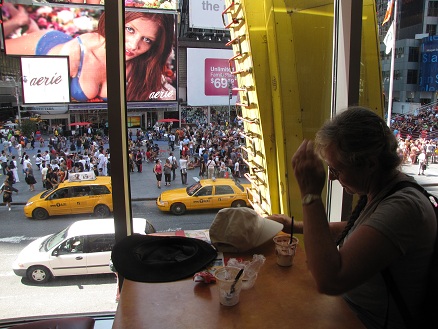 uninspected. With a 5 hour time difference we are still adjusting, spending the rest of the day relaxing.

17/8/11 New Jersey is just 45 minutes by bus away from New York, Manhattan Island and all that is famous for that city. The subway to the World Trade Centre, of 911 fame, and where massive construction is underway with the renovation of that piece of NY. A short walk to Wall Street, now under security guard since 911, an important iconic and strategic part of the US. Two riot dressed police with automatic weapons standing in the street as a deterrent. In fact we saw numerous different organisations of police from Port Police, to Homeland Security Police, NYPD Police, Park Police, to mention the ones we remember. All heavily armed, a different format to the unarmed UK police we had seen only days previously. Didn't see what used to be the world's most expensive rental site, a hot dog stand outside the New York Stock Exchange, but now there are many street sellers of easy street meals and coffee in the area. There were still many young "Suits", smoking between business deals, standing out on the street sidewalk. A stroll around Battery Park and marvelled at the meandering lines of tourists waiting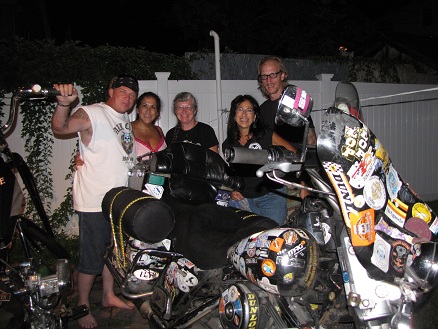 90 minutes for a ticket, for the ferry, for a visit to the Statue of Liberty. A long walk up Broadway to the poorer, more seedy district of Soho, further to Madison Square Park where people sat on patches of grass semi naked in the autumn sunshine. Fifth avenue, Rockefeller Plaza and Time Square where we re-enacted the coffee we had there in 2001 overlooking the goings on of the billboard laden triangle. Kilometres, actually miles of walking for the day and we returned by bus to our hotel in New Jersey, reminiscence finished.

18/8/11 Kay first met Freddie when he was travelling on his Harley-Davidson, 1996 ex-Police motorcycle in Australia, part of his world tour. We visited him and his wife Nathia in 2001 at their apartment in Queens, NY, and although they have moved, just a couple of streets away, Freddie has lived in NY all his life. It was a short ride from New Jersey to Rockaway Beach, crossing two bridges, both toll bridges, as are most bridges in this area, as it is an easy way for local governments to raise extra needed cash in the debt laden economy. Freddie, a custom bike builder in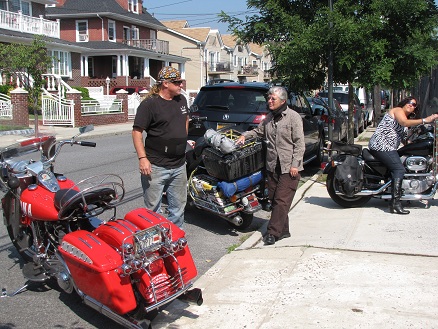 his spare time showed us his latest motorcycle, a hand crafted 60's frame with a 50's panhead motor. He has recently undergone a liver transplant and dedicated the motorcycle to the team and hospital that saved his life, incorporating in it the 40+ staples from the operation, and named it DNA because of the liver matching DNA that he received. But the unusual event for the day was when a lady came up to Kay and asked if "she was the lady in the magazine." She was referring to a two year old article in the HOG Magazine, one she had only just read. More surprising was she knew Freddie and we ended up spending dinner with her and her husband at Freddie and Nathia's house. I smelt a setup but Freddie assured me it wasn't.

19/8/11 Freddie and Nathia both work for the New York Parks department and were off to work today. Due to a bit of a mix up our posted packages of a Tomtom navigator and Lonely Planet guide books weren't delivered so it was shopping for a new navigator. Two and a half years since we purchased the European model and the prices have fallen and the features doubled, like most electronics. Maps of the US, Canada and Mexico all preloaded, free live traffic updates for the life of the unit,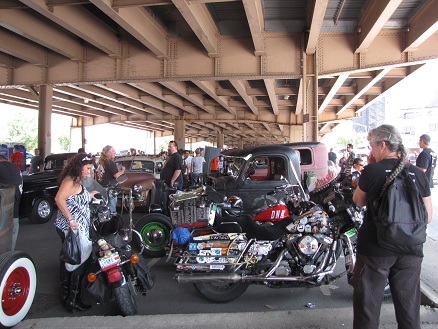 speed and red light camera alerts, all for 160 dollars. We are noticing the great differences between Europe and the US this visit, having come directly from Europe. In 2001 when we visited the US we were straight out of almost two years in Africa, an amazing culture shock, but it is still surprising the differences between Europe and the US despite what might be called a Westernisation of cultures. We will chronicle many of the differences over the next few weeks but today it was laundromats. In Europe everyone has a washing machine making it difficult for travellers to do washing, but here most people go to one of the many laundromats dotted around in every little shopping centre. At $3.00 a load, why would you own a machine, and it is a great place to meet people and catch up on local happenings and gossip. We spent an hour walking along the wide timbered boardwalk stretching out along Rockaway Beach in the summers evening.

20/8/11 Some days are just full on. We all left for the annual Rumblers Hot Rod meeting. Held under a freeway overpass in Brooklyn there were dozens of magnificently restored and period classic cars and hot rods. Freddie seemed to know almost everyone, having lived in the area in his youth.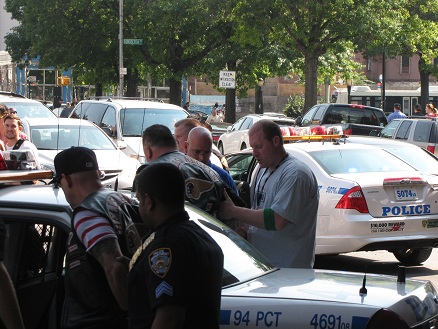 We wandered amongst the cars, the crowds, having a dirty water hot dog, a pretzel, a soda. Steve from Iron Works Magazine and Freddie had arranged a photo shoot for ours and his motorcycle, a possible couple of articles, and in the local park we posed for photos. That over and resting near our motorcycles there were a couple of the local boys doing wheelies for the crowd, some pretty good ones, until one flipped, the rider landing hard and the motorcycle getting pretty banged up. Freddie has friend connections with the local Hells Angles and when the police, plain clothed and uniform started patting down two of them, and placing them in cuffs, the crowd became a little agitated with cameras recording the event. Reinforcement riot police arrived. The two Angels were bundled into a police car and the riot police started to disband the event, walking through the crowd instructing drivers to remove their cars, booking motorcycles parked illegally and generally flexing muscles. It was a peaceful, but firm disbandment of the event. We hung about watching the hot rods power up and leave, some showing their displeasure at being moved along with a flexing of tyre power muscle to the joy of the crowd. For us it was off to the Hipsters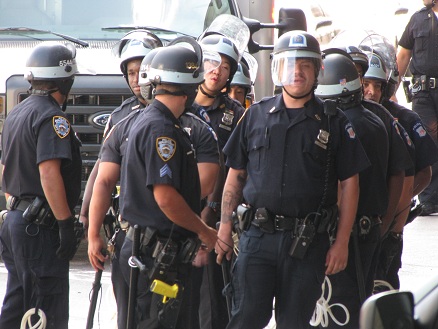 part of town. Hipsters are the next version of a series of coined labels like DINKS, YUPPIES, etc. About eight years ago they started buying up a run down area of Brooklyn and have now turned it into "the in place to be". They were described to me by a local street stall seller as being, generally slim, healthy living, tree hugging, casual hip dressing, but in seemingly contrast, drug taking kids from rich families paid to stay away from home. And to finish the great day we visited and had a beer in the underground bar, bike shop, of Eddie's, the guy who is credited with inventing the term DILLIGAF and named his bar accordingly. In case you don't know the expression it stands for Do I Look Like I Give A F**k. Definitely a great place to hang out and similar to the one we visited 10 years ago, now at a different location.

21/8/11 We rode in Alaska with Freddie ten years ago heading for Prudhoe Bay but Freddie's motor bent a crank and although he noisily made it to the Arctic Circle he had to return south from there. It was a sad farewell but eased by loose plans for Freddie and Nathia to meet up to again attempt the ride to the top of America, either next year or in 2013.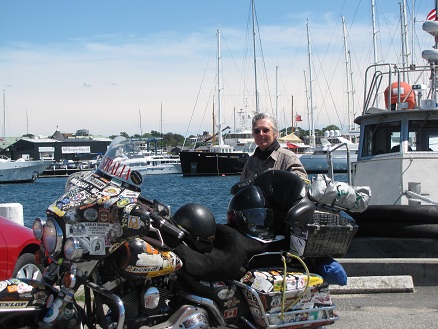 Underway for the first time this trip in the US we headed north through Connecticut and Rhode Island. Some states in the US don't require motorcyclists to wear helmets, these are two of them, and consequently almost no-one wears them, and similar to Australia, and totally different from Europe, they don't wear any protective clothing here, riding in just T-shirts and jeans on this midsummer's day. Travelling Interstate 95 North where almost every exit has a bunch of fast food outlets, a couple of highway side motels and gas (petrol) station we stopped into a Comfort Inn, internet booked on a two night Sunday special and caught up on world events with the complimentary newspaper and 100 channels of TV detailing the fall of the Gadhafi regime in Tripoli, Libya.

22/8/11 Ice is a big thing here and a hotel without an ice machine would be like not having air conditioning, ensuite or a TV, something practically unheard of in the US. Even a fridge and microwave are common hotel room items. A single room doesn't mean one person it means one bed, a queen sized bed or bigger, for two people. A double room means two large beds. The rooms are large, matching the populations physique,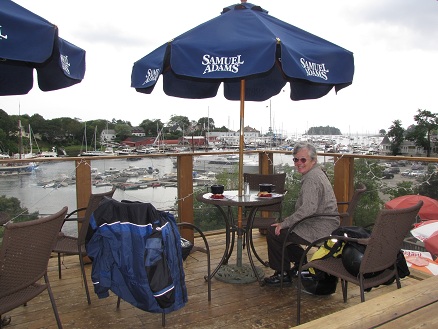 their vehicles. Comfortably furnished and well appointed they easily outshine any similar hotels in Europe but lack the character of smaller accommodations, pensiones, we found in European towns. The hotel chains here seem to have outpriced the smaller places in America, from what we have seen so far. Mingled with the rich and famous, well actually mingled with the tourists who were in the rich and famous area around Newport, the place of The America Cup sailing fame, the place with mansions overlooking the lovely coast, the place of great history in the US. Spent most of the day in Newport, a windy sunny day, beautiful location.

23/8/11 Heading further up the Interstate 95. The odd numbered highways run north/south, the even numbered highways run east/west. The 95 has a couple of toll charges, not much, and its surface is generally good. Trucks here travel at the same speed as cars, unlike Europe where they are limited to about 50 mph. Even though some highway speeds are 55 mph we were overtaken often by vehicles travelling at over 70 mph, including trucks, as highway policing seems limited. Even so highway travel was generally easier than in Europe with fewer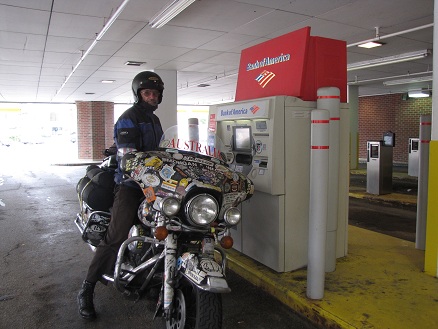 trucks and smoother flowing traffic. City roads however are not so well maintained. It seems the money was wasted in the good times and now there is none left for maintenance. Many roads are bumpy from potholes, not swept of road debris like pieces of truck tyres, oil is thick, particularly at traffic lights and toll booths, making riding a chore of dodging obstacles rather than relaxing. Checked into another cheap hotel, a Mom and Pop hotel, not a chain, on the edge of Portland Maine after riding through the states of Massachusetts and New Hampshire. An easy days ride, relaxing along the way at stops.

24/8/11 The USA is the unquestionable home of the restaurant chain, and there are many in the country, almost uncountable. We have decided to try as many as reasonably possible without compromising our health, at least without compromising it too much. Trying to limit ourselves to one or two a week we should be able to visit near 100 over the next couple of summers we plan to be here. We started the other day with Friendlies, buying an ice cream, a simple start. Healthy food here is not cheap, and takeaways are good value, a dilemma for the population. We spent a few hours wandering around Portland's waterfront. A mix of upmarket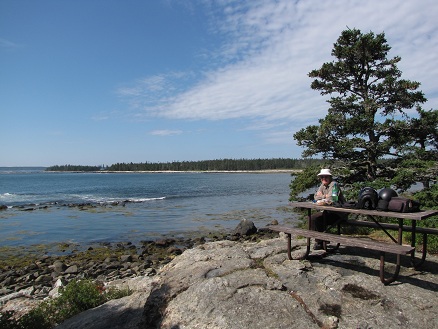 tourist shops intermingled with fishing sheds and outlets, crayfish the main attraction. A number of busloads of the elderly arrived midday but otherwise it was quiet.

25/8/11 We took a beautiful ride up highway 1 from Portland to Bangor following the coast most of the day. Our first long ride on a secondary road, little traffic and smooth flowing, very enjoyable. Stopped off at Camden for a few hours to watch some old clipper boats taking out day trippers, people shopping for local crafts, and of course coffee. This part of America doesn't seem to have taken on the coffee culture of Australia and Europe, with their outdoor settings. Instead there are lunchtime restaurants, mostly indoors. Another chain hotel tonight in Bangor, Motel 6, a bottom end chain, $60.00 a room, about what we have been paying elsewhere. Our hotel is full, travellers and workers, a friendly bunch happy for a chat, like many Americans we are meeting.

26/8/11 Cyclone Irene is heading our way, up the east coast, expected to make landfall tomorrow near New York and follow the coast up towards us as a strong storm. We headed to Bar Harbor, on the Maine coast, a day trip,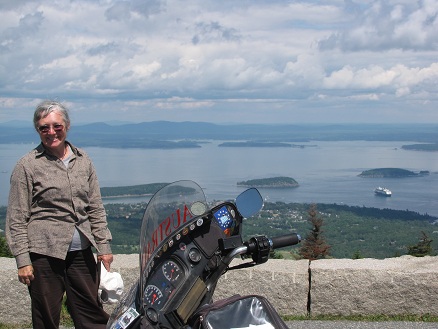 the last sunny day till the cyclone passes. Acadia National Park is the main attraction of the area. Situated on a bridged island it receives a couple of million visitors a year with its lovely coastline, forests, lakes and streams. Walkers, canoeists and drivers alike visit. We rode, stopping at some lovely rest areas, the compulsory coffee, overlooked Bar Harbor from Cadillac Mountain, a visiting cruise ship anchored offshore. In the evening Peg and Claude, a couple we met yesterday evening, took us to a local truck stop for dinner. They are retired, have a cabin to the north of Maine, summer here and winter in their home in Florida. A lovely introduction to dining out at a truck stop. Great portions of food, incredible pie, fresh raspberry or blueberry, and lovely company.

27/8/11 Rode out along highway 2, west through Maine and into New Hampshire to Littleton. Hot cloudy and sticky still waiting for the cyclone to arrive. A lovely ride through open forests and small towns, many people selling items roadside, garage sales particularly popular and the road surface was good with little traffic. Away from the tourist areas prices and people are more real. The economic downturn affecting different areas differently.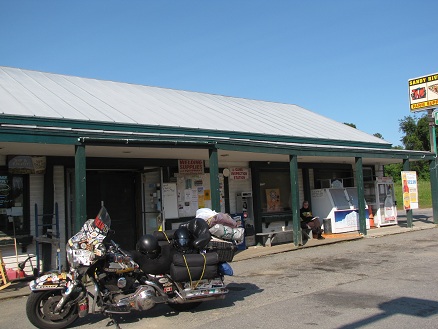 New York city was undergoing a lot of renovation construction, plenty of money there. Newark New Jersey had boarded up houses in every street, bank owned and unsaleable. Maine, a summer holiday destination has many holiday properties for sale at very reasonable prices. Retirees and others unloading property investments, but they are in good condition, well maintained. The whole country seems to be in a state of lockdown, maintenance mode, a wait and see attitude before spending, borrowing or investing. It could be a long time before things improve for everyone.

28/8/11 Rain started in the night, got heavier as the daylight progressed so we stayed in our hotel room. The predicted high winds didn't eventuate and by evening the rain was easing and the cyclone had passed however power went off late evening. There appears to be a bit of scare mentality here. After Cyclone Katrina authorities are overly cautious but the general media likes to drive up the concern of a pending event, whether it is a storm, a war, terrorism or even medical problems. Drugs, often for diseases I have never heard of, are one of the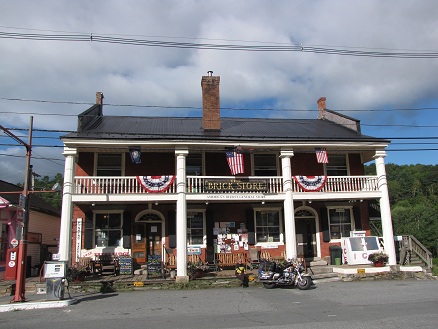 main advertisements on TV, the war on terror is still apparent at airports and in the media and now storms. It is no wonder anti-depressants are big here. One could be cynical and suggest that the scare hype on the TV plays to the advertisers and sellers of anti-depressants.

29/8/11 It was a dim morning till the electricity came on about 7am. We took the 302 west and stopped in Bath with its covered bridge and retro general store selling the best fudge. Sat on the porch in brilliant sunshine and chatted with a local character. The day looked perfect until crossing the Interstate 91 and further west on the 4, in Vermont, our path was blocked with washed out bridges and roads from the cyclone floods. Another attempt to head west from 91 had us on the 103, again blocked, worse this time, house basements flooded as well as roads. Here we gave up, like a lot of motorists stranded at the end of their holidays, and headed further south along the 91 only to find out that one of its bridges was considered unsafe and all traffic was being diverted, hours of waiting for the cars, but although we received a few aggravated honkings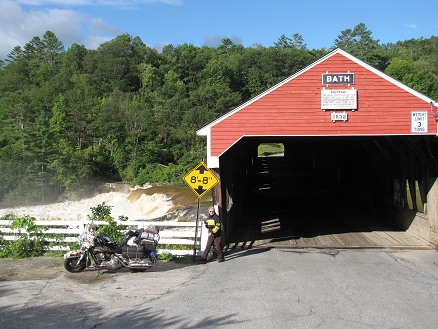 from cars we weaved through them getting to Hartford late in the day, a Motel 6. We were the only motorcycle lane splitting, normal in Europe, but doesn't seem so here as other motorcyclists just sat in traffic. We couldn't get to our booked hotel but despite their no refund policy we were able to negotiate a refund through booking.com due to circumstances.

30/8/11 West along I-84, as the interstates are the only open roads west from here. Flood waters are still rising in some areas, roads washed out in others. We rocked into OCC, Orange County Choppers, of the TV bike build fame, an invitation from Skeeter, via Freddie, liver transplant friends. Their newish showroom, four years old, is in Newburgh NY, and is where all the filming for the TV show takes place. We had a personalised tour of the premises, some of their famous motorcycles, like the Fire Bike, dedicated to the firefighters of NY, or the Make a Wish Foundation bike, and Space Shuttle Discovery bike, and many more, plus shop memorabilia and promotion materials. The tour took us out back where filming for a future show was taking place over the build of
another bike, one of the 26 a year they make for the show, plus near 100 for customers. As impressive was the state of the art machinery that carves billet alloy into almost any form one can imagine or a computer can create. These pieces are then painted or chromed and become part of the next bike to roll out the door. Corporate customers are a mainstay, wanting to promote their product through a unique motorcycle, or as a raffle-able item. Skeeter, a dyed-in-the-wool motorcyclist, basically born on one, advises on the technical side of bike builds, plus getting his hands dirty. There was a bit of reciprocal, a photo shoot outside their premises, a couple of promotional T-shirts and some stickers for our motorcycle before we headed out to Scranton, PA, 160 km further down the 84, for the night. Fast food "two" was Dunkin' Donuts, a bagel with what seemed to be powdered egg, wafer thin bacon and water laden cheese. The fast food industry here is under pressure to reduce the fat and calorie count of its products. To do so bacon is sliced thinner, water and thickener replaces fats in cheese, and who knows what is in powdered eggs, no ingredients label info on a bagel burger.

31/8/11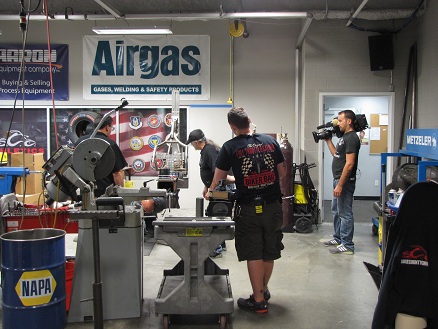 Quiet time at our hotel in the middle of Scranton, a spread out city of the car driving American norm, with carparking spaces taking up almost as much ground area as buildings. Banks, a mall, offices, people drive in and leave each evening, leaving behind an empty shell till the next business day. The car and individual allotments not allowing for city highrise accommodation here nor the inner city living that goes with it. A friendly bunch, we found an auto parts store, bought 5 litres of engine and primary oil plus transmission oil for under 20 dollars, amazingly good value and proceeded to change the oil in the hotel car park. The old oil was given to the local garage and we were told it would be burnt in a furnace for heating in the winter, true recycling.

1/9/11 Some rain, some wind, lots of trucks, on our 500 km westerly ride along I-80 through sparsely populated undulating forested land to Youngstown. Our "third" fast food experience, Quiznos, a sandwich chain attached to a petrol station for lunch along the route. Our odometer registered 600,000 today. Well the old odometer had 583,200 km's when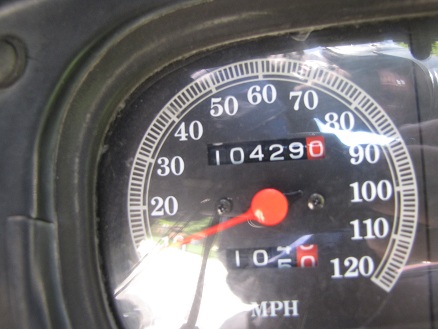 we changed it. The new one, in miles, passed 10,434 miles (16,800 km) which makes the total of 600,000. We are now in Ohio, our tenth state so far this trip, mostly small states, mostly sparsely populated inland. We have learnt that each state is incredibly independent within the union of the United States. We saw a disgruntled man, driving an Arizona registered vehicle on holidays in Pennsylvania, being booked because his vehicle did not comply with Pennsylvanian law. How anyone can know the 50 different states automotive laws is beyond me. At each state border they seem to proudly advertise one feature of their state law, like, headlights must be on when driving in a roadwork area in Pennsylvania, headlights must be on when windscreen wipers are working in New York, motorcyclists don't need helmets in Maine but do in New York. When we were in Oregon last time we were tersely informed we could go to jail for what we just did, which was trying to pump (gas) petrol, illegal in that state. These are just some of the differences, there are many more, not just with motorists but in most other areas of the law, a potential legal nightmare for anyone moving about the 50 states of this country.

2/9/11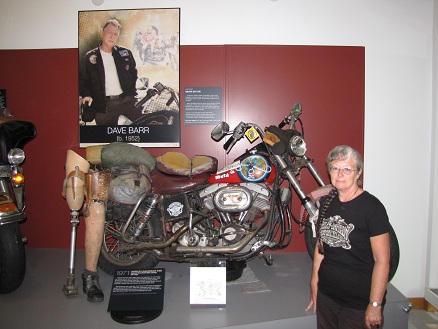 We had internet purchased a second hand gearbox (transmission) and attached sump from Pinwall Cycle Parts in Massillon, Ohio a couple of weeks ago, $400. It was from a crashed 1994 Electraglide Classic, same model and year as ours. The bike had travelled 59,000 miles, about 100,000 km's, before it was broken down for parts. Pinwall Cycle Parts have an enormous parts warehouse, tens of thousands of catalogued parts, many listed on EBay for sale, where we found ours. As we were passing the shop we called in to collect the transmission which was loaded onto our top box rack for the 300km ride to our friend's place, where we will store it till it is needed. Our motorcycle's original transmission is well worn, a repaired hole in the sump, ovaled swing arm attachment holes, not to mention 600,000 km's wear on the gears. Still, it is running for the moment, but a spare will ultimately be needed, and they aren't making any more for our model. Moved on to Cambridge, Ohio, another roadside motel, nicely airconditioned as temperatures rise to 34 degrees centigrade.

3/9/11 The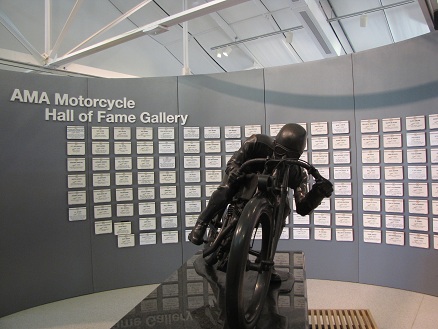 American Motorcycle Association's Hall of Fame Museum is in Pickerington, Ohio, displays over 100 motorcycles and has a few hundred inductees, including Dave Barr, a good friend, a double amputee who rode his Harley-Davidson motorcycle around the world back in the 80's, a Shovel, and it is on display at the museum. We were there at opening and spent a few hours reading about the people who made motorcycling great in this country. As we mentioned before, Americans are a friendly bunch, and while riding towards Bowling Green, Ohio, a Harley rider pulled alongside, acknowledged us, then pulled in behind, and we rode this way for the next 50 miles till needing gas. Cricket, his nickname, followed and we spent the next half hour chatting before again riding together past his turn off probably never to see each other again. A great guy, interesting, forthright enough. A snippet encounter of lasting memory.

4/9/11 Carl and Kathy were the first people to invite us for a home visit over the internet, way back in 2001. Motorcyclists, we met up with them at Niagara Falls in 2003 and have kept in contact since, and again stayed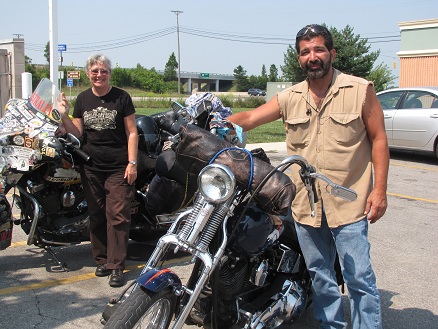 with them last evening. Retired from motorcycling, but not life, they eat out for most meals, sampling and reviewing restaurants in their town and nearby Toledo. They took us for breakfast, at their favourite coffee shop in Bowling Green, meeting coffee friends. It is a relaxed place of leisurely coffee and conversation with books to read, games, magazines and newspapers, a comfortable place to while away a few hours. In the evening we were taken to their favourite restaurant, not only because of the food but because they have made good friends with the Indian family who run the restaurant, Tandoor. The food was excellent and, invited to the kitchen, I met the mother and father chefs, their daughters and other close relatives, waitresses. Carl and Kathy have become such close friends that they have been invited to the daughter's wedding in the Punjab, India, next November.

5/9/11 It was breakfast at the coffee shop again with, today, about a dozen friends of Carl and Kathy's came and went, mostly retired university professors, interesting and intelligent, diverse in faculties and background, really interesting discussions and we can see why Carl and Kathy
enjoy breakfasting here each day. We said goodbye and headed north to Toledo, to the original Tony Packo's, the Hungarian sausage (hot dog) restaurant made famous by Maxwell Klinger of MASH fame, a local resident whose real name was Jamie Farr. Burt Reynolds started the custom of celebrity signing hot dog buns, later continued by famous visitors like Bing Crosby, President Clinton and President Obama, all who have eaten at the restaurant, leaving signed buns which now line the walls. We, along with Carl and Kathy, had the traditional, original, half Hungarian sausage bun, liberally doused in sauce and pickles, but we ate ours, not being famous enough to be asked to sign it. Headed north against the returning holiday traffic, highway 23 to Bay City, cold and windy, not a great ride.

6/9/11 Our motorcycle is 19 years old and some parts are not available through Harley, however people will upgrade old motorcycles and we can sometimes get them as takeoff parts at Harley dealers. Called into Bay City Harley to see if they had any we required out back in their workshop bin, unfortunately no, but it was a great way to meet locals, have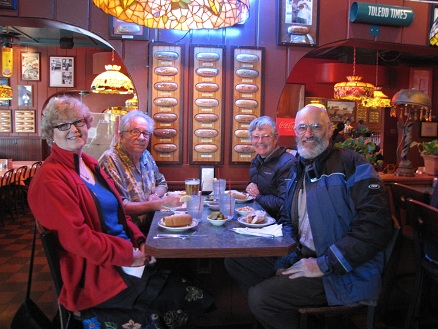 a chat, and most dealers provide free coffee, so it was still a win for us, and something we will continue to do till we get the parts, an air filter box for a 1996 FLT an upgrade from our 1994 model, a set of VOES hoses, a genuine H-D carby. It is eight years since we were last in the US, 116 countries have been ridden in in between, so our view and outlook towards the world has changed, as has America's, and it is interesting to reformulate our perceptions as we continue travelling here. One thing we realise is emails are a dying communication. When phone calls were expensive emails were great, lingering in the internet ether until received, but with text and cheaper phone calls they are less used. The new great, and often not fully utilised, yet, is Skype. With wi/fi's increasing coverage to almost everywhere, Skype is free for video calls and text chatting to other Skype people, and only a few cents to landlines anywhere in the world. For us it is the future as it can be accessed from our laptop (notebook) or a hand held device, almost a Dick Tracy video watch!

7/9/11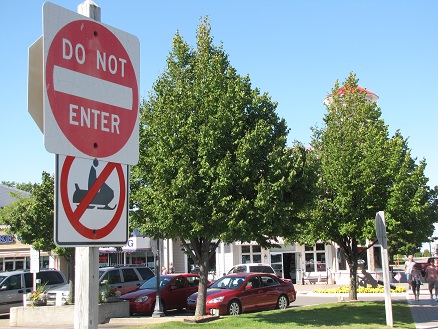 You get the full effect of the road on a motorcycle and often the words of the song, "Dead skunk in the middle of the road, stinking to high heaven" come to mind as we pass one of the many powerfully aromatic roadkills. Headed north to Mackinaw City, stopping a few times along the way. We had been advised that Walmart was the only place to shop in the US, that it had outpriced all competition. It has just about everything we might need, so today we put it to the test, and yes fruit and vegetables were good and a good price. It also had the other things we needed, but we couldn't find milk powder with fats. Skim milk powder, yes, 2% or as it comes from the cow, 3.5% or full cream, no, as most people here use non dairy coffee creamer, a corn based product, not milk in their coffee. Corn is the ubiquitous ingredient in almost every product on the supermarket shelves, or if not there is the soy alternative. Processed and value added the norm, natural unadulterated produce almost unobtainable. McDonald's Angus wrap snack our "fourth" chain meal, better than their burgers, our opinion.

8/9/11 Mackinaw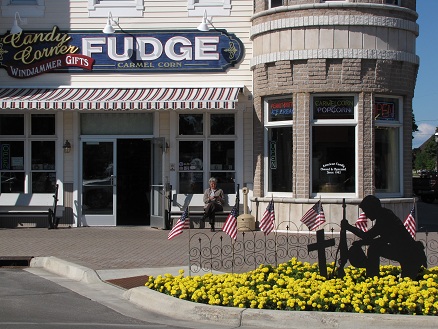 City is a tourist town of the extreme. Every second building is a hotel. It is the feed town for Mackinac Island, a vehicle free island out in Lake Huron where horse drawn wagons and bicycles reign supreme. Fast ferries take day trippers and overnight visitors there, the main indulgence being fudge, lots of fudge, every different kind of fudge you can imagine. With the school holidays over children have been replaced by grandparents, friendly and open for a chat, moving at a slower pace, like a lot of the US we have visited this trip the recession seems to have given back time to the population. Perhaps it is the empty shops and hotels, perhaps the rural areas, perhaps the age of the population, but there is certainly more time being spent at a relaxed pace than when we visited eight years ago.

9/9/11 Many of the hotels we stay in provide breakfast, like the one we stayed in last night, but there is no washing up. Polystyrene bowls, plates and cups, plastic cutlery, spreads in individual containers, paper serviettes by the dozens, all in the garbage after single use. It is the same in fast food restaurants. Recycling, haven't seen much sign of it. A lovely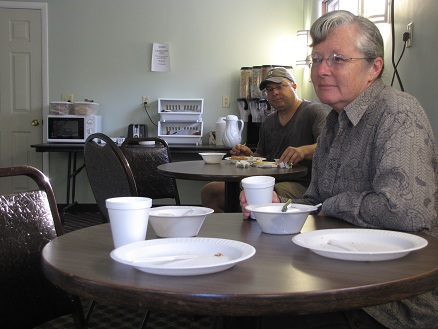 sunrise across the glassy lake welcomed the day and we rode across the Mackinac Bridge into Upper Peninsula Michigan and followed the coast near enough along the western side of Lake Michigan down to Marinette, passing many small towns, centreless, sprawling hotels, businesses, all on large blocks of land divided by mammoth car parks. It was a great ride in gorgeous weather, an emptiness of vast lake views and closed forests. In the evening we cooked, petrol stove, down near the Menominee Marina, the twin town, vegetables and meat, simple, tasty, basic, unprocessed ingredients. It drew some quizzical looks, boaties mostly, off to a Friday dinner at a favourite restaurant. Some stopped, and our actions then seemed more acceptable, as we were "Australians", the land of Crocodile Dundee, "it tastes like sh** but you can live on it."

10/9/11 About every second motorcycle we have seen on the road is a Harley-Davidson, mostly cruisers. Then there have been the Honda Goldwings, a few sport motorcycles, very few off road, and almost no BMW's that we have noticed. But the motorcycling population is getting older. Perhaps it is the cost of getting the license, perhaps the cost of the motorcycles, perhaps it is again a dying recreation, but there are few young people that we see riding. As the older riders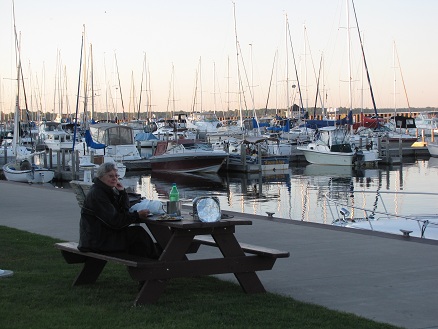 get too old to ride on two wheels they move to trikes, or quite popular is the Can Am Spider, a two front wheel one back "motorcycle", sidecars are still rarities. The local H-D shop was having its 2012 model release day with a live band, hamburgers and corn on the cob, light beers, and product discounts. By the time we arrived there were a couple of hundred motorcycles parked up and things were well underway. We canvassed the parking lot and noticed only one other Evo era motorcycle besides ours, a model that expired at the end of the 90's, all others were the newer Twin-Cam, well washed and shiny. We don't fit, nor does our motorcycle, yet we seem to fit the marketing dream of owning a Harley, of riding free across the USA or across the world, and yet, somehow, just owning one seems enough for most. Cooked our own dinner, in a park alongside the river, lovely parks in this town, and almost empty except for young families also picnicking.

11/9/11, or as it is in the USA 9/11/11, and ten years after that event that most people, certainly those in the US, remember exactly where they were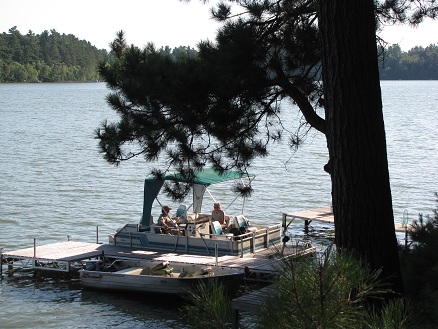 when they heard the news that there had been an attack on US soil, four hijacked planes crashed, two into the World Trade Centre. The tenth anniversary had shown reminiscence of the years in between on the media the last few weeks, was now showing on television the personal effects of the events. Each person reflecting the individual effect, but as a nation all seem united today. It was a short scenic slow ride to H-D Ray and Deb's place near St Germaine in the lakes area of northern Wisconsin. We stopped a few times, boiled some corn for lunch, bought a nick nack or two as presents from a nick nack shop, popular in the US with holiday makers. Local stuff, shop made jewellery, witty sign boards, unusual candles, stuff you don't see in regular shops. H-D Ray and Deb threw a great 100th anniversary party in 2003 at their farm near Milwaukee, which is where we first met, and since then Ray has retired from working for Harley-Davidson and moved to the north, lakeside, built a magnificent house over the last three years, and is now enjoying his past labours by spending his spare days fishing while Deb likes feeding the wild deer and other animals that come to visit their yard, humming birds, squirrels and occasionally less welcome black bear. In the later
balmy evening Ray took us out on the lake in their pontoon boat, visiting a few lakeside neighbours, a couple of whom joined us for a fresh Ray caught and cooked fish dinner.

12/9/11 Mornings start later here, coffee and a fry up as a breakfast/lunch before a ride around the area to see as many of the 1200 lakes in the region as we possibly could. Some have house lined shores, others designated forests, some small glassy picturesque, others enormous with shore slapping waves, all beautifully tree edged and generally free of the hectic civilization of suburbia. Wildlife abounds and we spotted near a dozen turkeys, a bit nervous as Thanksgiving is approaching, a large snapping turtle crossing the road plus deer in the forest. Ray and Deb's lake is ringed by neighbours and resorts, some seasonal, some staying through the long winters, ice fishing, inside hobby's filling time till springtime. Last winter Ray and Deb almost finished building their new home, are homes ever finished, worked on lining the downstairs bedrooms of their home while watching the tip ups to see if they had caught any fish out on the frozen lake. The mechanical tip
ups indicate a fish biting by raising a flag. by It must be interesting to spend a winter, at least one, something we should plan to do, a whole winter in a frozen land, something not possible in Australia.

13/9/11 Another relaxed start to the day when Ray suggested we visit a good friends place along our route, Doc's, a H-D shop with a difference, and after a couple of calls Doc would be there to give us a personalised tour. Having said goodbye to Deb, Ray rode with us for the first 50 miles, splitting off at Pelican Lake and we continued to Doc's wondering what we would find. Doc has been in the business of Harley's since the 1970's, drag races them, has had world records from his races, and is one of the most amazing people we have met. His dealership has the record of being in the least populated region of the US and yet he managed a turn over in the top 5% of dealer sales last year. He is not sure Harley-Davidson is 100% behind his concept which incorporates a menagerie of animals, camel, miniature horse and donkey, alligators, tortoise etc, a museum of some famous and historic motorcycles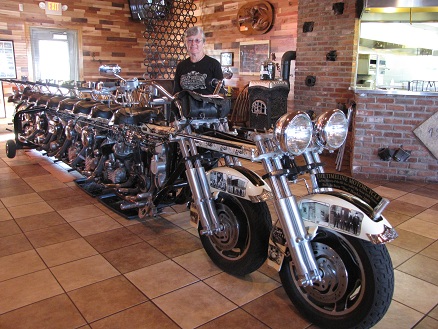 as well as cars from Doc's era, the 70's, plus other H-D memorabilia and unusual. There is a separate bar and restaurant serving great food, we had the ribs, and he has incorporated used Harley parts into the theme, clutch plates from his drag bikes welded together as wall dividers, old mufflers as urinal dividers and windshields hooked up to a belt drive for fans, just to mention a couple of the dozens of ideas he has incorporated into the place. But by far the most famous is the timeline motorcycle, the namesake of the bar, Timeline Saloon and BBQ, which has the seven different V twin engines designs from Harley's through time. They are all built into the one motorcycle, seating ten people, all run, and can drive the motorcycle at 70 mph down the highway, and it was ridden from here to Sturgis, just to prove it could be done. As we said talking to Doc is an inspiration to anyone on what can be achieved. After our ribs and a couple of light beers we headed into Green Bay for the night.

14/9/11 A cold change came through yesterday dropping temperatures from high 20's to low teens overnight yesterday and it really feels like autumn,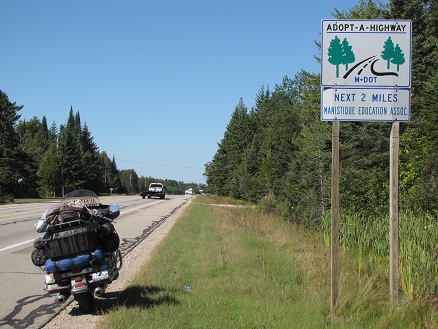 fall, has arrived in this part of the US. We headed, rugged up, down the interstate to Milwaukee after catching up on jobs put off during our visit to Deb and Ray's. American highways are generally clean, companies, volunteer groups, sporting teams, all sponsor sections of highways collecting rubbish periodically.

15/9/11 The Harley-Davidson Museum was not open when we last visited Milwaukee in 2003. It is a large construction set in parklands and includes a restaurant and coffee shop. The museum itself outlines the corporate successes of the only surviving motorcycle company in the US. The additional cost audio headphones give a polished company advertisement of successes of H-D, whilst the display descriptions are less wordy. Almost all of the motorcycles on display are in exceptional condition, restored or conserved. There are displays of hillclimb and racing, a couple of famous people's motorcycles like Elvis, a few reproduction favourites of Evel Knievel and Easy Rider but almost exclusively it is Harley-Davidson themselves that is on display, not the people who ride their motorcycles. Harley-Davidson motorcycles are sold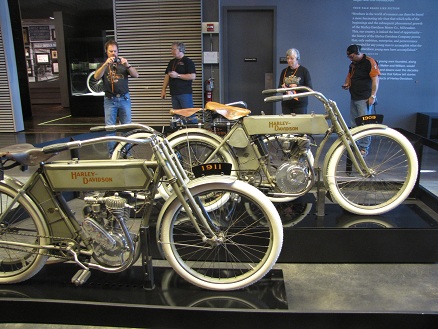 in over 70 countries, some countries for over 100 years, but there is a definite lack of international flavour to the museum. The museums exhibits are spread out, plenty of room for a growing company to show off its future achievements. Each Thursday evening in summer a bike night is held at the Museum. A couple of hundred bikes rolled through from 5.30 till 8.00 pm, a few beers, light eats, some lucky enough to pick up a T-shirt or even a leather jacket from the free raffle. Some great tricked up bikes were there, not many Evo's left though, almost all are now twin cam's, good conversations, and even met a head mechanic who was in Asia when I was there back in 1996, now doing a mechanic update course, flown in from India where H-D has recently opened five shops. A pleasant day in Milwaukee, but a scene our motorcycle no longer belongs to.

16/9/11 Down the freeway towards Chicago where six lanes of traffic run in each direction, when counting vehicles 60% were SUV's and just 40% sedans. On a motorcycle the SUV's make it difficult to see ahead, blocking the view, and give a closed in feel to the traffic, and just where are
all these people going at almost 2.5 gallons or 10 litres an hour, who knows? And just how many vehicles are there on the 4 million miles of roads in America at any one time? Well there are over 260 million registered vehicles. That's more than the number of licensed drivers, and has been the case since the 1970's. Chicago is also where Route 66 starts. The official starting place is near the corner of West Adams St and Michigan Ave. A homeless local, who sits and watches everything that goes on in his area, advised that the sign was removed by workers when they were erecting scaffolding. A new one appeared on the left side of West Adam St, just around the corner from Michigan Ave. He also advised that there are no public phones in Chicago as they were being used by drug dealers as calls could not be traced, so council removed them. We have found before, in almost every country, that homeless people know more about what goes on in their neighbourhood than anyone else, and for a few donation cents you can get good information and everyone benefits. After a photo in front of the sign we ate lunch at Lou Mitchell's, been there since 1923, three years before route 66, and it has been serving travellers since, and many had their last meal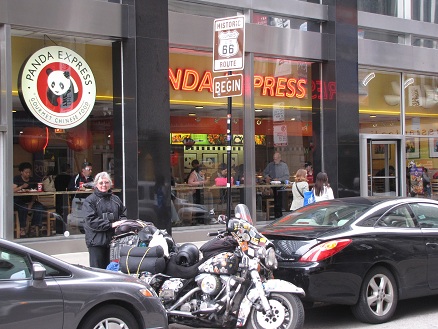 here before departing for the west. We also spent a couple of hours looking about Chicago, including the large statue of Marilyn Monroe near the Tribune Tower and Wrigley Building. We had not been into the city centre before and were impressed by its neat appearance and magnificent buildings, a contrast from the outlying areas which showed signs of lost greatness. Chicago is a city of enormous history from Al Capone, world's first skyscraper, first labor movement and more recently local boy Barack Obama.

17/9/11 One of the joys of the US after Europe is the availability of free toilets, euphemistically called "restrooms", everywhere, petrol stations, chain food shops, restaurants and they don't insist on us being a customer. Perhaps a small convenience but when needing a different one a few times every day it does make a difference. A magnificent autumn day and we were at the drive in eatery of the Gemini Giant, now over 50 years old, he still stands outside beckoning customers, and their mainstay, a large banana split, which we both indulged in. Route 66 meandered about, through a couple of smaller towns, signs directing us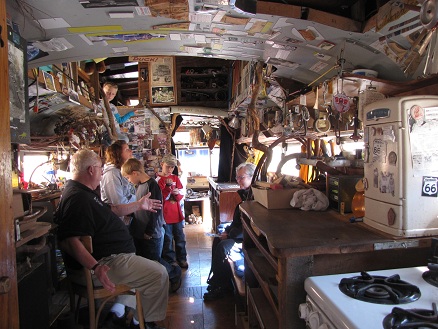 easily, although many are reported stolen as souvenirs, stopping at an historic preserved and restored service station where we met, our first Route 66 Harley riders, four Australians, from Perth. The best stop for the day was in the town of Pontiac, the town museum, where we were entertained by a good friend of Bob Waldmire's, the man that made Route 66 his home, where he sketched travellers for a living and lived out of his VW Kombi van, which is on display. His modified, ex school bus, his summer home, is also on display with all his artistic flair inside. Bloomington for the night after our "fifth" fast food, Arby's, a shaved meat burger, nothing special.

18/9/11 A Harley, no just another truck trying to sound like one. Taking the smaller roads we are encountering the unique US feature of the 4 way stop. Four stop signs at an intersection, first there goes first, second there goes second, quite a nightmare if there is traffic everywhere knowing who got there 8th or 10th. One could think they overdo the stop signs generally, with very few give way (yield) situations, and priority roads, signposted, not to be found. Mosied on further down
Route 66, sometimes taking the original road track, other times the later road, usually signposted, Historic Route 1926-1940 or 1940-1971 or different years as the road has often changed requiring businesses to relocate to keep customers. The road has totally disappeared in places, elsewhere it is under the interstate, but it generally runs close to the railway. Stopped for a cold herbal tea at the Dixie Plaza, McLean, where we chatted with a couple of ladies returning from a women's only evangelistic conference of 15,000 participants. Second stop at rambling old gas station in Williamsville, then the Cosy Dog Drive In, in Springfield, where the Corn Dog, a frankfurter in corn batter served on stick, was reportedly invented. A late lunch was had at the Ariston Cafe and Restaurant in Litchfield, great food and service since 1924, and we thoroughly enjoyed our liver and onions, a specialty, although the restaurant has moved to keep up with the moving highway. It drizzle rained most of the day but the riding and scenery was enjoyable and we stopped near St Louis for the night.

19/9/11 An
easy day, same hotel, just going out to change the motorcycle's oil, and to visit the largest prehistoric city in North America, dating from 1200 AD, Cahokia Mounds. Not much to see today other than grass covered mounds but about 20,000 people used to live here at its height. Our cheap, less than $40 a night hotel pretty basic and we can see why Americans like the chains, whether hotel or food, as they get a pretty standard reliable fair, something matching their budget. Our chainless hotel, what used to be called a Mom-and-Pop, but most are now run by Asians, generally of Indian descent, that boasted free breakfast, turned out to be one cup cake and coffee, that boasted internet, that barely allowed emails, charged extra for credit card payments, rented rooms by the hour, had porn TV free, and was generally the worst hotel we have stayed in recently. After this we are now also thinking towards the soulless generic chain hotels.

20/9/11 The Mother Road, Route 66, is about 4000 km's long, was in existence from 1926 till 1985 when it was officially de-commissioned. Its route has changed often during that time and since, being covered over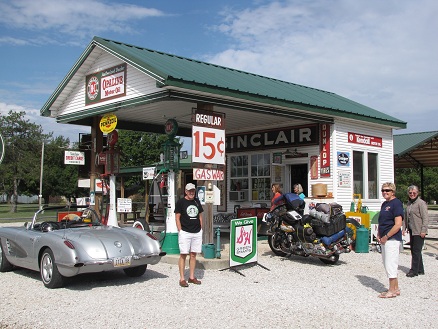 by the interstate, returned to farmland, sidetracked into a disused pathway where bridges have collapsed or are unusable. Still, as near as possible signs follow the main route, but more importantly, today's route follows the idea of Route 66. The old Chain of Rocks Bridge across the river in St Louis is no longer trafficable but can be seen from the new bridge on Interstate 270, after which we stopped at the Missouri Route 66 State Park Visitors Centre and Museum, getting more info on the roads history. After that it was a highway ride, down Interstate 44, which overlays or parallels Route 66. Munger Moss Motel started as a restaurant, morphed into a motel in the 1940's and is an icon along Route 66, in Lebanon. We stayed at the quiet motel, had a Tuesday session of ten pin bowling at the bowl centre opposite in the evening, can't remember the last time I bowled, but had a great time despite a few aching joints.

21/9/11 Noise in the US is everywhere. When we first started travelling here it was daunting, highway noise, air conditioners, fridges, ice makers, vending machines, it is difficult to avoid, but now we already seem to be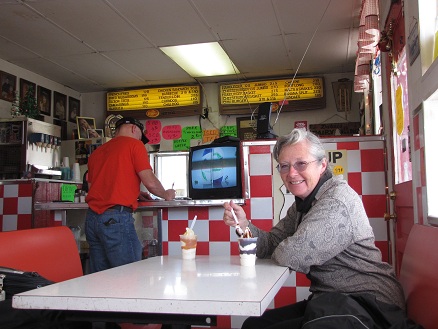 adjusting to it. There are few noise barricades along highways screening residents and roadside hotels from trucks, despite double glazing, we have constant traffic hum. Further along Route 66 to the Gay Parita stop where Gary Turner, a retired man, has set himself up as an historical and information stop on route. A warm welcome and free donuts and coffee await travellers. The next state, Kansas, just 13 miles of the road, a tired portion through an almost ghost mining town. The tiny ice cream shop near Miami, for an ice cream sunday, more conversation from friendly staff, a requirement for any business along the route, propensity to talk easily with travellers. There is little rideable of the original concrete, nine foot wide, edged road, but just after Miami there is a section, a few miles, rough and often gravel covered, but a good indication of how people must have travelled along in the 1930's. A long slow day's movement, talking, looking, and it was late afternoon when we arrived in Vinita, early dinner at Clantons Cafe, their signature meal, "chicken fried steak", pounded beef in batter.

22/9/11 Loud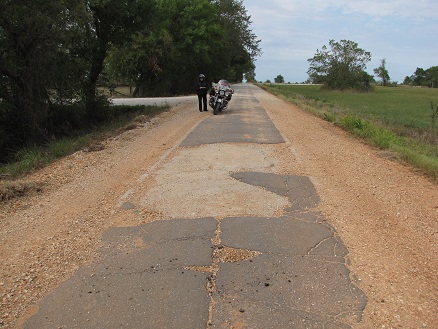 thunderstorms overnight and heavy rain in the morning had us staying in our hotel till check out at 11am when most of the rain had cleared. Sonic Drive In was our "sixth" food chain. A bacon and egg wrap. Nothing shows the US relationship with the motor vehicle better than eating at a Sonic Drive In. Drive into your own covered space, wind down the window, talk into the box, order, and a waitress delivers meals to your car where you sit and eat, often with the motor running and air conditioning, never having to leave the vehicle. The same with the drive through ATM's. We can ride through whole towns and even cities and hardly see a person outside of their vehicle. It would be an interesting exercise seeing the length of time each person spends outdoors in fresh, not heated or airconditioned, air in the US. Out on our naturally airconditioned motorcycle in light drizzle we passed the totem pole, the Blue Whale, the round barn, and many other roadside "attractions" past and present on Route 66 towards Oklahoma City.

23/9/11 The US, and most of the world are now paying for excesses of the last one and a half decades of boom times. It is now time to pay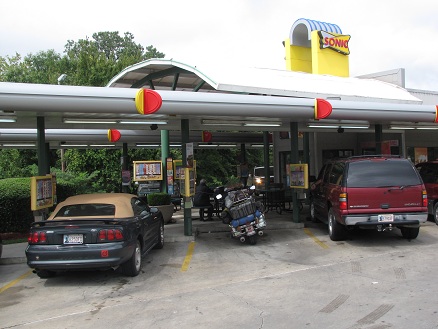 off the bills governments and people have been running up. Unfortunately governments around the world have already sold off and spent most of their assets, privatising, so there is no easy way to raise money. Also unfortunately we haven't spent that good time money wisely and there are reportedly now over 60,000 bridges across the US in need of repair. We have seen enormous amounts of roadworks from recent stimulus packages, Federal Govt grants, and dozens of crumbling bridges are already being rebuilt, but the money is borrowed, so it will likely be years of unwinding debt of the western world's governments. Took a short ride to Stockyard City, had lunch in Bricktown, but it was a quiet place in daylight. Our "seventh" food chain, Waffle House, waffles, but like almost any restaurant here burgers are always available. Why are we visiting so many chain restaurants in the US? Well we like to experience the foods of the countries we visit, and here food chains are the food of the country.

24/9/11 There is quite a push to Buy American, jobs and all, and we have even heard of people being asked not to drive their foreign made vehicle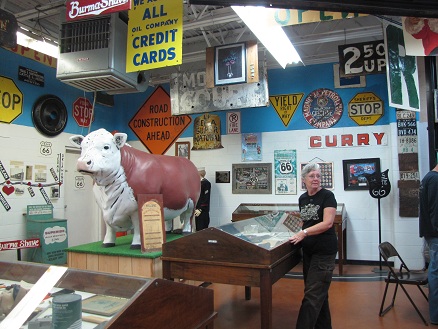 to work. Universities were berated for a start up student catalogue which had no US products, only imported items, and if the roads are an indication, US vehicles are highly prized, despite their fuel inefficiencies and rising fuel prices. An admirable campaign, but one that can reduce competition, as with cheap labour, which can hinder technological advancement. West of Oklahoma City you really feel like it is the wild west, oil rigs, old and new dot the flat red soiled landscape, cattle graze, and you can hear the songs in your mind, "24 Hours From Tulsa", "Is This The Way To Amarillo", and of course the musical "Oklahoma" as you ride the often hard to find and rough surfaced Route 66. To top it off a visit to the Barbed Wire Museum in McLean, a must, and a great view of this part of the country and of course barbed wire. Fast food is all along Route 66, as everywhere in the US, and it was a banana split at Braum's in Elk City for lunch, our "eighth" fast food, but being a Saturday night the locals from far around visit the Red River Steak House, in McLean, in the evening with live music, and we had our first real, Texan steak, massive, no alcohol though as this is a dry county. Slept next door at the Cactus Inn.

25/9/11 A deser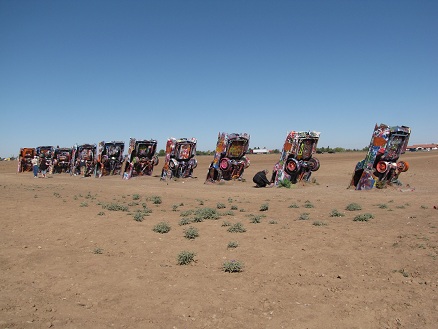 t hot day yesterday, lovely sunset, lovely sunrise this morning and a cool desert start to the day. The most kitsch place along Route 66 could go to the Big Texan Steak House where you can get a 72 oz, (2kg) steak and all the trimmings, salad, shrimp etc for free, as long as you can eat it in an hour. They don't give many away, most people paying the $72 default price. It is a bit of a cross between an old theme cowboy town and a mock up Vegas construction, worth a look in. The steaks likely come from one of the six million cows a year that come off feed lots within 150 miles of the place. Cowboys out here now rarely ride horses, they more tend cows in feed lots, seen, or smelt, along the roadside. Now, when an eccentric millionaire likes the tail fins of Cadillac cars what does he do to tell people, well he plants a selection of them nose down into the desert leaving just the tails exposed. They have been here since the 70's, had them repainted, pink for breast cancer, black when he died, and now anyone with a spray can can leave their mark, at least till someone else comes with another spray can to overwrite it. Reached the town of Adrian, now almost a ghost town. Smaller villages that can't think of a "hook" are disappearing,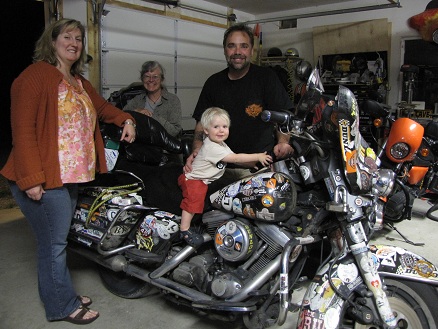 joining more spread out larger towns. Adrian is hanging on just, The Midpoint Cafe still running, the Midway Service Station now having succumbed to "progress". The much larger town of Tucumcari, NM is also showing a slowdown with many hotels closed and heavy discounting of the remaining, some rooms at $25 a night.

26/9/11 Like a camel we usually stoke up on fluids before a ride, but in cold desert mornings that means many stops to empty out, so by the time the day is hot, dry and windy we need to rehydrate quickly, dehydration can be fast, and if we forget, it's a headache, usually solved by a couple of aspirin, blood thinners and a good drink. Stopped in at Santa Rosa and Clines Corners, Subway footlong sandwich our "ninth" chain food, on our way to see Greg and Brie who live in a nice house on a couple of acres of land along a dirt road not far from Albuquerque. We had first met them in Pohnpei, an island of Micronesia, back in 2008. They were there working for the US government, and Greg, a Harley fan, saw our motorcycle, welcomed us, we joined him on a ride, and had dinner with them afterwards. They moved back to the US a couple
of years ago, New Mexico, and now Greg works at the local Harley dealer in Santa Fe, in spare parts. Apart from their two dogs they have a new addition to the family, an 18 month old son, who is occupying any spare time, like toddlers will.

27/9/11 Greg had arranged with his boss at Santa Fe Harley-Davidson to get us a rear tyre at staff prices, and for us to work on our motorcycle in their workshop, a hoist at our disposal. With our motorcycle now a bit pernickety, battery in the pannier, starter switch near the starter motor, an older motorcycle, it is easiest that we work on it ourselves. We chose to work on the ground, more familiar to us, and proceeded to remove the rear wheel, grease the bearings, repaired a couple of worn electrical wires, cleaned the brakes, greased the front wheel bearings, and chatting with the friendly staff and customers the day disappeared quickly. Santa Fe Harley is a large shop with plenty of stock, parts and motorcycles and Greg managed to get us a couple of other parts we required. The ride from Greg's house to Santa Fe passes through Madrid, a 1970's hippy era town of artisans and alternativists, and where the movie Wild Hogs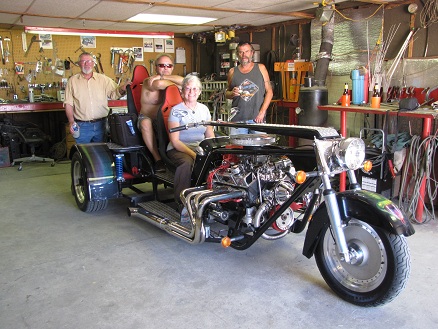 was more recently filmed. We stopped in there on our return, an afternoon snack, and in the evening went out to dinner at a Mexican restaurant, with Greg, Brie and their son. A lovely meal, but we were surprised when the waiter asked for our ID when we ordered Margaritas, didn't think we looked anywhere near the drinking age of 21? Apparently it is the law in New Mexico that all sales of alcohol require ID, even for ancients, another one of the different state laws that keep cropping up as we travel. We have been noticing the increase in Mexican style houses, adobe, Mexican descent people, more Spanish spoken, as we have moved further into New Mexico. There is also much Native American Indian influence in the region.

28/9/11 Said goodbye to Greg and Brie, headed south 400 km's, off Route 66, towards Las Cruces. We have been seeing a number of wind generators, not as large as the European ones, nor as many, but a number of clumps have been sighted across the desert. Surprisingly we haven't noticed any banks of solar panels, but remember gasoline and other fuels are less than half the price of Europe's. It was an interstate highway,
straight and generally flat, and a hot day for travel. We were heading for Las Cruces to see Dan, whom we had met at the German Horizons Unlimited meeting in Germany a few years ago. He lives with his ex-Russian wife Vera on the outskirts of town, on a large block of land in a comfortable prefabricated home, like many we have seen dotting the countryside in this part of the US. His neighbours, Cal and Sandee, and their four dogs, joined us all for an outdoor BBQ in the evening. All motorcycle enthusiasts, except perhaps Vera, there were three trikes, half a dozen motorcycles of various varieties, on and off road, and of course ours, all helping keep the conversation fluid. The conversation also turned towards Australian and US gun laws, almost opposites, the advantages and disadvantages of each. Both Dan and Cal like hand guns and rifles for sport and security, and showed us a couple of examples of each. Another Australian motorcyclist, Ben, riding his Kawasaki KLR, also touring the US, joined all of us, having visited Dan and Vera on a previous US visit.

29/9/11 Vera looked after us for breakfast, a lovely treat, and then it was into Dan's truck and off to the local Space Shuttle Museum where the 30 year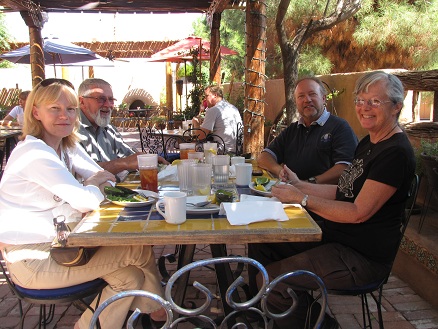 history of it and other space craft were on display. It was the end of an era, moreso for some. Cal had worked on the Space Shuttle project for all of its life, was retrenched a month ago, and is now in semi-forced retirement, as are many other shuttle workers. In the museum I got to handle parts of the leading wing, the re-entry protective cover of a space shuttle, similar to the parts that failed on re-entry, causing the destruction of one shuttle. My first handling of something that has been in outer space. Lunch was in the old town of Mesilla, a Mexican restaurant, and the town where Billy the Kid was tried, the court house still stands, but is now a souvenir shop. We also visited a couple of aftermarket H-D shops looking for a second hand air filter backing plate, only to find out that ours, an international model was never available in the US. Another enjoyable evening out in the rock and sand garden BBQ area with last night's company plus a couple more, and more beer, wine and spirits.

30/9/11 After saying farewell to everyone, with promises they would visit us in Australia, we headed up the interstate 25, back to Albuquerque,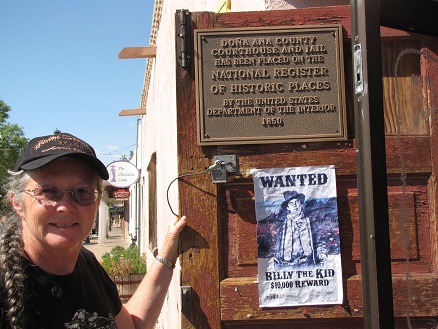 a cooler ride than previously, but the scenery was still quite bland. A Burger King hamburger dinner, the "tenth" chain restaurant in the six weeks we have been in the US, and we are already missing Vera's cooking. Back at Route 66, and we had earlier listened to the John Steinbeck novel, "The Grapes of Wrath", on audio tape, a great background history to the road, how things were in the 1930's depression, how much better they seem now even though sometimes conditions are being compared to the 30's, but we couldn't help view the similarity with the current protests against corporate excesses outside Wall Street and the hard stance reaction of the police against the protesters, something that doesn't seem to have changed in 80 years.

1/10/11 Geese are taking to the air and flying south, winter is coming, and they have been since we were in the Lakes districts in the north. In Albuquerque hot air balloons are taking to the air, their annual Balloon Fiesta, the largest in the world and today a world record was set with the launching of 345 hot air balloons in one hour. With the economic downturn there are only about 550 balloons on site, in previous years near 1000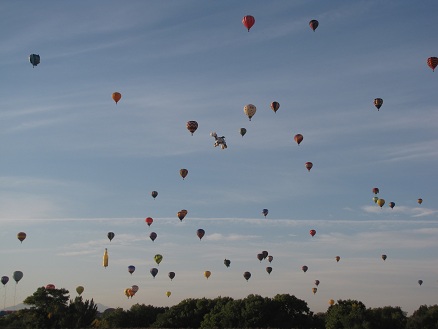 have been here. Most are standard balloons but about 100 are specialty designs, wagon train, bumble bee, witch, bottle, house, and new this year the world's biggest butterfly. The world's biggest is fairly liberally used in the US but this time it seems genuine. We were up at 5.30 am to ride to the launch site for the "mass ascension" at 7.00 am. Traffic was backed up but roadside viewing was our preferred option and as the sun rose over the mountains the balloons burst into colour as they drifted slowly, almost stalling in the windless conditions, rising and falling overhead, a wonderful spectacle.

2/10/11 We were back at the balloon site this morning, 7.30 am, and some balloons were already aloft, and seemed denser in the sky as yesterday's record was being challenged. We then left along route 66, actually interstate 40 to start, as most of the old road has been overpaved or destroyed here. Ready for a coffee in Grants, McDonald's, and after a leak, and realisation that we have been leaving bits of ourselves in toilets (restrooms) all over the world, when leaving we stopped to help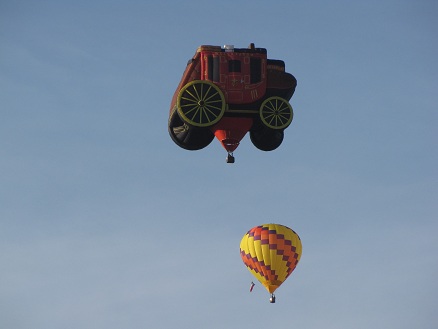 Randal, a H-D shovel rider from Albuquerque, heading for a weeks visit to his daughter 1000 miles away. His bike was running on just the rear cylinder. After checking the plugs, leads, it was determined to be a faulty coil. Luckily we carry a second hand spare, and it fits shovel engines. Within an hour he was off and we were pleased to have returned a bit of the good will we have been receiving over the years. Grants was another town showing its bypassing by the highway, and after a while it all becomes a bit depressing, once great small businesses sitting rotting. Nipped off Route 66 to the scenic 53 which wound itself through great rocky outcrops, ending up in Gallup for the night, tonight's dinner our "eleventh" food chain, Pizza Hut, not a recommended meal, at least not at this location.

3/10/11 Since we have been in the US we have visited or travelled near Madrid, Cuba, Mexico, Lebanon, Berlin, Hanover, all names from the "old country"? Perhaps a lack of imagination of the early settlers, or more likely they were a little homesick. Go west young man, or old man, woman and a motorcycle in our case. More on the interstate again, Route 66 here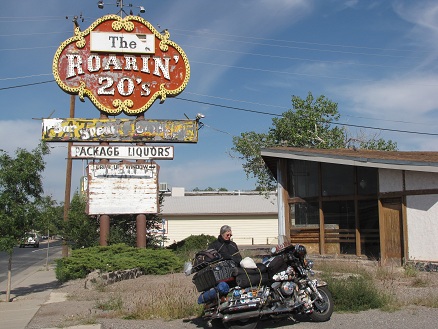 diminished, dodging thunderstorms all day, rising up across the rolling desert plains, dumping in streams of grey against the red rock. Stopped in at Winslow, Arizona, place of the Eagles song, "Take it Easy", "Standing on the corner in Winslow Arizona", where we chose a Chinese restaurant, full of American Indians or Mexican ethnicity, plus two Australians. All you can eat Chinese, Chinese with a local flavour, chilli, chicken and vegetables with chilli, pork and beans with chilli, fried chicken and chilli. Arrived in Flagstaff, 7000 ft (2000 m) altitude for the night. Much of New Mexico and Arizona is a high desert plain, cool nights and warm days and freezing winters.

4/10/11 Headed out towards the Grand Canyon along the eastern road, thunderstorms again brewing. More magnificent desert scenery, open and vast. Passed many Indian artifact roadside stalls, calling in at a couple, but many of the products looked like a lot of Chinese made Indian souvenirs for tourists. Our best deal for the day, and in the US, is the Annual National Parks Pass. For $80.00 it gives free entry to all of America's National Parks, Monuments and National Forests, plus some other free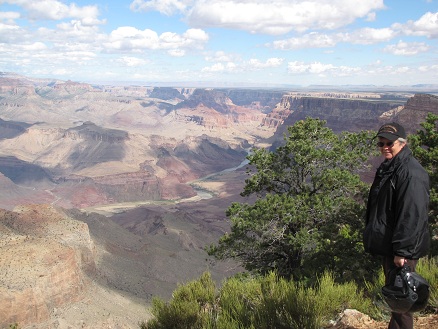 entries, for a vehicle and their passengers, for a year, an amazing deal. We have been to the Grand Canyon before. The first time was in 1992 when we were travelling the US with our three children for seven weeks in a motorhome. Then we walked to the bottom of the Grand Canyon on Christmas Day, camping the night at the bottom and taking two days to walk out. The second time was in 2003 when we were crossing the US on our motorcycle. Today it was just as impressive as the canyon colours brightened and dulled with the clouds and storms dumped leaving rainbows inside the canyon. As busy as always with busloads of tourists and the English language was rarely heard. We passed a couple of motorcycle groups, riding the rim, but as the storms increased and we headed through the mountains back to Flagstaff the altitude cold and now wet the day's enjoyment dimmed.

5/10/11 We have been seeing lots of the privatised prisons in this region. I suppose it could be viewed as illogical to have the people responsible for running the correction facilities, also benefiting financially from prisoners not being paroled or rehabilitated. The cool windy change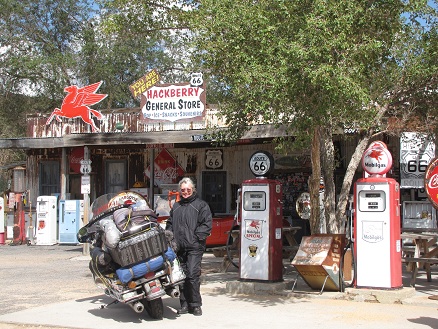 of yesterday was still here and we stayed inside much of the day but managed a ride to Sedona, and an oil change along the way. The ride took us through the Oak Creek Canyon, dropping off the plateau almost 1000m and to warmer, less windy and beautiful countryside. Sedona is a wealthy town, city, nestled amongst bright red rocky eroded mountains. A place of alternative new age beliefs, aura's, crystals, spiritual vortexes, mojo. The curio shops have all that is necessary for believers, and tour operators take devotees to significant sites in the desert.

6/10/11 The weather worsened, forecast max temp of 7 degrees and windchill at midday minus 4, winds south westerly, 42 km/hr, an almost head wind for us, and raining. The worst motorcycle conditions, cold, raining and windy. But, luckily, the forecasters were wrong, at least on the rain side, the rest was correct, it was cold and windy, at least till we dropped off the plateau. Stopped in at Williams, The Red Garter Inn, where friends Werner and Erika had stayed, their photo collaged on the wall. Warmed up in Seligman sitting in the sun on the gas station bench with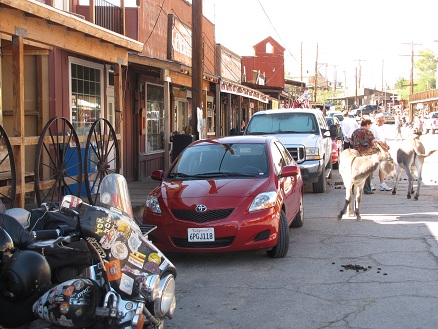 a cup of hot chocolate and had lunch at a great Route 66 stopover in Hackberry, one of our favourite 66 spots. Away from the tourists, which we are now seeing by the busload or rental RV's out of Los Angeles, this wayside place harbours junk and memorabilia in a relaxed setting in the desert. Across the mountains to the old gold mining town of Oatman where friendly donkeys and mules roam the streets of this themed town. A ghost town revitalised by tourists it plays on the wild west era of this part of the country, almost a movie set, an interesting stopover. The cheapest hotels in the US are in Laughlin, Nevada, midweek the best, and ours at Harrah's Casino is just $22.50 a double with tax, in a four star establishment. Las Vegas, midweek, can also be a good deal. Of course they hope you will gamble, and judging by the busloads of punters, and how busy the gaming floor was, most people do gamble, sitting at a machine for hours, elderly, mostly women, and not many happy faces to be seen. It amazes me how many people will blindly put money into a machine without any idea what the odds are that they will get any of it back. We avoided the machines, at least this time, and instead indulged in a wine and the great evening buffet.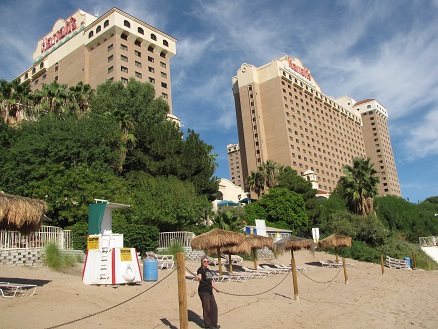 7/10/11 A clear desert sunrise, cool and crisp. People were already down by the river, a beach, or taking a morning dip in the outdoor spa's or pools, the gaming room already busy. We could easily have allowed another day, or longer, in this hotel. A strong head wind welcomed us as we climbed up from the Colorado River to Las Vegas, our hotel in the middle of the Wedding Chapel area of The Strip. Such places as Viva Las Vegas Wedding Chapel and Little White Wedding Chapel, where such famous people as Demi Moore and Bruce Willis, Frank Sinatra and Mia Farrow were married. Elvis and limo's the theme at many Chapels but anything goes, and we mean anything. Our hotel room overlooks the Viva Chapel and limo's rolled in half hourly as large and small weddings moved through, an interesting couple of hours. In the evening we wandered down to Fremont Street, the old, original Las Vegas, now revamped with a magnificent overhead light display on the covered pedestrian area, 12 million LED lights light up the display. Alive, the area attracts dozens of excellent buskers, or more appropriate perhaps, street performers, as some acts were excellent.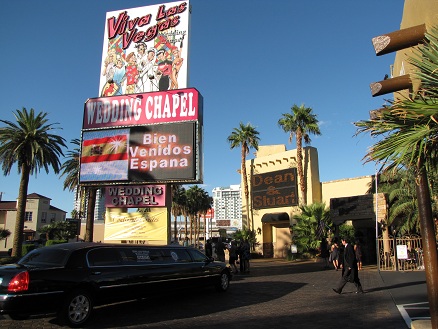 A wine in the Plaza Casino, coffee in the Golden Nugget, legs aching standing and people watching. The mix of people totally international. The wealth from super rich to poverty stricken, each attempting a living from the street. We have been asked for money from many street people since arriving in the US, mostly people left behind by society, alcoholics, drug addicts, mentally handicapped. A bit of loose change might ease the day for some. There were the two hitch-hikers, with two dogs, stuck in the desert without a shower for three weeks, the street sitters with polystyrene cups begging while they slept off last night's hangover, and tonight a slim self composed proud middle aged woman asked for change, "I am homeless, can you help me a little", moved amongst the crowd of revellers receiving little success, more composed elegance displayed than from anyone else on Fremont Street.

8/10/11 Saturday, busy in this region as locals and internationals descend, particularly as it is school holidays again. We headed out to Hoover Dam, alongside Lake Mead, taking in the contrast of bright blue sky and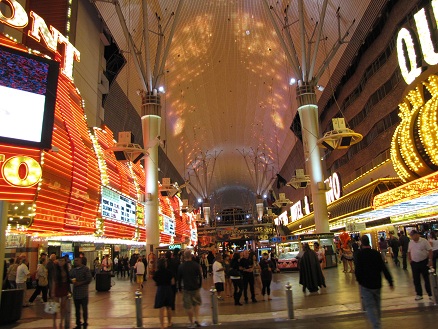 lake and the stark desert. A new freeway and bridge has been built since we last visited, across the Grand Canyon, just below the dam, and has attracted many more visitors. Another change, security is tight, post 911, the dam being a possible terrorist target, all vehicles pass through a security road block. We met a group of Germans on an organised tour, Harleys, rentals, a ten day tour of the region from Los Angeles, and a popular tour, perhaps 30 bikes. Also had a cuppa with New Zealanders renting two motorhomes, seven weeks touring the area. In the evening we attempted a ride down Las Vegas Boulevard but traffic was almost at a standstill. After the slow cruise-by viewing we returned for a ride across Fremont Street and called it a night.

9/10/11 Just two streets back from "The Strip" and it is a different world. Places like Key West and Las Vegas seem to attract all walks of life, people who don't "fit in" in mainstream America congregate here, why?, they find people of similar ilk. People who are different are more tolerant of people who are different, where people who see themselves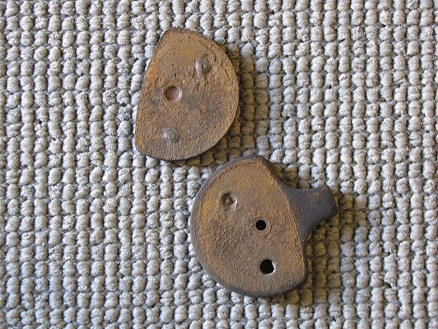 as normal are less tolerant of difference. Kay sat in the laundromat watching the mixed community do their washing as I wandered the 99 cent shop, where nothing they sell is more than 99 cents, food, cleaning products, household bric a brac. Here come the people with coupons, street people, workers on minimum wage and pensioners to shop. It is lively, everyone seems to know everyone, blacks, Hispanics, Asians and white Americans. Where the check out people don't mechanically ask "how are you", they know you, your family, your problems, job, whether money is tight or if you are a little bit crazy, as many seemed to be from my outside looking in. Everyone was chatting, calling out, being relaxed, it is a community in itself. I chatted with a retired black man whose accent I could hardly understand, an ex-security car driver, then there was the trike owner who wouldn't change check out lanes as it was bad luck, and the well dressed family buying candy on their way home from church. It was real, far away from downtown Las Vegas. In the carpark we also worked on the motorcycle's brake pads. There had been a squeak, a clunking and then a rattle, and on checking we noticed the pad had separated from the metal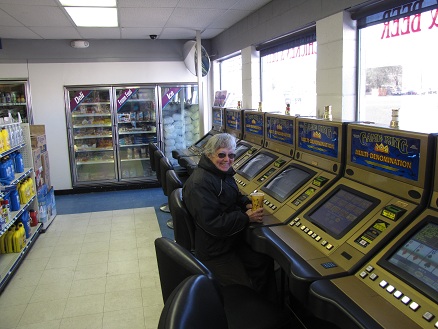 retainer, rusted off, potentially dangerous as the pad could have been thrown out under heavy breaking leaving us without brakes. We replaced the broken one with a spare and headed back to our hotel, more weddings going on at the next door chapel, guests milling around and limo's arriving and departing all afternoon and evening.

10/10/11 We left the casino's and pokies in petrol stations, state of Nevada and entered the higher fuel prices of California, and consequently we are already seeing many smaller cars, although the SUV's still seem to dominate. Trains have been running alongside us most of route 66, dozens of trains, long trains, with over 100 carriages each and pulled by four or five engines, double stacked containers moving across the country, and keeping trucks off the roads. Despite California's expensive petrol their roads seem worse. Nevada is now paving with a rubber asphalt mix. More than 12 million used tyres are ground up annually in the US, mixed with asphalt and laid as pavement. For us, out on the open noisy highway it is an amazing difference. Cars pass without a sound and trucks and buses are just an engine hum, hardly
any tyre road noise. They are even thinking they will not need to build highway noise barriers around towns where rubber asphalt is laid. Travelled down through the Mojave Desert, a protected area, as is almost a third of the land mass of the US, an impressive statistic of government protected lands. Joshua Trees alongside the road to Kelso, sand dunes and mountains towards Amboy, where we stopped in at Roy's cafe, meeting other motorcycle travellers, volcanic plugs and lava flows the other side and on to Barstow for the night. More great weather and lovely riding.

11/10/11 A freeway ride, fast, and luckily after morning traffic. The car pool lane, more than two people to a car, started 70 miles (115 km) out from Los Angeles, and was empty when we rode alongside it at 11 am. Coming off the mountains and down into the San Bernadino Valley the smog was thick, the most visible air pollution we can remember seeing in a western country. It seems people will travel up to an hour, or a bit more to work, so if we build faster highways they can travel from further away, go faster and burn more fuel getting to work, more pollution. It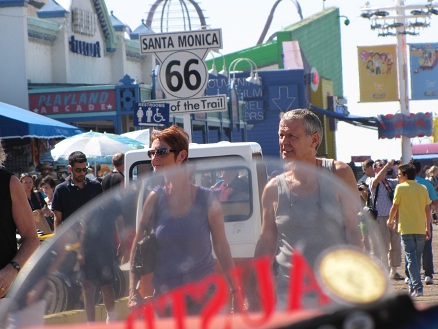 seems only Norway has decided not to build faster roads, avoiding this situation. Stopped half way at a Del Taco, the "twelfth" food chain. Bean and cheese burrito's, pretty nice. Called into the California H-D shop and was offered a free lunch, the local lunch truck operator seeing our motorcycle did so, a very nice gesture. Also learnt that things are incredibly difficult here, economically, with the H-D Company insisting dealers take repossessed Harley's to resell, bikes previously financed by the H-D Company, meaning new motorcycles are harder to sell. Took an afternoon ride to see the Queen Mary, now a hotel ship, anchored at Los Angeles Port, then around the coast a bit to Long Beach, a wealthy playground, stayed in another Mom and Pop (read Indian run) hotel on the Pacific Coast Highway.

12/10/11 Visited two more H-D shops this morning. Thought that they might like to store and display our motorcycle on the showroom floor while we were back in Australia. It has happened in many places, the UK, Turkey, Thailand, Bahrain, Greece, South Africa, Argentina and Florida, but in Los Angeles where everything seems to be all glitz and money,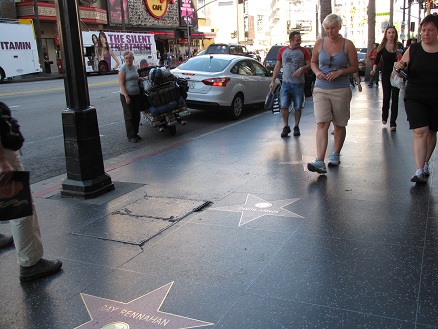 no place for a Harley that has been ridden, only shiny ones. The H-D billboards and slogans show riding the dream but the bikes show coffee on a Sunday and polished chrome. Again we realise we are drifting further apart from the majority of Harley riders. It seems more and more that S & S is capturing the image, capturing what Harley used to be all about, capturing those who ride. The official end to Route 66, Santa Monica Pier, a lovely ending and a ride out onto the wooden pier planking, at least to the car park, where the obligatory end of the road photos were shot. There was also plenty of Route 66 info and souvenirs for a great start or ending to the road. Next it was Beverly Hills, the motorcycle overheating in over 100 degrees (38 centigrade) as we chugged through the traffic lights, ending on Hollywood Boulevard outside Graumans Chinese Theatre where the sidewalks were starred with stars. A long day in a city, not our favourite ride. The night in a small hotel in Ventura on the north of the city.

13/10/11 Heading north along the coast for the Californian Horizons Unlimited meeting in Cambria. Another stinking hot day till we were right in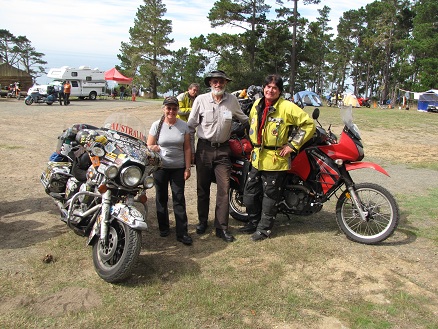 Cambria where the effects of coastal fog, a regular feature of this area, blew in late afternoon dropping temperatures significantly. The cooler oceans bring in elephant seals and sea lions to the beaches as well as surfboard riders. Our hotel in San Simeon a mecca for weekends away from the city. The rally grounds overlook the ocean, campsites nestled in sphagnum moss draped pines, cabins and meeting rooms dotted between trees, a lovely, if not little untidy setting. There were two indoor presentation rooms plus two amphitheatres, plenty of room for the expected 200+ participants. Not having been to a US Horizons rally we weren't sure what to expect. The rally didn't start till tomorrow but the volunteers had arrived and were setting up. We were long time friend welcomed by Grant and Susan, the organisers, and first time met many other similarly interested motorcyclists. An after set up dinner down town gave us a better chance to mingle.

14/10/11 This is the first time we have not camped on site at a Horizons rally, price dictating the choice, and we quite enjoyed the sleep in off site. By the time we arrived, lunch time, the event was well underway,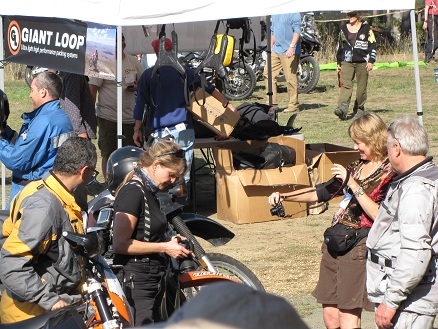 the bike parking area filling rapidly. We sat in on Carla King's presentation on her trip in China. She has been a long time motorcycle traveller, written a few books on her travels and we have long followed her exploits, and it was great to finally meet up. Sat in on Greg Frazier's, an old friend, talk on his various round the world trips and it was during his talk that we realised one of the identifiable milestones of becoming a motorcycle traveller is taking the first photo of your motorbike lying down. Most people hurry to pick up a fallen motorcycle but when you are relaxed enough to wander off, take a photo, you are have indeed become a motorcycle traveller.

15/10/11 Another comfortable, late, start to the day making this rally more relaxed for us than previous rallies. Also it is the first "dry" Horizons rally we have been to, no alcohol unless you pack it in yourself. This made a couple of differences to the event. People didn't mingle about a bar, a somewhat missed opportunity of meeting other travellers, but people didn't race away from presentations to get another drink or to get rid off the last one. A different experience from other rallies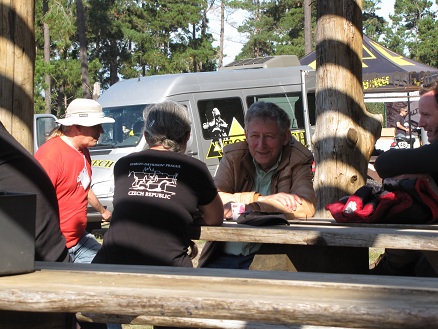 we have talked at. Our presentation seemed well received, and we had plenty of opportunity to chat with dozens of travellers and potential travellers the whole weekend, learning a lot and imparting similarly. Clement Salvadore, a famous American motorcycle writer, talked on Riding the Continental Divide, a man we hadn't previously met, and Ted Simon again presented his well prepared voice over photo collage of his first trip, something we have seen before and could see again. As always he came across as a relaxed concerned traveller. There were of course many other presentations, ones we would like to have sat in on but ones that simply slipped by us as the days passed. Perhaps we will have to return next year. The sober US audience was certainly more constrained than the Guinness merry Irishmen, the hosts of our last Horizons rally earlier in the year in Ireland, but for us it was no less a rewarding weekend by our account of the event.

16/10/11 Earlier to the rally grounds for the clean up and farewells, each of us going back to our individual lives and whether it was, as with Ted Simon, a trip to San Francisco to collect his newly American accepted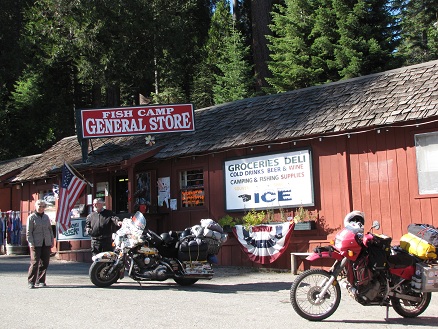 Ukrainian bride, or Greg Frazier, who is heading to Thailand for the summer to reunite with his wife, Grant and Susan, a long drive back to Vancouver Canada to get heads down in front of the Horizons Unlimited Hubb computers, or Mike and Sandy Dimond, the event organisers who start a normal life's working day tomorrow, we all headed out leaving the campground empty except for individual memories. We rode to Fresno, meeting up with Ben along the way, a fellow Australian, passing enormous flat fields of irrigated paddocks from cotton to pomegranates. Locally described to us as "a little bit of Texas in California" presumably referring to the local imported population who tend the fields.

17/10/11 The last planned event of this trip over and our minds start heading towards Australia and the end of this section, just twelve days away. Even though we weren't that active at the rally, it is just the talking and answering questions that we find exhausting these days, and it was now great to just sit quietly in our hotel room, Skype phone our children and mothers, write the diary, do a load of washing and Kay had a few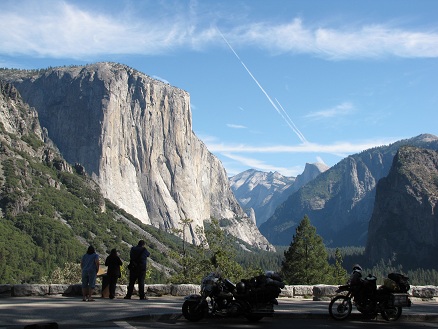 hours to relax with her cross stitch needlework while I surfed a bit on the internet, a relaxing catch up day.

18/10/11 Ben and us left for a ride to Yosemite National Park, a lovely road, and at times with little traffic we could let the motorcycles roll as fast as they liked through the corners. We haven't had many tight twisty rides since arriving in the US and it was quite a joy. For us it was just a ride into Yosemite and out again on our circuitous way to Stockton, up into the mountains and back to the flatlands. We have been to Yosemite twice before, enjoyed it immensely, but we were not in a national park mood and moved on. Ben remained to camp in the park. It was rolling golden grasslands after the park, flattening out to fruit and nut trees and vegetable croplands.

19/10/11 Before heading back home to Australia each trip we do a list of what we are leaving behind and what we are taking home, as well as what we need to bring next trip for the motorcycle, spares and maintenance items. This took a couple of hours this morning. The repairs we did at the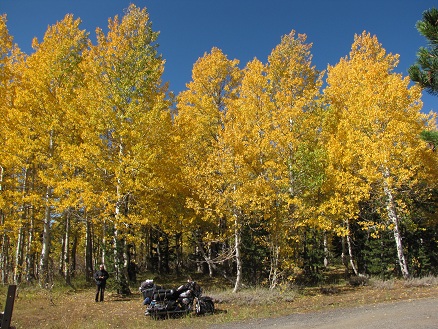 beginning of this trip have made riding less problematical with few roadside repairs necessary, hopefully that will continue. The good roads of Europe and the US and good petrol are easier on the motorcycle. We are staying in the city, Stockton, near the river. It is surprising how many homeless people there are in this what looks to be a prosperous city. People begging outside Walgreen's, sitting aimlessly in parks, alongside the river, wandering the streets often with a paperbag bottle of liquor or sniffing something or just poor. Most are Hispanics or African Americans, some Caucasians.

20/10/11 Perhaps one of the biggest changes we have noticed this trip to America is the growth of public storage units. These sometimes enormous complexes are in every town and city, they rent out spaces of various sizes, motorcycle up to a double garage, some also have open air storage for motorhomes or boats. If this is not a sign of an ever increasing consumer society I don't know what could be. Where at one time we might have one vehicle per family, then it became one vehicle per person, then a car and a motorcycle, and we are now noticing that many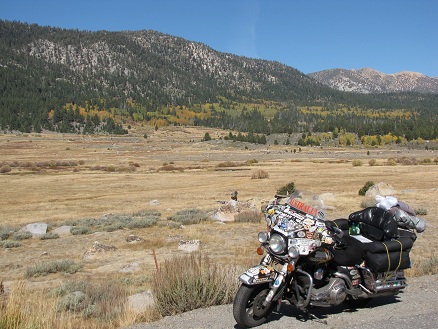 people have become semi-collectors, and have a few motorcycles, one for cruising, one for off road, one classic, all of which need garaging, hence storage units. Then there is the classic car for cruising on Sundays or the hot rod for macho events. There might be boxes of family heirlooms, items that don't fit into a modern home but can't be sold. It all adds up to more and more possessions needing storage. Another lovely day another great ride. Headed out along the 88 up into the mountains across a number of passes, one over 8000 ft and into Kit Carson territory where gnarled pine trees, battered by strong winds, fight to survive. Snow was still lying roadside from a recent autumn storm and this section of road will soon be closed by winter. Trucks of onions and hay, moving from behind the Sierra Nevadas, disturbed the quiet environs but the nature shone through. Down on the flats it was a highway to Reno, a casino hotel for the night, dollar beers and a nine dollar rib roast buffet dinner, a great deal if the gaming tables can be avoided.

21/10/11 Reno is a small big city, "The biggest little city in America". It is clean, reasonably compact, at least by American standards, has a lovely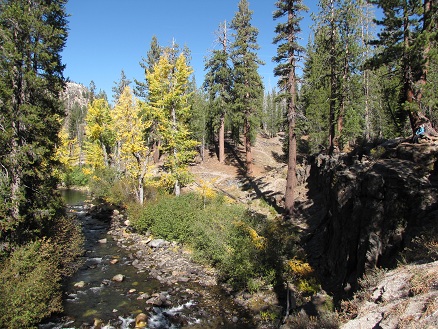 river cascading near its centre, with walkways along its shores. The big hotel casino's dominate Reno's existence with smaller strip hotels fighting for survival. We are in the Sands Regency, a casino hotel, but older and smaller than the big players. To get customers it has to fight, food and alcohol discounts, but this attracts the older, poorer and heavier drinking end of the population, which often turn out to be the more interesting. I have sometimes thought if I were on benefits it would be a good plan to sleep in a car or van, sneak into a hotel casino pool or spa for a shower, buy a 50 cent coffee, donut or soft serve for the over 50's in the cafe, relax in the gaming areas, as long as you remained reasonably dressed and clothes washed. Unfortunately Reno has many people who are beyond clean, rummaging through garbage bins for cans and plastic, sleeping hard. Whether they are gamblers without money or down on luck we see few smiles at the gaming machines, fewer from the street people.

22/10/11 Headed East along the 80 for a while before taking the A95 South, then the 338 to the 395, another great ride, passing hills to mountains of golden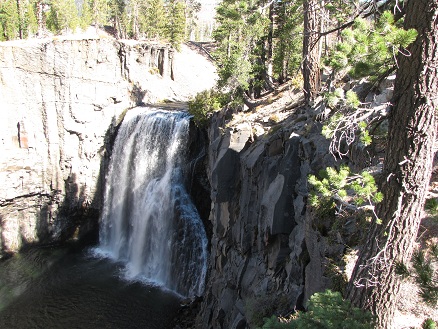 grasslands, irrigated lucerne and harvested onions. Now we know where the truckloads of a few days back originate. It is all high country, 5-7 thousand feet, deciduous aspen at their peak colours, snow dotting the higher mountains as a backdrop and small rivers in the valleys, a beautiful scene. About midday we right turned up into Yosemite National Park, past mountain lakes, the bare granite peaks the main feature along with Sequoia trees, gnarled by harsh conditions, and mountain streams along which we had a picnic lunch. It was getting cool at the almost 10,000 foot pass, but the phantom summer is still holding back winter's onset. Overnighted in Mammoth Lakes, a ski town in winter, a cool summer playground for fishermen, hikers, canoeists and mountain bikers. One feature of change we have noticed in the US this visit is the greater integration of different ethnic peoples. African Americans are more riding motorcycles, Indians are eating in fast food restaurants rather than picnicking with traditional foods. There are also more mixed ethnic friends and couples, ethnicities are not moving about separated as much. It takes a generation or two for most cultures to fully integrate into a new society. Children of migrant parents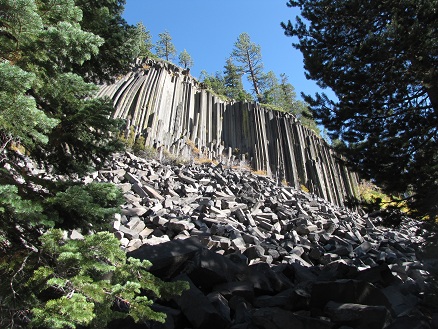 are still tied to the home country but their children are generally fully integrated. This doesn't happen everywhere, particularly not in gang areas, where race is kept as part of the fabric of their society.

23/10/11 A short ride to Minaret View then down to Devil's Postpile, a series of basalt columns, some collapsed others teetering but most standing vertically. The 8 km return trail continued on to a lovely waterfall, Rainbow Falls, where we sat and chatted to other hikers. Fire had gone through this part of the park in 1992 and much of it is struggling to regrow. The fire was lightning started and the new National Parks policy is to let natural fires continue to burn as long as they are not a danger to people or belongings, that way nature is looking after nature. This allows an opening up of park forests for diversification of animals and plants. Back at our hotel and the motorcycle is like a magnet, similar to a dog or baby, drawing comment, particularly its covering of stickers. It is surprising how many people simply glance and comment, presuming us Americans and that the stickers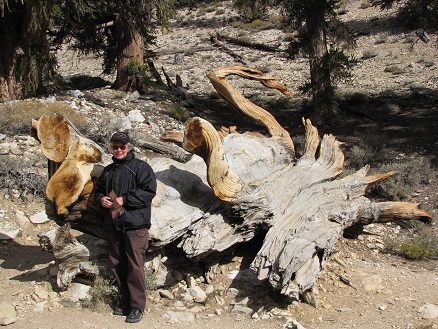 are all from travelling within the US, such is the home touristy nature of Americans. Even with the emblazoned "Australia" sticker on the windshield, it is often presumed we have either taken, or are taking our motorcycle to Australia, not that we are Australian. International tourists however seem to take a more worldly observation, assessing and reading stickers or identifying the number plate before comment. We often assess the cultures of the country we are visiting by the way they approach our motorcycle and us, their interest level, willingness to engage, level of questioning and discussion, eagerness to tell stories or listen to ours, all giving insight into their oppression, fear, freedoms, outgoingness of the country's people, and as countries are only made up of its citizens the individuals we meet are reflected in the views of the country.

24/10/11 Headed east on the 168, a roller coaster ride twisting through rocky outcrops and rising till we took the road to over 10,000 ft to the worlds oldest trees, the Bristlecone Pines. Some of these trees, still living, are over 4000 years old. Growing in harsh conditions in dolomite clay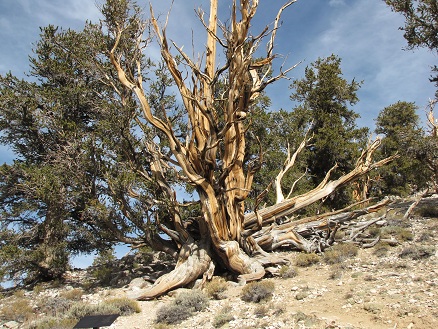 soils they have grown in this area since the last ice age and are so hard that trees as far back as 10,000 years old have been identified, assisting scientists with climate changes and carbon dating. Further east along the 266, a remote area without fuel and with the only habitation a couple of farmers growing irrigated lucerne their crop circles contrasting green on a barren land. Beatty for the night, a casino outpost near Death Valley, a rustic town of motels, pubs, RV parks and the only signpost advertised brothel I think I have ever seen, this is Nevada.

25/10/11 Life is just about how we fill our time till we die. We were quite tired this morning but with the choices of sitting in our hotel room for the day or sightseeing in Death Valley we chose to fill our time in Death Valley, particularly as the date of death is unknown. We learnt last night that whilst riding home from the recent Californian Horizons Unlimited rally that Katherine, 39 years old, died in a head on motorcycle accident. Life can be so transient. Starting at Furnace Creek, where we sat below sea level for a relaxed coffee outside the General Store,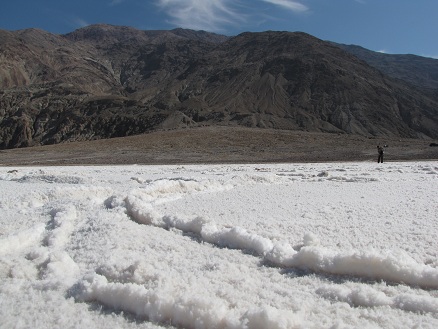 where birds come to steal tourists sandwiches and pick dead insects off their cars, then rode up to Dante's View, where on a clear day you can see the top and bottom of contiguous America. Its highest mountain, Mt Whitney, and lowest point Death Valley. The long dry salty lake spreads out in front showing its many colours in morning light. Lunch back at Furnace before heading out to Badwater and a walk on the salt flats, then riding along a side road, Artists Drive, a collage of nature's colours. It was a lovely day, one for Katherine.

26/10/11 Bye Bye Beatty and off to Bakersfield, back through Death Valley, stopping at Stovepipe Wells, a desolate place on a strong windy day where dust blows through the village whipped up from the nearby sand dunes. The strong wind continued all day, luckily mostly from behind aiding our progress but in the mountains it knocked us from side to side as we came around corners to confront it. By the time we reached Trona it was at a peak, whipping up particle spray from the stockpiles of salt. Apart from the wind it was another lovely ride, passing over one desert caterpillar mountain range to the next while gradually getting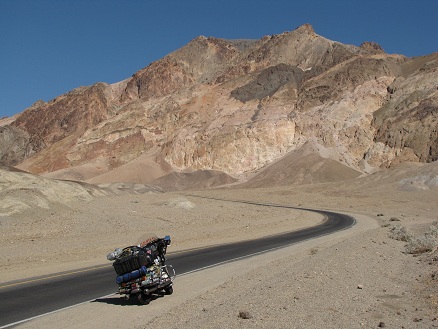 more and more fertile till we reached the gorge between Bodfish and Bakersfield winding down towards sea level. Taco Bell in Ridgecrest was our "thirteenth" chain food place, taco's of course. Bakersfield for the night, an oil town, and our hotel on the edge of town full of midweek workers and truckies, broken down and waiting for repairs.

27/10/11 Daylight is shrinking and as we are more day than night people it is time to move to the southern hemisphere where daylength is increasing, returning to the north next year, late April. Our last day of jobs, motorcycle oil change, new spark plugs, grease the swing arm bolt. We have also decided to use US two pin plugs at our 12 volt solar powered block in Australia, simple and economical, so spent a few hours at Home Depot, a great home supply store. Jack In The Box, breakfast sandwich, pretty good, our "fourteenth" food chain. Just two days before we fly home now.

28/10/11 Friends, Tom and Nadine in Luxembourg, suggested friends of theirs in Los Angeles, might be able to store our motorcycle while we are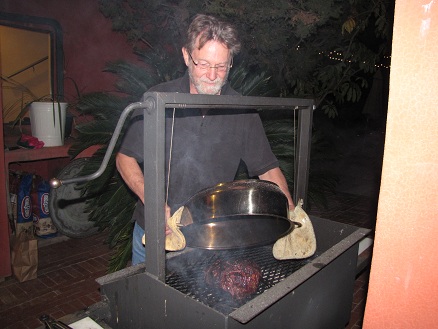 back in Australia for the next six months. Quite an ask as we haven't met them and six months is a long storage time. Took the road from Bakersfield to Santa Ynez, where they live, but the motorcycle will be stored at their son's place nearer to Los Angeles. Another lovely quiet road ride, the 99 south, 166 west, the Tepusquet Rd through small hillside farms and back down onto the coastal rolling hills of wineries to the lovely small village of Los Olivos where every second shop has wine tasting and where our hosts have a small leather shop. Philip and Cassandra have been in the area for over 35 years, well before it became the country homes of the well to do, the rich and famous, the "in" crowd, and now the weekend haunt of many from the greater Los Angeles area. Their 20 acres of hillside ridge is part of a gated community where deer roam free between plots and coyotes taunt dogs and chickens. A lovely setting of desert plants on green lawns surrounding a pool and spa with views to 360 degrees opening to stunning sunrise and sunset viewings. We stayed in one of their comfortable commercial guesthouses, our neighbours a couple from Minnesota, and we all shared a couple of bottles of Californian wine whilst watching the vermillion sun disappear.

29/10/11 We were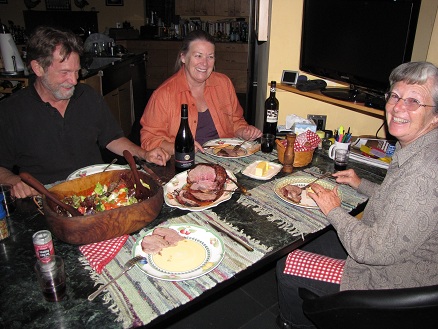 due to fly out to Australia tonight but a worldwide grounding of Qantas airlines, an industrial dispute, had us in a bit of turmoil. Back down in Los Olivos, a coffee shop with internet, we learnt they would not be flying till at least the 31st, and possibly later. Not only did the planes stop flying but the office staff stopped answering the phones so we couldn't get any information on the stoppage. By early afternoon, and many coffees, and finding out that Kay's mother had yesterday been admitted to hospital with mild pneumonia, we decided to rebook with another airline, luckily getting a flight on the 31st, just two days delayed, but the airport shuttle had to be cancelled and rebooked, our family informed and by the time it was all over we were happy to be staying again with Philip and Cassandra in the quiet solitude of their rural location, a wood fired BBQ'd boneless leg of New Zealand lamb for dinner, accompanied with organic farm fresh salad vegetables provided from their son and daughter in law's farm, and yes, a well welcomed couple of bottles of Californian wine to help wash away the day's troubles.

30/10/11 It was time to say goodbye and we left after morning tea, heading towards Los Angeles and a hotel for the night. Checked out the location for our motorcycle storage and relaxed. Learnt that Qantas would start flying again, the Australian government stepping in to temporarily solve the dispute. First flights out on the 31st, but there is a backlog of a few days on the Los Angeles/Brisbane leg, so we were incredibly pleased with our alternative booking, of which Qantas advised they will reimburse us for the extra costs along with accommodation and food for the two nights delay, quite reasonable really. A Denny's dinner, the "fifteenth" and last food chain for this trip.

31/10/11 The last day, we think. A trip to Home Depot, the equivalent of Bunnings in Australia, larger and a better range of products, plus better prices. We purchased a 150 metre roll of 6 gauge insulated wire for DC solar use, 23 kg, plus a number of drill bits and a couple of other items which we need for our other life, on the block. By lunchtime we were eating on the Qantas expense account, Chinese, then readied the motorcycle for six months storage. A few drops of oil in the cylinders, loosen the brakes so they don't rust to the disks, petrol tap off, battery on trickle charge, packing, and we were done. Prime Time LA Airport Shuttle collected us on time and we were checked in at V Australia and eating dinner, again at Qantas's expense at the airport, including the wine, we hope. Our flight left on time at 11.55 pm, ending this section of the trip which should continue on our return, late April next year.
June 2012 Update. Plans change, the future is unknown, and we didn't return to the US as planned. To see our last update please go to Back in Australia.