Travel Through Uganda on a Harley-Davidson
By Peter & Kay Forwood
Uganda on a Harley (4/2/00 - 11/2/00)
Distance 1039 km (177341 km to 178380 km)
This is part of the Sixth section of our around the world trip.
Complete Trip Overview & Map
Coming from Rwanda or read our previous visit to Uganda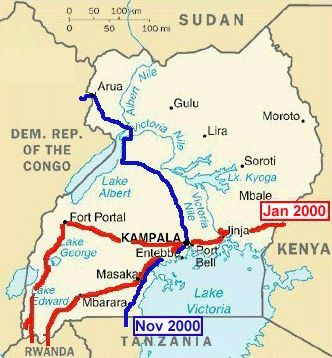 4/2/00 Crossed the border back into Uganda and stayed at Kisoro. Slight problem leaving Rwanda as we had no visa and waited 90 minutes at the Ugandan border for a surrogate customs man as the real customs official was sick. Otherwise an easy crossing point.
5/2/00 Great views of the volcanoes in the rain cleared morning air. We have had to be off the road early each afternoon lately as the wet season seems to be building with afternoon thunderstorms. 160 km of dirt to Bwindi National Park, the other area of gorillas, half of those surviving in the wild, and totally contained in Uganda. Here the forest starts at the campground, (where 8 tourists were murdered last year by Congo rebels crossing into Uganda) rising to the surrounding mountain tops. The original stands of timber and vines, and as expected it rained in the afternoon leaving behind mist. Apparently the habituated to human gorillas are becoming more bold and venturing out of the park and onto surrounding farmland and raiding banana crops, creating a dilemma for the management as by frightening them too much they will not be comfortable with tourists.
6/2/00 Two Argentinean tourists who had purchased two trips each to the gorillas were after one trek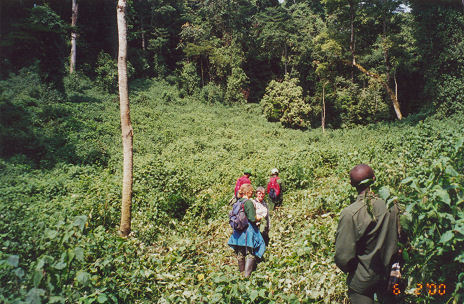 through the forest stuffed and left two transferable vouchers with the park driver. The tickets had to be used today and we being the only tourists at the park purchased them for 15% of their original $US 250.00 value plus park entrance fees. So alone with a guide, tracker, research worker and guard the six of us had a picture perfect tracking. One and a half hours walk through slash and burn banana and cassava mountain side plots from the 4x4 jeep to the edge of the forest. 45 minutes to where yesterdays party had sighted the gorillas and tracking them to their overnight nests. Through dense undergrowthed canopied forest in deep leaf litter up and down gullies. Then 30 minutes more tracking to where the group of 17 were now feeding. The first sighting, just five metres away, the silverback sitting leaning against a tree, not at all concerned about our presence. Then a female with small baby. At times they moved closer to us, within three metres, fed on seeds in the top of the trees, fought at tree tops, and one juvenile fell breaking branches as it descended to the ground. After about an hour they climbed back to the ground, slowly descending the tall trunks and walked slowly off into the forest for an afternoon rest. We also departed for our two hour walk back to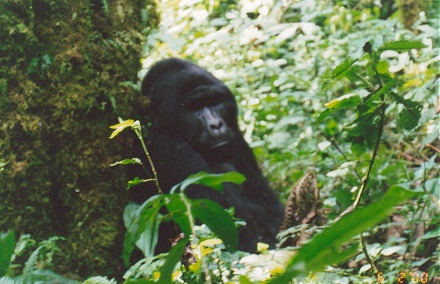 the 4x4.
7/2/00 A long day through the grasslands and forests of Queen Elizabeth National Park along good dirt roads seeing only a couple of species of antelope. The other wild life having been killed by various armies fighting in the region over the last 30 years. This has been a problem with many of Uganda's national parks although some animal numbers have been increasing over the last 10 years of stability. Further north to Fort Portal for the night.
8/2/00 An obviously wealthier area than where we have recently been. Tell tale signs of wealth like people eating in restaurants, particularly breakfast. Motorcycle taxis, small 50cc scooters with a flash passenger seat, even private motorcycles. Shops selling western goods, imported foodstuffs, very expensive here. Many travellers we meet have had malaria. They are usually taking medicine that the mosquito is resistant to. Feeling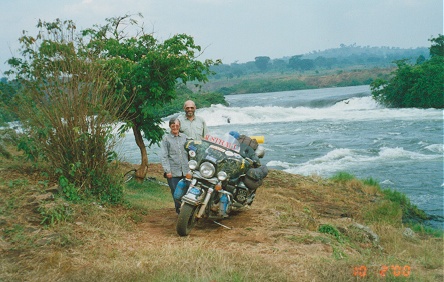 protected they are not taking other precautions against being bitten. We decided not to use resistant medicine and the taking of Larium (mefloquine) regularly has been reported to have various and sometimes serious side effects. We have treatment doses for emergencies and use our tent poles and a mosquito net in hotels or our mosquito proof tent. Keep covered in long pants and shirts and hope.
9/2/00 300 km to Kampala and on the dirt section with patches of deep bull dust, travelling at about 60 km/hr, we hit a bad section and came out crossed up swerved into another deep dust hole and went down. Having washed off most of the speed in the first hole we landed reasonable softly but bent the crash bars slightly and had sore shoulders. Probably our worst accident to date. No other damage to the motorcycle we continued more sedately as the road improved towards Kampala.
10/2/00 Internet in the morning and a short ride back to the Bujugali Falls just down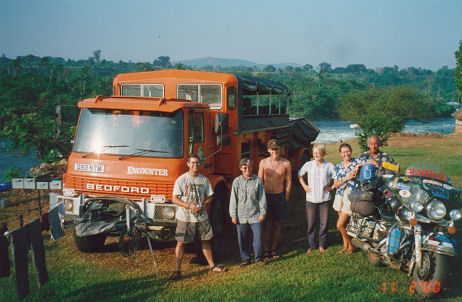 from where the Nile flows out of Lake Victoria at Jinja. This is where rafting on the Nile starts. We have been meeting up with an Encounter overland truck on and off for a week, following the same path to Nairobi. They are travelling over six months from South Africa to London, flying over Congo (Zaire), just six passengers and a driver. Our campground, riverside, is guarded at night by an armed person. The same as almost every other campground since we have been in Africa. With stories of slashed tents during the night, belongings removed while people sleep, or occasionally tourists are razor cut resisting robbery, the armed guard seems essential. We have not yet encountered first hand any robbery or theft in Africa. An invitation to dinner by the Encounter travellers topped off the day.

Move with us to Kenya , or go to our next visit to Uganda .