Visiting The United Arab Emirates
By Peter and Kay Forwood
The United Arab Emirates
This is part of the twelfth section of our around the world trip.
Complete Trip Overview & Map
Coming from the eleventh section Bahrain or read our previous visit to United Arab Emirates

26-27/12/05 The late evening departure for our 15 hour flight from Australia had us in Dubai early morning after an incredibly long night heading westwards and six hours behind our departure time location. Jo and Cam, a New Zealand and Australian couple, we had met in Alaska in 2001, while they were riding their BMW from South to North America, met us at the airport. Since our first meeting they have been working for BMW in the USA and have now settled in Dubai and live a comfortable ex-pat lifestyle. With a letter of introduction from the Australian Dept of Foreign Affairs and $US 100.00 each our Sudan visa applications were underway at their embassy here. Unfortunately they could only be issued with a two month validity meaning time might be a little tight for us to enter the country. We can collect them from the embassy tomorrow.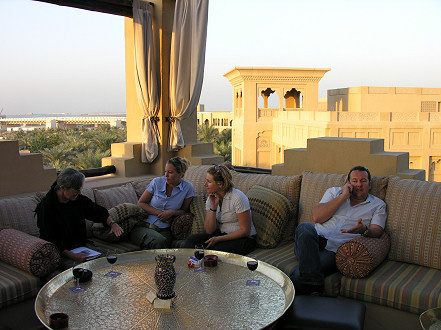 A barbecue with Australian beef and German wine at Jo and Cam's, followed by coffee at the new Mardinet Souk. This up market shopping area integrated with a couple of hotel resorts, its own lake and gondola style "abra" boats is an impressive structure, as are most of the hundreds of still under construction high-rises that dot the skyline now in Dubai.
28/12/05 Jet lag slows us down more and more after each long distance flight. We had purchased a World Space satellite radio whilst in Australia, the idea being that radio and news reception could be 24 hours a day, and clear, unlike the dawn and dusk crackly reception of the short wave radio we normally carry. One satellite covers Africa, another Asia and a third North America but Australia has no coverage so it wasn't till we arrived here that we could test it's performance. The whole unit, about the size of four cigarette packets, is light and gave crystal clear reception of about a dozen English based news and music channels once we had activated it this morning. A visit to the Emirates Mall, supposed to be the biggest in the world outside America, for a few last minute items and lunch and a cruise along the Dubai Creek.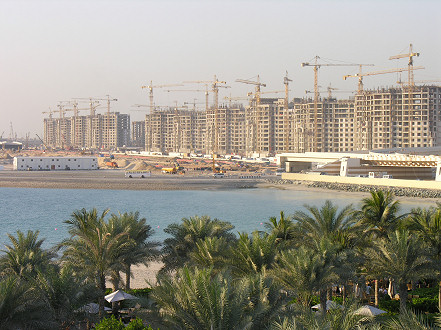 A stark contrast, with old wooden dows loaded with goods destined for Iran and modern glass skyscrapers as a backdrop. We watched sunset from the roof top bar at the Royal Mirage Hotel, overlooking the new man made island chain in the shape of a palm tree and its palm fronds. It is rapidly being covered in hotels and housing. Such is the rapid growth of this region that nothing existed here three years ago, not even the land, and within another two, there will be 50 high rise hotels and thousands of villas on the islands. Another evening BBQ with a few friends back at Jo and Cam's place.
29/12/05 Dubai is more renowned for its desert safari's and gold souks than for its snow fields but with the new indoor snow park, that might change. We donned ski gear and entered a freezing world with quad chair, beginners slope, and a mild intermediate slope. It doesn't quite have the feel of the snow covered mountains of a real ski field but it certainly allows for an all year round ski, just minutes away from the outside heat, and your home. We completed about 15 runs in the two hours allotted, without crowds or long lift lines. Not much variety in runs but a great place to learn or hone skills.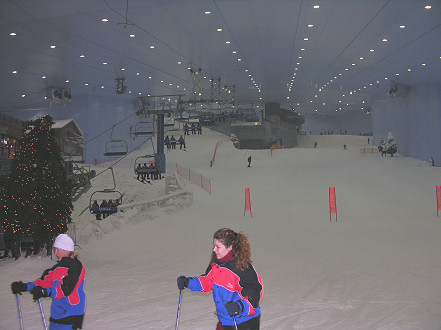 In the same complex, a variety of indoor, upmarket, thrill rides can be tried, along with bowling, restaurants and shopping, virtually anything to keep you away from the desert heat and to spend money.
30/12/05 Another day, another mall. The Ibn Battuta Mall has six theme regional sections from Persia to India with enormous domed roofs of mosaic tiles or full scale elephant statues. The boom times might be nearing an end here as the U.A.E. has almost run out of options to attract more investment. Foreigners can now own land and can even live here permanently, if they own property, and don't work. The weekends vary, Thursday and Friday for locals, Friday and Saturday for foreigners. The malls are busy on Fridays with the broad mix of western dress to the all encompassing black chador. As with many cultures the older generations dress more conservatively than the young indicating greater change in the region is still ahead.
31/12/05 With Africa's difficulties looming shortly ahead we indulged ourselves with a morning restaurant brunch after a walk around the artificial lake that Jo and Cam's condominium fronts onto.
Move with us to Bahrain